Some posts contain compensated links. Please read this disclaimer for more info.
Best Beaches in the balkans
While many tourists focus on the classic beach destinations in southern Europe, such as Spain, France, and Italy, the beaches in the balkans are often overlooked. That is not to say that they don't receive any visitors, though.
Many of the best beaches in the Balkans, which are listed below in this article, do get their fair share of holiday-makers. Those visitors, however, are mainly locals and people from other countries in the region, as well as a small number of foreign tourists. Because of the lack of huge hordes of international tourists, these beaches remain among the very best in southern Europe.
The Balkan countries are known for their immense natural beauty, making the area a backpackers and sunbathers dream. From rugged mountain ranges to gorgeous waterfalls and spectacular beaches, this region is the place to go for both exciting outdoor adventures and peaceful sunbathing. Oftentimes, the Best Beaches in the balkans are located in or at least near a beautiful historic coastal town, which only adds to their appeal and idyllic vibe.
Best Beaches In Croatia
Banje Beach, Dubrovnik, Croatia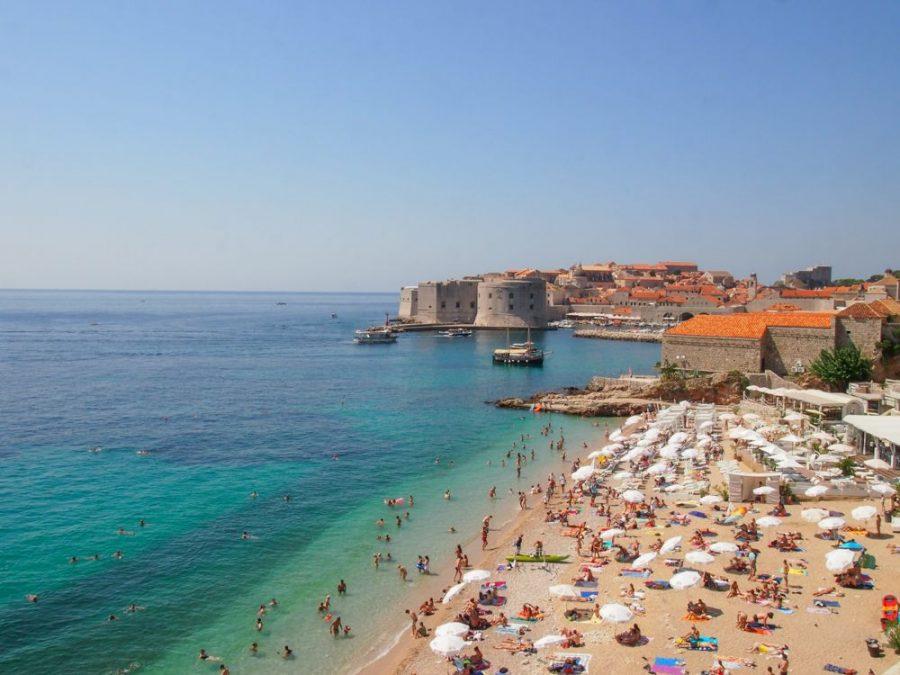 Perhaps the most well-known and most visited of all cities in the balkans, Dubrovnik in Croatia, is one of the world's most breathtaking historic towns.
With an Old Town that is UNESCO World Heritage and a setting between the blue Adriatic Sea and the Dinaric Mountains, this should be one of your absolute priorities when traveling around the balkans. There are several beautiful beaches in Dubrovnik, but Banje Beach, just to the south of the Old Town, might just be the most photogenic one.
Sveti Jakob, Dubrovnik, Croatia
Located just south of the main center of Dubrovnik, this small but very beautiful beach is ideal for getting away from the crowds, especially during the peak months of July and August. The beach is around a half an hour's stroll from the Old Town, and you do have to walk down more than 100 steps to get to it. The end result is worth it, trust us!
The beach is pebbly and has an on-site cafe serving refreshments and light snacks. There is a lot of shade on this beach for those who want it, as the pine trees roll down to the shore. You can also see Dubrovnik's city walls from the sand, providing a stunning backdrop.
Makarska Riviera, Croatia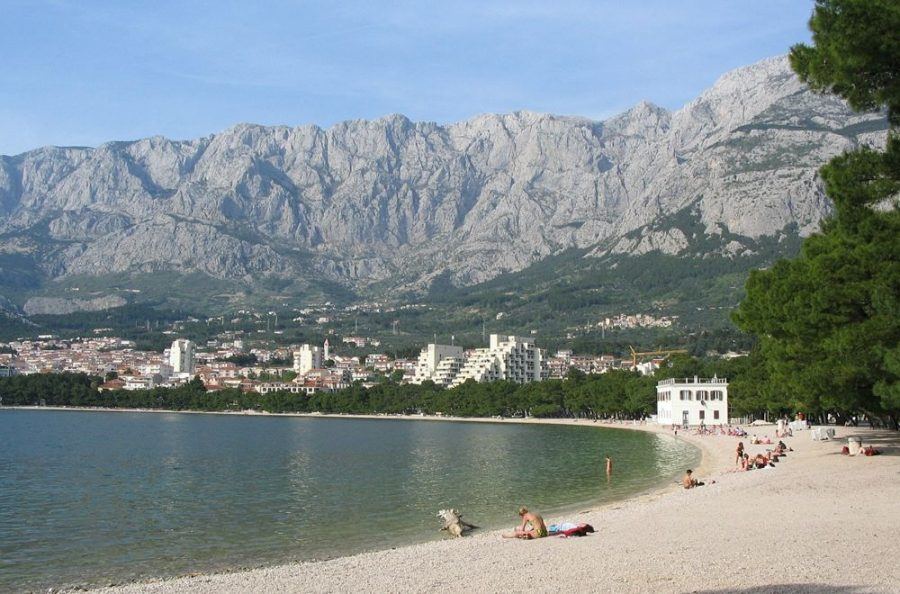 The Makarska Riviera is one of the lesser-known beach destinations on the Dalmatian coast. A small-town alternative to places such as Split and Dubrovnik, this town is home to the so-called Makarska Riviera.
Featuring exceptional white beaches, pine forests, a magnificent seafront promenade and lively nightlife such as in Brela. Makarska is a superb off-the-beaten-track beach destination on the Adriatic coast.
Zlatni Rat, Bol, Croatia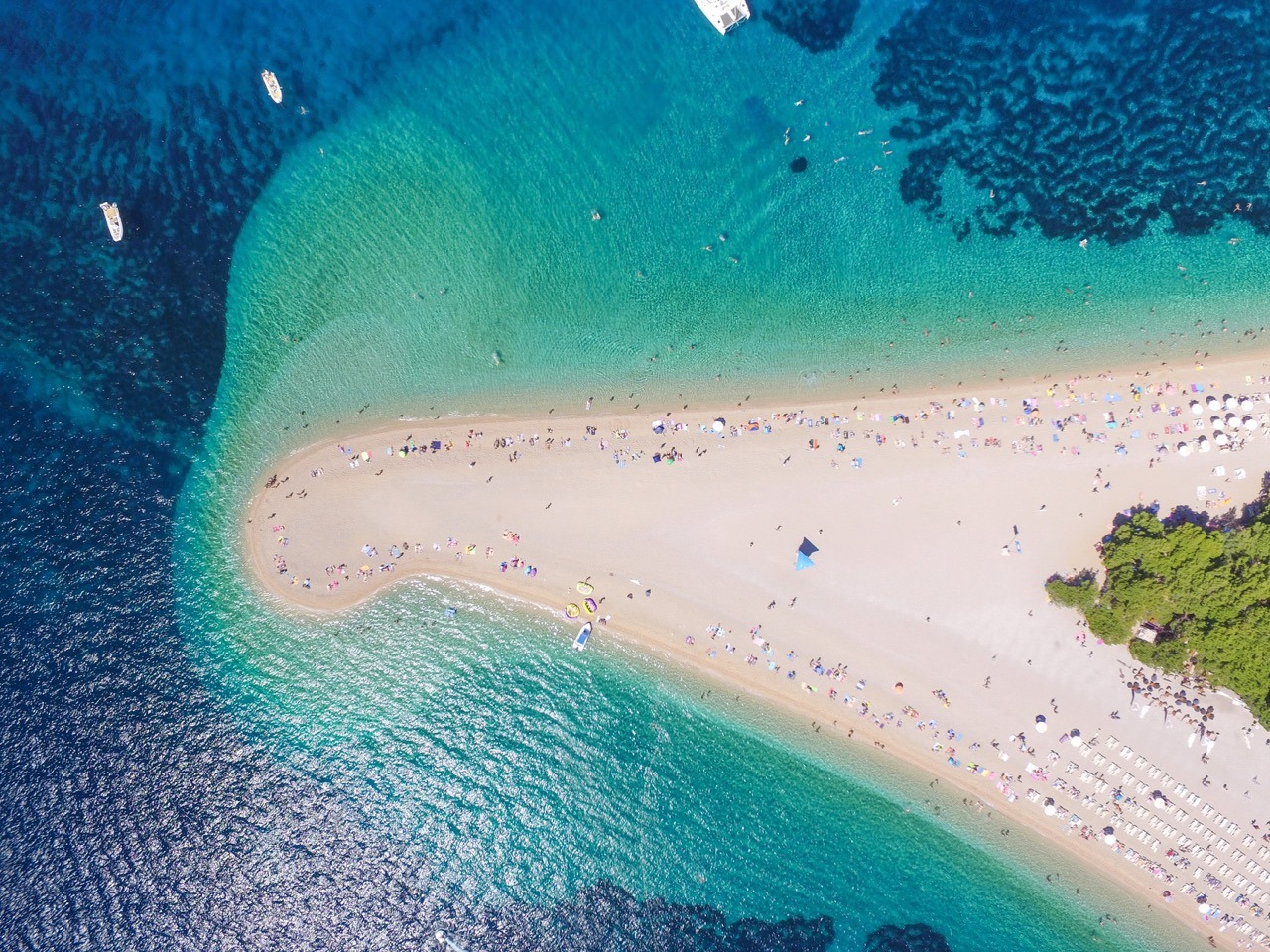 Situated just west of the harbor town of Bol on the island of Brač, Zlatni Rat Beach might just be the most remarkable beach in Croatia. The beach is often referred to as the Golden Horn or Golden Cape, after its narrow triangular shape.
It is regularly mentioned in lists featuring the best beaches in the balkans, in Europe, and even in the entire world. If you're looking for an extraordinary place to spend your summer holiday, this would be a good bet.
Bačvice Beach, Split, Croatia
Found right in Split's city center is one of the most well-known beaches in the world: Bačvice Beach. There is something for everyone at this beach. While it's not the most beautiful beach in Croatia, it definitely ranks as one of the most fun. Bačvice has plenty of activities going on during the day, while at night, the beach comes alive when all of the bars and clubs lining the shore open their doors. The local sport of picigin originated at Bačvice Beach, and you'll see loads of locals playing.
Stiniva Beach, Vis, Croatia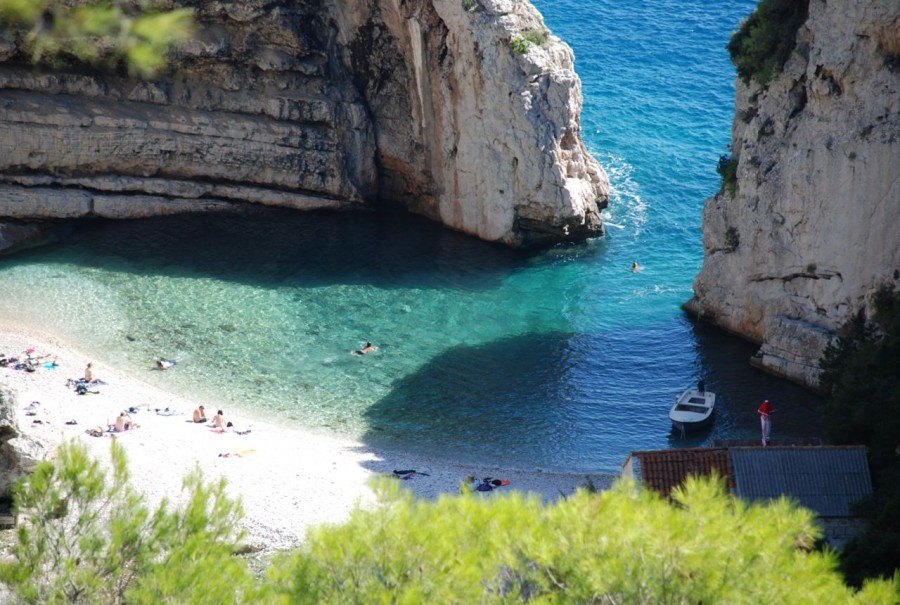 In recent years, the island of Vis has become increasingly popular with tourists looking for a destination not swarming with summer crowds. Stiniva Beach is a beach for those of you prepared to put in a little work. You'll need to earn the right to visit this little slice of heaven by descending a goat track. If you happen to have a boat, you can somewhat cheat and pass through the rocky Stiniva gateway, which then opens up into a grand stone amphitheater. The beach is stony and the sea magical. Stiniva is a real treasure and an unforgettable beach experience.
Pupnatska Luka, Korcula, Croatia
For some of the bluest sea you will ever see in your life, this particular beach is where it's at! Just south of Korcula, there are many small coves and beaches, and this one is certainly one of the best. A pebbly beach, it lies blow a thick forest. The pebbles are blinding white, which makes the water look even bluer than it already is. The contrast from the green forest also looks amazing in the pictures you will take here.
This is quite a sheltered spot, so you won't find many crowds. You could even call it a hidden gem. There are a few upmarket restaurants just off the beach, serving delicious salads and seafood dishes.
Queen's Beach Nin, Croatia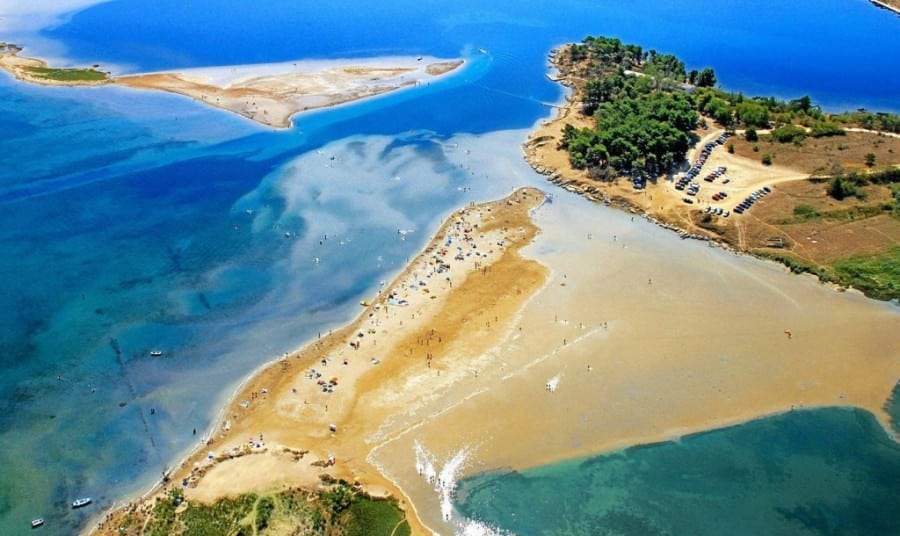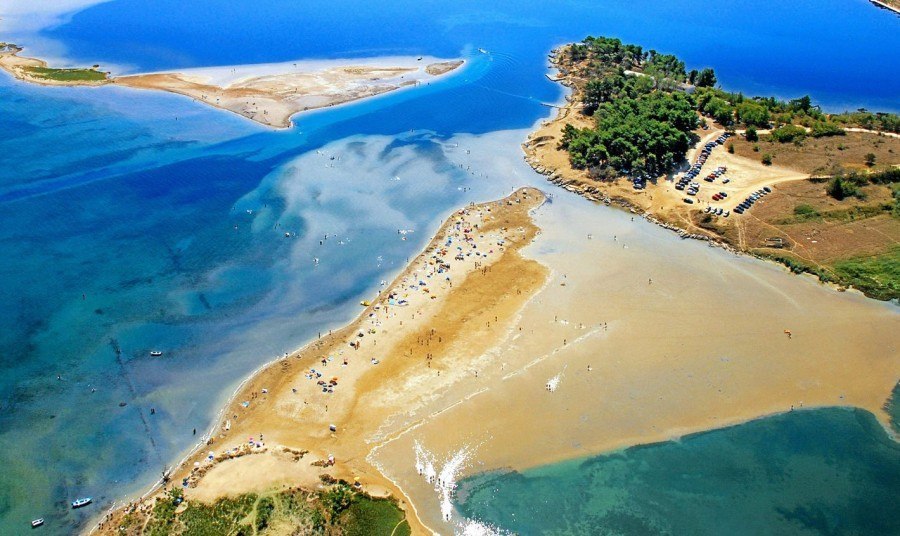 Queens Beach in Nin is one of the top beaches on the northern coast of Croatia. This part of the country tends to get slightly overlooked, overshadowed by the Dalmatian coast and its amazing islands and towns.
This makes this region all the more desirable if you're looking for a quiet beach holiday. The beaches of Nin lie an easy car or bus ride outside of Zadar. Awarded Blue Flag status, these sandy shores are great for both sunbathing and water sports. Bring a sand-free beach towel when visiting this beautiful beach!
Zrce Beach, Island Of Pag, Croatia
Anyone looking for a beach party simply must check out Zrce Beach on the Island of Pag. This spot is nothing short of world-famous for its epic summer music festivals, sunset party cruises, open-air nightclubs and 24-hour parties.
Baska Beach, Krk Island, Croatia
Krk Island in the Kvarner Bay is Croatia's largest island, home to many fine beaches. Arguably the best beach on Krk is Baska Beach, situated near the town of Baska, which lies at the far southeastern terminus of the island's main road. There are several beaches around the town, the most accessible and largest of which is the main Baska Beach. Almost two kilometers long, it's lined by a multitude of bars, restaurants, campgrounds and hotels.
Mali Bok Beach, Cres Island, Croatia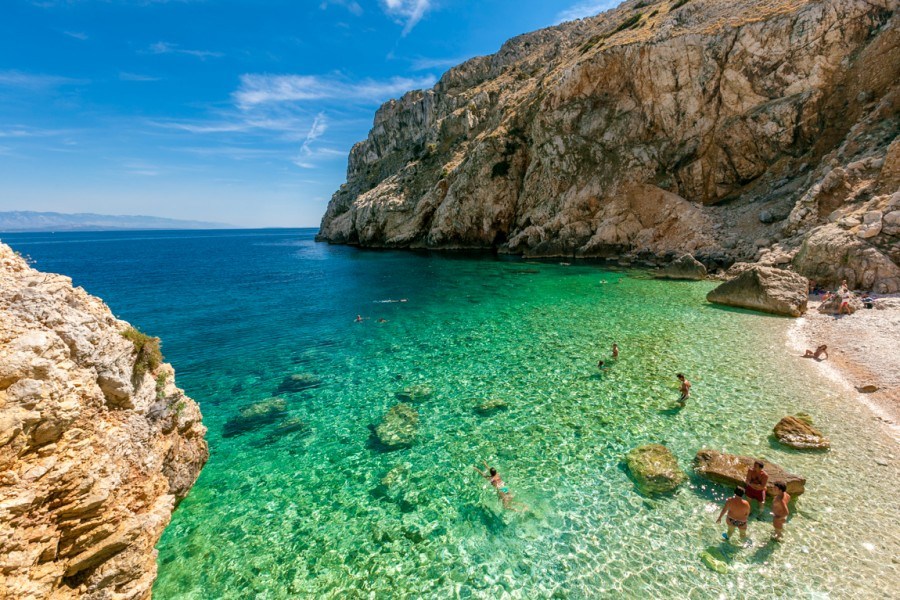 This is one of those Croatia beaches that require some effort to get to it. Once you get there, though, you will be rewarded with unparalleled beauty. Rocky cliffs surround Mali Bok on Cres, one of the Kvarner Region islands, which is an excellent beach for those of you who like snorkel or dive.
The Adriatic Sea gets deep at this beach quite quickly, but there is no need to be afraid of the deep blue Adriatic. There are no Great Whites in this neck of the woods!
Sakarun Beach, Dugi Otok, Croatia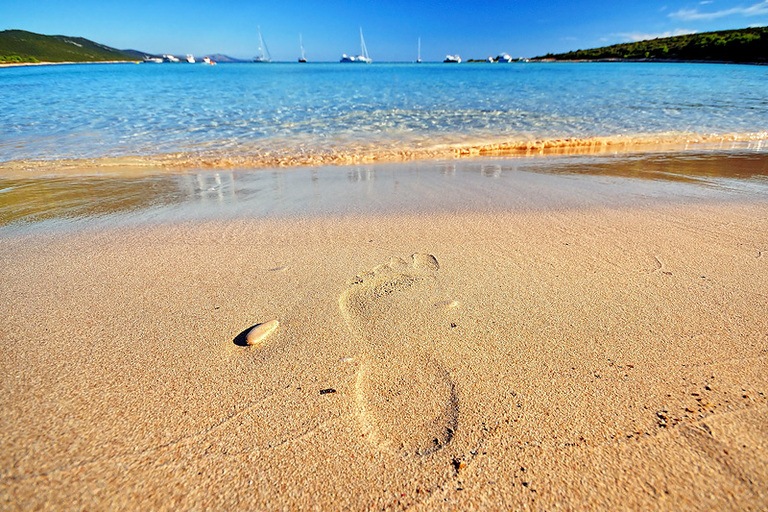 Some call it the Croatian Carribean because the sand on this beach is incredibly white and the sea as crystal-clear as the Carribean Sea. This beach always makes the "Croatian best beaches" list because it's freaking awesome! Sakarun is 800 meters long, so there is plenty of room for you to lay down your towel and claim your own little piece of beach paradise.
The beach is on Dugi Otok, so if you are in Zadar, there are many small charter boats that will take you for a day trip to Sakarun Beach for a reasonable price.
Proizd, Vela Luka, Croatia
Near Vela Luka, the main ferry port on Korcula Island, lies the small islet of Proizd. Home to a few absolutely gorgeous rock beaches, it's reachable by water taxi from Vela Luka, making for an ideal day trip. As a naturalist beach, it's one of the best quiet beaches in Croatia for snorkeling and skinny-dipping.
Best Beaches In Montenegro
Sveti Stefan Beach, Montenegro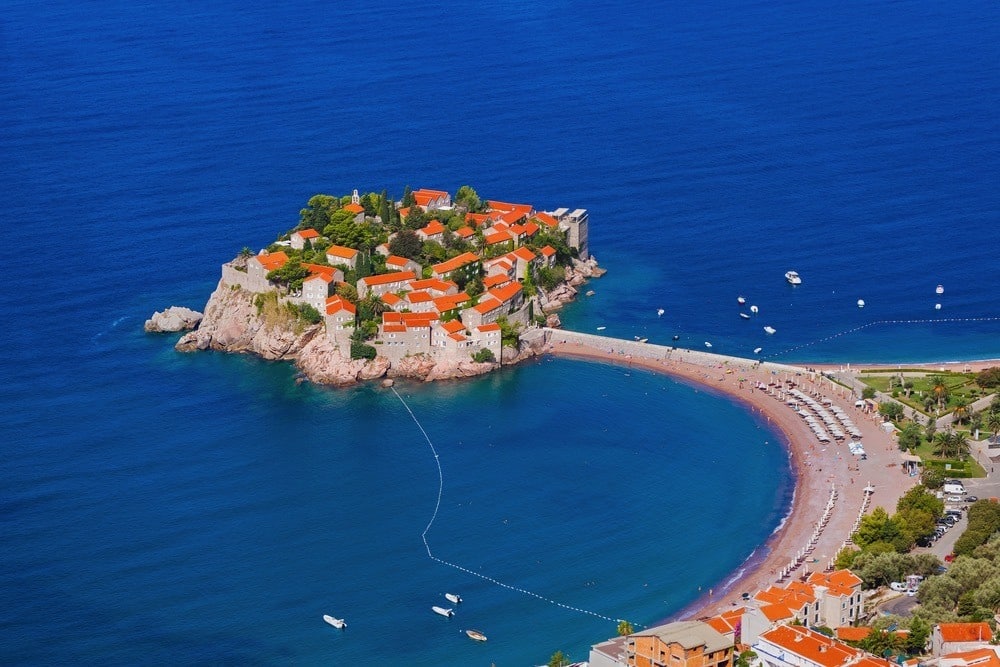 One of the Balkans' most photogenic coastal towns, Sveti Stefan, is set on a peninsula connected to the mainland by a narrow isthmus. The entire old village on the peninsula is now a luxury resort—you can literally stay in a centuries-old building—but you can admire it from the mainland beach.
A pleasant coastal walk offers additional astonishing views of this most picturesque of towns. This is a mandatory stop on any itinerary along the coast of the western balkans.
Murici Beach, Lake Skadar, Montenegro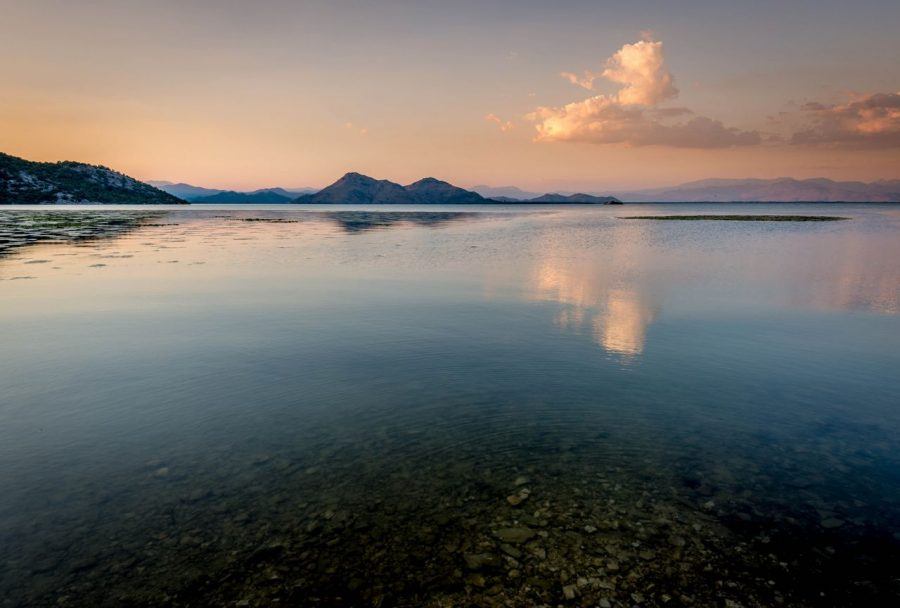 Murici Beach, on the shore of Lake Skadar, is the only beach on this list that's not located on the coast. Lake Skadar is a must-visit destination for anyone traveling across Montenegro, a region characterized by historic monasteries, great vineyards, and beautiful nature. This beach is an ideal spot to relax at after kayaking on the lake, hiking in the surrounding hills, or exploring the old, authentic lakeside villages.
Beaches Of Budva, Montenegro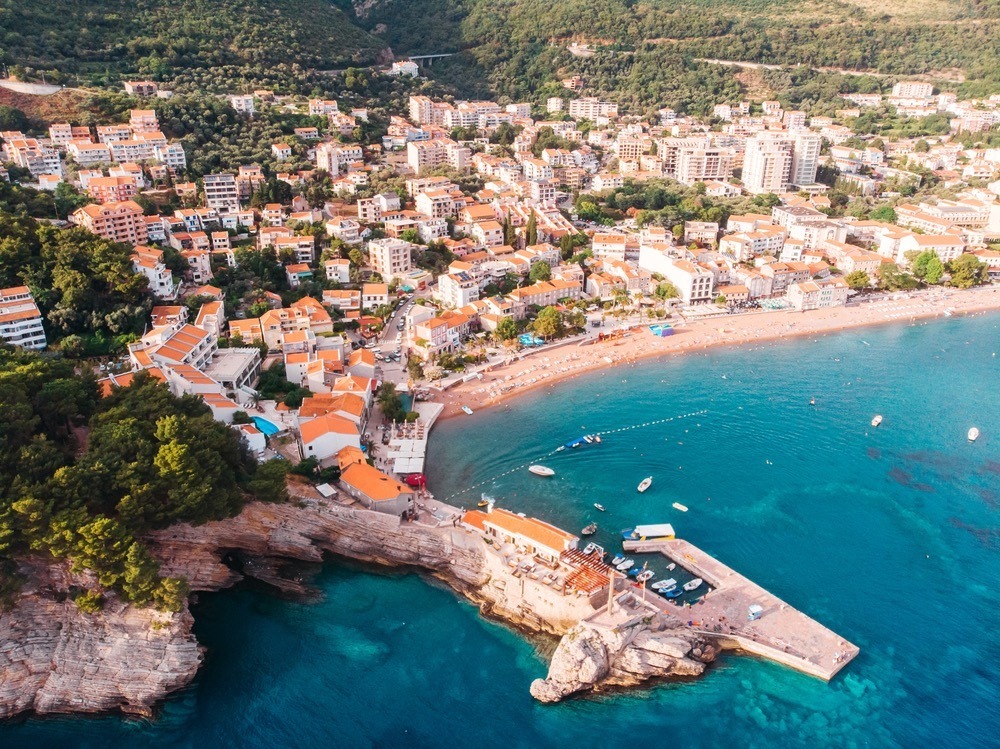 Petrovac Bay Beach, Budva
The waters found on this stunning beach are so aqua-blue, it will take your breath away! Located on the beautiful Budva Riviera, this beach is ideal for those who want a traditional beach break, with plenty to see and do when you want to escape the beach.
Petrovac Bay is one of the more lively beaches in Montenegro, and they have plenty of cafes and restaurants on the promenade above the beach. The sand is golden, clean, and great for families. This is one of the best beaches in Budva, which is one of the greatest beach destinations in the western balkans, for sure!
Mogren Beach, Budva
This beach is unique because it isn't just one beach, it's actually two which is separated by the mountains which roll down lazily towards the shore. There is also a cave which you can have a wander into, if the mood takes you!
Ideal for those who like something a little unusual, the sand is golden, and the water is super-clear. The beach is also in the town center of Budva, so you don't have too far to wander. This is one of the best beaches in Montenegro for those who don't want to travel to enjoy a sandy beach.
Becici Beach, Budva
Located close to the busy area of Budva, Becici Beach is a quiet yet fun beach, with plenty of space to roam, and one of the best Budva beach choices.
The mountains provide the background, with the crystal clear water lapping at the shore. There are many water-sports options here, so this beach is ideal for active holidaymakers, or those with older children who like to enjoy some adrenaline during their beach days.
You'll also find numerous restaurants and cafes along the main promenade, which are ideal for cooling down and grabbing an ice cream.
Jaz Beach, Budva
Located in Budva, Jaz Beach is a busy stretch of sand which has plenty of life going on around it. Certainly, the beach in Budva to be seen at, and, this beach is quite long, so there is always space, even in the height of summer.
The beach isn't sandy, instead, it's pebbly – but very clean and beautiful. There are many water-sports options here, as well as jet skiing and windsurfing if you want to try your hand at one of those adrenaline sports!
During the summer months, there is also the Sea Dance Festival which attracts countless visitors and brings a lively vibe to an already fun-filled area.
Mala Plaza, Ulcinj, Montenegro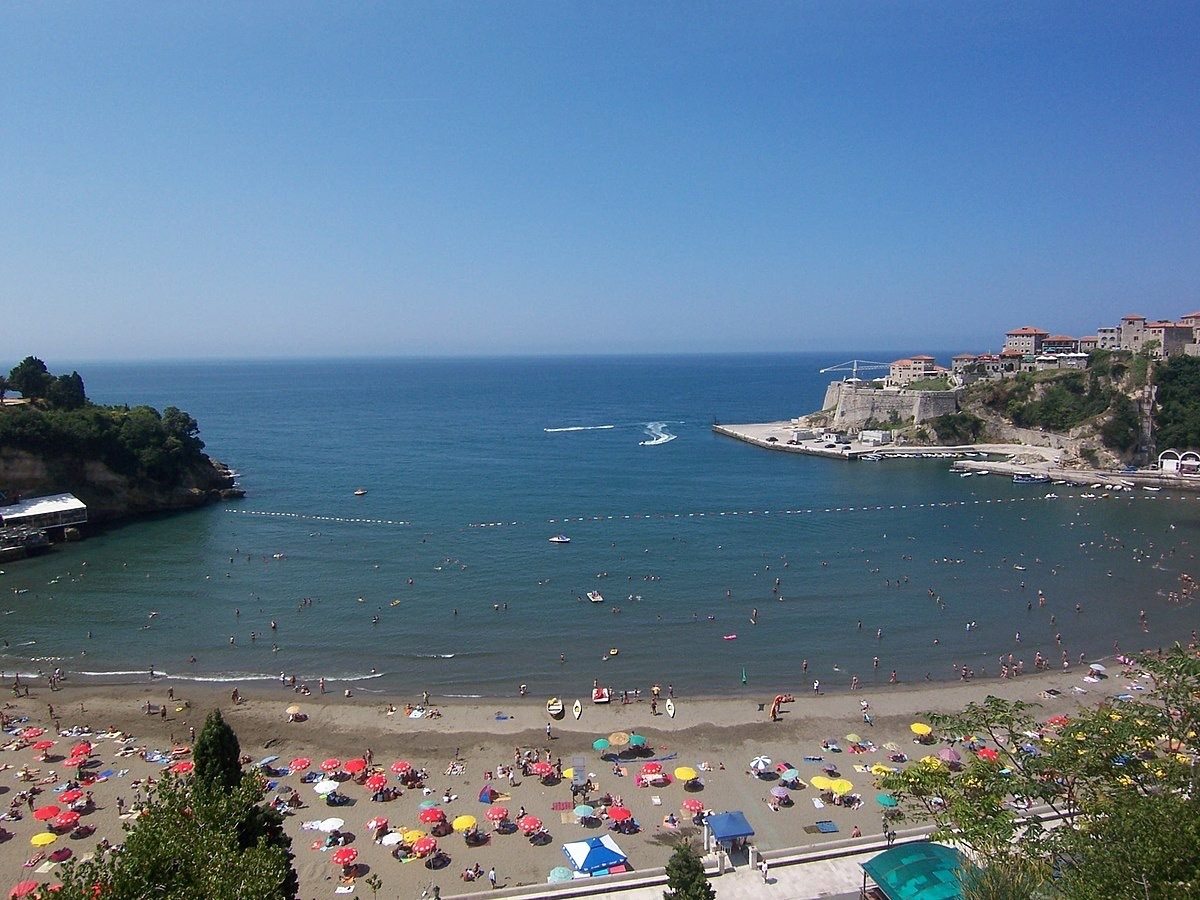 This beach is a small gem which is actually sat on the most southern point in the whole of Montenegro. You can easily reach the historic town of Ulcinj from here, but if you prefer to kick back and relax, the beach is ideal, with white sand and plenty of space to roam.
If you have children who love to sit and make sandcastles, splashing around in the sea, this beach is a good choice and is usually relatively quiet too.
Best Beaches In Albania
Saranda Beaches, Albania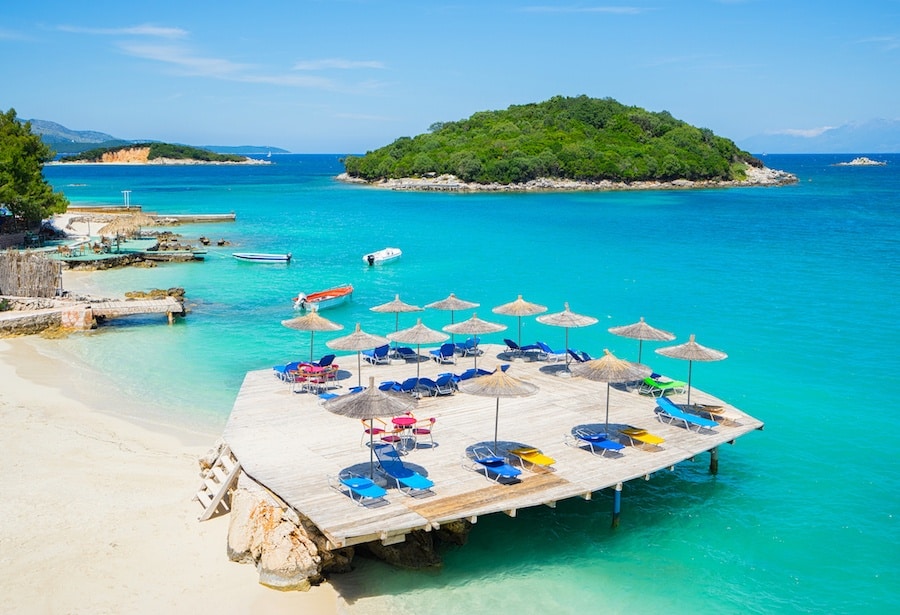 The unofficial capital of the Albanian Riviera, Saranda is an unassuming coastal city in southern Albania during most of the year. Come summer; however, the place transforms into a charming yet vibrant beach destination. Attracting large crowds of vacationers, Saranda has plenty to offer, from a busy and beautiful beach to a seaside promenade and plenty of restaurants, bars, and clubs.
We've found the top hotels in Saranda to help narrow down your search.
Ksamil Beach
One of the absolute best beaches in Saranda is Ksamil Beach. Overlooking the Greek island of Corfù, Ksamil is just a few kilometers away from the border with Greece and one of the greatest places to visit near Saranda. The sandy beaches and turquoise waters rival those in Greece and are not as crowded. If you really look, you can also find some secluded spots to enjoy quiet time.
Local Tip: In the Ksamil Bay, there are four tiny islands that you can reach by swimming or rowing. They are great destinations to escape the crowds at the main beach.
Mirror Beach (Pasqyra)
Another superb Saranda beach is Mirror Beach, a gorgeous small beach flanked by huge rocks. The reflection of the afternoon sunshine on the shimmering water is why locals call this "Plazhi Pasqyra", translated as Mirror Beach in English. And the water is, indeed, amazingly clear here, featuring a stunning turquoise color. Additionally, what sets it apart from other Saranda beaches in Albania is that there are no resorts or hotels in the area. Its' just peace and quiet, you and the waves here.
In addition to Mirror Beach, there are a couple of other smaller beaches such as Central and Liman that offer some more seclusion in this busy region.
Rent a car in Saranda and explore for yourself!
Dhermi Beach, Albania
Dhermi is often named as Albania's best beach destination. It's easy to see why the town being home to some of the best beaches in the balkans. Many spectacular beaches line the coast in this gorgeous region. Here, you'll find pebble and sand beaches, rocky coastlines, azure-blue waters, and abundant sunshine.
Borshi Beach, Albania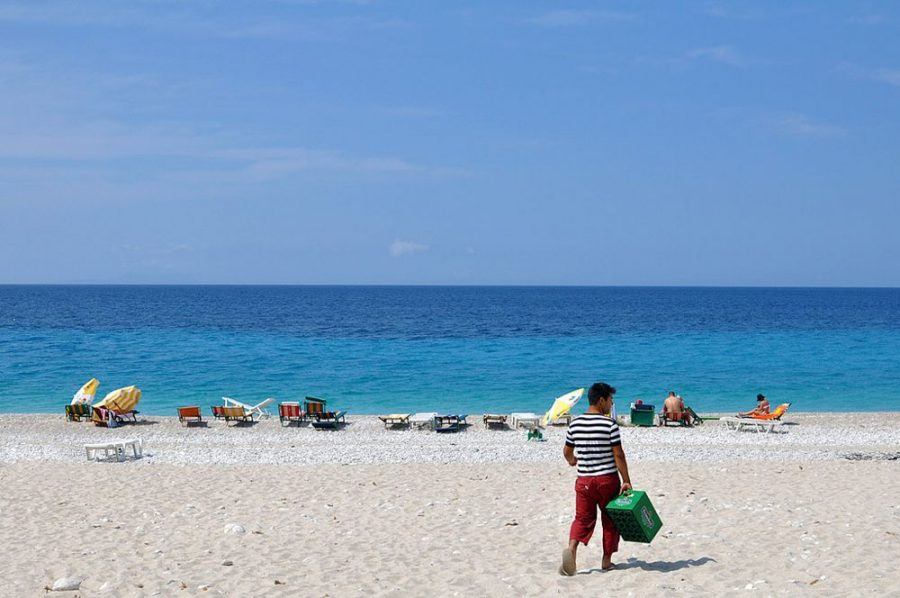 Measuring seven kilometers (about 3.4 miles) in length, Borshi Beach is one of the few Albanian beaches that continue to be unspoiled by tourism and untouched by development. This is the longest beach on the Ionian Sea coast, a peaceful place surrounded by mountain ranges, olive groves, wineries, and goat farms.
Dhraleo Beach, Albania
One of the northernmost beaches on the Albanian Riviera, Dhraleo Beach is also among the most exotic and peaceful. Backed by the towering cliffs on the Albanian coastline, this sand and pebble beach slowly, gradually, runs down into the crystal-clear Ionian Sea.
It's about 1.5 kilometers long, a noticeable stretch of white amid green hills and blue water, and located below the spectacular Llogara Pass in Llogara National Park. While it's all about stunning natural beauty now, some historians claim that it's played a significant historic role as well. It's known that Julius Caesar traveled across the Llogara Pass during his war with Pompeii and, some historians say, this very beach was where he and his legions landed.
Jalë Beach, Albania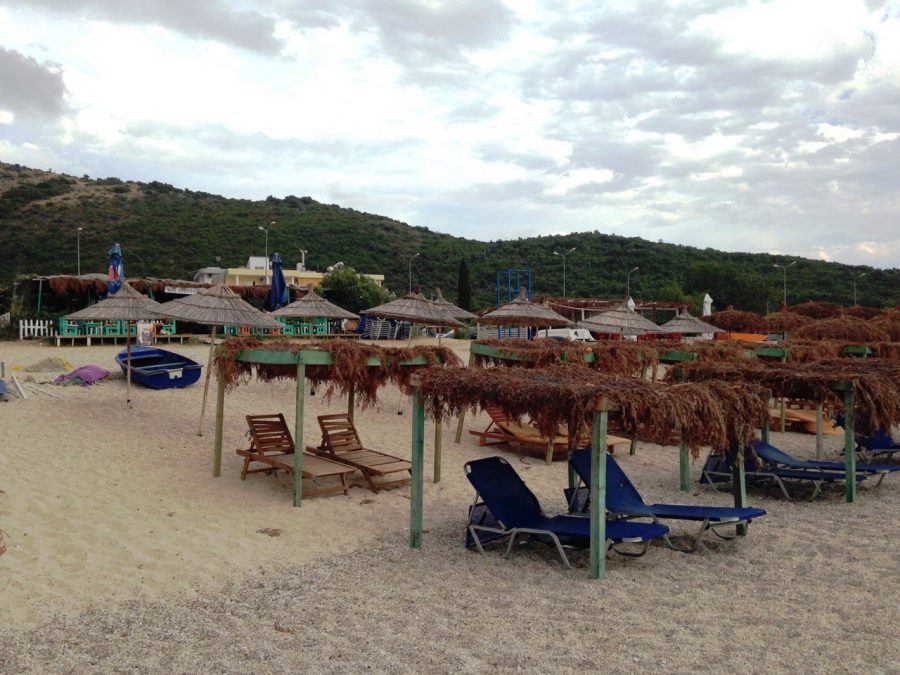 Jalë is a beach home to restaurants, bars, campings and even disco clubs. Still, though, you can also enjoy a very relaxed vibe here. Tourism in Albania hasn't fallen victim to the mass crowds (yet!), so even when you choose an equipped beach over a secluded heaven, you still won't find dozens of tourists crowding the water.
Pack a sand-free beach towel and head to Jalë Beach, also known as Jala Beach, the perfect beach for those who fancy renting a canoe or other facilities, or even people traveling with kids.
Moreover, in the surrounding area, there are many tiny coves that you can reach only by boat. So, being totally relaxed is just one rowboat away.
Vlorë Beach, Albania
The city of Vlorë is the northern starting point of the Albanian Riviera and is one of the most popular destinations for Albania beach holidays. In and around the city, you'll find many awesome south Albania beaches, including Vlorë Beach, which is sometimes also spelled Vlora Beach.
Just south of Vlorë lies the Karaburun-Sazan Marine Park, a phenomenal destination for snorkeling and scuba diving. The park protects a section of the Albania coast as well as an area of the Ionian Sea. It encompasses both the Karaburun Peninsula and Sazan Island, which is where its name comes from.
Gjipe Beach, Albania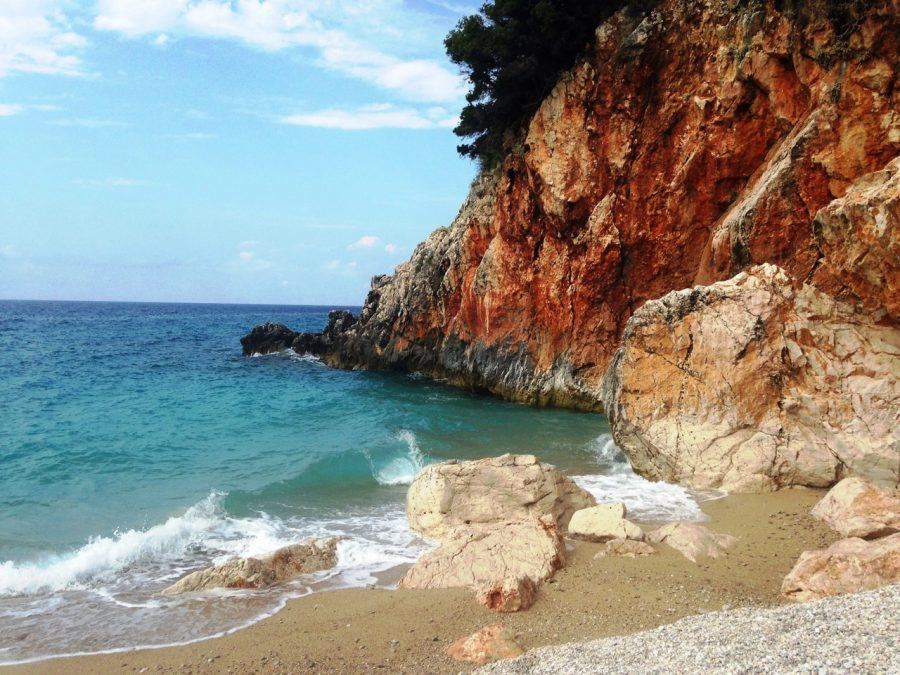 Possibly the best-kept secret of the Albanian Riviera. You do need to take a 30-minute walk (around 1.5 kilometers) to reach Gjipe Beach. Don't worry, though, you're walking under the bathing sunlight along a red soil path. Just keep in mind that you'll need to walk back later.
Gjipe is my favorite beach on the Albanian Riviera. It has a wild, simple and kind of alternative atmosphere, clear emerald water, and a majestic stage. It is nestled among the rocky cliffs whose colors range from red to gray and white, dotted with the green of the shrubs.
This is one of the beautiful beaches just south of the Karaburun Peninsula, which is part of the National Marine Park. Hence, why it's preserved and so well-taken care of.
Best Beaches In Bulgaria
Nesebăr & Sunny Beach, Bulgaria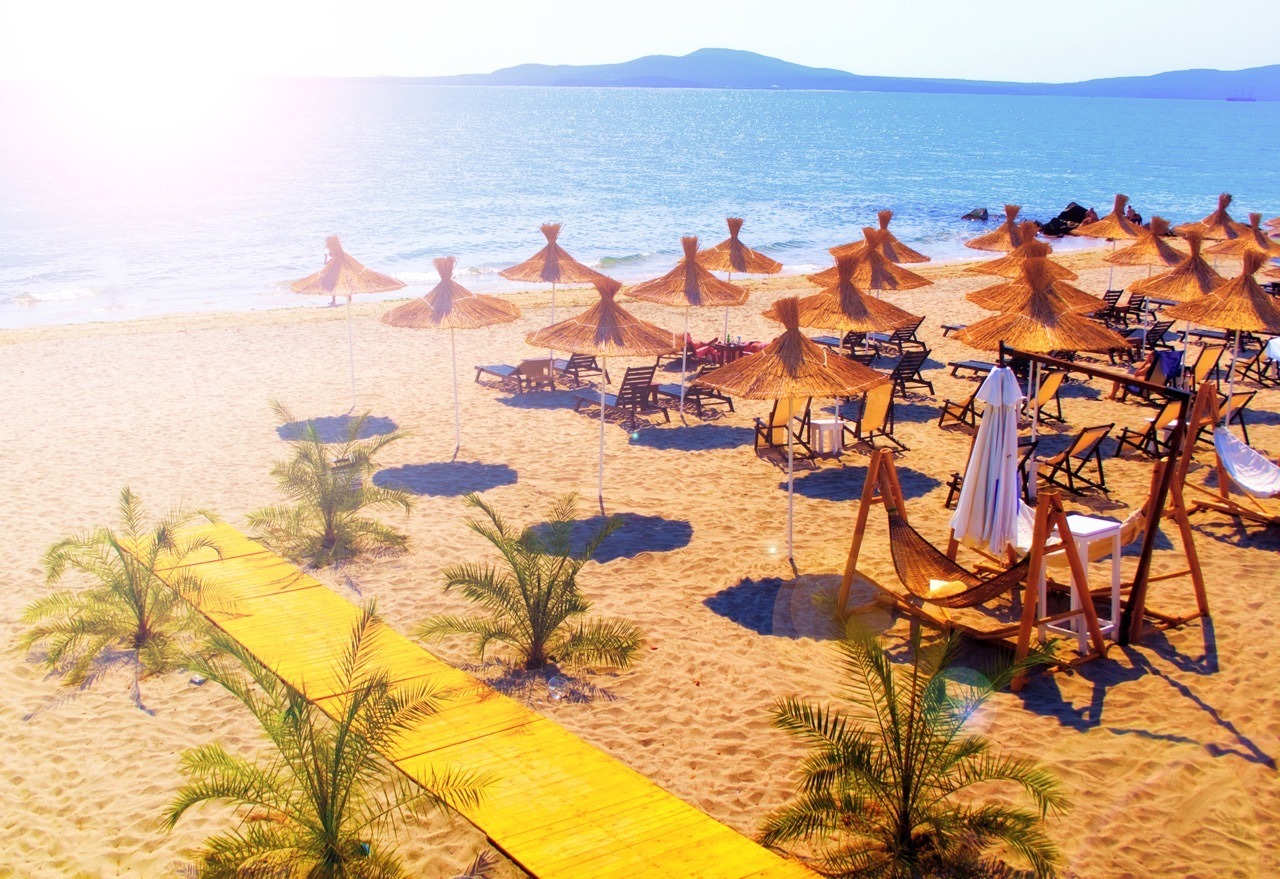 Sometimes described as the "Pearl of the Black Sea," Nesebăr was awarded the "World Heritage Site" status in 1983 by UNESCO because of the numerous and well preserved historical buildings in the old town.
The city has historically been under Greek, Byzantine, and Ottoman rule. This mix of cultures and architectonical styles turned Nesebăr's old town into one of the most romantic ones on the Bulgarian coast. Built around narrow streets, nowadays the centenary buildings serve as pubs and gift shops for tourists.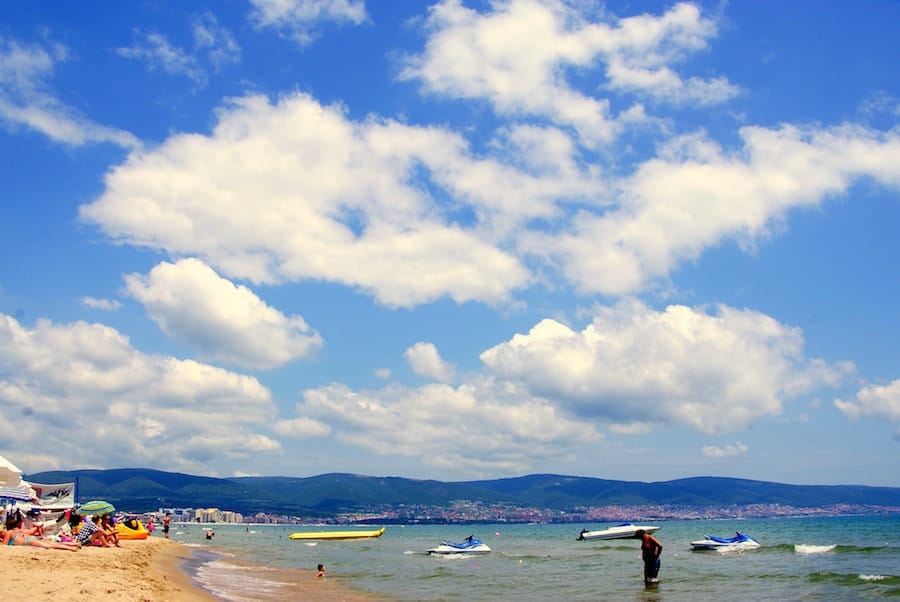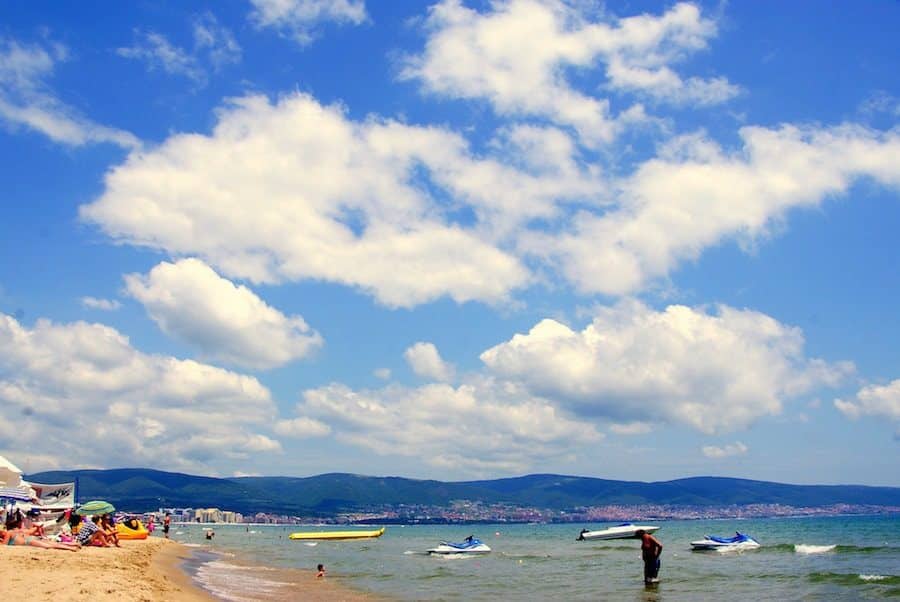 Just about 3.5 km away from Nesebăr, Sunny Beach has become the most popular beach among both tourists and locals. Thanks to the 8 kilometers of fine golden sand, Sunny beach is considered the country's largest and most fabulous beach.
Sunny Beach also has some of the country's last remaining natural sand dunes, which make the surroundings even more spectacular.
However, it is not the best place when looking for a relaxing stay. Loads of restaurants, water sports, hire tents, and some of the craziest nightclubs in the country are lined up one after another along the promenade.
Sozopol Town Beach, Bulgaria
Sozopol is one of the country's oldest and most charming towns in Bulgaria. It is located just 35 kilometers south of Burgas.
Wandering the streets of the historical old town, built on an artificial peninsula jutting out to sea, it feels like traveling back to the 17th century. Following the architectural style of the Black Sea, Sozopol has kept the original stone-paved streets, and the wooden buildings remain intact.
The city is also home to the wide Harmani Beach and the smaller Town Beach, two of the top Black Sea beaches. Town beach is the most popular beach among tourists because of the panoramic views of the old town. It can be accessed from the main city promenade.
The seafront walkway, filled with souvenir shops and open-air restaurants, is the best place to enjoy the traditional Bulgarian "shopska salata" (шопска салата). All things consider, this might just be the best place to go in Bulgaria for couples looking for a relaxed beach vacation.
Varna Golden Sands Beach, Bulgaria
Varna is a must when visiting Bulgaria. There are plenty of wide avenues, a legacy from the Bulgarian Communist years, and buildings facades that follow architectural styles imported from Western Europe.
One of the premier Bulgarian Black Sea resorts, Varna is also called "the capital of the Black Sea" for both the cultural and economic significance.
The city also has a black sand beach with more than 3 kilometers of sand full of bars and terraces right next to the "Primorski" green area. However, locals prefer to drive 15 kilometers to get to the 4-kilometer-long Golden Sands Beach (Zlatni Pyasatci), one of the most popular Bulgaria beaches.
Bolata Beach In Kaliakra Cape, Bulgaria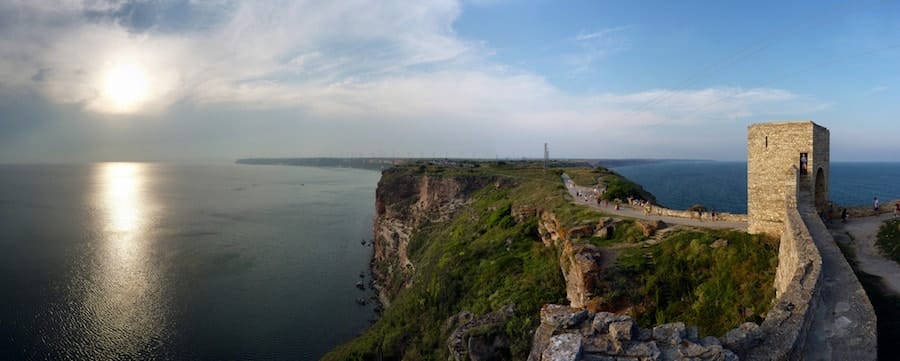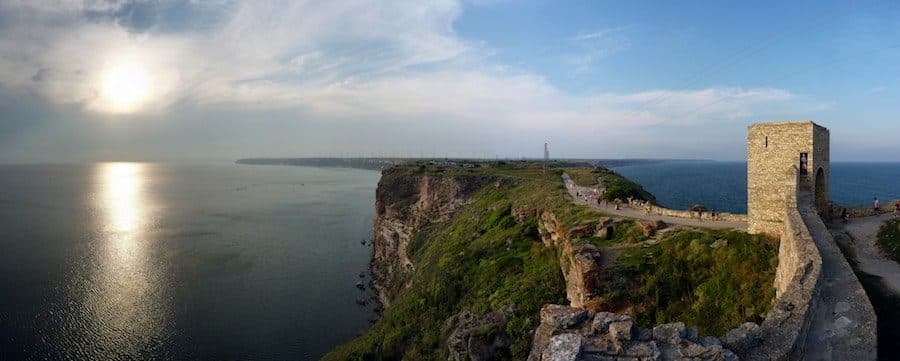 More than a village, Kaliakra is part of a natural and archaeological reserve. Among those mentioned before, this is the northernmost beach of the Bulgarian Black Sea coast.
Kaliakra's 60-meter-high cliffs stand to form a rocky peninsula and offer spectacular views over the line of the Bulgarian coast.
Bolata Beach is only about 4 kilometers from Kaliakra, and mainly local families go here. The beach is shaped like a little bay surrounded by rock massifs with cave openings that create a perfect semi-circular shape.
Saxa Beach In Burgas, Bulgaria
Burgas ranks as one of the most important cities in Bulgaria, and it is home to the largest loading port in the country. Connections by land and air with Burgas International Airport are making the city to be on the up and up. Population, tourism, and industrial significance have been continuously growing over the recent years.
As far as museums are concerned, thanks to the wide range of offers, Burgas was named one of the most culturally active cities in the country. But the offer does not only include cultural venues for all tastes and ages. As one of the leading Black Sea holiday resorts, the city of Burgas has great diving spots and one of the largest beaches in Bulgaria: Saxa Beach.
Without question one of the best beaches in Burgas, Bulgaria, Saxa Beach takes up most of the city's coastline. Spread over more than 5 kilometers, the beach is full of cosmopolitan bars decorated with Caribbean settings.
Irakli Beach, Bulgaria
One of the only remaining truly wild beaches in Bulgaria, Irakli Beach lies in a protected area about 5 kilometers from the town of Emona. The Chaya River meets the Black Sea here, splitting the beach into two different parts and creating a beautiful lagoon. Both parts have a different name, the northern area called Irakli and the southern area known as Chaya.
It's a phenomenal beach for those who are looking for solitude, sand, nature and even nudism. This is, after all, a nudist beach. So, if you're looking to get tan all over, this would be a good place to go.
Additionally, free camping is also allowed on this beach, which is a super-fun thing to do on a hot summer's night. Home to plenty of bird life and sea creatures, Irakli Beach is one of the best beaches in Bulgaria for wildlife watchers, while artists, activists and naturalists are fond of this particular beach, too.
Best Beaches In Slovenia
Portorož Beach, Slovenia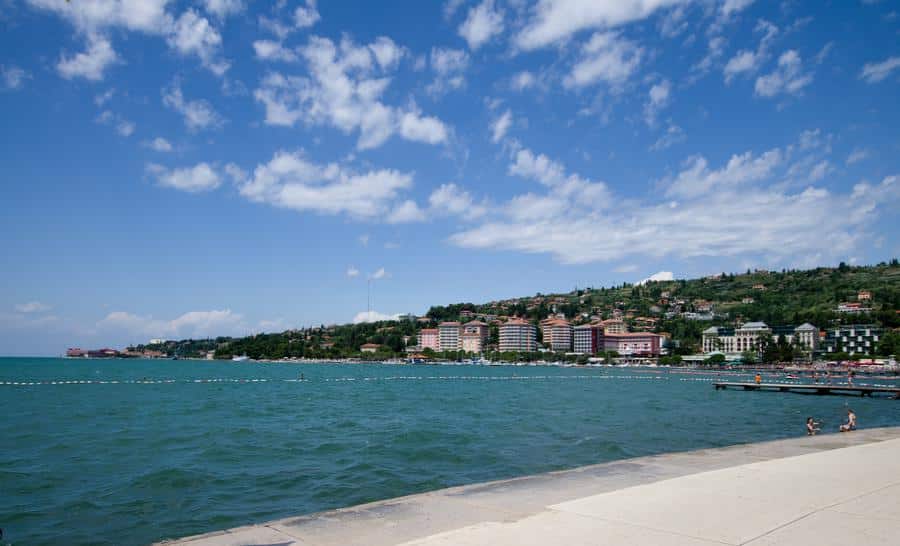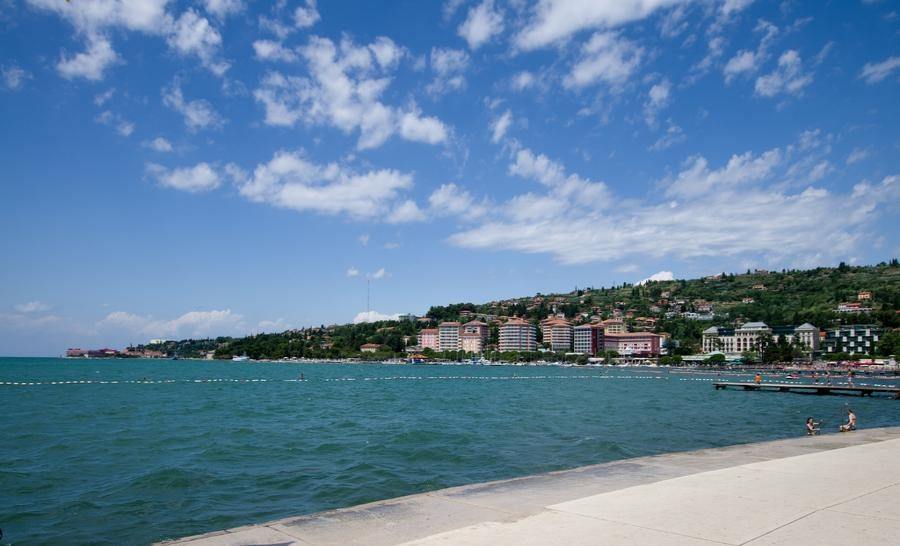 Being Slovenia's most popular beach destination, Portoroz Beach is awash with luxury seaside resorts, including shops, restaurants serving a vast range of cuisines, and an abundance of accommodation options. If you are looking for a lively atmosphere, Portoroz Beach is the place to be. The combination of white sandy beach, deep blue waters of the Adriatic Sea, and cloudless skies makes it the perfect place to relax and unwind.
Mesecev Zaliv Beach, Slovenia
Slovenia may not be the first place that comes to mind when thinking about the best beaches in the balkans, but it does have a couple of excellent ones. One of them is Mesečev Zaliv Beach. Its name meaning Moon Bay Beach, this wonderful beach lies within the Stranjun Nature Park and is only accessible on foot.
The hike is absolutely worth it, though, because of the beach's amazing setting underneath tall coastal cliffs. There's plenty of wildlife to be spotted around this beach, while the sunsets aren't too shabby either.
Mestna Beach, Koper, Slovenia
A medieval town with an abundance of interesting history, Koper is the largest coastal town in Slovenia, accompanied by Mestna Beach. Being so close to the Italian border, there is an interesting mix of Italian and Slovenian culture. Once you're done exploring the town, you can unwind on Mestna Beach, a classic pebbly Mediterranean beach. In the summer months, Mestna Beach is the perfect place to watch a beautiful sunset.
Now, all there's left to do is picking a beach, grabbing your car and exploring the beaches in Slovenia!
Izola Beach, Slovenia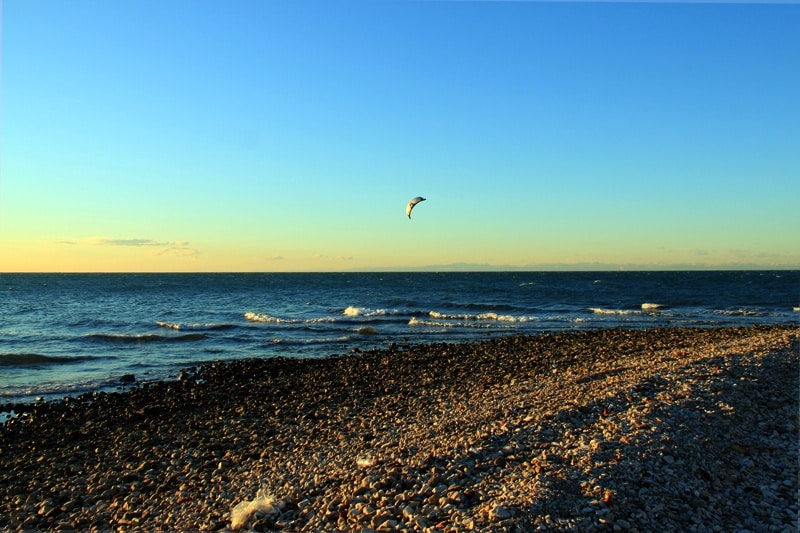 Izola is a small fishing and wine-making town with a romantic touch. This bustling town lies on the southwestern shore of the gulf of Trieste. The extensive history of this quaint town has resulted in a wealth of architecture, monuments and culture. Beyond the town is Isola Beach, lined with cafés, restaurants and shops. From the beach, you can witness stunning sunsets and peacefully watch the fisherman hull in their catches.
To discover our favorite Balkans hotels for your Balkans travel, check out our post here!
Other Photo Credits: Pixabay & Bram
Share