Privacy & disclaimers →
Guide On What To Do In Greece In Winter
Written by Marco Santos from Travel Boo and updated by the Chasing the Donkey team.
When most people think of Greece, they immediately envisage crystal-clear turquoise waters reflecting off white-washed Greek buildings, gorgeous sandy beaches, and fabulous Greek cuisine. It is no wonder that Greece is often considered a 'summer-time' holiday destination.
But the reality couldn't be further from the truth. For a country so rich in history and culture, Greece should not be dismissed when considering a European winter getaway.
As such, I've put together this guide on what you can do in Greece in winter to inspire you to visit this beautiful country, even in the colder winter months!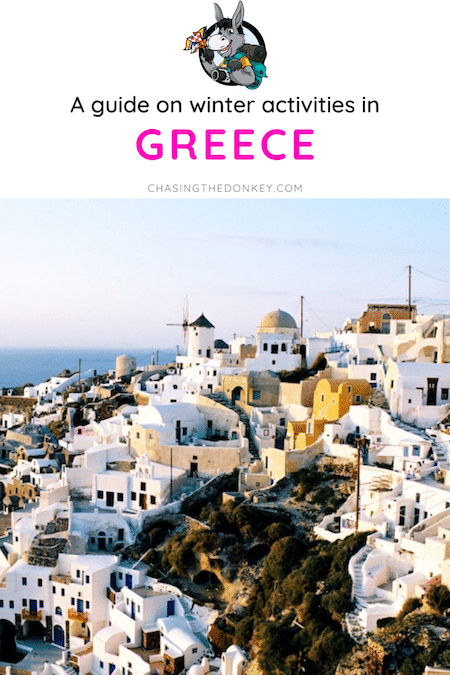 Is Greece Worth Visiting In Winter?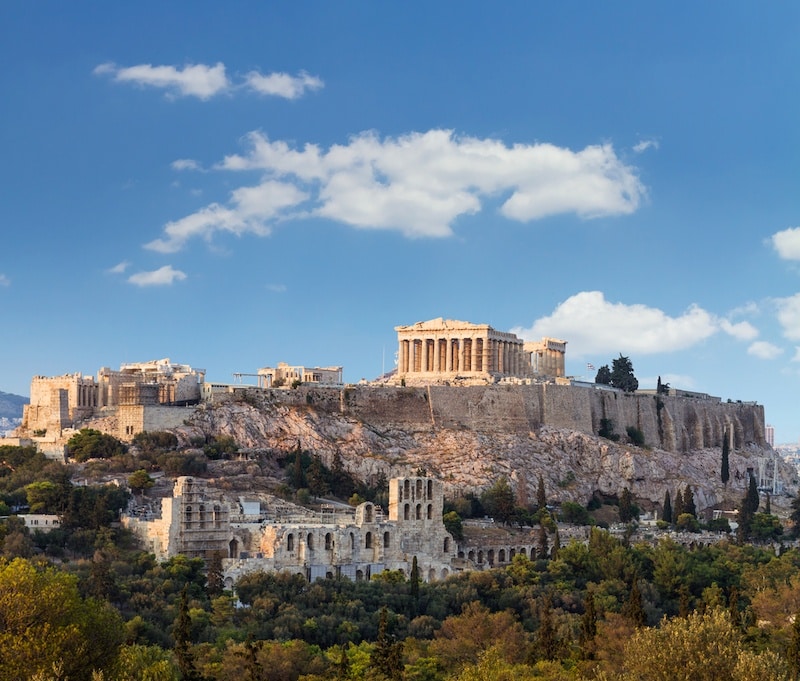 So, when is winter in Greece? The months of December through February make up the winter season in Greece.
Winter in Greece is certainly not the country's popular season – that award goes to July and August.
Visiting Greece in winter, you will find that the beaches are quiet, the islands are a little deserted, and the weather is undoubtedly chillier. But that doesn't make it a wrong time to visit. In fact, in many ways, winter is the best time to experience this ancient nation's culture, history, and versatility.
With so many incredible attractions and destinations, Greece has much to offer the winter traveler. Fewer tourists mean shorter queues to get into major attractions, less crowded restaurants, and better pricing and travel deals to take advantage of.
Whatever kind of vacation you're looking for, a Greece winter is a brilliant time to visit.
TRAVEL COMPANIES WE USE AND TRUST
Greece Winter Weather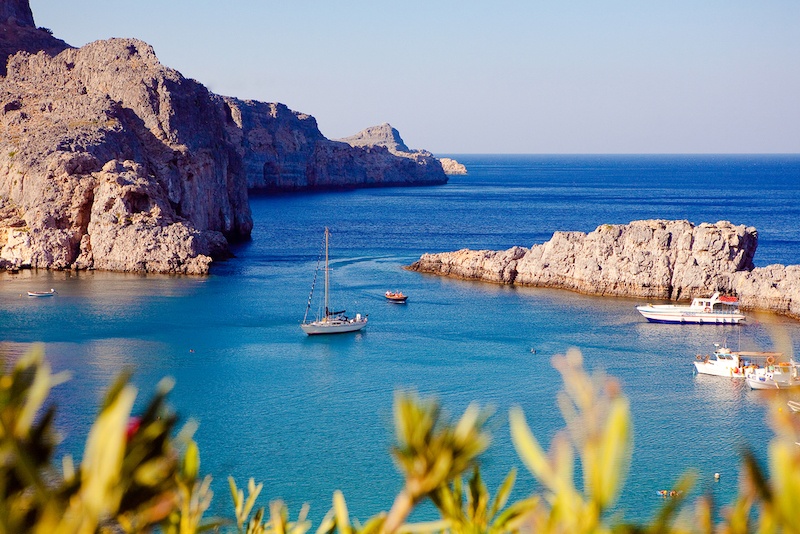 You may be wondering if it gets cold in Greece. In comparison to most European countries, weather in Greece in winter is mild and pleasant. So, a trip to southern Greece is the perfect option if you want to spend a week away from the biting cold.
If milder temperatures are what you're after, southern Greece in the winter is not only mild but frequently quite warm. You'll definitely want to pack a pair of shorts for the sunniest days. Greece in January or February does not offer laze-on-the-beach weather. Still, it is a great time to explore the country's many ancient sites without dripping with sweat and being surrounded by other over-enthusiastic tourists.
Winter is Greece's rainy season, so pack a rain jacket and some sturdy waterproof shoes, particularly if you plan hiking. The northern and mountainous regions are a good deal colder than the southern lowlands. If you're keen on snowy peaks, January and February are the coldest months. And if you head to the mountains, you'll likely find snow there.
We've dedicated a whole post on what to pack for Greece travel for those seeking more inspiration.
Greece In December – What Is A Greek Christmas Like?
Wondering if you should spend your Christmas in Greece? For anyone interested in cultural traditions and incredible cuisine, you can't go wrong with this decision.
Listen to Greek Christmas carols. Admire the decorations, including lit-up boats celebrating a Greek Saint Basil and jolly older men representing another saint that's undoubtedly not Santa. And enjoy the merry local traditions of whichever city or village you're in.
How is the weather in Greece in December? As mentioned above, December weather in Greece can be surprisingly mild. Although the mountains may have snow and cold weather, southern Greece and the Greek islands boast pretty comfy weather. Visiting Athens in December, Crete in winter, or Paros in winter are all excellent choices for a warmer Christmas holiday.
For a general idea of what temperatures to expect, the average Greece temperature in December ranges between a high of 14 degrees Celsius (57 Fahrenheit) and a low of 6 degrees Celsius (43 Fahrenheit). Again, however, the average weather in Greece in December varies drastically between the inland mountainous region and the coasts and islands.
Best Things To Do In Greece In Winter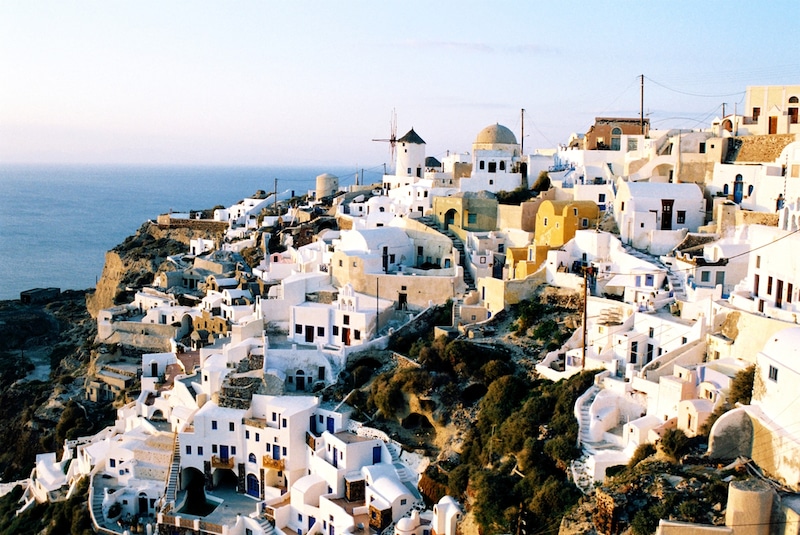 There is so much to enjoy during a Greek winter. In winter, the colder (relatively speaking) Greece weather has some unique attractions and activities, making it an excellent time to explore.
These are our top picks for what to do in Greece in winter.
Go Museum-Hopping In Athens
There are some incredible things to do in Athens, but the famous ancient city's top draws are the historic sites and the world-class museums. The best thing about visiting Greece in the winter is that the small crowds make museum-hopping so much easier and more enjoyable.
Two of the best museums in Athens are the Acropolis Museum and the National Archaeological Museum. Both showcase phenomenal historical artifacts from up to eight thousand years ago! If you've ever seen ancient Greek art in your history textbooks, chances are you'll find it here.
The Byzantine and Christian Museum and Benaki Museum are two other fantastic options for those spending more than a weekend in Athens. You'll learn so much about Greek history and culture and see some mind-boggling things too. All with hardly anyone around you, which Museum-lovers will confirm, really elevates the experience.
Go Skiing In Arachova
Greece may not be well-known for its skiing, but the Hellenic country has some great options. The mountain town of Arachova is close to Mount Parnassos, which has some excellent ski slopes for all skill levels.
While we don't recommend choosing Greece over the more famous destinations for a ski holiday, it is lovely to add to your Greek winter vacation. Not only can you ski here, but Arachova also offers world-class resorts and spas, fantastic nightlife, and some genuinely once-in-a-lifetime views.
See Meteora In Snow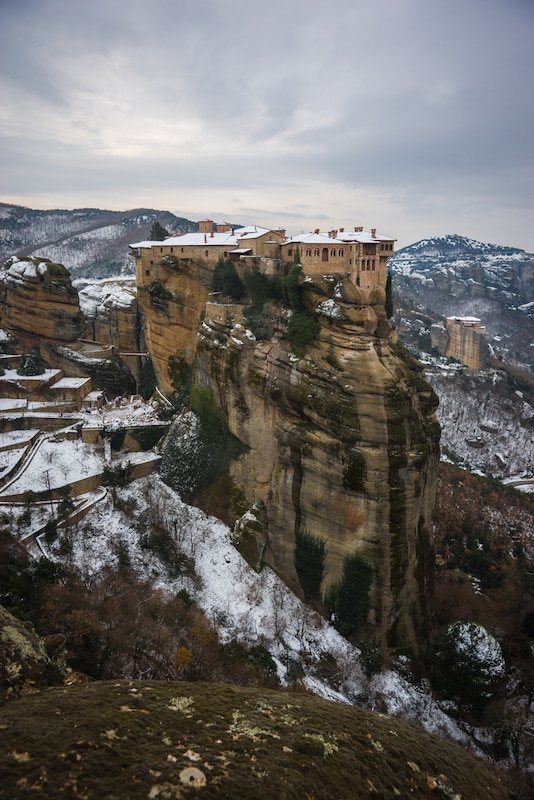 If you're visiting Greece in January or February, you have a chance of spotting Meteora surrounded by snow. This one-of-a-kind monastery is magical in all conditions. The snow just adds another layer to the beauty.
Throughout winter, snow or none, Meteora is a brilliant destination. The monastery complex is built on six natural pillars and massive boulders, making for a unique destination. In winter, the surrounding landscape is lush and green, benefitting from the seasonal rains and significantly reduced crowds.
The structures were initially built so that the monks could live in isolation, far from civilization and nearly inaccessible to outsiders. Today, the monastery is one of the best places to visit in Greece in November, December, January, and throughout the entire year really.
Visit Zagorochoria
Visit the mountainous reserve in the Epirus region of northwestern Greece, Zagorochoria. Here you will find a complex of 46 stone-built villages to wander and be in awe of.
Take A Hiking Trip Through The Wild Mountain Landscapes
The mainland of Greece is covered with mountainous hiking trails. Most are not for the faint of heart and can take days or even weeks to complete. They'll be some of the most memorable days of your life, but you do need to have quite a high level of fitness.
Hike along a scenic riverside path on the Samaria Gorge Trail, which takes you through Byzantine ruins in addition to the spectacular nature. Or find one of the many trails on beautiful Mount Athos.
For those keen on a multi-day hike, the seventy-five-kilometer Menalon trail will take you through the heart of the Peloponnese. Explore charming mountain villages, deep canyons, and striking mountains. It should take you around three days to complete, with time to stop and enjoy your surroundings.
Head To Nymfaio, The Capital Of Silversmithing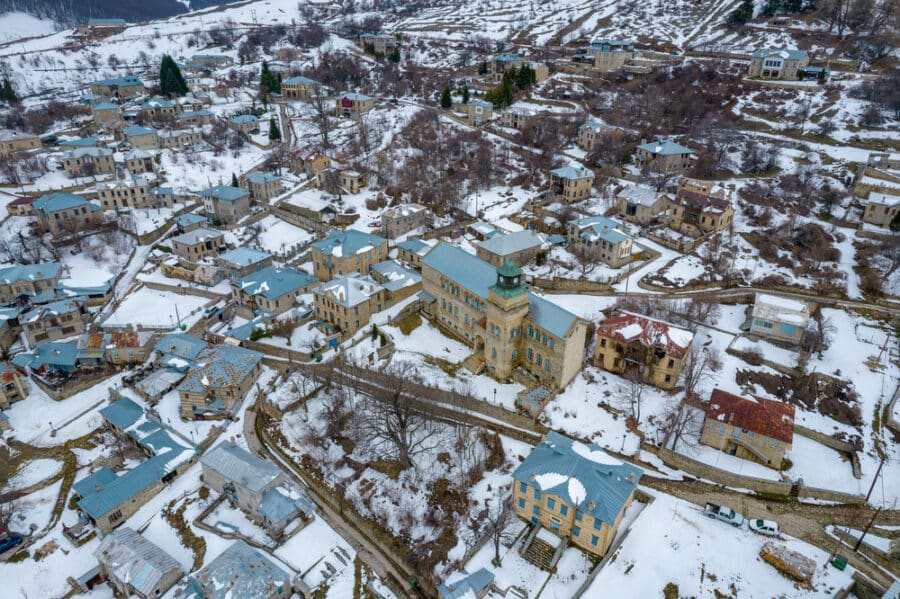 Regarding mountain villages, you should include Nymfaio in your itinerary. The village, famed for its silversmithing industry and local warriors, is a pretty town with a rich history in Western Macedonia. Founded by Vlach travelers in the 14th century, Nymfaio quickly became known for its skillful smiths.
The town of Nymfaio features many museums where visitors can see religious silverware, jewelry, and gold artifacts made by the town's master artisans. Besides its cultural riches, Nymfaio has a wealth of architectural and natural beauty. Visitors can bask in the picturesque scenery from the village's old houses or wander through the scenic streets.
There is also an environmental protection center run by the Greek ecological organization Environmental Centre ARCTUROS; at the center, visitors can see rescued bears and wolves that are too weak to survive by themselves.
Taste Greece's Unique Winter Cuisine
Greece is particularly well-known for its summer foods. Greek salads, light meals, and rich yogurts with berries are all country staples. But the food goes through a substantial shift when the weather gets chilly.
Expect meatball and bean soups, hearty stews, stuffed cabbage leaves, and oven roasts. Greek winter food is healthy and delicious, guaranteed to warm you up and keep your energy high.
If you're visiting Greece in December, try some traditional Christmas treats like spinach and cheese pies and roast pork. Of course, Greek coffee with a slice of baklava is the perfect way to end any summer or winter meal. But its rich flavor is best suited to winter.
Swim In Thermal Lake Vouliagmeni
Lake Vouliagmeni is just outside of Athens, making for a great day trip from the city. It's a beautiful, brackish lake with pleasant temperatures at any time of year. The minerals in the large lake include potassium, ammonium, calcium, and iodine. Together, the water's minerals give relief to several health issues, including bone and muscle stresses, eczema, and arthritis.
The lake also has a happy doctor fish population, which provides natural (and ticklish) exfoliation. The spa facilities also include sunbeds, a restaurant, and nearby accommodation options.
Visit The Greek Islands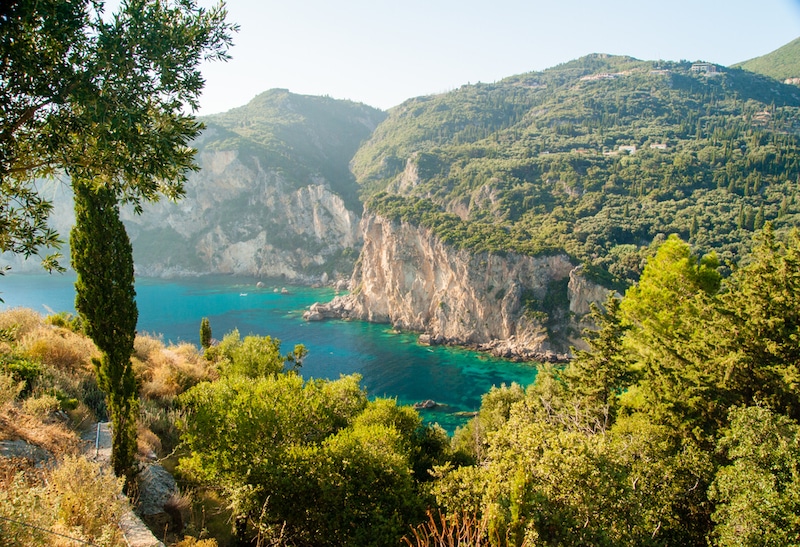 Modern Greece is most well-known for its gorgeous Greek islands. People come in droves to laze on the beaches, explore wild paradises, and enjoy the laid-back island vibe.
Winter on the Greek isles is slightly different and may not be your obvious choice, but it should be considered nonetheless. The local population settles back into everyday daily life, and the tourism industry hunkers down till the subsequent summer season. You may find this to be your favorite time to visit the islands.
Get to know the locals, playing backgammon, and embrace the late-night cafe culture. Explore the islands, hiking, and cycle across the green landscapes. Winter is also when you'll have some of the best cultural experiences, including live performances and art shows.
If you're unsure about the weather of the Greek island in December or January, rest assured you'll be able to enjoy many comfy and sunny days. Although obviously much less warm than summer, winter allows for other outdoor pursuits than sunbathing, activities that would have drenched in sweat in summer.
Corfu is one of the best options for a Greek winter escape, with a "vibrant local tradition, a beautiful Old Town, and lots to keep you busy. Crete and Lesvos are also terrific options, with mountain villages you can hike between and frequently mild winter weather. Another option that becomes more budget-friendly in the winter is Santorini.
Tip: Do note that most of the ferry operators and flights connecting the mainland to the Greek Isles do operate on a much more reduced schedule during these off-peak winter months. Be sure to plan and book in advance to avoid running into any schedule issues.
Winter In Greece Wrap-Up
Whether you prefer spending your Greek winter holidays sightseeing in the city of Athens, decide to explore the Greek islands in December, January, or February, want to indulge in a thermal baths experience, or much rather prefer to go hiking instead, you will no doubt be pleasantly surprised by all that this fantastic country has to offer, even during the much quieter Greece winter months.
So, why not give Greece in the off-season a try and book your next winter getaway to this magical country instead?