Hundreds of islands and islets make up the gorgeous Zadar archipelago, which lies just off the Zadar mainland and is reachable by ferry and catamaran. Of those countless islands, however, only a tiny fraction is inhabited. These islands receive much fewer visitors than the more popular islands in southern Dalmatia—Hvar, Brac, and Korcula are good examples. That, of course, means they're much quieter and serene and ideal for families.
There are many islands off Zadar, just a short ferry ride and a world away from the bustling Old Town. These places are home to incredible beaches, bare hills, tiny towns, and gloriously clear waters.
1. Pašman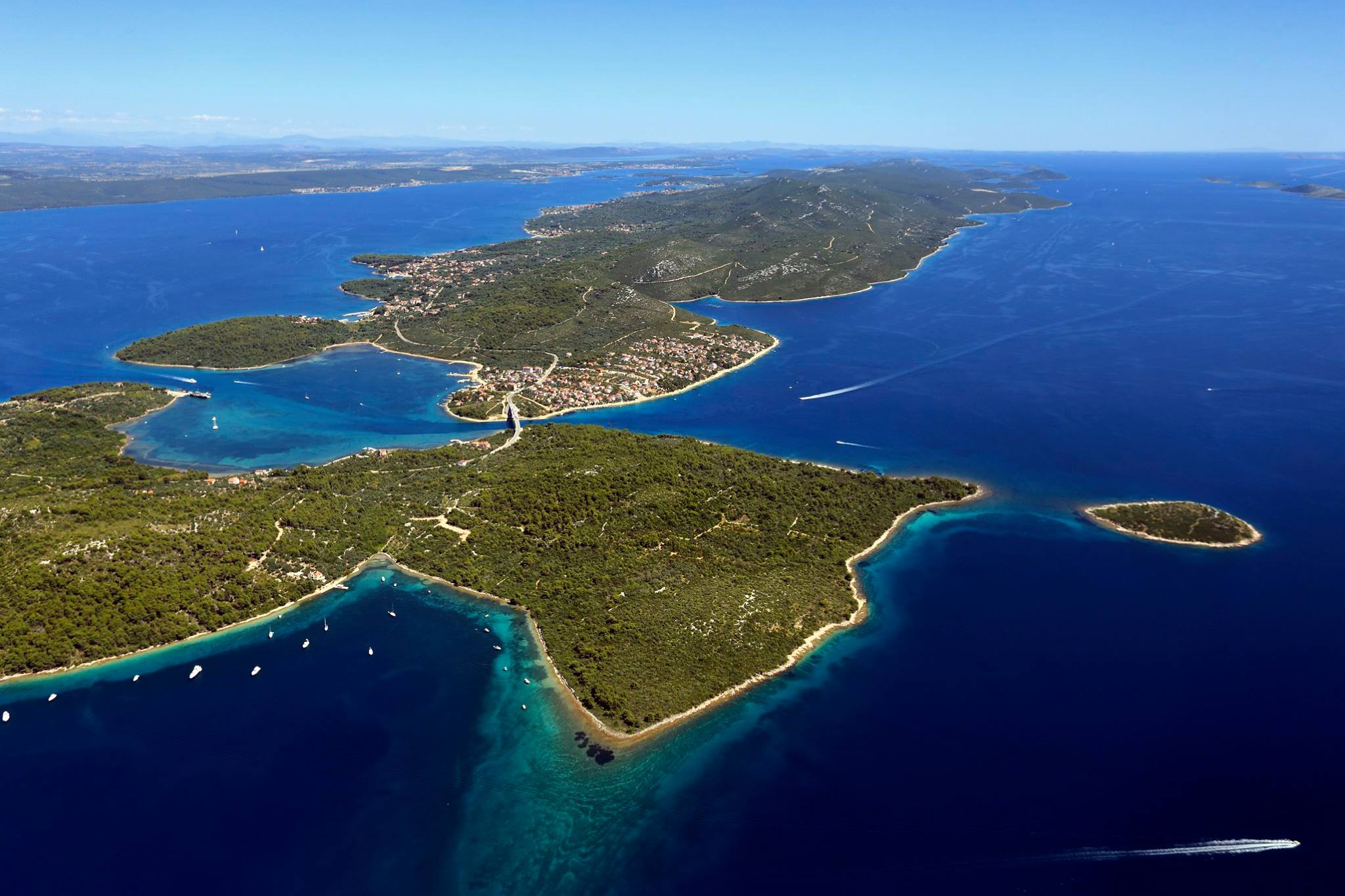 The island of Pašman is one of the largest family-friendly Zadar islands. It's also among those nearest to the mainland coast, separated only by the Pašman Channel, which is no more than two kilometers wide at some points.
With currents that change direction multiple times a day, the channel's waters are some of the cleanest and most transparent in the entire Adriatic. On land, you'll find farmlands, vineyards, olive groves, pebble, and sand beaches. Culture and history lovers will relish the chance to visit relatively undiscovered gems such as castle ruins, remains of ancient Illyrian towns, beautiful villas, and other monuments.
Alternatively, you can get to Pašman via ferry from Biograd or by ferry bus from Zadar to Ugljan and then onward by bus to Pašman. (A short bridge connects the islands of Ugljan and Pašman.)
2. Ugljan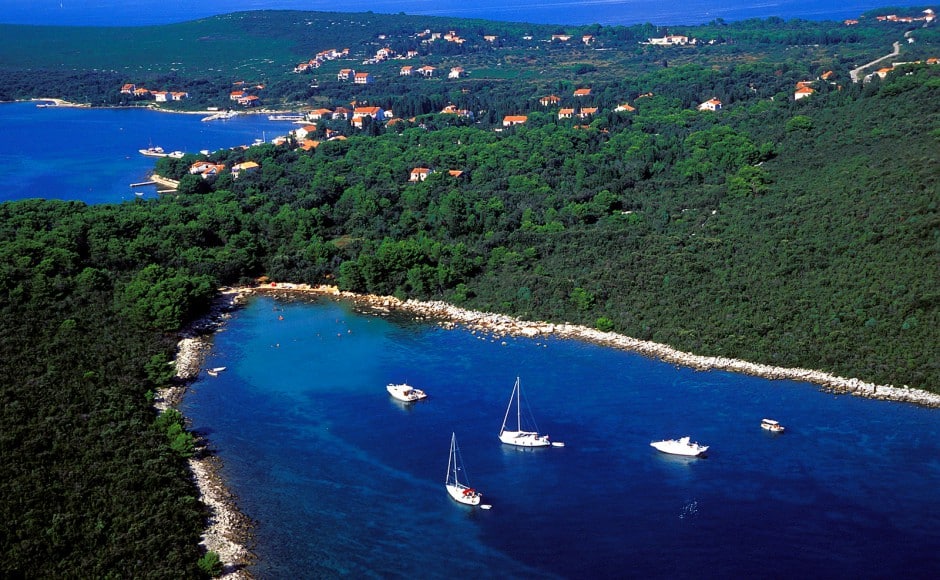 Across the Zadar, Channel lies Ugljan, the nearest one of the islands off Zadar. This lush island is sometimes called the Zadar Garden because of its olive groves, pine forests, vineyards, and fig orchards.
This is your most convenient option if you want to take the kids on an easy island trip from Zadar. There is a direct ferry service between the port of Zadar and the island. The ferry ride takes less than 30 minutes.
In addition to lush landscapes, Ugljan boasts a wealth of history. You can visit the 13th-century St. Michael Fortress, which offers a stunning panoramic view or explore old churches and monasteries. Hiking and cycling trails crisscross this Zadar island, offering opportunities to explore it at your own pace.
Beaches are available for those looking to soak up some Mediterranean sunshine away from Zadar's busy Old Town. Additionally, wandering around local villages such as Preko, Ugljan, Poljana, and Kali is a popular thing to do, too.
TRAVEL COMPANIES WE USE AND TRUST
3. Dugi Otok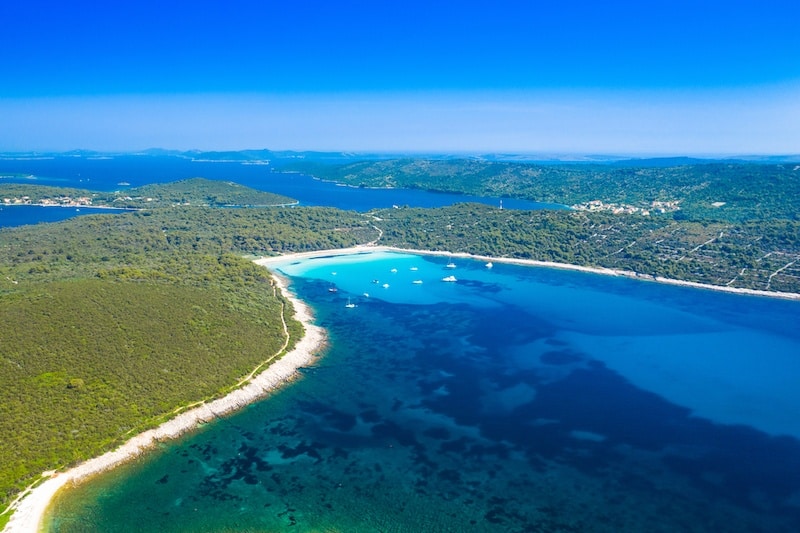 If you have time to visit just one of these family-friendly islands in Zadar, let it be Dugi Otok. Also known as Long Island, this sensationally beautiful place is easily one of Croatia's star attractions. On the island, historic towns and award-winning beaches share space with lush forests and impressive coastal cliffs.
This is the location of both Telašćica Nature Park and Kornati National Park, which is genuinely one of Croatia's most incredible nature destinations. Its name is justified by its shape and size, about 45 kilometers long, but its width varies between only 1 and 4 kilometers. Anywhere you go, the coast and its cliffs and beaches will be right there. If you have more than 48 hours in Zadar, this trip is worth it.
Over ten historic villages on the island and various ruins date back to Roman times. Besides this apparent cultural character, the island is most famous for its natural features. The nature parks attract hikers, sunbathers, wildlife watchers, and snorkelers.
Take the time to explore the entire island, from Kornati National Park in the far south to Sakarun Beach near its northern tip. The latter is one of the world's most beautiful coves.
There are regular ferries between Zadar and Dugi Otok and other islands in the Zadar Archipelago. Or take the whole family on a 3-day sailing adventure like we did, which includes a stop on this stunning island.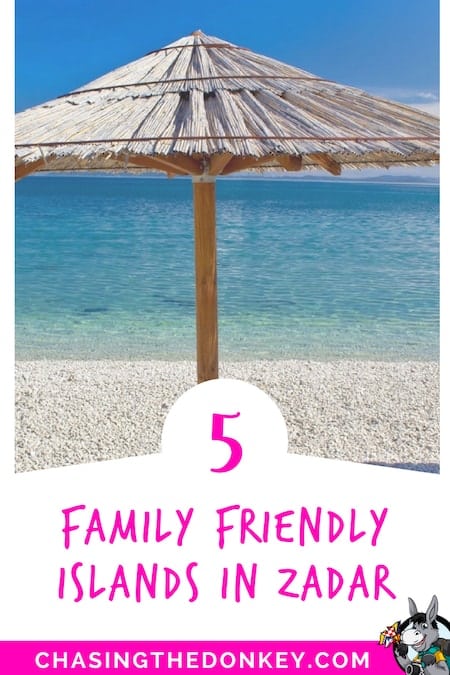 4. Mali Iz
A part of Iz's Island, Mali Iz, lies on the island's lower northeastern side, facing Zadar. Since Antiquity, people have lived in the area where there were once many fishermen and an industry making hand-painted ceramics. There are five small villages in Mali Iz—Komoševa and Knež on the coast and Porovac, Makovac, and Muće, a short walk inland. This is an outstanding destination for those looking for a quiet island retreat, far away from northern Dalmatia's tourist-saturated coast.
Spend some time wandering around the area, keeping your eyes open for remnants of ancient Croatian architecture, or go fishing, scuba diving, or snorkeling. There are some excellent reefs just off the coast. Iz is also a good starting point for visits to the gorgeous Kornati National Park. In terms of accommodation, you'll find several apartments all over Mali Iz, but many of them are in the coastal village of Makovac.
Makovac is also where the ferries from and to Zadar arrive and leave.
5. Silba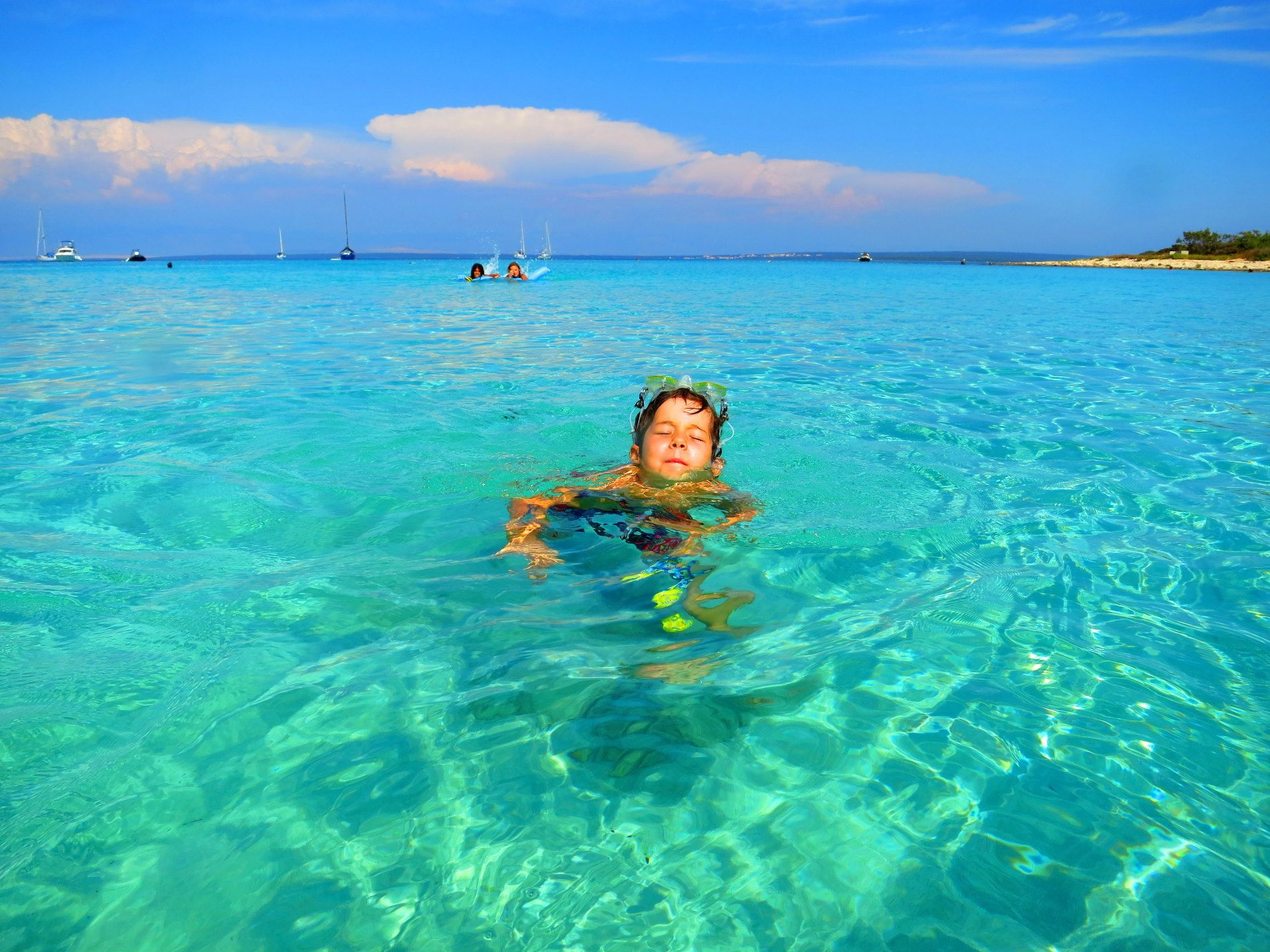 Part of a group of islands in the northwestern Zadar Archipelago, Silba is the most populous of them all. This is the remotest of these five family-friendly islands in the Zadar region, a place that lends itself to relaxation and slowing down.
It gets busy in the summer, attracting peace-seekers, young families, and active travelers alike. The entire island is a pedestrian zone, and the only vehicles allowed are those that serve the island's businesses. It's a walker's paradise, while "slow food" lovers will undoubtedly enjoy the taverns and eateries in the island's namesake town of Silba. Fishermen, boaters, and snorkelers, too, will find joy in the crystal-clear waters of the Adriatic.
Getting to Silba is possible with three different ferry companies. Depending on your route, the journey lasts approximately 1.5 hours and just over 4 hours.
6. Vir
Connected to the mainland by a bridge, the island of Vir lies northwest of Zadar, a quick drive yet a world away from the city. This quiet island is a well-kept secret in the region, much less popular among tourists than other places, but definitely with something in store to please every visitor.
The island is home to the namesake town of Vir, a Mediterranean village with a long history. Although recently, Vir has become a popular area to build summer houses among Croatians, Slovenians, Bosnians, and even people from other further-away countries, the locals have also made an effort to keep things attractive to tourists.
There are fine natural beaches, many old churches, ruins, and fortifications, most notably the 16th-century Kaštelina Fortress that the Venetians erected to defend against the Turks and pirates roaming the Adriatic. There are also a few fascinating prehistoric ruins in the island's hills.
7. Pag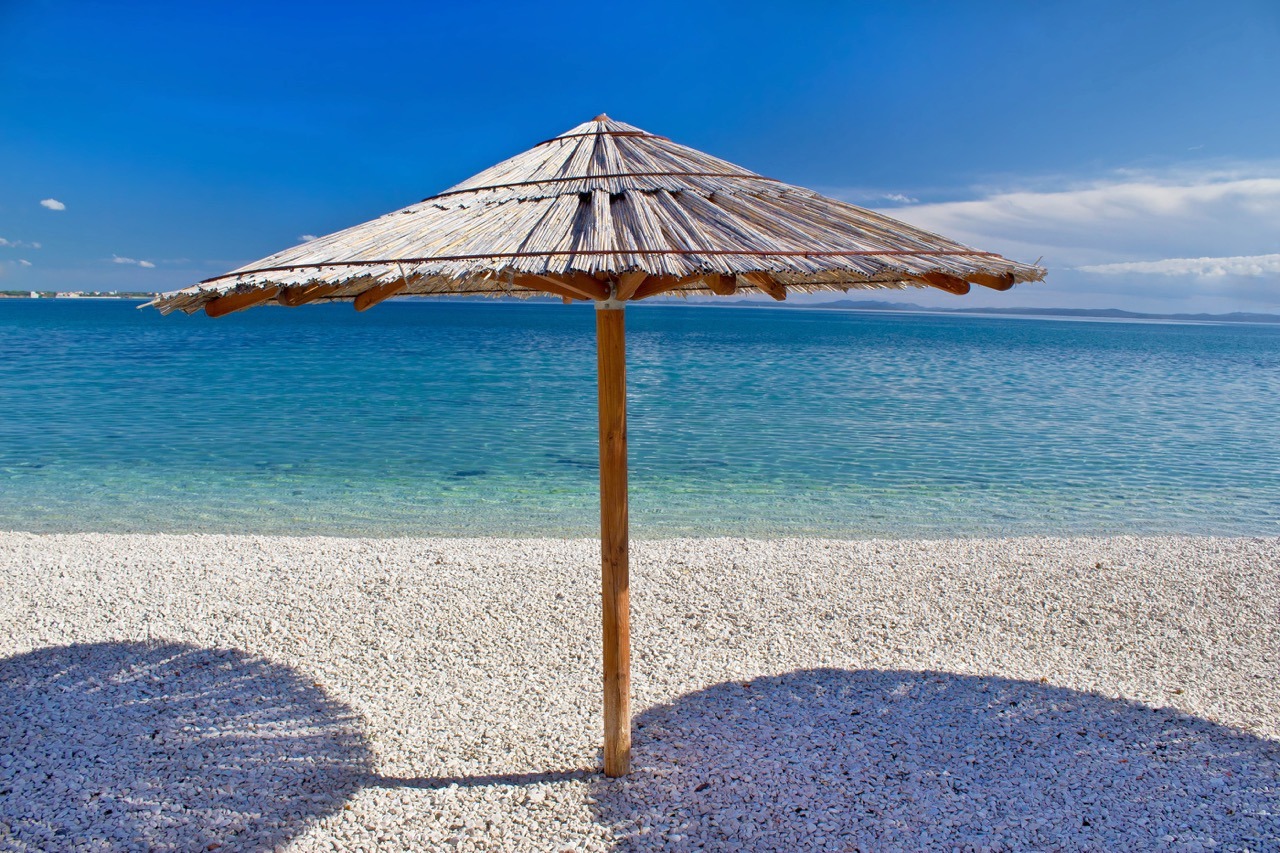 The island of Pag, situated north of Zadar, is so close to the mainland it's virtually a peninsula. A very short bridge connects the island to the mainland, making it possible to drive your rental car there. It's one of the best day trips from Zadar, for sure.
Characterized by a landscape of bare rocks, countless coves and inlets, gravel and sand beaches, and a few fun towns, Pag makes for a great getaway destination for families vacationing in the Zadar region. Foodies will enjoy sampling some of the area's specialties, such as Pag cheese, white wine, and lamb dishes. Additionally, there are centuries-old ruins, beautiful churches, and the medieval town of Pag.
Activities in Pag range from hiking and biking to sunbathing, water sports, fishing, and cultural exploration. To the north of Pag, Zrće has attracted young party-goers for years with its 24-hour parties, festivals, and music events. On the other hand, families with young children will love spending their days on the beaches and in the shallow waters.
8. Molat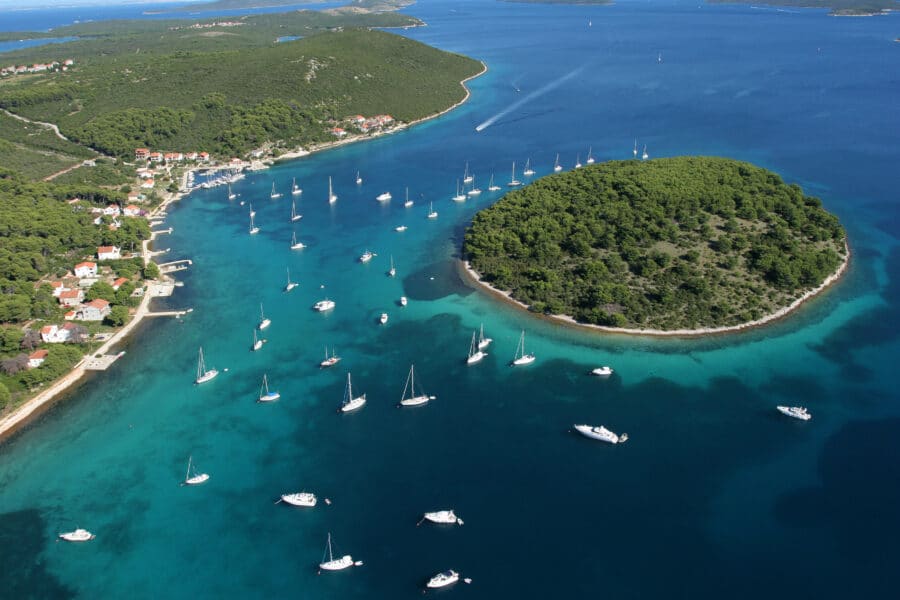 The island of Molat is an excellent choice for a quiet and chilled-out family break. Located towards the Adriatic's eastern side, Molat doesn't have a huge population, which equals plenty of space to roam and for little ones to run off steam.
The coastline is wide, sandy, and relatively sheltered, ideal for a day on the beach. Many yachts sail around this part of the archipelago, so kids will love spotting them passing by. The marina is stunning to walk through, and the main town center has eateries and places to chill out in the sun.
Brgulje Bay is the perfect beach spot for families, with small coves to play hide and seek and relatively safe waters for paddling and swimming.
While Molat might not be the most touristically developed of Zadar's islands, that's ideal for families who want a chill-out break with the less hustle and bustle. Older children will love walking along the coastline and checking out the ruins dotted around.
9. Premuda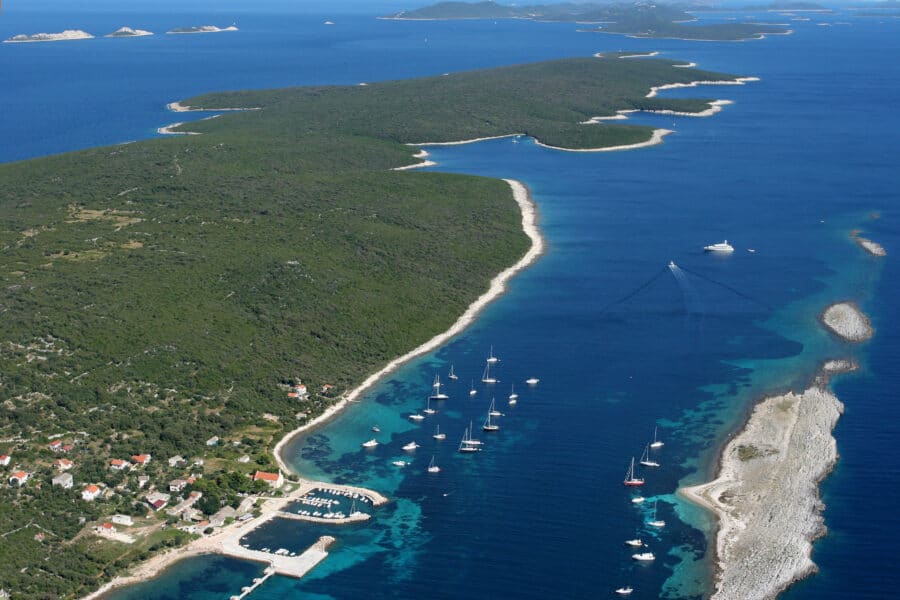 If you fancy heading back in time for a few hours, Premuda is an island with no cars, so you will feel like you're several centuries in the past! However, this is ideal for families as your little ones can roam freely, and you don't have to worry about jumping out of the way of busy roads and unexpected cars.
Premuda is quite a flat island too, so it's easy to walk around. If you head to the southwestern side of the island, you'll see several picturesque coves where children can play and enjoy the sun. The island is also a popular shipping stop-off point, which can be fun to sit and spot.
There is very little in the way of the busy life on Premuda, which makes it the ideal spot for an idyllic break. Children can run and play without worrying about danger, and the slow pace of life is the perfect answer to busy days spent on the mainland's tourist resorts during the high season.
Olib
For those who love walking, Olib is the ideal option. This beautiful island is very flat, and its highest point is only 72 meters! The white sand and turquoise blue waters are a beach lover's dream, and if you head to Olib bay itself, you'll be able to feel like you're traveling back in time, too; this village dates back to Roman times, and there are odd ruins here and there which children will love to explore.
Like many Croatian islands, the island is known for its local product, including cheese, wine, and olive oil. Many locals think cheese on Olib is better than Pag, and you'll find small family-run restaurants where you can sample the local delights. There are also plenty of wildlife spotting opportunities; Olib is home to many wild rabbits and pheasants.
You can reach Olib via ferry, which runs from Zadar and stops off at Silba and Premuda on the way, taking about 2 hours.
Are you ready to pack up your family gear and island-hop Croatia this year?
If you have kids and are looking for family-friendly Croatian islands near Zadar, we suggest you check out these seven first. They're absolutely the top islands in the region, offering everything from history and culture to outdoor activities and fantastic beaches.
Photo credits: Thanks to the Zadar Region Tourist Board