Some posts contain compensated links. Please read this disclaimer for more info.
Croatia Ferries: Ferry Options In Croatia
Blessed with about 1,800 kilometers of mainland coastline and more than a thousand islands and islets, Croatia is arguably the best destination in Europe for boating, water sports, and scenic island cruises.
It's indeed a beach lover's paradise, while the long history and beautiful architecture of its centuries-old coastal cities also attract culture enthusiasts.
Driving along Croatia's glorious, endless coast is an excellent way to get around Croatia. Still, we strongly recommend that you include a ferry or catamaran ride in your itinerary as well.
In fact, if you want to visit a Croatia island, ferries are the only way to get there. A typical Croatia vacation involves both the use of rental cars and catamarans or ferries between Croatia islands.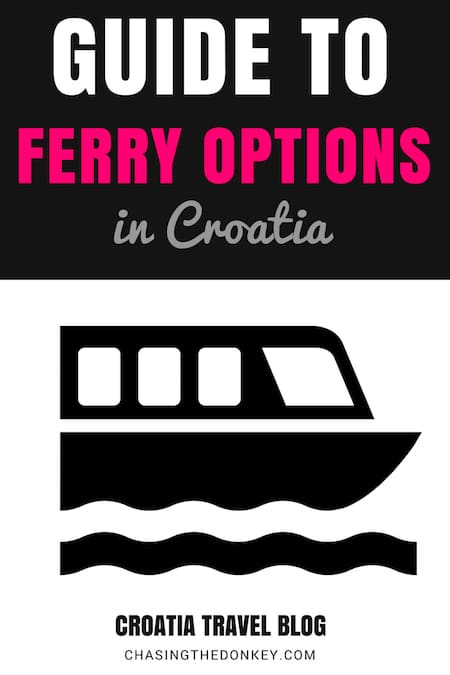 Croatia Ferries: How To Travel Between Coastal Cities & Islands In Croatia
Because of the many coastal cities and a huge number of visit-worthy islands, the Croatia ferry schedule is rather extensive, the network of Croatia ferries extremely dense. This makes it super-easy to pick and choose routes, by doing so, creating your own Croatia ferry itinerary (if that's what you're going for).
However, there are so many options that it would be impossible for us to list them all here. Instead, we'll provide a comprehensive overview of how to get to and from the major destinations by ferry—places such as Pula, Zadar, Split, and Dubrovnik, as well as a couple of popular islands.
You'll notice that the names of these individual places show up all over the list below. This indicates the density of the Croatia ferry routes network, showing you that you can conveniently jump from one destination to the other. It's no surprise that "Croatia island-hopping" is an actual niche in the tourism industry in Croatia, after all.
We'll start with an overview of major ports and islands and end this post with a list of recommended/popular companies that operate catamarans and ferries in Croatia.
Pula Ferry Options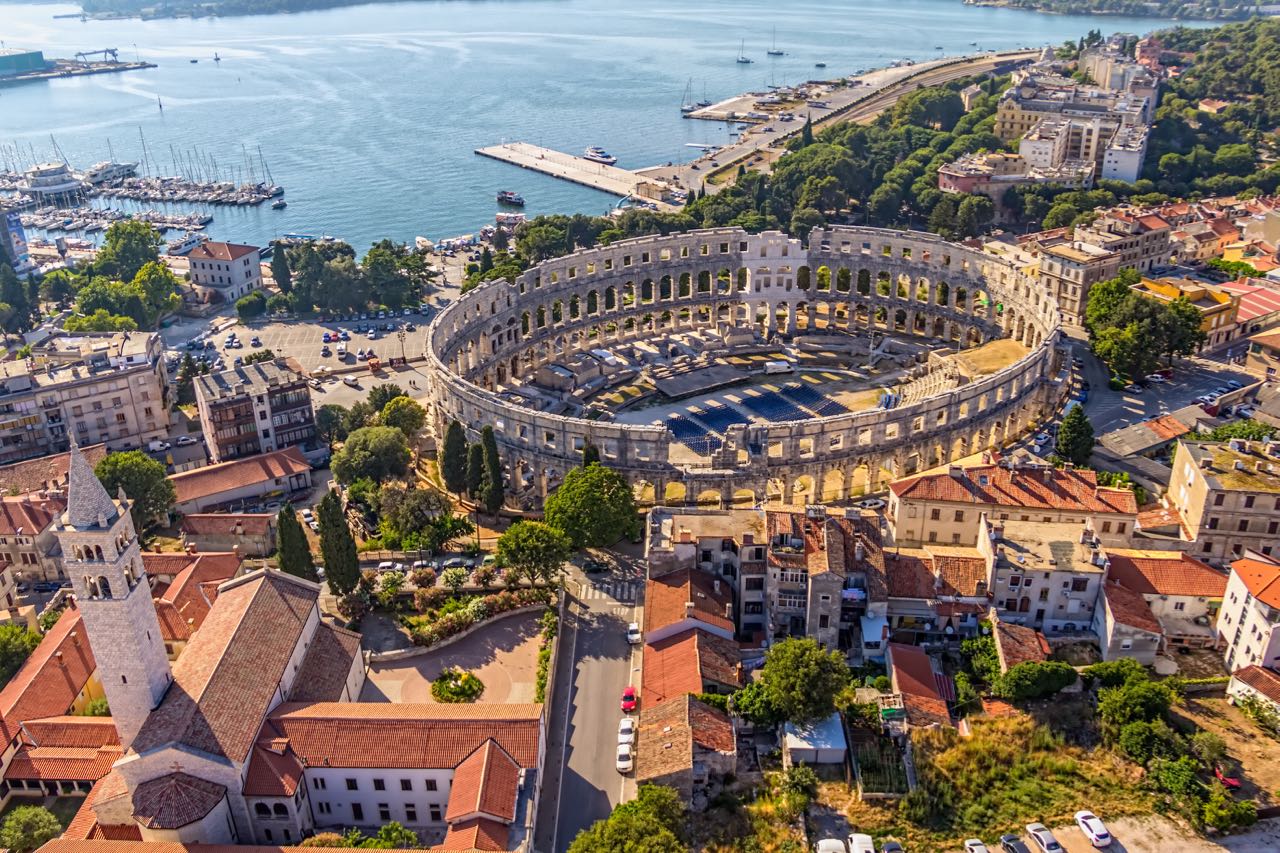 Pula is the largest city in Istria, a gorgeous rural peninsula in the northeast of the country. Characterized by olive groves, truffle forests, and exceptionally picturesque hilltop towns, Istria also boasts a long beach-lined coast dotted with pretty towns.
As the region's largest city and principal port, Pula is the best place to travel to and from Istria by ferry. When you're in the city, make sure to visit the magnificent Pula Arena. It's one of the largest and best-preserved Roman amphitheaters in the world.
Ferries To Pula
Although Pula is not serviced by the main Croatia ferry company, Jadrolinija (see below), you can still get there from various places. For example, there are sailings from Trieste and Venice to Pula a few times a week and from places within Croatia, such as Zadar and Mali Losinj.
Ferries From Pula
Every ferry that travels to Pula returns to its departure port. This means that there are ferries from Pula to Trieste, Venice, Zadar, and Mali Losinj.
Zadar Ferry Options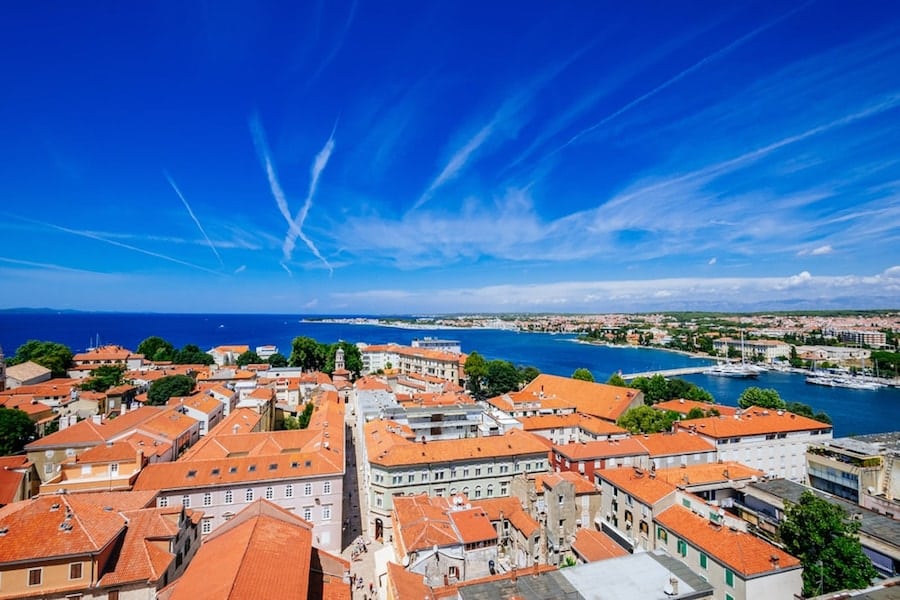 The northernmost coastal city in Dalmatia, Zadar, is the oldest continuously inhabited city in the country, with its roots dating back to well before Roman times. However, the Romans brought progress and prosperity to the city, building typical buildings and urban landmarks, some of which are still there today. The walled Old Town features gorgeous architecture, cobbled streets, and a superb waterfront promenade.
Ferries To Zadar
Zadar is one of the best-served ports on the central coast of Croatia, making it super-easy to get to Zadar by ferry from various places. Note that there are no direct lines between Zadar and other major coastal cities in Dalmatia. There is, however, a direct Ancona Zadar ferry and a direct Pula to Zadar ferry.
Ferries From Zadar
If you're looking for a Zadar to Split ferry, Zadar to Dubrovnik ferry, or Zadar to Hvar ferry, you might be disappointed. As mentioned above, there are no direct lines between Zadar and other major Dalmatian cities.
There are, however, direct connections between Zadar and local islands, such as Dugi Otok, Molat, Iž, Rava, and Sestrunj. Many of these islands are also interconnected by ferry lines, which is great for island hopping in northern Dalmatia. If you want to visit Italy, you can catch a ferry to Ancona as well.
Split Ferry Options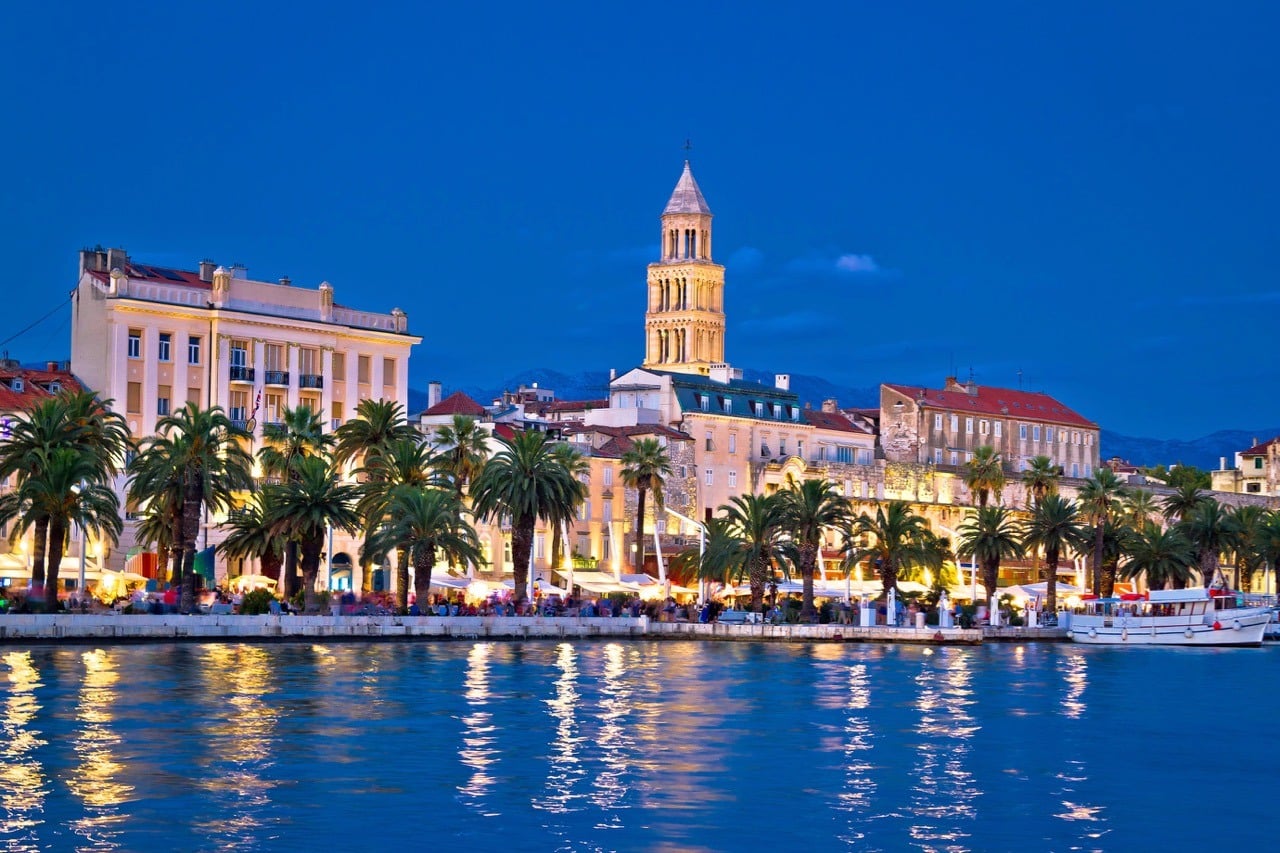 Croatia's second-largest city, Split, is jam-packed with historical and cultural highlights. Essentially founded as Roman emperor Diocletian's retirement home, the city evolved around the complex known as Diocletian's Palace, which is now a UNESCO World Heritage Site.
This area in the heart of Split is still its beating heart, a maze of alleyways, Roman ruins, museums, and beautiful stone buildings. Split has one of the largest ports in the Adriatic and is a central transportation hub in the region.
Ferries To Split
Split is reachable by ferry or catamaran from many Dalmatian islands and Trogir. There is also a direct Ancona to Split ferry. It's arguably the busiest port in Dalmatia, served by various companies operating Croatia ferries and catamarans.
Jadrolinija can get you to Split from popular islands like Brac, Hvar, and Korcula, while the network is complemented by various routes run by smaller ferry companies. With some scenic island hopping in between, you can quickly get to Split from Dubrovnik, too.
Ferries From Split
A wide range of ferry routes radiate from Split to pretty much all major islands in Dalmatia, making it the best possible base for island excursions. Getting from Split to Hvar, for instance, is no more complicated than merely hopping on a ferry.
There is a Split to Hvar Island ferry, a Split to Korcula ferry, and ferries to Lastovo, Solta, and Brac. From most of those islands, you can continue to other islands and eventually to Dubrovnik. They may not be a direct Split to Dubrovnik ferry, but you can get there via one or more Dalmatian islands—the ultimate Croatia boating trip!
Dubrovnik Ferry Options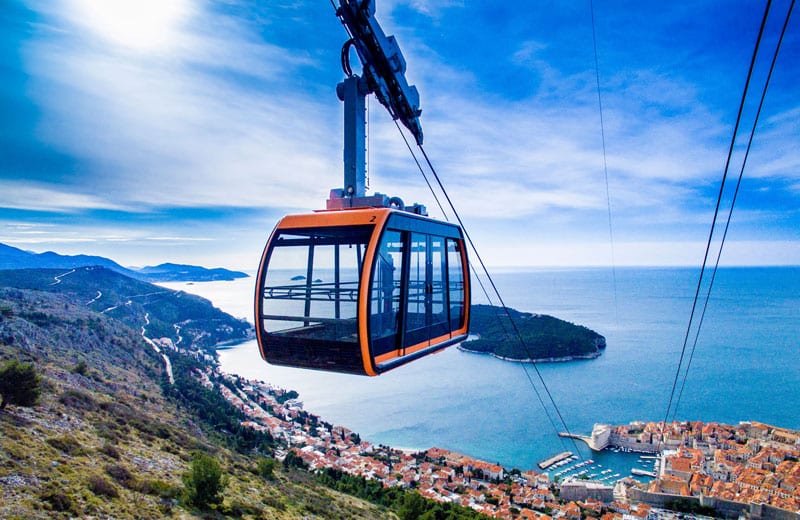 Possibly Croatia's most famous destination, fairytale-like Dubrovnik, one of the most photogenic old cities in Europe. Its massive city walls combined with the iconic red-roofed houses attract many thousands of visitors each year.
The entire Old Town is designated and protected as World Heritage by UNESCO. A popular beach vacation destination, it's also a major stop for Mediterranean cruise ships.
Ferries To Dubrovnik
Located in the far southern tip of the Croatian mainland, Dubrovnik is a bit more remote than Split. As such, there are fewer ferry options. That's not to say, though, that taking a ferry to Dubrovnik is particularly tricky.
There are still several options. For starters, you can get to Dubrovnik by ferry from popular places such as Sipan, Mljet, Hvar, and Korcula, most of which are also connected to Split. International travelers will relish the opportunity to travel to Dubrovnik from Bari, Italy.
Ferries From Dubrovnik
If your trip kicks off in Dubrovnik, you can easily make it to most other coastal areas in Croatia by island hopping. Dubrovnik is a great base to explore the Dalmatian islands, arguably Europe's most beautiful archipelago.
There is a ferry from Dubrovnik to Korcula, a ferry from Dubrovnik to Hvar (which is an extension of the one to Korcula), and options to travel to Mljet Sipan, Pelješac, and Brac. A Dubrovnik to Bari ferry is available for those who'd like to hop over to Italy as well.
There is no direct Dubrovnik to Split ferry, though, but you can scenically travel between both cities via a couple of islands.
Hvar Ferry Options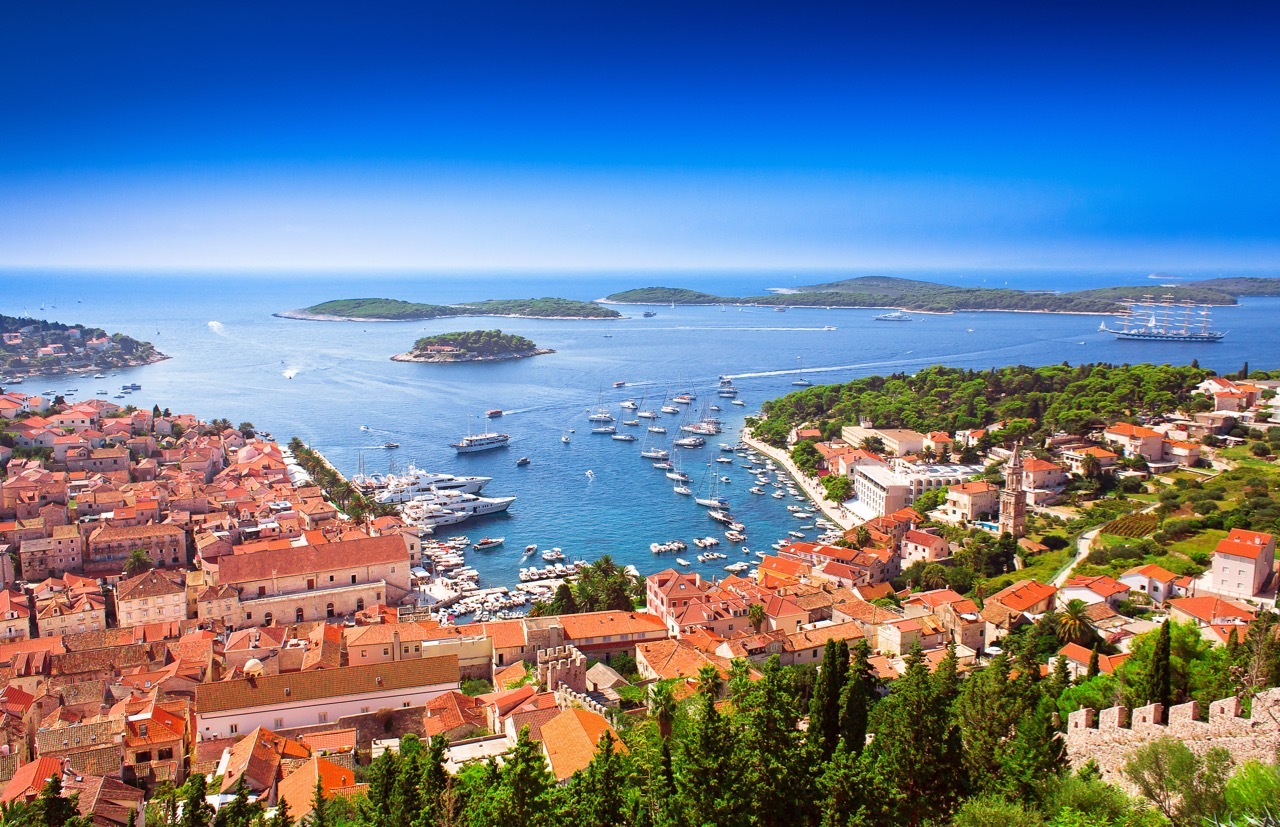 One of the largest and most populated Dalmatian islands, Hvar is a super-popular tourist destination. The island is different from most other islands in Croatia because of its fertile plains and freshwater springs, resulting in an abundance of orchards, vineyards, and lavender fields. Additionally, Hvar also has its own historic town—Hvar Town—a hotspot for both culture and nightlife.
Find yourself a place to sleep on the island, then explore to your heart's content!
Ferries To Hvar
The island of Hvar is serviced by Jadrolinija lines from both Split and Dubrovnik. In fact, it is a popular connecting point en-route from one place to the other, in both directions. You can also get to this gorgeous island via Korcula, Brac, Drvenik, Lastovo, and Vis.
Ferries From Hvar
Once you're in Hvar, you can continue your journey to other Dalmatian islands—the same ones we mentioned above: Korcula, Brac, Vis, and Lastovo. There is also a direct Hvar to Split ferry, while the Hvar to Dubrovnik ferry stops in Korcula first.
Korcula Ferry Options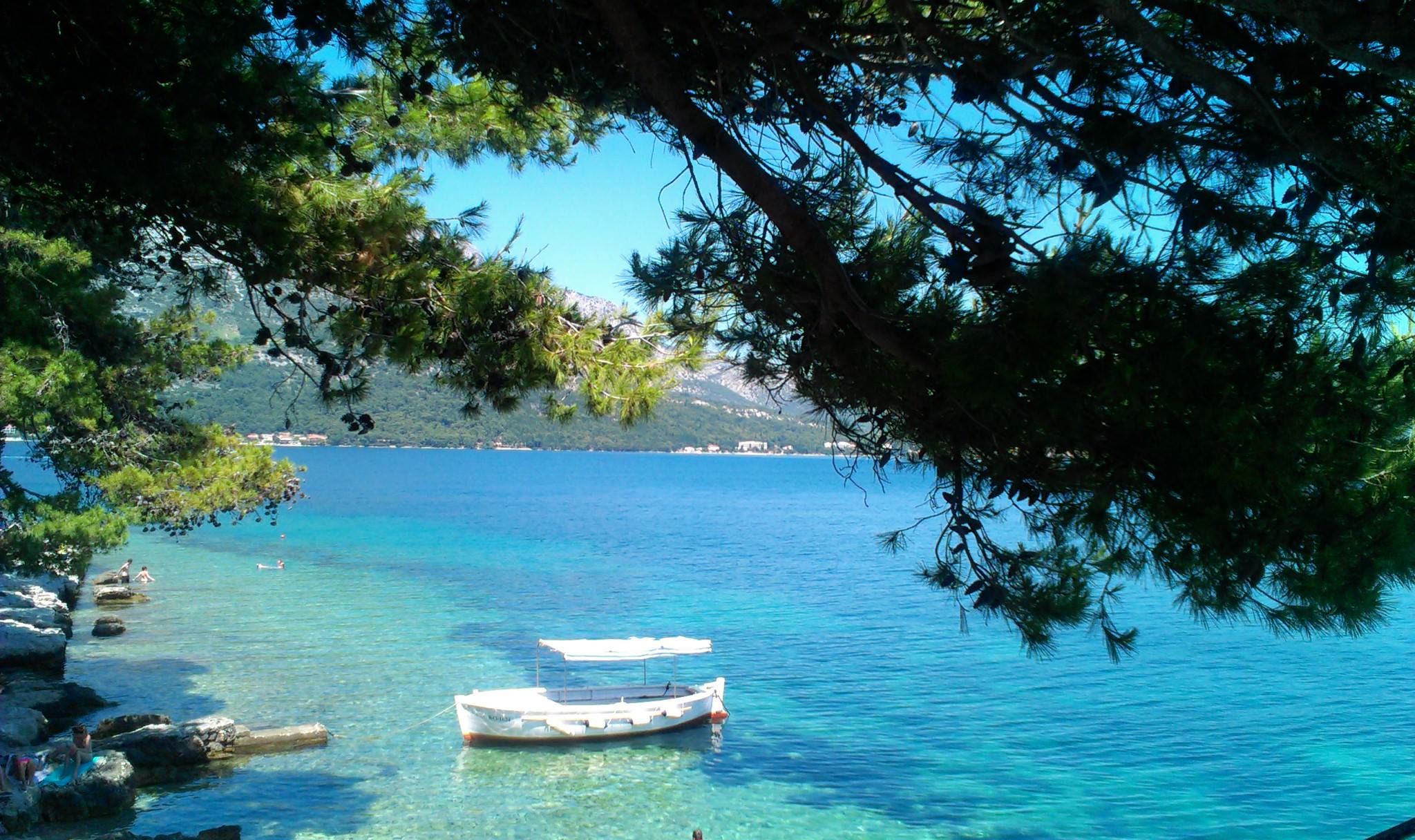 Another hugely popular Croatian island is Korcula, whether for day trips from the mainland or as a vacation destination in itself. Korcula is like a miniature Croatia, home to historic towns, hidden beaches, beautiful coves, and inland woodlands.
The Old Town of Korcula is a significant historical highlight, while hiking, cycling, and various water sports draw in active travelers.
Ferries To Korcula
Just like Hvar, Korcula is easily reached from other nearby islands as well as Dubrovnik and Split. There is a direct line from Split to Korcula, which stops in Hvar first. The ferry from Dubrovnik to Korcula is a straight shot, without any stops in between.
Additionally, there are also Korcula ferries from Brac, Lastovo, and Orebić.
Ferries From Korcula
From Korcula onwards, it's basically the same story as above. There is a direct Korcula to Dubrovnik ferry, while other major Dalmatian destinations like Hvar, Brac, Lastovo, and Split are also a fun ferry ride away.
Croatia Ferry Companies Overview

Photo: Alessandro Zocca Link
Although many companies are operating Croatia ferries, there is only one main one—and it's huge. As the country's (un)official ferry line, Jadrolinija handles most ferry routes in Croatia, offering a vast number of ferries in Croatia.
Jadrolinija Ferry
It operates year-round, and its network of routes is exceptionally comprehensive. Additionally, this is also the only company that operates car ferries in Croatia. So, if you have a rental car and would like to bring it to an island or another coastal city, this is where you should book your Croatia ferries tickets.
In 2018, Jadrolinija had numerous intranational routes along the Croatian coast and also has four international lines. Its local lines are divided into four regions—Rijeka, Zadar, Šibenik, Split, and Dubrovnik—while the international lines travel from a select number of cities to Ancona or Bari in Italy. Jadrolinija has by far the most options—no other Croatia ferries even come close—and can take you to virtually every popular holiday spot that's reachable by boat.
Remember: if you have a car, the Jadrolinija car ferry is your only option. Luckily, the company can get you basically everywhere.
Book Your Croatia Ferry
Type in your to and from destination, and get rates or book your tickets now:
Other Mention-Worthy Catamarans & Ferries In Croatia
G & V Line – Fleet of four catamarans that travel from Dubrovnik to Mljet, Luka Sipanska, Korcula, and/or Lastovo.
G & V Line Iadera – Small ships connecting Zadar to destinations on several local islands, including Sali, Zaglav, Mali Iž, Veli Iž, Mala Rava, and Vela Rava.
Miatours is another local company offering local ferries from Zadar to the Zadar region islands Silba, Premuda, and Olib.
Kapetan Luka – High-speed ships operating five different lines from Split, sailing to places like Hvar, Korcula, Dubrovnik, Brac, and Mljet.
Catamaran Line – Catamaran service between Pula, Mali Losinj, and Zadar, and a local line serving Šibenik.
Bura Line – Short ferry trips between Split, Slatine, and Trogir.
Share