Privacy & disclaimers →
Best Cities To Visit In Turkey
Türkiye is not just about beaches. Sure, the south coast is dotted with countless stunning clear-sea beaches, but if you assume that's all Turkey is about, you're missing out in a big, big way!
The authentic Turkish way of life is something every visitor should experience, and the single best way to do that is to head away from the beach resorts and visit a couple of cities in Türkiye. In ancient Turkish cities, you'll experience culture and traditions and enjoy the best cuisine. You'll also see history in abundance.
Of course, Turkey is a big country, which means there are many urban places to visit in Türkiye. To help you figure out the best cities in Turkey to head to, let's check out where to go in Türkiye for urban vibes, historical landmarks, and delicious cuisine.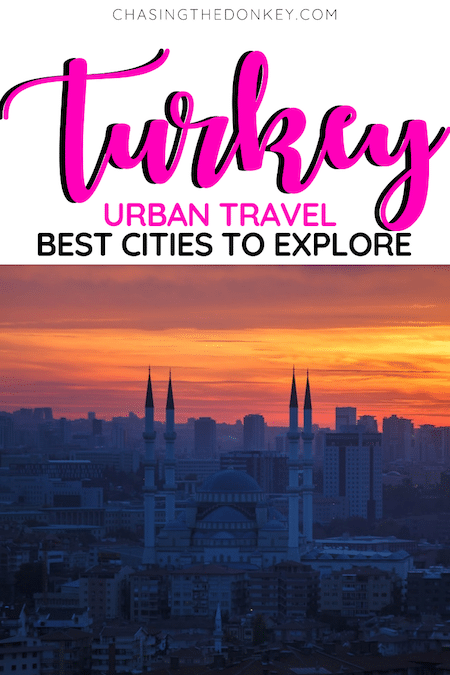 Map Of Cities In Turkey
Istanbul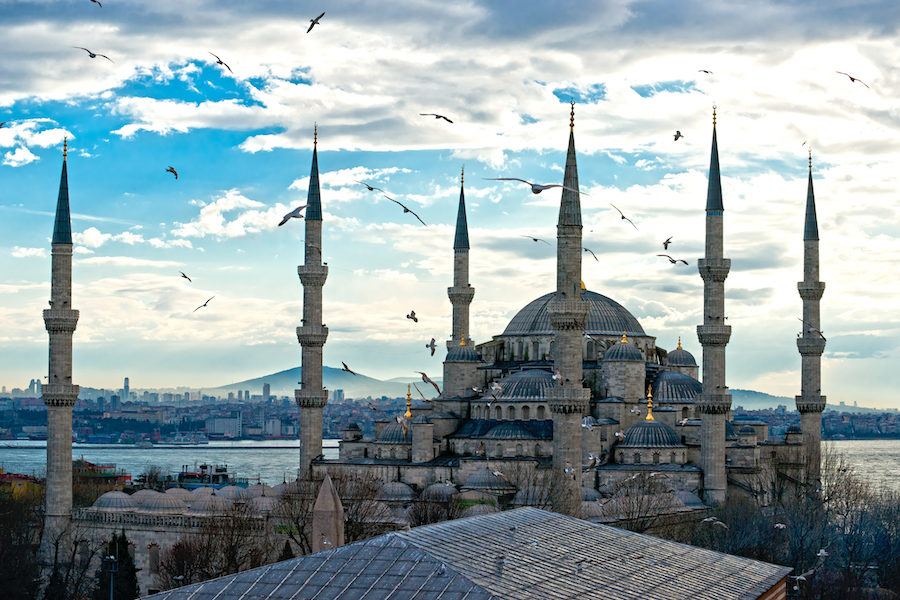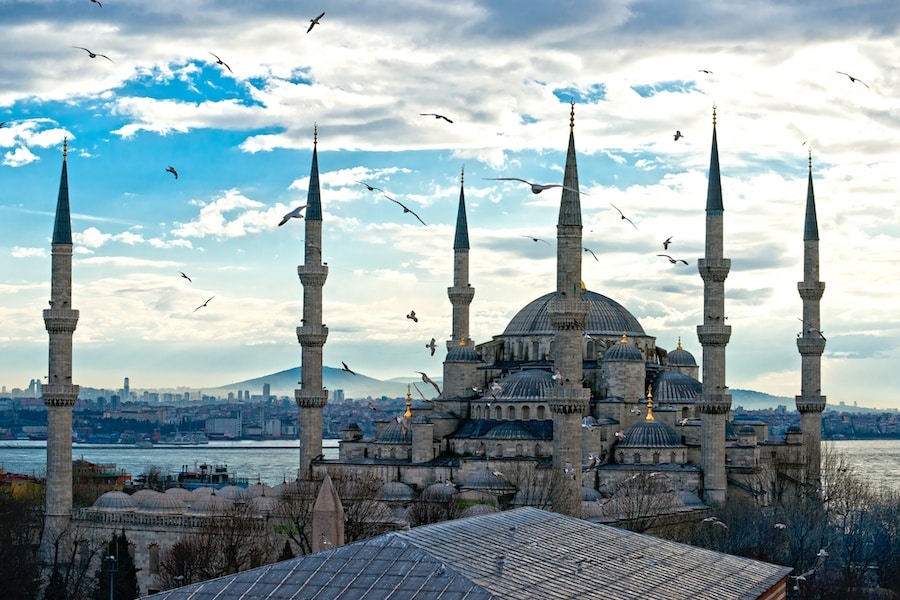 Without a doubt, Istanbul is Türkiye's most famous city. It's also the busiest and largest city in Turkey. Of course, it's not the capital city anymore, but that doesn't stop millions of visitors from heading there every single year to experience that bustling Istanbul city life.
Istanbul is a city like no other and is undoubtedly one of the best Turkish cities. Firstly, it's the only major city in the world to straddle two continents; half of Istanbul is in Europe, and the other half is in Asia! You cross the Bosphorus, and you're literally in another continent entirely. Cool, right?
The other reason people head to Istanbul is that it's packed with history. The buildings in Istanbul will make your jaw drop, but there is plenty of the modern-day there too. History, gastronomy, shopping, nightlife, you name it, you'll find it. There's far too much to mention here, so let's summarize it.
What To See
Everything! The problem with Istanbul is that it's so big and hectic. This is one of the biggest cities in Türkiye, Europe, and the world. That means you can't get to see everything in the space of one visit.
So, you have to shortlist the must-visit spots for you. Everyone is different, but if I had to recommend a handful of places, I'd say Dolmabahce Palace, Blue Mosque, Hagia Sofia, Grand Bazaar, Basilica Cistern, and Topkapi Palace. All of those are among the top sights to see in Turkey.
Those are the most famous spots but make sure you head to Taksim for shopping and nightlife, visit Cevahir Mall for major credit card shopping damage, and stop by Besiktas for some of the best (and cheapest) food around. Oh, and if you want a beachside vibe, head to upmarket Bebek for waterside chills and seafood.
When To Go
You can go to Istanbul any time of year, but bear in mind that the heat can make the crowds very difficult to deal with during the summer months! Istanbul doesn't reach the scorching temperatures that the south coast hits. Still, it can be hot indeed, and during July and August, temperatures hit 30 or more regularly.
Winter is the most popular time to visit, and the potential for snow makes the landscapes simply beautiful. However, Istanbul can be very cold and wet during the winter too. You have to put up with whatever weather Istanbul throws at you, but you'll be so busy enjoying yourself that you won't notice.
How To Get There
There are direct flights from almost all major cities via a range of airlines. If you're already in Türkiye and want to head to Istanbul for a few days, you can take an internal flight with Sun Direct, Pegasus, or Turkish Airlines or take the bus.
Pamukkale and Kamil Koc are two of the most popular, but do remember that you're looking at around 12 hours on the bus from the south coast to Istanbul compared to 1 hour on the plane!
TRAVEL COMPANIES WE USE AND TRUST
Ankara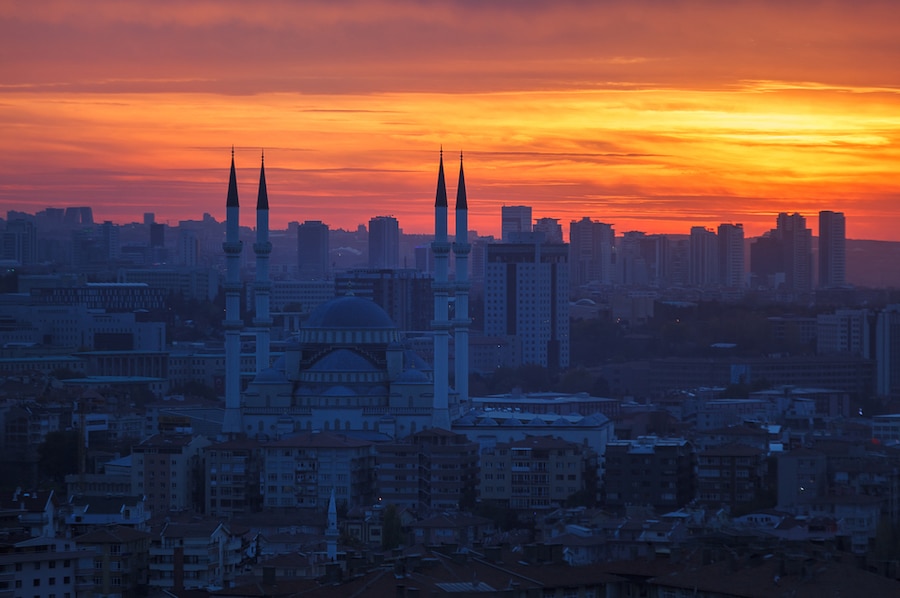 Ankara is Turkey's capital city. Located in the center of the country, this is where you'll find the main government buildings, a large amount of history, and a very traditional vibe. For those who want to experience real Turkish life and see one of the major cities in Türkiye, a visit to Ankara is a must.
Many tourists tend to avoid Ankara and stick to Istanbul, but that's a mistake because the capital is a great place to experience. It also has a very modern and fun vibe, and you'll find some great restaurants and nightlife spots too.
What To See
Without a doubt, a visit to Anitkabir is a must. This is the mausoleum of Ataturk, the founder of the Republic of Turkey and the country's first president. It is enormous, so make sure you take time to appreciate its stunning beauty while also understanding that it is a bustling place too. When it comes to Turkish history, this is one of the best places in Türkiye to visit.
The other spots to head to are the Museum of Anatolian Civilisations and Ankara Castle, the beautiful Kocatepe Mosque. Don't forget to make dinner reservations at Ankara Atakule, a massive communications tower with a top-quality restaurant – dinner with a view!
When To Go
Ankara is another one of those famous cities in Turkey you can visit at any time, but during the winter months, you can expect snow, and sometimes lots of it.
The central part of Türkiye can become very cold during the winter, so perhaps the shoulder months of April and May or October and November would be a better option. The summer isn't the wrong time to visit, but it can be pretty hot without any sea breeze to cool you down for many miles.
How To Get There
Ankara is connected to most major cities via direct flights, and even if you can't get a direct flight, you can always fly to Istanbul and then connect via domestic flight. Again, long-distance but networks within Turkey are an excellent way to get to the capital. Keep in mind that the journey can be long – from Istanbul to Ankara, you're looking at around 7 hours.
Izmir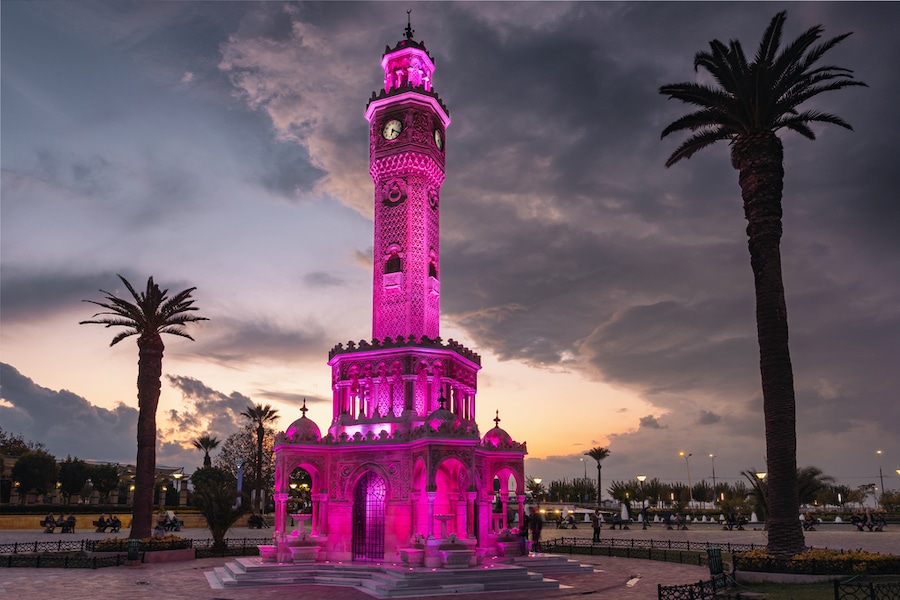 Izmir is often seen as Turkey's second most modern and vibrant city, and it certainly has a youthful vibe about it. Located on the west coast, with the blue Aegean lapping at its shores, Izmir is a fantastic city to visit, and it has many beach resorts dotted around it too. If you're looking for beach cities in Türkiye to see, this is a fantastic destination.
If you're looking for shopping and nightlife, this is the place to visit after Istanbul. The city has a very young feel to it, and you'll see students heading to universities around the city, dining out during the evenings, and enjoying time out with friends at the weekends. The weather is also beautiful most of the year, and there are some vast shopping malls to splash the cash in.
What To See
Izmir is quite sprawling, but you should be sure to head to the seaside, where you can enjoy chilled-out days and evenings and even take a horse-drawn carriage ride!
The promenade doesn't feel like it's in the middle of a vast city at all, but just behind the beachside, you'll find huge roads that spread all around the city's reaches, to huge malls and beyond. There are countless places to eat, drink, and party, but if you want to shop, hea
d to the old bazaar, where you can haggle for your souvenirs.
Of course, Izmir Clock Tower, Konak Square, and Yali Mosque are all must-visit spots.
When To Go
Anytime! Izmir is a great city to visit year-round, although you should head there between May and October if you want to enjoy the beach. July and August are sweltering when temperatures can often hit 40 degrees, but even during the winter, the temperatures are generally relatively mild compared to many other places in Europe.
How To Get There
Direct flights from most cities head to Izmir all year round. From Istanbul, the flight time to Izmir is just 1 hour. Again, the coach network within Turkey will also get you to Izmir from many other cities.
Konya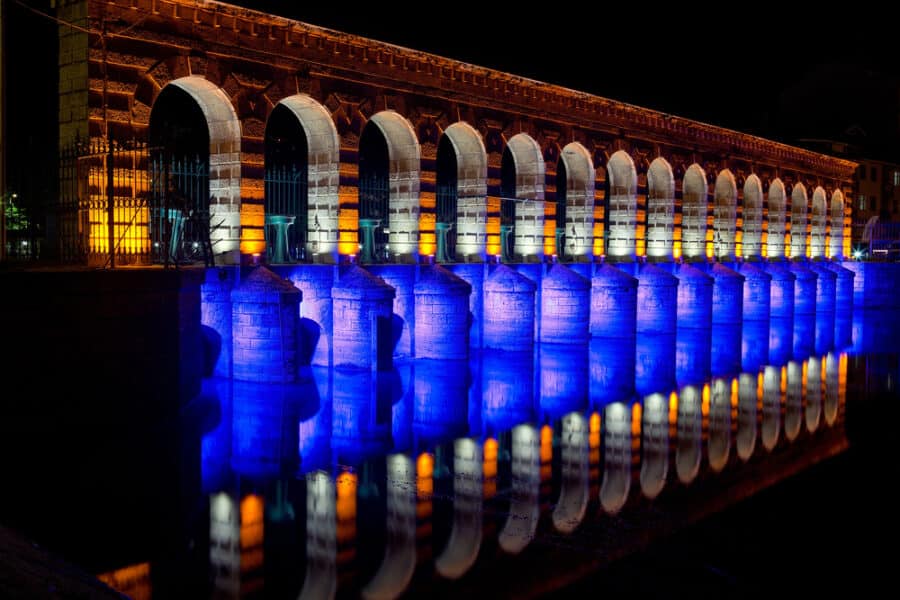 Konya is located in Central Anatolia and somewhat off the beaten track for many tourists. However, that doesn't mean it's not an excellent spot to head to, and it's also a common drop-off point for people visiting nearby Cappadocia.
Konya is perhaps most famous for being the former home of Rumi, the Persian poet, and you'll also find the Mausoleum of Rumi in Konya. While Konya is one of the most conservative towns in Türkiye compared to other tourist spots in Turkey, such as Izmir and Istanbul, that means you'll get to see authentic traditions here, and that's what travel is all about.
What To See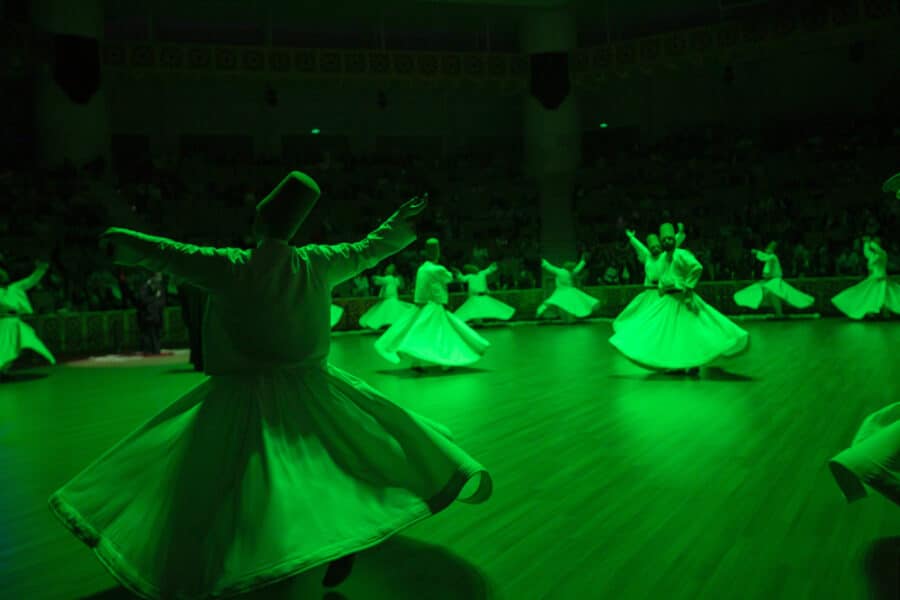 The Mausoleum of Rumi is a very popular spot, and it's also fascinating to learn more about the whirling dervishes. Head to the Mevlana Museum to find out more, and you might also be able to see a whirling dervish performance at the Mevlana Cultural Centre.
Another interesting spot is the Alaeddin Mosque which is beautiful in design and surrounded by peaceful gardens atop a hill with stunning views over the city. The mosque dates back to the 12th century.
Of course, Konya is also home to fantastic cuisine. You should 100% head to traditional ocakbasi restaurants and seafood spots to enjoy some of the finest Turkish food you'll ever taste.
When To Go
Again you can visit Konya anytime, but summers tend to be hot, with cold and often wet winters. It's possible to see significant snowfall during the winter, especially in December and January. April, May, September, and October are delightful months when it's not too hot, and there is far less rain.
How To Get There
Fly direct to Istanbul from most major cities and then connect to an internal flight to Konya with Pegasus or Turkish Airlines. The flight from Istanbul to Konya takes 1 hour and 10 minutes.
Bursa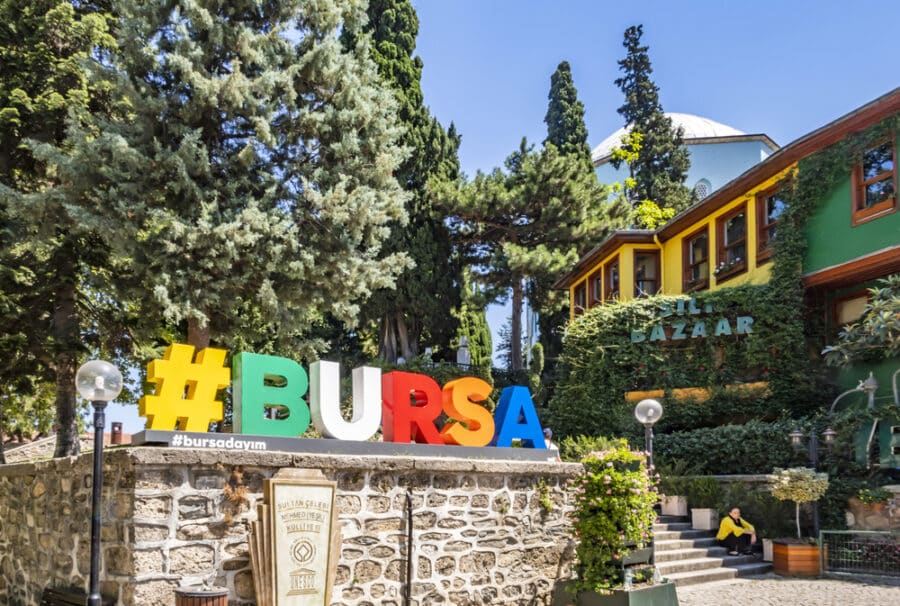 Bursa is a young and bustling university city that is perfect for winter skiing too! Bursa is around half an hour from the famous Uludag Mountain, which hosts some of the best winter sports in Türkiye. Even during the summer months, Bursa is a great place to head, and here you'll get to enjoy a more authentic experience compared to some of the more touristy cities.
Bursa is a green city with countless parks and open spaces, which is refreshing for a large city. Some charming small coastal towns also surround it, so you can easily extend your exploration a little.
What To See
Uludag Mountain is simply beautiful, and you should undoubtedly head there, even if you're not considering skiing! During the summer, there are walking and climbing trails available. Uludag Teleferik is also thought to be the longest aerial tramway in Europe and will give you some fantastic views over the mountain range.
Check out the stunning Ulu Cami, or Great Mosque, which dates back to the 14th century. The mosque is beautiful in design, and it has 20 domes.
Of course, this being a large city, Bursa is also fantastic for shopping, with Korupark Shopping Centre considered one of the best.
When To Go
If you want to ski, you should head to Bursa between November and the end of March. However, if skiing isn't on your schedule, the summer months are an excellent time to visit the city. The city's green looks stunning against the cloudless blue sky, and you can also head out to one of the small beach towns for a dip in the sea.
How To Get There
Bursa is just under 2 hours away from Istanbul by road (making it a great day trip from Istanbul!), so you can use the Pamukkale or Kamil Koc bus service to reach Bursa, having flown to Istanbul directly from most major cities.
Adana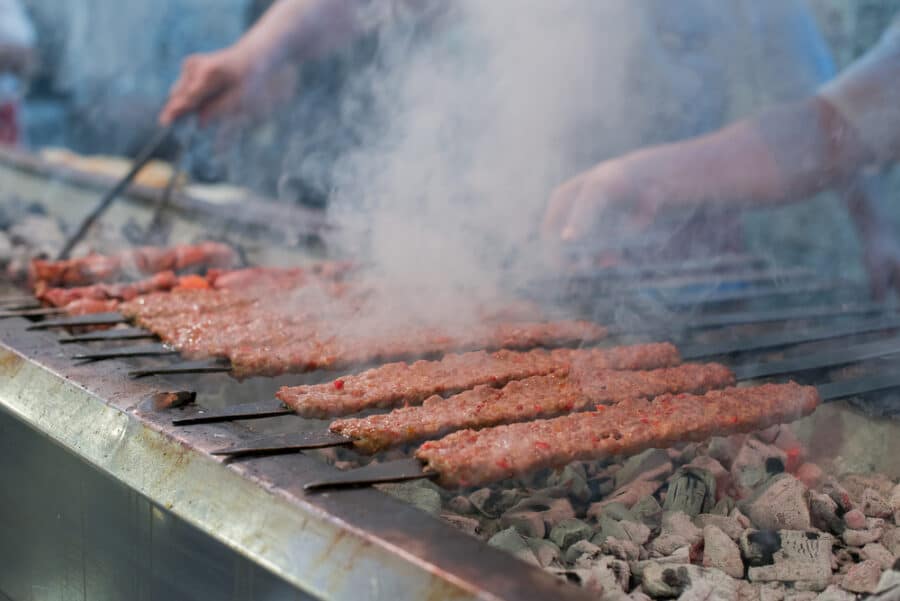 Adana is located on the south coast, east of Antalya. Often overlooked by visitors looking for a beach break, this city is slightly more conservative than Antalya and other beach resorts. Still, it's an excellent spot for those who want to enjoy a more authentic way of life.
Adana is located on the Seyhan River, and it is just inland. However, you can reach the warmth of the Mediterranean Sea in just over 15 minutes by car. You should undoubtedly check out many historical buildings around the area, but there are also many modern spots, such as busy cafes and restaurants.
The city is also the birthplace of the famous Adana kebab. A little spicy but nothing short of delicious; make sure you try the authentic recipe while you're in the city. You must try this meat dish while in Turkey, which you'll become instantly addicted to.
What To See
Be sure to get your walking shoes on, as there is plenty to see in Adana. Stone Bridge is a great starting point, a bridge built by the Romans and the beautiful Sabanci Merkez Mosque. The mosque has six minarets and sits in a stunning waterfront location.
On the other hand, City Park is a great place to enjoy a little people-watching, while Seyhan Dam is a pleasant spot to escape the city and enjoy peace. Ataturk Museum and Ataturk Park are also must-visits when in the area.
When To Go
Adana is an excellent spot to visit regardless of the time of year, although again, during the summer, it can be sweltering indeed. During the winter, you'll find relatively mind temperatures but more in the way of rain. It's not unusual to reach the high 30s regularly throughout the peak summer months.
How To Get There
Flying direct to Istanbul is the best option here, and as before, there are many direct flights to Istanbul from most cities. You can then connect via domestic flight, which will take 1 hour and 30 minutes.
Antalya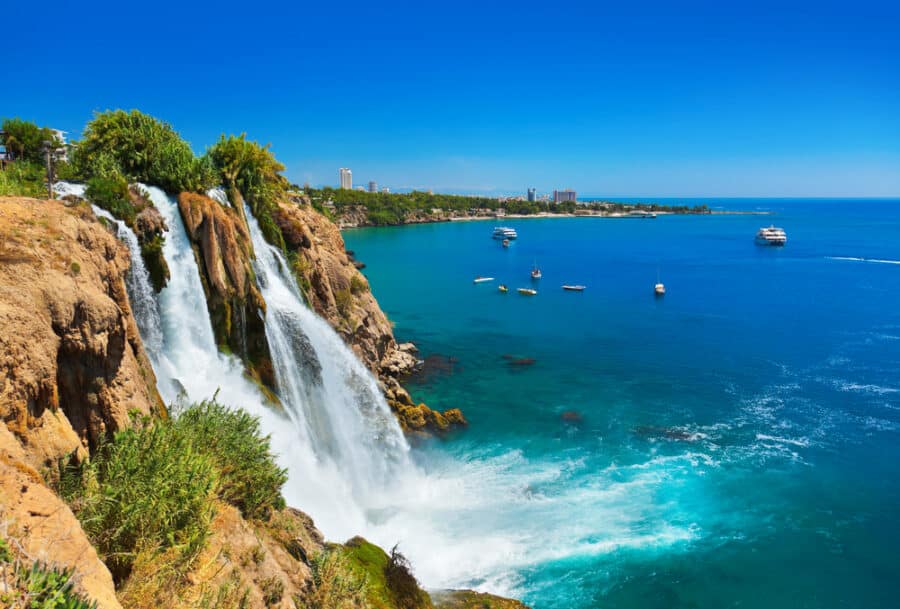 Antalya is one of Türkiye's most visited spots and one of Turkey's most popular tourist destinations. This is also where most tourists will head if they intend to stay in one of the Antalya Province beach resorts, such as Kas, Lara Beach, Alanya, Kemer, Side, etc. However, Antalya is a city in its own right, packed with history, beauty, and plentiful modern-day amenities.
Located on the Mediterranean coastline, the city has soaring mountains to one side and the impossible blue of the sea to the other. It's worth heading out to one of the smaller beach resorts during your stay, although Antalya has some beautiful beaches and incredible natural wonders within very close reach.
So, if you're looking for the best place to holiday in Turkey with beaches, it doesn't get much better than beautiful, sunny Antalya.
What To See
In the city itself, you're spoiled for choice. Duden Waterfalls are just a few minutes from the airport, and the dramatic spill of the water down into the sea is something you have to see for yourself. It's one of Türkiye's most beautiful, unique places to visit.
Hadrian Castle Gate is another must-visit, as well as Antalya Castle and Kursunlu Waterfall. Of course, the beach – Konyaalti Beach is one of the most famous in the country, and it's a must-visit for summer fun!
Antalya is also an excellent spot for nightlife, shopping, and food too. You'll find some fantastic restaurants around the city serving traditional and international dishes.
When To Go
The good thing about Antalya is that it's pretty mild all year round, although the heat does turn up during the summer months. If you want to swim in the sea, head to Antalya between May and the end of October.
However, remember that Antalya is one of the most visited cities in Turkey in summer, so crowds from June to September can be a problem. The temperatures are their hottest in July and August.
During the summer, the temperatures are very mild indeed, and although it can rain occasionally, your break is unlikely to be a washout.
How To Get There
There are direct flights to Antalya Airport throughout the summer months from most cities. However, during the winter, you may need to go via Istanbul. Flight time from Istanbul to Antalya is just 1 hour and 10 minutes.
Gaziantep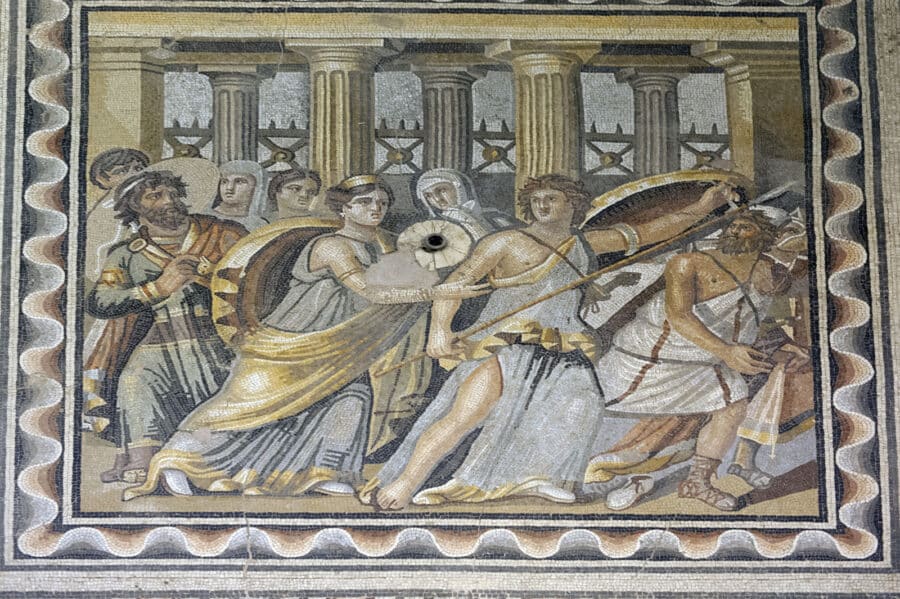 For those adventurous travelers who want to explore a couple of off-the-beaten-track cities of Türkiye, Gaziantep is the perfect spot. This city is welcoming and beautiful, with natural beauty, history, and many traditions. The food here is nothing short of amazing, and you'll leave with a genuine appreciation for Turkish cuisine.
Gaziantep is located in Turkey's southeast, and it's where pistachios are farmed. You'll also hear it called 'Antep.' Packed with historic buildings, this part of Türkiye isn't where most tourists tend to tread, but that doesn't mean you shouldn't. The issue for most is that it is closer to the Syrian border than many other Turkish cities and resorts, but it isn't an unsafe city by any means.
For those who want to explore a different side to what they probably know of Turkey, Gaziantep will help you uncover what you seek.
What To See
Head to Gaziantep Archaeology Museum to learn more about the area and some of the ancient artifacts that have been uncovered in this very historic part of the country. Gaziantep Castle is a great starting point as this will show you the whole city before you; there is also an interesting military museum inside. Zeugma Mosaic Museum is another excellent spot to head to, especially if you're trying to avoid the harsh summer sun.
Of course, most people will visit Gaziantep to learn about traditions and try some famous food. Known for its gastronomy, this is one of the best cities in Türkiye to visit for food. It's here you can try the very best of Turkish cuisine. Meat kebabs here are something else entirely, and be sure to try lahmacun, meatballs, and ayran too.
When To Go
Gaziantep is very hot during the summer, and there is virtually no rain. During the winter, the temperatures drop suddenly, and the showers tend to arrive; however, there are often clear days in between. It's not unusual to see an abundance of snowfall during the deepest winter days. For that reason, Gaziantep is best visited in April and May or perhaps late September into October.
How To Get There
A flight from Istanbul is your best option, like a bus from any significant Turkish city will take many hours. A flight from Istanbul will take just 1 hour 35 minutes.
Trabzon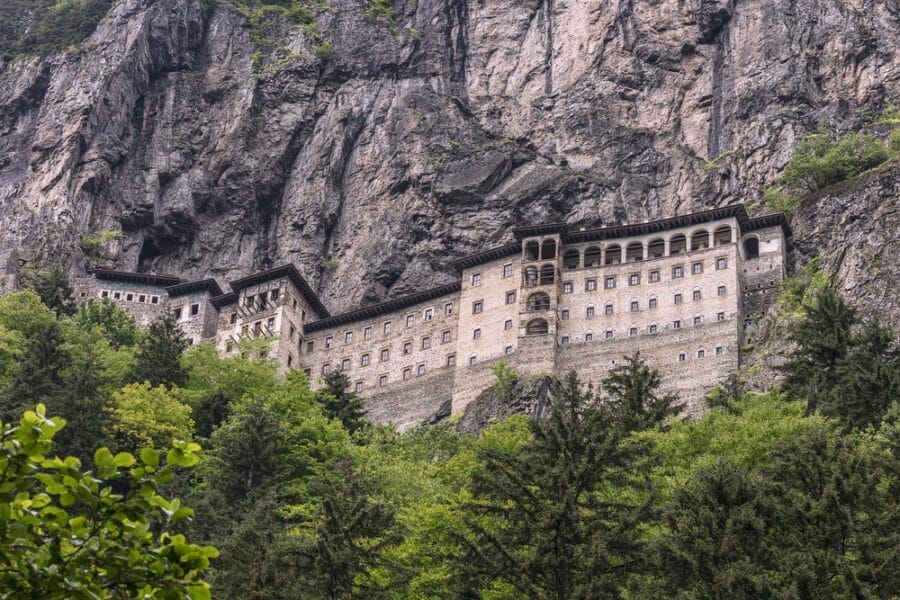 Located on the Black Sea Coast, Trabzon is an overlooked city, but it's a huge hidden gem. In the northeast of the country, you'll see a completely different way of life from the rest of the country, although you will also get to see more rain here than anywhere else!
Trabzon's black sea beaches are stunning, and they're much less crowded than the ones you'll see packed out on the south coast. Paradise Beach is also the best spot for sunsets. The city is mainly known for its high, green mountains, beautiful scenery, and anchovies. Yes, you heard right; Trabzon is famous for hamsi, a type of anchovy that is highly famous throughout the country – be sure to try some as fresh as they can be!
In short, for a beautiful combination of coastal scenery, beaches, cuisine, and fewer tourists, Trabzon is one of the best Turkish cities to visit.
What To See
We've just mentioned Paradise Beach, but be sure to head to the mountains and have a proper Turkish breakfast amongst stunning scenery. In the city itself, the Hagia Sofia (not that one, a different one) dates back to the Byzantine era and Cag Megarasi, a cave network that is open to the public. Sera Lake is also a beautiful spot for nature, with pedal boats and fantastic restaurants.
When To Go
March to May and September to November are the best times to visit Trabzon. Outside those months, you'll see high summers with a fair amount of rain and cold temperatures with rain during the winter. Snow isn't unusual from late December into January. Humidity can be a problem during the summer in this part of the country.
How To Get There
A flight from Istanbul to Trabzon takes just 1 hour and 35 minutes.
Sanliurfa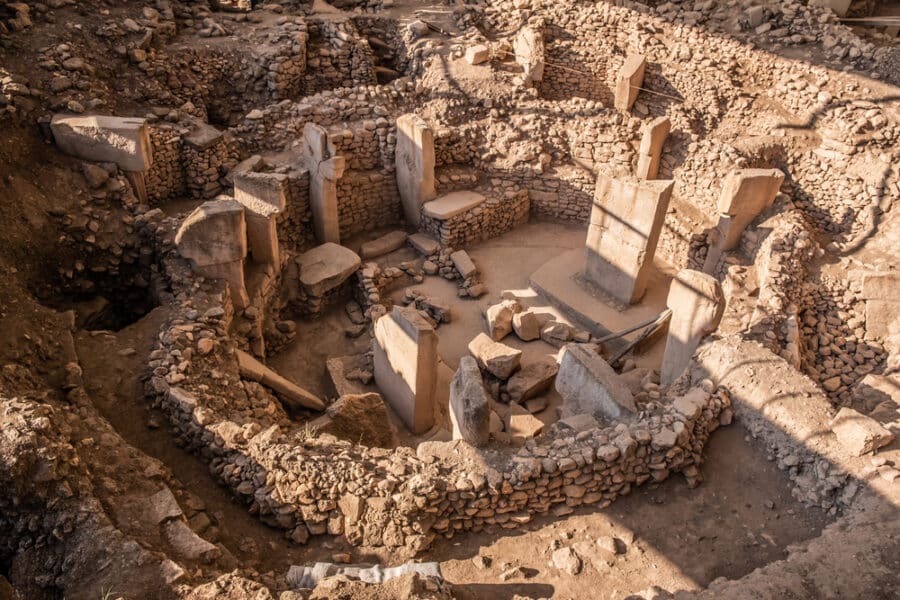 Sanliura, often called 'Urfa' by locals, is in southeast Turkey and is a fantastic place to visit if you want to explore the history, food, and local way of life. Here you'll have a totally different experience than if you were visiting one of the beach resorts on the south coast, and you'll meet wonderful locals who will be more than happy to teach you about local customs and culture.
What To See
Urfa is the birthplace of Prophet Abraham and a city full of history and culture. It is also the former site of Edessa, the Byzantine city. You'll find Gobeklitepe here, an archaeological site you can visit, checking out the neolithic monoliths that now have UNESCO World Heritage status.
In the center of Urfa, you'll find some of the most delicious street food, and make sure you give cig kofte a try – the appearance might put you off, but it's truly delicious and very healthy too!
Around the center of Urfa, you'll find unique architecture, and be sure to head to the Archaeological Museum to learn more about the area's ancient history and Urfa castle.
When To Go
In reality, Urfa is an all-year-round city to visit; however, during the summer months (particularly June and August), the temperatures are scorching, and it hardly rains. You're looking at 40 degrees during this time quickly and often more. So, if you're not a fan of heat, perhaps avoid this time and stick to the shoulder months, between May to June and late September into early November.
Winter times can be freezing, especially at night, and it often rains and possibly snows on high ground. However, early December and early February are still relatively mild, so these are good times to go.
How To Get There
You will need to take a domestic flight from Istanbul to Sanlifurfa, or you could opt for the bus, but this will take you multiple hours – around 17-22 hours on average.
Check Turkish Airlines and Pegasus for daily flights.
Fethiye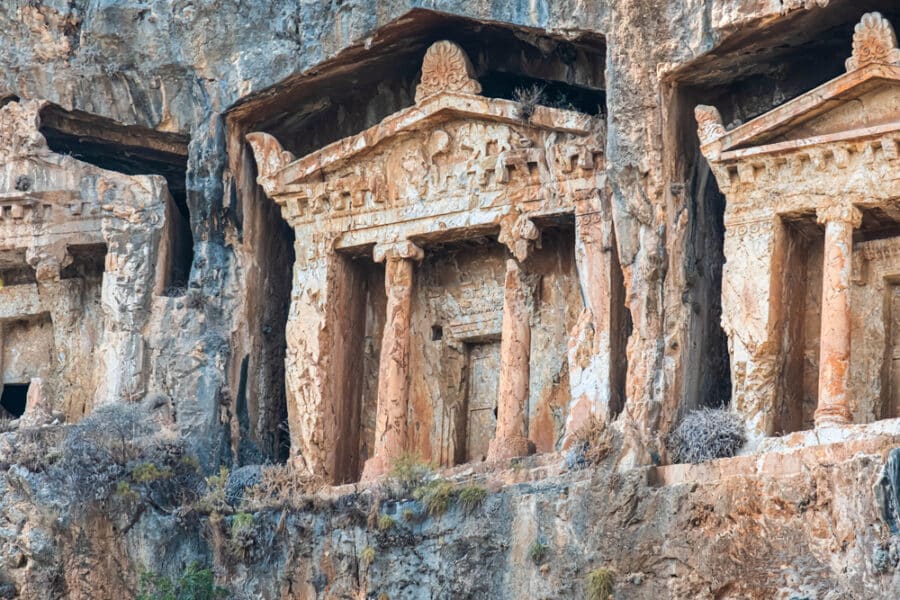 We may be cheating here because, strictly speaking, Fethiye is a large town and not a city, but it is growing at a fast rate, and you could argue it might as well have city status! It's also a top spot to visit regardless of the month, and you'll find relatively mild temperatures even during the winter.
Fethiye is located on the south coast, around an hour from Dalaman Airport.
What To See
you have plenty to see and do This is the peak summer season, and beach time is a must. Olu Deniz is very close by, around 20 minutes away by road, and there you can see the famous Blue Lagoon and perhaps even check out paragliding – this is one of the best places on the planet for this rather hair-raising sport! It depends on when you're going, but you have plenty to see and do if you're visiting during the late spring and summer months.
Fethiye is also the start of the Lycian Way, so if you're into walking and ruins, this is a must for you. Saklikent Gorge is a beautiful spot during the summer months and will show you the very best of Mother Nature. Xanthos is a stone's throw away, too – a famous archaeological site with plenty of history and ruins to check out.
In Fethiye, the harbor is a beautiful place to walk and grab a coffee; you can also take a boat trip or watch the stylish boats come and go.
When To Go
To get the best out of your visit, head to Fethiye between April and the end of October; however, remember that July and August are when temperatures soar, and there are likely to be more crowds at that time too. June is a wonderful month as it's not too hot yet, and the crowds aren't quite at their highest point. However, the end of September and the beginning of October are also pleasant.
During the winter, you'll find temperatures relatively mild, except for January, when it rains and gets quite cold. However, during the winter, you'll also find that the tourist attractions and spots are all closed until the end of April.
How To Get There
You can find direct flights to Dalaman Airport from most locations during the summer months, and during the winter, you can fly to Istanbul and then take a domestic flight down to Dalaman from there.
It is around one hour from Dalaman to Fethiye by road, and there are regular buses and transfers to take you there and back.
Edirne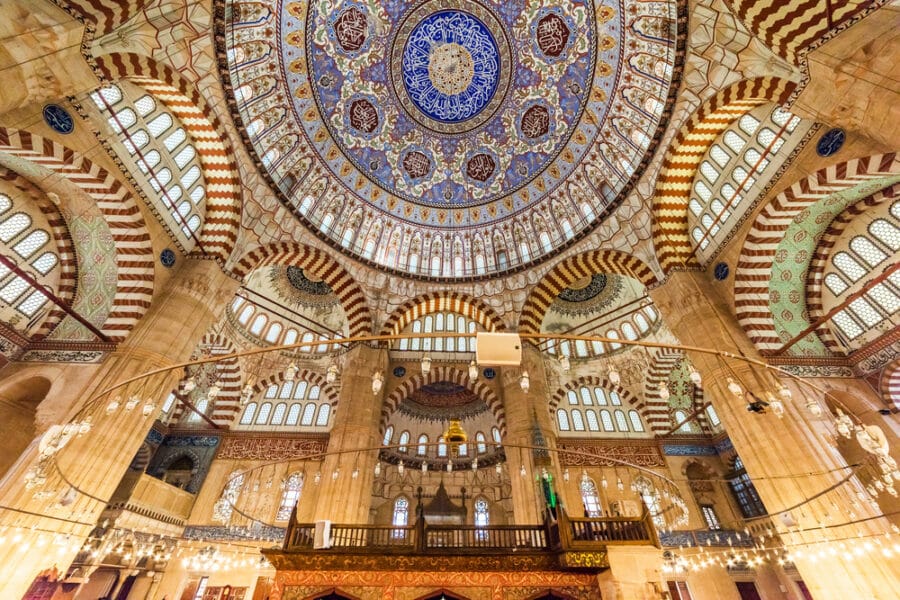 Edirne is located in northwest Türkiye, right on the border with Bulgaria. This is a beautiful city that is lined with essential and impressive architecture. Once the Ottoman Empire's capital, this is where Mehmet II launched his offensive to conquer Constantinople (nowadays Istanbul).
What To See
Simply walking around the city is a joy, with plenty of old buildings and architectural types to spot. However, Selimye Mosque is a must-visit spot; the architecture here will bring tears to your eyes, such is its beauty, and it's also famed as one of the most beautiful mosques designed by Sinan, the famous architect from Ottoman times.
Because Edirne was such an important city during the Ottoman Empire, you'll see countless buildings and monuments to check out. The Old Town is undoubtedly a spot to explore, and you can taste local delicacies here too. The waterside area is also beautiful, especially during the spring and summer.
You should also think about hiring a car and getting out into the local countryside as there are some amazing spots to visit, with colorful fields of sunflowers and grapevines. Iğneada Floodplain Forests National Park and Kurşunlugerme Aqueduct should also be on your visit list.
When To Go
It's possible to visit Edirne at any time of the year; however, remember that December and January are pretty cold, and it can rain quite a lot at this time of year.
The peak summer months of July and August are pretty hot here, but not as hot as they are on the south coast, so perhaps June to early July and September and October would be good choices for you.
How To Get There
If you are visiting from Bulgaria, you will cross the border (known as Kapıkule on the Turkish side), and then the city center is around half an hour away by road. Check out visa requirements for your country of origin if you plan to do this.
The other option is to fly into Istanbul and then take the bus to Edirne, which is around 3.5 hours by road. It makes for a great day trip from Istanbul!