Here is a list of the best beaches of Fethiye, Türkiye; there are, of course, many more Fethiye beaches, but these are the favorites we suggest you start with.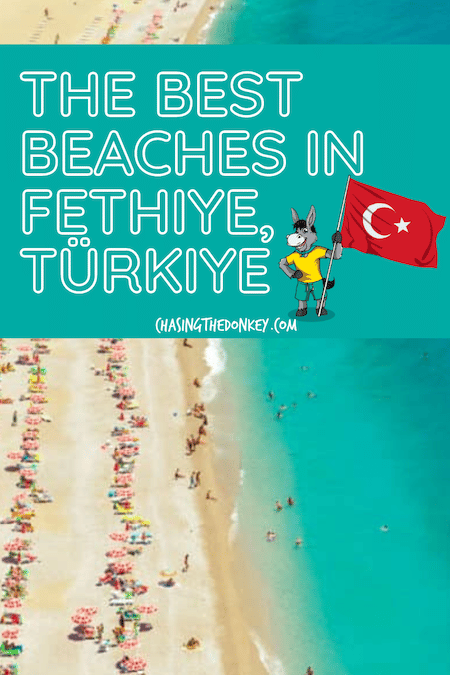 Who doesn't love a good beach? If you're heading to the Fethiye area of southern Turkey this coming summer, you're in for a treat when it comes to beaches!
Fethiye is part of the Dalaman region of Türkiye, and it's around 2 hours away from Marmaris and 1 hour from Dalaman Airport. Fethiye is a town in itself, but it also has neighboring Ölüdeniz attached to it, which is about 20 minutes away by road, and Hisaronu, which is around the same distance.
In the peak summer months, when temperatures soar, the beaches around this area are packed with people trying to cool down. However, even in the shoulder months, you can easily swim until the end of October. Ölüdeniz is world-famous as a spot for paragliding, but the whole area is blindingly beautiful.
So, which beaches should you put on your Fethiye visit list?
Blue Lagoon, Ölüdeniz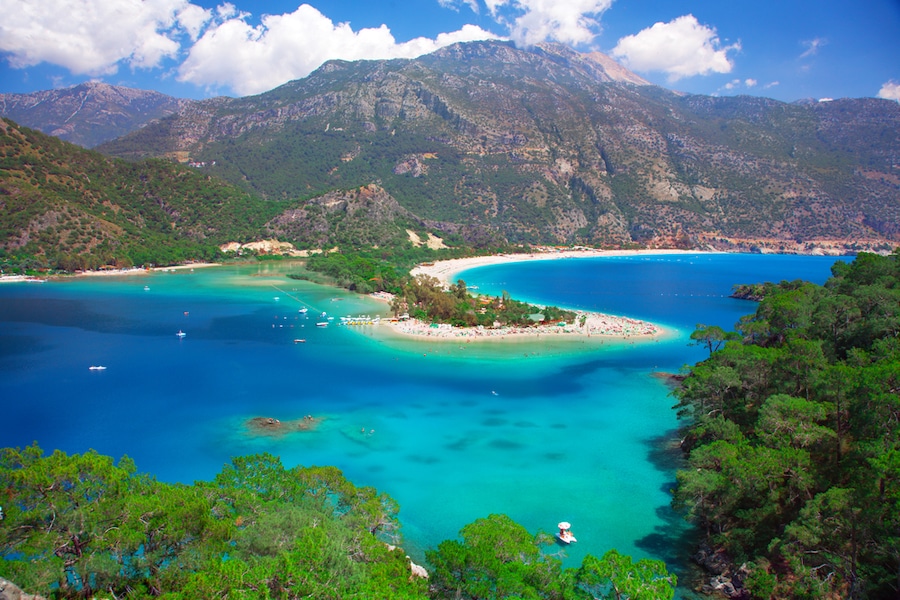 Let's start with the most famous of beaches in Fethiye. If you've ever seen an advertisement for Ölüdeniz, in fact, for Turkey's beach resorts in general, you've seen this beach. It's also the most famous spot for paragliding.
The Blue Lagoon is undoubtedly one of the most beautiful beaches on the planet, and if you only visit one beach in Fethiye, you should make it to this one. The only downside is that you have to pay to get in, as it's a nature reserve, but it's a nominal fee, and it's more than worth it!
The sand is bright white, and the sea? Blindingly blue with a hint of green. The lagoon is also protected from the wind, so it's calm and chilled out, perfect for swimming. If you want to head into the open sea, you go around the other side of the spit of land, and you can chill out there too.
There are many facilities on-site, including a Starbucks! It does get hectic, so make sure you arrive as early as possible.
How To Get To The Blue Lagoon
From Ölüdeniz center, you can walk down to the Blue Lagoon in around 15 minutes. However, there is no shade, so make sure you wear a hat – that sun is HOT in summer!
Belcekiz Beach, Ölüdeniz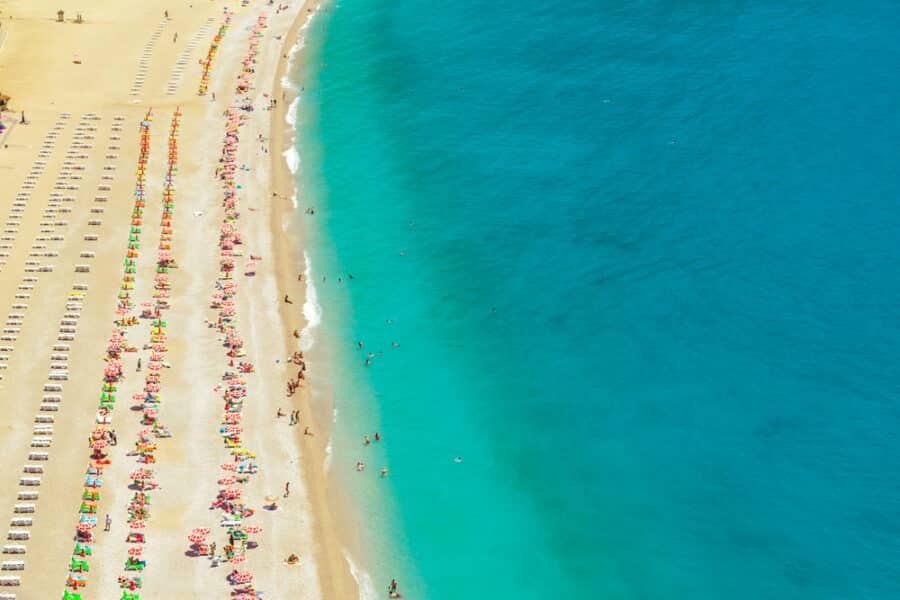 Another Ölüdeniz option is Belcekiz Beach, located next to the Blue Lagoon. The sea here isn't protected from the wind, so it does get quite choppy – however, it's quite fun to sit on the shore and have the sea lap at you! The water is just as blue here, but there's a bit more to do than simply chilling out, as you can try watersports.
This beach is fine for families, but remember that the water becomes quite deep quite quickly, so keep an eye on the little ones. This is a sandy beach with parasols and sun loungers for rent. There are also beach restaurants where you can get refreshments.
It's great fun to sit on the beach and look up at the paragliders overhead – in the peak of summer, it seems like there are hundreds of them.
How To Get To Belcekiz Beach
This beach is located right in the center of Ölüdeniz, two minutes from the main street.
Butterfly Valley, Fethiye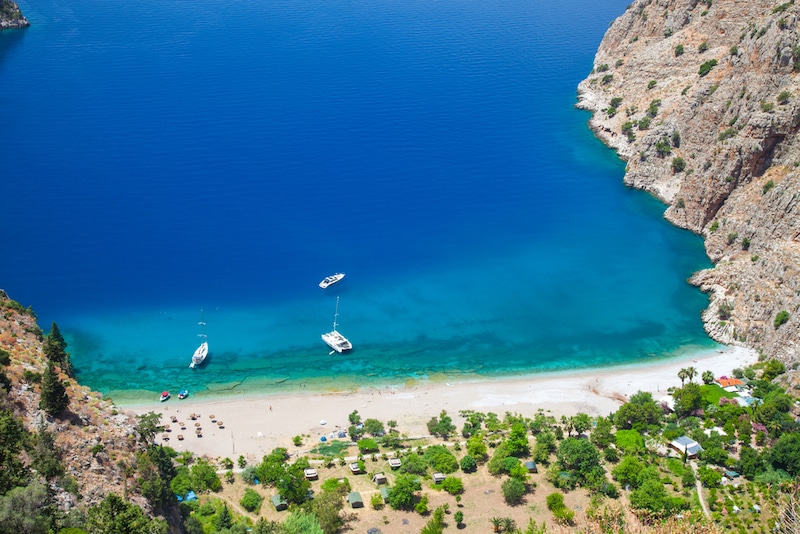 You've probably seen an ariel photograph of Butterfly Valley before; it's a famous sight in this part of Turkey. However, you can only really get to the valley by boat, so take a boat trip and swim the remaining few meters to the shoreline of this top beach in Fethiye. If you want to park up, you can walk through the forest, but the walk down to the beach is rocky and very steep. It's much safer to go by boat.
Butterfly Valley is famous for the huge number of colorful butterflies that live in this area. The beach itself is pebbly in a bay that's sheltered from the wind and gives some shade. The sea is also unbelievably clear and a day here is very well spent.
How To Get To Butterfly Valley
Take a boat trip from Ölüdeniz or Fethiye.
TRAVEL COMPANIES WE USE AND TRUST
Kidrak Beach
Kıdrak Bay Beach is situated in Kıdrak Nature Park, only 15 kilometers away from the bustling center of Fethiye and 2 kilometers away from the famous Ölüdeniz Beach. Its crystalline waters are a stunning shade of blue, but because this beach is rocky, you best wear protective footwear when swimming
You can easily get to Kıdrak Bay by car via the road that leads to Oludeniz, or you can catch a bus from Fethiye city center.
Kabak Beach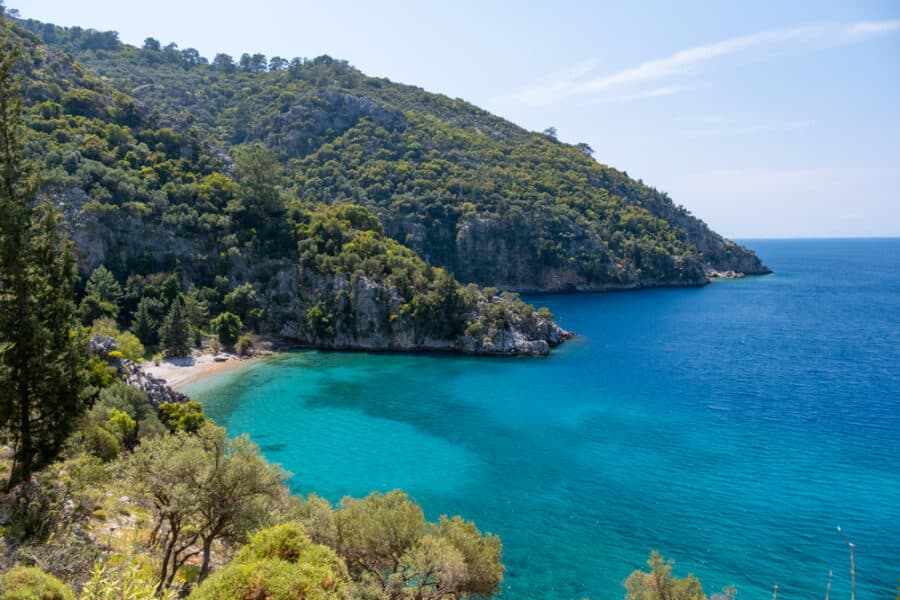 Kabak Beach is a good choice if you want to avoid most of the crowds on the beaches in Fethiye. Located around 45 minutes away from the center of Fethiye and about 30 minutes from Ölüdeniz, this beach has a calm and chilled-out vibe.
The beach itself is pebbly, and it's backed by pine trees. The bright green of the trees and the blue of the sea is a beautiful blend. The water is usually calm, so it's a good spot for families too. There are very few facilities on this beach, but there is a café where you can order refreshments with toilets on-site.
How To Get To Kabak Beach
Take a boat trip from Fethiye or Ölüdeniz. Alternatively, take the bus from Fethiye center directly to Kabak.
Gemiler Beach, Ölüdeniz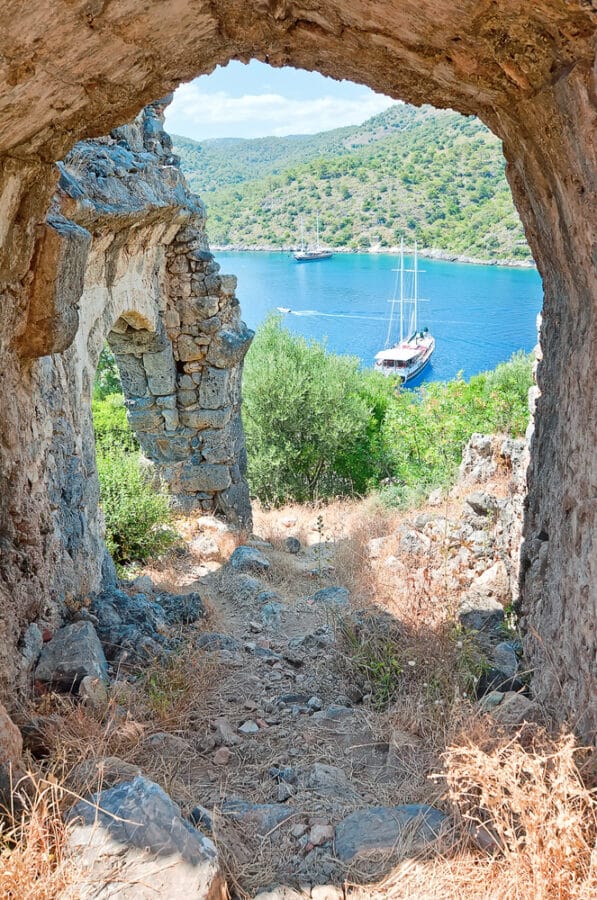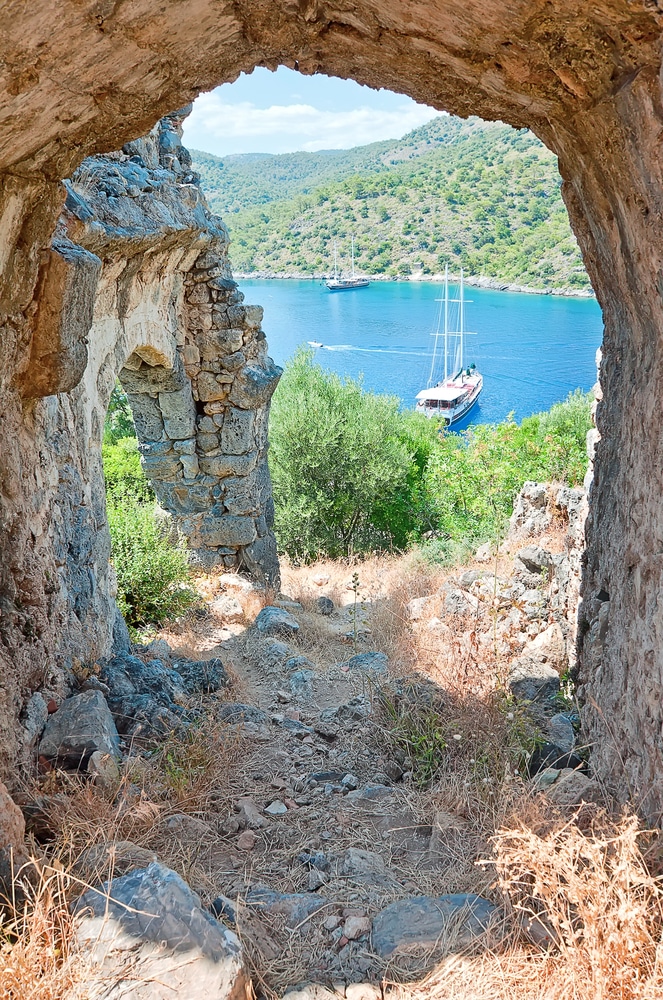 A short distance away from Ölüdeniz, you will find our next Fethiye beach – Gemiler Beach. Directly across from St Nicholas Island, you can easily spot the ruins of the Church of St Nicholas.
The beach is calm and quiet, ideal for a family day on the beach. This is a good spot for snorkeling, as the calm seas are rich in colorful marine life. The beach is pebbly, but the water is shallow, and facilities are on site.
How To Get To Gemiler Beach
Take a taxi from Ölüdeniz, or you can take a boat trip which usually stops at St Nicholas' Island too.
Kumburnu Public Beach
The spectacular Kumburnu Public Beach situated in Ölüdeniz Nature Park has blue flag status as is close to the center of Fethiye. The turquoise sea is warm and very family-friendly.
Calis Beach, Fethiye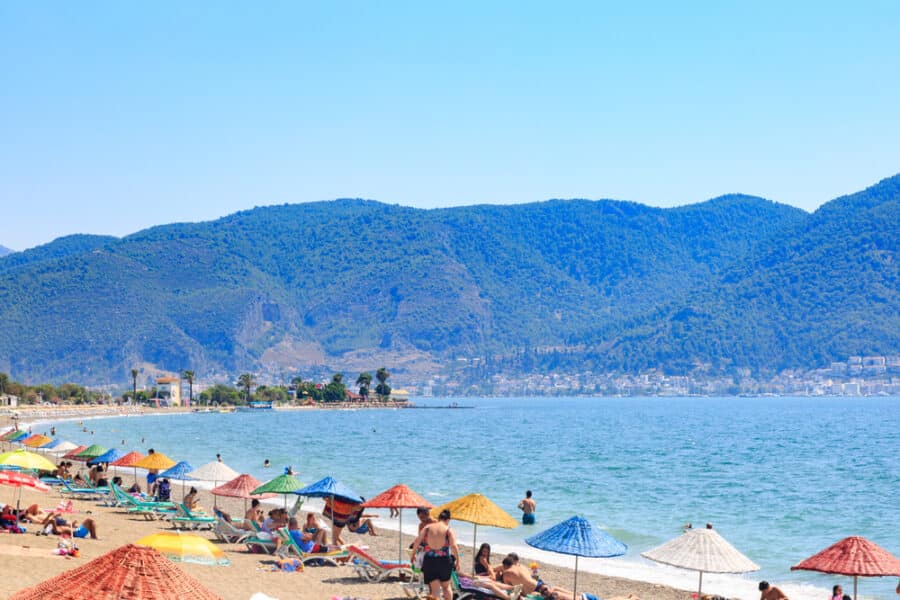 Calis Beach is the longest beach in Fethiye, running for around 2.5km, and it is the closest to the center of Fethiye town. As such, it is very busy during the summer months, but its size makes it easy to find a spot on the sand. This beach is also famous as a breeding ground for Caretta Carette turtles, and as such, it is protected.
The water is relatively shallow, but the beach is open to the wind, so that it can be a little wavy from time to time. You'll find kitesurfing and windsurfing here, and there's a surf school on the beach too.
This beach is ideal for families, although be aware of the waves, so keep an eye on your little ones if the wind is a little stronger than usual.
How To Get To Calis Beach
Calis Beach is 5 minute walk from the center of Fethiye.
BEACHES IN FETHIYE FAQs
What are some of the best beaches to visit in Fethiye?
Fethiye boasts several stunning beaches, including Ölüdeniz Beach (Blue Lagoon), Calis Beach, and Gemiler Beach, known for their crystal-clear waters and picturesque surroundings.
Is Ölüdeniz Beach suitable for families with children?
Yes, Ölüdeniz Beach is family-friendly and offers shallow waters near the shore, making it ideal for children to swim and play safely.
Are there water sports and activities available at Fethiye beaches?
Absolutely! Fethiye's beaches offer a range of water sports and activities, including paragliding, snorkeling, scuba diving, and boat tours to nearby islands.
Which beach is more secluded and less crowded in Fethiye?
For a quieter experience, you may want to visit Kabak Beach or Butterfly Valley Beach, which are relatively less crowded compared to some other popular beaches.
Is Gemiler Beach accessible by public transportation?
Yes, you can reach Gemiler Beach by taking a dolmuş (shared minibus) from Fethiye or by boat from Ölüdeniz.
Are there nearby beachfront restaurants or cafes to enjoy in Fethiye?
Yes, many beaches in Fethiye have beachfront restaurants and cafes offering a variety of local and international cuisines, making it convenient to enjoy a meal with a view.
What are the best times to visit Fethiye's beaches?
The best times to visit are during the spring and early autumn when the weather is pleasant and the beaches are less crowded.
These are just a few of the beaches of Fethiye; there are, of course, many more waiting to be explored. All you have to do is decide which of these Fethiye beaches you'll swim at first.