In my guide to the top Istanbul day trips to take, I'll show you beaches and national parks to historic cities and sites, and all the other best day trips near Istanbul.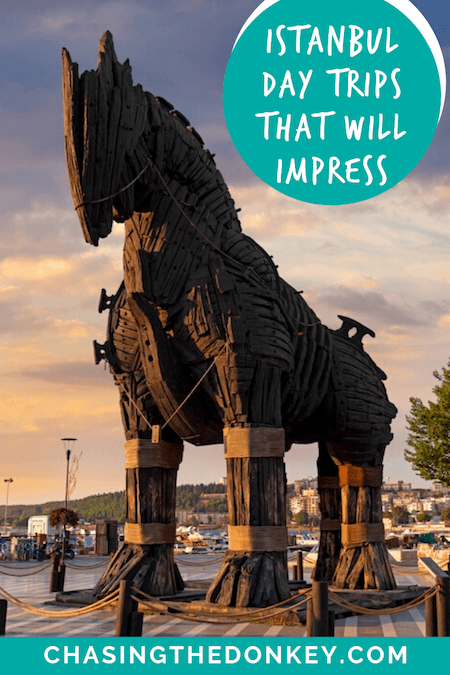 If you're visiting Istanbul, you will not be short on ideas on what to do around Istanbul, considering the city's plethora of options.
You're unlikely to find a quiet moment during your time in this bustling city, which is fantastic in some ways but can be pretty overwhelming in others. For that reason, you might be thinking about taking a quick day trip from Istanbul and going somewhere perhaps a little quieter or somewhere different to see another side of the country. Am I right?
The good news is that you can take several different day trip options from Istanbul and be back in time for bed. Check out our recommendations for where to go from Istanbul on day trips below!
Princes' Islands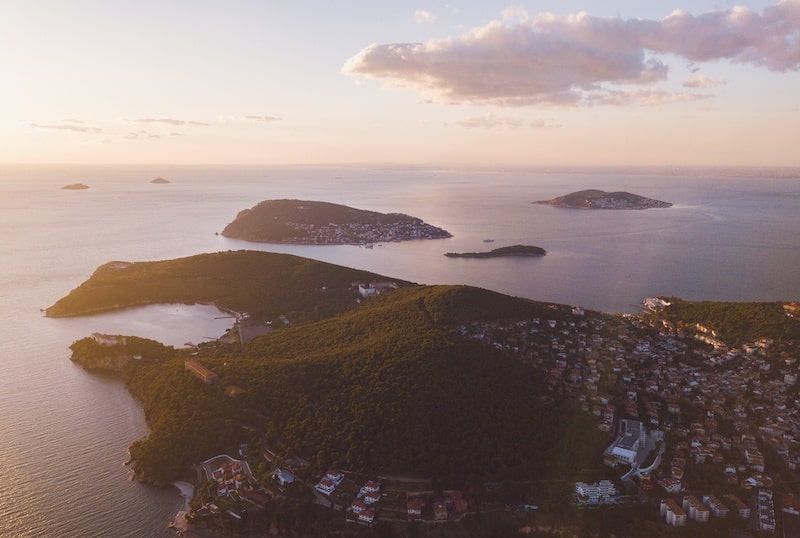 A short ferry ride from Istanbul will take you to one of the chilled day trips from Istanbul you can find. This chilled-out island archipelago seems like it's a hundred miles away from the hustle and bustle of the city! If you're going on a weekend trip to Istanbul and want to see something else in the area other than markets and architecture, this is arguably the best place to go.
There are several islands, but the largest is Buyukada. Here you'll find a museum that talks about the islands' history and plenty of opportunities for swimming and beach time in the summer months.
Ferries leave from either Kabatas or Besiktas, and you'll arrive at the island paradise in less than one hour. Be sure to check the ferry schedule according to the time of year, as these are less plentiful during the winter, though there are daily ferries, even during winter, making this one of the best year-round options for day trips in Istanbul.
Sile & Agva Beaches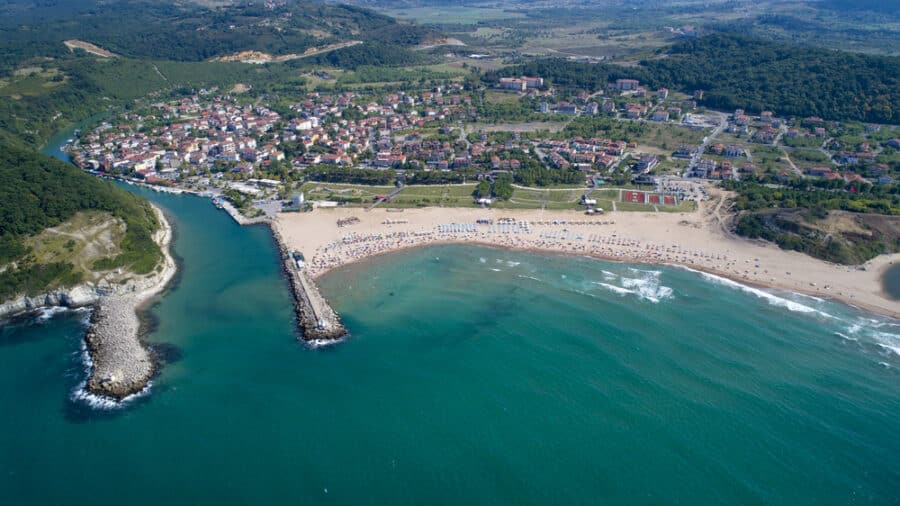 Just an hour from Istanbul, Sile Beach makes a great choice to get your feet wet in the Black Sea. Though it is part rocky beach, it also has some sandy sections and a unique coastal landscape that residents of Istanbul seem to prefer. The village of Sile is fun to explore as it's an idyllic fishing village, home to a lovely seafront and many seafood restaurants.
Just a little further along, you'll find the beach town of Agva, home to the golden sands of Agva Beach. It's a lovely, off-the-beaten-path beach day destination!
TRAVEL COMPANIES WE USE AND TRUST
Belgrad Forest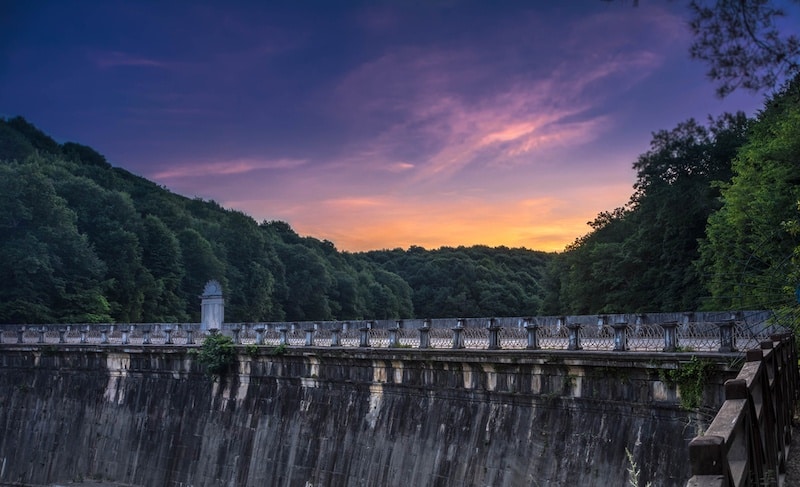 Belgrad Forest is for you if you crave nature and quiet spaces and want a day trip to Istanbul. Known locally as Belgrad Ormani, you'll find around 5000 hectares of trees, walking trails, streams, small bridges, and a beautiful, natural feel here. If the city's noise and constant heat are too much for you, you'll find the total opposite here.
The other plus point is that it is only a 40-minute drive from the center of Istanbul. So, anyone trying to figure out where to visit near Istanbul for nature will have their answer right here!
Iznik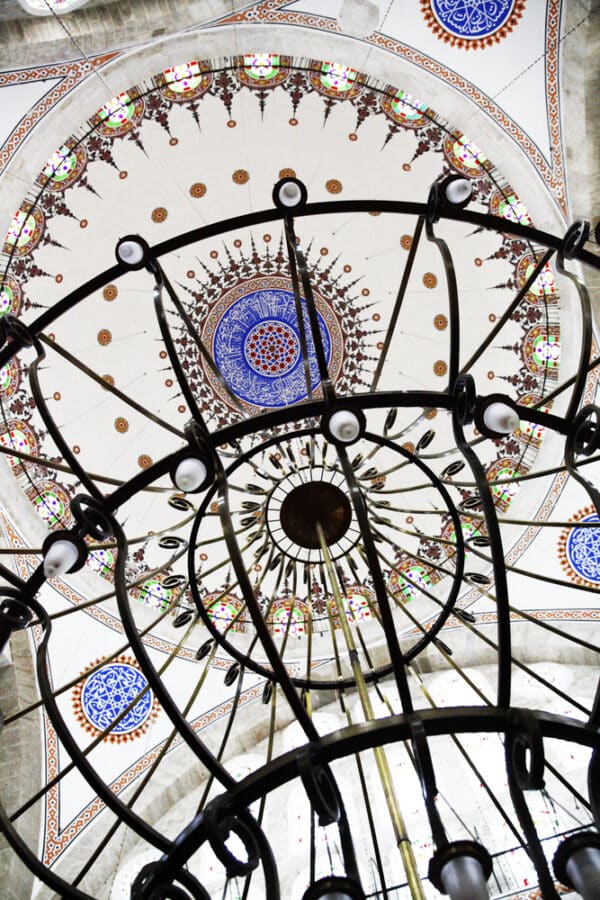 Iznik is an ancient city located in northwestern Turkey. The city was once the capital of the Byzantine Empire and is home to a number of churches and other religious sites. Visitors to Iznik can explore the city's history and see its many beautiful buildings and monuments.
The city was founded in the 4th century BC and is home to some of the world's oldest Christian churches. The city also contains a number of important Ottoman monuments, including the 16th-century Green Mosque, which is one of the most famous mosques in Turkey. Iznik also has several ancient tombs, as well as an old palace and fortifications.
Iznik is known for its stunning ceramic tiles, which were used to decorate the walls and ceilings of the churches. The tiles are particularly associated with the Church of St. Sophia, which was built in 527 AD and features a large dome covered with Iznik tiles. The church is still used for religious ceremonies today. Other notable sites include the nearby archaeological site of Kültepe and a museum dedicated to traditional crafts such as pottery-making and weaving.
Edirne
Edirne used to be the entire Ottoman Empire's capital, packed with history and beautiful green spaces. You'll find buildings on this one-day trip from Istanbul with stunning architecture, and the Old Town is certainly worth a visit. Nods to the Ottoman Empire are everywhere, and the Selimiye Mosque is one of the most beautiful you'll see.
Anadolu Kavağı
Just north of central Istanbul is Anadolu Kavağı, a fishing town on the shore of the Bosporus in Istanbul's Beykoz district. Its name means "Anatolia control post" in Ottoman Turkish; it served as a checkpoint as early as the Roman and Byzantine Empires. Nowadays, it's still a military post but also a traditional fishing town.
This is a wonderful one-day trip from Istanbul's city center, a welcome getaway from the hustle and bustle, in Anadolu Kavağı, fantastic seafood restaurants, the old Genoese fortress known as Yoros Castle, and a beach that offers swimming. There's also a ferry to the European side of the Bosporus several times a day.
Kilyos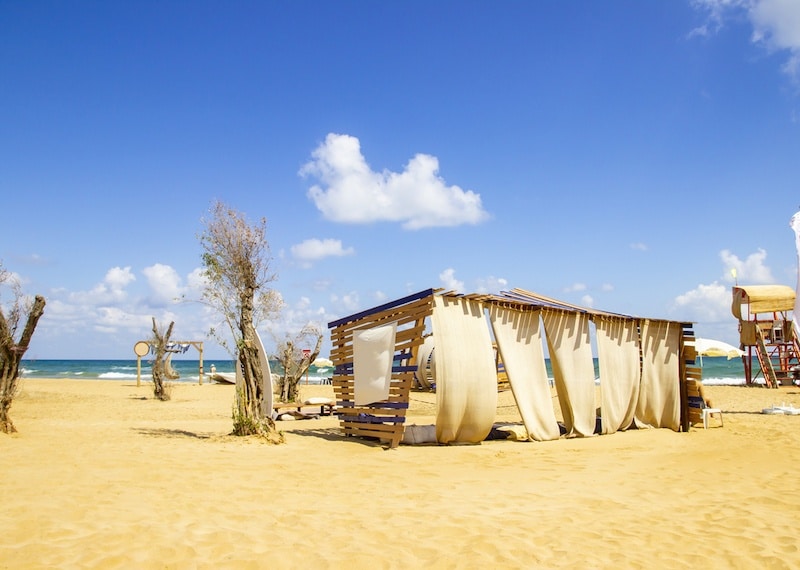 If you visit Istanbul in the summer, you might want somewhere to chill out and cool off from the heat. In that case, head to the city's north and keep going until you hit the coastal resort of Kilyos.
You'll find beach parties in the summer, yet the overall feel is chilled and enjoyable. Be sure to stay late and stay for one of the incredible sunsets.
Bebek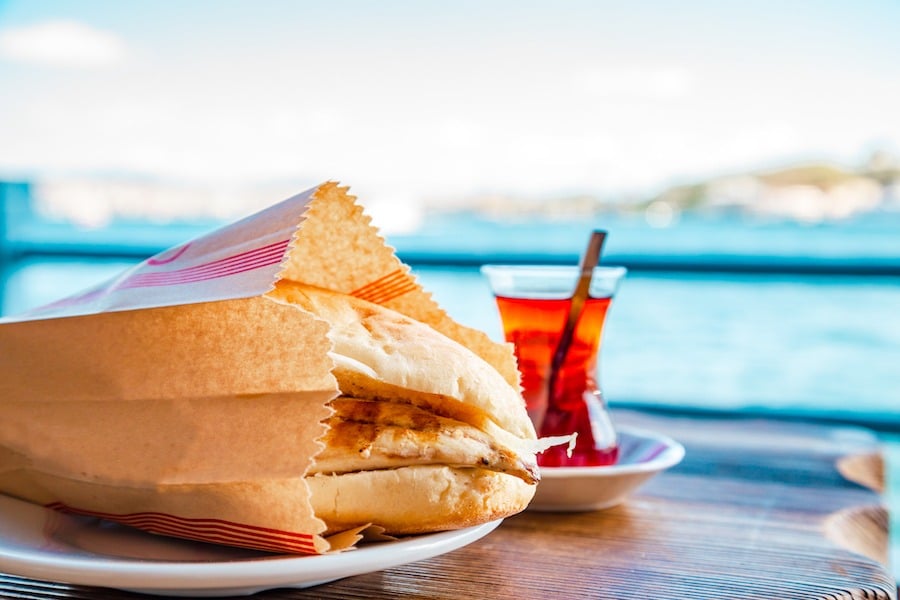 While Bebek is actually in Istanbul, it is far enough away from the center to feel like it is a day trip. You can reach Bebek from Taksim or Besiktas via the bus, though you should know that in traffic, it might take an hour or two to arrive, depending upon the time of day you go. This part of the city isn't linked by the Metro yet.
Bebek is a chilled-out seafront region, which is relatively affluent too. You can see both the old and new Bosphorus bridges, and you'll notice locals fishing along the banks of the Bosphorus. Enjoy a seafood meal here if you love to eat fish, as some of the best in the city are to be found along this stretch of water.
Gallipoli Historical National Park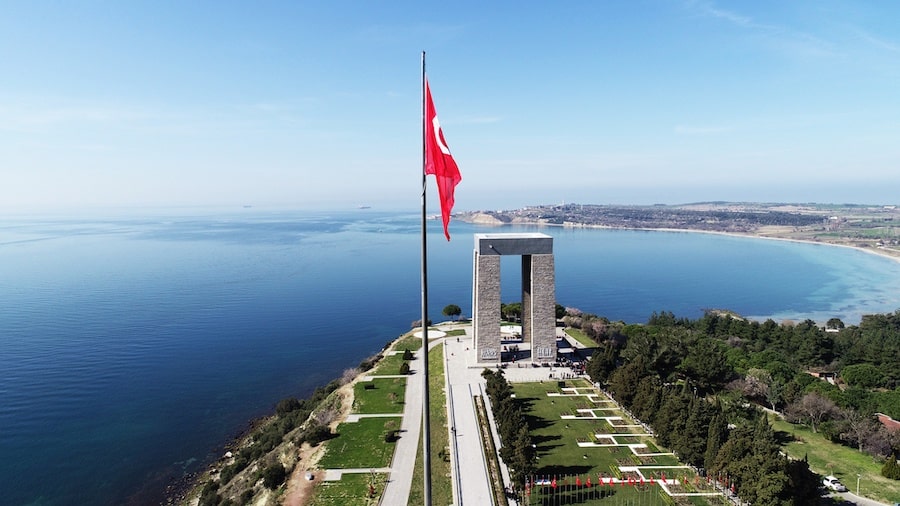 You will find the Gallipoli Peninsula, with stunning sea views north of Istanbul. The main reason to come to the national park is to pay respects to the soldiers from WWI.
Here you will find a beautiful memorial from the First World War. Set on a clifftop overlooking the sea, this area certainly gets you thinking, and it's dedicated to not only the Turkish soldiers but allied forces from Australia and New Zealand.
Uludag National Park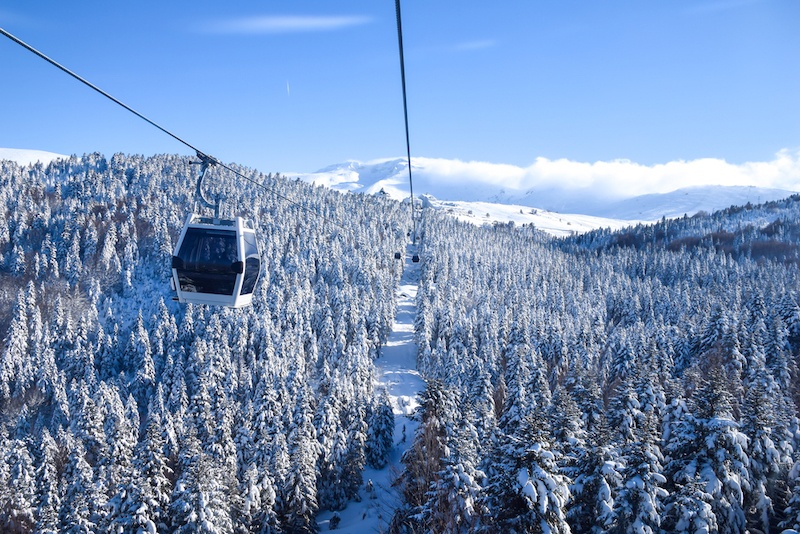 Located very close to the city of Bursa, Uludag is Turkey's premier ski resort, situated at Uludag National Park. It is open all year round and has gorgeous natural spaces to explore.
Uludag is a few hours' drive away from Istanbul, one of the best Türkiye day trips from this megacity, so you can make it there and back in one day if you set off early. Don't expect this to be a budget day out, as Uludag is known for being quite pricey, especially during the winter. However, you won't regret it when you're among the unforgettable scenery.
Konya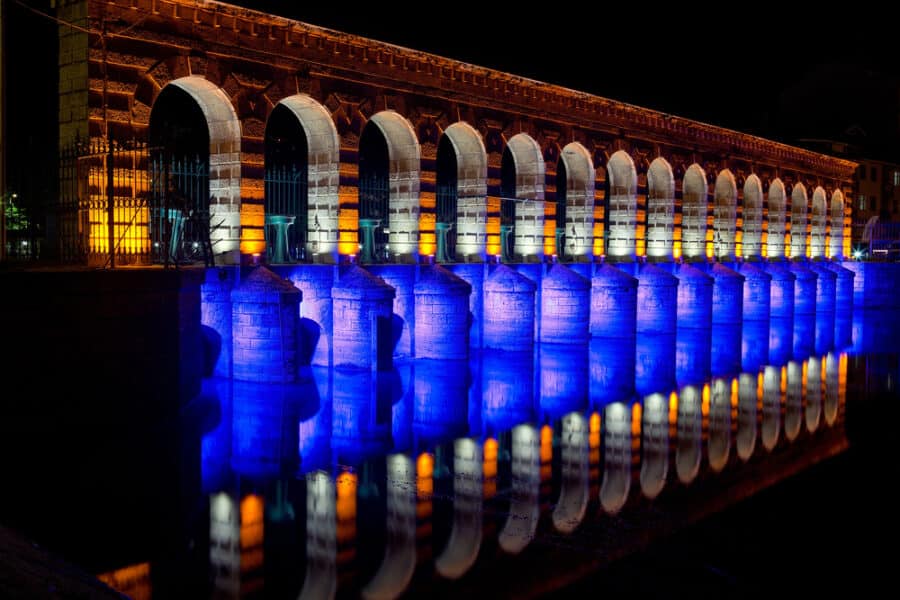 There are regular domestic flights from Istanbul to Konya every day, and this is a direct journey that only takes 1 hour and 20 minutes.
Konya is a romantic place, the kind that would entice poets and dreamers alike. It's no surprise that Mevlana Rumi, the famous Sufi poet and whirling dervish, wrote his famous, heartfelt verses here in the 13th century. The Mevlana Museum, which is decorated with beautiful roses and houses the tomb of the renowned poet, should undoubtedly be your first stop.
Its Semahane houses a museum of religious artifacts from the time period. For an evening walk and a cup of Turkish tea, visit Alaeddin Tepe Park.
The Tile Museum and the Museum of Wooden and Stone Carving represent the other fine arts in Konya, ensuring that all art lovers have a great time!
Bostanci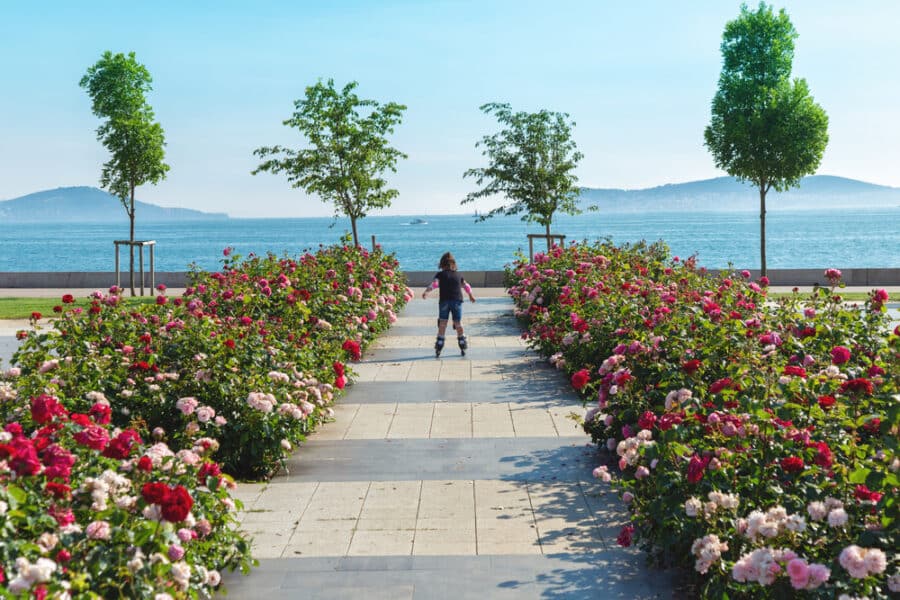 On the Asian side, just around the coast from Kadikoy, you'll find Bostanci, a waterside district that's pretty fun but also relatively calm and undoubtedly one of the best day trips from Istanbul in this guide.
You can easily walk from Kadikoy and have a great view of the Prince's Islands. During the sunny weather, you'll see people sitting on the huge waterside rocks, so grab a coffee and have a calm stroll.
Once you get to Bostanci, there's a funfair if you want a little extra excitement, but if not, sit and enjoy the view with plenty of fresh air coming your way.
These are just four spots you can easily break away from the madness and enjoy Istanbul's scenery. You might think this is a city of old buildings, but it's also packed with green spaces and beautiful views.
Yalova (& The Hot Springs)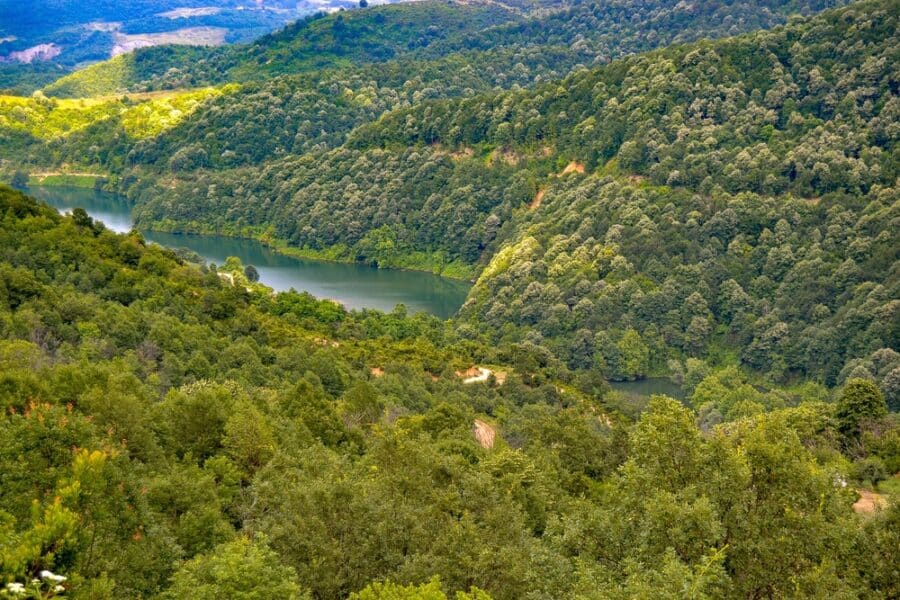 Yalova is a beautiful city located just outside of Istanbul. It is known for its hot springs, which are said to have therapeutic properties. The city also has a number of beautiful parks and gardens. If you're looking for a place to de-stress and enjoy nature, Yalova is the perfect place for you.
The city is home to some of Turkey's most beautiful natural scenery, with the Marmara Sea and the Bosphorus Strait providing plenty of opportunities for sightseeing. Yalova also has a large number of cultural attractions, including museums and historical sites such as the Yeni Mosque and the ruins of ancient Troy.
There are also several markets in Yalova where you can buy local produce and souvenirs.
Yalova is also a great destination for foodies, too, with many restaurants serving traditional Turkish dishes. Its nightlife scene; there are plenty of bars, clubs, and cafes to check out when you're looking to let loose.
Bursa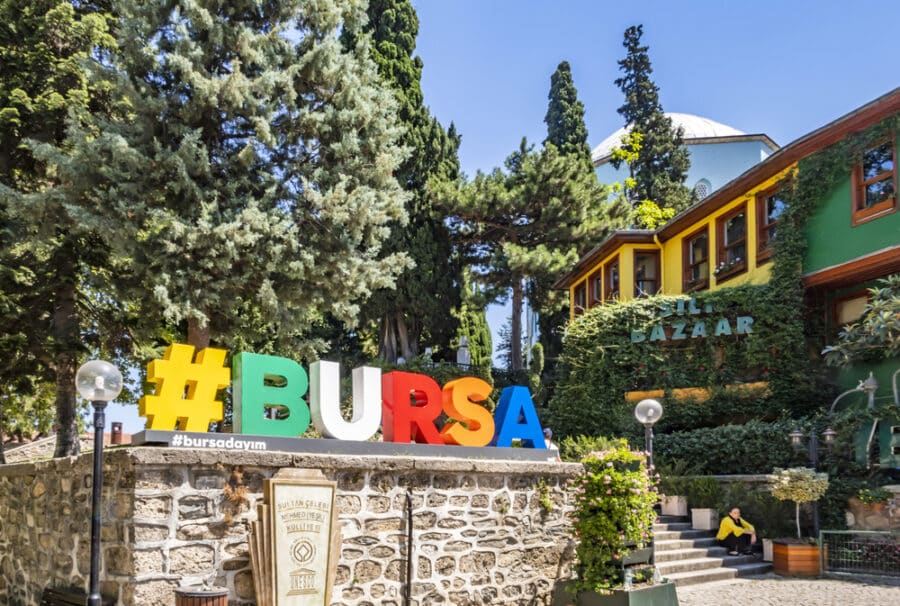 Located only about two hours south of Istanbul, the historic city of Bursa is easily one of the best day trips from Istanbul. Set in the foothills of majestic Mount Uludag, it is famous for its beautiful architecture and historically significant sites.
Still a vibrant Turkish city, Bursa used to be the largest silk trade center in the Byzantine and later the Ottoman Empires. In the 1300s, it was the Ottoman Empire's first capital.
This rich history is still very much visible all over Bursa in the form of magnificent mosques, especially the 14th-century Great Mosque with its twenty domes and the iconic Green Mosque.
The centuries-old Silk Bazaar is a major highlight, too, now housing numerous boutiques, tea bars, and coffee houses. Other not-to-miss attractions on your day tour from Istanbul to Bursa include the Karagoz Museum and the Irgandi Bridge, with all its shops.
Troy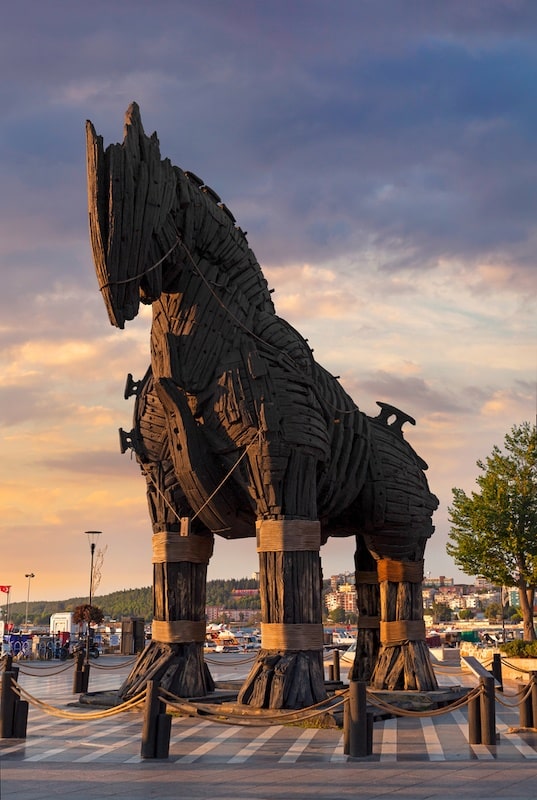 If you love history, you must visit the UNESCO World Heritage Site of Troy. Home to the Temple of Athena and the outer walls of the city of Troy, this is a place where you can hear the echoes of the past. The area is also very green and natural, so that you can feel peaceful here, away from the hustle and bustle of the city center.
If you want to learn more about the Battle of Troy, head to the nearby city of Çanakkale, where there is a Trojan horse monument from the 2004 film Troy. You'll also find the imposing Kilitbahir Fortress here, which is a must for history buffs.
Çanakkale
Situated on the Dardanelles Strait in the region of Marmara, Çanakkale offers a bit of everything. Although visiting the coastal city of Çanakkale on Istanbul day tours is possible, it is better to go there on weekend trips from Istanbul. The drive from Istanbul to Çanakkale takes more than 4.5 hours, so you'll want to stay at least one night to make the commute worthwhile.
First and foremost, this is the gateway to the WWI battlefields of Gallipoli, which we have described elsewhere in this post. It is also close to the Troy archaeological site. In this vibrant seaport, you can enjoy unique seafood dishes, sample local wines, and relax at beautiful beaches. In short, Çanakkale is a fantastic destination for a weekend or (very) long day trips from Turkey's largest city.
Cappadocia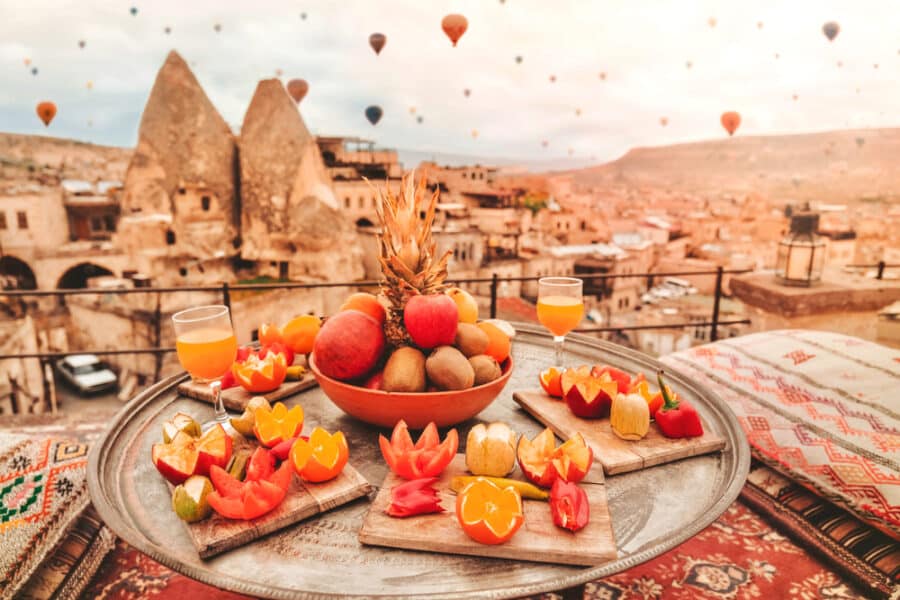 Many people dream of visiting Cappadocia. Unsurprisingly, the place is like a walking fairy-tale, and it's the best place to try hot air ballooning for the first time or devour an excellent Turkish breakfast with a view that will take your breath away.
We've listed this one last, as it is usually a trip that's best done over an extended weekend but can be done in as little as two days with a direct flight and package tour.
Package tours from Istanbul to Cappadocia are usually 2-day affairs, with one night in a boutique hotel. However, you can find longer tours, but you'll obviously pay more for these. Overall, the general length is an overnight stay.
You will be doing a lot of traveling in a very short amount of time. The good thing is that the flight between Istanbul and Cappadocia is only 1 hour, with some travel time from the airport to the site. Overall, it shouldn't take you more than 1.5-2 hours to get there and then the same to get back.
DAY TRIPS FROM ISTANBUL FAQS
Can you make a day trip from Istanbul to Cappadocia?
While technically, you can get there and back in a day; it makes more sense to spend at least one night in Cappadocia. Trust us – you'll want to!
Can you take a day trip from Istanbul to Ephesus?
Again, while you technically can get there and back in a day if you fly, it's better to plan on spending the night to make the most of your time in Ephesus and not spend a whole day traveling.
Can you visit Pamukkale from Istanbul in a day?
This destination is too far to reach easily in a day, so an overnight is needed for this trip.
What is the best day trip from Istanbul?
Princes Islands – not only is it completely different from the city's hub, but it's easy to get to and a day trip you can take year-round.
Wrap Up In Day Trips From Istanbul
In truth, there are countless more places you could consider going from Istanbul on a day trip, although the others would require a lot more travel time.
Most of the best places to visit near Istanbul we've mentioned above are within a few hours of the city, making them the best options for seeing a little more of the area and having a break from the hustle and bustle. Others, however, can be visited on a long one-day tour from Istanbul but are best done on a weekend trip.