Planning an Istanbul 5-day itinerary is challenging precisely because there's just so much to see! We could easily dawdle away an afternoon wandering through the Topkapi Palace's extensive grounds or even lose a whole day diving into bustling neighborhoods filled with spice stalls, tantalizing street food, and gorgeous old buildings.
But, as I have been several times, I know just how to help you make the most of your five days in Istanbul with this handy guide.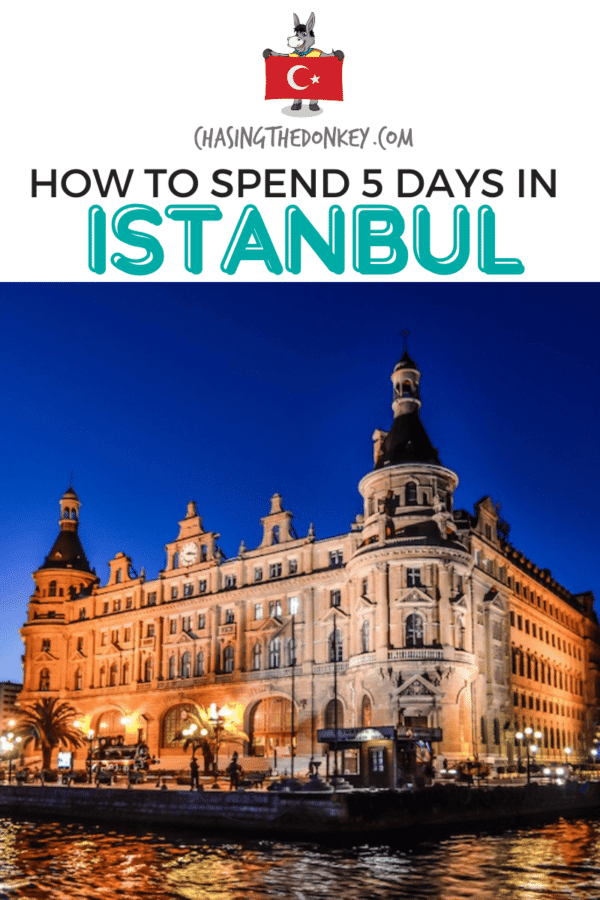 Formerly known as Byzantium, then Constantinople, before officially becoming Istanbul in 1930, Turkey's largest city is a thrumming hive of activity and life.
Thanks to its multicultural past, the metropolis is a fascinating nexus point of Western and Eastern architecture, art, and culture, blending Greco-Roman and Byzantine with Ottoman influences. It is, after all, one of only a handful of cities in the world to straddle two continents – and certainly, the most significant urban center that does so.
To help you decide what to do in Istanbul, we've gathered together the top highlights that the city has to offer, from elaborately crafted mosques to luxurious royal residences. We've also suggested a handful of Istanbul itineraries to give you some inspiration on how to organize your days.
Is 5 days in Istanbul too much? We'd argue it's barely enough! However, for a first-time visit, you can at least manage to see the unmissable attractions of this fantastic, vibrant hub.
5 Days In Istanbul Itinerary Ideas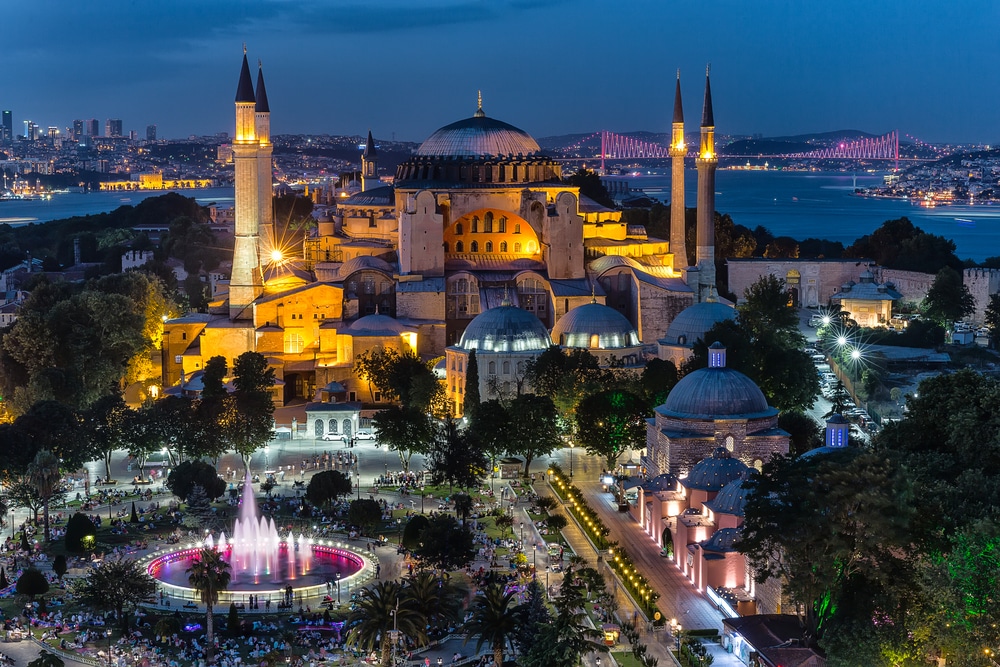 If you're wondering how to plan a 5 day trip to Istanbul, never fear!
We've put together several different itineraries that cover all the essential sights while allowing you time to stop and smell the roses – as well as eat plenty of kofte, pide, and baklava.
5 Days In Istanbul Itinerary Option One
Day 1: Explore Hagia Sophia and the Blue Mosque in the morning, then head to the Topkapi Palace in the afternoon
Day 2: Shop the Grand Bazaar and visit the Suleymaniye complex
Day 3: Climb the Galata Tower, enjoy royal splendor at Dolhambace Palace, and see a whirling dervish performance
Day 4: Inhale the spices at the Egyptian Bazaar, then take a ferry ride up the Bosporus from Eminonu to see Ortakoy
Day 5: Take a food tour to Kadikoy and see a bit of Istanbul's Asian side
5 Days In Istanbul Itinerary Option Two
Day 1: Haggle at the Grand Bazaar, climb the Galata Tower, and explore the synagogues and churches of Karakoy
Day 2: Have a palace day at Dolmabahce and Beylerbeyi
Day 3: Cross the Bosporus to Kadikoy via the Maiden's Tower and wander Istanbul's Asian side
Day 4: Compare the city's premier mosques, including Hagia Sophia, Blue Mosque, and Suleymaniye
Day 5: Picnic in Gulhane, excavate history at the Istanbul Archaeological Museums, and explore the Topkapi Palace
5 Days In Istanbul Itinerary Option Three
Day 1: Throw yourself into the bazaars, then visit the Suleymaniye complex
Day 2: Marvel at 19th-century Imperial Ottoman architecture of Dolmabahce, Beylerbeyi, and Ortakoy
Day 3: See the wonders of Sultanahmet before ending the day with a Bosporus dinner cruise
Day 4: Clamber over the Rumeli Fortress and visit the neighboring museums
Day 5: Ascend the Galata Tower, visit a traditional hammam, and enjoy a drink on the Karakoy waterfront
Highlights From TheseIstanbul Itineraries
Below you'll find a list of what to see in Istanbul, from Ottoman palaces and Islamic mosques to Roman temples and bustling markets. You might not be able to fit all of them into 5 days, but at least you'll have an abundance of options from which to build your itinerary.
Hagia Sophia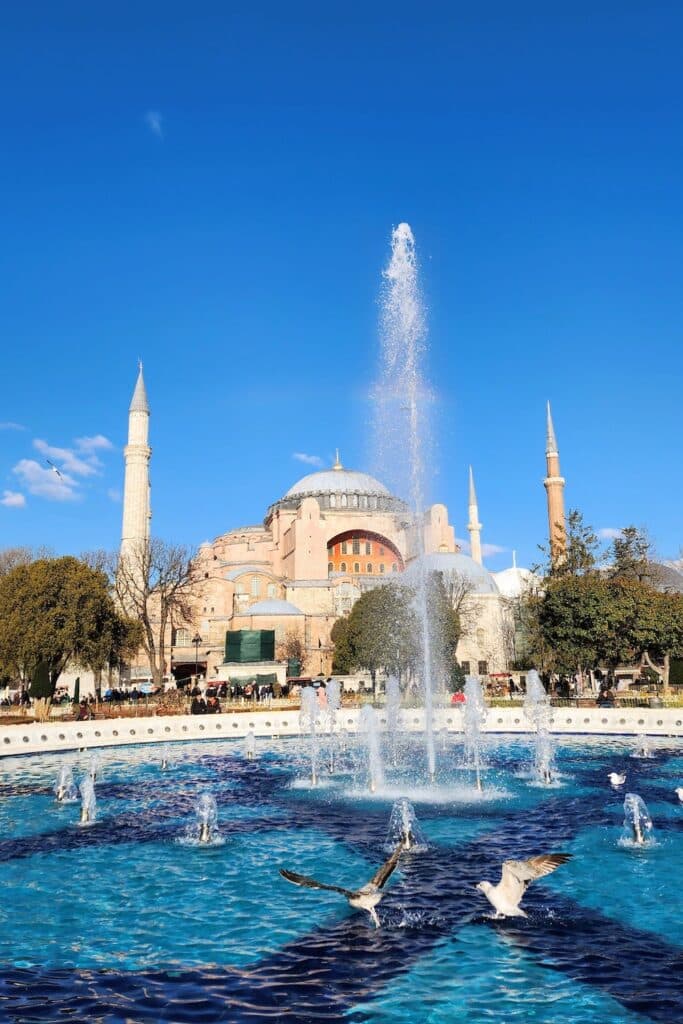 An enduring symbol of Istanbul, the Hagia Sophie was initially constructed as a Christian church in 537 by the Emperor Justinian I of the Byzantine Empire. After the fall of Constantinople, it was converted into a mosque before becoming a museum and, more recently, being turned back into a mosque.
The famous dome – an architectural marvel 1,500 years ago – is still a highlight of the Istanbul cityscape. Inside, ostentatious chandeliers, gilded mosaics of Jesus, and golden Arabic script glitter over the daily worshipers.
Blue Mosque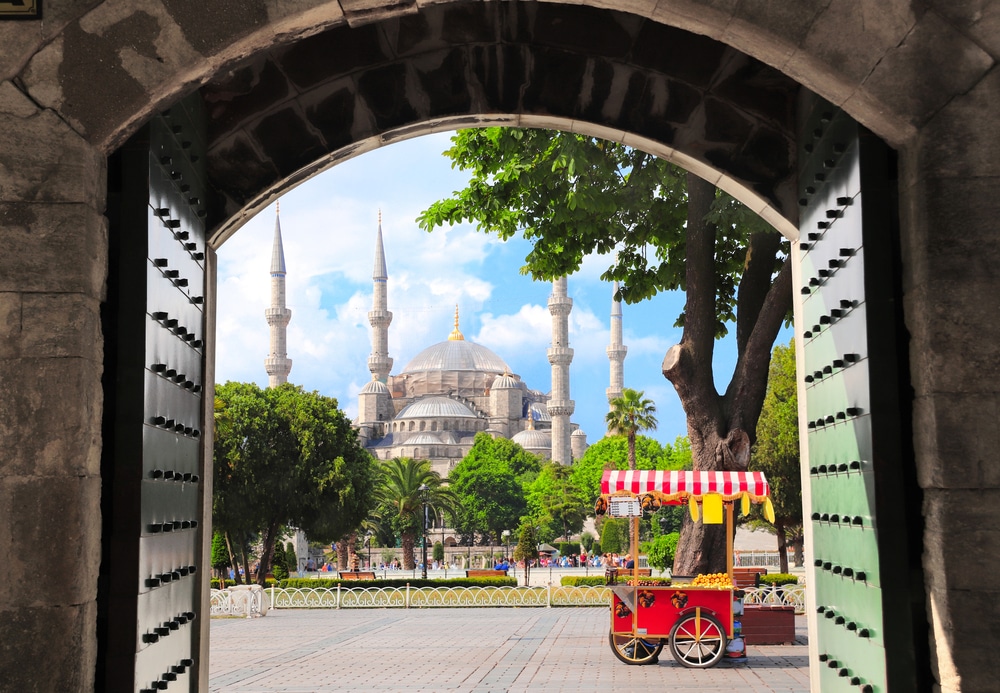 Officially known as Sultan Ahmed Mosque, the Blue Mosque is directly across from the Hagia Sophia. While not quite as historic – it was built in the 1600s – it was designed to appear as a more impressive structure, with everything done bigger and better than before.
While you might think its colloquial name comes from the light blue color of the domes as seen from the exterior, it's actually called the Blue Mosque because of the vivid blue tilework decorating the interior.
Basilica Cistern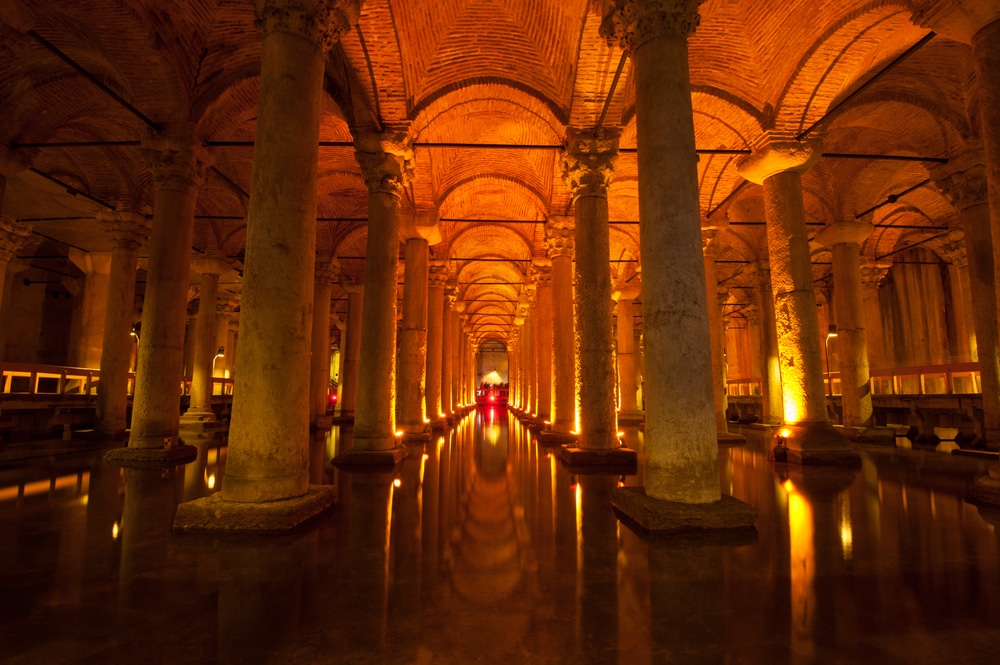 A mini labyrinth of walkways suspended over silent pools, the Basilica Cistern is a subterranean cavern engineered by the Byzantines to store water. Today, you can wander through the echoing space, which has been eerily lit to show off the impressive stone pillars holding up the roof.
One of the highlights down here is the Medusa head column bases. These intricately sculpted gorgon faces were probably just scavenged randomly from other ancient sites but now lend an air of haunted mystery to the cistern.
Gulhane Park
'Gulhane' means 'House of Roses,' so it's no surprise that Istanbul's oldest public park is brimming with flowers, in between which local couples canoodle and families picnic.
Right in the heart of the city, it's a lovely green space where you can relax with a snack and enjoy some people-watching in between the more frenetic crowds that flock to Hagia Sophia and the Topkapi Palace.
Topkapi Palace
A luxurious complex that reflects the former might of the Ottoman Empire, the Topkapi Palace occupies a prime position atop one of the highest points of old Constantinople, commanding a view of the city and the sea.
Bursting with intricate, colorful tilework and well-kempt gardens, it was the main imperial residence for around 400 years. Today, the most impressively preserved part is the harem rooms, where every surface is decorated with ornate craftsmanship.
Hagia Irene
Part of the Topkapi Palace but separately ticketed, the Hagia Irene makes for an interesting comparison to the Hagia Sophia. Unlike its sister church, it has been left to wither and deteriorate, the structure more a nest for pigeons than a site of historical importance.
While some might find the lack of ornamentation dull, it's a testament to the ravages of time unchecked by the human hand.
Istanbul Archaeological Museums
A few short steps from the main Topkapi Palace complex, the İstanbul Archaeological Museums preserves a mixture of salvaged treasures from the ancient world, including Babylonian brickwork, Greek sarcophagi, Roman statuary, and Byzantine jewelry. History buffs will find a trove of artifacts to explore, scavenged from all over Turkey.
Grand Bazaar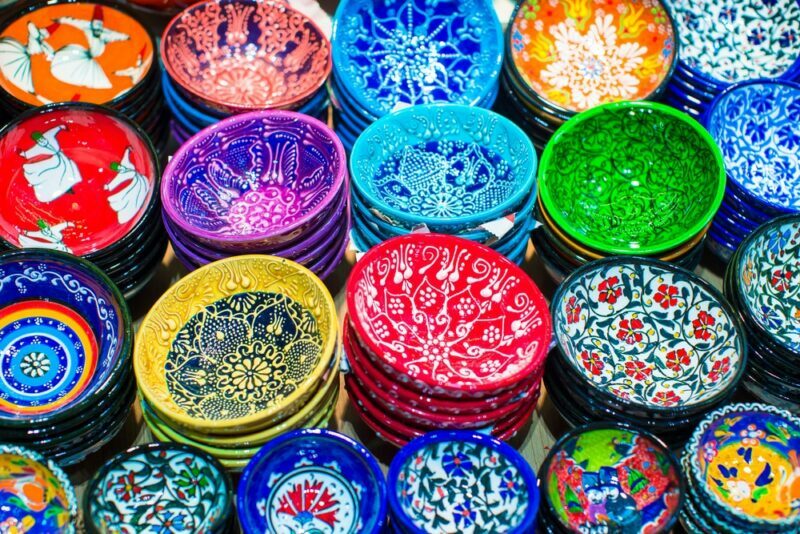 Sometimes described as the oldest shopping mall in the world, the Grand Bazaar is a dizzying series of covered streets filled with souvenirs for tourists, from decorative objects and hand-woven carpets to local clothing and sweets.
While it is essential to at least check out this centuries-old marketplace, bear in mind it can be a bit of an overwhelming (and overpriced) experience, given the crowds and touts.
Spice Market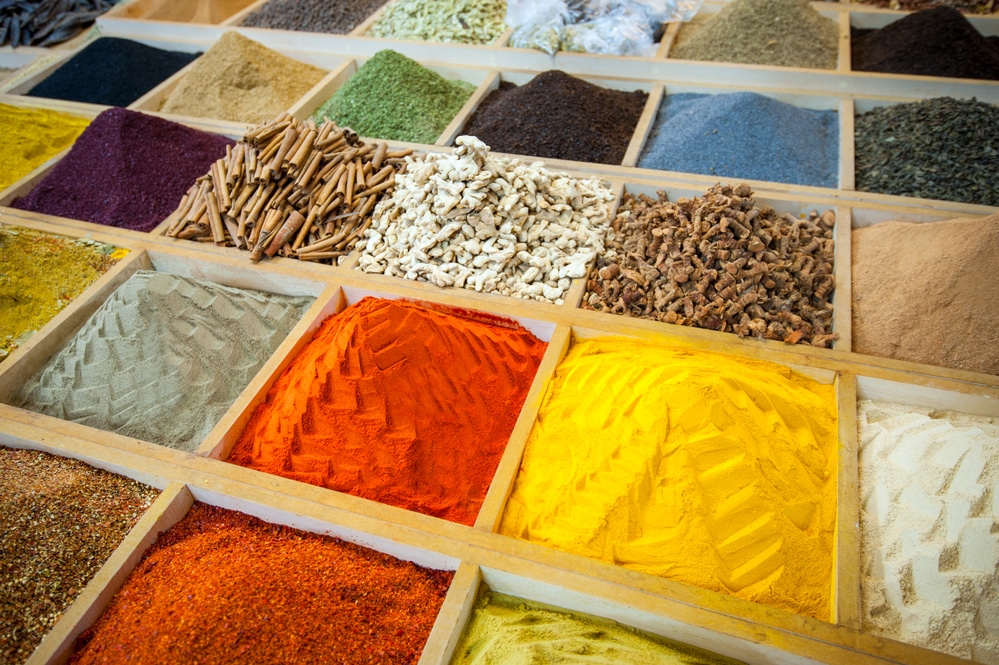 Also known as the Egyptian Bazaar, the Spice Market generally focuses more on foodstuffs than the Grand Bazaar. It has also become a bit of a tourist trap, but the buzzing atmosphere and aromatic smells make it worth a visit – though we'd recommend heading to a more local spot to purchase any sumac, pomegranate syrups, and Turkish delight you wish to take home.
Mosque Of Suleyman The Magnificent
The third great mosque of Istanbul, the Suleymaniye Mosque, was built by the renowned Suleyman the Magnificent in the mid-1500s. It remained the largest mosque in Istanbul until 2019 when the Camlica Mosque opened to the public.
Inside the religious complex, you'll also find several elaborate mausoleums belonging to the imperial family.
Galata Tower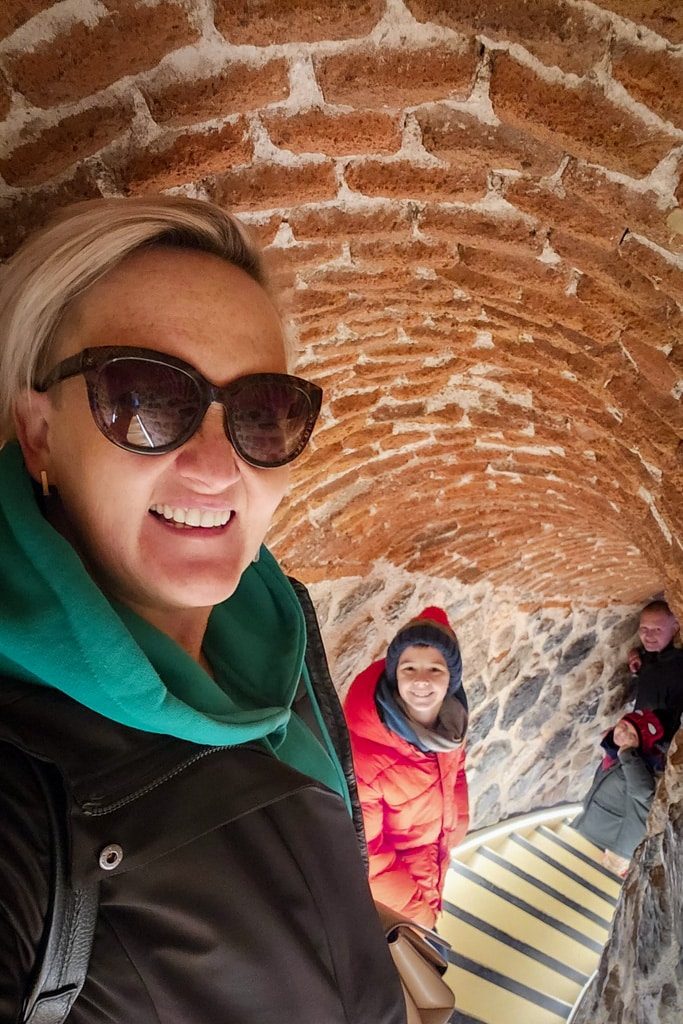 The circular Galata Tower dates back to the mid-13th century and owes its Romanesque architectural style to the Genoese traders who built it as a lookout.
Over time, it was used as a fire-detection point and even a prison before being turned into a museum. Even though the Galata Tower is no longer the tallest building in Istanbul, it still has some of the most amazing panoramic views of the old city you will find. If you visit during one of the daily calls to prayer, you can experience the priceless sensation of having a chorus of melodic voices envelop you from all sides.
Dolmabahce Palace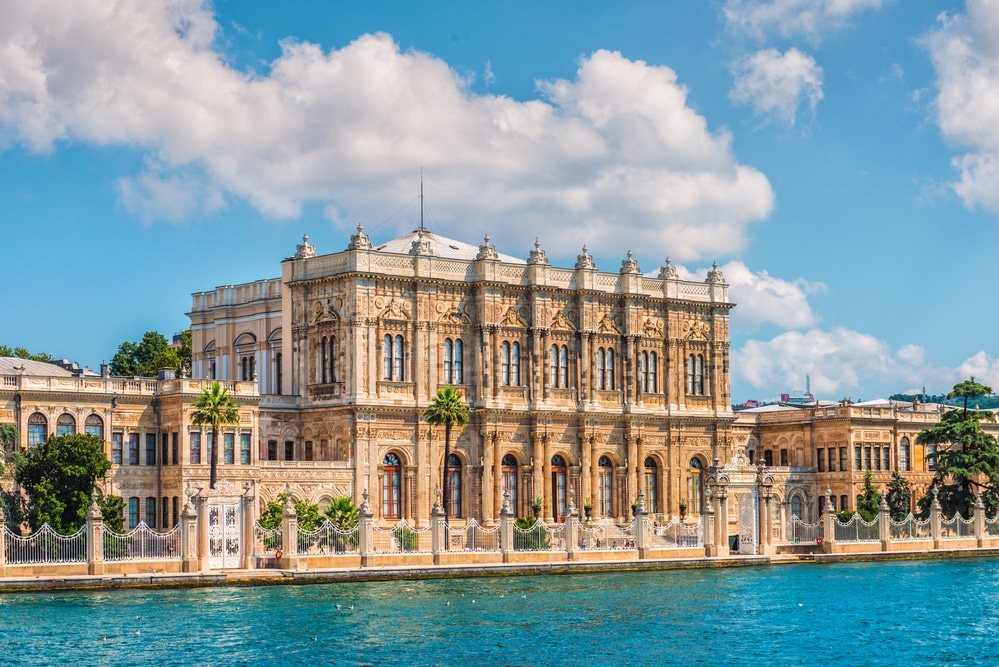 While we might deem the Topkapi Palace a historical marvel today, by the 1800s, the Ottoman sultans were beginning to think their traditional residence was a bit old-fashioned. As a result, several new palaces were built in the European style along the Bosporus, none larger and more elaborate than Dolmabahce.
Requiring 13 years to complete, the building's extensive use of gold and crystal was so costly; it contributed to the Ottoman state defaulting on its debts.
Beylerbeyi Palace
Built along a similar model to Dolmabahce but on a smaller scale, the Beylerbeyi Palace provides an idea of the kind of opulence the 19th-century sultans were obsessed with – but with way fewer visitors. This is the palace to visit for a quieter, more relaxed royal retreat.
Bosporus Cruise
No visit to Istanbul is complete without a trip on the waters of the Bosporus. The simplest way to do this is to catch one of the local ferries, which travel regularly between the European and Asian sides, as well as up and down the waterway between Eminonu and Ortakoy.
Alternatively, there are loads of companies running private tours as well as some rather charming dinner cruises.
Maiden's Tower
As you cross the Bosporus, keep an eye out for the Maiden's Tower. Marooned in the middle of the waterway, there are several legendary antecedents for the building, including a romantic tale involving a doomed princess.
In reality, however, the original tower, thought to have been built a couple of thousand years ago, was probably some military installation. The current building is only a few hundred years old and was closed to the public for a long period of time until it was reopened this year with a small museum inside and an all-day cafe on the terrace.
Kadikoy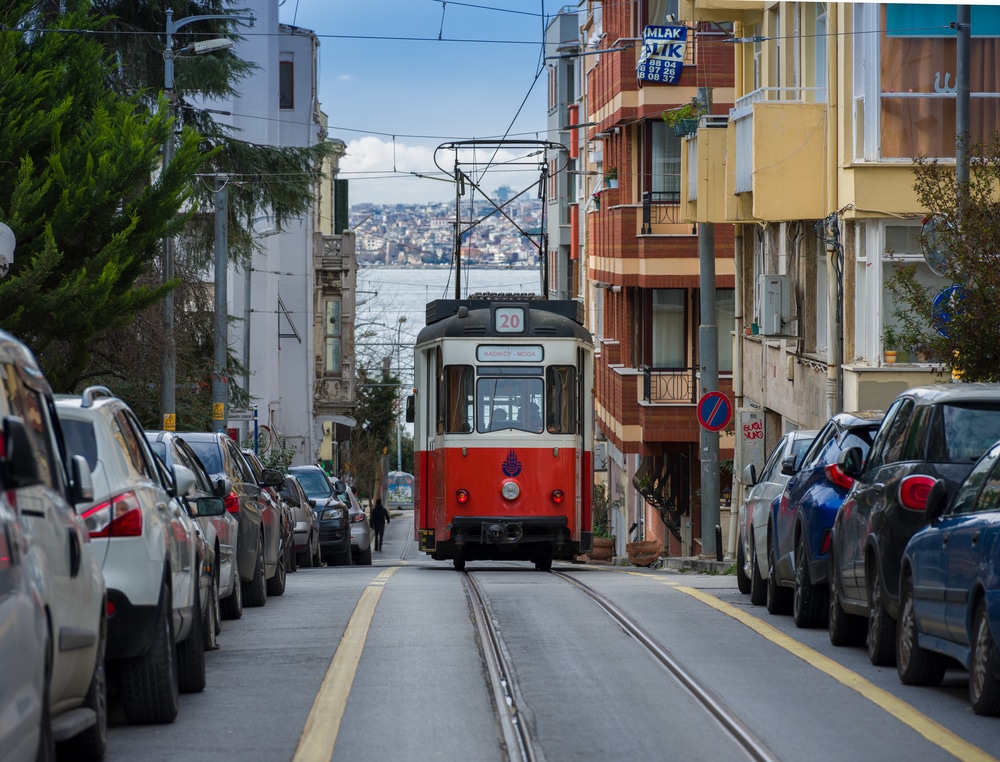 For tourists in a rush, the Asian side of Istanbul is often shunted off the itinerary, but you really can't say you've properly been to the city unless you've seen both sides.
Once a completely separate settlement from Old Constantinople, today Kadikoy offers an alternative view of Turkey's biggest metropolis, complete with buzzing pedestrianized streets of cafes and shops. A particular highlight is the seafood market, complemented by restaurants that will cook up the fresh catch for your gastronomic pleasure.
Pera Palace
The Pera Palace has been one of the most luxurious hotels in Istanbul for more than a century. That's not the reason we've included it here, however.
Instead, you should pop in for a refreshing drink at the Orient Bar so you can say you've traveled in the footsteps of such icons as Ernest Hemingway, Alfred Hitchcock, and Agatha Christie. Don't forget to pop your head around the door of the famous Room 101, which now hosts an exhibit that memorializes Mustafa Kemal Ataturk, Turkey's first president.
Taksim Square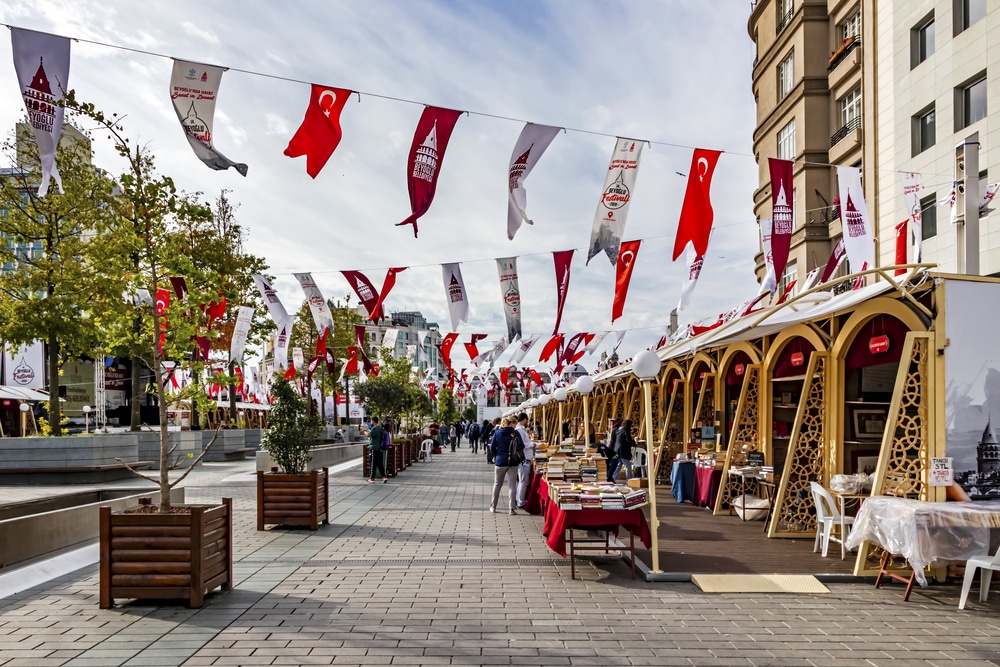 The beating heart of modern Istanbul, Taksim Square is an open space enveloped by eateries, hotels, and shopping streets. At its heart is the Republic Monument, a sculpture commemorating the reformulation of the Ottoman Empire into the Turkish Republic.
While Taksim Square is far from the most impressive thing to see in Istanbul, you will probably pass through the area on your way to other sights, and it's worth stopping off to take in the sights and sounds of the modern city at its most vibrant.
Ortakoy Mosque
A bit further north from the main stretch of tourist hotspots, Ortakoy Mosque was built around the same time as the Dolmabahce and Beylerbeyi palaces – something that's readily evident from the similarity in architecture.
Blending Western and Ottoman features, the gleaming white facade conceals a riotous homage to baroque design, complete with enormous windows and pastel-pink ornamentation.
Rumeli Fortress
Even further up the Bosporus, the Rumeli Fortress is a magnificent ruin originally built as part of a grand plan to finally achieve the fall of Constantinople, a city that had remained unconquered for hundreds of years thanks to (almost) impenetrable walls. Today, the picturesque stone walls and forbidding towers are a beautiful place to explore and relax.
Turkish Breakfast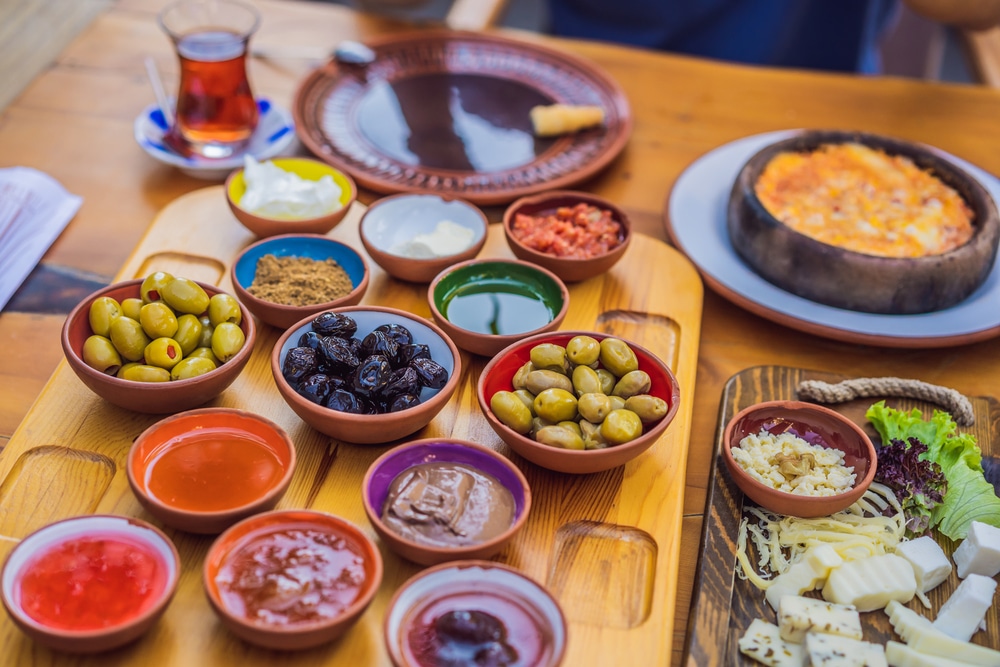 There are a couple of must-do cultural highlights you can't miss in Turkey, and one of them is a scrumptious breakfast.
These meals are like a tasting platter of local foods, consisting of olives, tomatoes, cold cuts, local cheeses, dips, and freshly baked bread, accompanied by a glass of black tea.
Kilic Ali Pasa Hamami
Going to the hammam is another activity you cannot miss while in Istanbul. There are loads of these traditional Turkish baths spread throughout the city, but we particularly recommend Kilic Ali Pasa if you want a pampering experience that blends modern comfort within a meticulously restored building. It's essentially the best of both worlds, offering a divine taste of the hammam experience within a setting that caters to linguistically challenged tourists.
Galata Mevlevi Museum
The Mevlevi are famous throughout the world for their ritual in honor of Allah that involves a dizzying twirling dance – hence their designation as "whirling dervishes." This museum is dedicated to exploring the traditions and beliefs of this religious sect. There are also regular performances if you want to experience this Masterpiece of the Oral and Intangible Heritage of Humanity for yourself.
Chora Church
We're going to include Chora Church on this list in the hope that it will soon be reopened to the public. While it is a little further out from the main tourist areas of Istanbul, what has kept this religious edifice a popular side attraction is not its Byzantine stone exterior – although that is beautiful as well – but the unparalleled collection of mosaics and frescoes that continue to adorn the interior, which are more than 700 years old.
TRAVEL COMPANIES WE USE AND TRUST
Is 5 Days Enough To See Istanbul
Is it worth going to Istanbul for 5 days? Yes, absolutely! A 5 day Istanbul itinerary will enable you to see all the absolutely essential attractions that any visitor cannot miss, such as the Hagia Sophia and the Topkapi Palace.
In fact, we can say with some authority that a quintet of days is an ample amount of time to at least dip your toe in the waters of what Turkey's largest city has to offer, from devouring delicious breakfast platters to haggling in the Grand Bazaar.
Why 5 Days In Istanbul Is Not Enough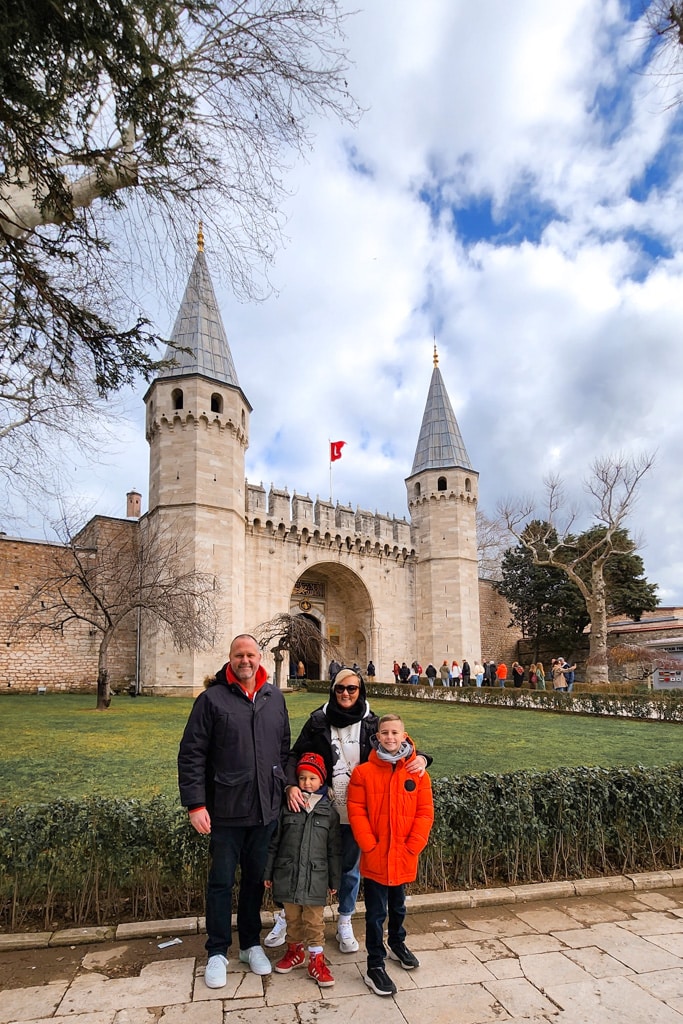 Yes, you can manage to see all the major sights in Istanbul in 5 days, but how many days in Istanbul do you really need if you want to immerse yourself in the culture?
If you are more of a leisurely traveler who doesn't like to cram a ton of activities into a short space of time, you could easily spend upwards of a week methodically exploring the various districts and attractions of Istanbul.
Just taking in Fatih, the area that roughly corresponds to old Constantinople, can take a couple of days, filled as it is with Byzantine, Ottoman, and modern-day marvels.
Longer stays give you more time to see some of the lesser visited but still impressive spots, such as the Rumeli Fortress, a Medieval fortification situated to the north side of Istanbul that exudes power and intimidation, or Miniaturk, a park containing miniature recreations of some of Turkey's most famous landmarks that's fun for all the family.
Most shorter visits to Istanbul focus on the European side of Istanbul, with perhaps just a little time left over for the fascinating Asian side of the city.
If you do have a few days extra, however, it's worth delving a little deeper into what this part of Istanbul has to offer.
It's here, for instance, that you'll find the Kadikoy market, filled with fresh produce and delicious local snacks, as well as the fantastic Haydarpaşa Train Station, a grand neoclassical stone building that stands upon the banks of the Bosporus.
The Kadikoy-Moda area, in particular, has become a beacon of cool in recent years, with lots of trendy bars, cafes, and artsy venues scattered throughout.
An extended Istanbul travel itinerary also opens up the possibility of taking a day trip to some of the surrounding regions. One of the most popular natural escapes with locals is Belgrad Forest, a verdant green space less than an hour's drive from downtown that is perfect for a spring or summer picnic away from the bustle of the metropolis.
Another place we love to visit during the warmer months is the Princes' Islands. These picturesque landmasses are easily reachable from Istanbul via ferry, combining sandy coastlines, forested islands, and pretty wooden houses.
Istanbul Transport Options – The Best Ways To Travel While In Istanbul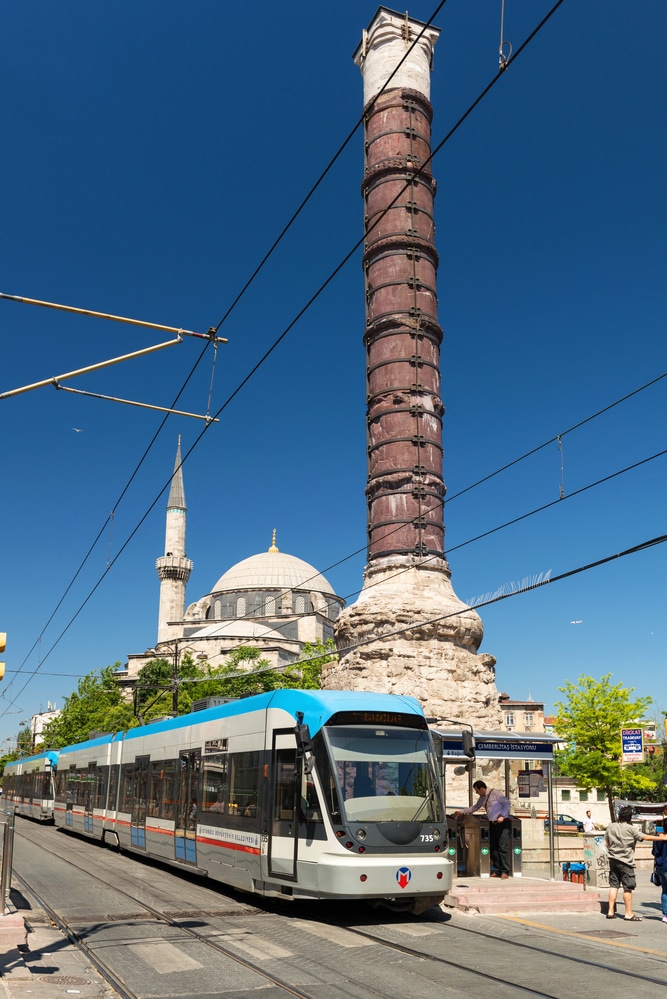 Istanbul has an amazing range of public transportation options. Some of these are the epitome of efficiency for when you want to get to your destination as soon as possible, while others offer a scenic route or a journey into the past.
For almost all pieces of public transport, you will need an Istanbulkart. This card can be acquired for 50 Turkish lira from vending machines at stations, after which you can load as much money as you want to cover your travel as you go. As a rough guide, a single journey on the metro, bus, or tram cost at least 9.90 Turkish lira.
Take the modern tram: The most useful form of public transport for tourists is the tram, particularly the T1. This line connects some of the most popular Istanbul spots, linking together the Hagia Sophia, the Grand Bazaar, and the Galata Tower.
Take the historical tram: Istanbul has two heritage tramways, one on the European side and one on the Asian side of the metropolis. These short lines provide a nostalgic journey into the city's past, having resurrected the old-fashioned tram cars.
It's definitely worth at some point hopping on the T2, which runs along the bustling pedestrianized shopping street of Istiklal Street, just for the experience.
Hop on the underground: The underground consists of more than ten lines, which snake their way across the city. One of the most useful routes is the M11, which connects Istanbul Airport with the downtown area.
Use the bus: there are hundreds of bus lines that cover almost the entirety of Istanbul. While they can be convenient, they are arguably the least comfortable method of transport due to the crowding, as well as being a bit of a head-scratcher to figure out
Enjoy the ferry: you can pay for a private boat trip, but why bother when the public ferry offers delightful views of the Bosporus for a fraction of the price? Bear in mind these boats are actively used by the local commuters, so if you want a relaxing journey crossing the water between the European to Asian sides of Istanbul, try and travel during the weekday when people are at the office
Cross continents on the Marmaray: the Marmaray commuter line offers the only alternative method to the ferry if you want to cross the Bosporus using public transport. It's obviously less scenic, but also a much faster method of getting between Istanbul's European and Asian halves
Try the funicular: described as the second oldest subterranean transportation system still in existence after the London Underground, Istanbul's Karakoy-Beyoglu funicular (also known as F2) is another piece of public transport that offers a window into Istanbul's past. It essentially relieves the need for people to clamber up the steep slope between Karakoy and Beyoglu. There's also a second, more modern funicular connecting Taksim and Kabatas
Experience a dolmus: a dolmus is a shared taxi that locals use to get from place to place. Essentially small minibusses, they seat around eight people and cost different prices (paid in cash) depending on your route. The destinations are written on the front of the vehicles, but this is still a more challenging way for tourists to travel and is only recommended for the adventurous
Hail a ride: Uber is alive and well in Istanbul if you want to ride in a car rather than experience public transport. There's also a local equivalent you can use called BiTaksi, which has a built-in English version
Risk a taxi: We use the word 'risk' because Istanbul's taxis are notorious for trying to scam unwary travelers. While you'll see plenty of yellow cabs on the streets of Istanbul, they may be one of the least reliable transport options. If you do take one, insist the ride is metered, pay with small bills, and ask for change – tipping the driver beyond rounding up the total is not a local custom
5 DAYS IN ISTANBUL ITINERARY
Spending 5 Days In Istanbul FAQs
What are the must-visit attractions and landmarks in Istanbul?
The Hagia Sophie and Blue Mosque are arguably the most iconic buildings in Istanbul and are conveniently situated right opposite one another! Other unmissable attractions include the Topkapi Palace, the Dolmabahce Palace, and the Galata Tower (if not for the building, then certainly for the views). You can also not go to Istanbul without riding a boat along the Bosporus or tucking into the local breakfast.
How should I allocate my time between the different neighborhoods and districts?
The biggest tip we can give you is not to try and squeeze all the attractions of Sultanahmet into one day. Yes, it's tempting to visit the Hagia Sophia, Blue Mosque, Basilica Cistern, Topkapi Palace, Istanbul Archaeological Museums, and so on in 24 hours because they are so close together, but you'll wind up feeling exhausted and fed up with the queues, crowds, and lack of time to really examine what you are seeing – particularly if the weather is warm. Instead, allocate at least two days to Sultanahmet, which will allow you to see a good chunk of the must-visit attractions.
After that, one way to divide your time would be to spend a day in Eminonu (bazaars, Suleymaniye), a day around Karakoy and Taksim Square (Galata Tower, Dolmabahce Palace), and a day in Kadikoy. Alternatively, you might opt to allocate a day to heading further north to Ortakoy and the Rumeli Fortress.
Are 5 days enough to see the major highlights of Istanbul?
If you are only interested in seeing the most iconic parts of the city, doing Istanbul in 5 days is perfectly feasible.
Even a more leisurely approach to some of the larger places, such as the Topkapi Palace, the Dolmabahce Palace, and the Istanbul Archaeological Museums, is manageable as long as you don't mind cutting out some of the interesting but arguably not essential spots, such as the Spice Market, the Ortakoy Mosque or the Galati Mevlevi Museum.
How can I ensure a balance between exploring popular tourist spots and experiencing local life?
We recommend trying to limit yourself to a maximum of 3 to 4 tourist spots a day.
That way, you will still have time to stop for common street foods like simit (sesame-encrusted bread) or durum (meat-filled wrap), wander aimlessly through local neighborhoods such as Arnavutkoy (famous for its wooden mansions) and Moda (Istanbul's answer to hipster-dom), and go shopping in the arcades around Taksim Square.
Are there any important customs or cultural etiquette I should be aware of while visiting Istanbul?
As a tourist, the cultural customs you are most likely to encounter are those related to entering a mosque. You will be expected to remove your shoes before entering, as well as to cover your shoulders and your knees. Women are expected to cover their hair as well.
In general, Istanbul is very liberal when it comes to dress code, though bear in mind that overly revealing or tight clothing (particularly on women) will inevitably attract stares from some of the locals.
We've written a detailed guide on how to tip in Türkiye here, but the general rule of thumb is 10% in restaurants, with up to 15% for truly outstanding service.