We may earn commission from affiliate links →
Where To Stay In Split, Croatia – Best Split Accommodation
Welcome! I guess you are planning your holidays to Split, huh? You've made an excellent choice. It's no secret that a tour of Croatia has become a top travel choice of late.
While Dubrovnik seems to be attracting the lion's share of attention in this regard, other places in the country are worth a stop. One fabulous place is Split, Croatia, an ancient city that should be one of the cornerstones of any travel itinerary in the Balkans.
This guide will help answer the question "Which area to stay in Split, Croatia" as well as "where should I stay in Split" and many more questions like it.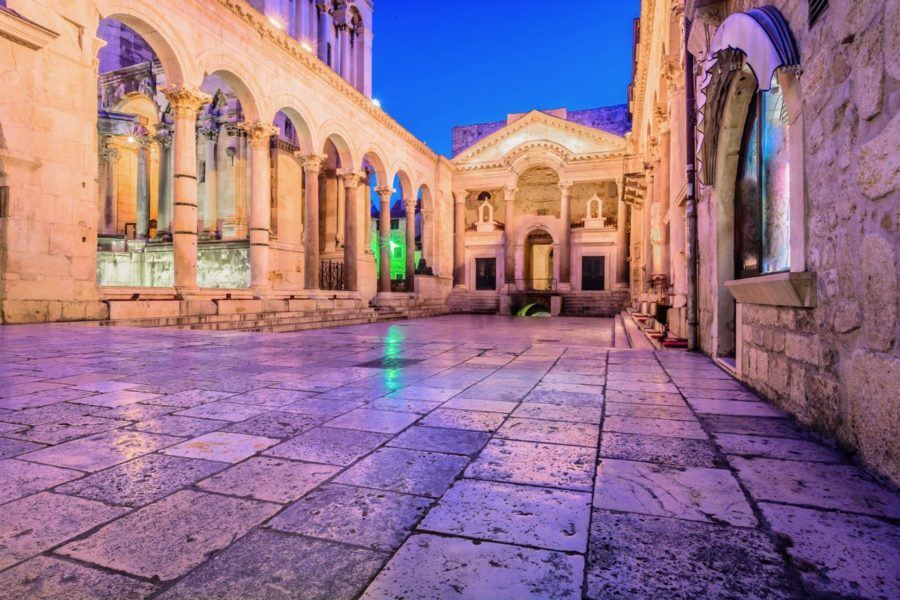 The metropolis is best known for its importance as a transportation hub for the surrounding area, but it is a beautiful place for travelers to spend some time. Attractions such as the Croatian Archaeological Museum and the 4th-century Diocletian's Palace are both excellent stops for visitors. Additionally, Split offers world-class people-watching along its waterfront and boasts countless fantastic restaurants and cozy coffee houses.
Split is also known for being family-friendly, so why not make it a family holiday. Those who make their way to the city will undoubtedly need a restful place to spend the night for kids and adults alike. Therefore, we have compiled the following list of some highly recommended hotels in Split for visitors to choose from while staying in this picturesque seaside town.
IN A HURRY? BOOK THESE SPLIT HOTELS BEFORE THEY SELL OUT
Split Croatia Neighborhood Map
Accommodation in Split is divided into several options, all with varying price points, in different locations throughout the city. There is something to suit cheap travel, luxury travelers, and those traveling with kids. Start your holidays in Split right.
Keep reading to answer the question, "where should I stay in Split, Croatia"!
Best Split Old Town Hotels
Of all of the Split hotels, we'd suggest that you book one of the following as these all are within the best area to stay in Split, Croatia. The Old Town of Split, also known as Grad, is where most tourist action is.
Jam-packed with historical sites and cultural highlights, from Diocletian's Palace to the Riva promenade, this is the best part of Split to stay if you want to focus on the city's historic core. Additionally, much of the Old Town is car-free, which makes it even more attractive.
Jupiter Luxury Hotel – 4 Stars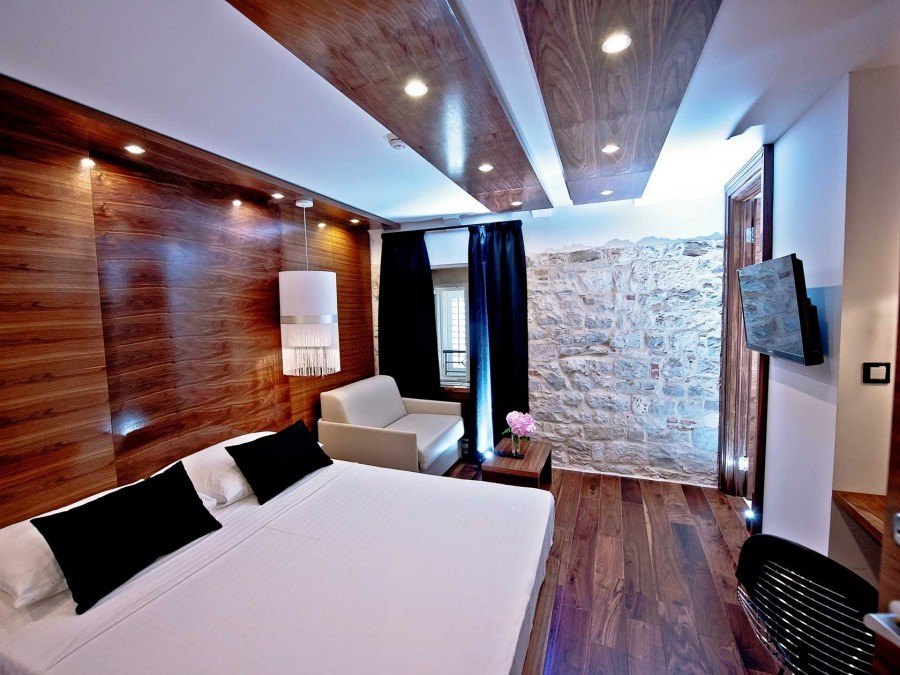 Jupiter Luxury Hotel has secured the top spot on our list of best places to stay in Split, Croatia. This boutique hotel has an unbeatable location – in the heart of Diocletian Palace, part of the Historical Complex of Split (a UNESCO site). With close proximity to area bars, restaurants, and attractions, you can't find a better home base.
The mix of centuries-old history and uber-luxurious rooms with modern decor and restored stone walls creates a unique design and atmosphere. We haven't found another hotel quite like it! Relax in the Jacuzzi, grab a drink in the cozy lounge bar, or eat a scrumptious meal with grand views of the city. You really can't go wrong with this accommodation.
Hotel Vestibul Palace & Villa – 4 Stars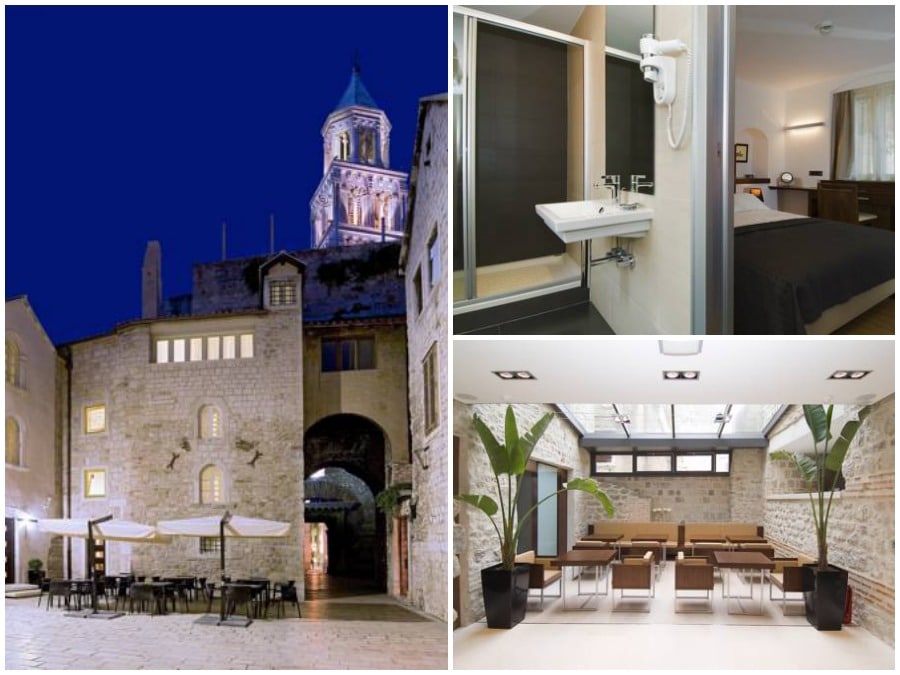 Hotel Vestibul is a small boutique hotel that opened in 2006. The Hotel Vestibul is located inside Diocletian's Palace in the heart of the historic city center, without question the best location in Split for urban exploration and cuisine.
Complimentary WiFi is among the perks for hotel guests. Additionally, this establishment features spacious air-conditioned suites, each with its well-decorated bathroom facilities.
Arranging tours is a simple matter for the staff, and they also serve up a tasty breakfast daily. This particular hotel is conveniently located near the port, but it is within walking distance of the downtown area.
Palace Judita Heritage Hotel – 4 Stars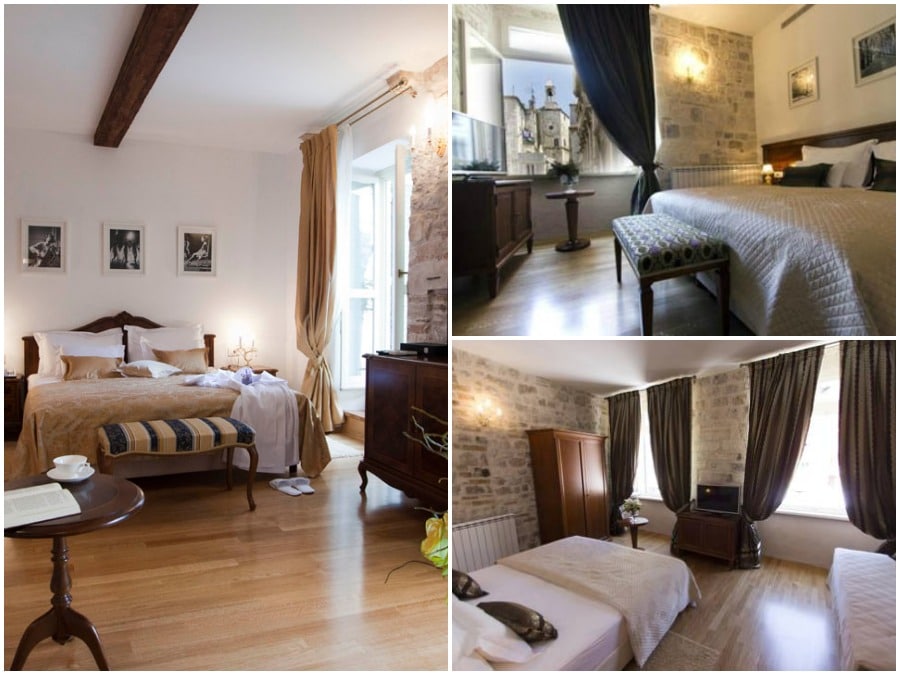 With a 97% approval rating on Booking.com and a 2014 Trip Advisor Traveler's Choice Award, Palace Judita Hotel is unquestionably doing something right.
The staff members at this location are well-versed in assisting travelers and can offer many helpful tips for getting the most out of their stay. Comfortable, spacious rooms are a highlight at this four-star establishment. Travelers who require hypoallergenic accommodations can find them at this hotel. An excellent breakfast is also provided for those staying at this location.
The hotel has a library, a bar, and a rooftop terrace for guests to enjoy. The hotel is only steps away from Diocletian's Palace, and there are many other attractions in the city that visitors will want to see for themselves.
Palace Suites Heritage Hotel – 4-Stars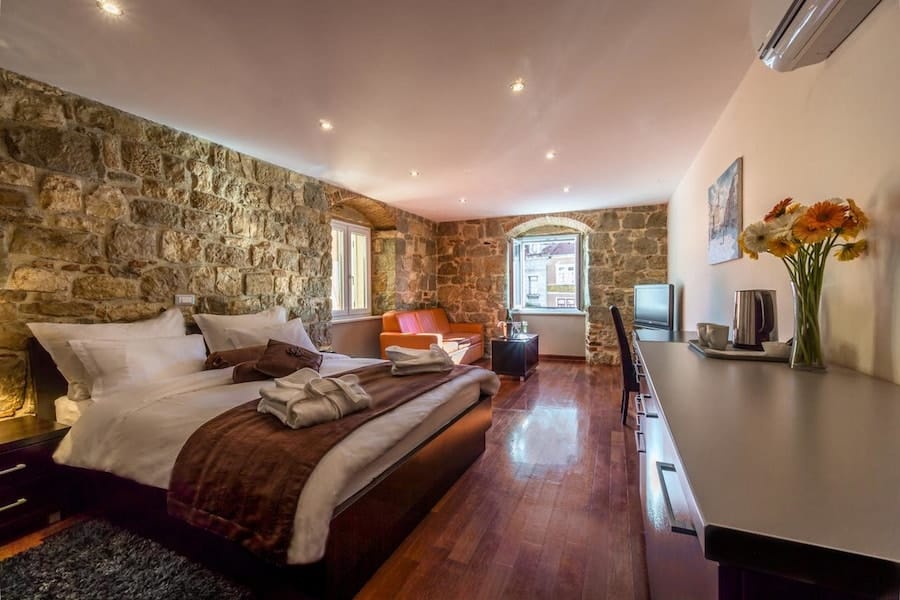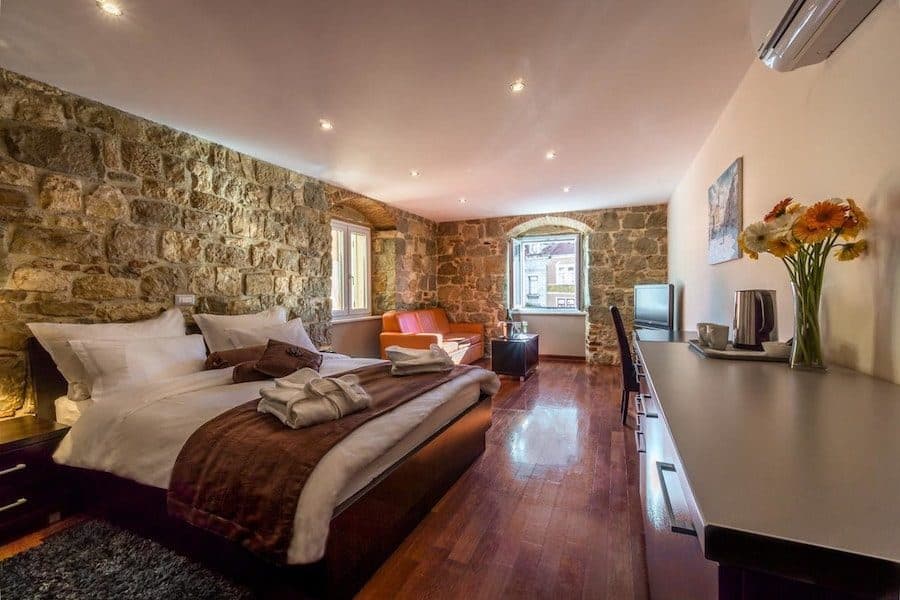 Those who want to stay right in the heart of history will love the Palace Suites Heritage Hotel. Next door to Diocletian's Palace, this hotel offers homely accommodation with a bit of extra luxury thrown in for good measure.
In-room, you will find flat-screen TVs, free WiFi in the entire building, and super-comfortable king-sized beds to help you get the best night's sleep possible before you head off to do more sightseeing. Air-conditioning is standard in each room, which is a blessing during the summer months, and there is a well-stocked minibar, too. There is also an en-suite bathroom!
The great thing about this hotel is that you can gaze out of your window and check out the history right before you and daily life going about in the funky cafes and bars that line the main streets. You can munch on breakfast in the hotel itself by prior arrangement, but there are plenty of eateries within a stone's throw of the hotel as well.
Cornaro Hotel – 4 Stars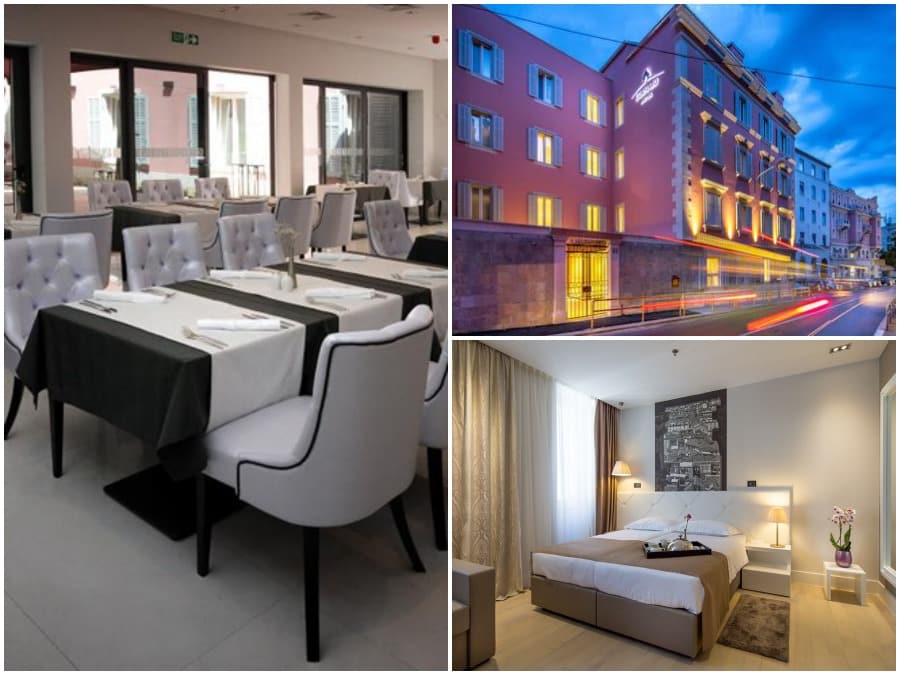 Cornaro Hotel is a short walk from the Split City Museum, the National Theatre, and the harbor, making it one of Split's best places to stay. This spotlessly clean hotel has excellent WiFi. The interior is done up in a modern style, and the suites are outfitted with plentiful amenities. Hypoallergenic rooms are available at Cornaro for guests, and all public areas in the building are designated as non-smoking, so allergy sufferers are sure to breathe easily here.
Complimentary breakfast buffets are likewise provided for those staying at this hotel. It goes without saying that the staff is accommodating, and the reception desk is open at all hours to better serve their guests. Other hotel amenities that guests may find helpful include a sundeck, an outdoor terrace, and a hotel bar.
Piazza Heritage Hotel – 4 Stars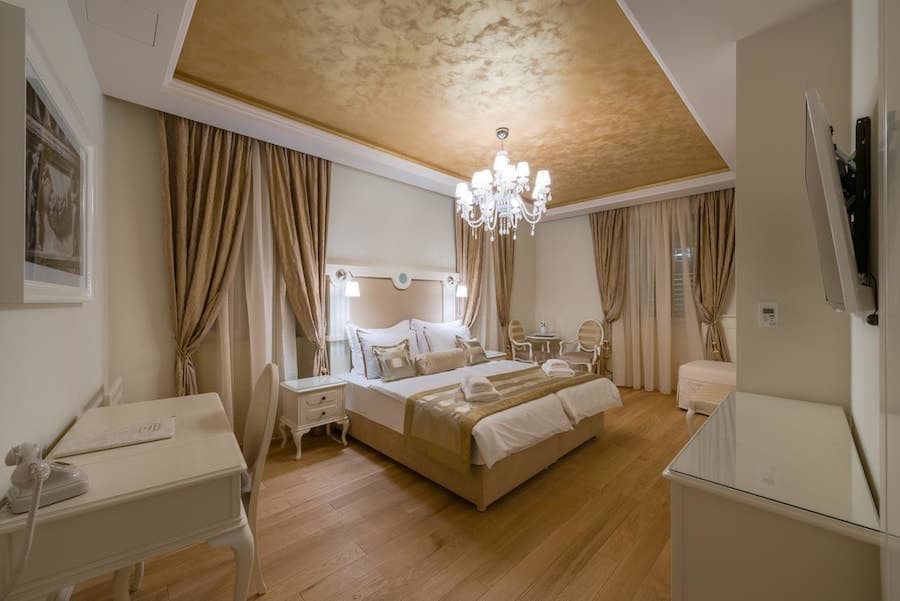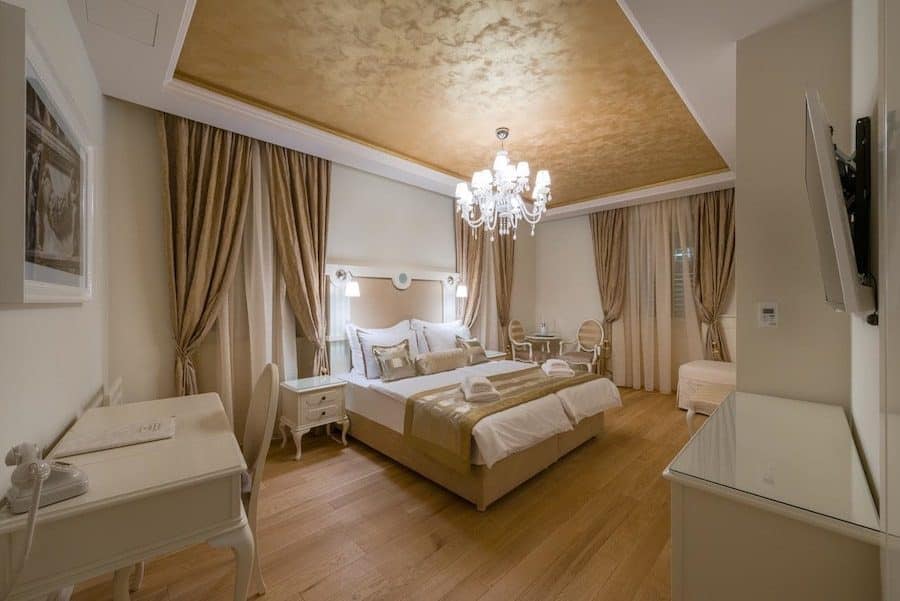 Before you even walk through the door of this Split hotel, Piazza Heritage Hotel in Split will take your breath away. Guests are blown away by the beauty of the building and the detail in the architecture itself. Once inside of Piazza Heritage Hotel, you'll continue to be in awe of the rooms' beautiful decor and layout – a top choice for your Split vacation.
The service in the hotel is excellent, and the hotel staff will accommodate your every need with a smile. Enjoy all the city has to offer in just a few steps from your door! City sights, shopping, restaurants, and nightlife can all be found within a short walk from Piazza Heritage Hotel.
Travelers praise this hotel above others of comparable price and location. Piazza Heritage Hotel only has seven rooms, so the staff often greet you by name. Complimentary breakfast is included daily with your stay and is nothing short of delicious. Since it's buffet-style, you can be sure to leave satisfied, no matter how hungry you are.
Guests can't say enough good things about how clean the rooms are and how comfortable the bedding is. After a long day of shopping and seeing all the sights, you'll be thankful for the premium bedding waiting for you in your room. Join the ranks of many guests who have stayed at Piazza Heritage Hotel and have fallen in love with its charm.
Sleep Split Hotel – 4 Star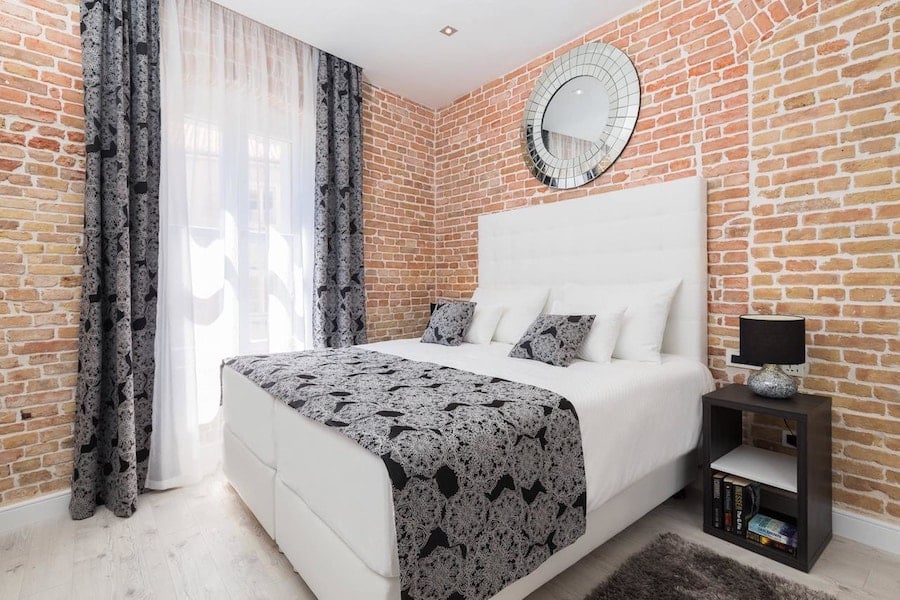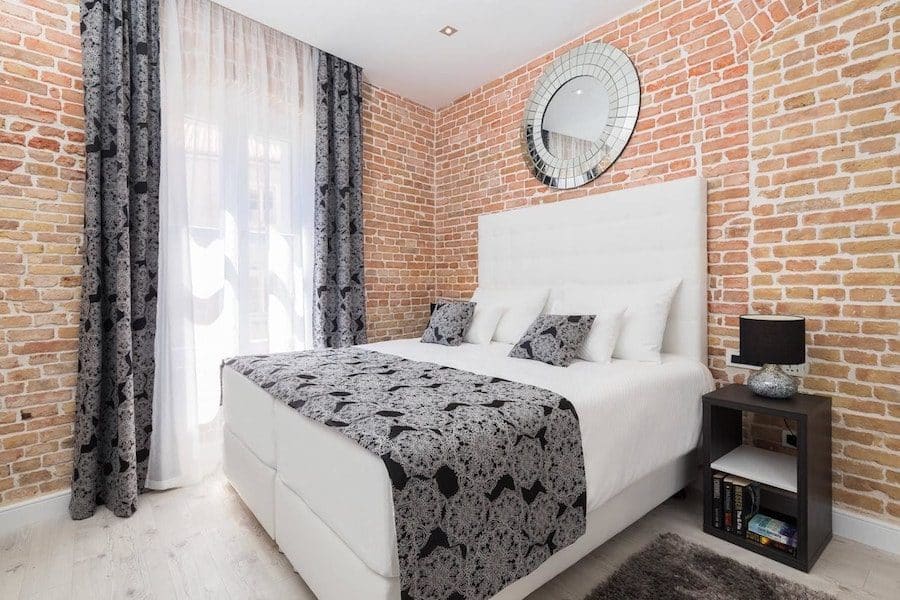 This is another Split hotel that places you in the heart of the city and all its history, and the fact it is so central means that there is no commuting to be done when you're trying to see everything within a limited time. This particular hotel has a boutique vibe and offers all the modern amenities you would need from a comfortable base.
Rooms are large and decorated in a funky manner, with a flat-screen TV showing complimentary movies. There is air-conditioning as standard, free WiFi, and you don't have to walk up and down the stairs every day, as you can simply jump in the lift instead! Make sure to gaze out of your window at the historic architecture while you're there, too.
Obviously, being in such a central location means that there are many restaurants around and bars. You can quickly head out and enjoy everything Split has to offer and only be a short distance from your accommodation. There is also a beach within a 15-minute walk, including plentiful nightlife to enjoy.
Hotel Marmont – 4 Stars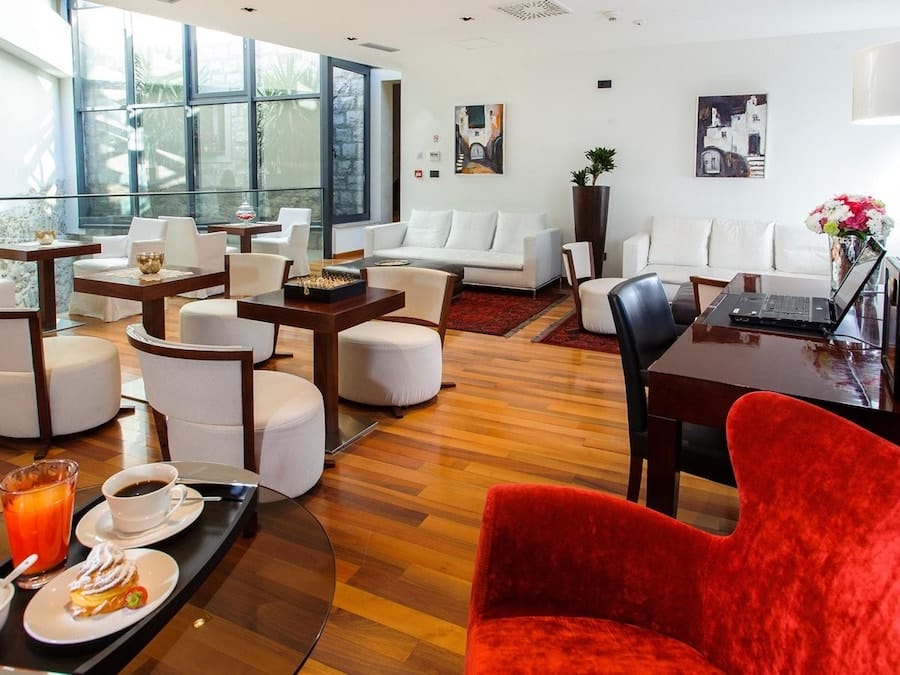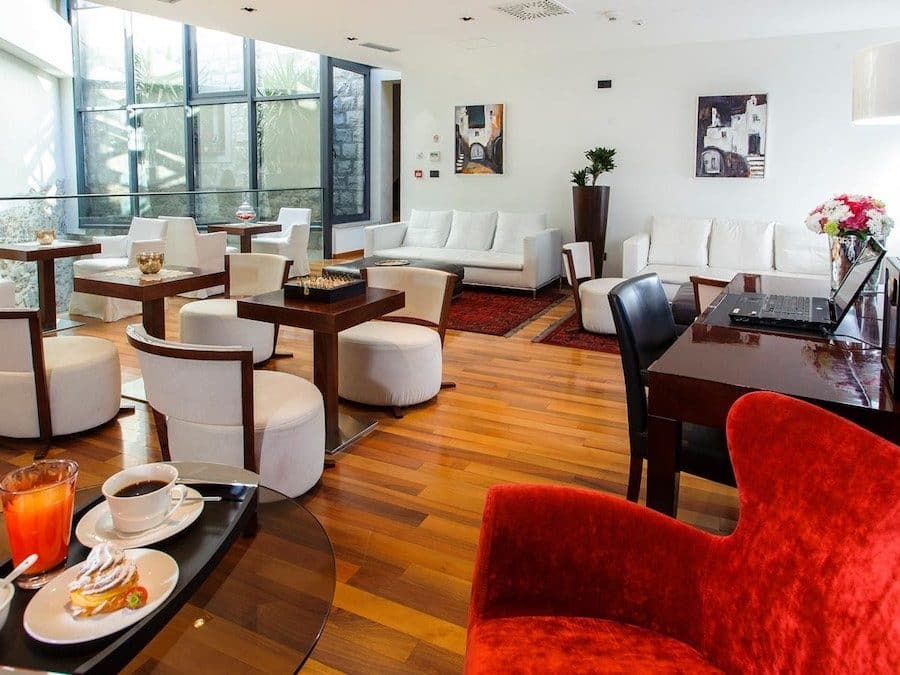 Hotel Marmont oozes modernity in every direction you look! Enjoy the clean lines and sleek design from the moment you walk through the front door and all the way into your room.
Modern furniture greets you at every turn, leaving you with a breath of fresh air compared to the area's old-world charm. Amenities include a complimentary breakfast each morning at the hotel's on-site restaurant, refreshing air-conditioning, and daily housekeeping to keep your room clean during your stay.
You couldn't ask for a better location than Hotel Marmont, as it sits right in the middle of all the action. See historic sites, shop, and enjoy restaurants or get a drink, all within walking distance of your hotel. If you have a taste for local fare, you can also check out the Fish Market that's within only a couple hundred meters from Hotel Marmont!
If you need anything during your stay, the Hotel Marmont staff are well-known for their service with a smile. This hotel is highly recommended by all that have stayed there.
Plaza Marchi Old Town Split – 4 Stars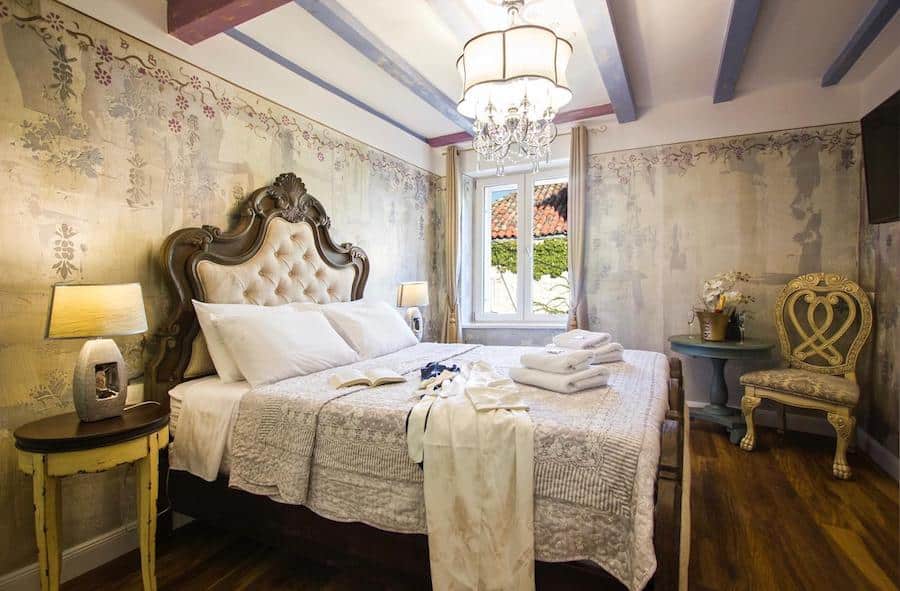 Located between the Riva promenade and Diocletian's Palace, the 4-star Plaza Marchi Old Town Split couldn't possibly have a better location. This is probably the best you can find if you're trying to figure out what area to stay in Split, Croatia, for easy access to the beach and the historic heart. Both Diocletian's Palace and the waterfront are literally a few minutes away.
At the hotel itself, guests can relax and get a good night's rest in rooms equipped with a private bathroom, comfy bed, free WiFi, air-conditioning, and a flat-screen TV. Conveniently, this hotel has three major types of power sockets—European, British and American—and offers various phone charging cables.
Villa Split Heritage Hotel – 4 Stars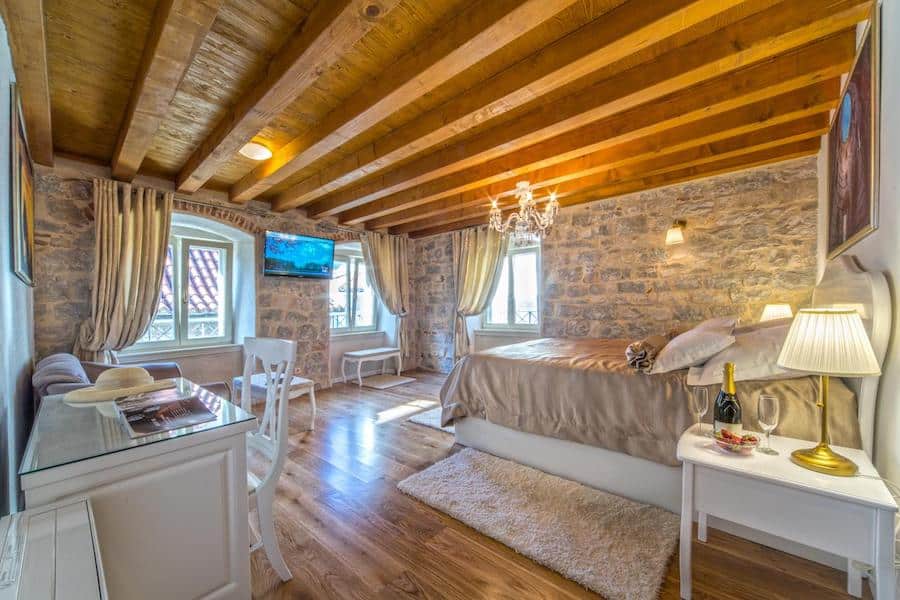 Boasting four stars and offering comfort and luxury, Villa Split Heritage Hotel is housed in a 10th-century Romanesque building in the heart of Diocletian's Palace. This area is easily the best location to stay in Split, Croatia, home to almost all of the city's historical and cultural attractions, restaurants, shops, and bars.
All rooms at Villa Split Heritage Hotel have air-conditioning, an LCD TV, a fridge, and a private bathroom. These atmospheric rooms feature wooden ceiling beams, hardwood floors, and stone wall décor, giving you that fantastic feeling you're staying in a historic place. There is WiFi all over the property, and parking is available for a small daily fee.
Hotel Peristil – 3 Stars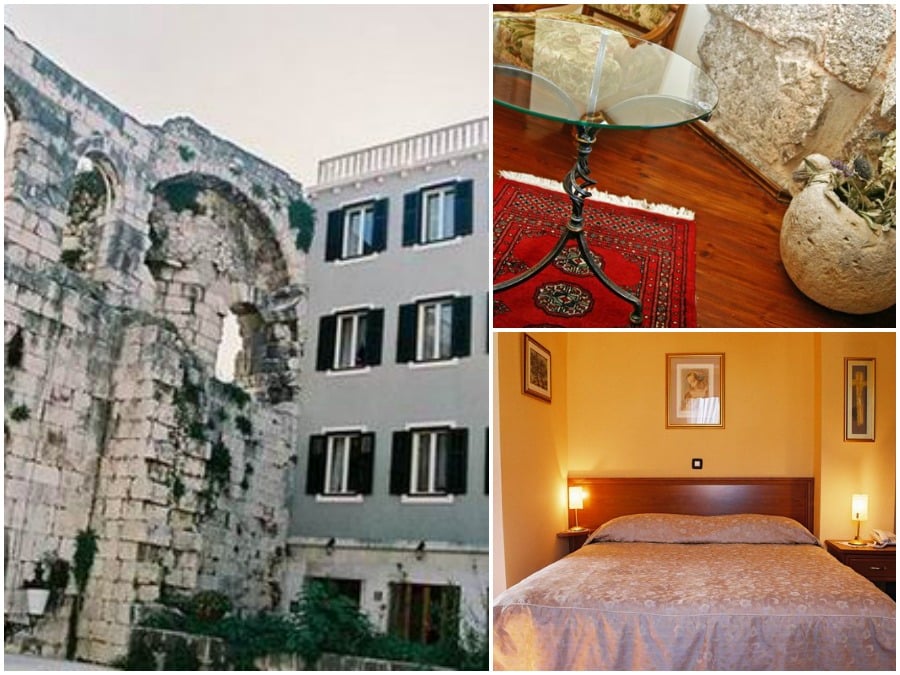 Hotel Peristil is a charming three-star hotel that used to be a part of Diocletian's Palace, and the owners have worked hard to preserve the historical elements of the building. Even the original artwork remains on the walls. However, there are also modern touches throughout the hotel, such as the fully-functioning air-conditioning units and flat-screen televisions.
The cozy rooms found here also have lovely ocean views. The superb staff cooks up made-to-order breakfasts and can answer any of your questions about your holiday to Split. The Hotel Peristil is near both the ferry and bus stops, yet it remains peaceful – a top place to stay in Split. This hotel's other noteworthy features include a rooftop terrace, an on-site restaurant, and a 24-hour reception desk.
Hotel Slavija – 3 Stars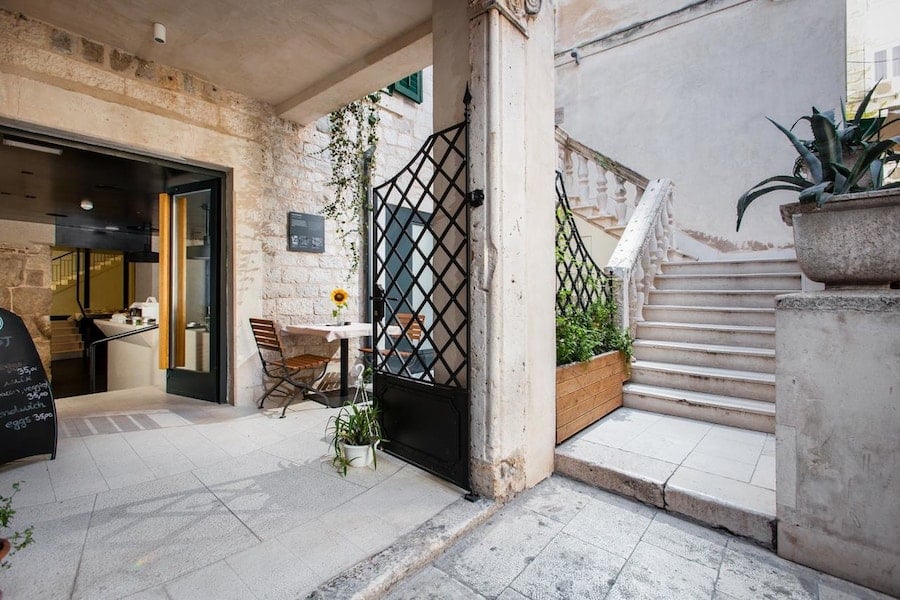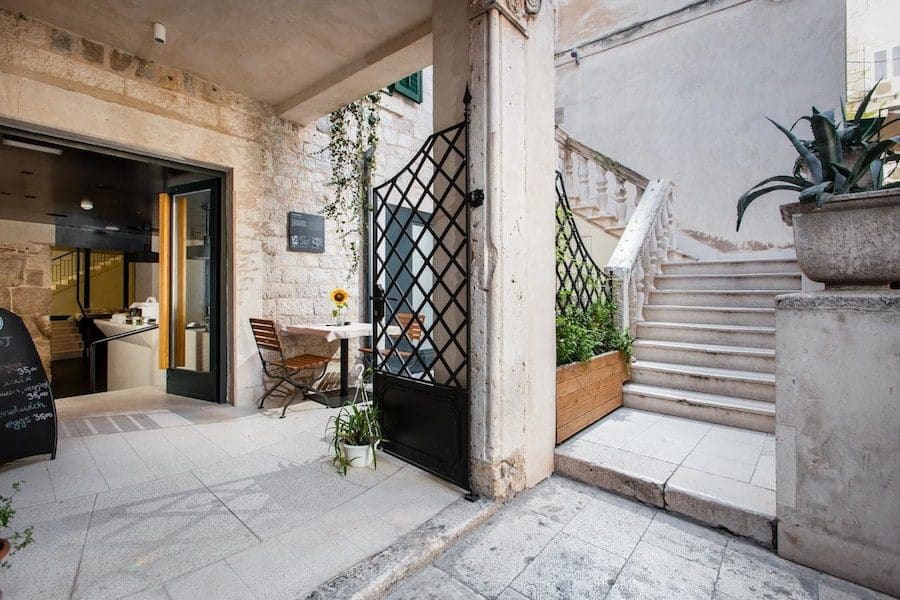 When you mix a bit of the old with some of the new, you find yourself at Hotel Slavija in Split. Guests rave about the beauty of the palace walls and their modern design.
Since Hotel Slavija is located in the city center, you'll find yourself steps away from anything you want to do and see while you're there. The Gregory of Nin Statue, Diocletian's Palace, and the Temple of Jupiter are all less than half a kilometer away, making it easy to sightsee during your stay.
If you don't have your trip planned, don't worry! The staff at Hotel Slavija are more than helpful and can help you map out the city's sights. The ferry port is also within close proximity, making a day trip to the islands easy. While nightlife here is booming, your guest room won't. Rooms are soundproof, so you will enjoy a quiet night's sleep no matter which side of the hotel you're on.
Make sure you take advantage of the on-site breakfast while you stay at Hotel Slavija, too. Guests can't find the words to tell you how excellent the breakfast is here. So don't sleep in because it's worth setting your alarm for.
Central Palace Rooms – 3 Stars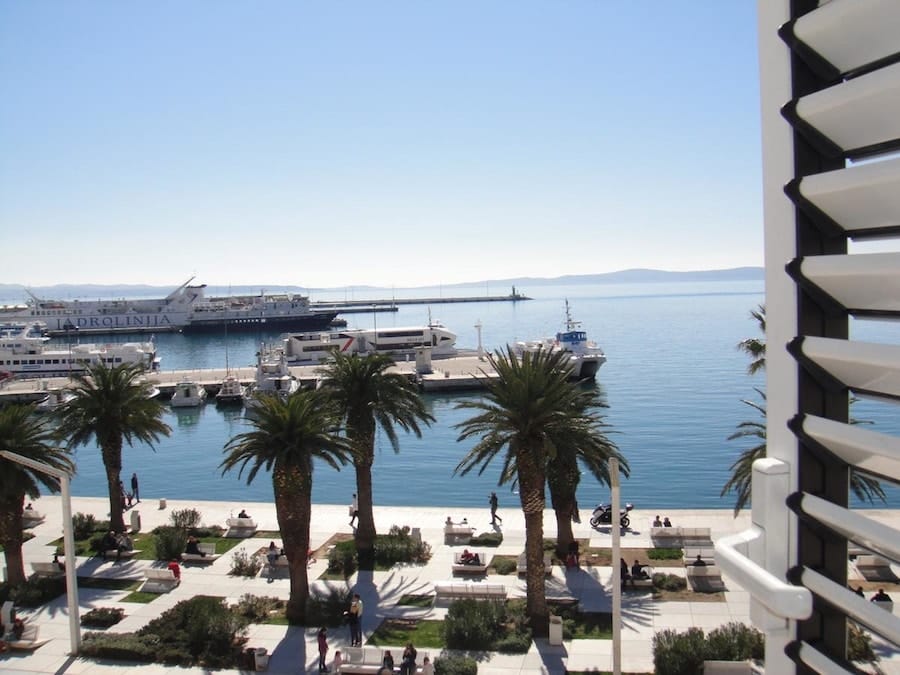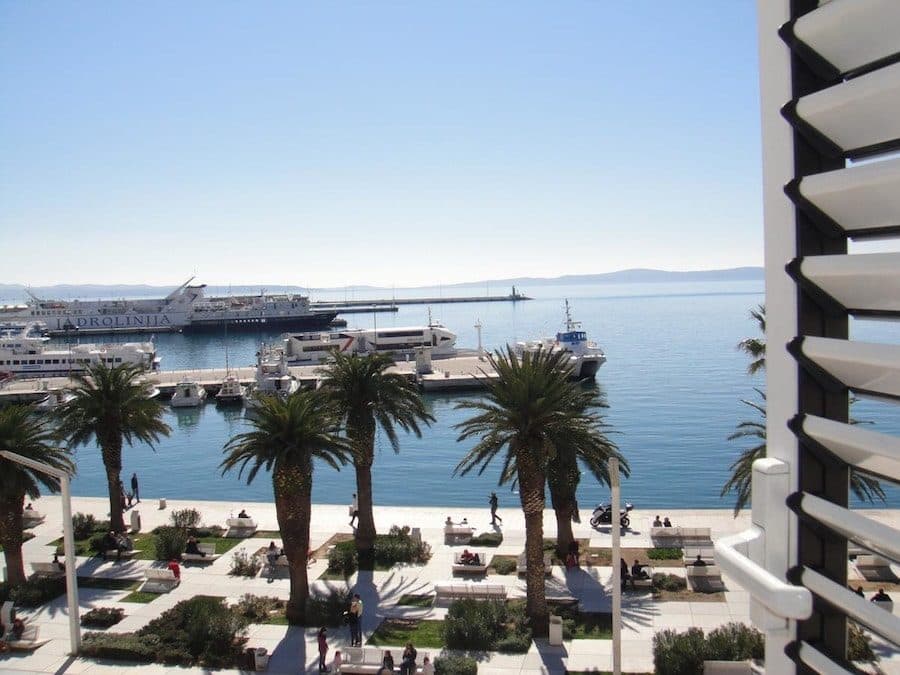 Located near the Old Town and Diocletian's Palace, Central Palace Rooms offers visitors a convenient stay in Split. It is just a short walk away from incredible sightseeing destinations and the beach. Visitors will love the convenience of being only minutes away from all of the places they want to visit. With complimentary airport shuttle service, free WiFi, laundry service, and cable TV, everyone will feel at home here. There is no parking at Central Palace Rooms, though.
Best Lučac Hotels
Lučac is a small historic neighborhood just east of Diocletian's Palace and well within central Split. The area dates back to the Middle Ages and, besides the Palace itself, it's one of Split's oldest neighborhoods, characterized by winding alleys, historic stone houses, and many tourist attractions.
Situated wonderfully between the Old Town and the Bacvice Beach area, it makes for a strategic place to stay in Split. You'll also find numerous budget-friendly restaurants in accommodations here.
Boutique Hotel Luxe Split – 4 Stars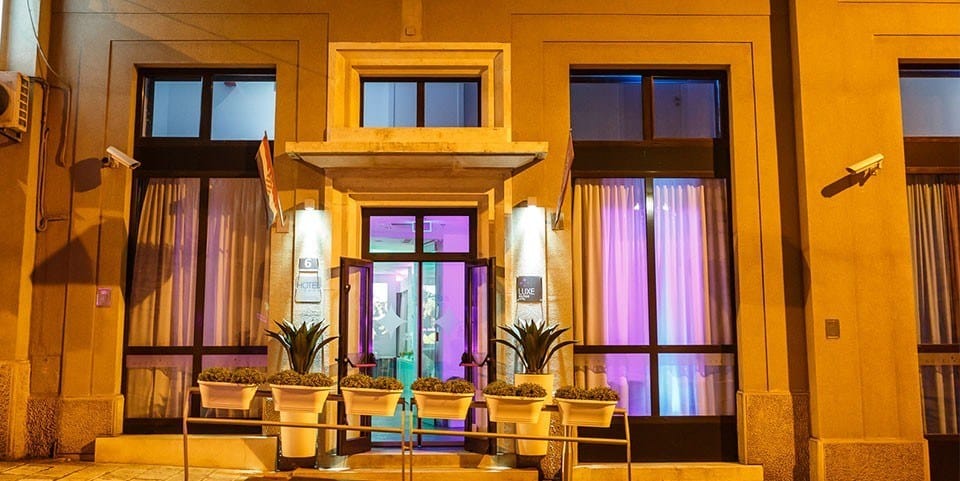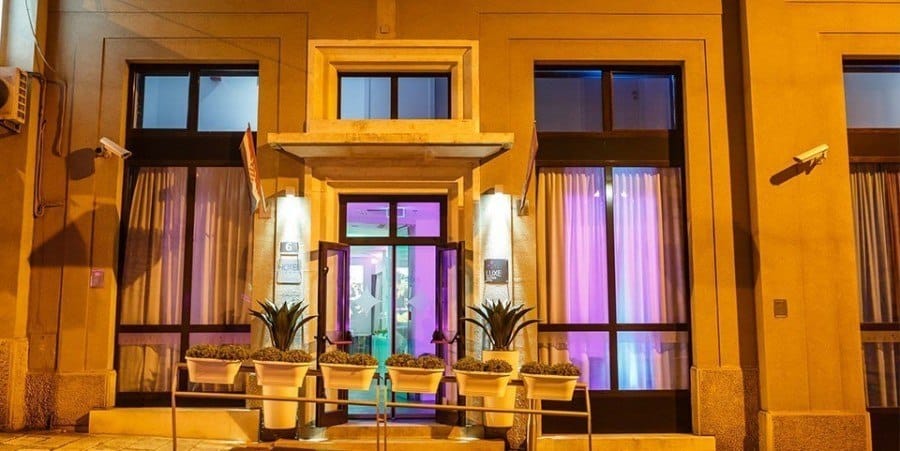 Located in the center of Split, the Luxe Boutique Hotel is a stylish, modern accommodation built on an old factory site. The property is ideally situated close to Split's most famous hot spots: the historic Old City, Diocletian's Palace, the all-important Split Ferry, and one of the city's most popular beaches – Bacvice.
Air-conditioning, free WiFi, on-site parking, and breakfast are all included in the room price, and a wellness sauna, Jacuzzi, and gym are also available to guests.
For those interested in additional relaxation, massages can be purchased separately. The hotel also offers an on-site restaurant, the Lobby Bar for cocktail sipping, and the Cigar Lounge, overlooking Split's main street, where cigars and cognac are on the menu for those who wish to indulge.
Balatura Split Luxury Rooms – 4 Stars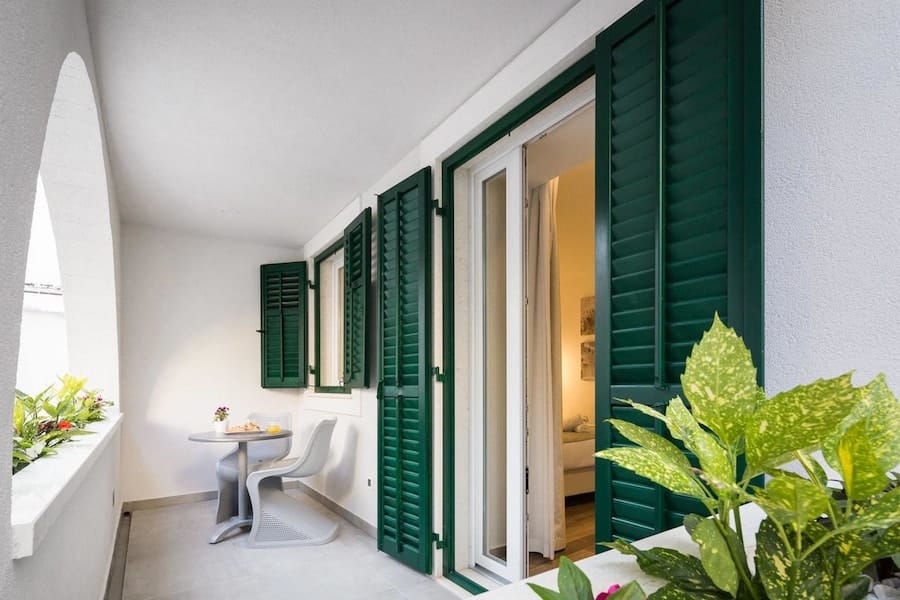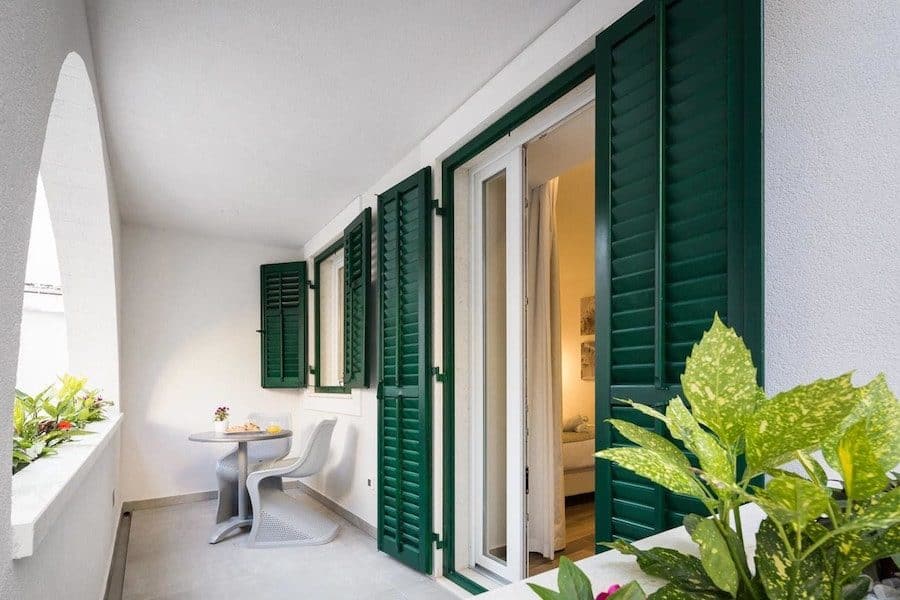 Not everyone wants to stay in a massive hotel with a million facilities and amenities, and sometimes you just want a homely base that offers luxury at the same time. If this sounds like your set of requirements, then Split Luxury Rooms are an excellent choice for you. This establishment is right in the heart of the city center, and you can literally reach out and touch the Palace of Diocletian.
The hotel is actually a protected building, as it is an old, traditional stone house. Rooms are modern, however, and very spacious. You'll find a flat-screen TV in each one, as well as a kettle for making your morning beverages. Free WiFi comes as standard, as well as air-conditioning for those warmer months.
You will find many cafes, bars, restaurants, and places to head out and enjoy a meal and a little entertainment in the streets around the hotel.
The View Luxury Rooms – 3 Stars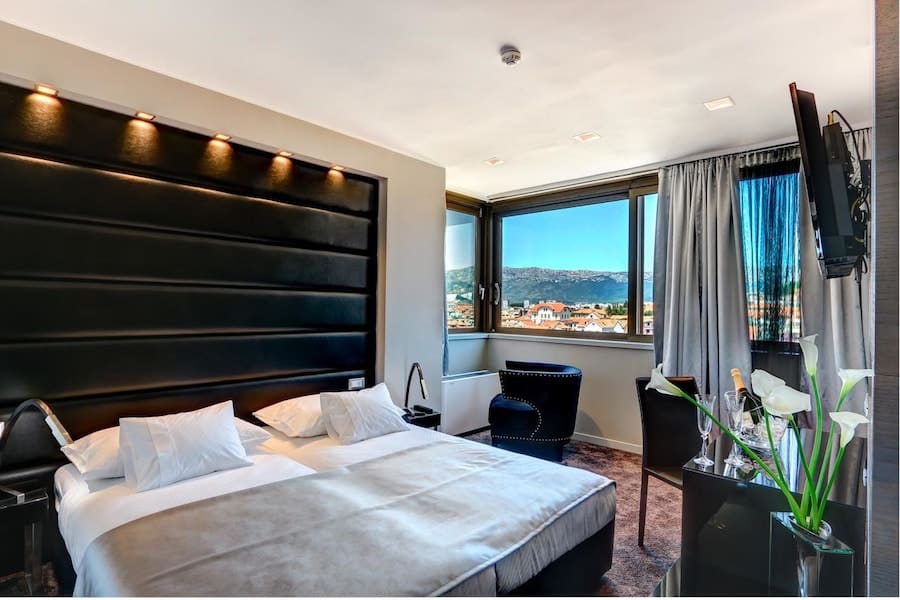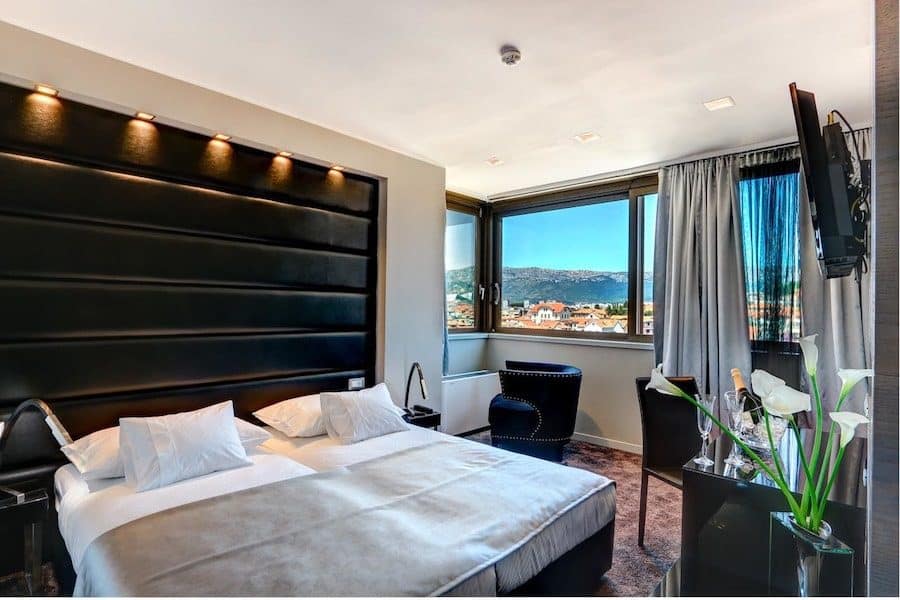 The View Luxury Rooms offers guests beautiful amenities. Closest to Diocletian's Palace, this hotel is only minutes away from the center of Split. Guests can enjoy the air-conditioning, free WiFi, complimentary breakfast, and free shuttle service during their stay. The shuttle service runs around the city, the beach, the ferries, and the airport. If needed, there is a laundry service within the hotel and housekeeping visits every day. Guests can catch up on TV in the lobby.
Hotel Villa Diana – 3 Stars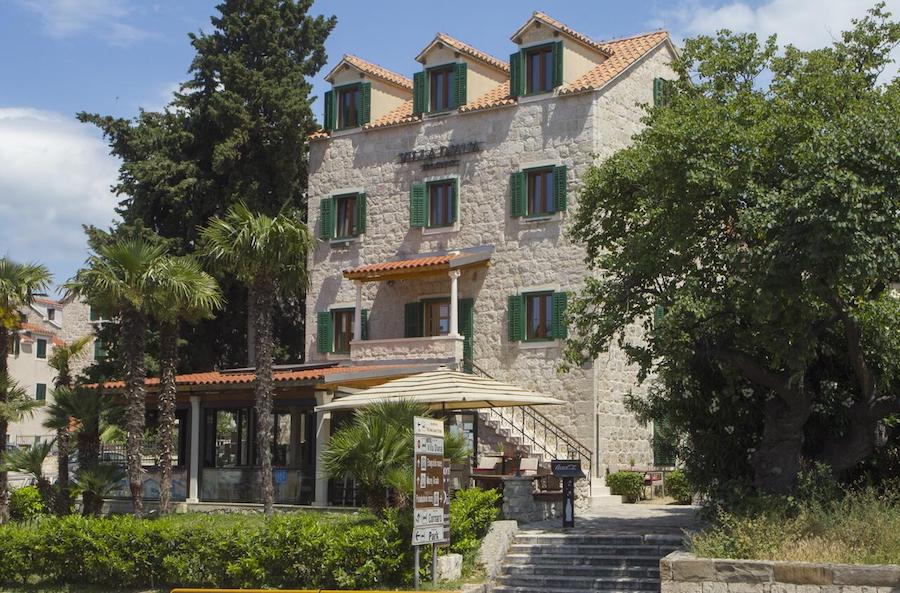 Situated only 600 meters from Diocletian's Palace, 3-star Hotel Villa Diana lies in the charming Radunica neighborhood and offers excellent views of the Split Old Town. Popular Bacvice Beach lies even closer, only 400 meters from the front door, providing guests with super-easy beach access.
In terms of amenities, there is an on-site restaurant, free private parking, free WiFi, and a 24-hour reception. People who've stayed here typically really appreciated the hotel's lush surroundings, superb location within a distance from many attractions, as well as the great food served at the restaurant.
Best Veli Varoš Hotels
Just west of the Old Town lies the atmospheric Veli Varoš neighborhood. Together with Lučac (see above), this is one of the oldest suburbs in Split. This historic neighborhood is one of the best places to stay in Split, only because it offers access to the Old Town, the beach, and Marjan Forest Park.
Characterized by well-preserved architecture, steep and winding stone streets, lots of churches, and just a ton of charm, it's arguably the best neighborhood to stay in Split for peace and quiet, yet within easy reach from all the downtown action.
Vida Boutique Hotel – 4 Stars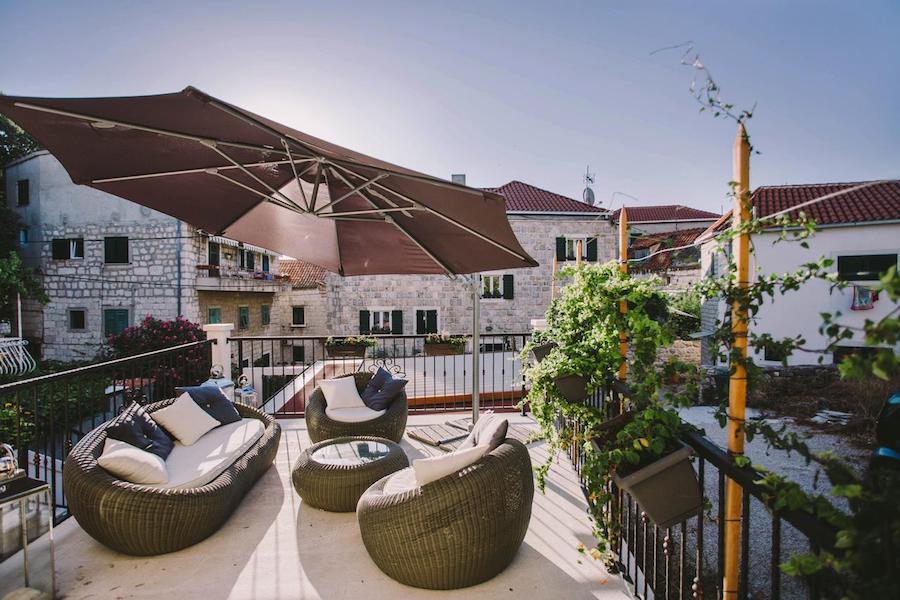 If you're wondering where to stay in Split with family, check this Split hotel out. This is one of Split's best hotels simply because of its fantastic location near the Old Town, Diocletian's Palace, the Riva, and other major Split attractions. Additionally, it lies in the beautiful, typically Croatian neighborhood of Veli Varoš, a stone throw's to the west of the old city center.
While staying in this gorgeous stone building, guests can relax at the wonderful outside terrace and comfort in their beautifully appointed room. A well-rated restaurant and bar are on-site and serve breakfast in the morning and a variety of drinks at night. As mentioned, rooms feature fine decor, combining traditional and modern furnishings. There are a few double rooms available and a family room with a fully equipped kitchen. WiFi is available for free everywhere.
Heritage Hotel 19 – 4 Stars
Located in the atmospheric Veli Varoš neighborhood just west of the Old Town, Heritage Hotel 19 is the "urban explorer's living room away from home." It's a superb place to stay for everyone who likes culture and food, walking around historic cities, enjoys peace and quiet, and relishes the smell of the sea.
The hotel's well-equipped and decorative rooms range from ground floor rooms to deluxe rooms with a balcony and even a penthouse suite. Whatever your budget might be, you'll find something that suits you here. WiFi is available free of charge throughout the hotel, while other amenities include parking, an outdoor terrace, a bar, beach access, and massage treatments.
Best Meje Hotels
Meje occupies the southern part of Split's western peninsula, west of the Old Town and city center. Squeezed between the lush hills of Marjan Forest Park and the gorgeous Dalmatian coast, it's sometimes referred to as the "Beverly Hills of Split." This is where soccer stars, actors, and other celebrities live.
It's a great area to stay in for an entirely different Split experience, a trendy place home to hip bars, waterfront restaurants, museums, and art galleries. And, of course, you'll still be within striking distance from the bustling Old Town.
Villa Scalaria – 4 Stars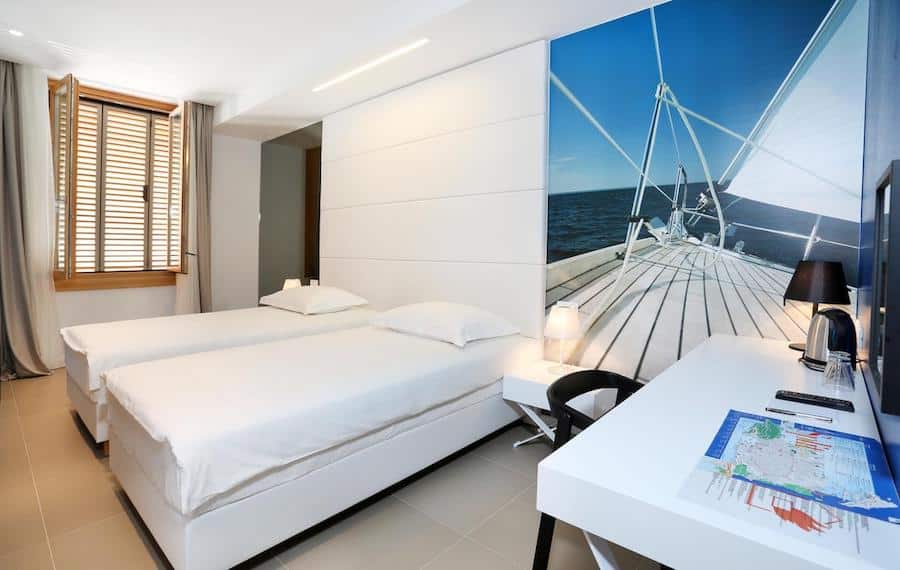 Located between the Old Town and Marjan Forest Park, a huge green oasis in Split's western part, Villa Scalaria offers both urban and cultural exploration and outdoor recreation. Beach access, too, is mere steps away. Accommodation is available in eight cutting-edge luxury rooms and one well-furnished apartment.
You'll find a plethora of restaurants, bars, cafes, and shops in the area, while the property itself provides free WiFi and secure private parking for an additional daily fee.
Hotel Jadran
3 Stars – Best Place To Stay In Split Near Beach On A Budget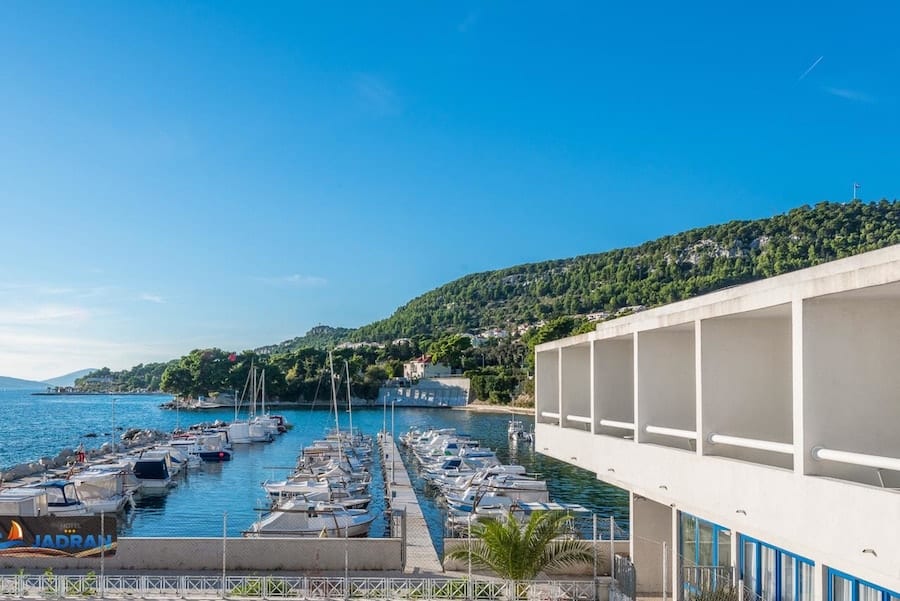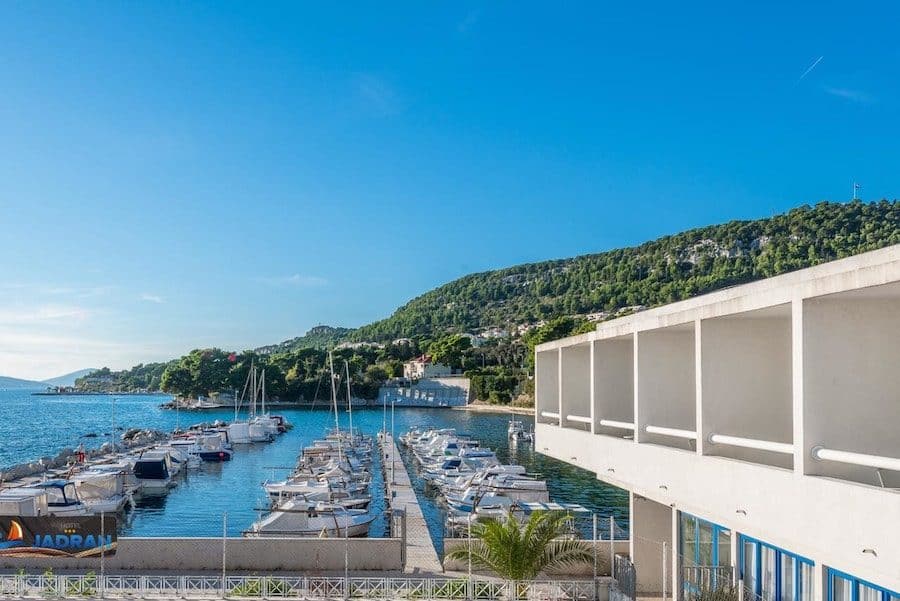 Hotel Jadran is a great option if you're looking for a budget base somewhere that still offers comfort and amenities. The hotel is on the beachfront, and it is only 15 minutes on foot to the center of town, so you really get the best of both worlds. If you want to hire a car, you can park for free on-site.
Rooms are large, and all have air-conditioning and free WiFi. You can choose whether you want a shower or bathtub by requesting either one at the time of booking if that is important to you.
The outdoor roof terrace is the ideal spot for enjoying breakfast, or you can venture inside to the restaurant serving local and international dishes. The o- site bar is also on hand-pointer-o for your evening's plans.
Best Firule Hotels
Firule is a large district on the Dalmatian coast a couple of kilometers east of the historic Split city center. Located just east of Bacvice Beach, it boasts a beach of its own: Firule Beach. This quiet, shallow, and sandy beach are ideal for families.
The beach has few facilities, but the streets behind it are lined with cafes, bars, and restaurants. There's even a movie theater nearby. Firule is an excellent area to base yourself if you're looking for quieter beach visits and regular outings to the Old Town.
Marvie Hotel & Health – 4 Stars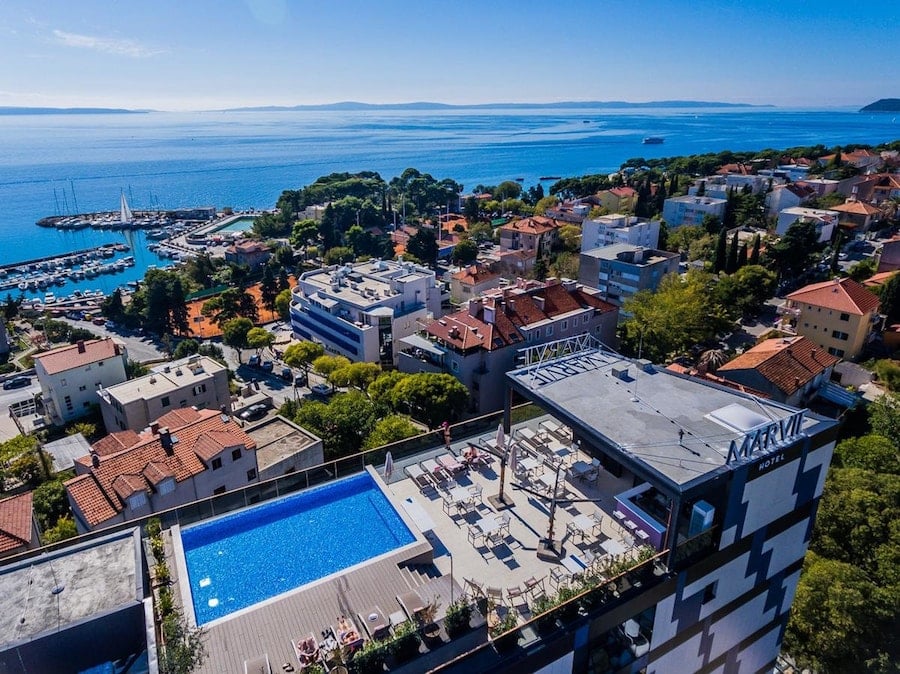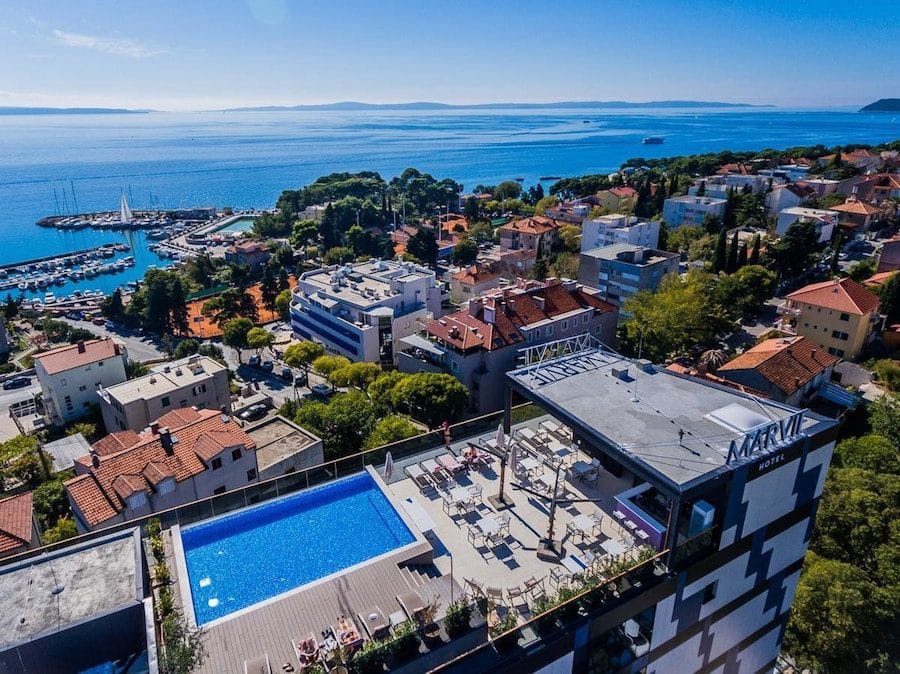 This is a brand new hotel so that you can expect seriously shiny decor and facilities. When choosing where to stay in Split, this hotel has it all. Located around 1.5 kilometers from the center of Split, you can quickly get to and from the center by bus, or you can hire a car and take yourself on your own steam.
This hotel feels exclusive and as new as it actually is. There is a spa on-site so that you can pamper yourself with ease, as well as a pool on the roof, with stunning views of the local area and the sea. The beach is also very close, so you can easily enjoy a day on the sand.
Rooms are air-conditioned and have a flat-screen TV with satellite channels. The rooms at the Marvie Hotel & Health are huge, and they are decorated in a super-modern style, as you would expect. There is free WiFi on the property.
There is a cocktail bar on-site, which serves all types of delicious drinks, and a restaurant serving local and international dishes.
Radisson Blu Resort Split – 4 Stars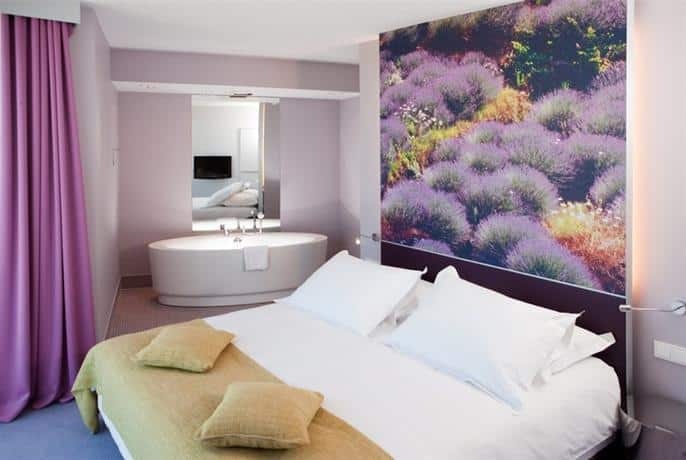 The upscale Radisson Blu Resort is located along the Adriatic Sea coast while still only a few kilometers from the city center. It lies just between the Firule and Žnjan neighborhoods to the east of the Old Town. Guests enjoy stylish rooms equipped with free WiFi, kitchenettes, refrigerators, and spa baths.
If looking for additional spa services, this resort offers an excellent array: Finnish saunas, a cold plunge pool, a Japanese Onsen pool, bucket showers, and even a sun studio.
If you prefer to relax by the sea, no need to fight the crowds for your spot in the sun because this resort also offers guests the chance to take in a few rays on a private beach.
Various on-site dining and bar options are available to guests, along with an excellent "Grab and Run" station with tea, coffee, and takeaway breakfast for those who need to head out the door quickly!
Best Gripe Hotels
Gripe is a residential district north of Firule and the coast east of Split's Old Town. It's away from the historic center's hustle and bustle but not too far to be inconvenient. It's still only about 1.5 kilometers away, a 20-minute walk or quick bus ride from all historical highlights.
Dioklecijan Hotel & Residence – 4 Stars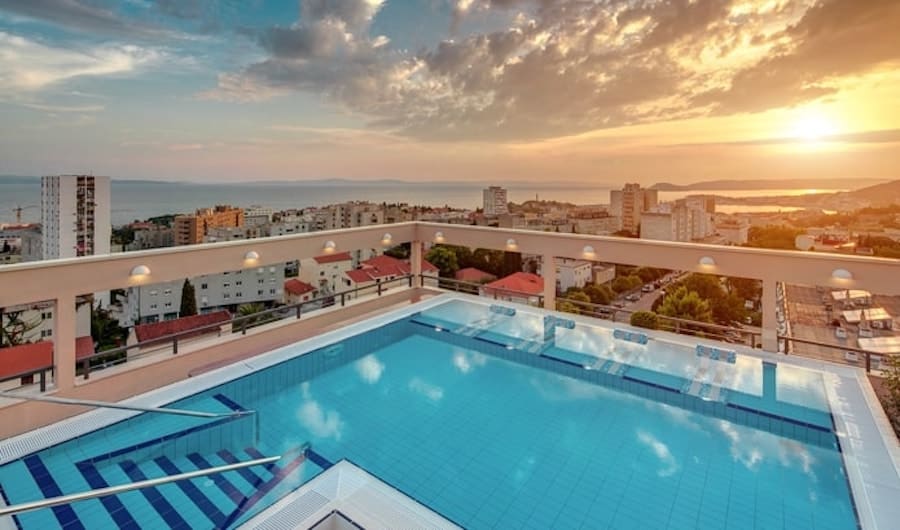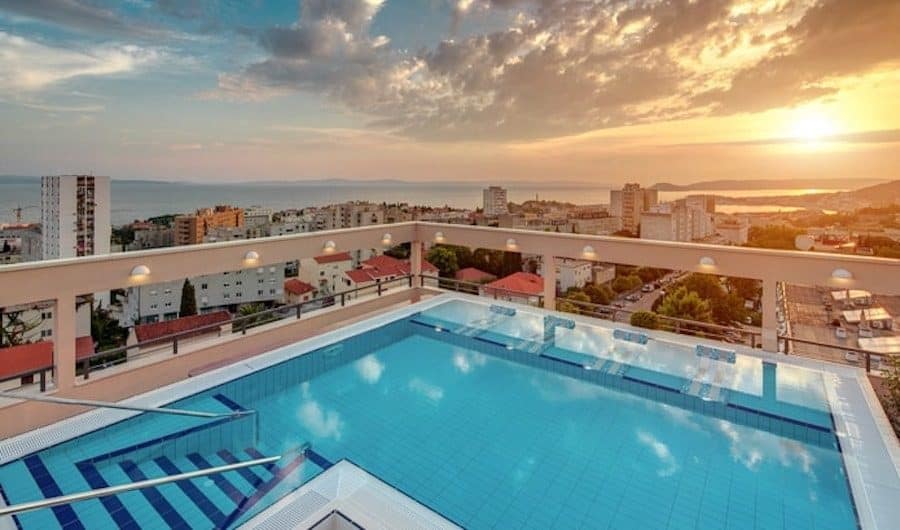 You will struggle to find a hotel that offers a view of Split, which is quite so mind-blowing as this one. This is a luxury option, and it has a wellness center on-site, so you can keep yourself healthy while you're enjoying your holiday, with a hot tub, sauna, and gym. However, the rooftop swimming pool is really what sells it, as those views, as mentioned above, will take your breath away.
Rooms are comfortable, large, and have free WiFi in all of them. The decor is bright and colorful, helping to keep your mood seriously up, and there is also a flat-screen TV inside each room. As a helpful extra, you'll find an iPod dock and a sitting area in each room too.
This hotel is located just under 1.5 kilometers away from the center of Split, so you're close enough, without being right in the middle of the hustle and bustle. The on-site restaurant serves local and international meals throughout the day and evening. There is both a winter and summer terrace allowing you to enjoy an evening drink no matter what month of the year.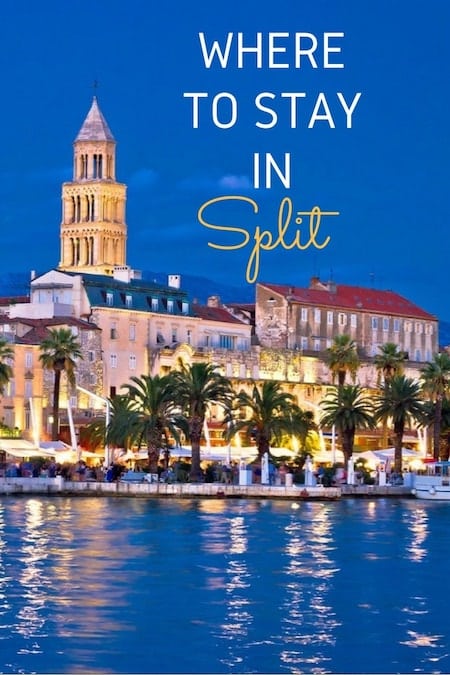 Best Bol Split Hotels
The Bol district lies about a kilometer north of Split's Old Town, removed from the tourist craziness yet well within walking distance. You'll find various hotels in this relatively residential area, many of which are more affordable than those in the historic quarter.
Hotel Corner – 4 Stars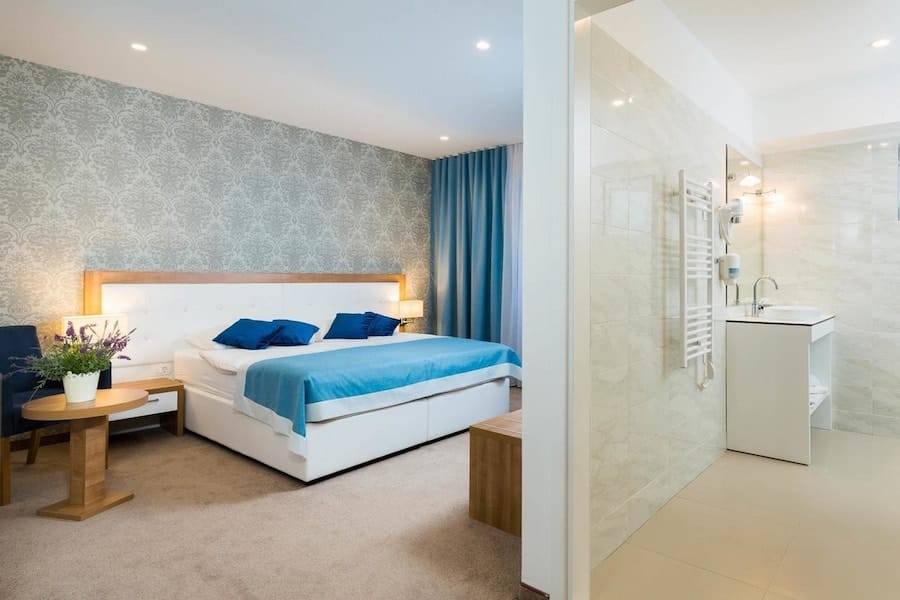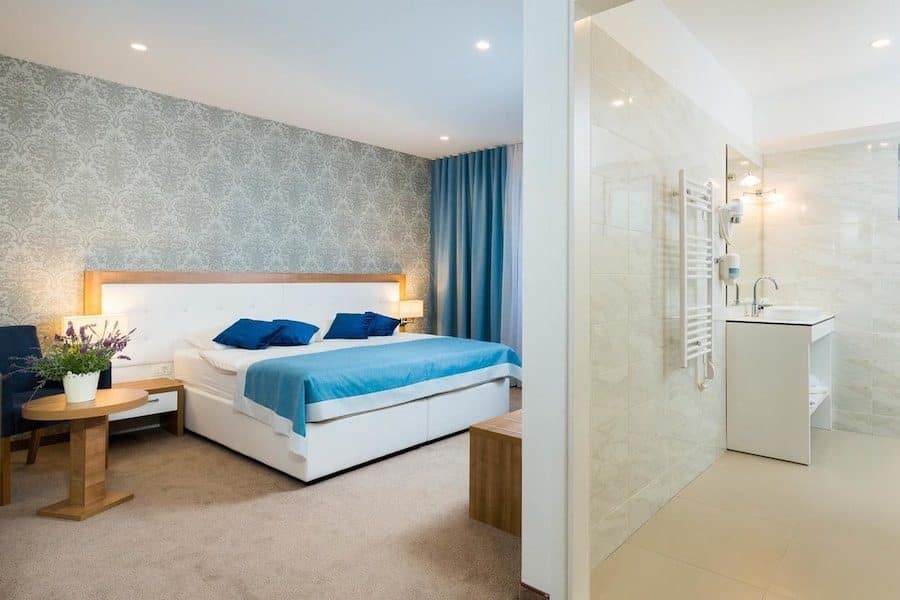 Another central choice is the 4-star Hotel Corner. The Palace of Diocletian is less than a kilometer away, and there is also beautiful Bacvice Beach, around 1.5 kilometers from the hotel. It's not hard to have a beach and city break together in Split.
The Hotel Corner's rooms are large and comfortable, and all have a flat-screen TV and private bathroom. Some rooms have a sitting area, so you could request this if you wanted more space. You will find free WiFi in all rooms, making keeping in touch extremely easy.
This particular hotel is not basic in any way. You can request a massage in the hotel, which can be arranged on-site, and there are countless restaurants and bars a very short distance away.
Best Visoka Hotels
The district of Visoka lies in the far eastern part of Split and offers easy access to Highway 8, which hugs much of the Dalmatian coast. It's a good option if you don't need to be near the Old Town but want to go on day trips from Split.
Priska Med Luxury Rooms – 4 Stars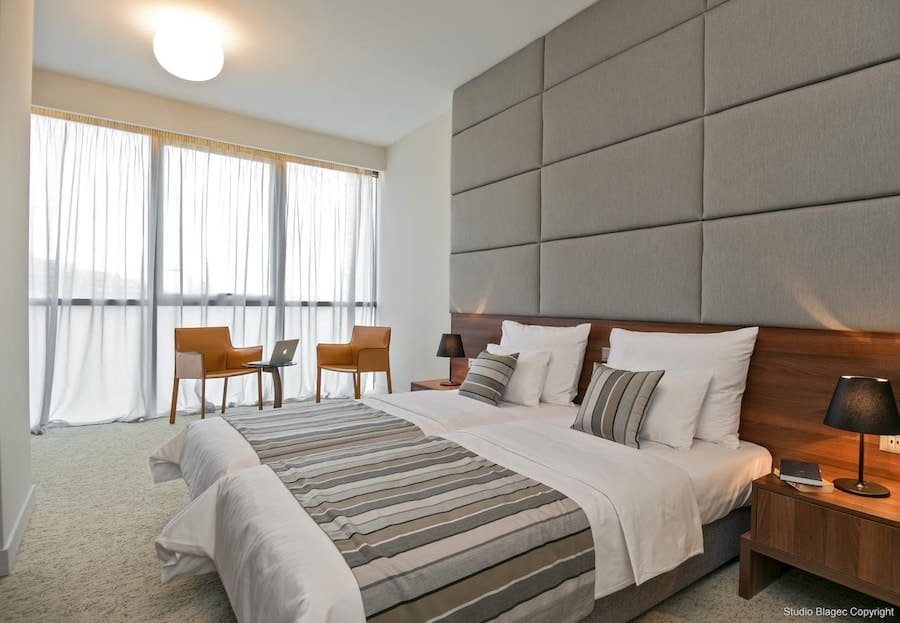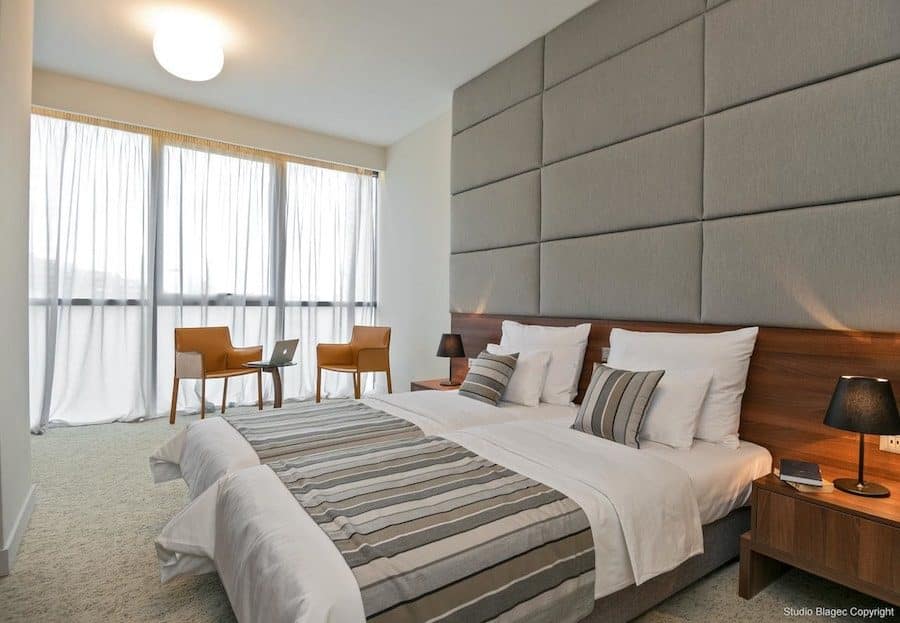 If you don't want to stay right in the heart of Split, but you want to be close enough to reach it without too much effort, this particular hotel is a great choice and a luxury one, also. At just under 3 kilometers away from the center, you can easily reach the main sights by bus or road while enjoying the quieter surroundings.
This is a bed-and-breakfast basis hotel, with large and very spacious rooms. Air-conditioning and WiFi are accessible throughout the property, and rooms all have a flat-screen TV for a bit of entertainment. If you rent a car, there is parking on-site, so you can quickly get out and about. Some rooms have a sitting area and, of course, there is an en-suite bathroom in each room.
Breakfast is served in the main restaurant, and there are also many eateries within easy reach of the hotel if you feel like venturing out. This hotel may not have many on-site facilities, but the rooms are super-luxurious, and it is a chilled-out place to stay.
Best Hotels Near Split (East)
Numerous unique hotels line the Dalmatian coast east of Split, offering visitors the option to go on day trips to Split or relax on a gorgeous beach overlooking the shimmering Adriatic Sea. Check out our selection of the best places to stay near Split, Croatia, below.
Le Meridien Lav Split (Hotel Lav) – 5 Stars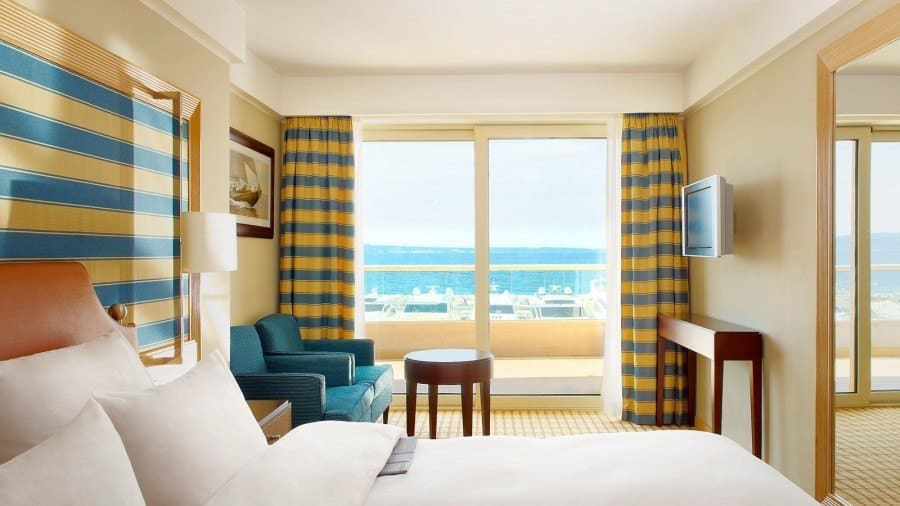 Le Meridien Lav is a 5-star resort found along the Dalmatian coast, offering fantastic views and family-friendly accommodations.
Decked out with fabulous facilities for active travelers, guests enjoy basketball and tennis courts, wall climbing, and numerous watersport activities. A unique Family Kids Club is available to ignite creativity and curiosity through play for younger guests. Qualified swim instructors are available to give little swimmers lessons in the separate children's pool on-site.
Free WiFi, air-conditioning, and spa baths come with each classically designed room, and families will adore the space available in the family suites.
Other great amenities include a secluded, private beach and the luxurious Diocletian Spa area. Croatian and modern Mediterranean cuisine and cocktails are available at the hotel's various restaurants and bars. In contrast, the hotel's casino provides late-night entertainment for those wishing to try their hand-pointer-o at a game of cards.
Split Hotel – 4 Stars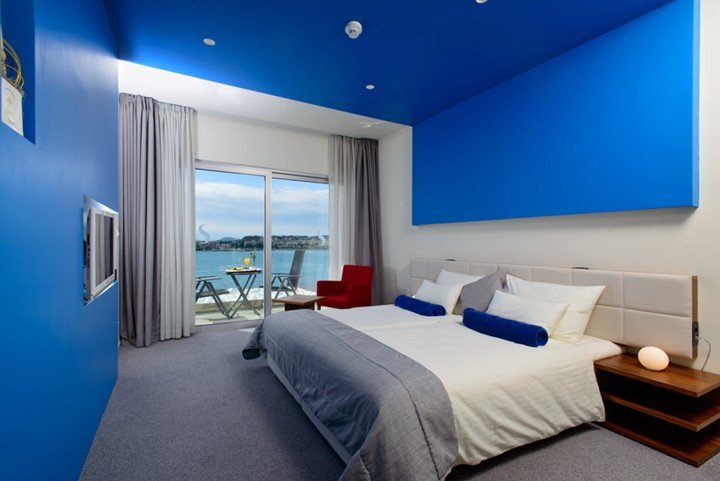 Located on the Dalmatian coast east of Split, Split Hotel is less than a 30-minute drive from the airport and still close to Diocletian's Palace, the Cathedral of Saint Domnius, and the main port of Split.
This green and eco-friendly design accommodation offers rooms that each have a sea-view, along with air-conditioning and WLAN Internet. Located on a pebble beach, guests enjoy a short 5-meter walk to splash in the sea but can also opt for a dip in the outdoor swimming pool. Catch a sunset on the rooftop terrace or grab a drink at the beach bar. A complimentary buffet breakfast is available for guests and dinner and drinks at the hotel's on-site restaurant and bar.
Apartments In Split Croatia
Add apartments to your list of where to stay in Split. Apartments for rent in Split are a bit hit and miss, so read the location and reviews before you make a booking. Parking in Split is very problematic, and you are encouraged to look for an apartment that has parking included.
Vacation rentals can be booked through Booking.com. Hosts are accommodating and will give you local info, such as where to eat in Split.
Start your Split holiday apartments search with ones like:
Tip: Split Apartments outside the city center will give you the best value and offer more parking options.
Best Hostels In Split
Most people who plan Split holidays look at hotels simply because of how many enjoyable choices there are. However, they can be costly, so you have some cracker Split hostels to choose from when thinking about budget Split accommodation.
Best Split Hostels
Design Hostel 101 Dalmatinac
This 101-bed hostel offers a unique twist to your stay. Each bed represents an island, and you can find interesting facts about that island on a picture hanging over each bed. There are 19 rooms in total, and they all come with one shower room and one restroom. All rooms are also air-conditioned. This beautiful, modern location is a hotspot for families, young couples, and students alike. The warm staff is happy to help you with anything you need during your stay—review rates for your dates here.
Other Hostel Options:
Is there one hotel in Split that you think should be added to the list? Let us know in the comments below where you would suggest staying in Split.
Suggestions For Things To Do In Split
Oh boy, do you have a choice of what to do in Split! Are you ready? Day trips from Split are so popular, both because of the sheer number of them and because there are countless excellent ones. Split day trips usually start with a ferry ride because there are so many standout Croatian islands nearby. We can recommend you head to Brac Island and check out the town of Bol.
The number of restaurants in Split is almost overwhelming, so you'll want to find the best restaurants in Split Guide like this one to help you narrow down your search and try as many Croatian food options as possible.
One of my favorite Split attractions is not the UNESCO Palace like most people, but instead, it's the Riva. Eating gelato and watching the world go by is just incredible. Whether traveling with kids or on your own, the best beach in Split is close to many of our Split accommodation suggestions above.
Here is a guide on how to spend 24 hours in Split.
Where Is Split?
You can see where the Split Tourist Information office is on the map above, and they have dozens more ideas for things to do in Split, including a long list of day trips you can book. But, before you come, you may like to pick up a copy of the Lonely Planet Guide Book and narrow down your list.
Book your Split transfers with Octopus Transfers Croatia below.

MORE WHERE TO STAY TRAVEL BLOGS
Share