Should you visit Dubrovnik or Split? This guide shares detailed information about weighing up Split vs. Dubrovnik.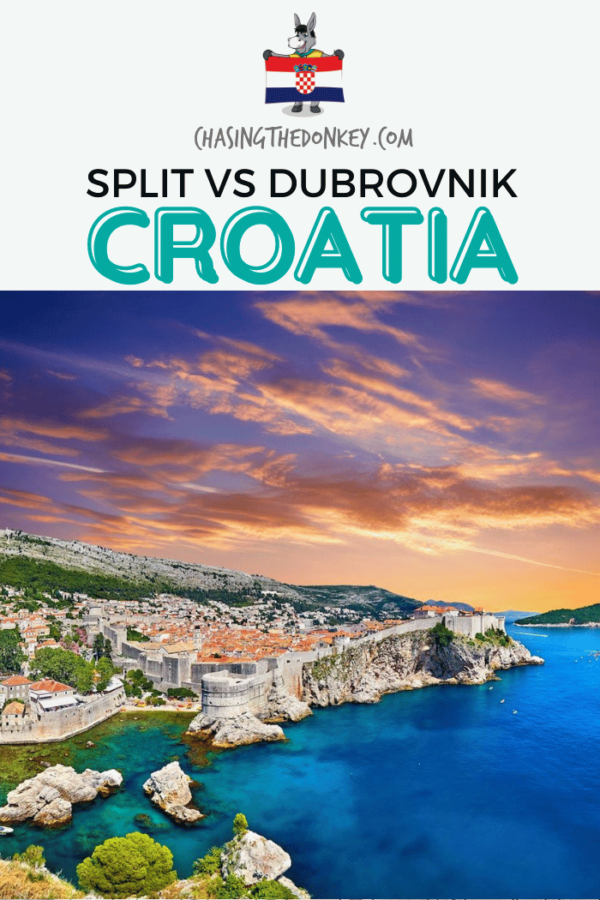 Split and Dubrovnik are two stunning coastal cities in Croatia, offering unique experiences and rich cultural heritage. While both cities have their own charm, it's important to consider various factors to make an informed decision. This guide will provide you with information on what to see, the pros and cons, and a comparison of Split and Dubrovnik to help you choose the best destination for your Croatian vacation.
Split is a vibrant city known for its rich history, beautiful beaches, and unique blend of ancient and modern influences. The city's highlight is Diocletian's Palace, a remarkable UNESCO World Heritage site that dates back to the Roman era.
As you explore the narrow streets and hidden corners within the palace walls, you'll encounter a bustling atmosphere filled with shops, restaurants, and historical landmarks. Split also offers a vibrant waterfront promenade, picturesque parks, and easy access to nearby islands, making it a captivating destination for travelers seeking a mix of history, culture, and natural beauty.
Dubrovnik is a captivating city renowned for its medieval charm and breathtaking coastal views. With its beautifully preserved Old Town, encircled by imposing stone walls, Dubrovnik takes visitors on a journey back in time.
The city's narrow streets, historic buildings, and bustling squares create an enchanting atmosphere that delights every traveler. Dubrovnik's strategic location offers architectural wonders and access to stunning beaches and nearby islands. As a UNESCO World Heritage site and a popular filming location, Dubrovnik has become a must-visit destination, combining history, natural beauty, and a touch of cinematic magic.
Keep reading below for our in-depth analysis on weighing up Split vs. Dubrovnik.
What To See In Split
When visiting Split, there are several must-see attractions and landmarks that showcase the city's rich history, architectural beauty, and vibrant culture.
Here are some highlights of what to see in Split:
Diocletian's Palace: the centerpiece of Split, Diocletian's Palace is a UNESCO World Heritage site and an architectural marvel. Explore the ancient palace complex, wander its narrow streets, and marvel at its well-preserved Roman architecture
Cathedral of Saint Domnius: located within Diocletian's Palace, the Cathedral of Saint Domnius is a stunning example of medieval architecture. Climb the bell tower for panoramic city views and admire the impressive interior adorned with intricate artwork
Peristyle Square: this open-air square is the heart of Diocletian's Palace. Surrounded by ancient columns and historical buildings, it offers a vibrant atmosphere with street performers, cafes, and shops
Riva Promenade: take a leisurely stroll along the Riva Promenade, a lively waterfront stretch offering stunning views of the Adriatic Sea. Enjoy outdoor cafes, street vendors, and a pleasant ambiance
Marjan Hill: a visit to Marjan Hill is a must for nature lovers. This lush park, located on a hill, offers hiking and biking trails, scenic viewpoints, and a peaceful retreat from the city buzz. Enjoy panoramic views of Split, the sea, and the surrounding islands
Meštrović Gallery: visit the Meštrović Gallery, housed in a villa once belonging to renowned Croatian sculptor Ivan Meštrović. The gallery showcases his sculptures, drawings, and architectural works, providing insight into his artistic genius
Archaeological Museum: delve into Split's ancient past at the Archaeological Museum, which exhibits artifacts from the Roman, Greek, and medieval periods. Discover ancient pottery, sculptures, and other archaeological treasures
Gregory of Nin Statue: don't miss the impressive statue of Gregory of Nin near the Golden Gate of Diocletian's Palace. Rub the statue's toe for good luck and make a wish, following a local tradition
Green Market (Pazar): immerse yourself in the vibrant local culture by exploring the Green Market. Sample fresh fruits, vegetables, and local delicacies, and interact with friendly vendors
Beaches: Split offers various beaches to relax and soak up the sun. Bačvice Beach, located near the city center, is a popular choice with its sandy shore and vibrant beach bars. Other notable beaches include Kasjuni Beach and Bene Beach
These are just a few of the many attractions and sights to explore in Split. The city's rich history, stunning architecture, and coastal charm make it a captivating destination for travelers of all interests.
TRAVEL COMPANIES WE USE AND TRUST
Split Vs. Dubrovnik
The choice between Split or Dubrovnik comes down to your preferences. If you're looking for a lively atmosphere, ancient Roman history, and proximity to beautiful islands, we think Split might be the best option.
PROS OF VISITING SPLIT
Pros:
Rich history and cultural heritage
Vibrant city atmosphere with a blend of modern and ancient elements
Proximity to beautiful islands like Hvar and Brač
Lower tourist crowds compared to Dubrovnik
CONS OF VISITING SPLIT
Cons:
A limited number of sandy beaches within the city
Relatively fewer historical landmarks compared to Dubrovnik
Crowded during the peak summer season
What To See In Dubrovnik
Dubrovnik, with its well-preserved medieval Old Town and stunning coastal views, offers a bunch of attractions and sights to explore. Here are some of the top things to see in Dubrovnik:
Dubrovnik City Walls: Walk along the iconic city walls that encircle the Old Town, offering panoramic views of the Adriatic Sea and the charming, red-roofed buildings below. The walls provide a unique perspective of the city's architectural splendor.
Stradun: stroll along Stradun, the main street of Dubrovnik's Old Town. Lined with elegant limestone buildings, it is the perfect place for shopping, dining, and people-watching
Dubrovnik Cable Car: take a cable car ride up Mount Srđ for breathtaking views of the city, the surrounding islands, and the sparkling Adriatic Sea. The sunset view from the cable car is particularly mesmerizing
Dubrovnik Cathedral: visit the majestic Dubrovnik Cathedral (Assumption Cathedral) located in the heart of the Old Town. Admire its beautiful Baroque architecture and explore its treasury, which houses a collection of religious artifacts
Rector's Palace: discover the Rector's Palace, a stunning Gothic-Renaissance building that once served as the seat of government in Dubrovnik. Explore its grand halls, historical exhibits, and the picturesque courtyard
Franciscan Monastery and Pharmacy: visit the Franciscan Monastery, one of the oldest working pharmacies in Europe. Admire the monastery's serene cloisters and beautiful gardens, and explore its rich library and museum
Lovrijenac Fortress: venture outside the city walls to visit Lovrijenac Fortress, a dramatic fortress perched on a cliff overlooking the sea. Known as "Dubrovnik's Gibraltar," it offers impressive views and is a must-visit for history enthusiasts
Sponza Palace: marvel at the Sponza Palace, an elegant Renaissance building that now houses the Dubrovnik State Archives. Appreciate its harmonious blend of Gothic and Renaissance architectural styles
Lokrum Island: take a short boat ride to Lokrum Island, located just off the coast of Dubrovnik. Explore its lush botanical gardens, visit the medieval Benedictine monastery, and relax on its secluded beaches
Banje Beach: enjoy some sun and sea at Banje Beach, just outside the city walls. Its crystal-clear waters, stunning views of the Old Town, and beachside amenities offer a perfect spot to unwind
These are just a few highlights of what to see in Dubrovnik. The city's rich history, stunning architecture, and captivating coastal landscapes make it a truly unforgettable destination. Take your time to explore the nooks and crannies of the Old Town, indulge in local cuisine, and soak in the unique ambiance of this enchanting city.
MORE DUBROVNIK TRAVEL BLOGS
Dubrovnik Vs. Split
Whether you're interested in medieval architecture, city walls, or breathtaking coastal views, Dubrovnik could be the perfect vacation destination for you in our opinion.
PROS OF VISITING DUBROVNIK
Pros:
Stunning medieval architecture and well-preserved city walls
Spectacular coastal views and crystal-clear waters
Filming location for the popular TV series Game of Thrones
An abundance of beautiful beaches and nearby islands like Lokrum
CONS OF VISITING DUBROVNIK
Cons:
High tourist traffic, especially during peak season
More expensive compared to Split in terms of accommodation and dining
Limited space within the Old Town, which can get crowded easily
Choosing Between Dubrovnik Or Split
To help you decide between Split and Dubrovnik, consider the following factors:
Historical and Cultural Heritage: Both Split and Dubrovnik have a rich history, but Split has a more Roman influence, while Dubrovnik offers a well-preserved medieval charm
Natural Beauty: Split has the advantage of proximity to the picturesque islands, while Dubrovnik offers stunning coastal views and easy access to nearby Lokrum Island
Tourist Crowds: Split generally has fewer tourists compared to Dubrovnik, especially during the peak summer season
Cost: Split tends to be more budget-friendly in terms of accommodation and dining options compared to Dubrovnik
Beaches: Dubrovnik has more easily accessible beaches within the city, whereas Split has limited sandy beaches within its boundaries.
Final Thoughts On Choosing Between Split & Dubrovnik
Ultimately, the choice between Split and Dubrovnik depends on your preferences. If you're seeking a lively atmosphere, ancient Roman history, and proximity to beautiful islands, Split might be the ideal choice.
On the other hand, if you're captivated by medieval architecture, city walls, and breathtaking coastal views, Dubrovnik could be the perfect destination. Consider factors such as historical interests, budget, and preference for crowds to make the best decision for your vacation.