Some posts contain compensated links. Please read this disclaimer for more info.
Dubrovnik Beaches To Keep You Cool This Summer
The beauty of Dubrovnik is that it combines a bunch of different things. Of course, there's the charming and gorgeous Old Town, justifiably designated as a World Heritage site by UNESCO, filled with medieval and renaissance architecture and a maze of narrow alleyways. You will also find many great restaurants dotting the entire town and some fantastic beaches near Dubrovnik that line the coast. Reaching Dubrovnik from Zagreb or Split is also quite easy, making it accessible and convenient to hit this star attraction no matter where else you decide to explore.
It's those Dubrovnik beaches that are part of the reason Dubrovnik is a world-class destination. They add something fun and relaxing to a place oozing history and culture (and cruise ship day trippers). With so many things to do in Dubrovnik, there is nothing better than heading down to the beach and taking a dip into those crystal-clear Adriatic waters. Plus, heading to one of the beaches around Dubrovnik in the late afternoon to wind down with a good book and/or a cocktail is a grand way to end a day of sightseeing.
Here is our overview of Dubrovnik beaches you will love this summer.
Best Beaches In Dubrovnik You'll Love This Summer
Finding the best beaches in the Dubrovnik area isn't rocket science. If you are like me, though, you just wanna head straight to the greatest beaches on your Croatia beach vacation. Am I right? Okay, let's rock and roll with the best beaches in Dubrovnik (in no particular order)
Best Dubrovnik Beach #1: Uvala Lapad Beach Dubrovnik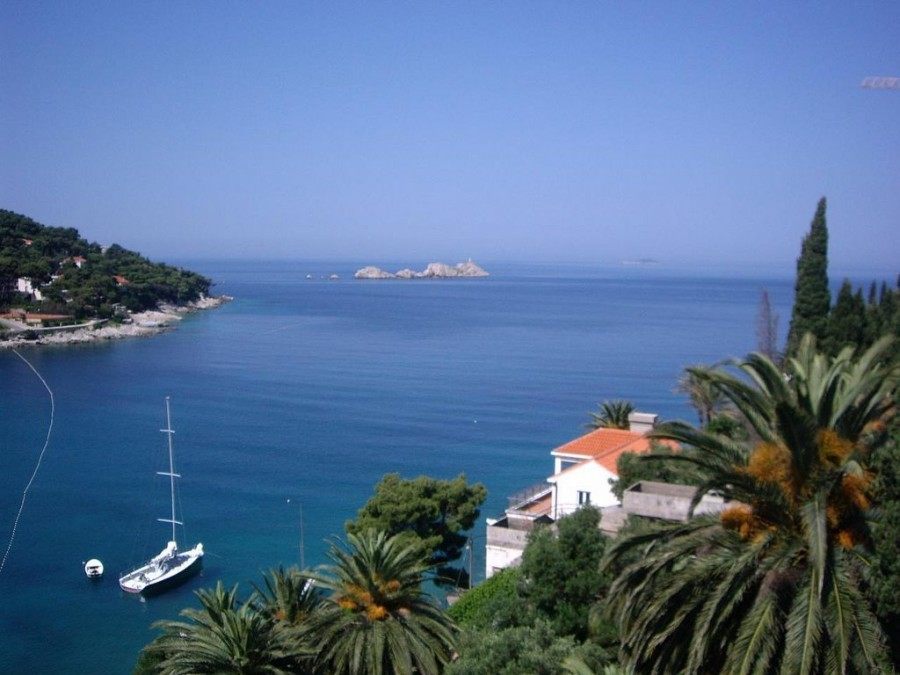 Lapad Bay Beach Dubrovnik, I bet it's not the first time you heard those four words right? Lapad Bay is an area in Dubrovnik located on a peninsula and featuring a beautiful bay. It lies just south of the Babin Kuk peninsula, a short distance westward from the Old Town. It's easily reachable by bus. The main beach in this area—there are several beaches—is Lapad Beach, also known as Lapad Bay Beach or Uvala Lapad Beach.
This family-friendly public beach is said to be the largest of all Dubrovnik beaches. It has plenty of amenities to make it tremendously suitable for everyone, young and old, active and lazy. Lifeguards oversee the shallow waters of the beach and bay, while the pedestrianized and shady walkway behind the beach is lined with coffee bars and restaurants. A bunch of Uvala Lapad Beach hotels make this is a great base for your Dubrovnik vacation.
Best Dubrovnik Beach #2: Copacabana Beach Dubrovnik
The Babin Kuk peninsula is where numerous hotels are located. This area is connected with the Old Town, the Pile Gate, by a reliable network of bus lines. Basically, every hotel has its own beach or at least has access to some sort of beach. Arguably the best beach in this area is Copacabana Beach. With the same name as that world-famous beach in Brazil, Copacabana Beach Croatia lies below the Valamar hotels.
Facing the striking Dubrovnik bridge and offering views of Daksa Island, this concrete and pebble beach is exceptionally popular. Facilities are fantastic and varied. You can do everything from lazing away the afternoon on a lounge chair to renting jet skis and sea kayaks, parachute riding, banana boating and enjoying cocktails on the beach. This beach gets busy in summer, and it's not hard to see why.
Best Dubrovnik Beach #3: Banje Beach Dubrovnik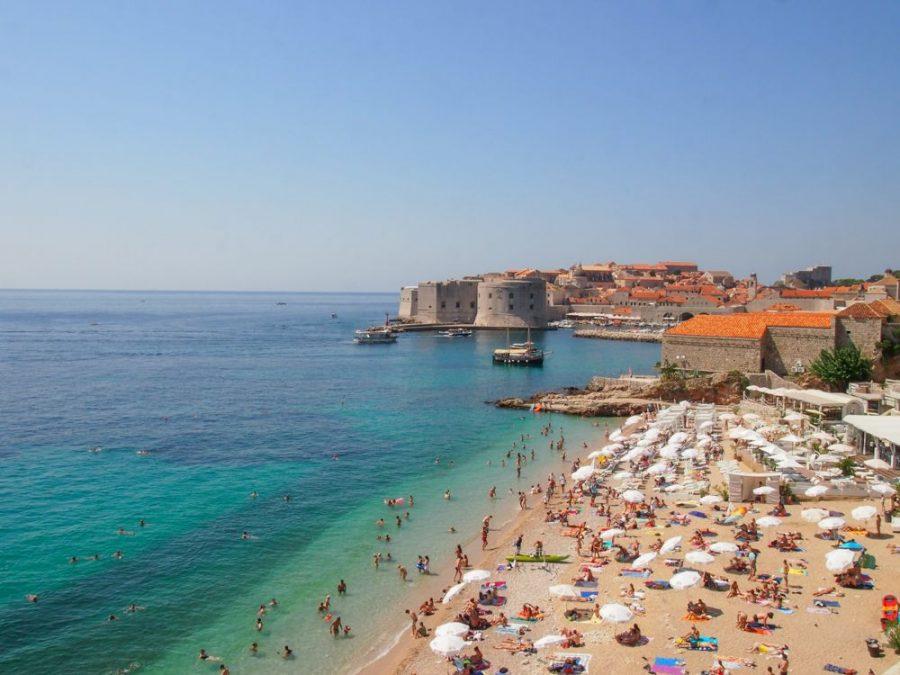 Without question, the most famous, and arguably the greatest, beach in Dubrovnik is Banje Beach. Tourists love it. It's often mentioned on lists featuring the best of Dubrovnik. With its spot-on location, this scenic pebble, and sometimes also a bit sandy beach lies within easy walking distance from the Old Town. For your comfort, you're advised to wear slippers or sandals on this beach.
The view of the Old Town of Dubrovnik is perhaps the best anywhere in the city. This is definitely one of the best beaches near Dubrovnik's Old Town to get phenomenal views of the City Walls while swimming. Amenities include showers and toilets, umbrellas and jet skis. Owned by the East-West Beach Club, most of the amenities aren't free, though. So bring some Kuna with you to cover the low Banje Beach Dubrovnik prices for the facilities. If you just bring your towel, you can, however, enjoy this fantastic beach for free.
Best Dubrovnik Beach #4: Mlini Beach Dubrovnik
Situated merely 10 kilometers from Dubrovnik, about halfway between the city and Cavtat, Mlini Beach is one of the best beaches in the Dubrovnik Riviera. Well-known for its lush Mediterranean vegetation, cultural and historical heritage, and excellent accommodations, this beach offers the seclusion and peace that some visitors to Dubrovnik might crave after spending a day or two in the Old Town.
This is a sandy beach, too, which makes it more attractive than the pebble beaches that so characterize the Dalmatian coast. Actually, it's definitely one of the best sandy beaches in Dubrovnik's general vicinity. There is no busy nightlife in this area. Instead, there are low-key eateries and charming bars for a cozy night out with friends or family.
Fun fact: Mlini means "mills" in Croatian, the town was named after the many watermills along the freshwater streams and springs in the area.
Best Dubrovnik Beach #5: Srebreno Beach Dubrovnik
Another excellent beach just outside to Dubrovnik Old Town is Srebreno Beach. Located in an area known as Zupa Dubrovacka, filled with pine and palm trees, the shallow water on this pebble beach makes it ideal for small children. Although the beach itself consists of pebbles, the seafloor is actually soft sand.
A shady promenade runs behind the beach, lined with bars, cafes, and restaurants. If you feel active, you can walk the wonderful coastal path to Mlini. On the beach, you'll find sunbeds and rental pedalos. Because of its calm water and trendy nightlife, it's a great beach for both families with young kids and party-goers.
Best Dubrovnik Beach #6: Sveti Jakov Beach Dubrovnik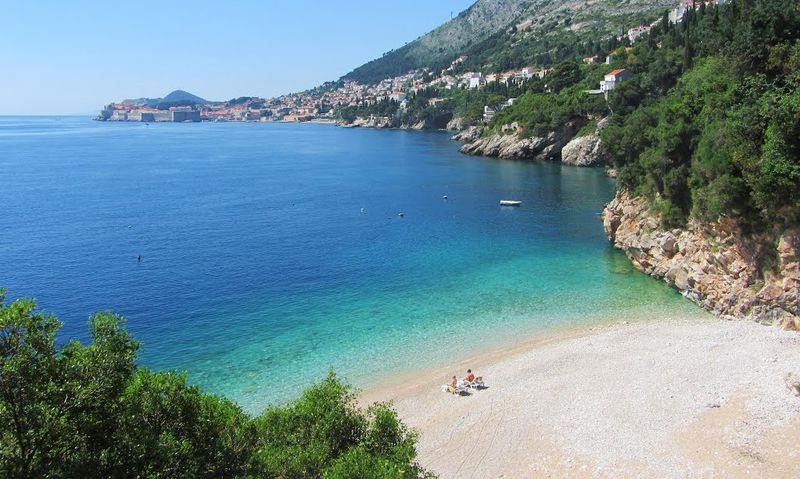 Sveti Jakov lies only a little bit further from the Old Town than Banje Beach, but tends to be a lot less crowded, which I much prefer. This rocky and pebbly beach is popular among locals and features showers, a bar, and a restaurant. You reach this spot, one of the nicest beaches in Croatia, by descending a lot of stairs, which is perhaps also a reason why it's less crowded—walking back up is tiring, so forget about it with small kids in tow.
Although this beach is less visited than other Dubrovnik beaches, it does offer pretty amazing views of the Dubrovnik Old Town and Lokrum Island. It's ideal if you're looking for a "remote" and quiet place to read a book while soaking up some sun. If you'd like to be more active, you can play a game of beach volley, rent a canoe or go jet skiing.
Best Dubrovnik Beach #7: Sunj Beach Dubrovnik
Lopud Island is one of the best Dubrovnik day trips, an island located a super-short boat ride from the Old Town. There are many reasons why it's such a fun destination and one of the main ones is its beaches. Situated on the south side of the island, Sunj Beach is a wonderful sandy beach in a shallow bay.
Right behind the beach is a dense woodland where you can find shade if the Dalmatian sun is too hot. The water, on the other hand, is also fantastic to cool down. Sunj Beach also features a couple of bars serving drinks and refreshments. For a larger meal, stroll back toward the Lopud harbor and visit the restaurant. Take a seat at a table right at the waterfront and enjoy a local specialty.
Best Dubrovnik Beach #8: Pasjača Beach Dubrovnik
Pasjača Beach is a hidden beach in the Konavle region southeast of Dubrovnik. It's also a very, very small beach, located 250 meters down a steep coastal cliff—you get there by descending a flight of stairs. In terms of sheer beauty, this is one of the best Dubrovnik beaches, a secluded stretch of small pebbles and azure-blue waters.
You can find shade against the towering cliffs or lay out a towel and soak up as many Adriatic sun rays as you want. A world away from the hustle and bustle of Dubrovnik, this beach does not have any bars or restaurants or any facilities at all, really. There is, however, an expansive parking lot at the top of the cliffs.
Unlike most other beaches near Dubrovnik, this is not a natural beach. In fact, it's almost entirely the result of human activity. After a number of tunnels were dug during World War II, the excess rock and sand were deposited by people, which created a man-made beach. Because the sea continues to reclaim the beach, it is occasionally maintained by locals who add additional pebbles and sand to ensure that this gorgeous beach continues to be enjoyable for all, tourists and locals alike.
Best Dubrovnik Beach #9: Sulici Beach Dubrovnik
The nearest beach to the Pile Gate, the main entrance to the Old Town, Sulici Beach Dubrovnik is one of the cleanest beaches in Dubrovnik. It doesn't consist of much more than rocks and a tiny area of pebbles, though, which is probably also why it's less crowded. The water is crystal-clear. If you want a quiet beach near the Old Town, this is it.
Sheltered between the iconic Lovrijenac Fortress, perched high atop a sea cliff, and Gradac, this beach offers unique views of some of Dubrovnik's major attractions.
Best Dubrovnik Beach #10: Danče Beach Dubrovnik
Also close to the Pile Gate is Danče Beach. Situated on a promontory below the convent complex, this beautiful rocky beach has wonderfully clear water. A fun feature of this beach, within super-easy walking distance from the Old Town, is that the nuns of the convent greet each passing ship by ringing a bell.
Because it's located on a promontory and not in a cove, it's good to know that its water is a bit rougher and waves may be higher. If you have small children, you might prefer Banje Beach or Sveti Jakov.
Best Dubrovnik Beach #11: Plat Beach Dubrovnik
A quick drive to the south of Dubrovnik, Plat Beach lies between the towns of Mlini and Cavtat. This beach is popular among all kinds of visitors, from families to couples and singles. Backed by rocks, it is completely secluded, offering ultimate privacy. There are few facilities or shade to be found, but the gloriously refreshing is all you need to cool down.
That's not to say that there's nothing to do but sunbathing and swimming, though. There is, in fact, a restaurant that serves delicious Dalmatian specialties and you can enjoy beach volleyball or picigin (remember to bring your own equipment because there are no rental facilities). There are also outdoor showers to wash the sand off your legs and feet, as well as changing rooms.
Best Dubrovnik Beach #12: Buža Beach Dubrovnik
A tiny beach in the very heart of the Old Town of Dubrovnik, Buža Beach lies just outside of the City Walls. You can get there via a small doorway—the door of St. Stephen—which opens up to a rocky ledge underneath the walls. The beach lies near the Dubrovnik Cathedral, showing just how accessible it is.
There is a lively beach bar in spring and summer, offering refreshments and cold drinks. Note that because of the steep rocks, this beach is not recommended for children. Adults, however, will relish the setting as well as the views and waterfront drinks. At night, numerous lights are lit up, transforming the scene into something you might see in a fairy-tale movie.
Best Dubrovnik Beach #13: Bellevue Beach Dubrovnik
Situated at the beginning of Lapad, just 20 minutes on foot from the Old Town, Bellevue Beach is a small pebble beach. It lies secluded from traffic in a deep scenic cove in Miramare Bay Dubrovnik, right underneath Hotel Bellevue, from which it gets its name. Steep cliffs surround the beach, while there are also a couple of Dubrovnik caves around.
It's a popular place for sunbathing, swimming and cliff jumping. As far as facilities go, you'll find a restaurant/snack bar here, serving a variety of drinks and meals.
Best Dubrovnik Beach #14: Cava Beach Dubrovnik
Located near Copacabana Beach, Cava Beach lies on the western shore of the Babin Kuk peninsula. You can easily get there from pretty much all hotels in the area. From the Old Town, it's just a short bus ride. Cava Beach is a small pebble and gravel beach dotted with palm trees and boasting lots of high-end amenities.
At this beach, you'll find the Coral Beach Club, which offers beach chairs, umbrellas and places to hang out, and serves a selection of refreshing cocktails and other drinks, as well as snacks. It's a fantastic spot for an afternoon of lazing by the Adriatic Sea with a cold beverage in hand. In the evening, the beach club turns into a classy venue for sunset dinners and events like weddings and other parties.
We know there are so many more Dubrovnik beaches, and for that, we also have planned an excellent list of beaches near Dubrovnik for later this year.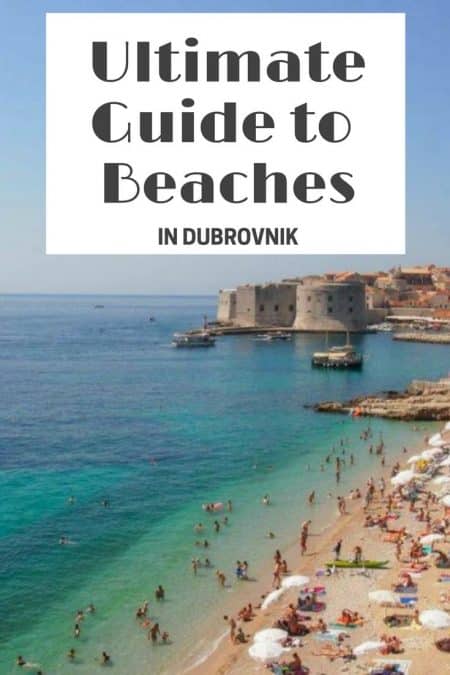 Make no mistake, choosing where to go in Croatia can be tough, but I think you'll agree with some of the best beaches Croatia has to offer. Dubrovnik makes deciding easy. We have a list of great Dubrovnik accommodation, which details the best hotels in Dubrovnik, and information to assist you in deciding the best area to stay in Dubrovnik. In addition, check out our list of campsites near Dubrovnik if you prefer a more laid-back, outdoor vibe on your holiday.
If you need an escape from the crowds, this socially distanced approved picnic tour is awesome!
Other Beaches, Islands And Summer Fun
Share