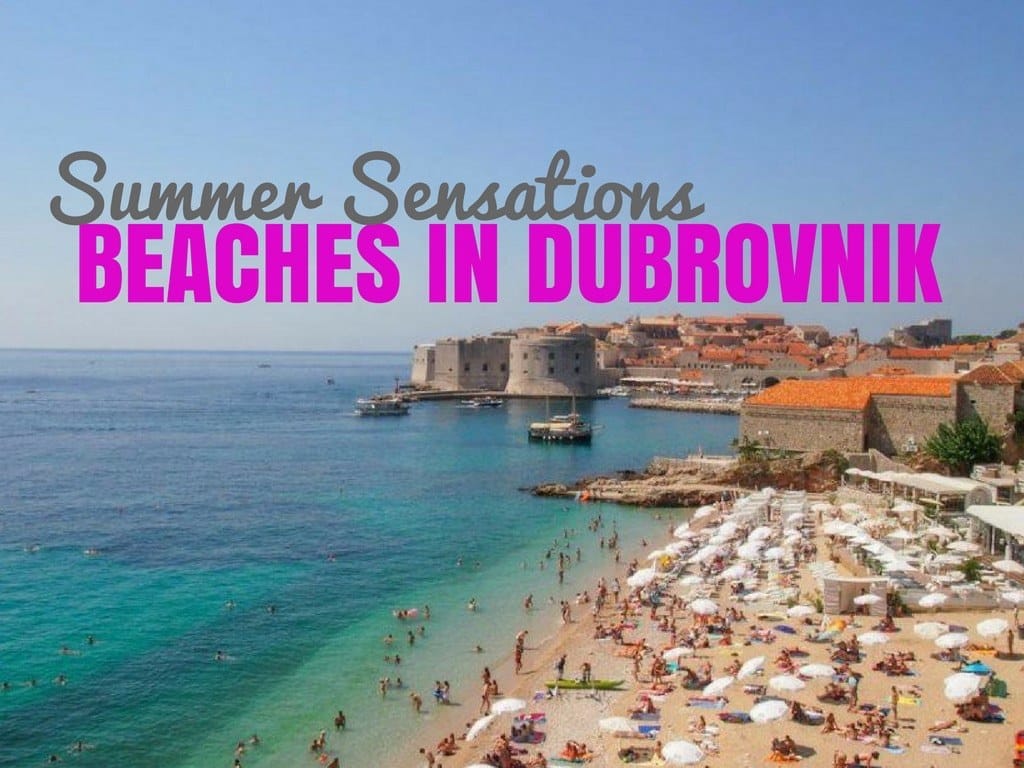 Dubrovnik Beaches To Keep You Cool This Summer
The beauty of Dubrovnik is that it combines a bunch of different things. Of course, there's the charming and gorgeous Old Town, justifiably designated as a World Heritage site by UNESCO, filled with medieval and renaissance architecture and a maze of narrow alleyways. You will also find  many great restaurants which dot the entire town and some fantastic beaches which line the coast.
It's those Dubrovnik beaches that are part of the reason Dubrovnik is a world-class destination. They add something fun and relaxing to a place oozing history and culture (and cruise ship day trippers).  With so many things to do in Dubrovnik, there is nothing better than heading down to the beach and taking a dip into those crystal clear Adriatic waters. Plus, it's a grand way to end a day of sightseeing when you can head to the beach in the late afternoon to wind down with a good book and/or a cocktail.
Here is our overview of Dubrovnik Beaches you will love this summer.
Dubrovnik Beaches You'll Love This Summer
Finding a good beach in Dubrovnik isn't rocket science, but if you are like me, you just wanna head straight to the best beaches on your Croatia beach vacation. Am I right? Okay, let's rock and roll with the best beaches in Dubrovnik (in no particular order)
Best Dubrovnik Beach #1: Lapad Beach
Lapad Beach Dubrovnik, bet it's not the first time you heard those three words right? Lapad is an area in Dubrovnik located both on a peninsula and in a bay. It lies just south of the Babin Kuk peninsula, a short distance westward from the Old Town. It's easily reachable by bus. The main beach in this area—there are several beaches—is Lapad Beach.
This family-friendly public beach is said to be the largest beach in all of Dubrovnik. It has plenty of amenities to make it a great suitable for everyone, young and old, active and lazy. Lifeguards oversee the shallow waters of the beach and bay while the pedestrianised and shady walkway behind the beach is lined with coffee bars and restaurants.
Best Dubrovnik Beach #2: Copacabana Beach
The Babin Kuk peninsula is where numerous hotels are located. This area is connected with the Old Town, the Pile Gate, by a reliable network of bus lines. Basically, every hotel has its own beach or at least has access to some sort of beach. Arguably the best beach in this area is Copacabana Beach, located below the Valamar hotels.
Facing the striking Dubrovnik bridge and offering views of Daksa Island, this concrete and pebble beach is exceptionally popular. Facilities are fantastic and varied. You can do everything from lazing away the afternoon on a lounge chair to renting jet skis and sea kayaks, parachute riding, banana boating and enjoying cocktails on the beach. This beach gets busy in summer, and it's not hard to see why.
Best Dubrovnik Beach #3: Banje Beach
Without question, the most famous, and arguably the greatest, beach in Dubrovnik is Banje Beach. Tourists love it. With its spot-on location, this scenic pebble, and sometimes also a bit sandy beach lies within easy walking distance from the Old Town. For your comfort, you're advised to wear slippers or sandals on this beach.
The view of the Old Town of Dubrovnik is perhaps the best anywhere in the city. This is definitely the best place to get phenomenal views of the City Walls while swimming. Amenities include showers and toilets, umbrellas and jet skis. Owned by the East-West Beach Club, most of the amenities aren't free, though, so bring some Kuna with you. If you just bring a beach towel, you can, however, enjoy this fantastic beach for free.
Best Dubrovnik Beach #4: Sveti Jakov Beach
Sveti Jakov lies only a little bit further from the Old Town than Banje Beach but tends to be a lot less crowded, which I much prefer. This rocky and pebbly beach is popular among locals and features showers, a bar, and a restaurant. You reach this beach by descending a lot of stairs, which is perhaps also a reason why it's less crowded—walking back up is tiring, so forget about it with small kids in tow.
Although this beach is less visited than other Dubrovnik beaches, it does offer pretty amazing views of the Dubrovnik Old Town and Lokrum Island. It's ideal if you're looking for a "remote" and quiet place to read a book while soaking up some sun. If you'd like to be more active, you can play a game of beach volley, rent a canoe or go jet skiing.
Best Dubrovnik Beach #5: Sulici Beach
The nearest beach to the Pile Gate, the main entrance to the Old Town, Sulici Beach is one of the cleanest beaches in Dubrovnik. It doesn't consist of much more than rocks and a tiny area of pebbles, though, which is probably also why it's less crowded. The water is crystal-clear. If you want a quiet beach near the Old Town, this is it.
Sheltered between the iconic Lovrijenac Fortress, perched high atop a sea cliff, and Gradac, this beach offers unique views of some of Dubrovnik's major attractions.
Best Dubrovnik Beach #6: Danče Beach
Also close to the Pile Gate is Danče Beach. Situated on a promontory below the convent complex, this beautiful rocky beach has wonderfully clear water. A fun feature of this beach, within super-easy walking distance from the Old Town, is that the nuns of the convent greet each passing ship by ringing a bell.
Because it's located on a promontory and not in a cove, it's good to know that its water is a bit rougher and waves may be higher. If you have small children, you might prefer Banje Beach or Sveti Jakov.
We know there are so many more Dubrovnik beaches, and for that, we also have planned an excellent list of beaches near Dubrovnik for later this year.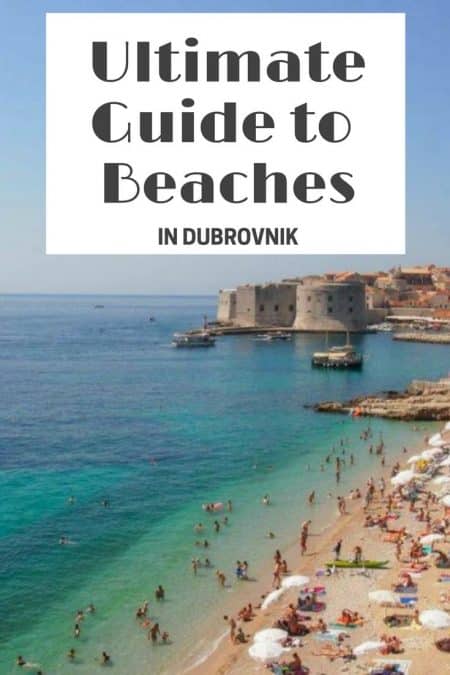 Map of Dubrovnik Beaches
Make no mistake, choosing where to go in Croatia can be tough, but I think you'll agree with some of the best beaches Croatia has to offer, Dubrovnik makes deciding easy. We have a list of great Dubrovnik accommodation which details the best hotels in Dubrovnik, and information to assist you in deciding the best area to stay in Dubrovnik.
Other beaches and islands you may like: