Privacy & disclaimers →
Trogir To Dubrovnik, Road Trip Itinerary
Written by Julie & Zach from Ruhls Of The Road
Croatia is one of the most beautiful and ever-popular countries in the world. Without a doubt, the combination of wonderful people, vibrant culture, and natural beauty in Croatia make this a must-visit destination that needs to be high on your travel bucket list.
The best way to see Croatia is via road trip, as this will give you time and space to explore and take in parts of the country that you wouldn't see if you only flew to big cities. Road-tripping the Croatian coast is a once-in-a-lifetime experience. The trip from Trogir to Dubrovnik, with all the enjoyable stops in between, is perhaps the most beautiful stretch of coastline to experience.
In this post, we'll show you the best way to road trip from Trogir to Dubrovnik, sharing all the best adventures to have at the beginning, end, and all along the way.
So start your engines, fire up your road trip song playlist, and let's hit the road.
Start At Trogir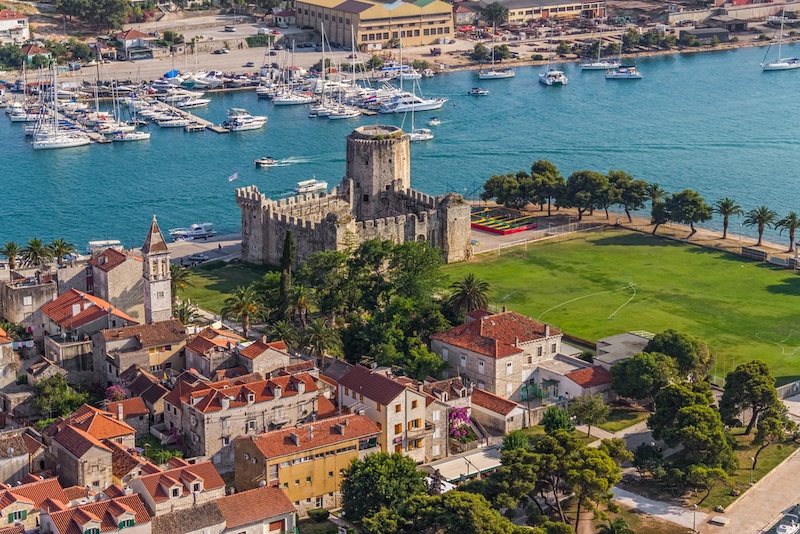 Of course, this road trip is starting in Trogir, which, to be honest, is just as much an awesome destination as a starting point! Trogir is a Croatian coastal town full of wonderful things to see and do. Spend at least one day enjoying Trogir and planning your adventure all along the Croatian coast.
While in Trogir, you simply MUST go on a boat trip. There are thousands of islands located just off the coast here, and of course, the only way to reach those is via a boat!
Many companies offer tours and taxis on boats all around the islands, so you should be able to have your pick based on your preferences for where to go and how much to pay.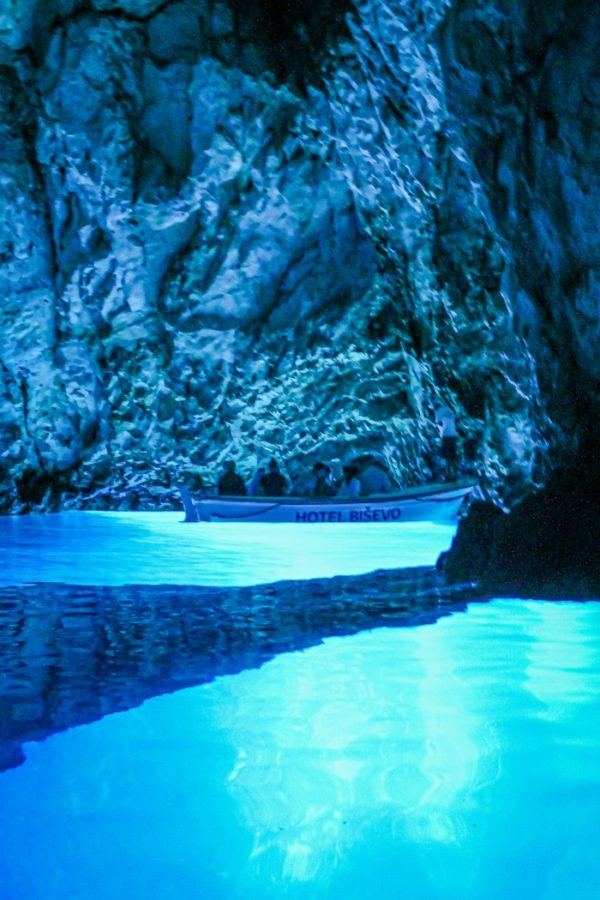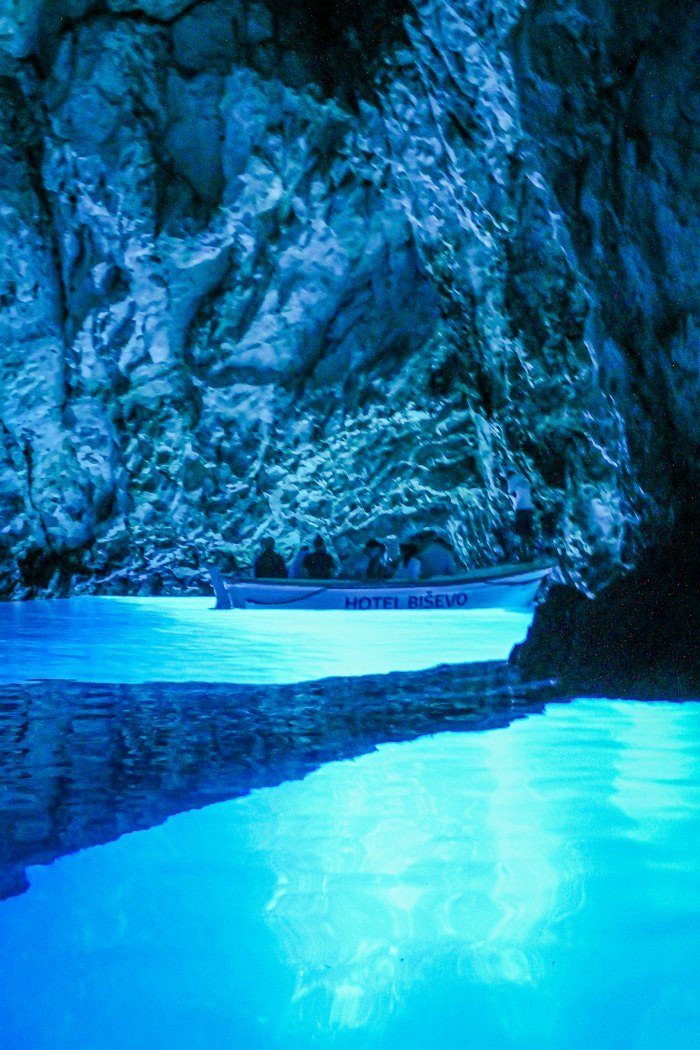 The number one destination you can visit as a day trip from Trogir is the Blue Lagoon. The Blue Lagoon is a tropical paradise where you can swim, snorkel, scuba, kayak, paddleboard, and enjoy yourself in the cove. Go for a swim, look for fish, soak up the sun, and relax while at the Blue Lagoon. If you have a drone or GoPro along, make sure to bring them along for some unbelievable footage!
After enjoying all of the islands, you can off the coast of Trogir, spend your evening wandering the downtown and perusing the cafes and restaurants. Like much of Croatia, Trogir is home to some of the best fresh seafood in the world. Many dishes are caught and prepared on the same day; it can't get any fresher than that!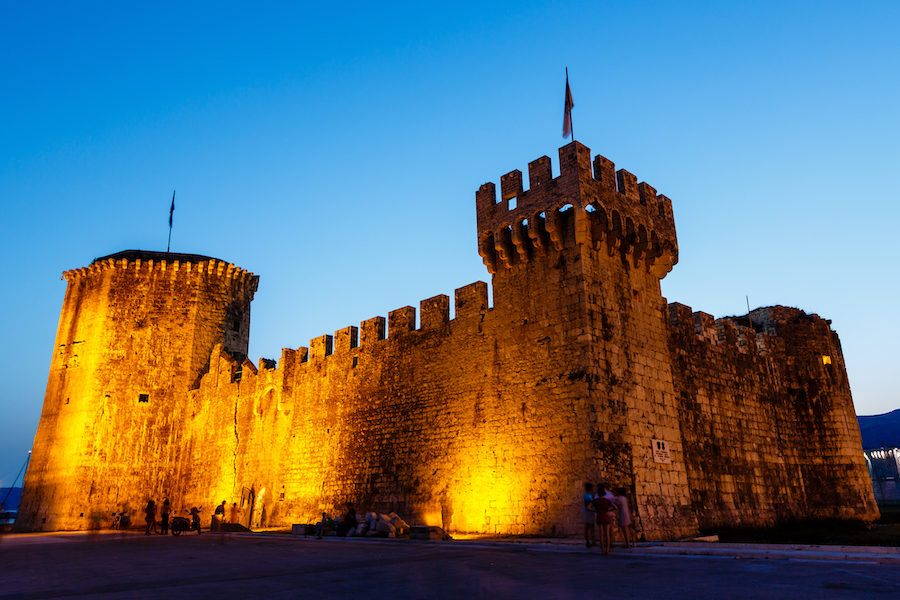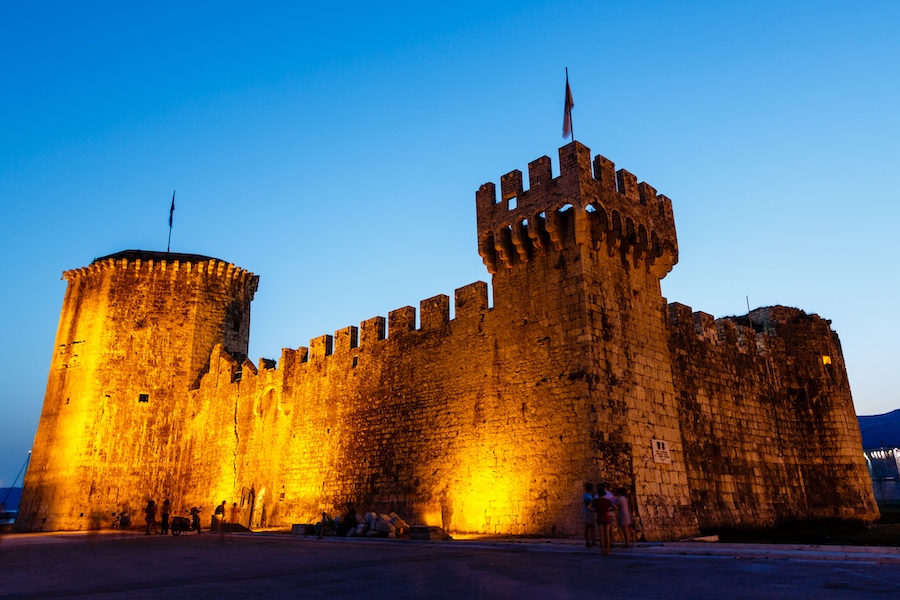 If you have any time left after island-hopping and enjoying the food, head to Tower Kamerlengo, an incredible landmark in downtown Trogir, right along the coast. This tower acts as a beautiful reminder of Trogir's (and Croatia's) history while also being a beautiful stone accent to the city's tropical blue waters.
Check out these custom tours in Trogir!
TRAVEL COMPANIES WE USE AND TRUST
Drive To Split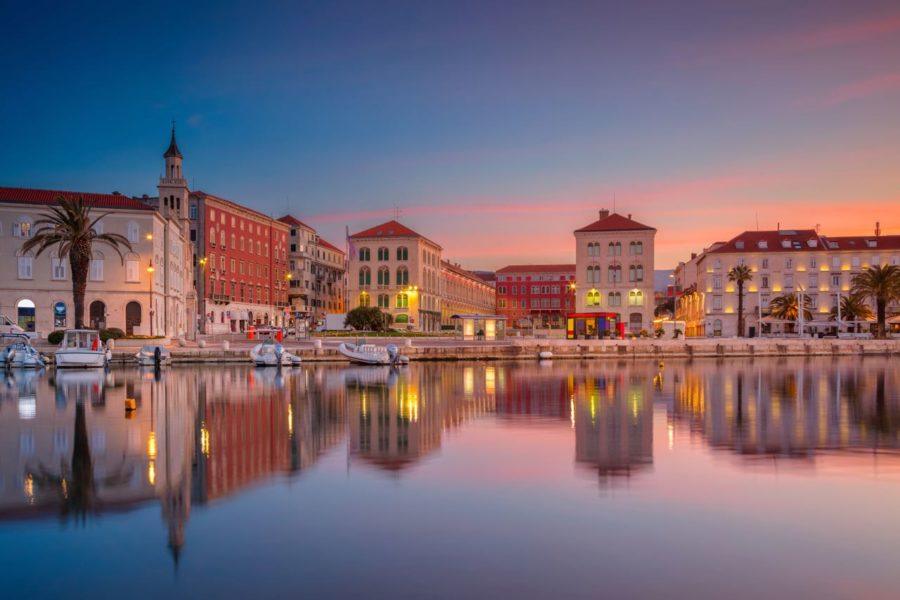 Split is a city that is very similar, though larger, to Trogir. In Split, you have the opportunity to go island hopping and take a boat trip to the famous Blue Lagoon. You'll also be able to chow down on all of the yummy fresh seafood that you get your hands on!
Fresh sea bass, mussels, squid, really any type of seafood you love, the restaurants in Split will have it. Not only that, but they will know how to cook it better than anywhere else in the world.
Our advice is to stop in both Trogir and Split, do a bit of island hopping from each place, and enjoy the seafood at the delicious restaurants in each as well. Choosing which city is better is like choosing your favorite child. You love them both, and they each have their own special qualities and are unique. Therefore, on this Croatian road trip, we are stopping at both Trogir and Split!
Detour Via Biokovo Nature Park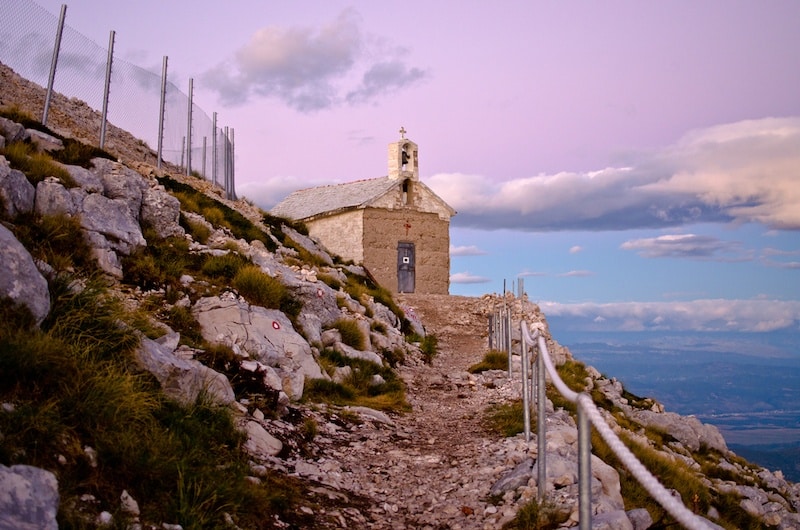 From Split, you are heading away from the coastal Croatian cities and into a few of the hidden gems down the coast of the Adriatic Sea, the first of which is Biokovo Nature Park. Located inland from the city of Makarska, Biokovo is a natural wonderland that allows you to get some real elevation on your trip through Croatia!
From the top of Biokovo Nature Park, you'll have excellent views of the Croatian coastline and beyond that the wide expanse of the Adriatic. You can look to your left and right, seeing the network of roads connecting each coastal town, those same roads that made possible this adventure you are in the middle of.
Each city is itself a small sea of orange roofs making their way from the coast slowly up the hill, and all of that is incredibly beautiful when seen from above.
The highest peak in Biokovo Nature Park is Sveti Jure, which stands at 1,762 meters, over a mile above sea level! This peak can be reached in two ways: either by car or on foot. There is a trail that begins near Makarska, on which you can hike the full distance to the peak of Sveti Jure.
The hike is long, approximately 25 km, and strenuous, as you'll be hiking up that full elevation of over 1,700 meters. Allow yourself a lot of time to complete the hike, around 10 hours for a return trip.
Remember to bring along enough water for the trek, good travel shoes, and we recommend packing along with a lunch for you to enjoy as a reward at the peak. Of course, that stunning view is a reward on its own as well!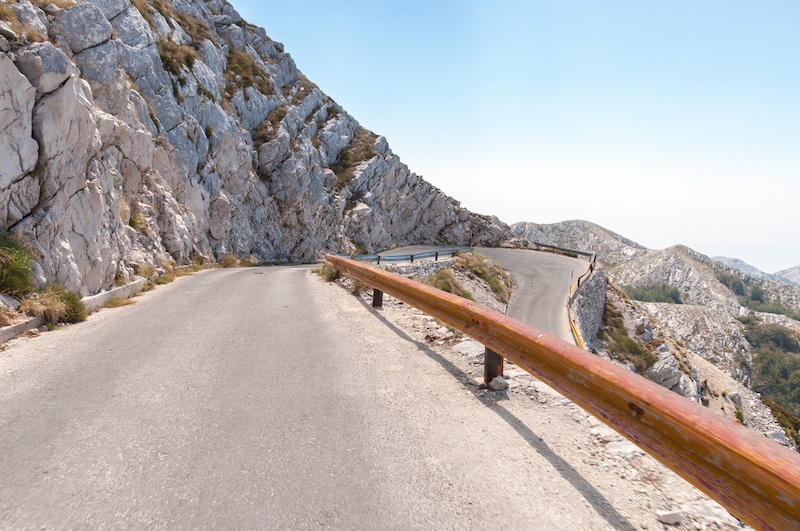 If completing this difficult hike is not in the cards for you, you can also summit Sveti Jure by car. There is a winding road with switchbacks that takes you all the way up and allows you to have that stunning view from the top of the peak, over a mile above sea level, where you started.
Either way, make sure Biokovo Nature Park and Sveti Jure are a stop along your Croatian road trip. The bird's eye view of Croatia and the awesome sites will help make your trip unforgettable.
Modro Oko Pit Stop
Located further south, just near the small town of Banja, is one of Croatia's hidden gems: Modro Oko. This lake is unquestionably stunning and is a stop that many people miss as they make a road trip through Croatia. Thankfully, you are reading this article, so you won't miss it on your adventure!
Modro Oko is a lake surrounded by huge grey mountains, whose water is so blue and clear it almost looks fake. This stunning body of water is unlike any you'll be able to find on the remainder of this road trip, so we recommend stopping and exploring Modro Oko for a day.
While exploring Modro Oko, take one of the walking trails that allows you to get a view from above the lake. If you have a drone, this would be the ideal place to fly it to get a view of the lake from above.
Modro Oko has perfectly clear water, and from above, you'll see how the colors change so beautifully. The edges of the lake are a tropical light blue, almost turquoise, and as you approach the center of the lake, the water changes to a deep navy blue. This unbelievable site makes Modro Oko a must stop, even if only for a day, on your Croatian road trip.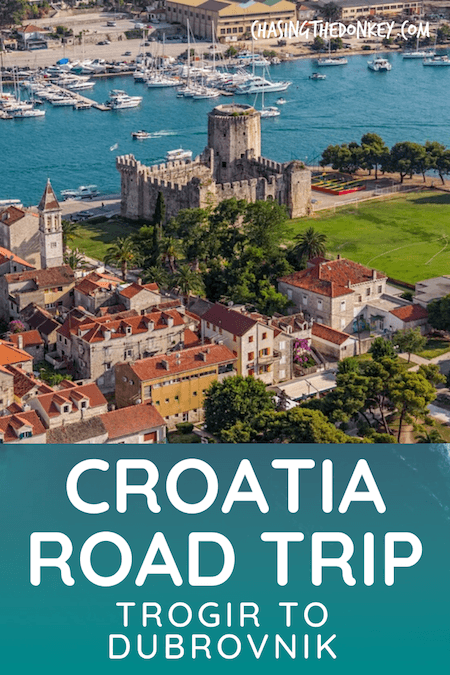 Border Crossing At Bosnia and Herzegovina To Dubrovnik
While driving the Adriatic Coast down through Croatia on the way to Dubrovnik, there is one hidden surprise: you have to go through another country!
Bosnia and Herzegovina have a portion of the Adriatic Coast. There is no way (except by boat) to avoid driving through the Neum border in Bosnia-Herzegovina crossing to get to Dubrovnik.
The fact that you'll be driving through Bosnia and Herzegovina means a few things. First off, your passport will be required; if you forget it, don't expect to be able to see Dubrovnik. Secondly, you may have to have a short wait at the immigration station along each border you pass, both heading into Bosnia and Herzegovina and heading back into Croatia.
In our experience, it has never been more than 15 minutes. In peak season, that stop can be hours, so it is best to build time into your road trip itinerary if you are in a rush or have a flight connection in Dubrovnik.
Final Destination Dubrovnik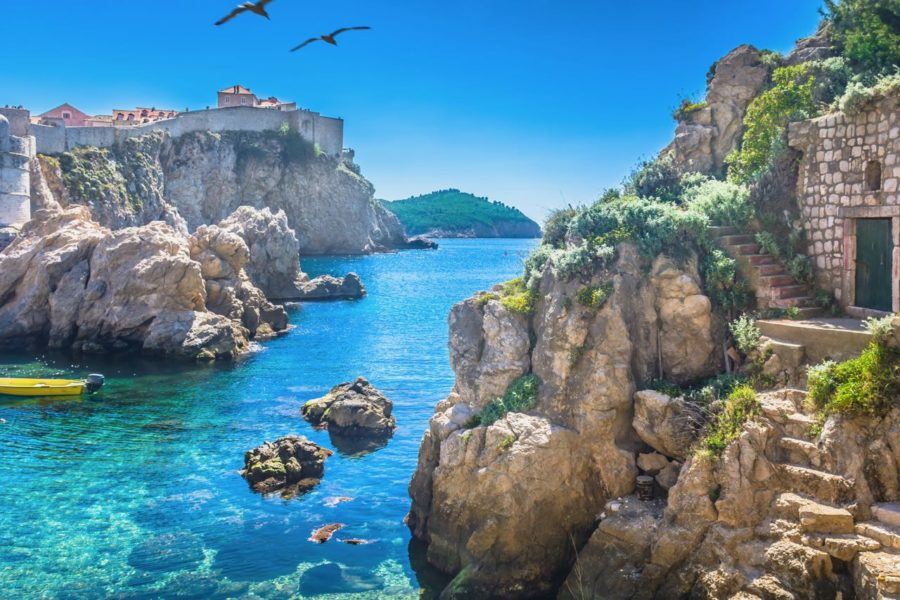 The final stop on this road trip along the coast of the Adriatic Sea is the walled city of Dubrovnik. Dubrovnik is in many ways the most popular city in all of Croatia and would be in close competition for the best destination in all of Europe.
The city is surrounded by incredible landscapes and sites, with the mountains to the back and the sea to the front. On top of that, there are excursions and tours throughout the city and to neighboring sites so that each day will be an action-packed adventure.
Finally, exploring Dubrovnik's Old Town is a historical experience that offers a blend of learning about Croatian history and seeing beautiful sites along the way.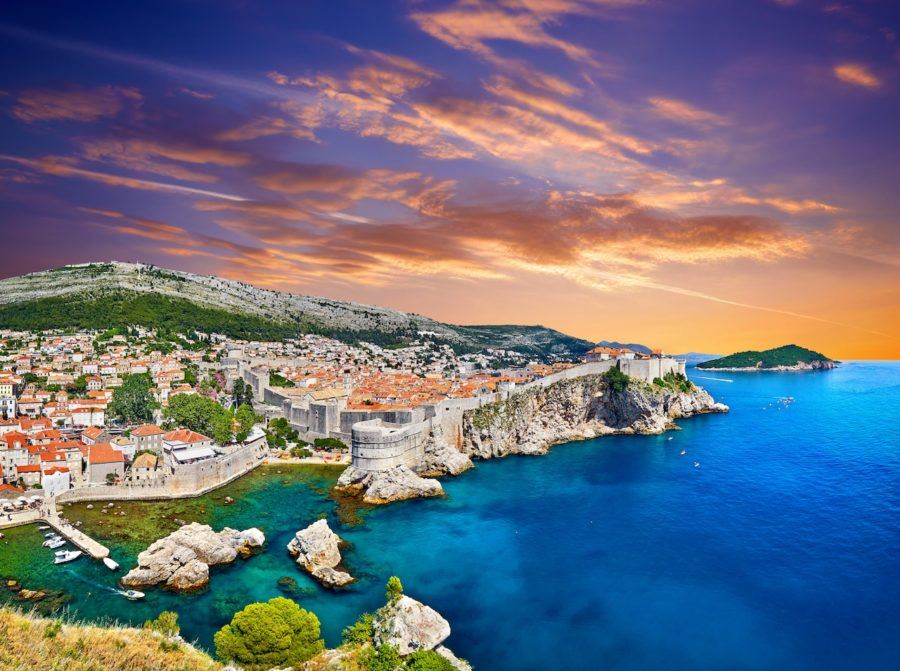 First off, let's talk about the natural beauty surrounding Dubrovnik. The city lies at the base of Srd Hill, on which you can ride a cable car gondola to the top or make the hike on your feet. We recommend taking the hike and doing it right away in the morning since the top feels like more of a reward, and you can get your workout completed for the day!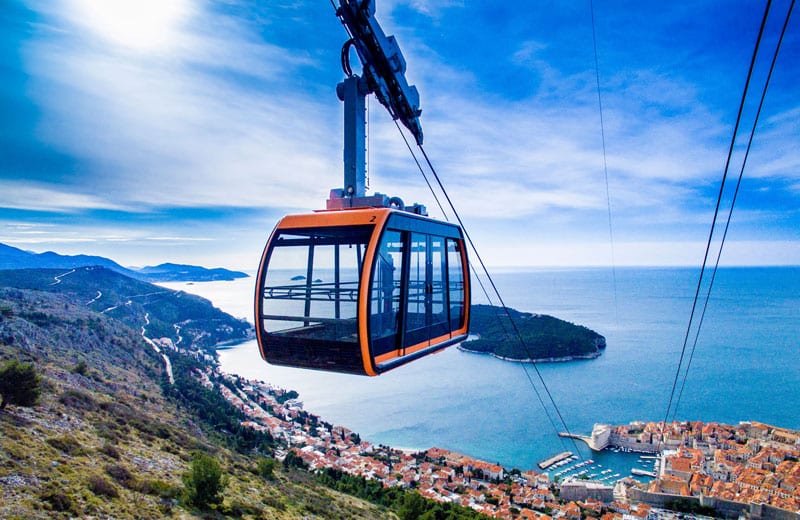 When you do your workout in the morning, you can feel MUCH less guilty about treating yourself to a few yummy treats later in the day. From the top of Srd Hill, of course, you'll get a beautiful view looking down at Dubrovnik from above. You'll see the Walled City just like the birds do. Beyond Dubrovnik is the wide blue expanse of the Adriatic Sea.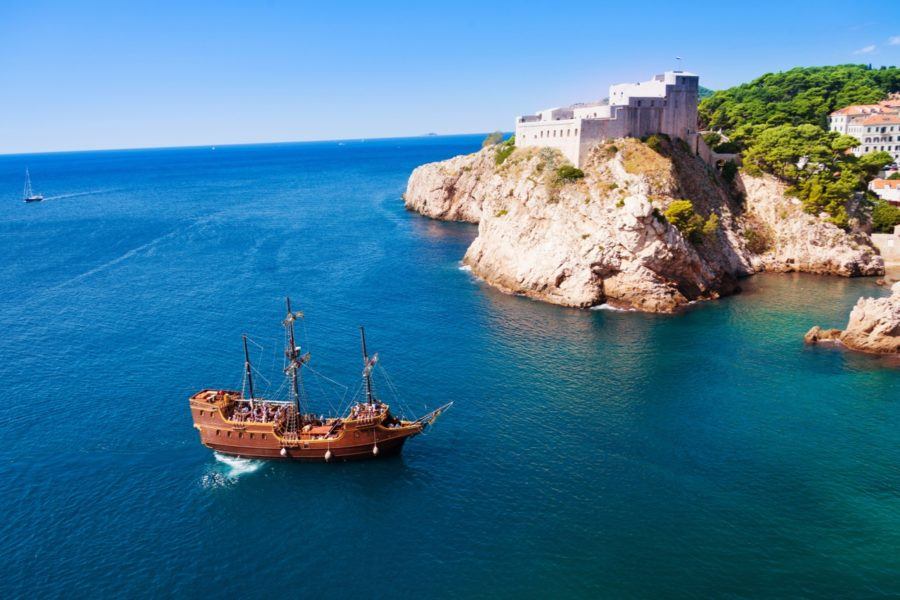 From Dubrovnik, you'll be able to jump on a boat, kayak, or stand-up paddleboard and see the beautiful Adriatic up close and personal. We recommend at least doing one excursion during your time in Dubrovnik, the best of which is a kayak trip or a boat excursion.
On a kayak, you'll be extremely close to the clear blue tropical waters, and you will have the chance to glide along with the sea spotting fish beneath you! On a boat excursion, you'll be able to get much further and see a few of the islands surrounding Dubrovnik, including the famous Elaphiti Islands (we LOVE this private boat tour option!). There are benefits to both, and if you have the time and money, you should ABSOLUTELY do both of these excursions!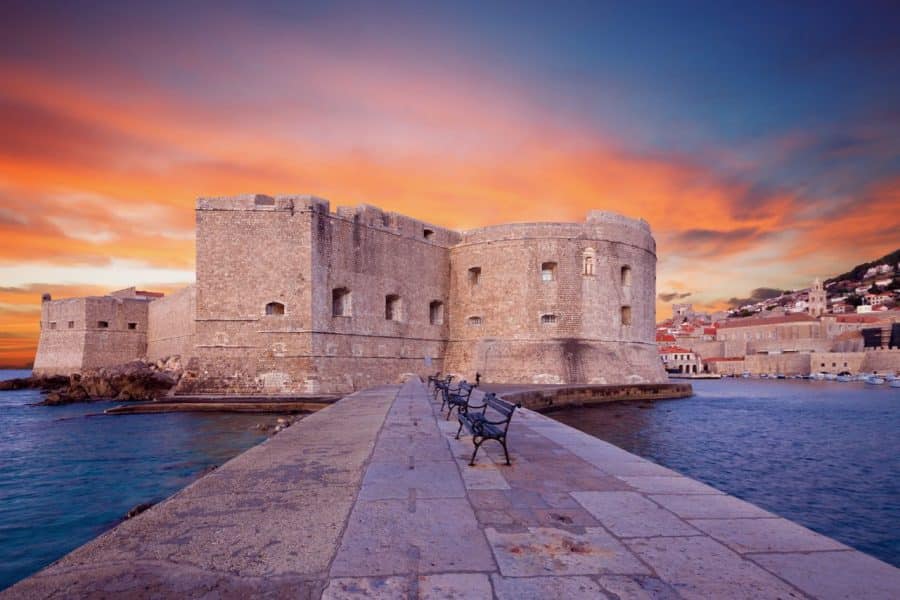 The true reason Dubrovnik is such a unique and historical place is because of the Old Town section of the city. This is also known as the Walled City, as the entire section of town is completely surrounded by an enormous stone wall. We HIGHLY recommend walking the wall, which is one of the many tours around Old Town Dubrovnik.
The walk takes about an hour if you are walking quickly, as the entire circuit is about 2 km. However, we recommend stopping and taking in the view at many of the stunning overlooks of the sea of oranges roofs with the waters beyond. There are also a few places to stop and enjoy a coffee or a fresh drink with that stunning view. If you don't take at least 2 or 3 hours for the wall walk, then you went too fast.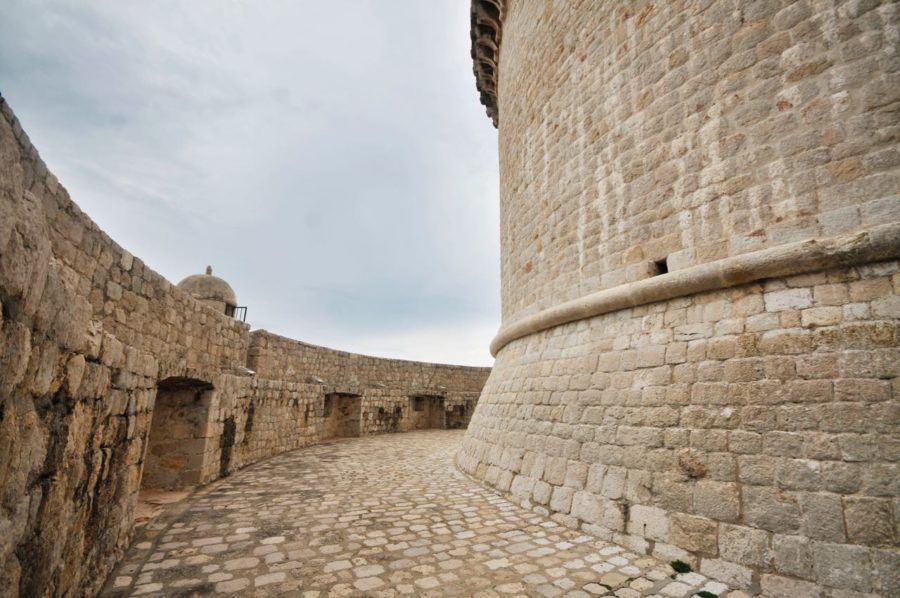 Fun fact: Dubrovnik's fortified walls have never been conquered. Many European conquerors and generals have tried to defeat Dubrovnik; however, none quite succeeded.
While on your own tour of this city, you'll learn a ton of incredible facts about Dubrovnik's place in history. If you are a Game of Thrones fan, you'll recognize many sites here as well, as Dubrovnik's Old Town was used as King's Landing in the HBO show.
Dubrovnik is a historical city and makes for the perfect ending to your Croatian road trip. We started in beautiful Trogir with striking islands and succulent seafood and saw many of Croatia's hidden gems along the way.
Rent A Car in Croatia
Here is a guide to hiring and driving in Croatia that'll help you best plan your Croatian road trip adventure.
Wrap Up
Biokovo Nature Park and Modro Oko will help make this adventure unforgettable and undoubtedly unique compared to other Croatia adventure people take.
Add all of that to all of the interesting history, exploration, and beautiful sites in Dubrovnik, and this becomes one of the single best road trip itineraries in the Balkans. We sincerely hope you enjoyed these ideas and know you will absolutely LOVE the adventure.
If we missed a stop from Trogir to Dubrovnik, let us know below.
Want Ideas For Things To Do In Croatia?
If you are traveling to Croatia, we've got a stack of suggestions. Here are just a few: