Camping in Dubrovnik is a great way to escape the crowds. To help you: here are the best Dubrovnik camping facilities.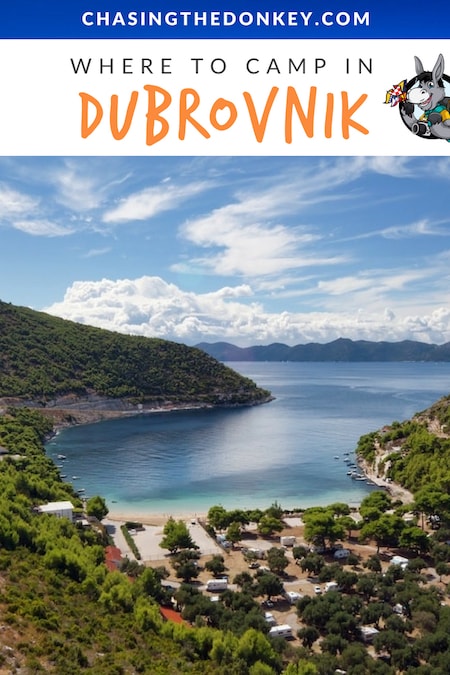 We all know that Dubrovnik is hands down one of the best places to visit in Croatia and the entire Balkans, and super-popular as a result. You might be surprised to learn that you don't have to go down the usual route of staying in a guest house or hotel when you head here. There are many Dubrovnik camping facilities you can check out instead.
Camping is ideal for families and fantastic for those who want to be wholly immersed in Croatia's natural setting while also having independence over every single detail of their time. Another plus is that camping is much cheaper than a hotel. So, if you're on a budget, you get a double whammy of advantages!
Of course, with choice come decisions; it can be hard to whittle down a selection, ensuring that you get the right camping spot for your needs. You don't want to be too far out of the center of Dubrovnik, but of course, the idea of camping is to be a little out in the countryside rather than in the middle of the city. It basically calls for a middle ground. When it comes to camping, Dubrovnik has several options. Let's check out some of the best spots for camping in Dubrovnik to help you make your own decision.
We took a look at the best spots to go camping in Dubrovnik, compared the features and prices, and made this easy-to-use table to help you review and choose the best campsite for you.
Click on any heading to sort the table accordingly.
Camping Dubrovnik Comparison Chart

| Name | Suburb | WiFi | Parking | Book |
| --- | --- | --- | --- | --- |
| Port 9 Camping | Korcula Island | Y | Y | Get Price |
| Nevio Camp | Peljesac | Y | Y | Get Price |
| Autocamp Laguna | Plat | Y | Y | Get Price |
| Pod Maslinom | Orasac | Y | Y | Get Price |
Best Time For Camping Dubrovnik
First, before we get into the nitty-gritty of where to stay, we need to discuss when to stay. You don't want to be caught in a wintertime storm while staying in a tent or motorhome!
The biggest campsites are open from April until October, which encompasses the entire summer season and a little of the cooler shoulder seasons. April and May and the end of September and October are great times to visit if you're not a big fan of very high temperatures and crowds. Prices are lower at these times, increasing as the peak months of July and August get underway.
Equipment-wise, if you have any, it's best to bring it, but if you don't, you'll find that the biggest campsites will rent it out to you for a small charge. Many camps have Wi-Fi, and this may or may not be for an added cost. This is something you need to think about if you want to stay super-connected! Free parking isn't always a given but is quite widely available.
Where To Go Camping In Dubrovnik
Autocamp Matkovica
Compared to some of the largest camping sites in the region, this is one of the hidden gems. Also, because of its smaller size, you get lower prices. Bonus! Autocamp Matkovica is close to a large shopping mall, so you can head over and get your retail therapy, but it's far enough away to be quiet and chilled out.
You'll find many shops and restaurants within walking distance, and in under 5 minutes on foot, you'll be right on the beach. If you want to venture into the center of town, there is a bus stop a few minutes away, too.
Best For
Facilities
Showers and bathroom
Beach nearby
Shops and restaurants nearby
Grocery store on site
Close to bus stop
Port 9 Camping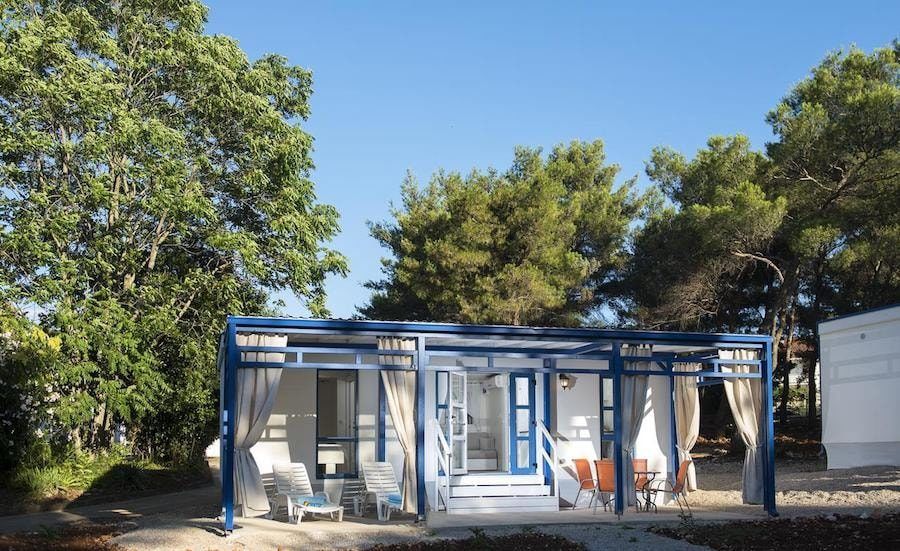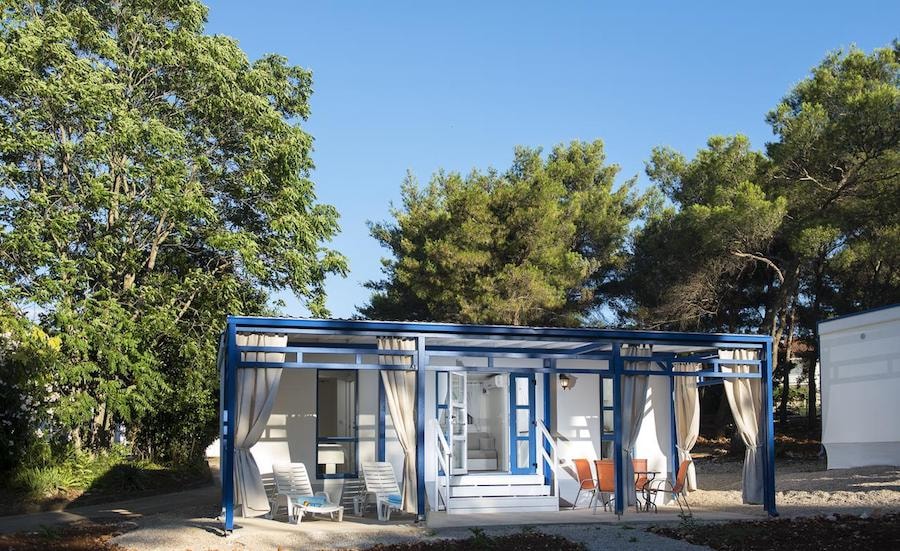 Located in the beautiful Bay of Shells on Korcula Island, Port 9 Camping is an excellent spot for those who desire a quiet and relaxed time. The center of the island is around 2 kilometers away from the campsite, and you can jump on the passenger ferry over to the center of Dubrovnik quite quickly, too.
The harbor area, with its many small bars and restaurants, is close to the campground. Therefore, you won't be too far away from anything while still being in a quiet and relaxing natural setting.
Best For
Couples
Anyone who wants to relax
Facilities
Showers and bathroom
Good quality electricity
Restaurant on site
Close to beach with sunbeds provided
Nevio Camp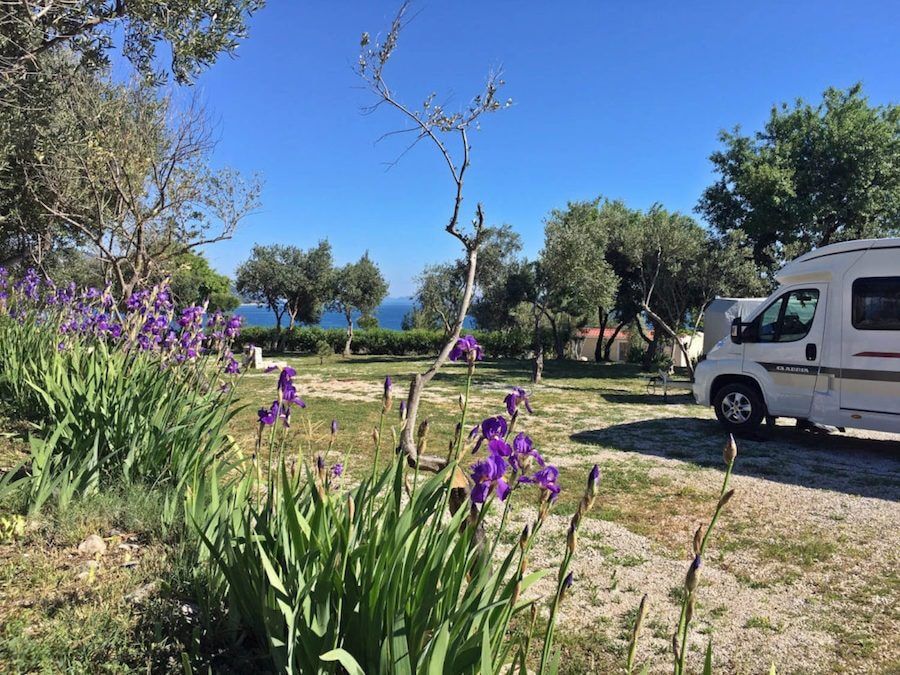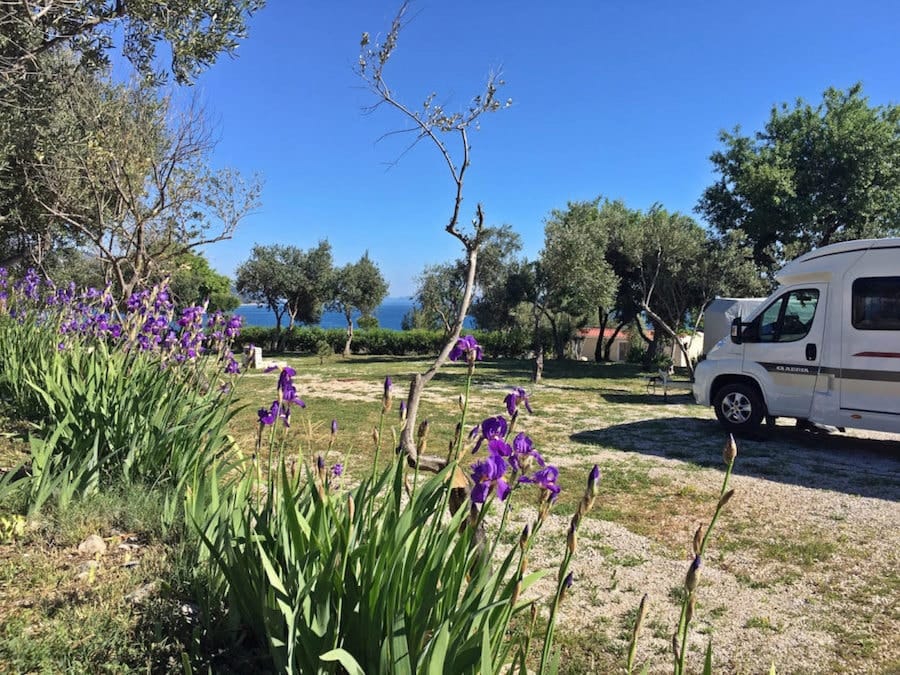 Located in Orebic, Peljesac, Nevio Camp is an award-winning camping Dubrovnik destination, as it has won the award for the best campground in the whole of Croatia for several years in a row! This is a 4-star campground, and there are plenty of facilities on-site, to the point where you might not want to leave!
You can easily reach the nearby islands, such as Hvar and Korcula, via the ferry. This is also one of the limited campgrounds which are open all year round.
Best For
Families
Couples
Large groups – an all-rounder!
Facilities
Shower and bathroom
Restaurant on site
Swimming pool
Nearby beach
Sports courts and facilities on site
Camping Kate
If you want a really authentic camping experience while not being that far away from the center of Dubrovnik (6 kilometers away), Camping Kate is a good choice. It's quite a hidden gem, so unless you do your research into camping facilities in the region, you probably won't hear much about it. That makes it unique, though, right?
The plus side is that you'll find the best nature and beaches around here without the crowds that tend to plague Dubrovnik these days. If you walk just a little (not too far), you'll come across several restaurants and cafes.
Best For
Couples
Those looking for a relaxing, authentic time
Facilities
Showers and bathrooms
Beach and restaurants not too far way
Good electricity
Tent rental facilities
Camp Kupari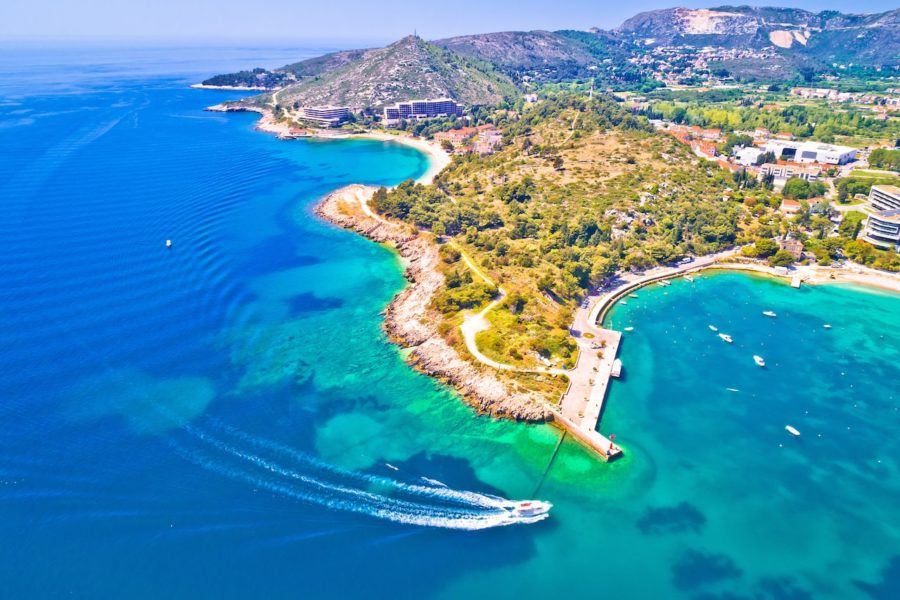 Around 6 kilometers from the center of Dubrovnik, in the beautiful Kupari region, you will find Camp Kupari. Within a natural setting, but close to many shopping facilities, including restaurants and bars, you'll be far enough away from the noise but close enough to it. Perfect to have a fantastic holiday! Within walking distance are many small, uncrowded beaches, including Kupari Beach and Srebreno. This is another campground that's open all year.
Best For
Couples
Small groups
Families
Facilities
Showers and bathroom
Beach within walking distance
Mall and shopping facilities within walking distance
Restaurants and bars close by
Autocamp Laguna
Anyone looking for a chilled-out, authentic experience will enjoy Autocamp Laguna. Situated in Plat, a small village by the sea, the campground itself is a few minutes away from the beach and a few small restaurants. Dubrovnik itself is just 8 kilometers away, and buses are running close by, as well as the boat if you want to try a more scenic route! Cavtat, another pretty town, is also nearby.
Best For
Couples
Small groups
Lone travelers looking for relaxation
Facilities
Showers and bathroom
Beaches very close by
Shopping facilities close by
On-site grocery store
Camp Pod Orasac
Located in a small village with a traditional feel, Camp Pod Orasac is on the edge of Dubrovnik, giving you the best of both worlds! For a really natural vibe, the campground is shady and surrounded by a large olive tree grove. The beach is small, offers plenty of shade, and is quite secluded.
Best yet, you won't have to worry about crowds! The nearby village has shopping facilities for stocking up on your supplies, and there are several small, authentic restaurants within walking distance.
Best For
Couples
Those who want to get away from it all
Facilities
Showers and bathroom
Good-quality electricity
Cooking facilities (free of charge)
Autocamp Lovor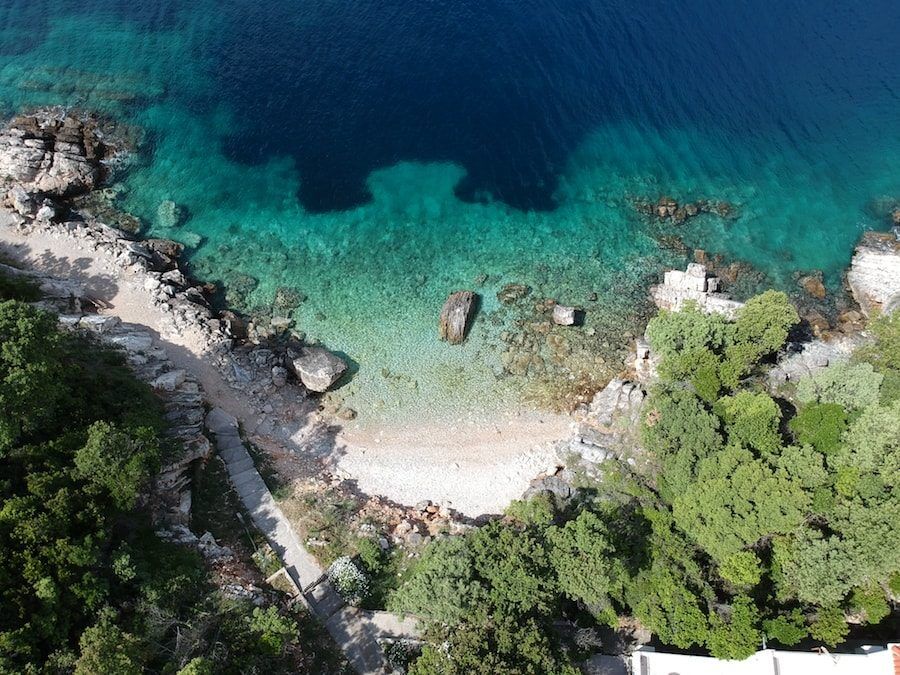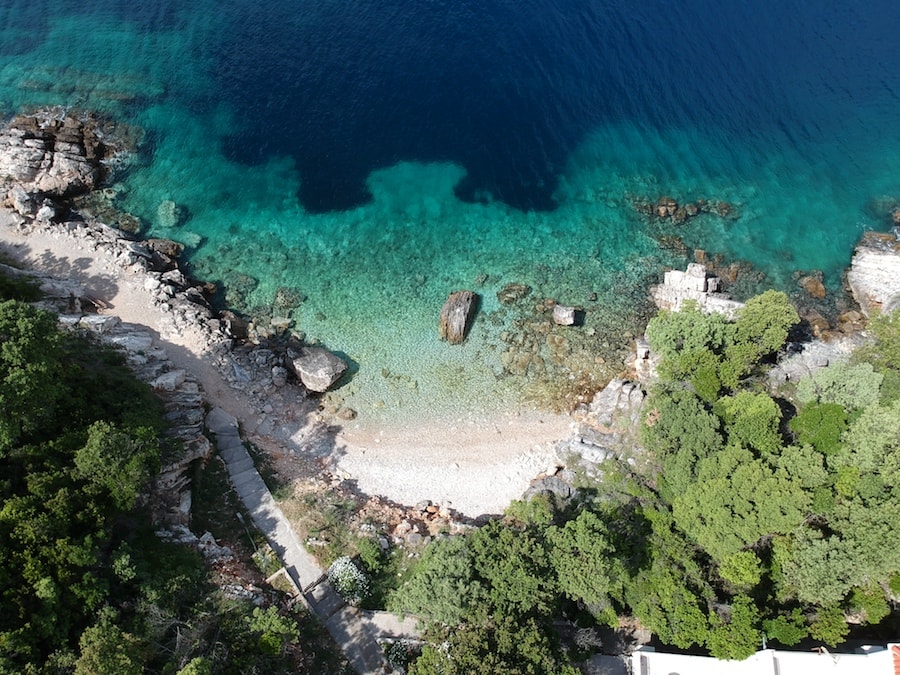 Mljet Island is beautiful, and that is where you will find Autocamp Lovor, specifically in Kozarica. If you love seafood and stunning views, this is a natural setting that you're going to adore from the moment you arrive, and this is the only campground on the entire island.
You're just a few minutes' walk from the beach and very close to the national park, with all the outdoor activities and wildlife spotting opportunities it offers. To get to Dubrovnik itself, you jump on the ferry from the harbor, which is really close.
Best For
Couples
Small groups
Nature lovers
Facilities
Showers and bathroom
Beaches on site
Biking areas very close by
Nature on your doorstep
Restaurants nearby
Camp Solitudo
The name brings to mind solitude and quiet, and that's not far from the truth! There's nothing lonely about this campsite, though, as it is very close to many beaches and restaurants. Set in the Lapad region of the city, you're very close to the center but far enough away to enjoy a camping experience. This is the only Dubrovnik campground that can really be classified as central.
There are also nearby Dubrovnik beaches and some large hotels, which generally grant campers the chance to use their pool and other facilities, too. There are camping homes on offer, rather than tents, and many restaurants and bars within a stone's throw.
Best For
Everyone – if you want to stay centrally while having a camping experience!
Facilities
Showers and bathroom
Good quality electricity
Washing machines on site
Cafe on site
Use of local hotel swimming pools
Beaches close by
Camping Prapratno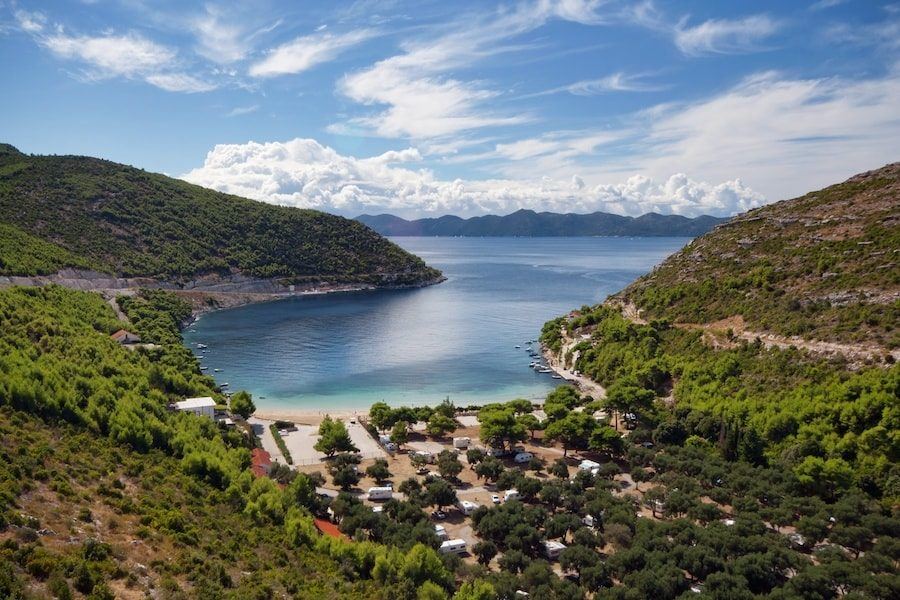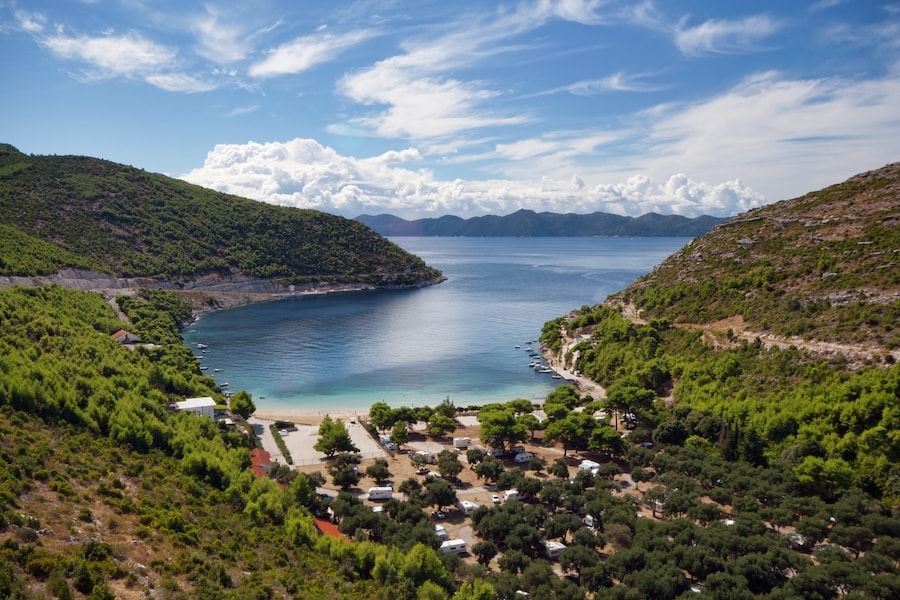 Just outside of Dubrovnik, in the beautiful Peljesac area, you will find Camping Prapratno. This is a popular choice and one with lots of facilities on site. The area around the place is packed with natural beauty, which you can simply gaze upon every single day, while the beach is large and offers plenty of room for splashing, playing, or generally relaxing.
This campground is within walking distance to Ston, where you can find some of the best oysters in all of Croatia and around 55 kilometers away from Dubrovnik itself.
Best For
Families
Couples
Nature lovers
Facilities
Showers and bathroom
Restaurants and cafes nearby
Beach within walking distance
Sports courts and facilities on site
Campsite Monika
Campsite Monika is located in a quiet area near Dubrovnik, around 40 kilometers away by road. The area is called Molunat and is set in stunning gardens, with tropical plants and a sandy beach within walking distance. This is a great place for families, with lots of space for toddlers and bigger kids to enjoy camping. This is also a large campsite, so groups will find it to be a good choice. There are several small restaurants and cafes within walking distance and a grocery store on site.
Best For
Families
Groups
Those who love nature
Facilities
Showers and bathroom
Laundry facilities
Freezers on site
Restaurants close by
Beach within walking distance
Pod Maslinom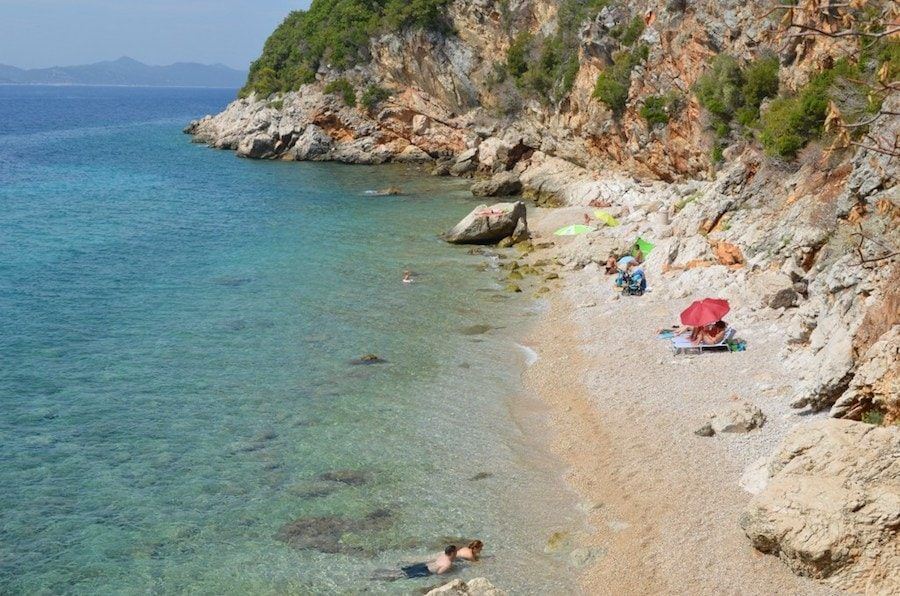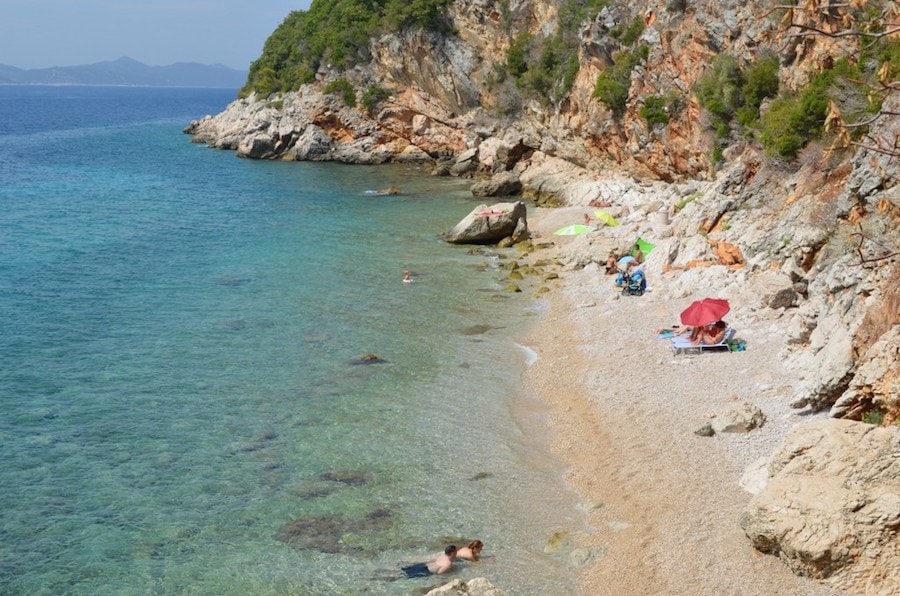 Pod Maslinom is another campground in the Orasac area, and it is set in totally natural surroundings for a really relaxing time. Just 11 kilometers from Dubrovnik, this is a medium-sized campground set in an olive grove and beautifully decorated gardens. Two small and uncrowded beaches are just five minutes away and perfect for swimming and chilling out. You can also see the Elaphite Islands on a bright day.
Best For
Couples
Those who want to relax
Facilities
Showers and bathroom
Good quality electricity
Two beaches within walking distance
Shops and restaurants close by
Auto Camp Trsteno
A top-rated auto campground near Dubrovnik, Auto Camp Trsteno lies in a beautiful natural area. You can camp on grassy sites underneath fragrant Mediterranean trees, while the lapping waves of the Adriatic are only a 10-minute walk away. In fact, thanks to its lush environment, it's one of the most peaceful places to camp around Dubrovnik.
The area's star attraction is the famed Trsteno Arboretum, a historical park home to a 15th-century villa and ancient trees. Only about 12 kilometers from Dubrovnik, this park is also famous for being a Game of Thrones filming location.
Best For
Facilities
Electricity
Pebble beach
Nearby convenience store and restaurant
Playground
Washing machine and facilities
Internet
More Croatia Accommodation Ideas