Privacy & disclaimers →
Rovinj Accommodation: Where To Stay In Rovinj
If you've seen postcards or advertisements of Croatia's northwestern region, then the chances are you've seen pictures of Rovinj. It's the idyllic Istrian city with a tall bell tower standing over the seaside city like a knight in shining armor.
If your Croatia itinerary includes a stop in Rovinj, you can find some of the city's best accommodation, no matter your budget, with this guide.
Accommodation in Rovinj is divided into several options, all with varying price points. There is something to suit cheap travel, luxury travelers, and those traveling with kids. Start your holidays in Rovinj, right.
Best 3-Star Hotels In Rovinj Croatia
For affordable yet well-appointed accommodation in Rovinj, you can't go wrong with these 3-star hotels.
Island Hotel Katarina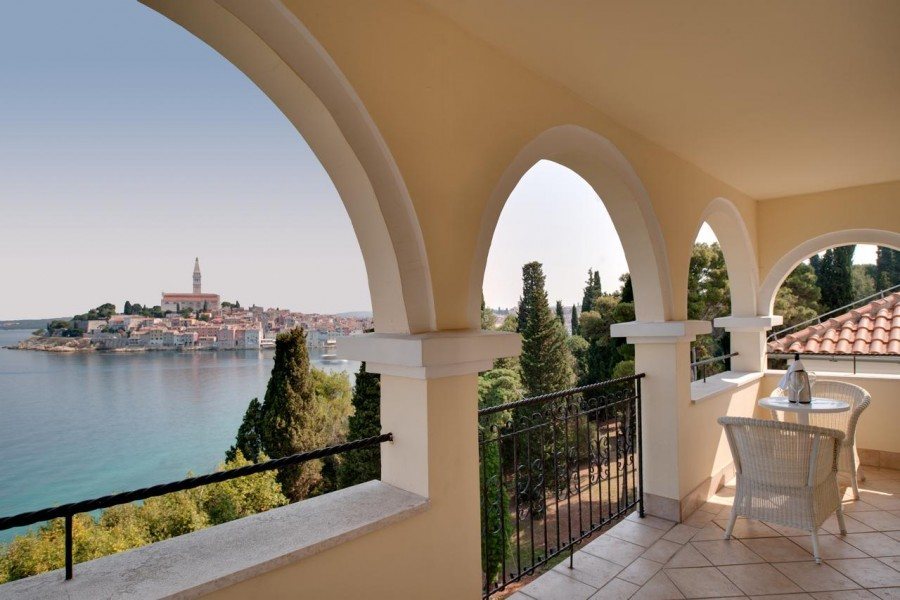 Location – Katarina Island
This hotel is located on its own island, with which it shares its name. This is a three-star hotel, offering a high-quality stay for less cash and a truly relaxing holiday. The hotel is set amid lush green gardens, with stunning views over the water towards Rovinj itself and Zlatni Rt park.
The hotel has large and spacious rooms, with free WiFi throughout the property. The balconies all offer stunning views of the natural landscape, while the large swimming pool is ideal for summer cool-downs. The property itself is also decorated in an opulent style, which really belies the cost of the property. Visitors will think they are staying somewhere much more expensive than they really are!
All rooms have air-conditioning, a flat-screen TV, a balcony, and a private bathroom. All bookings include breakfast. You can choose to upgrade your stay to include dinner as well.
Villas Rubin Apartments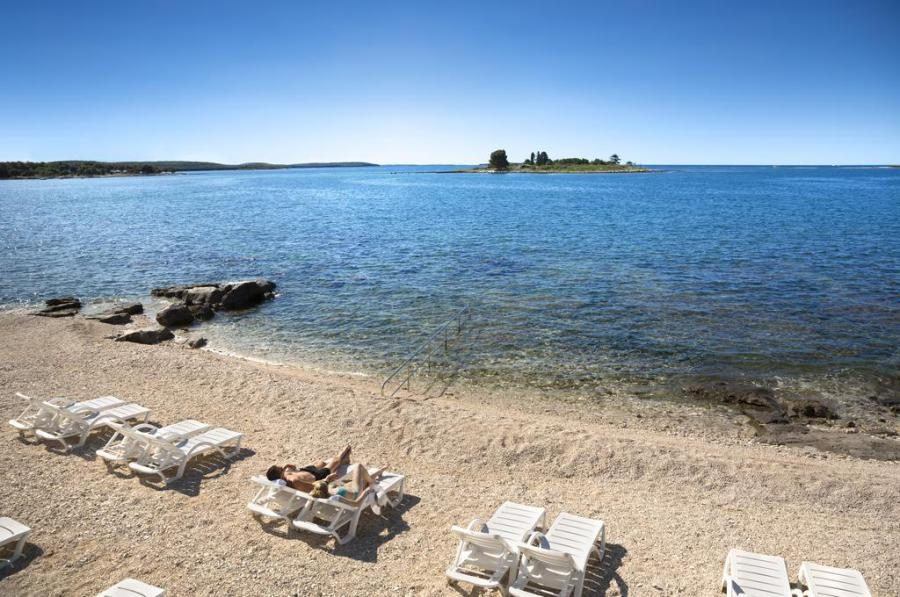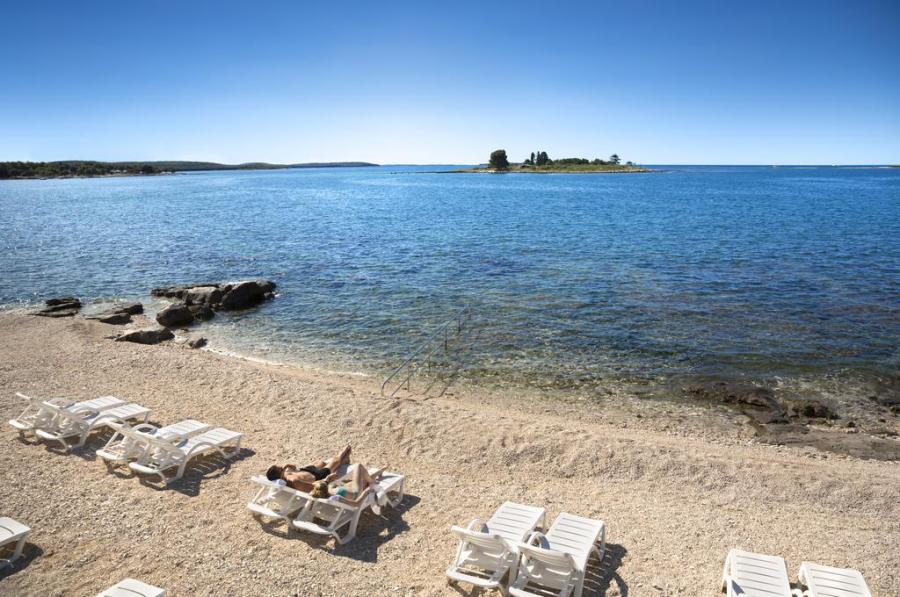 Location – 3 kilometers from the center of Rovinj
These three-star apartments offer a pleasant home-away-from-home experience in a quiet part of the area, 3 kilometers from the town center. The apartments have a large outdoor pool with a separate children's area and an on-site bar and restaurant. The pine forest surrounding the hotel is fragrant and offers welcome shade during the hot summer months. If you prefer the beach, however, there is a stretch of sand just 50 meters away.
There are sports facilities on-site, including tennis courts and a playground for children. Additionally, you can rent a scooter from the front desk to further explore the area.
Rooms are large and spacious and are decorated in a modern style. Free WiFi is available throughout the hotel, and all rooms have a balcony with a beautiful view, either of the sea or the pine forest.
Residence Porta Antica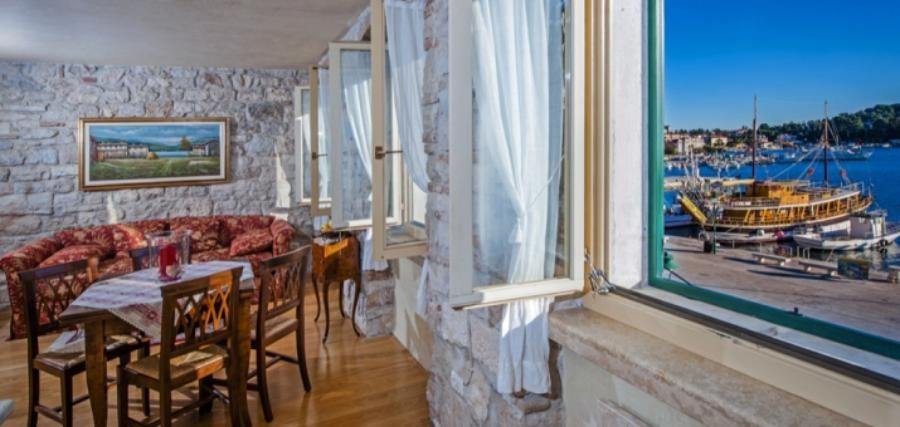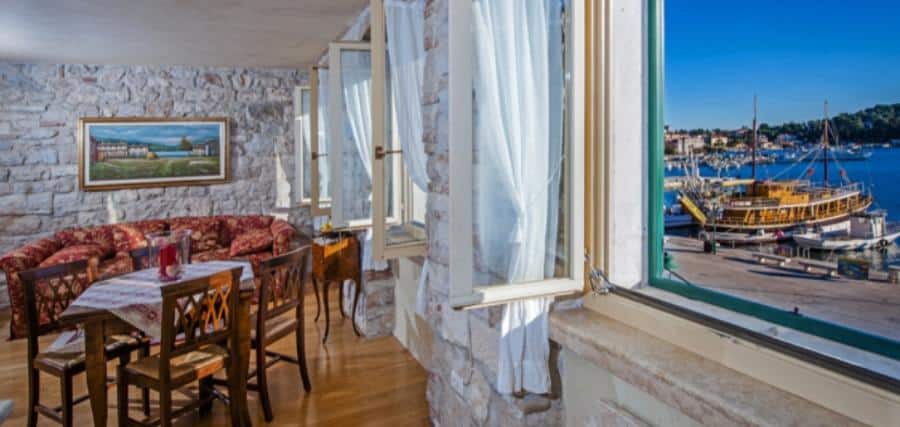 Location – Rovinj Old Town
This is a fantastic hotel, right in the center of Rovinj Old Town, overlooking the beach. The hotel might look regular on the outside, but you will find an authentic décor and a genuinely charming place to stay when you venture inside. You might even call this a hidden gem.
All rooms have air-conditioning, free WiFi, and plenty of space. The private bathroom is fully equipped, and all balconies provide a beautiful view over the water and the fishing village. The rooms are decorated in olde-worlde style, with exposed beams and brick floors. Honestly, there is nothing more charming and authentic than this!
The Residence Porta Antica is ideal for lone travelers or for couples who want to get away from it all and enjoy some special alone time. The hotel is also very close to many bars and restaurants, without being too noisy or in the middle of the hustle and bustle.
Mobile Homes Polari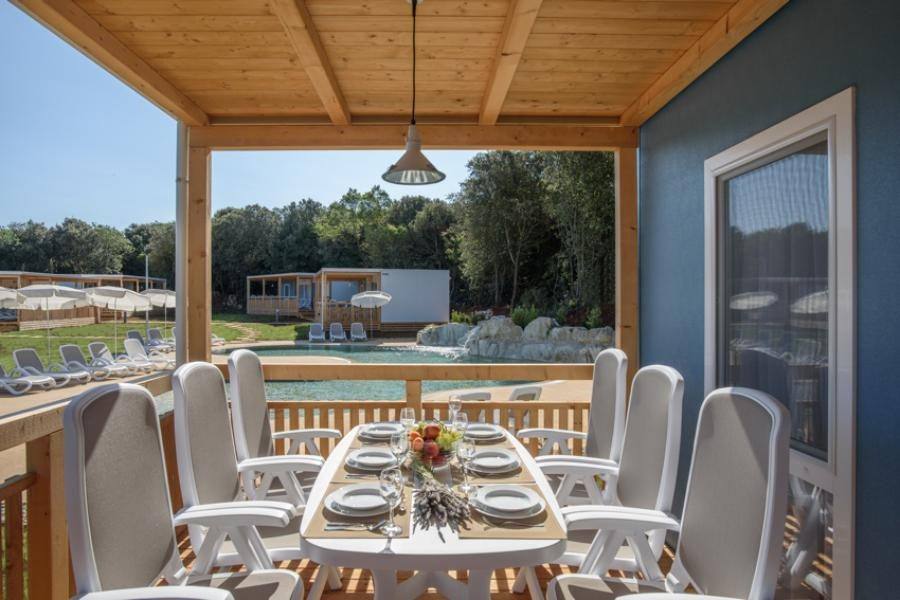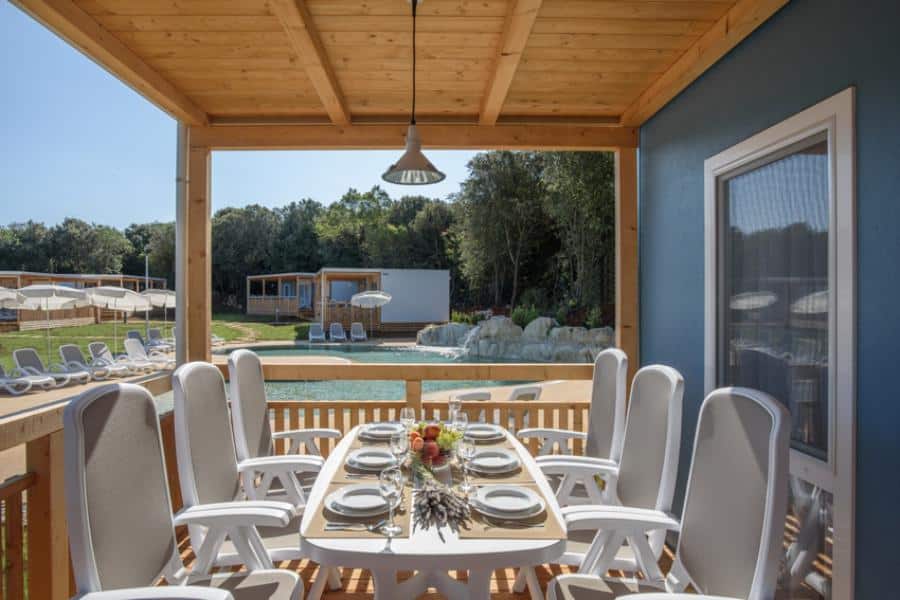 Location – 3 kilometers south of Rovinj
This campsite really does pack a punch, providing everything that you could need. People traveling with children, as a family, will love this particular establishment, as the entertainment and facilities on offer are second to none. It's ideal as a base, to hire a car and explore the area, as this campsite is located 3 kilometers away from Rovinj itself.
You can choose to camp in a tent, stay in an apartment, or mobile home. The facilities include a large swimming pool, with a dedicated children's area, a Blue Flag beach, tennis, beach volleyball, basketball, and table tennis facilities. A children's playground has a mini-club and entertainment programs during the summer months.
Getting around isn't difficult at all, as this campsite has easy road links into Rovinj and beyond. Free WiFi is also offered across the campsite, helping you to stay connected.
Campsite Ulika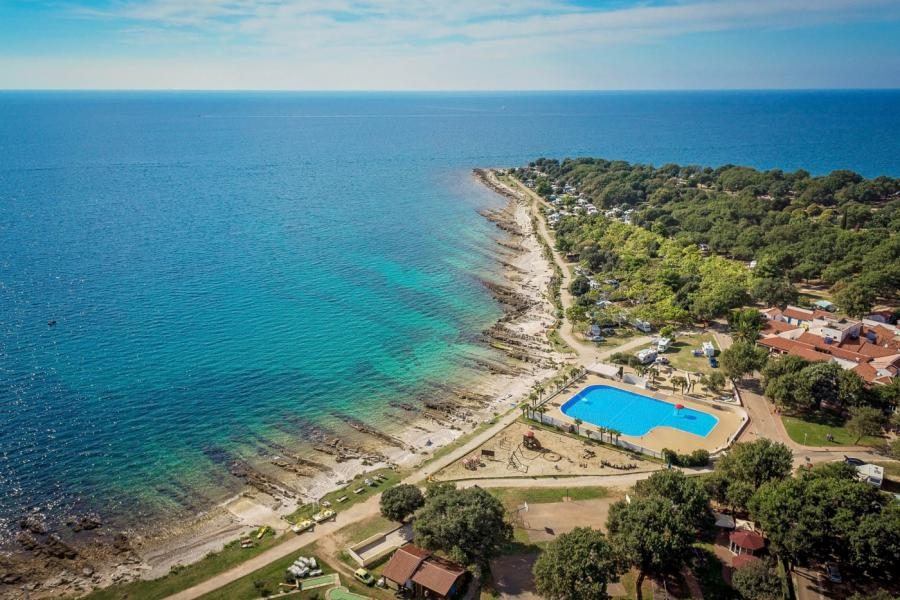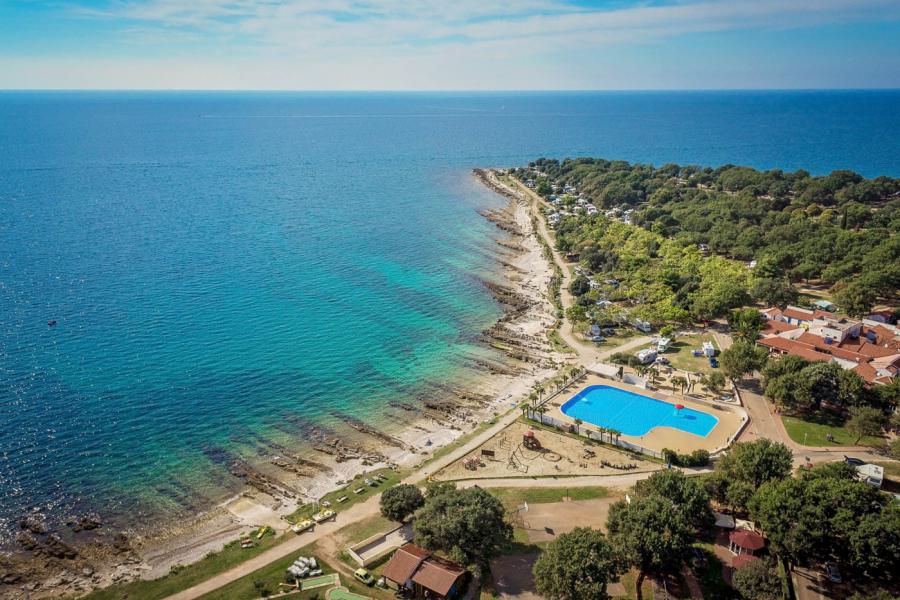 Location – On the outskirts of Rovinj
This is a family-run campground on the outskirts of the town. Nature surrounds you on all sides here, including olive trees, vineyards, and plentiful greenery! This is ideal for those who want to get away from it all and really enjoy nature while being in close proximity to a sizeable touristic town.
There are 43 pitches available, and the camp is small, so it will never feel crowded or overrun with noise. There is an on-site children's playground, treehouse, table tennis facilities, and a small swimming pool. Free parking comes as standard, and there is free WiFi throughout the campsite, which isn't always the case with some other sites of this type!
Getting around the area is easy, as the campsite is connected to good road links into and out of Rovinj itself. Renting a car and exploring is, therefore, a great way to appreciate the nature of Istria.
TRAVEL COMPANIES WE USE AND TRUST
Best 4-Star Hotels In Rovinj Croatia
Hitting that sweet spot between affordability and high-end luxury, the following 4-star Rovinj hotels will cater to many visitors looking for a comfortable stay.
Hotel Adriatic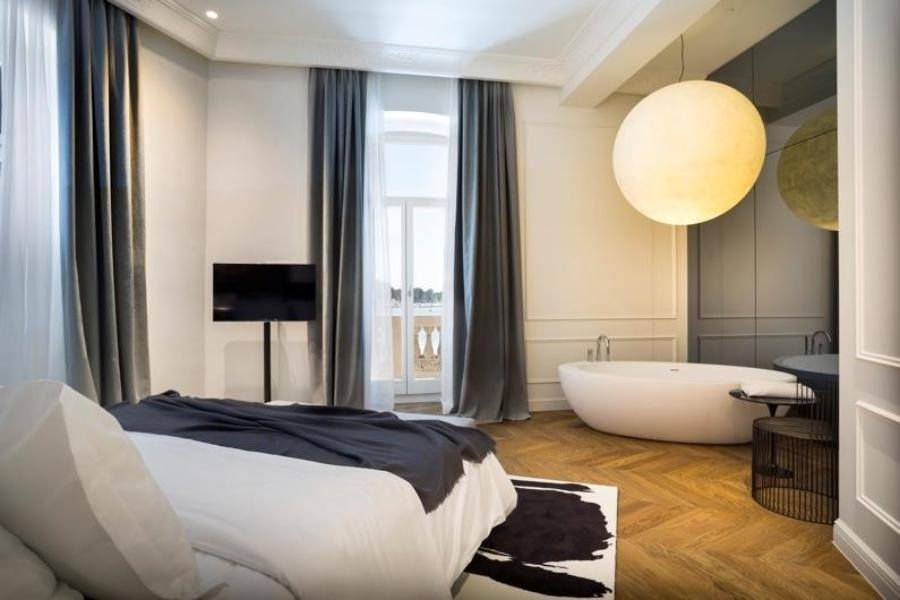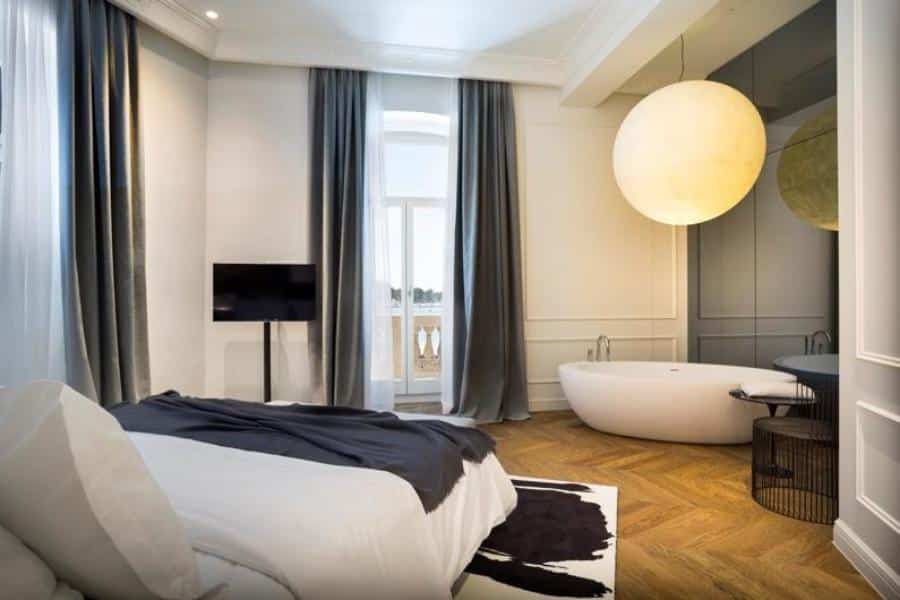 Location – Rovinj Old Town
This stylish boutique hotel has recently been renovated to a new and highly modern standard and is also located right in the heart of the Old Town. The views from the hotel range from the harbor to St Catherine's Island and into the Old Town's Main Square. You will also find a restaurant and two bars on-site, so you never have to head out too far for entertainment.
Rooms are decorated in a contemporary style, and all have air-conditioning and a Smart TV, a minibar, and tea and coffee making facilities. The bathrooms are all private and include a hairdryer. WiFi is free throughout the building.
Breakfast is served in the a la carte restaurant. An on-site coffee shop and bar, which are both open throughout the day, have a terrace overlooking the sea. The spa is available for all guests to enjoy treatments, as is the attached fitness center.
Family Hotel Amarin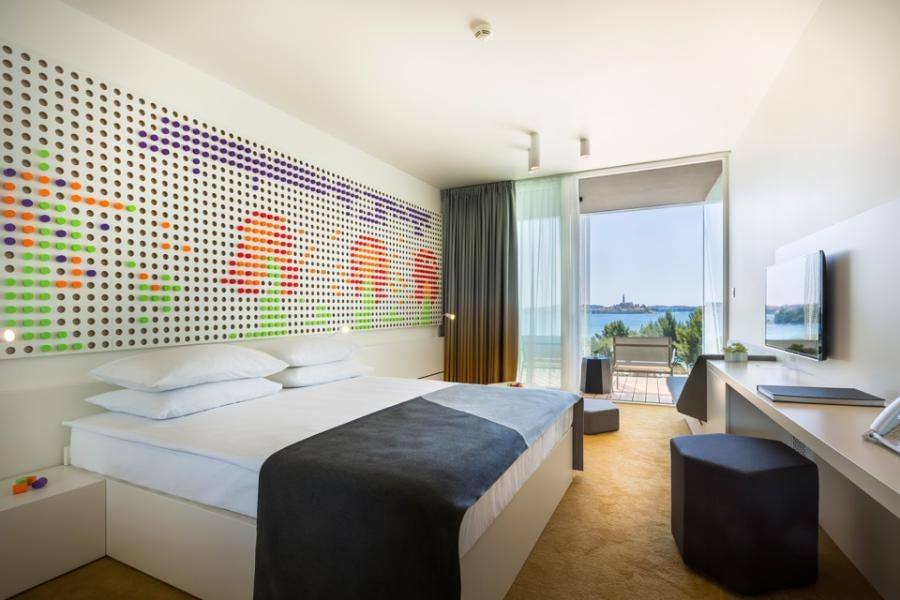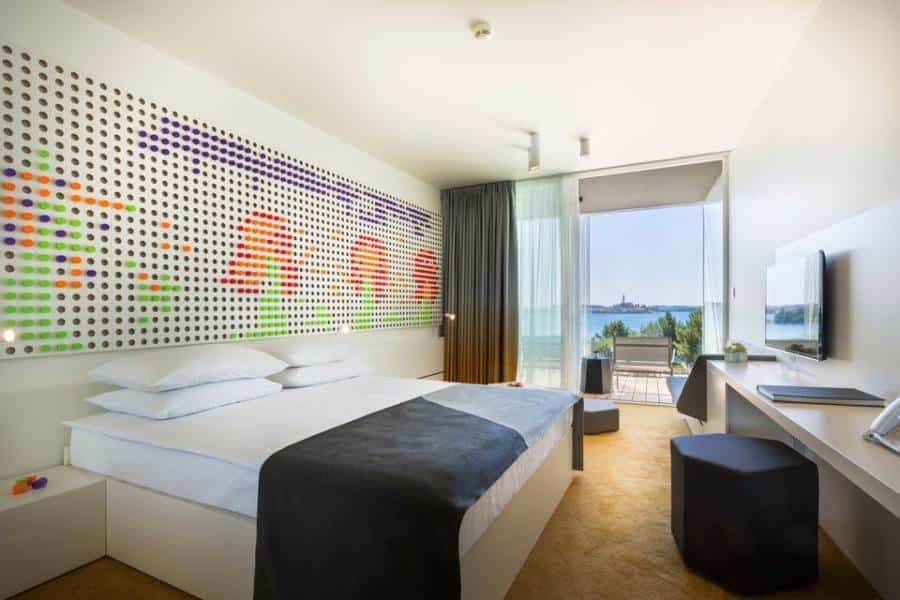 Location – 4 kilometers from Rovinj Old Town
The Family Hotel Amarin is located on a private peninsula and is around 4 kilometers away from the Old Town of Rovinj. The hotel has everything that you could need, as well as a private bus stop just 100 meters. Getting to the Old Town for an exploration visit is a piece of cake.
There is a mini Adrenaline Park on-site, which is ideal for the kids, and a spa and wellness area offering various treatments. Also, there are three outdoor swimming pools. Separate areas for babies make this a fantastic hotel for family summer breaks for this very reason.
Rooms are clean, modern, and comfortable, and all have air-conditioning, a flat-screen TV, and a private bathroom. The on-site restaurants are large, while you can grab snacks and drinks during the snack bar day.
Also, don't forget to read up on what to expect when bringing the kids to Croatia to make sure your bases are all covered!
Hotel Arupinum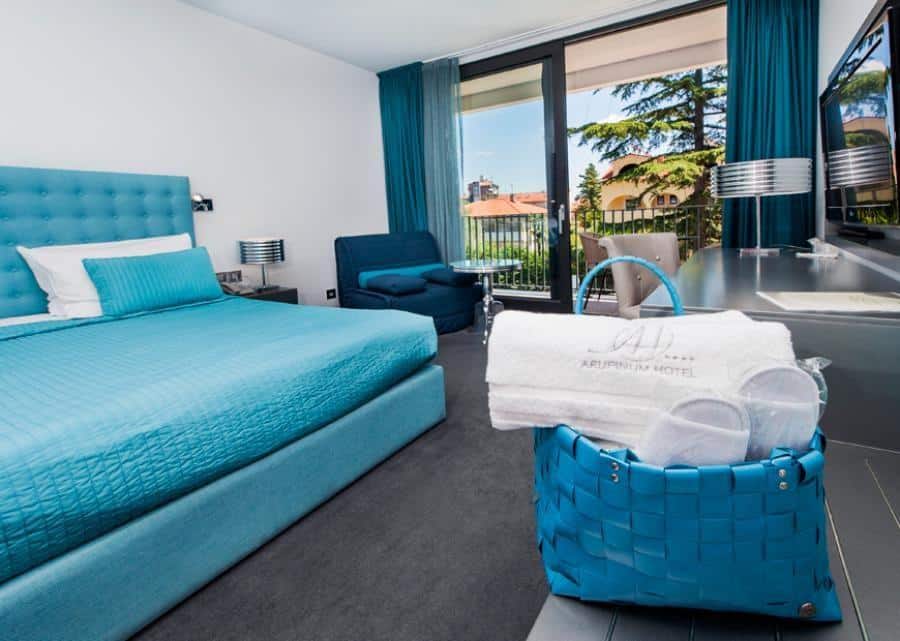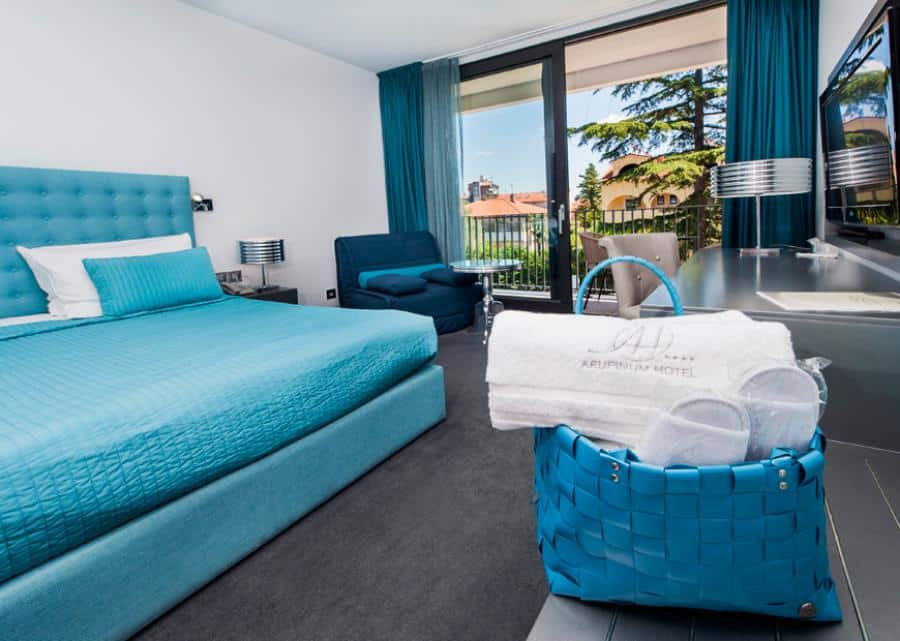 Location – 200 meters from Zlatni Rt Nature Park
This four-star hotel is located around 5 minutes walk from the beach and is just 200 meters from the beautiful Nature Park Zlatni Rt. Therefore, the hotel's surroundings are very natural, making this an ideal hotel for anyone who wants to kick back and truly relax. All rooms are very comfortable and come with air-conditioning, a flat-screen TV, a minibar, and a safe. They also all have a balcony with a view of the natural landscape.
There is a wellness center and spa on-site and sporting facilities, including tennis courts and basketball courts. Just 800 meters away is the local bus service, which will conveniently take you around the area.
The buffet breakfast is large and truly delicious, served outdoors during the summer months, while WiFi is available for free across the hotel. Additionally, private parking is also free of charge for guests.
Villa Tuttorotto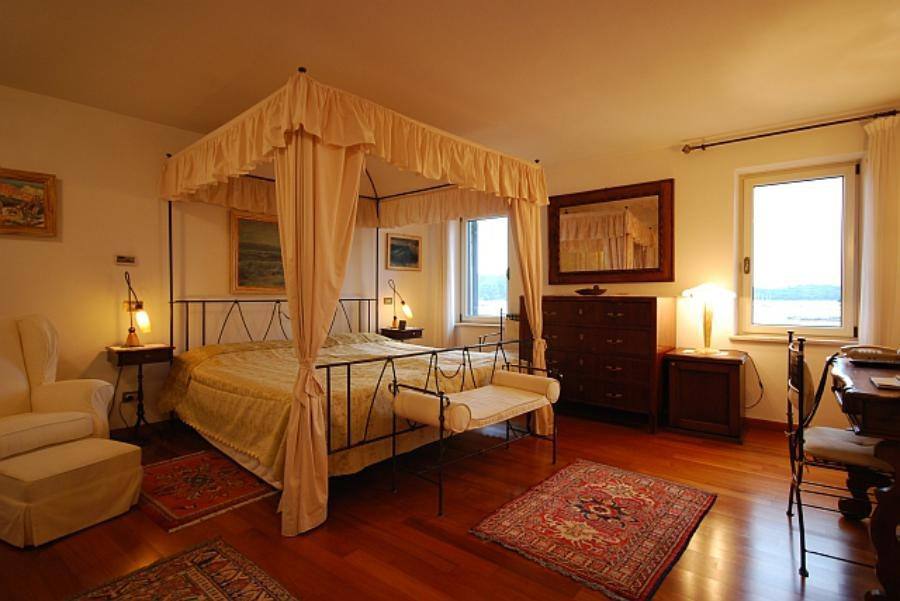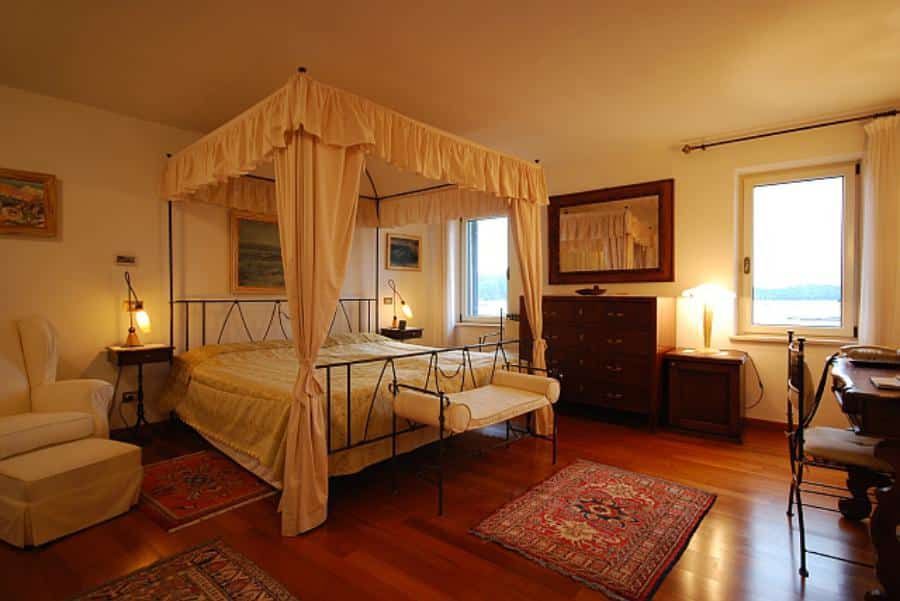 Location – Central, overlooking the harbor
This hotel is authentic and genuinely Istrian in style, which makes it stand out. For anyone who wants to stay somewhere boutique, i.e., away from a large all-inclusive or half-board resort, this hotel could be ideal.
Located just a stone's throw from the center of Rovinj, overlooking the harbor, the hotel offers a buffet breakfast to start your day. There are also plentiful restaurants in the streets surrounding the hotel. If you have a special occasion looming, you can even enjoy a private dinner on the balcony.
Rooms are stylishly decorated, and all come with air-conditioning and free WiFi, as well as a minibar and satellite TV. Rooms have wooden floors, which help to keep you cool during the warm summer months, and large private bathrooms.
This is an ideal place to stay for couples who want to get away from it all and have a romantic break.
Island Hotel Istra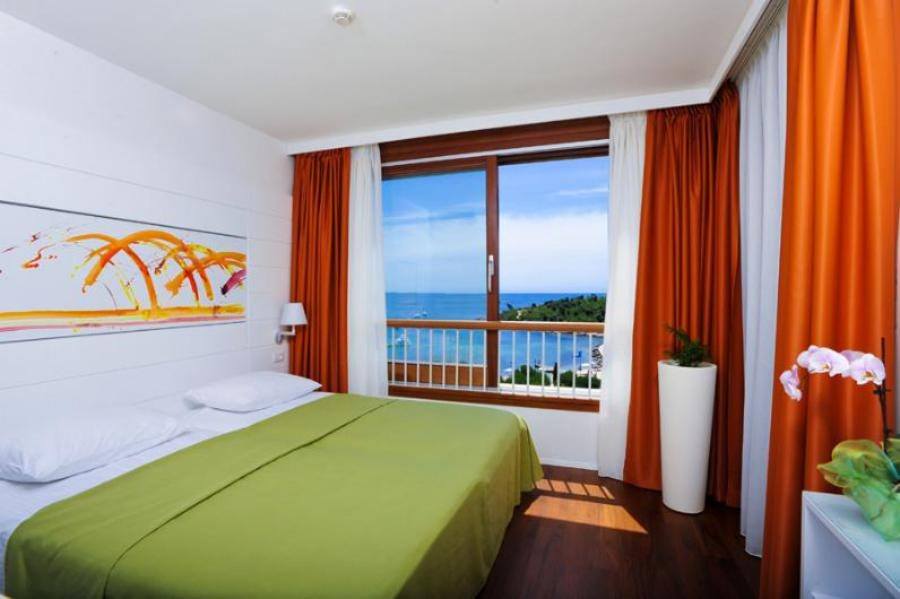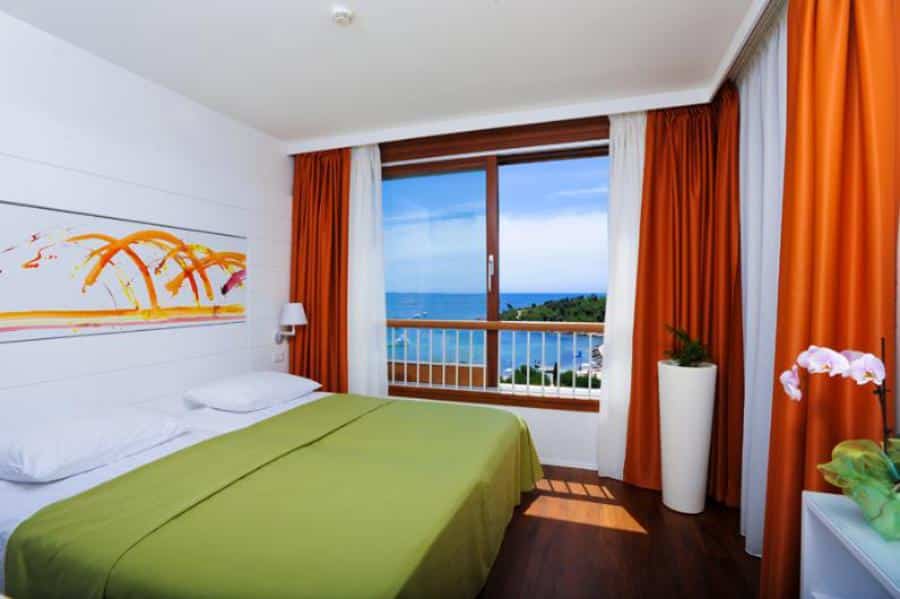 Location – St Andrew's Island
You may feel like you're cut off on your own personal island when you stay at this hotel. However, you're actually very close to everything that Rovinj has to offer. Perhaps that is why so many people love this particular hotel. Located just 10 minutes away from the beach, this hotel has balconies with stunning sea views and is also a great family hotel. There is a great entertainment program on offer every night, and WiFi is available free of charge across the whole hotel.
You can choose a half-board option with this hotel, which, again, is terrific for families. You can dine at the on-site restaurants, serving both local and international dishes.
To reach Rovinj itself, you simply jump on the 15-minute boat that regularly runs throughout the day. Having said that, there is plenty to keep everyone occupied on the hotel grounds, too.
Apartments Nina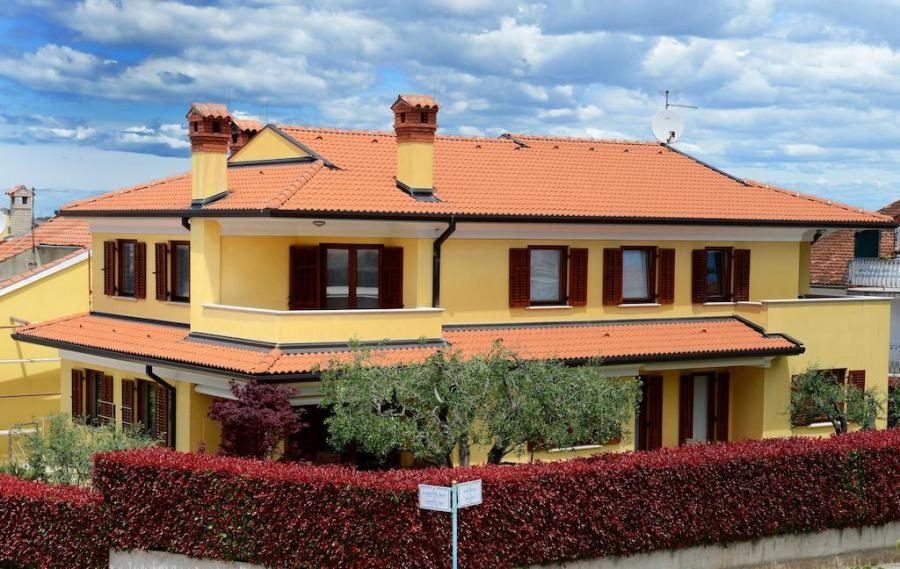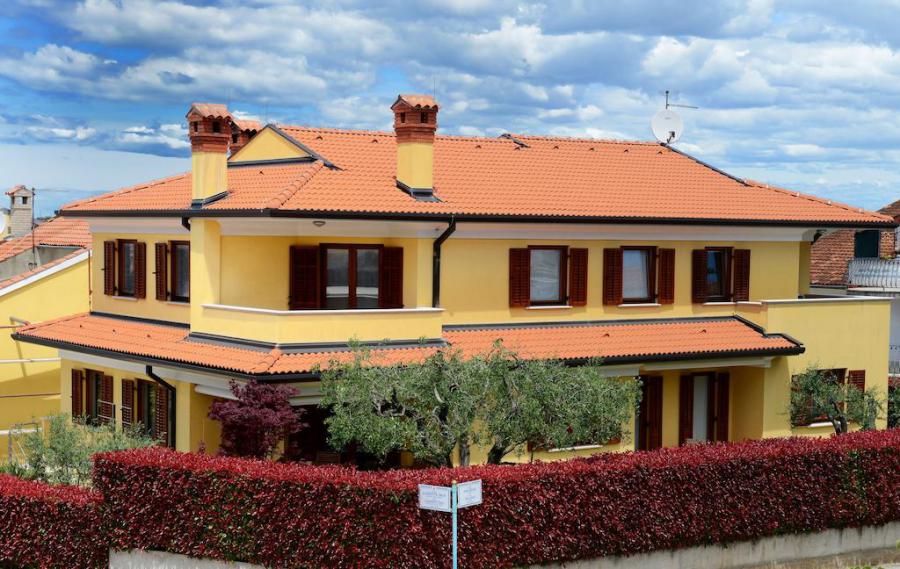 Location – 1.5 kilometers from Rovinj Old Town
This is a great spot to stay if you want to be totally private during your holiday, e.g., you want a home-away-from-home base to enable you to get out and explore Rovinj however you please. There is free WiFi throughout the property, as well as free parking. The nearest beach is only 15 minutes walk away, while Rovinj Old Town is around 1.5 kilometers from Apartments Nina.
All apartments feature a flat-screen TV, a fully equipped kitchen, a balcony, and a patio. The private bathroom has a bath or a shower.
Close to the apartments, you will find a café, a grocery store, and a restaurant specializing in local dishes, including seafood. It is easy to get to Rovinj via the local bus service. Overall, this is a fantastic option if you prefer a more independent travel style.
Hotel Eden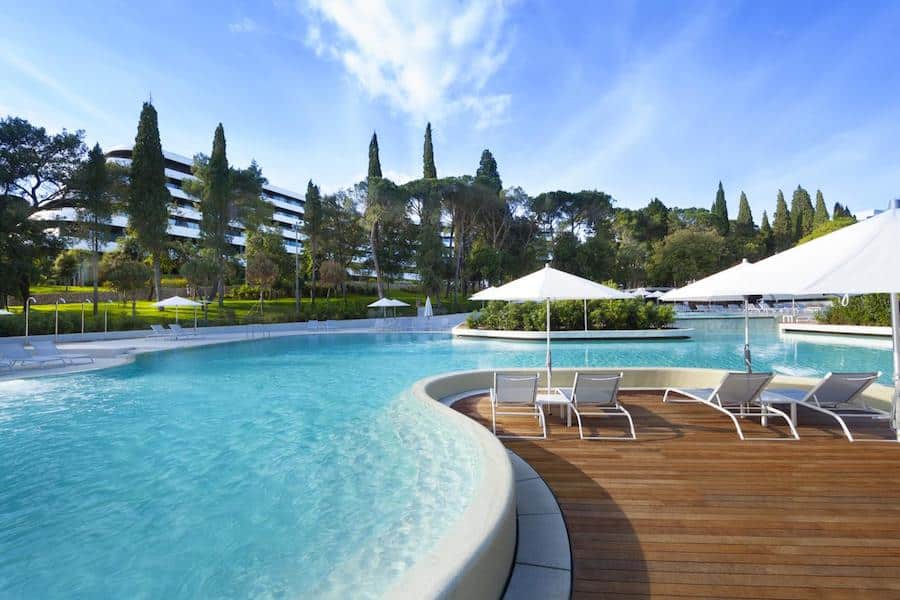 Location – Zlatni Rt Nature Park
Situated on the edge of one of the town's greatest natural attractions, Zlatni Rt (or Golden Cape) Park, the 4-star Hotel Eden offers accommodation in Rovinj in a lush and relaxing environment. It offers easy access to the bay and warm water of the Adriatic Sea, where free beach chairs and parasols await on the beach.
Guests can also go for a swim at the hotel itself. It features an indoor pool and no fewer than three outdoor pools at the pool complex, including a whirlpool, geysers, pool bar, and sun terraces. And if that's not enough to make this one of the best Rovinj hotels for a revitalizing holiday, there's also a large spa and wellness center. This area encompasses everything from an infrared and Finnish sauna to steam room, fitness center, four treatment rooms, and one spa suite for couples.
Other Hotel Eden facilities include a summer stage, a kids' club, land and water sports, hobby workshop spaces, and various restaurants. WiFi is available free of charge. Rooms come with air-conditioning, a balcony, satellite TV, and a private bathroom.
Residence Rovinj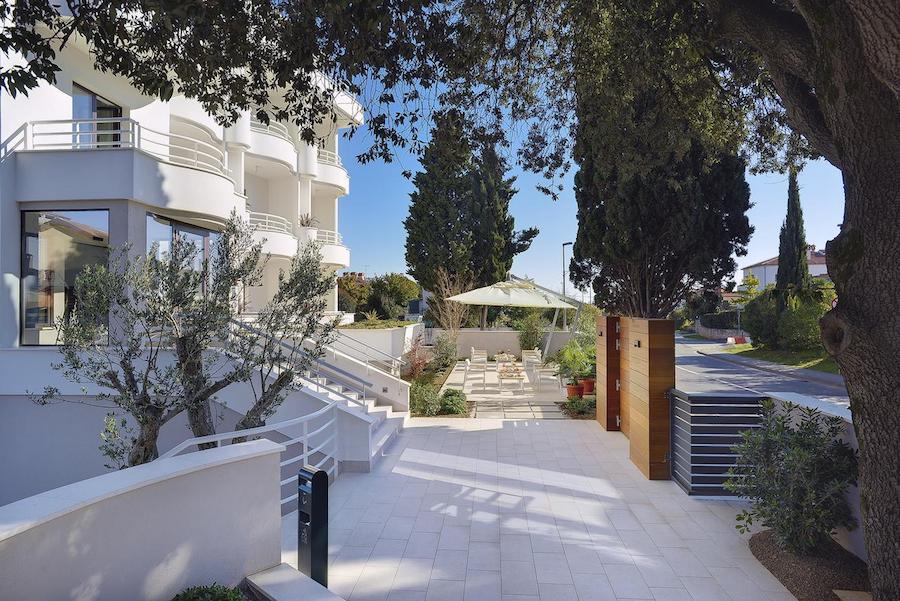 Location – 1.5 km from the Old Town
Located about 1.5 km from the Old Town, Residence Rovinj is a beautiful 4-star hotel that serves as a great base to explore the area. Accommodation is available in air-conditioned rooms, all of which come with free WiFi, a seating area, safe, mini-bar, flat-screen TV, and balcony. Each room also has its own private bathroom with a bathtub or shower and free toiletries.
Free parking is available on site, while there's a coffee house and bar as well, great places to respectively start and end your day in Rovinj. This Rovinj accommodation provides its guests with a rich and elaborate breakfast each morning. They can rent bikes here, too.
Hotel Angelo d'Oro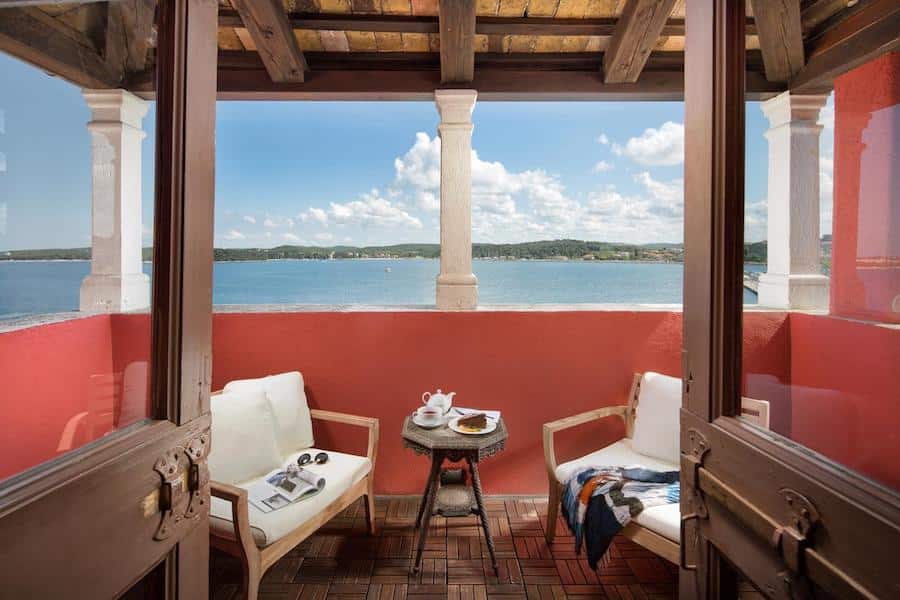 Location – Rovinj Old Town
If you're looking for luxury hotels in Rovinj, Croatia, that are close to top attractions, you should definitely take a closer look at Hotel Angelo d'Oro. This fantastic hotel is in the heart of the Old Town, located on a pedestrian street and housed in a former 17th-century bishop's palace. It's easily one of the most historic hotels in Rovinj to stay at.
Its green-shuttered façade features a distinct Venetian style, while on the inside, exposed stone walls and vaulted ceilings provide charm, relaxation, and an intimate vibe. Guests can enjoy an amazing view of the roofs of Rovinj's houses from the small rooftop loggia. Rooms are beautifully decorated and feature a private bathroom, air-conditioning, and garden, sea, and/or street views. Free WiFi is available throughout the property, while there's also an on-site bar.
Best 5-Star Hotels In Rovinj Croatia
If you're looking for a luxury 5-star hotel in Rovinj, Croatia, you'll definitely want to check out the following top-rated accommodations.
Hotel Lone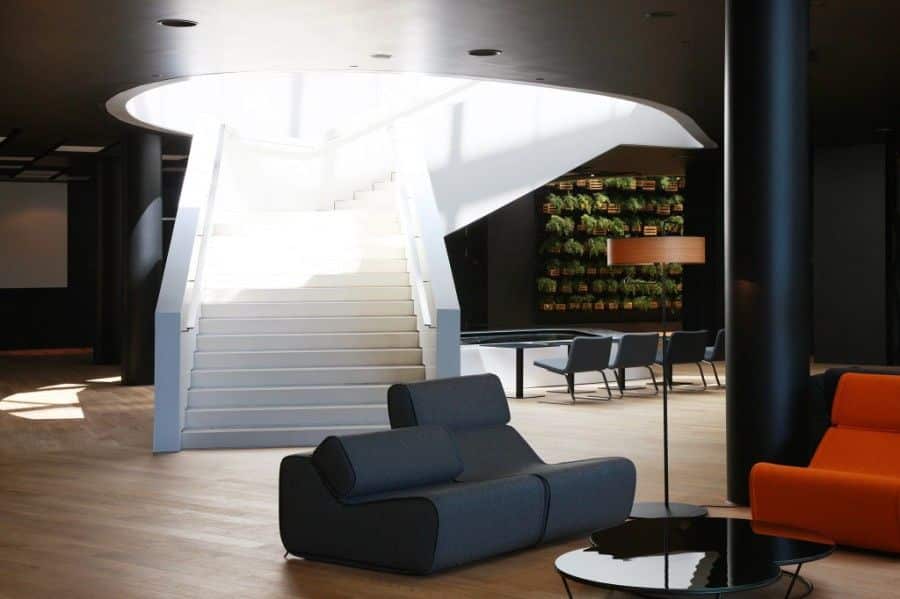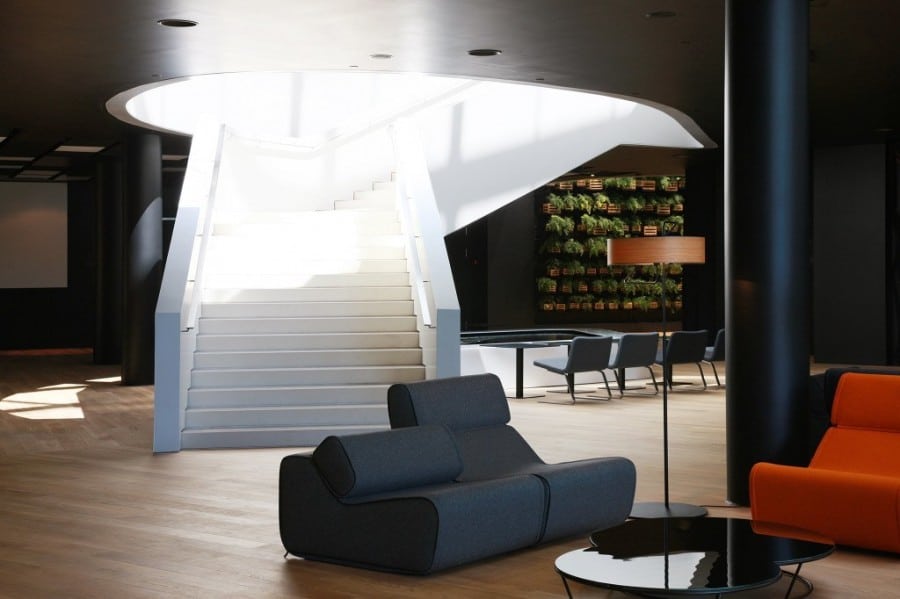 Location – Zlatni Rt Nature Park
The Hotel Lone is one of the most visited and prestigious hotels in Rovinj, and it is just 2 minutes walk away from the beach. The wellness center is top class, and visitors can enjoy countless different treatments on-site.
The hotel is also just 15 minutes walk away from Rovinj center itself, which gives you a break from the hustle and bustle without being totally out of it.
All rooms in the Hotel Lone have modern décors, with a flat-screen TV and air-conditioning. There are plenty of things to keep visitors occupied, including a sushi bar, a nightclub, and several restaurants, which means you're certainly not cut off. The spa and wellness center is really what sells the property, however, as well as the indoor and outdoor pools, where you can enjoy the sunshine in chilled-out surroundings.
Monte Mulini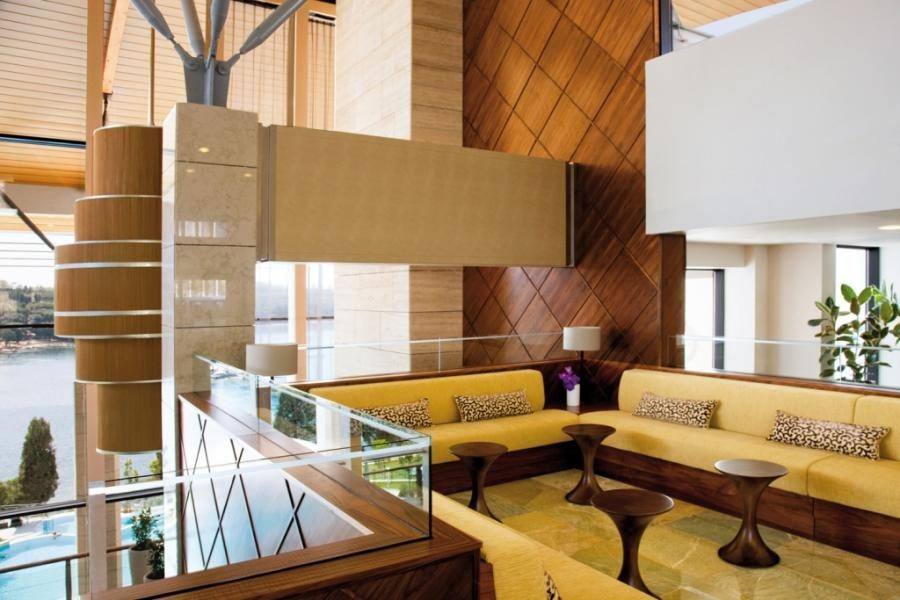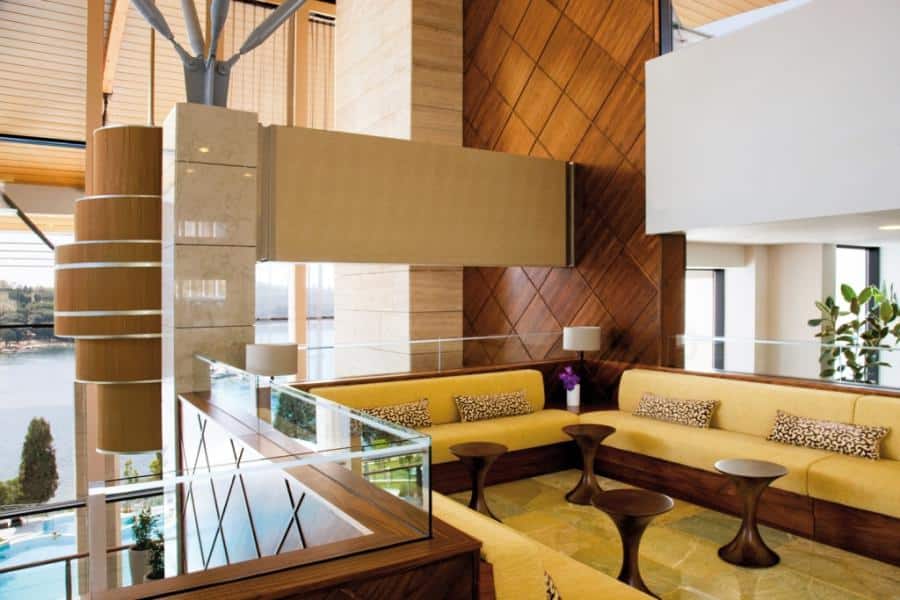 Location – 10 minutes' walk from Rovinj Town Center
If you are looking for a hotel that has a stunning view over the water and numerous outdoor activities to enjoy, as well as two large outdoor swimming pools, the Monte Mulini is an excellent choice for you. Located just 10 minutes walk away from the town center, this hotel is packed with everything you need for a luxurious break.
Rooms have a balcony that offers a pool, garden view, or sea views, as well as free WiFi and air-conditioning. They also all have satellite TV, a minibar, and bathrooms with walk-in showers. The large wellness center is packed with generous amenities, including indoor and outdoor pools, saunas, gyms, and a garden decorated in Mediterranean style.
On-site, you will find a large restaurant, Mediterraneo, designed for fine dining, while the Wine Vault also serves delicious French and Mediterranean cuisine. On top of that, the hotel has a private stretch of pebble beach, Mulini Beach, that overlooks Lone Bay. There are many bars and restaurants that belong to the hotel on this stretch and a beach concierge and other facilities.
Grand Park Hotel Rovinj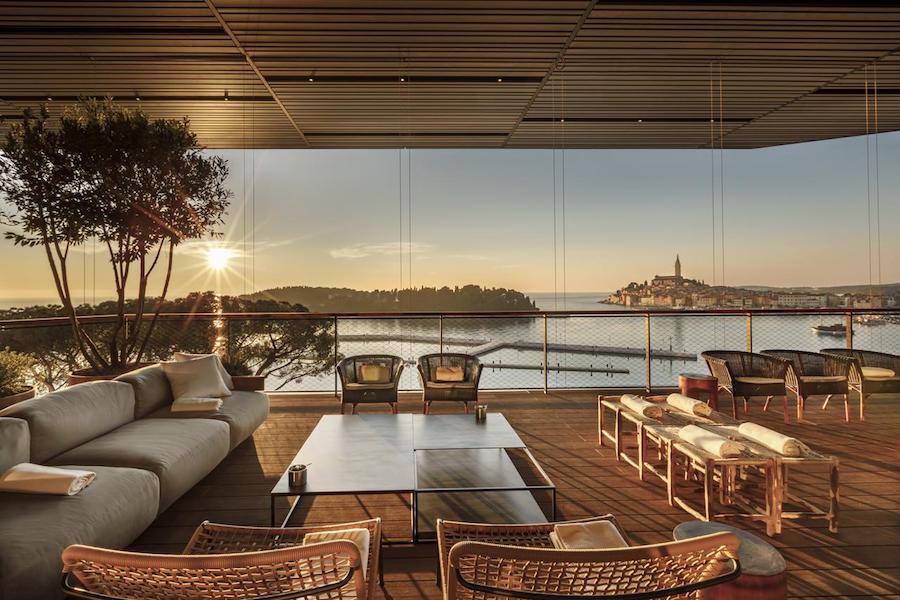 One of the latest additions to Rovinj's five-star hotels, Grand Park Hotel raises the bar as to what a luxury hotel in Croatia can be. This large accommodation overlooks the Rovinj Old Town, easily one of the country's prettiest historic towns. The views are truly phenomenal, while it's only a short walk to the Old Town. This elegant has no lack of world-class facilities either.
In addition to stellar views, there's a spa and wellness center, an outdoor swimming pool, multiple bars, restaurants, and a pastry shop. There's even a private marina near Marina Beach! Guests looking for some exercise can go biking, jogging, or play a game of tennis. In terms of the rooms, those are top-notch as well, featuring everything from a seating area with a smart TV to private bathrooms with walk-in shower and bath. Every room has either a balcony or a terrace.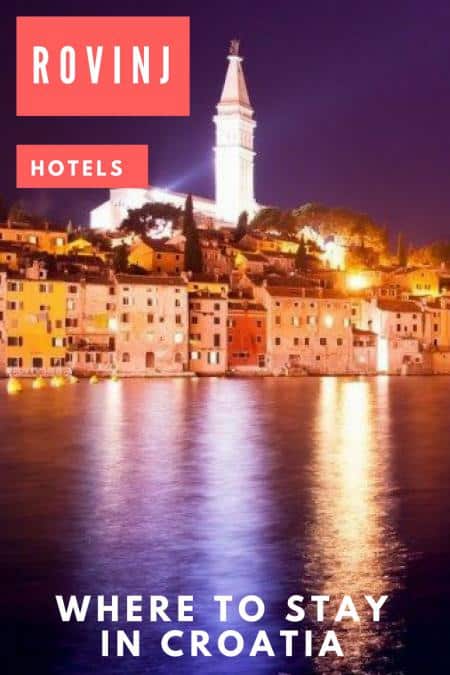 Apartments In Rovinj Croatia
Add apartments to your list of where to stay in Rovinj. Apartments for rent in Rovinj are somewhat hit and miss, though, so do read the location and reviews before you make a booking.
You can book vacation rentals through Booking.com, or you can take a more personal route and use a guesthouse. Hosts are accommodating and will give you local info, like where to eat in Dubrovnik. Use
Suggestions For Things To Do In Rovinj
If you're planning on visiting the picturesque city of Rovinj, Croatia, named one of the most beautiful coastal towns of 2014 by Travel and Leisure Magazine, and you want to make the most of your vacation but aren't sure where to start, check out our list of the best things to do in Rovinj Croatia. From truffle and olive oil sampling to scuba diving and cycling, there's something everyone in the family will enjoy!
Where Is Rovinj?
With Zagreb Airport being a central hub in Croatia, many travelers fly into Zagreb and then use these route options to get to Rovinj.

MORE CROATIA ACCOMMODATION TRAVEL BLOGS