Some posts contain compensated links. Please read this disclaimer for more info.

Luxury Hotels In Montenegro: A Guide On Where To Stay In Montenegro
It may be a small and unassuming country, but Montenegro surely holds its own among Balkan heavyweights like Croatia and Greece. Home to magnificent mountain scenery, blessed with fantastic beaches, and dotted with attractive towns, it's an excellent place for a summer holiday. In fact, when planning your next off-the-beaten-path getaway, you might be interested in checking out the best luxury hotels in Montenegro on the beach below.
They're arguably the best places to base yourself in Montenegro while exploring the charming country, boasting all modern amenities, great locations, and outstanding services.
Most of the 5-star luxury hotels in Montenegro are along the coast. Whether it's the scenic Bay of Kotor or popular Montenegro resorts like Budva and Sveti Stefan, that's where you'll find the vast majority of high-end Montenegro accommodations. Its capital of Podgorica, on the other hand, also has a few upscale hotels.
Luxury Hotels In Bay Of Kotor, Montenegro
Boutique Hotel & Spa Casa Del Mare – Mediterraneo, Kamenari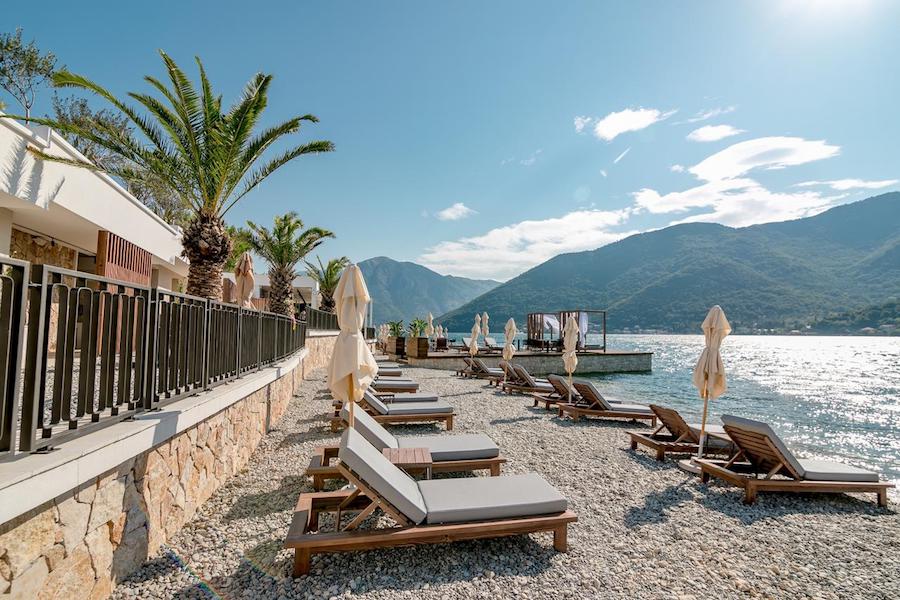 Situated in the tiny town of Kamenari in the heart of the Bay of Kotor, Boutique Hotel & Spa Casa del Mare offers accommodation with fantastic sea views and a private beach.
There's a garden and terrace, too, while their car, motorcycle, and even yacht rental service allows you to explore the bay in your favorite way. You can also join an organized excursion.
At the beach, guests can use sun loungers and beach chairs free of charge. There's a daily continental breakfast, and the excellent onsite restaurant served Mediterranean dishes, with a selection of vegetarian choices.
Located only about 16 kilometers from the historic town of Kotor and 30 kilometers from Budva, it's a great base to explore northwestern Montenegro.
Lazure Hotel & Marina, Herceg-Novi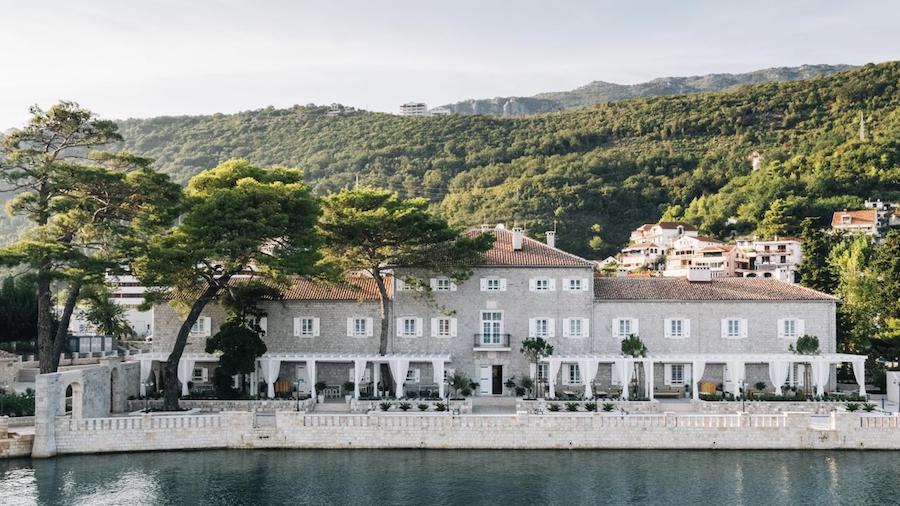 Housed in a gorgeous stone building on the shore of Kotor Bay, the 5-star Lazure Hotel & Marina provides the ultimate luxury in both accommodation and amenities. All rooms and suites are in a beautiful 18th-century historic building and boast a modern-rustic décor. They have either courtyard or sea views. The private bathrooms have a walk-in shower or spa bath.
Free WiFi and private parking are available, while there's also a conference center and a scenic outdoor garden venue. The latter is, by the way, a super-popular wedding venue. The resort's three restaurants serve Mediterranean cuisine; you can head to the wine bar or lounge bar for fine wines.
Hotel Forza Mare, Dobrota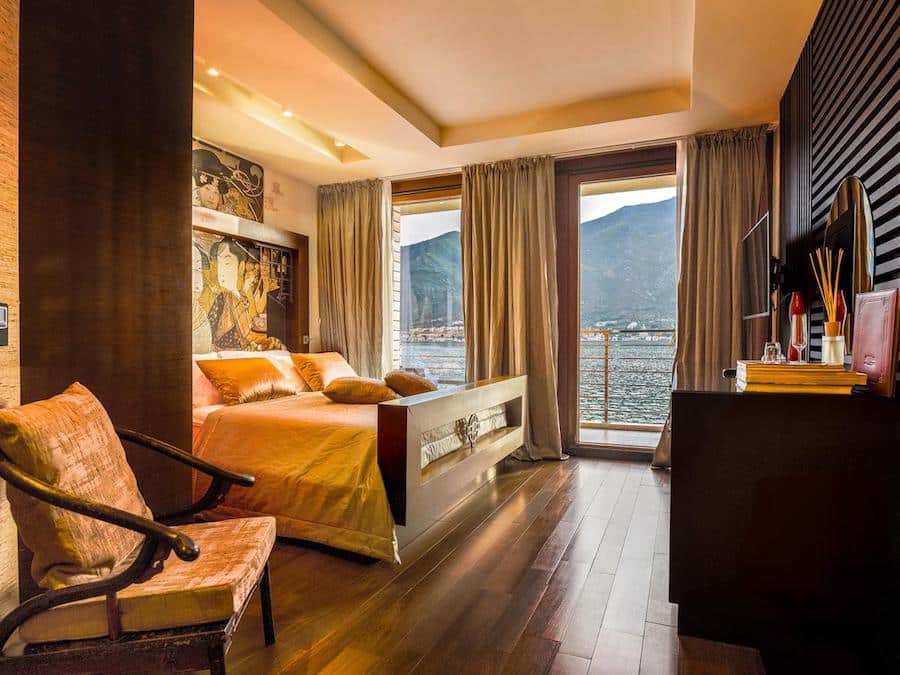 While looking for luxury hotels in Montenegro's amazing Bay of Kotor, your search may lead you to the Hotel Forza Mare. With its own private beach, this hotel is located 3 kilometers from the Kotor town center, far from the noise in Dobrota at the Boka Bay waterfront. Although Dobrota is another town, the residential area is considered a part of Kotor.
Guests here can enjoy French and Mediterranean cuisine at the chic onsite restaurant. The hotel has indoor and outdoor swimming pools, a spa and wellness center, a terrace, a sun garden, free parking, locker facilities, and free WiFi.
Each room reflects a different geographic location – Africa, China – and includes all the necessary amenities, plus a tumble dryer, laptop safe, balcony, hypoallergenic linen, and free WiFi. The luxuriously designed executive rooms are 35 m² and reflect India, Dubai, or Japan, while also having a fantastic sea view.
The Chedi Luštica Bay, Tivat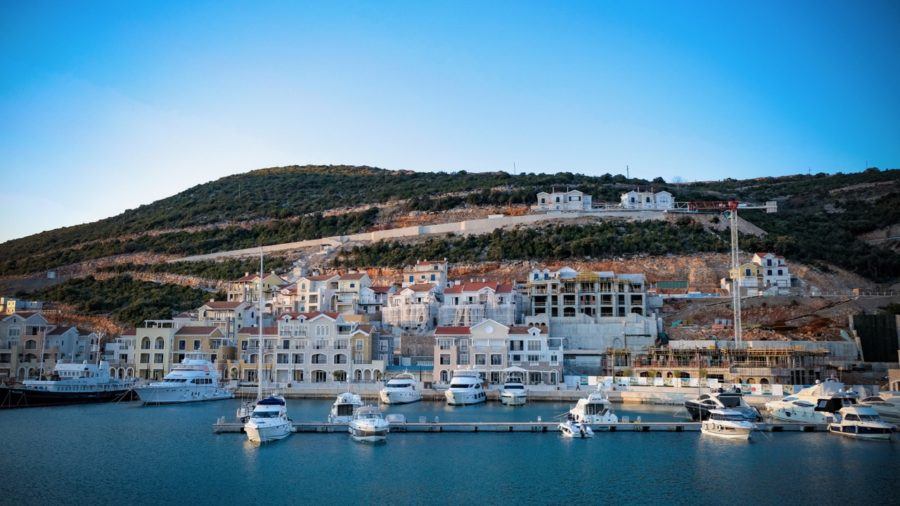 We speak from experience when we say that The Chedi Luštica Bay is one of the most luxurious Montenegro hotels. The Chedi in Montenegro isn't just any hotel, though. It's part of a fully packed complex that includes a striking marina, beachside area, shops, apartments, spa and wellness area, and entertainment facilities.
All guests can start off their day with a continental breakfast—gluten-free and vegan options are available! You can choose between the property's two restaurants and one bar for lunch, dinner, and drinks. The culinary focus lies on Mediterranean-style cuisine and local wines.
Regent Porto Montenegro, Tivat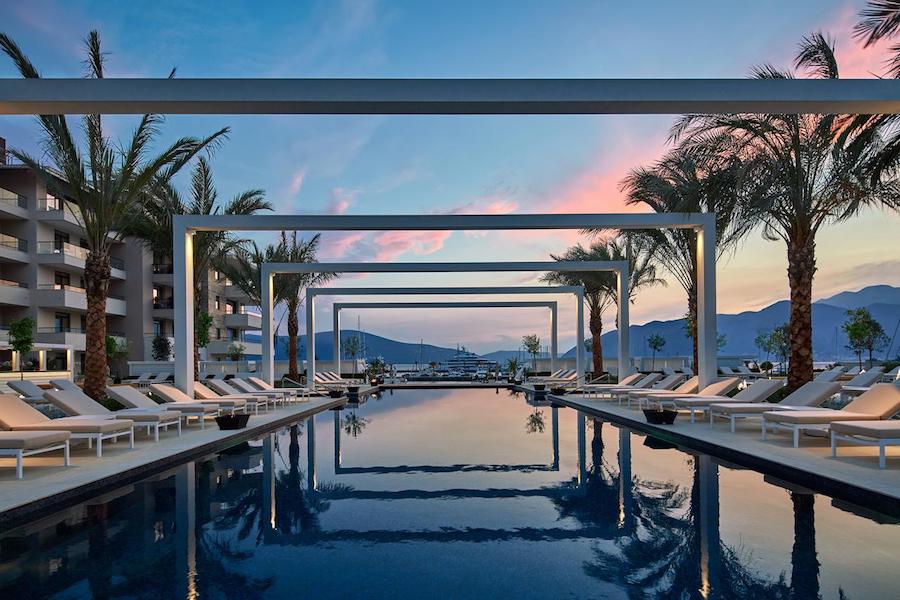 Right in Boka Bay, this luxurious Venetian-style 5-star resort is one of the best hotels in Montenegro. Guests are pampered to the fullest with expansive views of the sea and the Porto Montenegro village, lavish facilities, and epicurean delights.
With its jacuzzi, sauna, Turkish bath, swimming pools, gym, and wet suite, the Regent Spa provides a place for holistic rejuvenation onsite. At the same time, the squash and tennis courts nearby are accessible for fitness lovers.
Guests at the Regent Porto Montenegro accommodation also have access to the world-class marina, yacht club, and the secluded Dobrec beach that's only accessible by boat. Tivat Clock Tower and Saint Sava Church are within walking distance.
All of the rooms have either a balcony or a terrace, while some also have a kitchenette. Rooms feature minibars, safety deposit boxes, air conditioning, heating, hairdryers, flatscreen TVs with satellite channels, alarm clocks, free WiFi, and iPod docks.
The 63 m² suites also have sitting and dining areas and either mountain or sea views. The 123 m² 2-bedroom has a dining area, living room, and a full kitchen, along with gorgeous views of the blue Adriatic from its three terraces.
The Regent Porto Montenegro is the perfect luxury Montenegro accommodation for a dream vacation.
Hotel Forza Terra, Kotor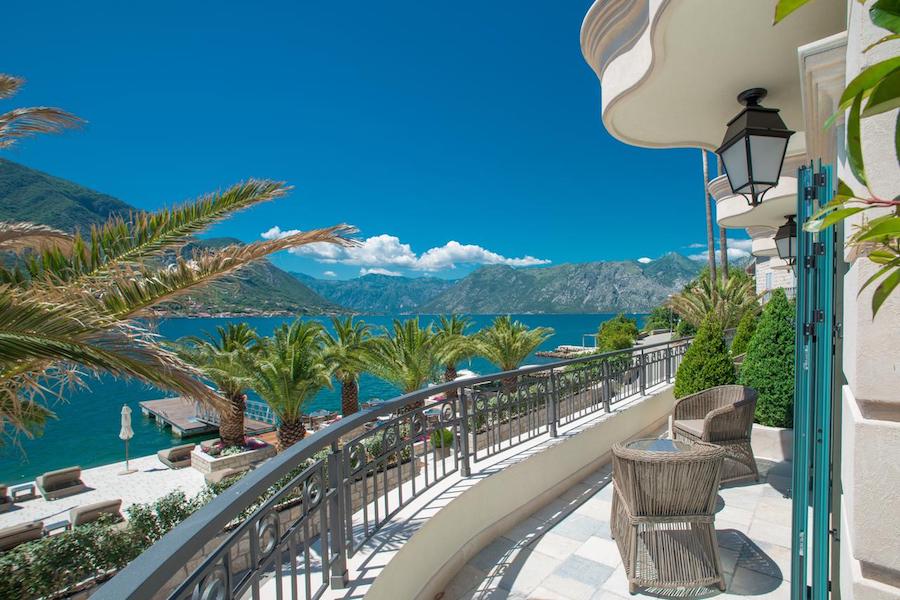 The 5-star Hotel Forza Terra in Kotor can offer that experience if you'd like to feel like a holidaying celebrity. It's located in the middle of one of Montenegro's top destinations, overlooking the shimmering water of the bay and providing car and bicycle rentals—cycling is a fantastic way to explore the area.
Guests can enjoy views from the sun terrace, have a drink at the bar, and indulge in delicious regional fare at the restaurant. Both WiFi and private parking are complimentary. Other communal facilities include an outdoor and indoor pool, a spa center with saunas and hot tubs, and a gym.
Iberostar Heritage Grand Perast, Perast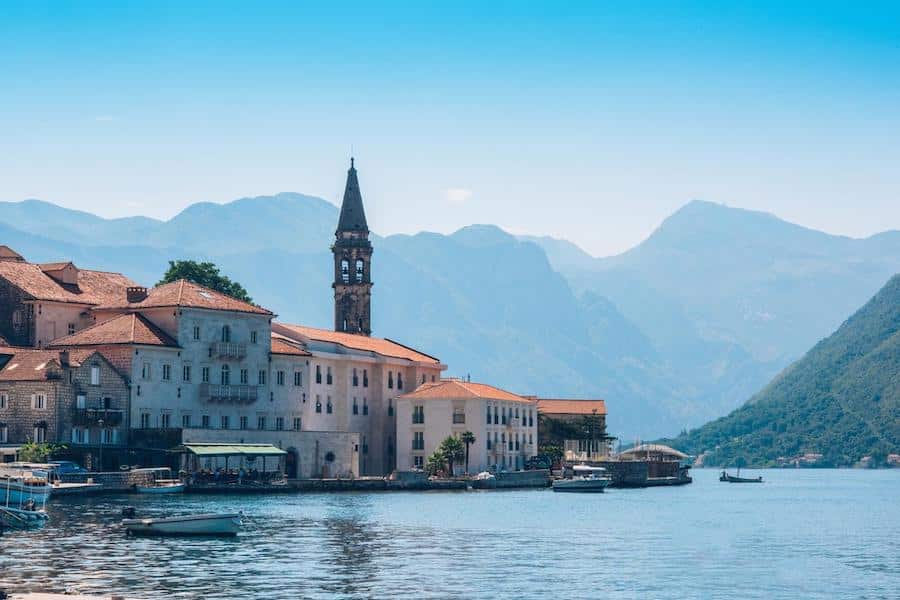 As far as historic settings go, few luxury hotels in Montenegro compare to the Iberostar Heritage Grand Perast. Housed in an 18th-century palace in the heart of UNESCO World Heritage-listed Perast, this fantastic hotel boasts and beautiful bayfront location.
Free WiFi is available all over the property, while guests can also enjoy the spa and wellness center, which has a sauna and hammam. There's a fitness center, too, so you can exercise away the calories you take in at the restaurant or lobby bar.
All rooms have modern decorations, air-conditioning, a flatscreen TV, safe and minibar. The private bathrooms come with either a bath or shower.
Luxury Hotels On The Montenegro Coast
Splendid Conference & Spa Resort, Budva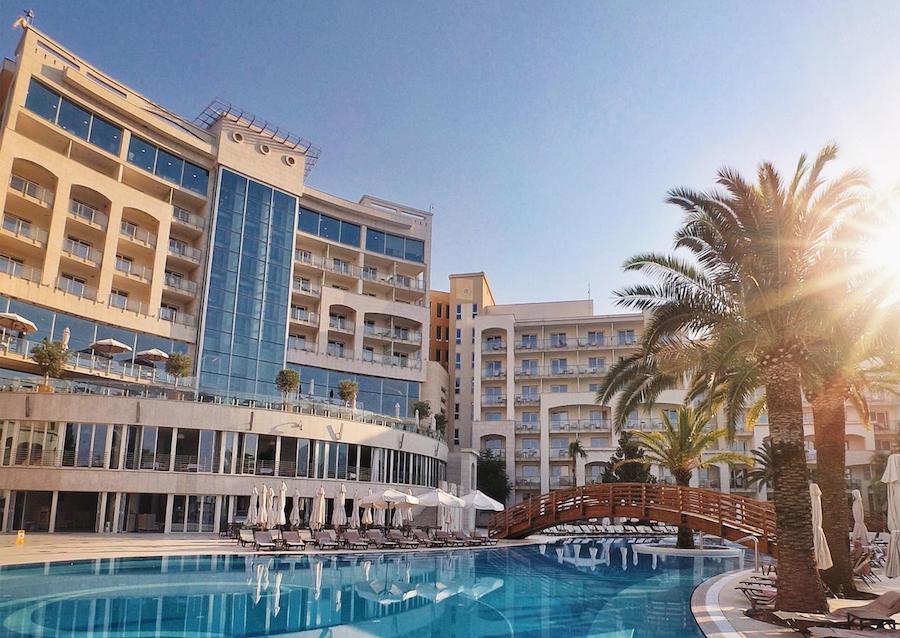 Set close to Bečići Beach, about 1.9 kilometers from the Budva Old Town, the Splendid Conference & Spa Resort is one of the best five-star luxury hotels in Budva. Guests have access to 6 swimming pools, including a heated indoor pool, saunas, steam baths, hot tubs, and a private sandy beach.
The onsite restaurant serves delicious Montenegrin or international cuisine and a selection of famous wines. A large spacious Casino Royale is also present on the property.
The large spacious rooms and suites include all modern amenities such as LCD TVs, air conditioning, private balconies, minibars, laptop safes, coffee machines, free WiFi, and free parking. Ask for rooms with either sea views or mountain views to enjoy your morning coffee or a glass of wine at night!
Dukley Hotel & Resort, Budva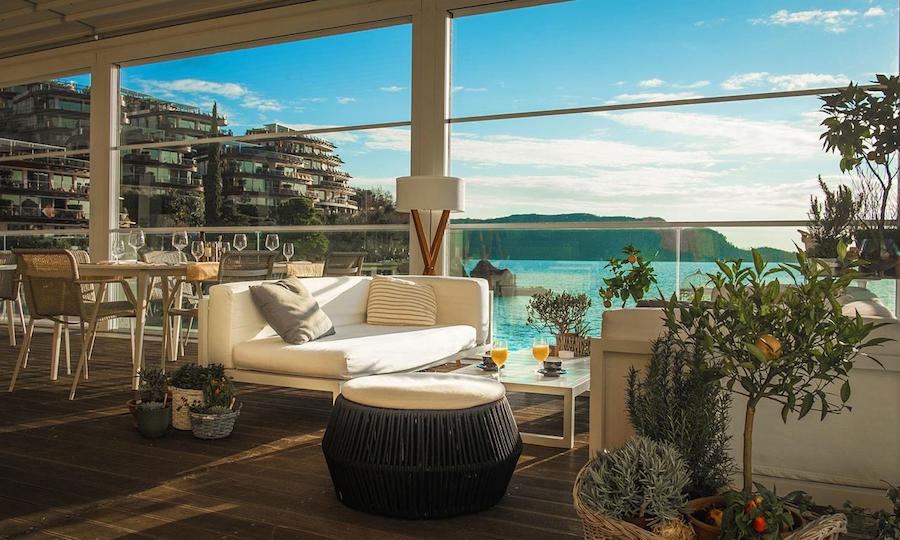 One of the best places to stay in Budva, the luxurious Dukley Hotel & Resort, is about 1.5 kilometers from the town center and 17 kilometers from Tivat Airport. Additionally, it's about 50 meters from Dukley Beach, 250 meters from Becici Beach, and 350 meters from Slovenska Beach.
The Dukley Seafront Restaurant serves a variety of fresh food while the other three onsite restaurants, located on three separate beaches, serve exotic snacks and Caribbean and Mediterranean dishes. Golf carts are available to travel around the property and between facilities. The spa and massage facilities are fabulous.
Large spacious rooms, suites, and penthouses are elegantly decorated and include all necessary amenities, including a well-equipped kitchen and dining area. Free WiFi and parking are also available for all guests.
All the rooms have furnished terraces, while some have private jacuzzis on the balcony and an amazing view of the mountains, the perfect way to enjoy your luxury holiday in Montenegro.
Slavija Budva Hotel, Budva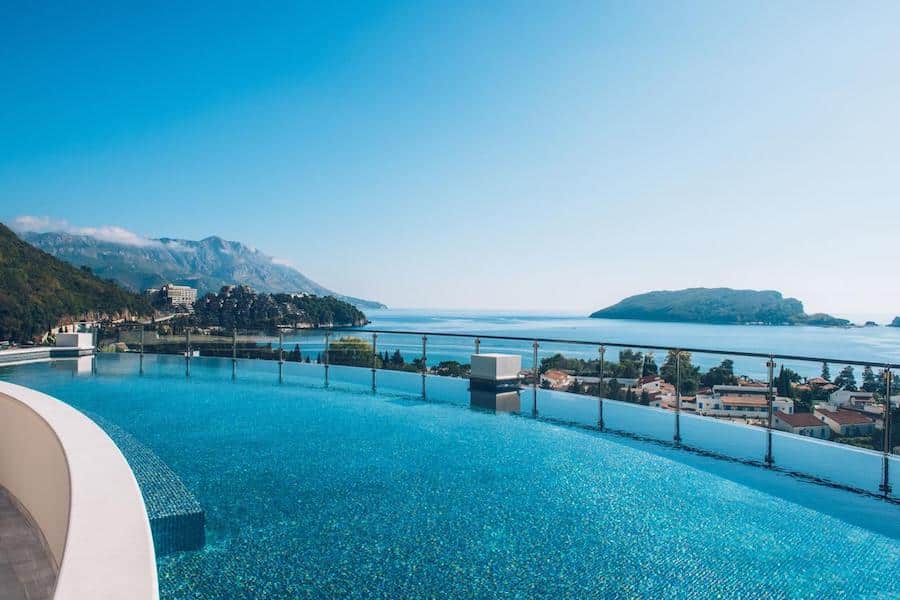 Featuring a rooftop bar and pool, the Slavija is one of the top luxury hotels in Budva. It is about 1.5 kilometers from the best things to do in Budva. Slovenska Beach, with its water sports and swimming areas, is only 300 meters away.
Guests at this accommodation in Budva can enjoy access to a spa with saunas, steam rooms, and massages, a rooftop snack bar, a lobby bar, and free WiFi.
Spacious rooms at this Budva hotel include marble flooring, air conditioning, minibars, flatscreen satellite TVs, dining tables, sofas, free WiFi, and free parking. Tivat Airport is 24 kilometers away. Omnia Night Club and TQ Plaza are within walking distance of this high-end Budva hotel.
Maestral Resort & Casino, Sveti Stefan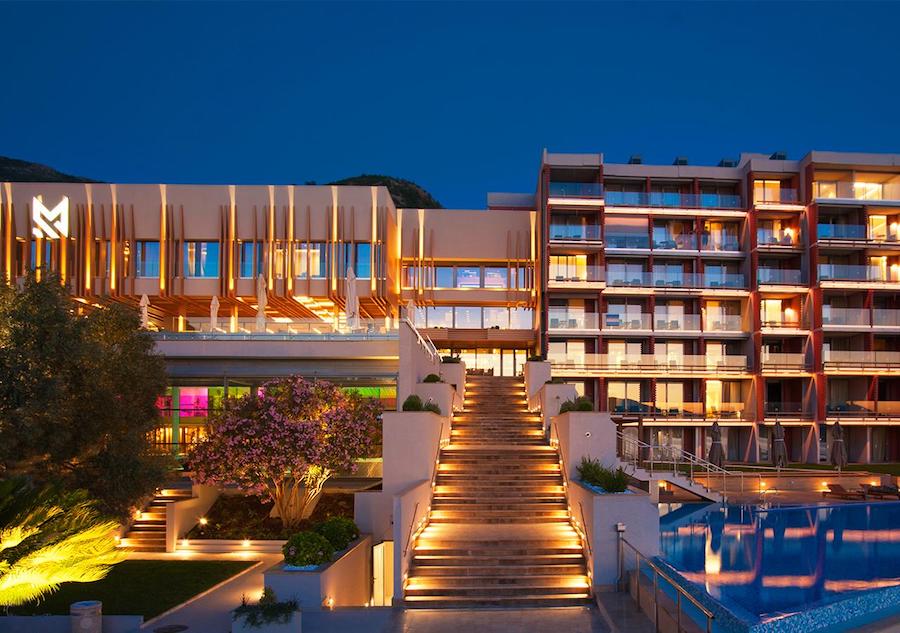 One of the most incredible luxury hotels in coastal Montenegro, the phenomenal Maestral Resort & Casino sets the standard of what luxurious accommodation ought to be like. Completely renovated in 2017, the property has several swimming pools, a modern casino, and a wellness center featuring hot tubs, saunas, a steam bath, massages, and various beauty treatments.
Its four restaurants serve a wide variety of Mediterranean and international dishes, complemented by an elaborate selection of renowned wines. For drinks and snacks, you can visit one of the numerous bars that dot the complex.
This luxury resort lies in a picturesque rocky bay and has its own private beach, a quick drive from the bustling town centers of both Budva and Sveti Stefan. Rooms are modern and spacious, equipped with air-conditioning, private balconies, and free WiFi.
Hotel California, Sveti Stefan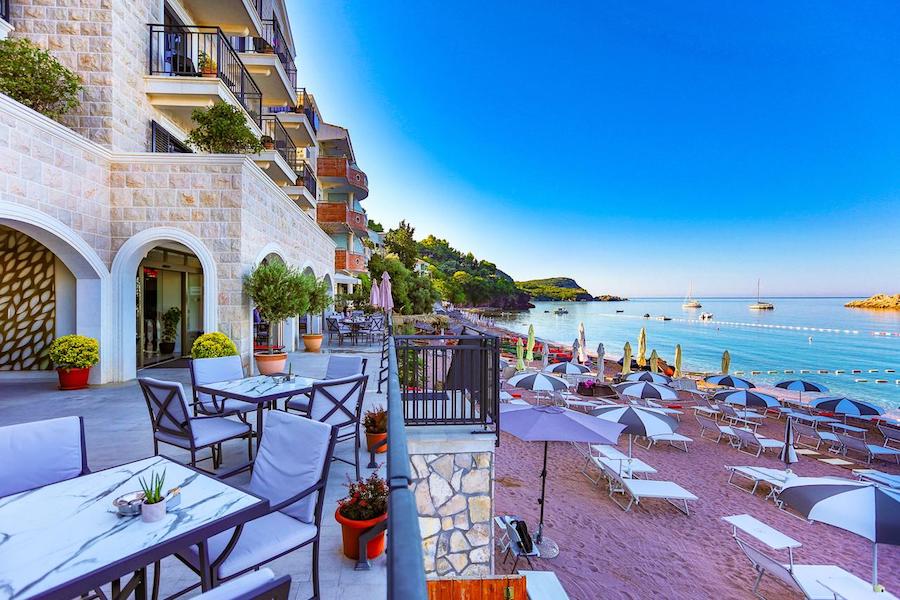 One of our top picks for luxury hotels in Sveti Stefan is Hotel California. Boasting five stars, this high-end accommodation lies right on the beach of Sveti Stefan, overlooking the town's iconic little peninsula. This is easily one of the best-located hotels in the area.
Guests can enjoy the private beach area, free private parking, room service, the terrace, and complimentary WiFi. A restaurant and bar serve dinner and drinks, while visitors can also indulge in either a buffet or a la carte breakfast.
Melia Budva Petrovac, Petrovac Na Moru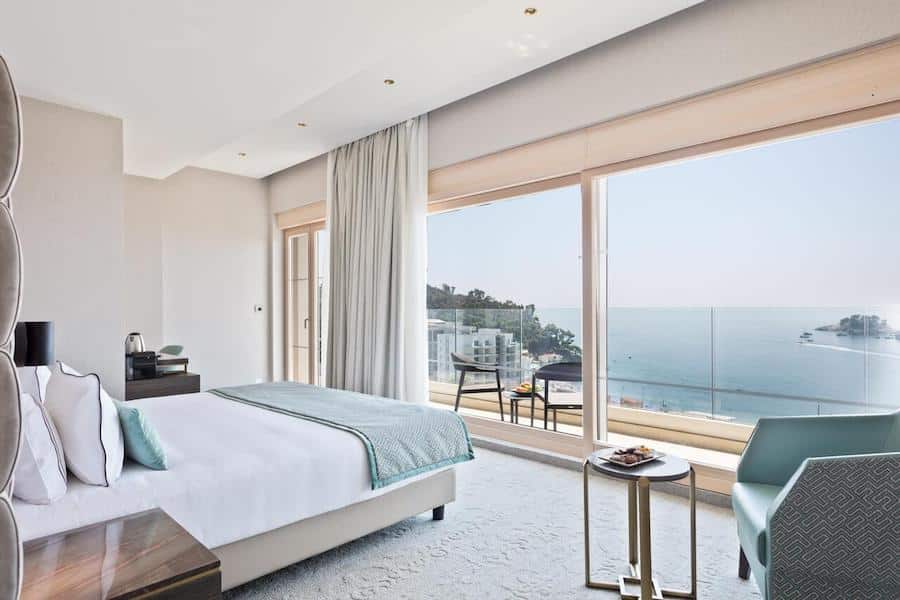 Situated in the small coastal town of Petrovac na Moru, a short distance south of Sveti Stefan, the Melia Budva Petrovac is a fantastic 5-star hotel. Its numerous amenities include two swimming pools and a wellness center with a gym and sauna.
You can also get pampered, thanks to a selection of beauty and relaxation treatments. Business travelers and event organizers might be interested in the onsite conference room. Free WiFi is available everywhere in this hotel.
As far as cuisine goes, you can indulge in Italian food in the a la carte restaurant, while the buffet restaurant features show cooking. Breakfast is served every morning. Moreover, there's also a snack bar at the pool!
Hotel Senator, Ulcinj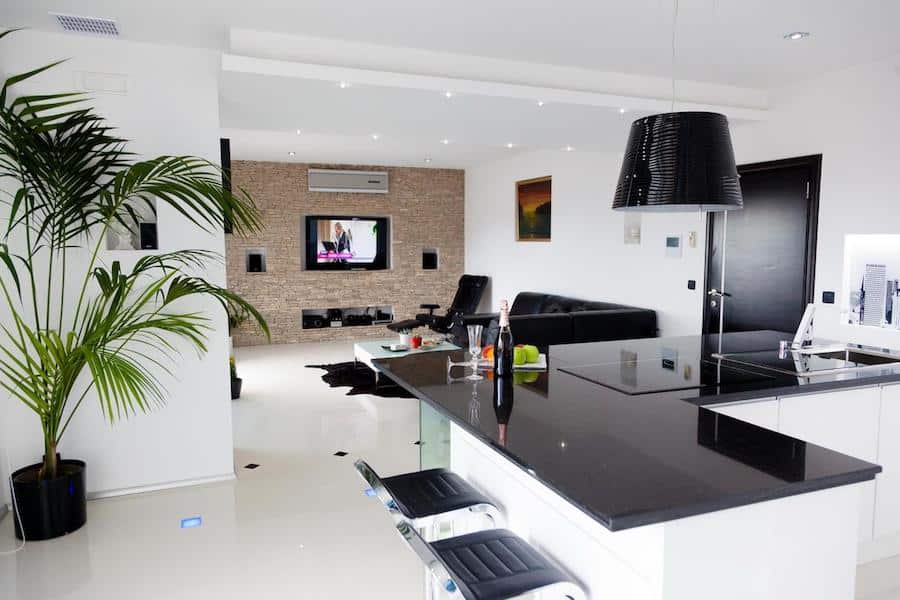 A 5-star aparthotel mere steps from the beach, Hotel Senator offers private luxury apartments on the southern Montenegro coast. These spacious and modern apartments include a kitchenette with a dining area, a private bathroom, and a seating area with a flat-screen TV.
Communal facilities and services are plentiful and range from an indoor and outdoor pool to an onsite bar, bicycle, and car rentals. There's a grocery store just down the street, while a restaurant is just 100 meters away.
This luxury aparthotel is a fantastic place to stay if you'd like to explore the coast of Montenegro and nearby Lake Skadar and would be the best place to base yourself in Montenegro.
Luxury Hotels In Podgorica, Montenegro
Hilton Podgorica Crna Gora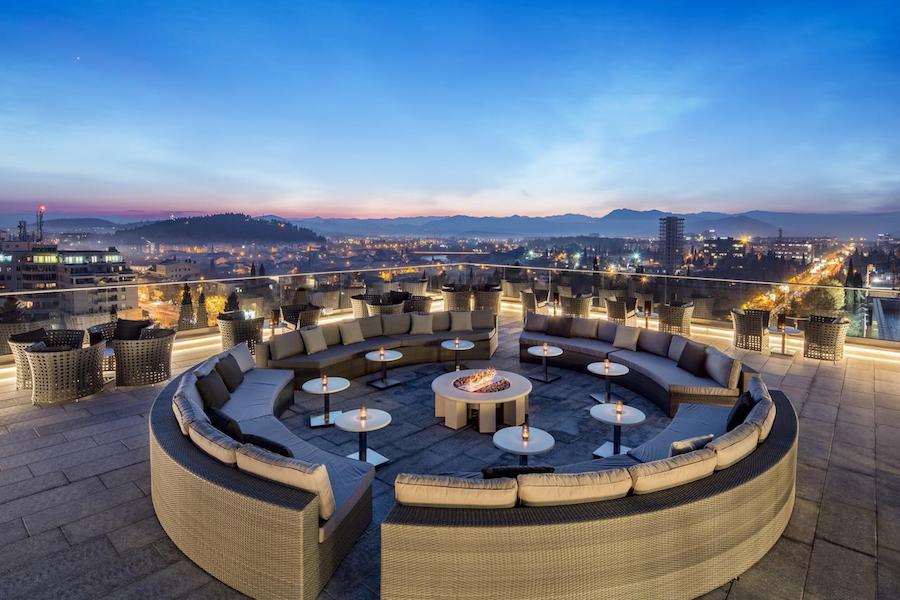 Located in the heart of Podgorica, the superb 5-star hotel lies a short walk from the city center, embassies, and parks. In addition to a rooftop bar where you can hang out, there also are no fewer than four restaurants on the property. Terrace Fontana serves homemade pastries and coffee.
This luxury hotel is popular among both business travelers and tourists, its facilities ranging from a business center to a spa. Rooms are spacious, stylish, quiet, and bright.
Perla Residence Hotel & Spa Podgorica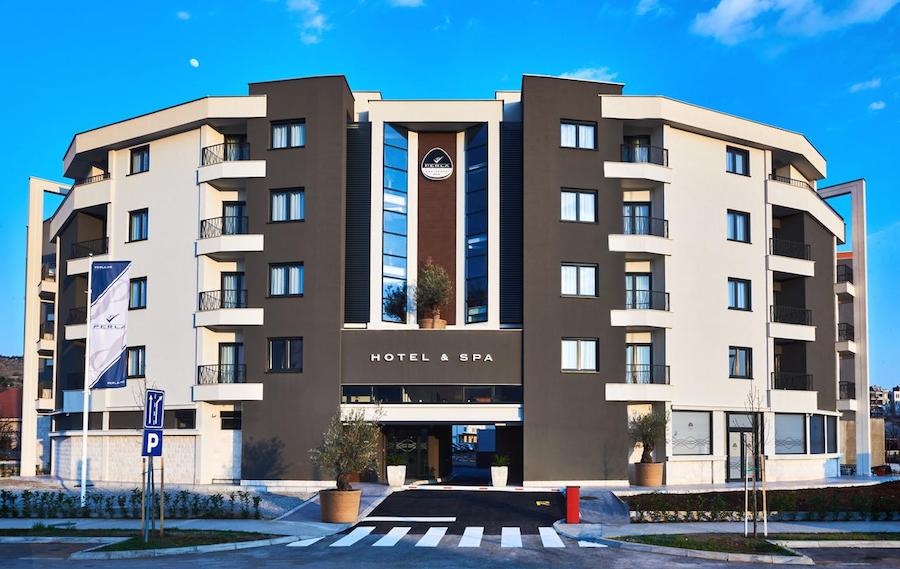 Without question, one of the best hotels in Podgorica, Perla Residence Podgorica & Spa, lies just outside of the Old Town and features several exciting amenities. There's a garden and terrace, a gym, a spa, and a wellness center with an indoor pool. Free WiFi and private parking are available, too.
An onsite restaurant serves Spanish, Latin American, and local cuisine. All rooms are well-equipped as well, including a flatscreen TV, a kitchen, seating area, bathroom, and dining area.
MORE MONTENEGRO TRAVEL BLOGS