How To Get From Podgorica To Mostar (& Mostar To Podgorica)
If you're visiting Podgorica, Montenegro's bustling and charming capital, you'll no doubt want to make the most of your visit. Montenegro is enjoying a tourism boom, and when you look at the beauty of the coastal reaches and the fantastic spots to visit in the capital, you'll understand why. Just a quick look at Lake Skadar National Park, and you'll totally get why it's such a popular spot these days.
But, if you're a keen traveler, you'll undoubtedly want to get out and about. Maybe you want to visit Croatia, or perhaps you want to head over to Bosnia & Herzegovina. Why not?! The great thing about visiting Montenegro is that you're close to many other countries in the Balkan region.
Mostar is a heavily visited spot in Bosnia & Herzegovina, famous for its Old Bridge, or Stari Most. Having stood up to heavy attacks during the war, the bridges are now renowned for those who choose to jump off into the freezing water below for fun! But, Mostar is about more than that too. It's a great spot for checking out history, architecture, local cuisine, and souvenir shopping too.
So, if you're keen to visit Mostar and you're staying in Podgorica, how do you get there? And, of course, how do you get back?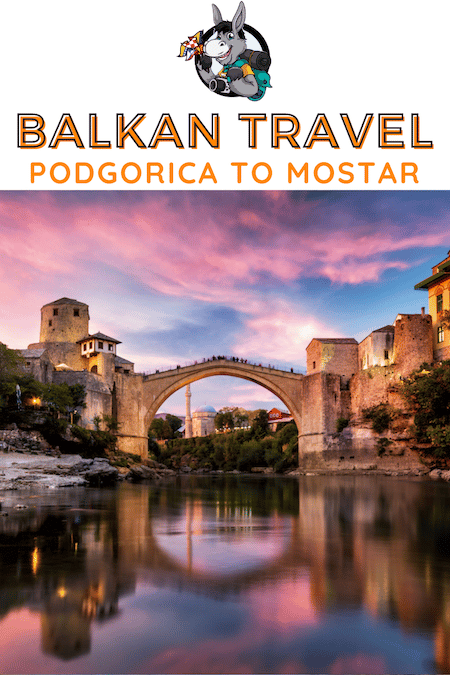 TRAVEL COMPANIES WE USE AND TRUST
Remember You're Crossing A Border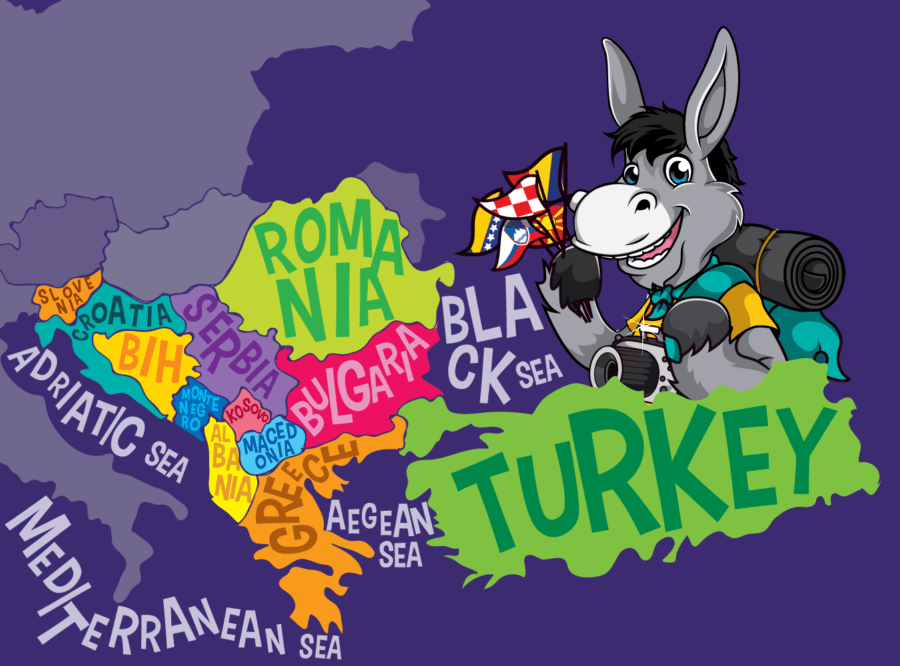 Before we get into the how's and why's, remember that when you're traveling from Podgorica to Mostar and back again, you're crossing borders. You're going to be traveling from Montenegro and into Bosnia & Herzegovina and then, probably, back over again. That means you need to have all the necessary documentation to hand.
Border crossings between the two countries don't tend to be extremely long-winded affairs, as long as you have everything you need. Of course, you may find that you're waiting a little longer during the summer, but this shouldn't be a huge problem.
You will need your passport any visa documentation (depending upon your country of origin), and if you're driving, you'll need all parts of your International Driving Licence. Of course, in COVID times, it's also essential to stay up to date with any vaccination proof/testing restrictions, etc. It's such a fast-moving situation that mentioning what you need right now could be outdated by the time you read this! So do check that before you go and have whatever you need to hand.
Podgorica To Mostar By Bus (And Mostar To Podgorica)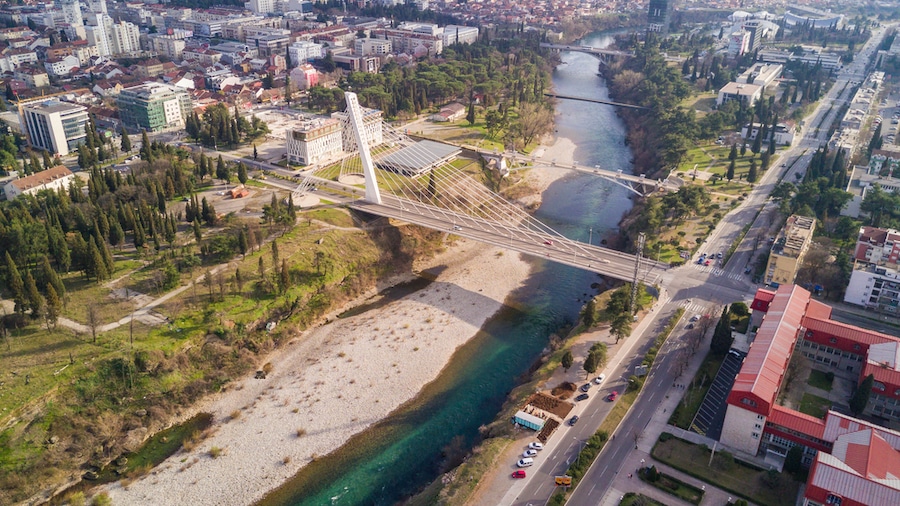 The distance between Podgorica and Mostar is relatively short, at just 210KM road distance. There is no direct bus link between the two cities, but you can visit by connecting in Dubrovnik, Croatia. However, buses always take a little longer and tend to go around the houses a little. Again, you're crossing another border, so have everything you need with you.
The bus from Podgorica to Dubrovnik takes 5 hours and runs once daily. Once you arrive in Dubrovnik, you can then connect directly to Mostar, which takes another 3 hours and runs twice daily. This will take you to Mostar East Bus Station.
If your bus times don't marry up completely, you can always choose to stay the night in Dubrovnik, with plentiful accommodation options to hand.
When traveling back in the opposite direction, from Mostar to Podgorica, you'll need to head to Mostar East Bus Station and connect to Dubrovnik. This bus takes 3.5 hours and departs twice per day. Then, you can connect directly to Podgorica from Dubrovnik, taking another 5 hours, with a bus just once per day.
There is another bus option from Podgorica to Mostar. From Mostar East Bus Station, take the once-daily bus to Budva, which will take 5.5 hours. Budva is in Montenegro so you can easily choose to stay the night or carry on with your journey, with another bus to Podgorica. This will take just 1.5 hours and leaves five times per day.
Podgorica To Mostar By Car (And Back Again)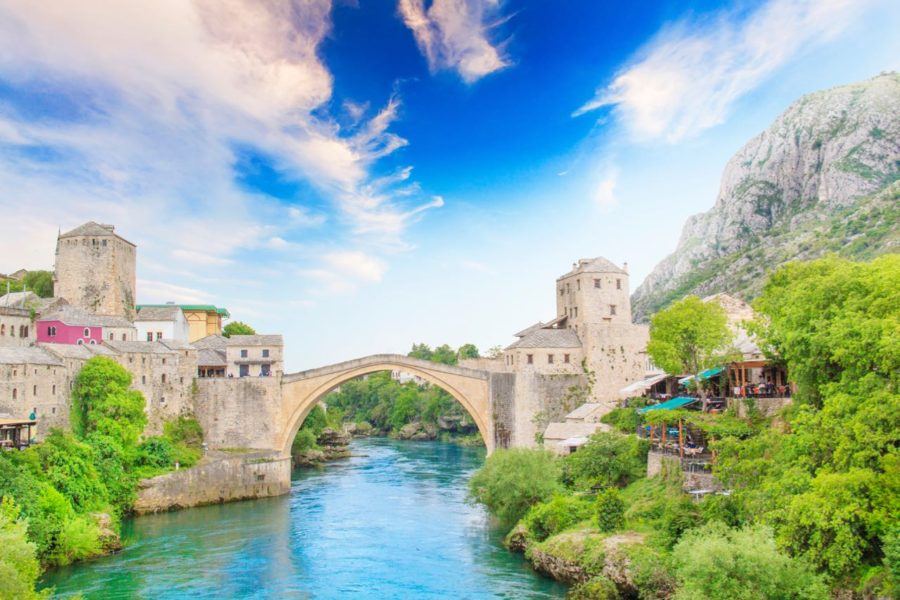 The other option is to drive. You can either hire a car, or if you have your own, you can take that as long as you have all your papers to hand. You will need insurance, and you may be asked for proof of this if you're spot-checked at any point.
The road from Podgorica to Mostar is a relatively easy one and is quite smooth. You will need to take the R427, which connects Montenegro and Bosnia & Herzegovina, without crossing into Croatia.
The drive will take you around 3.5 hours, depending upon traffic, and there are many stop-off points you might enjoy along the way.
MORE BALKANS TRAVEL BLOGS