Privacy & disclaimers →

Best Hotels In Cappadocia (Including Cave Hotels In Turkey)
The Anatolian region of Cappadocia is now a must-visit on your Balkan travels. This stunning region has become increasingly popular in recent years, thanks to social media and a more visual way of advertising travel. Cappadocia is, after all, spectacular and as photogenic as it gets.
You might, however, still wonder what Cappadocia is known for. Are there any tourist attractions in Cappadocia worth visiting? Yes, there most certainly are! Valleys filled with rock-cut caves, hidden underground cities, and fresco-filled churches on the one hand, and valleys filled with poplar trees and phallic rocks on the other hand. Do not forget the infamous hot air balloon rides, one of the top things to do in Cappadocia! Here are our top choices for you, followed by the top Cappadocia hotels.
Top Accommodation In Cappadocia, Including Cappadocia Cave Hotels
With so many Cappadocia attractions to visit, you'll want to spend a few days in different Cappadocia neighborhoods and cities to make the most of your stay in Cappadocia. Here are the best places to stay in Cappadocia.
Cappadocia Hotels Map
Best Cave Hotels In Goreme
Artemis Cave Suites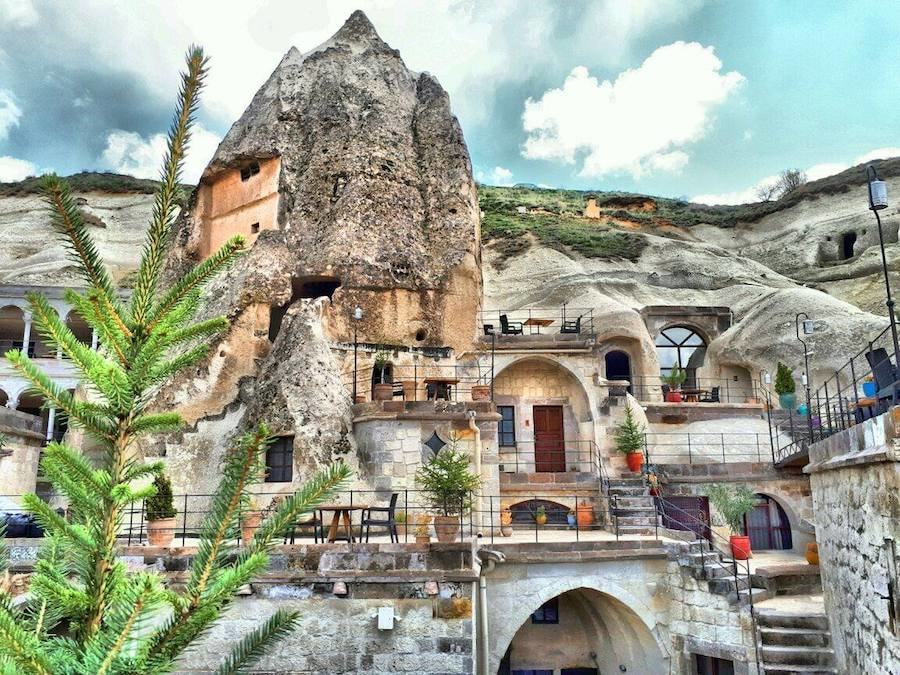 Located in the heart of Goreme, Artemis Cave Suites features a garden and a terrace with views of the city. Goreme Open Air Museum and Dark Church are within walking distance of great choices among the 5-star hotels in Cappadocia, while markets are even closer. Nevsehir Airport is 30 km away.
The staff's excellent facilities and great service make the Artemis Cave Suites one of the top choices among the Cappadocia luxury hotels. Rooms and suites are soundproofed and feature air conditioning, heating, desks, irons, hairdryers, flatscreen TVs, mosquito nets, electric kettles, clothes racks, safety deposit boxes, telephones, free WiFi, and free parking. The larger 50 m² suites also have a seating area where you can relax.
Anatolian Houses Cappadocia Cave Hotel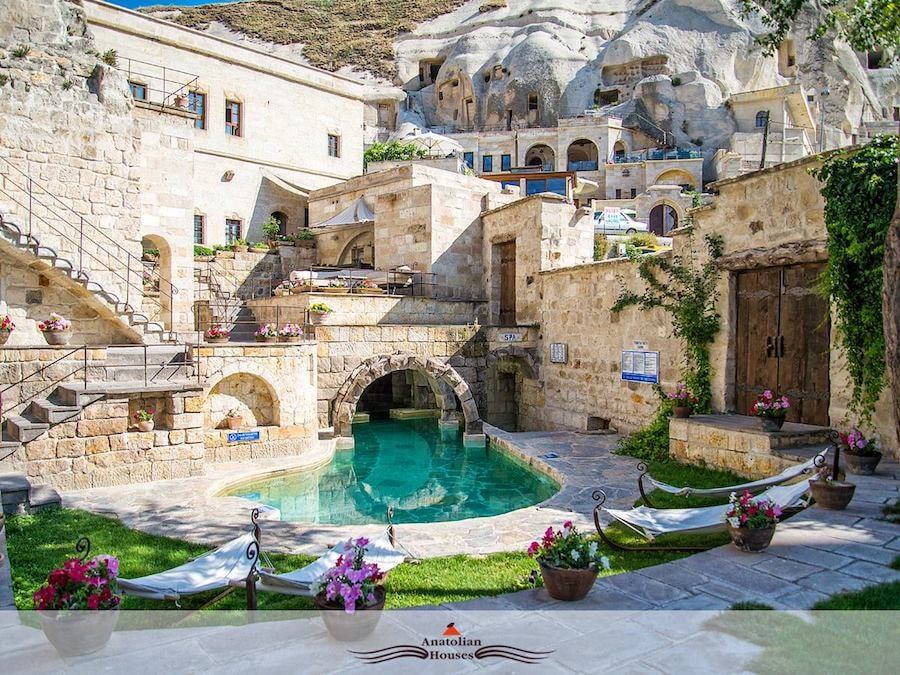 One of the best places to stay in Cappadocia, Turkey, is next to the Goreme National Park. That's where you'll find this fantastic Cappadocia accommodation set in original fairy chimneys. This Cappadocia hotel is filled with over 500 historical artifacts like pots and tiles. A moat-styled outdoor pool and an indoor pool resembling ancient baths are there to relax guests. There's also a gym and wellness center offering dry and wet saunas, a Turkish hammam, and massage therapies at a charge.
Suites range from 28 m² to 60 m² in size and include all necessary amenities and hydro-massage bathtubs. The Presidential Suite also has access to a private terrace. This may be the best hotel in Cappadocia; when you're not out exploring, you can sit by the garden tap that flows with free red and white wine at certain hours!
Mithra Cappadocia Cave Hotel
Best cave hotel in Cappadocia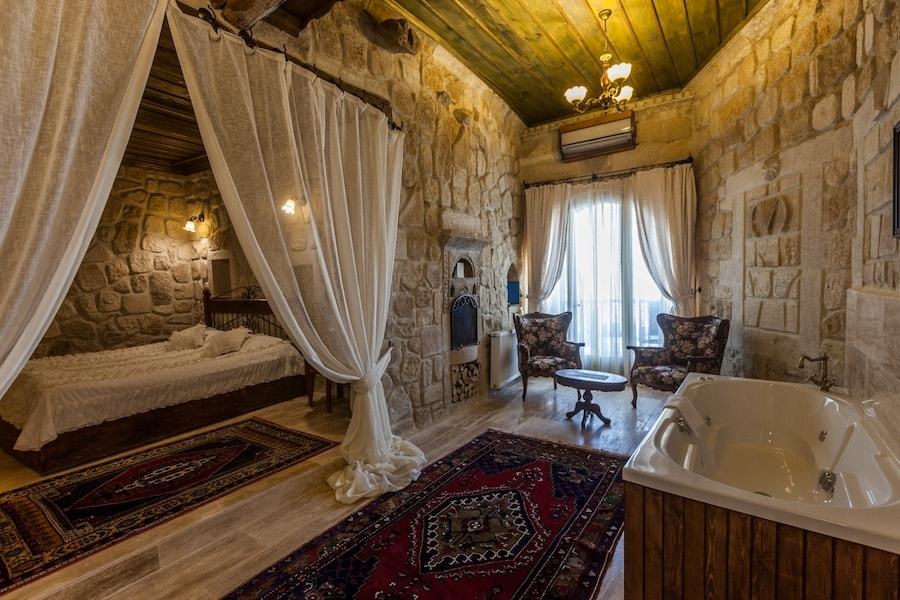 Just a short walk from Goreme town center, the Mithra Cappadocia cave hotel offers cave rooms and suites with traditional Ottoman or Greek furnishings. They are well-lit and include all amenities, mosquito nets, tea/coffee makers, minibars, safety deposit boxes, and free WiFi.
A buffet breakfast is served daily on the terrace, perfect for spotting the hot air balloons in the morning! The picture-perfect patio at this accommodation in Cappadocia is also a quiet place to hang out at night. All in all, this is one of our favorite boutique Cappadocia hotels.
Caftan Cave Suites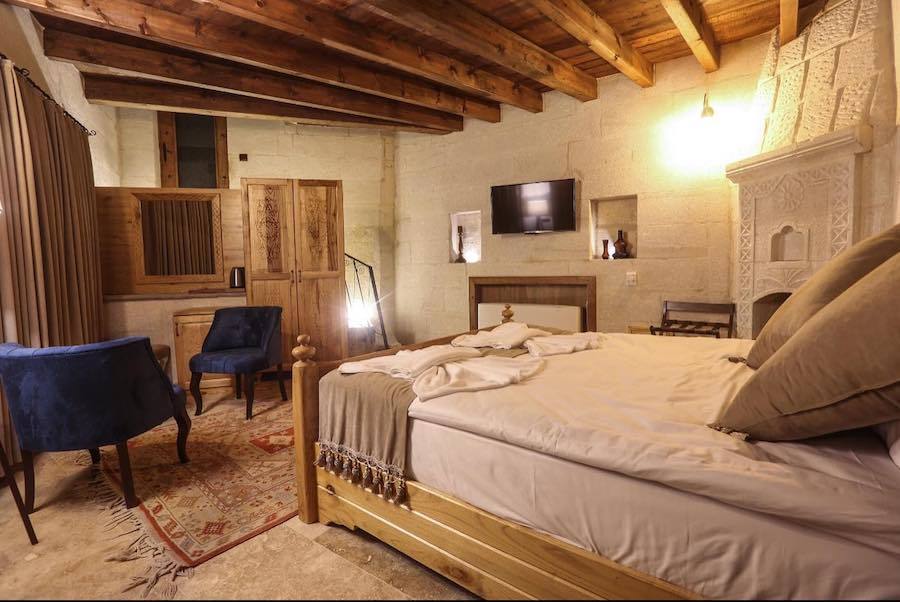 This is an excellent choice if you're looking for pocket-friendly cheap hotels in Cappadocia! The Caftan Cave Suites are one of the more affordable places to stay in Cappadocia, which is 1.5 km from the Goreme Open Air Museum and 1.6 km from the Dark Church. Uchisar Castle is 2.6 km, Urgup is 9 km away, and Nikolos Monastery is 7.2 km away. Carpeted rooms and suites with stone walls are well-equipped and include free WiFi, and pets are allowed free of charge. Free parking is available on the street nearby. This is a great choice.
PLAN AHEAD TO GET THE BEST DEALS
Best Hotel In Cappadocia In Urgup
Seraphim Cave Hotel
Best cave hotel in Cappadocia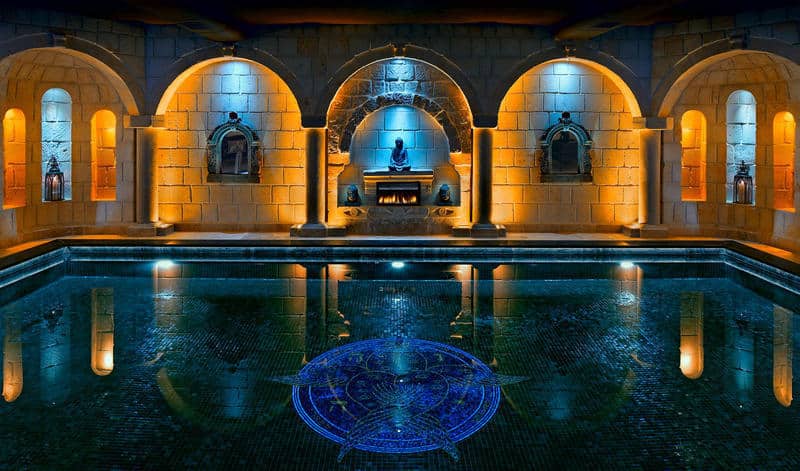 Boasting five stars, Seraphim Cappadocia Cave Hotel is arguably the best place to stay in Cappadocia in Urgup, about 6 km from Urgup Museum, 7 km from Nikolos Monastery, and 8 km from the Dark Church and Goreme Open Air Museum. Migros Market is 5 km away, and a few nearby Cappadocia restaurants.
Large spacious, soundproofed rooms and suites include every amenity you need, tea/coffee makers, radios, seating areas, hypoallergenic linen, free WiFi, free parking, and wheelchair-accessible. The suites also include hot tubs and patios. Guests staying here also have access to a heated indoor pool, sauna, hammam, and chargeable spa facilities – making it a cave hotel in Cappadocia not to be overlooked.
Seraphim Caves are very highly rated among the luxury hotels in Cappadocia! As far as 5-star hotels in Cappadocia go, this is one of the best thanks to its excellent location and superb amenities.
Yunak Elveri Cappadocia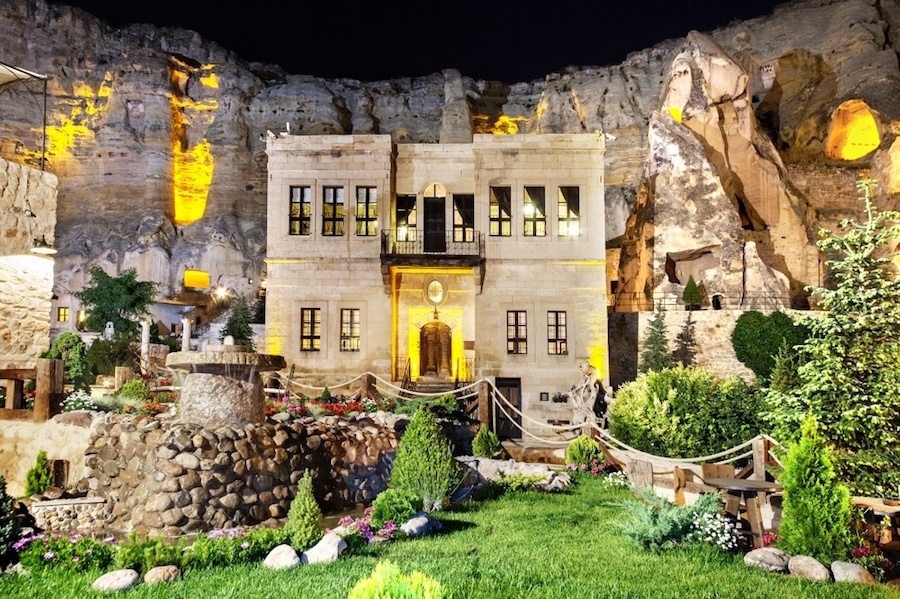 If you're wondering where to go in Cappadocia to stay in rooms dating back to the 5th century or a Greek mansion from the 19th century, choose the Yunak Elveri in Cappadocia, Turkey. It's one of the best hotels in Cappadocia, Turkey, with rooms featuring hardwood or tiled flooring, handcrafted furniture, traditional carpets, and marble bathrooms.
Large 50 m² classic rooms have the best amenities, free WiFi, free onsite parking, minibars, fans, safety deposit boxes, radios, iPod docks, telephones, mosquito nets, tumble dryers, Blu-ray players, seating areas, and more. The large Cave Suites can room up to 4 adults, including a separate living room and a bathroom with a Swedish jet and stream shower or a jacuzzi, while the 220 m² Terrace Suite has a Turkish Spa Bath. Some of the rooms also have balconies or terraces.
The onsite restaurant called Caverna serves a range of international and local cuisine. There are books about Turkey and Cappadocia in the onsite library. Guests can watch a movie in the old mansion or access an extensive collection of jazz and classical music CDs. They can also enjoy the seasonal outdoor pool and pay for access to the hammam, steam room, spa, and massage facilities.
Nikolos Monastery and Urgup Museum are within walking distance of the hotel. If you're looking for unique places to stay in Turkey, this one tops the list!
Best Cappadocia Hotels In Nevsehir
Hanedan Cappadocia Suites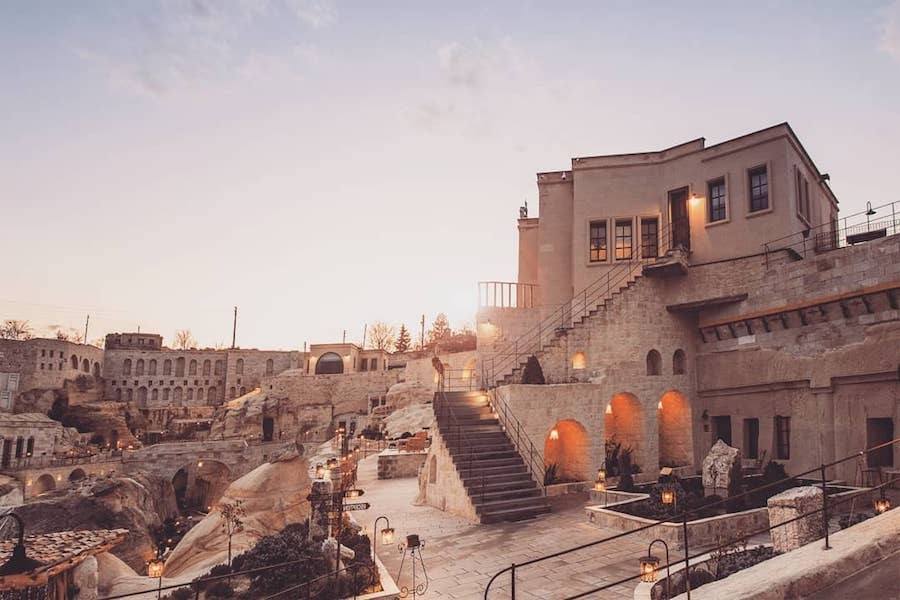 Hanedan Cappadocia Suites is one of the best places to stay in Cappadocia near Nevsehir and Urgup. Karagoz market, Sinanos market, and Eleni cafe are within walking distance. Nikolos Monastery is 6 km away, while Uchisar Castle is 9.6 km away from the hotel.
The sandstone-colored Hanedan Suites with tiled or marble flooring and traditional furniture range from 70 m² to 90 m² in size. They offer guests world-class amenities in luxurious facilities with amazing views. Everything you need is in the rooms, and the staff is very attentive.
Free WiFi and onsite parking are available, and pets are allowed at a charge. If you want to stay in one of the top hotels Cappadocia, stay here at the Hanedan Suites!
Lavender Cave Hotel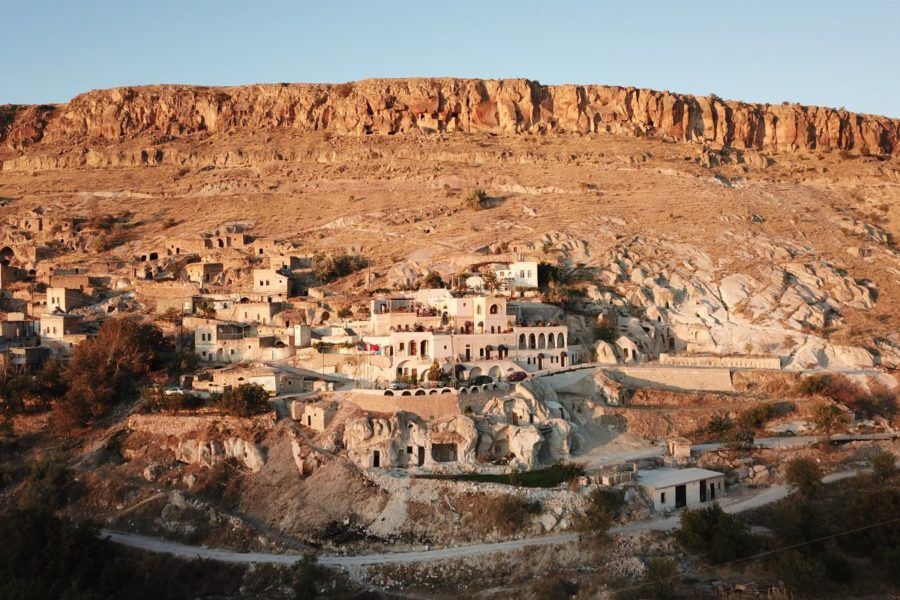 The new chic Lavender Cave is one of the central Cappadocia hotels in the Anatolian region. It's about 15 km from Urgup Museum and 22 km from the Dark Church. The hotel features a lovely terrace with views of the surrounding region.
You'll enjoy your holidays in Cappadocia at this charming hotel! Large spacious, soundproof rooms include the best of amenities, as well as a fireplace, tumble dryer, satellite TV, minibars, laptop safes, seating areas, and balconies with mountain views. Kid-friendly buffet options are available at the onsite restaurant, and babysitting facilities are available at a cost. Free WiFi and free onsite parking are available. Pets are allowed at a charge.
Kapadokya Hill Hotel & Spa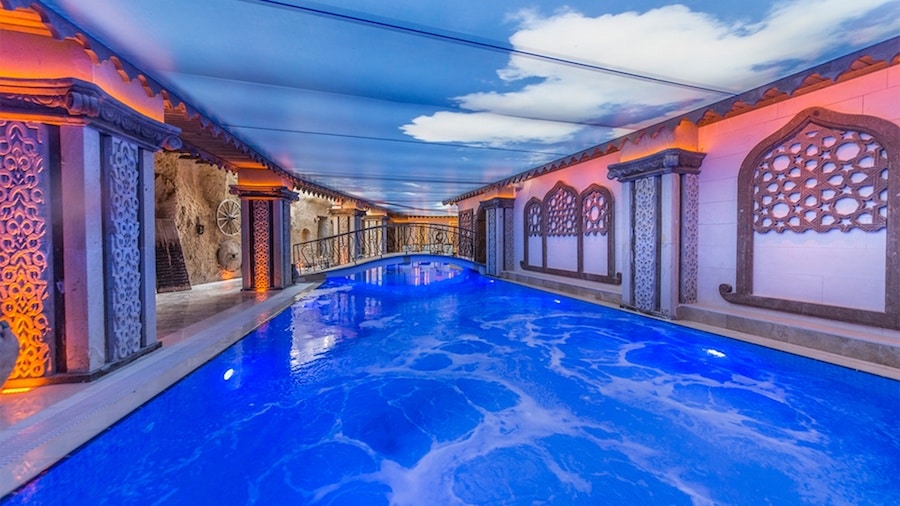 Suppose you're looking for the best place to stay in Cappadocia that's romantic and peaceful. In that case, you'll love this out-of-the-way Kapadokya Hill Hotel, located about 6.5 km from Nevsehir Town Centre. Only children older than 12 years are allowed here!
Rated among the luxurious good hotels in Cappadocia, it boasts a seasonal outdoor swimming pool, a heated indoor pool, and a spa and wellness center with a hammam, jacuzzi, steam room, and massages at a fee. The onsite Gore restaurant serves delicious Turkish cuisine.
This accommodation is among the best in Cappadocia in the Gore region! Tastefully decorated suites feature unique decor and custom-designed furniture and have balconies with mountain or garden views. They range from 36 m² to 72 m² in size and include hot tubs, espresso coffee makers, soundproofing, free WiFi, and every amenity one might need. All of the rooms are wheelchair accessible. The hotel owner is always around to cater to the guests' needs and ensure you're Cappadocia holidays.
Best Hotel In Cappadocia In Uchisar
Rox Cappadocia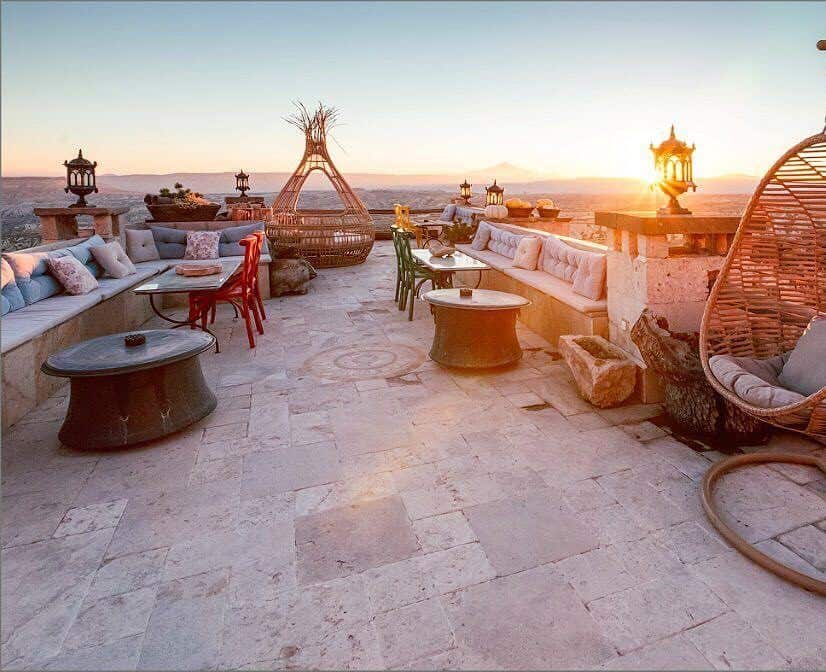 The lush Rox Cappadocia is the best area to stay in Cappadocia, next to Uchisar Castle. Set in an old renovated Greek house with stone architecture, the hotel has panoramic views of Guvercinlik and Goreme. A sumptuous organic breakfast, including local jams, cheese, and coffee, is served on the terrace with amazing views of Mount Erciyes and the balloons rising over the valleys.
This is one of the friendliest 3-star Cappadocia hotels to stay at! Comfortable, carpeted rooms with stone walls in this Cappadocia hotel feature unique decor and Ottoman-style bathrooms. Amenities include a Nespresso machine, electric kettle, iron, clothes rack, heating, and free WiFi. Free public parking is available nearby. Pets are allowed one request, free of charge. Horse riding, cycling, hiking, and themed dinners can be arranged nearby at a fee.
Tashonaklar Hotel Cappadocia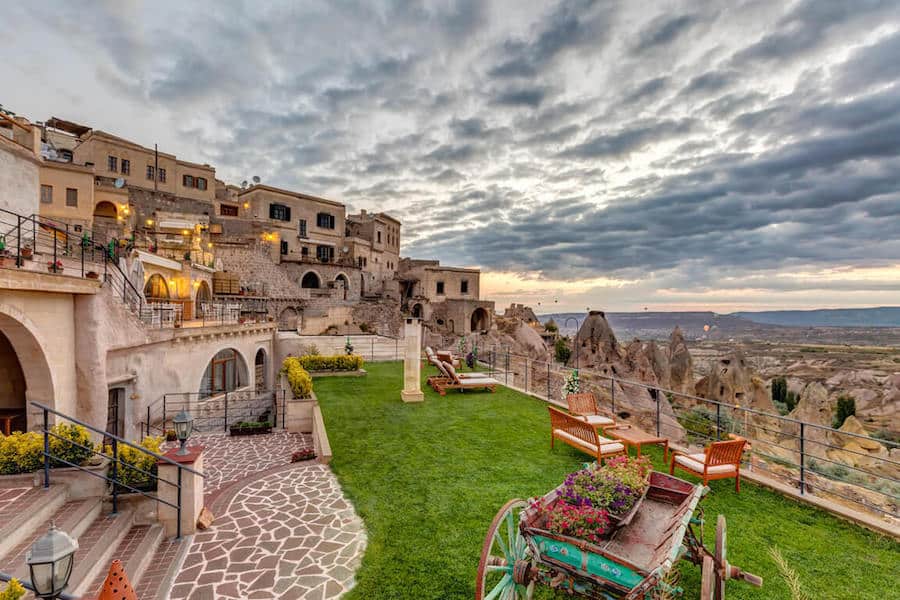 Close to Uchisar Castle, one of the best things to do in Cappadocia, the Taskonaklar Hotel Cappadocia offers unique accommodation with gorgeous valley views. Tiled flooring and beautiful carpets welcome you to the traditionally decorated rooms in bright colors. You have a choice of rooms or suites at this choice among the boutique hotels in Cappadocia.
Suites also include balconies with panoramic views, seating areas, fireplaces, and private outdoor Jacuzzis. Free WiFi and free onsite parking are available. The staff at Taskonaklar can arrange for trips to Goreme, horseriding adventures, or hikes to the nearby Pigeon Valley.
Taskonaklar may not have the best restaurants in Cappadocia, Turkey, but it's still unquestionably one of Cappadocia's most fantastic 4-star hotels!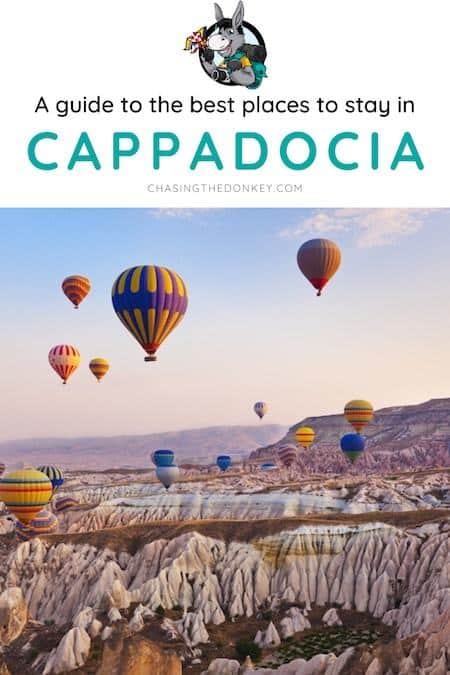 Other Good Hotels In Cappadocia
Holiday Inn Kayseri – Duvenonu
Holiday Inn is one of the 4-star hotels in Cappadocia that is perfect for staying at! Located in the town of Kayseri, the hotel offers stylish modern rooms with mountain or city views. Rooms are well-equipped with tea/coffee makers, radios, minibars, safety deposit boxes, air conditioning, heating, soundproofing, iPod docs, hypoallergenic linen, free WiFi, and free onsite parking.
This Cappadocia city area hotel is 800 m from Kayseri Castle and The Church of Saint Gregory, The Illuminator. Choose to stay here for cheap accommodation in Cappadocia!
Radisson Blu Hotel
Radisson Blu is one of the best Cappadocia city center hotels in Kayseri. The 175 m² Presidential Suite is elegantly designed and has a separate living room, dining area, and well-stocked kitchenette. Well-furnished rooms and suites feature mountain or city views. The hotel is close to the Cappadocia city nightlife and restaurants and great for business travelers to stay when they visit Cappadocia.
One of the cool things to do in Cappadocia is skiing, and many ski lifts, including the Erciyes lift, are less than 20 km away. If you're wondering where to stay in Cappadocia when you want a modern stay in an ancient land, the Radisson Blu is the ideal choice!
What To See In Cappadocia
Now that you know where to stay in Cappadocia, what should you see? Let me show you the best things to see based on. my experience:
Hike through the Love Valley near Goreme, which is famous for its phallic-shaped pillars
Also, visit one of the top sites in Cappadocia, the nearby UNESCO-listed Goreme open-air museum that houses over 200 Christian cave churches with 700-year-old paintings at the end of Love Valley
Stay in a Cappadocia cave hotel! This tops the list of what to do in Cappadocia without a doubt
Hike through the poplar-filled Ihlara Valley
Wander through the Kaymakli underground cities where Byzantine Christians lived to escape from Arab and Persian invaders
Visit the rock-cut fortress at Uchisar
See the 13th-century Karamanoglu Mosque in Urgup
Visit Haci Bektas Veli's tomb and the rock-cut museum in Acik Saray
See the 11th-century frescoes in the Eski Gumusler Monastery in the Nigde area of Cappadocia
We think we've covered all the best Cappadocia cave hotels and the regular Cappadocia hotels; now, all you have to do is choose one!
More Turkey Travel Ideas