Who doesn't love a steaming hot cup of delicious coffee first thing in the morning? I don't know about you, but if I don't get my cup of java, I'm not fit for anything!
One of the biggest concerns when traveling around is still enjoying your home comforts, and if you count coffee as something you can't do without, it might be that you're not always close to a Starbucks. In this case, a portable coffee maker is a product you need in your suitcase.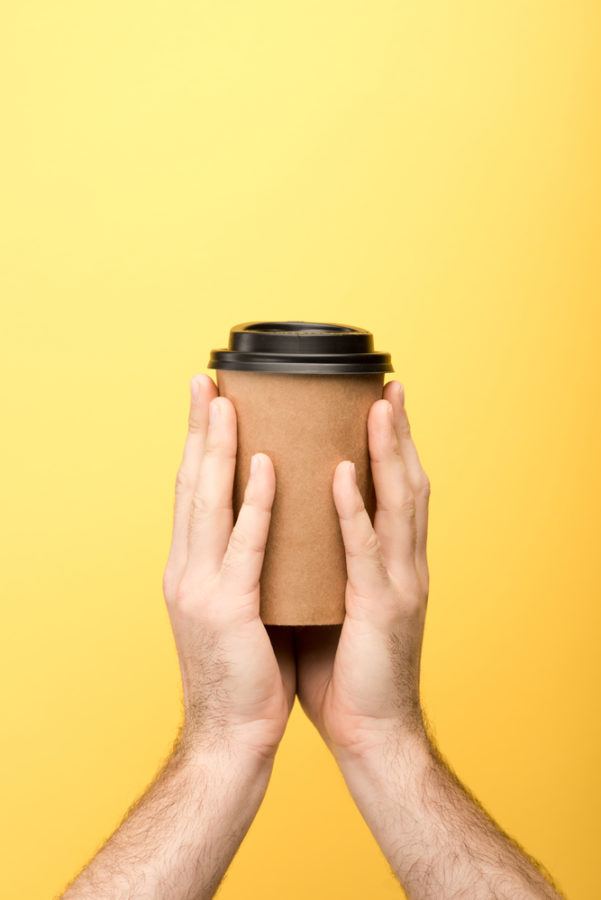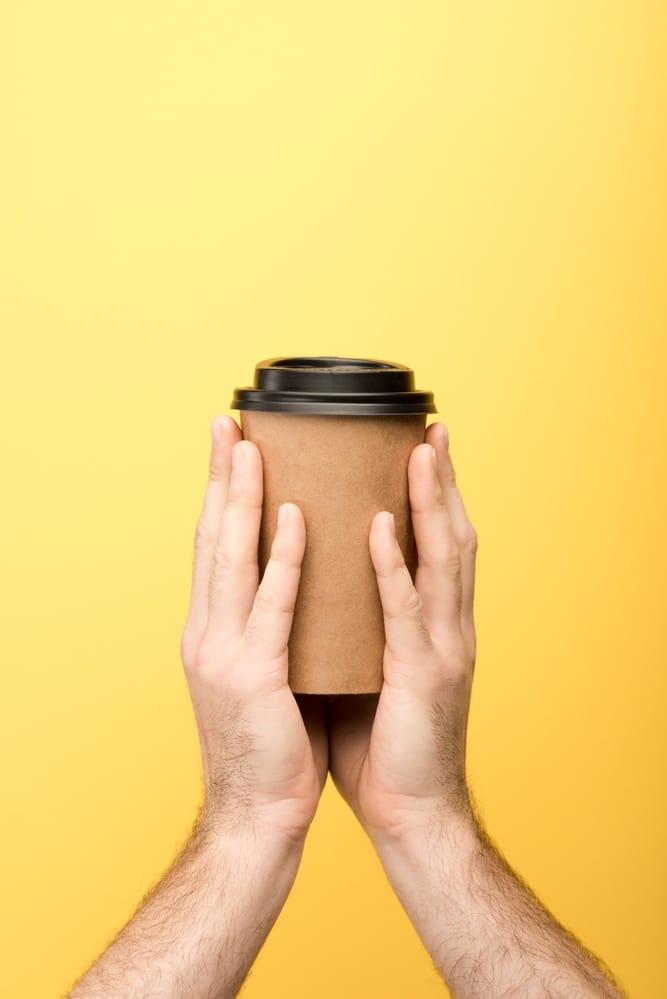 A travel coffee maker does what it says on the tin – it allows you to make a delicious cup of your favorite coffee whether you're in the back of beyond or sightseeing in a city and don't have time to try and find the nearest coffee shop. Of course, making your drinks from your travel coffee pot saves cash, too – we all know how expensive High Street coffee shops can be, especially if there's more than one of you.
But, if you're a coffee fan, and on the go coffee maker is a piece of equipment you need in your travel kit. The problem? The market is flooded with various coffee makers to choose from – some rubbish. So, finding one that suits your needs and allows you to get your caffeine fix easily is crucial.
In that case, let's check out the best travel coffee maker products and what you should be looking for in your product of choice.
Click on any heading to sort the table accordingly.
Best Travel Coffee Maker Review Chart
Image
Collapsible
Size
Material
Type
Price
N
7.4×5.9×12.1"
Plastic & Stainless Steel
Immersion

Buy on Amazon

N
6.7×5.1×10.1"
Plastic & Stainless Steel
Immersion

Buy on Amazon

N
8x5x4.2"
Stainless Steel
Pour Over

Buy on Amazon

N
4.1×4.1×9"
Plastic
Pour Over

Buy on Amazon

Y
13x13x28"
Plastic
Espresso

Buy on Amazon

N
10.7×10.7×4.1cm
Plastic
Pour Over

Buy on Amazon

N
31.6×16.8×14.6cm
Plastic & Stainless Steel
Espresso

Buy on Amazon
TRAVEL COMPANIES WE USE AND TRUST
Best Travel Coffee Maker Reviews
Get your coffee fix on the go with these travel coffee makers – we've found the best of the best for you.
Black & Decker Single-Serve Coffeemaker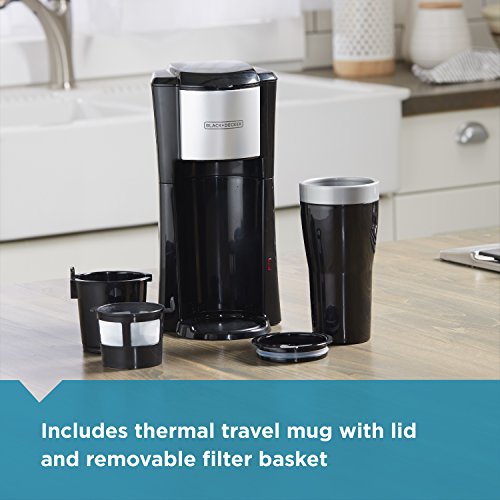 Aside from being a big brand name, this particular coffee maker is also a great price. The machine is made of plastic and stainless steel and is a single-serve option for brewing one delicious cup of coffee when your cravings arrive. The device comes with a free travel mug, 16oz in size, and fits into most car cup holders. The cup is also safe to be put into the dishwasher.
This machine doesn't need paper filters or other accessories, as the mesh filter allows you to use grounds or pods and is extremely easy to clean. There is also an auto shut-off feature, which gives you peace of mind regarding safety, making it one of the best small travel coffee maker options.
.
Adir Chef Grab N Go Personal Coffee Maker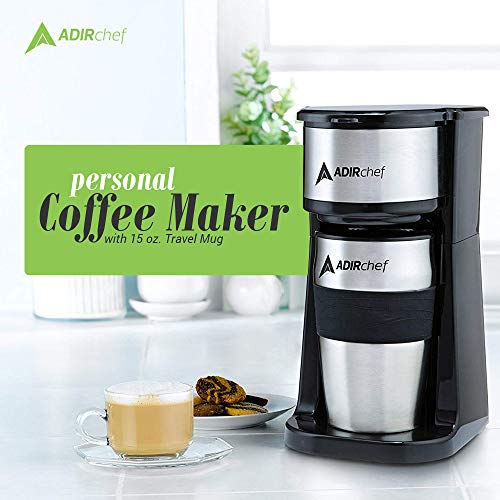 This electric travel coffee maker is stylish, as it comes in 7 different colors. The machine has a permanent filter inside, which is extremely easy to clean. The mug also features insulation, so your drink isn't going to go cold too quickly. The travelog is a regular size for one cup of coffee per person and, again, fits into most car cup holders.
There is an auto shut-off feature for safety, and the machine is made of an aplastic and stainless steel combination, which makes it a durable and long-lasting choice. The compact size also means that when you're at home, it will not take up much space on your countertops or in your suitcase when on the go.
.
Coffee Gator Pour Over Brewer Mug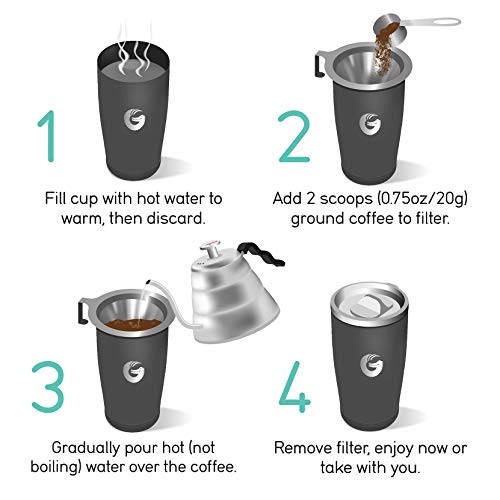 An excellent choice for those on the go who want to remain fashionable, this pour-over coffee mug comes in seven different color options. It will certainly not allow your coffee to go cold, thanks to the double-walled insulation. You use the mesh filter with ground coffee and water to pour your freshly brewed drink into the mug, and off you go.
Again, this mug fits most car holders, but the stainless steel quality makes this particular option stand apart. You also don't have to worry about spillages or drips, as the lid is seal-proof and strong. This is an excellent choice for those who don't have time to wait around in the mornings!
.
Presto MyJo Single Cup Coffee Maker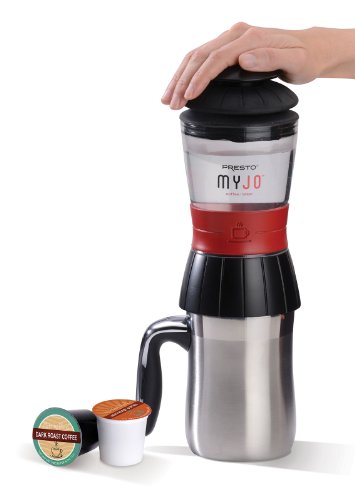 This particular coffee machine is a little different in appearance compared to the other machines we've reviewed so far, as it is made from plastic and sits over the top of your cup to brew the coffee, which you then take with you wherever you're going.
This product is a fair price for those on a budget and allows you to create all manner of delicious coffee drinks. It is a single-cup machine, and the compact size means it can easily fit into your bag or case when heading off somewhere on an adventure. You heat the water and then put it into the machine. You then pump the hot water through the machine to brew your coffee, pouring it into your favorite cup below. This might b a basic option, but it's certainly one which will give you the java hit you need!
.
Aeropress 82R08 Coffee Maker With Tote Bag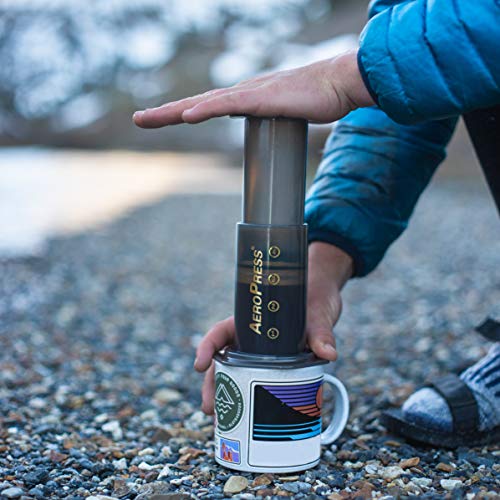 With a case, this travel coffee pot is very compact and collapses by taking the parts topics and storing them in the included tote bag. This means you can easily take this machine with you whoever you go. If you love espresso in particular, this is an excellent machine for you at a reasonable price for the quality you're getting.
The filter is micro-filtered, so you don't have to worry about gritty espresso in the mornings, and it takes just 20 seconds to press the coffee and create your delicious drink. The machine then comes apart and rinses easily for cleaning. You could even take this machine off on a camping adventure; it's small and easy to move around!
.
Primula Coffee Brew Buddy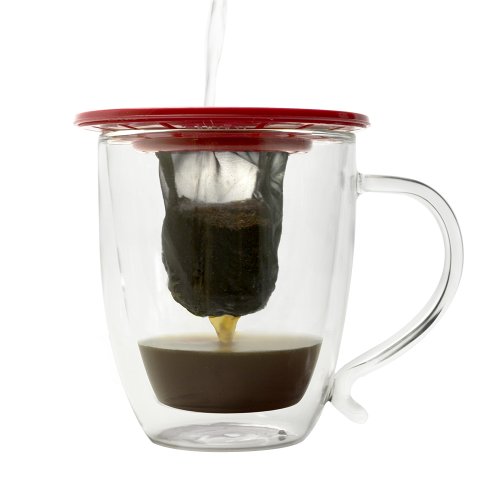 This is a very simple and budget choice for anyone who can't cope without their coffee while on the go. This portable pour-over coffee maker can choose between a single and twin pack. This isn't a standard machine per se; instead, it is a reusable eco-friendly fine mesh filter. You can add your coffee grounds and pour hot water into your cup below. The fine mesh also ensures no gritty pieces in your coffee, giving you a smooth cup every time.
This is the ideal option for anyone concerned about the planet, as the materials are all eco-friendly. The filter also easily fits onto most standard-sized cups and mugs, so you don't have to worry about spilling while making your drink.
.
CISNO Electric Portable Espresso Machine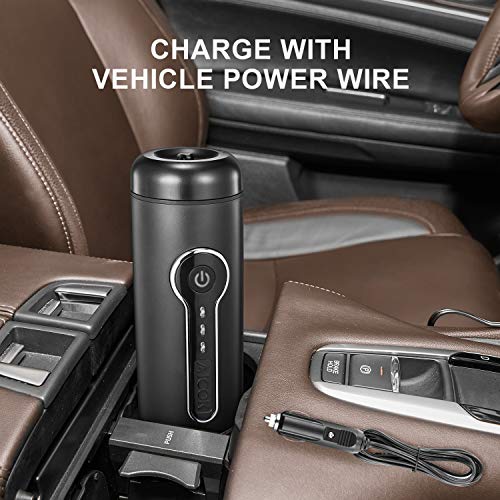 If you need a strong shot of espresso in the morning to get you moving, this is a superb express-go coffee maker option, giving you 1.35oz of espresso when you need it the most. The machine is compact and easy to use, made of quality plastic and stainless steel, in a compact design.
This espresso machine is straightforward, as there is only one button, and that's all you need. Add your coffee and press the button, boiling the water and brewing your delicious drink within minutes. The filter inside the machine is also excellent, so you don't have to worry about grittiness or anything but a smooth and tasty drink. This isn't the cheapest option we've reviewed, but it is high-quality.
.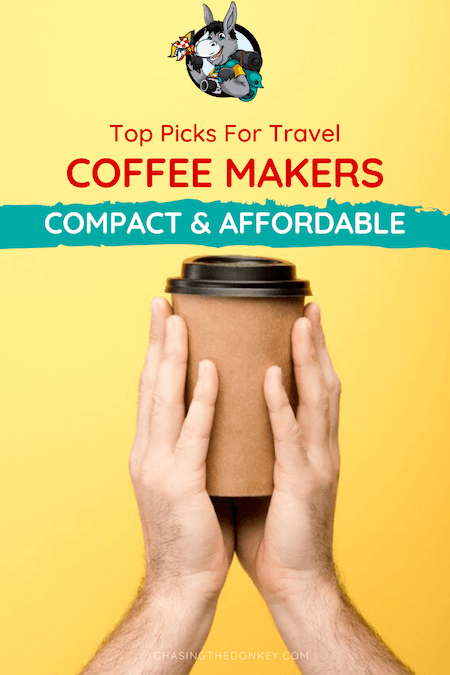 What To Look For In A Portable Coffee Maker
To get the best portable coffee maker, check out these considerations.
Size: It goes without saying that the smaller the compact travel coffee maker, the less coffee isn't going to make. If it's just you, a small product is fine, but if you're traveling with friends or your partner, you might need to opt for a machine with a larger capacity to cut down on time spent making your drinks in the morning.
Brewing time: How long does it take for your mini travel coffee maker to brew a cup of java? It's often the case that the more expensive machines brew coffee faster than the cheaper options, but not always. Be sure to check out the brewing time before making a final purchasing choice.
Does it need powder?: Do you need a supply of beans, powder, or pods for your mini portable coffee maker to generate the cup of steaming hot goodness you desire? Work out which is best for you in terms of storage and cost.
Cleaning: How easy is the machine to clean? The easier it is, the quicker you can drink your coffee and head off exploring. Is it dishwasher-safe? These are things you need to consider before making your final choice. The best travel coffee brewer will always be a very easy-to-clean option.
We also have a lot of packing and travel product tips, including the following.
Chasing the Donkey - Balkan travel blog includes affiliate links. If you decide to make a purchase through these links, we receive a commission without any additional cost to you. We appreciate your support helping to keep this site free. Find our disclaimer & privacy policy here.