Some posts contain compensated links. Please read this disclaimer for more info.

Best Travel Flat Irons & Travel Hair Straighteners For 2022
For me, traveling with a flat iron is an absolute must. A travel flat iron is one of the first things I pack in my case – always.
There are many reasons you might want to pack a flat iron whenever you head off somewhere exotic or even on a business trip. They range from sorting out that crazy hair due to the weather to reinvigorating a flagging hair-do when you can't be bothered to rewash it or you want to look cute while traveling.
Whatever your reason for traveling with one, the question remains, what is the best travel flat iron to buy? I'd suggest you pack a travel-size flat iron, to save space in your case, here are the ones:
Comparison Chart For The Best Travel Flat Irons 2022
We took a look at what travel straighteners are best, compared the features and price, and made this easy-to-use table to help you review and decide which one fits your needs.
Click on any heading to sort the table accordingly.
2022 Comparison Chart For The Best Travel Flat Irons

| Flat Irons | Read Reviews | Best Feature | Plate Width | Price |
| --- | --- | --- | --- | --- |
| | GHD Classic 1" Styler | Auto Shut Off | 1 Inch | |
| | Revlon Flat Iron Travel Set | Auto Shut Off | 1/2 Inch | |
| | Baby Croc Hair Straightener | Multi Colors | 5/8 Inch | |
| | MHD Professional Mini Iron | Super Small | 1/2 Inch | |
| | 2 in 1 Mini Flat Iron | Doubles as a Curling Iron | 1 Inch | |
| | Infiniti Pro Mini Flat Iron | Dual Voltage | 3/4 Inch | |
| | Turboion Baby Croc Professional | Dual Voltage | 5/8 Inch | |
| | BaBylissPro Nano | Quick Heat | 1/2 Inch | |
| | Wazor Mini Hair Flat Iron | Dual Voltage | 1/2 Inch | |
| | Mermaid Portable Ceramic Hair Straightener | USB charging for on the go use | Unknown | |
| | FARI Travel Mini Hair Flat Iron Straightener | Dual voltage for travel | 7" | |
| | NEXGADGET Hair Straightener | 8.2" | Good for straightening | |
| | BERTA 0.5" Mini Hair Straightener For Travel | 7" | Designed for Travel | |
| | Mermaid USB Hair Straightener Irons | Curls & Waves | Unknown | |
| | Surker Mini Hair Straightener Iron | 3D Suspension heating plate for even styling | Unknown | |
Best Travel Flat Iron Reviews 2022
Best Mini Travel Flat Iron: Turboion Baby Croc Professional Dual Voltage Mini Travel Flat Iron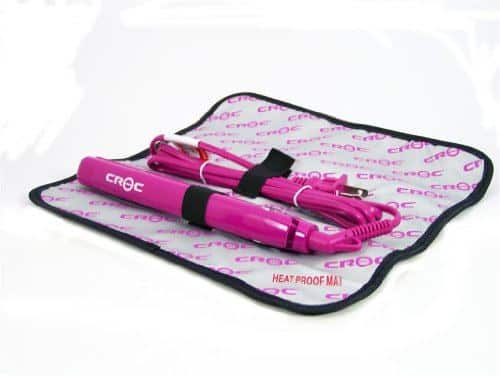 This baby croc flat iron might not have the big name of GHD, for example, but it is a fantastic manufacturer, one that is much more affordable, too, and we vote it the best mini flat iron.
This particular product is fuchsia pink, so great for the fashion conscious out there. It comes with rounded floating plates, so various styles, such as curls and so on, can be achieved on the go. The baby croc flat iron is a dual voltage one and comes with a free heat-proof carry case.
Turboion Baby Croc Professional Dual Voltage Mini Travel Flat Iron. White, 5/8."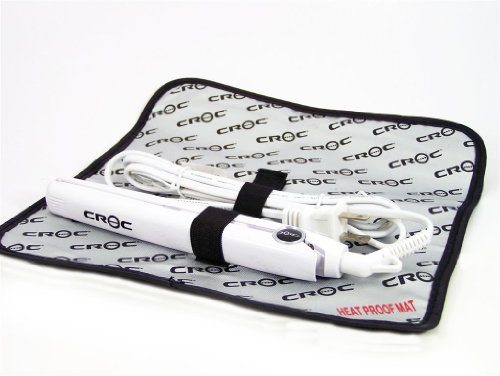 This is a very similar baby croc flat iron to the product mentioned above, but this one comes in white and must win the 2nd best mini hair straighteners award! Again, there are rounded floating plates, which means you can achieve practically any hairstyle you want.
Moreover, the plates also emit negative ions, which cut down on frizz and keep your hair perfect for longer. This baby croc flat iron is also dual voltage, and a heat-proof case is included.
Mermaid Portable Ceramic Hair Straightener Salon Professional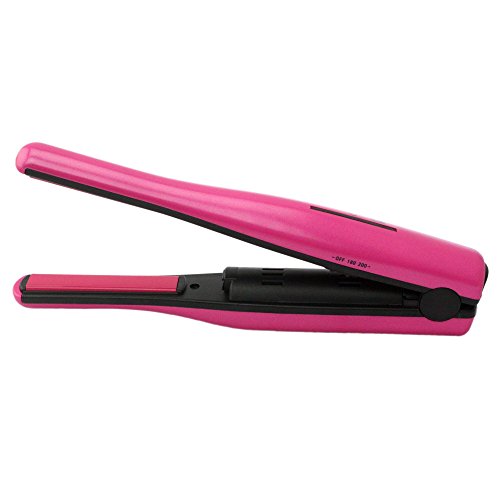 This small but mighty flat iron is perfect for anyone who needs to style fast and on the go. Needing just five seconds to heat up to full capacity, this portable travel iron can also be charged using the USB connector, which means you can style as you please at work or in the car. Don't style and drive, though!
The plates are made of ceramic, one of the best options, and the handle is ergonomically shaped, so you can hold it with ease, allowing you to style your hair much more effectively. The negative ions emitted by the plates also help to cut down on frizz and static, leaving your hair smooth and soft.
The straighteners are also suitable for thick or coarse hair, making this flat iron a great all-round product. The irons also come with a storage bag and USB cable for charging.
FARI Travel Mini Hair Flat Iron ½ Inch Ceramic Tourmaline Hair Straightener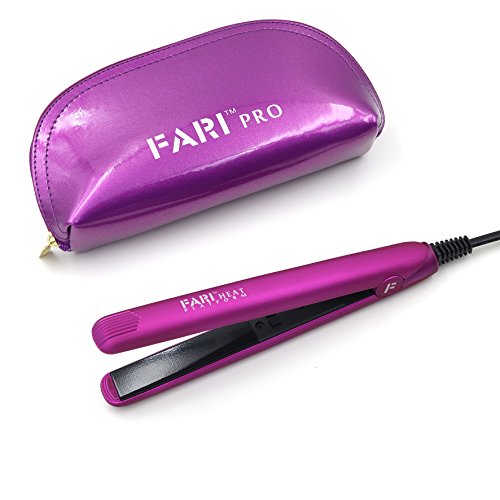 This is a great travel hair iron for anyone on a budget, as well as anyone who travels a lot and wants to take their flat iron with them. The dual voltage and included travel bag make jetting off with stylish hair much easier, and the low price certainly doesn't hurt either! Choose between purple, pink or black.
You achieve professional-looking results, thanks to the 7" plates with tourmaline ceramic material, which distribute the heat evenly across the hair shaft and cut down on burning or damage. The straighteners are also ergonomically designed for holding easily and comfortably. They heat up fast as well, staying at a constant temperature while you use them.
NEXGADGET Hair Straightener Rechargeable Mini Cordless Flat Iron With Power Bank Function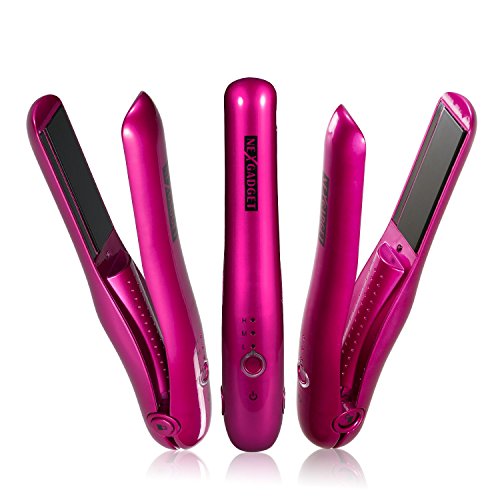 This travel size hair straightener is cordless, which means you don't have to deal with tangled cords or find a power plug to use them. You charge the flat iron using a USB. It comes with a power bank, so you can still style your hair if you're running low on juice!
This flat iron is small and compact, so you can easily take it with you to work or on your travels, while its safe locked button ensures that it won't accidentally turn on when it's in your bag or stored away. There is an automatic switch-off after 30 minutes of non-usage, too.
You can adjust the temperature from 248-338F to quickly find a temperature that suits your particular hair type, and the straighteners are strong enough to curl or even tame curls.
BERTA 0.5" Mini Hair Straightener Ceramic Tourmaline Hair Flat Iron For Travel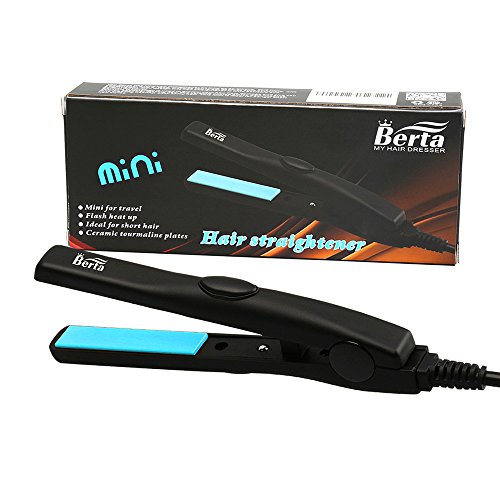 This is an extremely low-priced product, which has high quality despite its price! Designed for travel, the flat iron has dual voltage, so you can take it wherever you go, and it is small enough to pack into your bag without it using up your precious luggage allowance! At just 7", the flat iron is ideal for those on the go, and the fast heat-up time to 356F means you can style quickly and effectively.
The flat iron is made with tourmaline ceramic plates, which help to cut down on frizz and static, while the long power cord of 1.6m means you have flexibility when styling, and you don't need to be close to the plug at all times.
Mermaid USB Hair Straightener Irons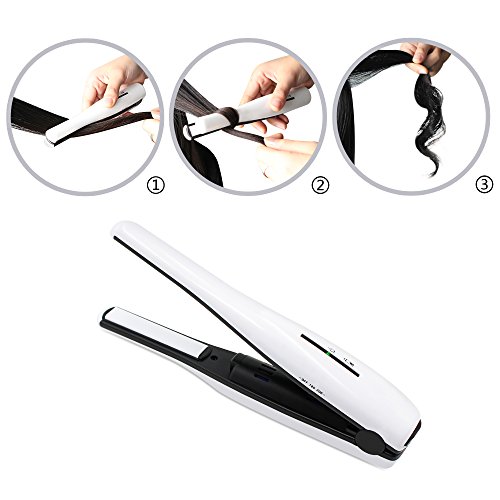 This cute and highly portable flat iron is ideal for all types of styling, not just for straightening! USB charging, this means that you can charge your irons on the go, and you don't have to worry about finding a power socket in unfamiliar surroundings. The ceramic plates are ideal for cutting out static and frizz, and this leaves behind a much silkier, smoother style after you have finished.
There are two temperature settings, 180 and 200C, and the red and green on/off light tells you easily when the irons are on and hot. There is also a safety lock function, so you can store the flat iron away when not in use, while an included accompanying carry bag protects them from damage when traveling or storing. This is undoubtedly one of the best portable straighteners on the market.
Surker Mini Hair Straightener Curling Wand Tourmaline Ceramic Iron Automatic Hair Curler Straightening Flat Iron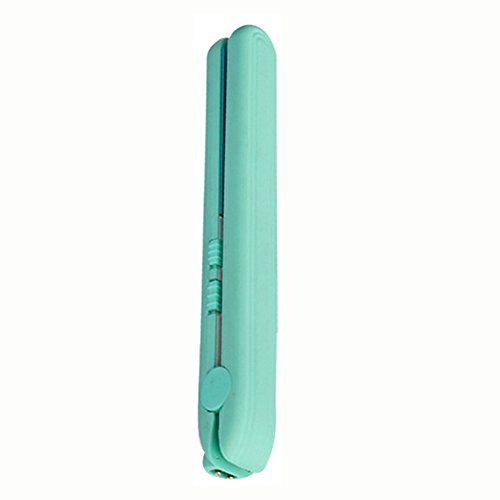 This small but very powerful flat iron comes in three cute colors so that you can color-coordinate your styling needs! Ideal for travel, the flat iron locks closed and has dual voltage, so you can take it with you wherever you go.
There is a 3D suspension heating plate, which means that the hair is treated to even heat without having hot or cold spots, which can cause damage to the hair shaft. The irons heat up to 200 degrees in around 10 seconds and maintain their heat until turned off.
Overall, this is one of the best travel straighteners for those on a budget, and the pastel color appearance makes it a winner with younger hair styling wannabes!
BaBylissPro Nano Titanium ½" Mini Iron Blue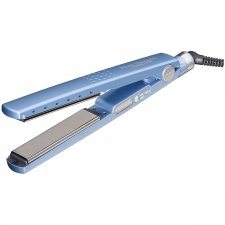 BaByliss is a huge name in the beauty world, and for a good reason. This particular set of travel flat irons heats up fast, and they have the bonus of being able to get close to the scalp, so you don't have those irritating kinks in your hair. The Babyliss flat iron dual voltage feature means you can use it worldwide. Additionally, they are long-lasting, too, being protected against chemical corrosion.
BaByliss Flat Iron 2581BU Pro Cordless Straightener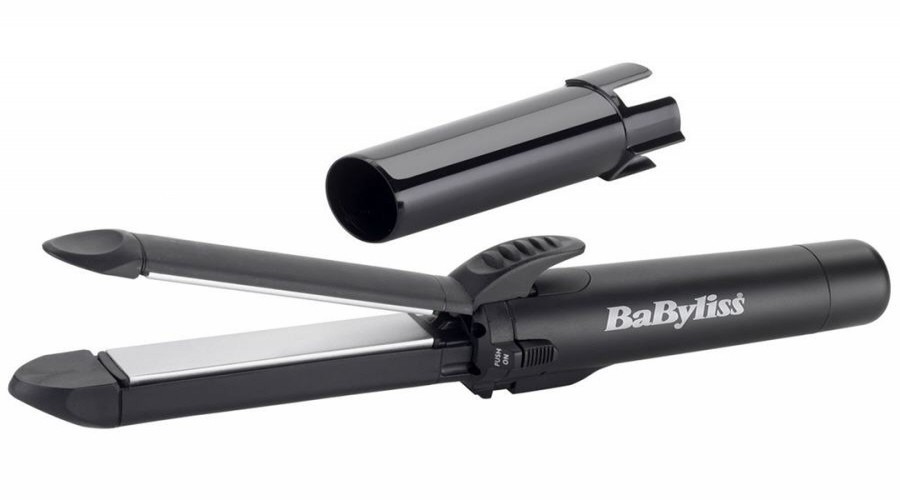 This is a cheaper choice in the BaByliss flat iron family, which for anyone on a tight budget would make this the best travel-size flat iron you could buy. And bonus, it comes with a two-year guarantee. Cordless straightening means no need to fight with a cable, so you have total freedom over where you style.
The fast heating time gives you salon-quality results, while the ceramic-coated plates give you that famous smooth, kink-free look. For safety, the irons have a cool tip, so you have less chance of burning a finger.
GHD Classic 1" Styler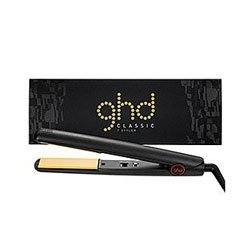 Everyone knows GHD, and for a good reason. They are arguably the best travel straightener manufacturers in the business. However, the downside is that they cost a pretty penny. Is it worth it, though? I think so, yes. These are arguably the best travel flat irons you can buy.
This particular product has thin plates, so you can style those hard to reach bits of your hair, and the universal voltage means you can use it anywhere. There is also a perk of automatic sleep shut-off when not used for 30 minutes, which definitely gives you peace of mind. The swivel cord is also 9 feet long, so you can style no matter where the plug socket is in the room.
Remington S2900 Ceramic Pearl Mini Hair Straightener

This is quite an expensive flat iron, but it comes from a good quality name in the beauty world. Whether it is better than the GHD flat iron is really a personal choice, but the ceramic pearl plates mean a sleek and smooth style without frizz or static. Worldwide usage means total freedom when you want to travel and style.
Revlon Perfect Heat Ceramic Hair Straightener With Bonus Travel Pro 1" & ½."

This is actually a set of two straighteners: one that is 1" and the other that is ½." This means you can style ends and fringes without fuss. There are no fewer than 30 heat settings, and both flat irons heat up fast, with an automatic on and off switch for ease of use.
AmoVee Mini Flat Iron Smart Hair Straightener For Travel
Designed specifically for travel, this mini flat iron is barely larger than your hand and wrist. It's tiny and lightweight, allowing you to pack it anywhere easily. Even though it's so small, that doesn't mean it lacks functionality, though. It boasts titanium technology, which heats up faster than most travel hair straighteners, which in turn saves you that little bit of precious time on the road. A heat-resistant glove prevents burning.
This travel iron well on both long and short hair, bangs, curls, and even beards. So, if your bearded husband or boyfriend has issues with a wavy beard, this would be an incredible gift. Suitable for both women and men, how surprising is that?
However, note that there's only one fixed temperature, so no temperature-adjusting button like in many other travel flat irons.
Lovani Portable Dual Voltage Travel Iron For Worldwide Use
The ceramic tourmaline plates of this top-rated travel iron distribute heat evenly and gently, allowing for perfect straightening. These 3D floating plates provide even better contact and, as such, results. It also heats up really fast, while negative ions offer a shiny and healthy look.
Size-wise, this is a super-small and portable travel hair straightener that fits pretty much anywhere, including your purse. Its dual voltage design allows you to use it all over the world. Additionally, it also features auto-adjust functions, which adjust to the thickness of your hair and even hair type. Whether you'd like straight hair or curls, you can get both with this handy little travel tool. It also comes with a heat-resistant portable bag.
What Is The Best Flat Iron To Buy?
Your choice of which travel straightener to invest in primarily comes down to your personal preference. Things to consider include the following.
Size
The size of the irons and the size of the plate are something to take into account. This comes back under the hair type" subheading below, but you also need to decide whether you want a travel flat iron that is much smaller, e.g., suitable for fringes and hair ends, or whether you want a full-sized flat iron, which will cover all needs. For me, the best travel hair straightener is small but will still do the job. So, this is why I will buy one that is a little bigger.
Dual Voltage Flat Iron
Dual voltage flat irons are quite common these days. This means they will work just about anywhere, although you will need to buy an adapter to make sure it fits the plug in the country you're visiting. Older models may be slower to heat up than the newer ones, which is down to the change in voltage. Also, older models may not work overseas, so this is something you need to look at depending on where you're going.
Cordless Flat Iron
Do you want a cordless flat iron, or are you OK with the cable? This is a personal preference and is really up to you. Cordless flat irons have the perk of being able to style your hair regardless of the location of the mirror in your room. However, flat irons with a cable mean you need to do your styling near a power outlet, obviously.
Lightweight flat irons won't take up much space in your suitcase, and they can easily be packed in hand luggage without eating up most of your weight allowance. If you don't have that issue, a standard weight may be just fine. Again, though, look at your needs.
Hair Type
Do you have thick, thin, frizzy, or curly hair? What is the best flat iron for thick hair? What is the best travel hair straightener for any hair type, for that matter? These are questions you'll need to answer before purchasing the best flat iron for you.
There are different plates for different styles and hair types. However, most are ceramic coated, so your hair won't get burnt while you're using them. Ask your hairdresser what the best travel flat iron for your hair is. Then, go online and buy one. Online shopping is cheaper, after all.
Price
The best flat irons in the business cost more, such as GHD. However, if you're not planning on using them much, perhaps you could pick a cheaper option, which isn't going to set you back much in the way of cash. Shop around.
Tips For Traveling With A Flat Iron
When using a flat iron on your travels, remember these few tips:
Always use a heat-proof mat – you would be surprised how easily surfaces can burn when subjected to the high temperatures of flat irons!
Always use a travel pouch – this will protect your flat iron from damage and scratches while traveling and help your product last longer.
Remember travel adapters, just in case – while most do have worldwide or dual voltage, that's not going to help you when the plug doesn't fit in the power outlet! Remember the different adapters that are used across Europe, Asia, and the USA.
Always turn it off when not in use – most products these days do have an automatic shut off after half an hour of non-use, but it's not worth taking the risk. Always turn your flat iron off when you're not using it.
Please don't leave it in the wall and forget it! As a last tip, when you are ready to exit the hotel, remember your flat iron! Please don't leave it in the wall and forget it.
Weight
Need Packing & Travel Gear Help?
We've written packing lists and travel gear guides about: