Some posts contain compensated links. Please read this disclaimer for more info.

Best Wrinkle-Free Clothes For Traveling
There is nothing more annoying than planning out your travel clothes, thinking about the most comparable and stylish combinations, packing your bags, heading off on your way, only to find that upon arrival, you notice it looks like someone has taken your clothes and screwed them up into a ball.
Surely you've been in this position before? With or without using packing cubes (I ALWAYS use them), I have been in this position too many times – so now I always look into buying wrinkle-free clothing for my travels instead!
As the name on the tin suggests, wrinkle-free clothing basically means that your travel clothes remain free of wrinkles and creases during or at least they unwrinkle on their own.
As a result, you're less distracted with your appearance on the go, you feel more comfortable, and perhaps you can even wear them again, e.g., a cardigan, etc., without panicking about stretching or wrinkles.
Recently I partnered with Amazon and have been testing a whole bunch of Amazon-branded clothes – to see what wrinkles the least, or as I said, unwrinkles without the use of an iron!
So here goes, here are the best Amazon Wrinkle-free clothes for travel
Amazon Brand – find. Women's Floral Ruffle Top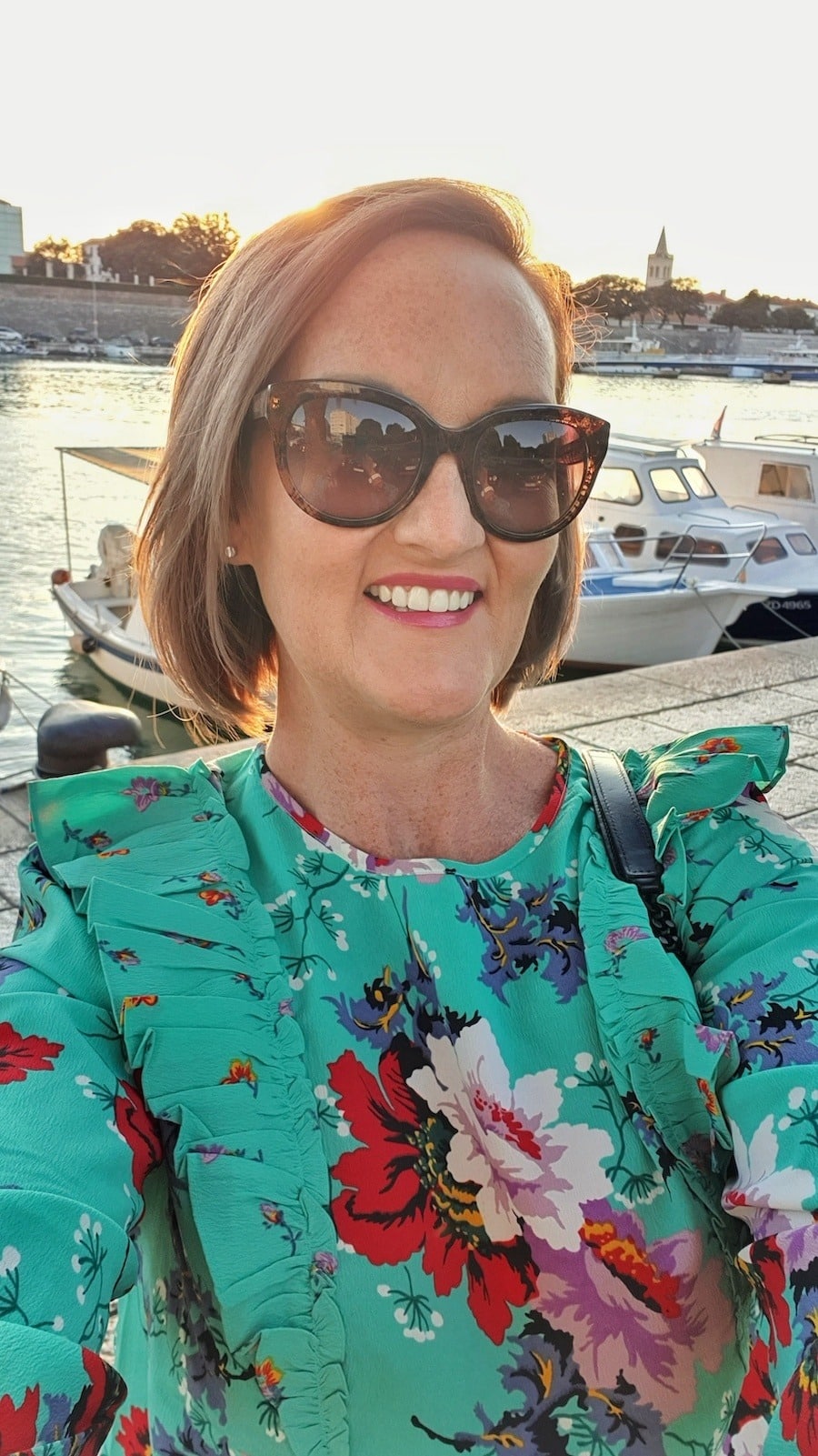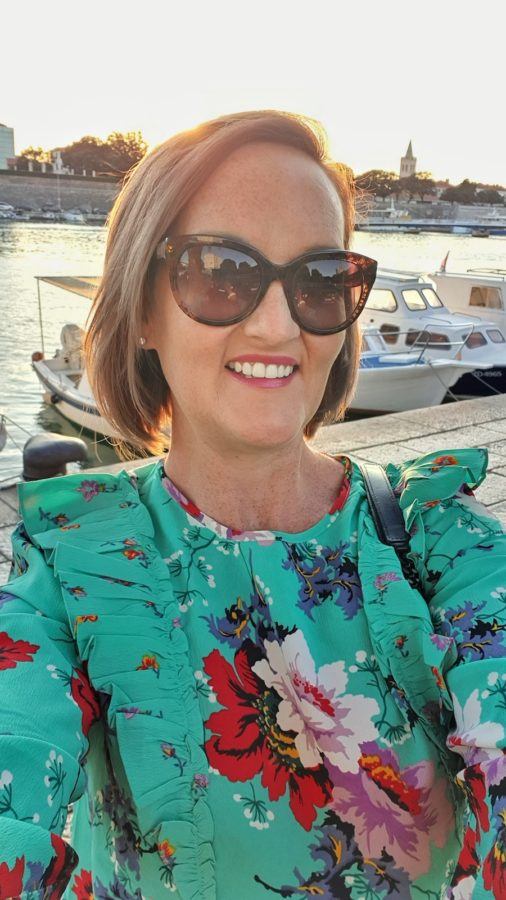 Ruffles are ideal for travel because they hide the fact that your clothes might be a little crushed from a long haul flight or from being jammed in an overpacked suitcase while still looking on-trend and comfortable at the same time.
This particular top I am wearing above is perfect for travel, as it has a loose-fitting yet stylish design, with long sleeves and a round neck, it's great for cooler weather.
I've worn it dozens of times since getting this wrinkle-free top.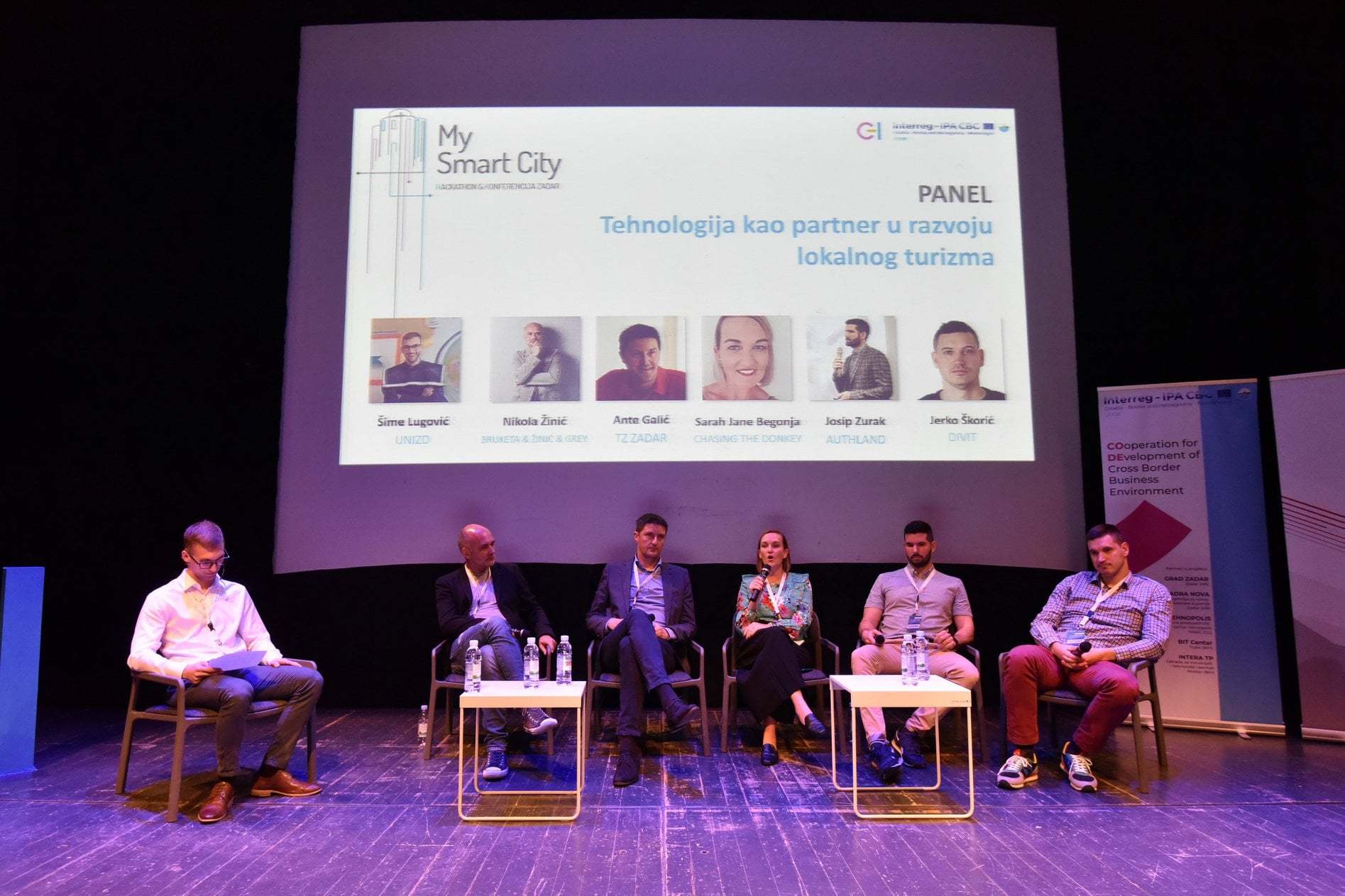 I have worn this shirt speaking at an event, out to dinner, and I have even worn it paired with a pair of sneakers and jeans for a day sightseeing! It is super versatile – and it is 100% wrinkle-free.
Material: 100% Polyester
Amazon Brand – find. Women's Trouser
These trousers are the ideal choice for women who want a comfortable pair of wrinkle-free pants.
Made of a combination of viscose, polyester, and elastane blend – these are very stretchy. Trust me, they hold in backside very well. The slight stretch in these trousers make them far more comfortable than they look, I promise!
With button and zip close, the slim design is super fashionable, and the highrise is very flattering on your belly. You can machine wash these crease-free pants on a cold wash without worrying about them shrinking or losing their shape.
Material: 76% Viscose, 22% Polyester, 2% Elastane
Amazon Brand – find. Women's Knit Cape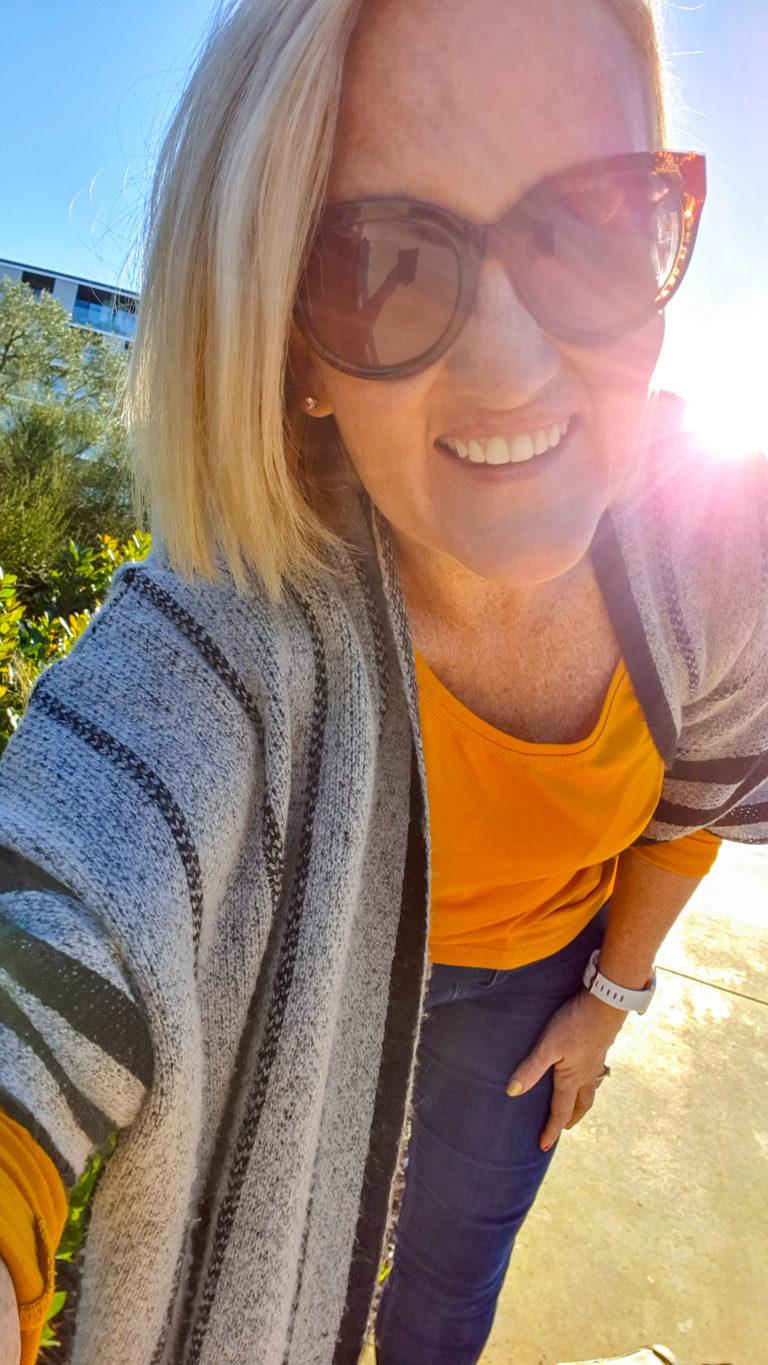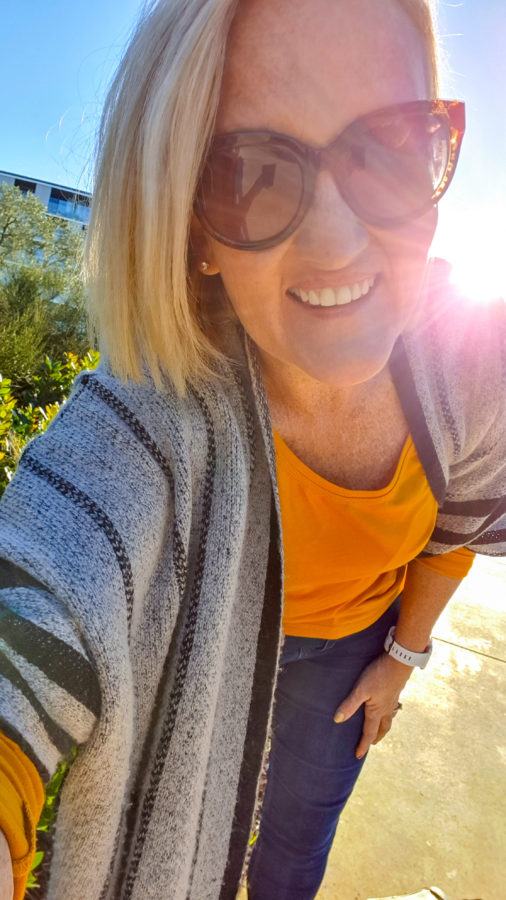 I love this knit cape, and it is cozy and yet extremely fashionable. I have worn mine a lot this past fall and winter!
This cape is ideal for cooler weather and looks fantastic with jeans or leggings. Perfect for dressing up during the evening, heading out for sightseeing days, or for being cozy when traveling on a plane! The cape is made of spezzia knit wool and is 100% acrylic.
The cape also can be folded into an excellent travel pillow!
You don't have to worry about how to keep the cape clean as it's entirely possible to throw it in the washing machine.
The loose-fitting design and mid-length sleeves are super flattering, no matter what your body type. Of course, the knitted design also means it's not going to crease, no matter how crammed your suitcase is.
Amazon Brand – find. Women's V Neck Floral Top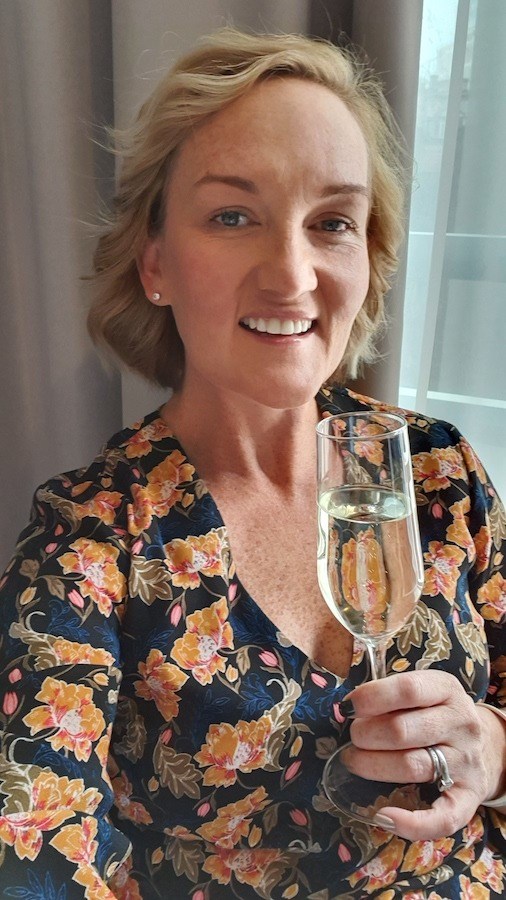 This is a super stylish and extremely comfortable top, which can be worn for travel, nights out, and days out sightseeing.
I wore this for my birthday lunch (hence the champagne glass). With a slightly loose fit, the top has long sleeves with an elastic cuff and a V neck. The floral design is bang on trend, and you can easily transition from day to night with just one outfit. The perfect wrinkle-free capsule wardrobe addition, if you ask me!
Find Women's Bomber Jacket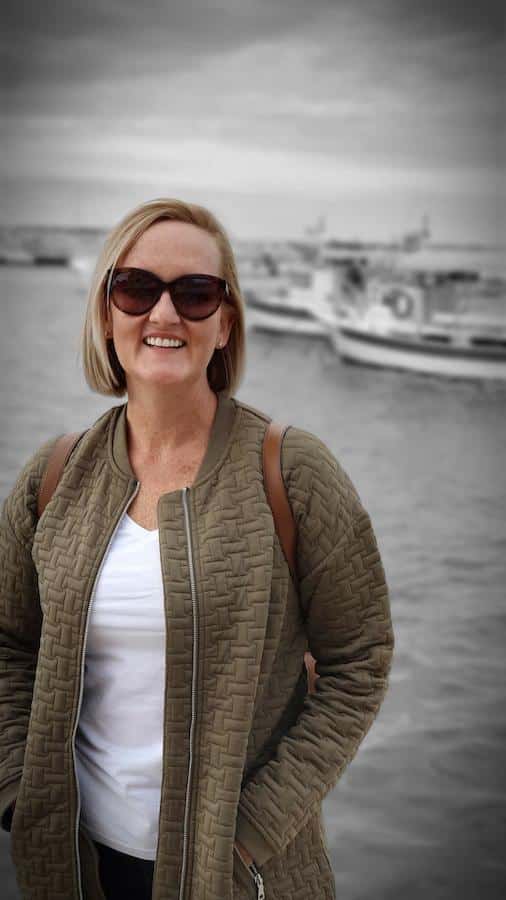 The great thing about this particular jacket is that it could easily be worn as a longline jersey top, too; you simply need to zip it up. The coat is long sleeves and long line, too, with a round collar and a padded jersey fabric. The weave pattern is raised and embroidered, which helps it stay crease-free in your suitcase – or on the plane.
Choose between khaki green, white or black. The jacket also has two zipped pockets, one on either side, and the zip is heavy-duty, so this jacket is going to keep you warm and secure during your activities out and about.
Material: 98% Polyester, 2% Elastane
Amazon Brand – Find. Women's Floral Wrap Mini Dress
A short wrap dress is perfect for travel on a plane – as it is loose – yet tailored for extra comfort. Extremely in fashion at the moment, this dress could easily be worn for nights out as much as travel days, made of polyester, and features a deep V and long sleeves for comfort. The dress is also comfortable for all body types, with the wrap tie adjusting quickly.
This is very short on me, so I have to wear 300 denier tights underneath (I am 168 cm tall), so keep that in mind.
Find Women's Pointed Collar Shirt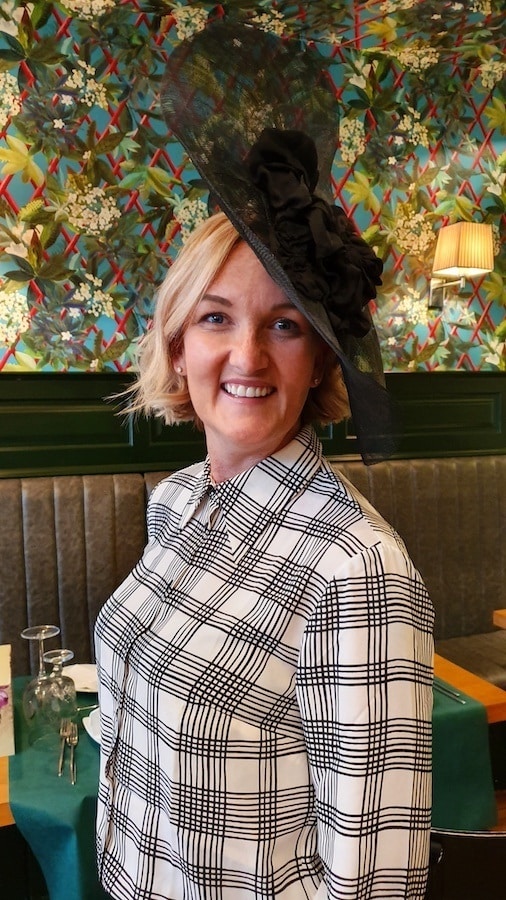 Who doesn't love a checked shirt? This particular option is ideal for day or night, and it's a material that isn't going to crease in your case and never needs ironing even after pulling it out of your suitcase.
You can choose between a white canvas with a black stripe or go for the opposite, with a black canvas.
This shirt has a fashionable pointed collar and is a button-up, so you can wear it with something underneath if you want to add layers. Made from 100% polyester, the material is crease-free and easy to wash, and durable. The long sleeves will also keep you warm during the cooler weather but can be rolled up if you feel a little warm.
MERAKI Women's Crepe Midi Wrap Dress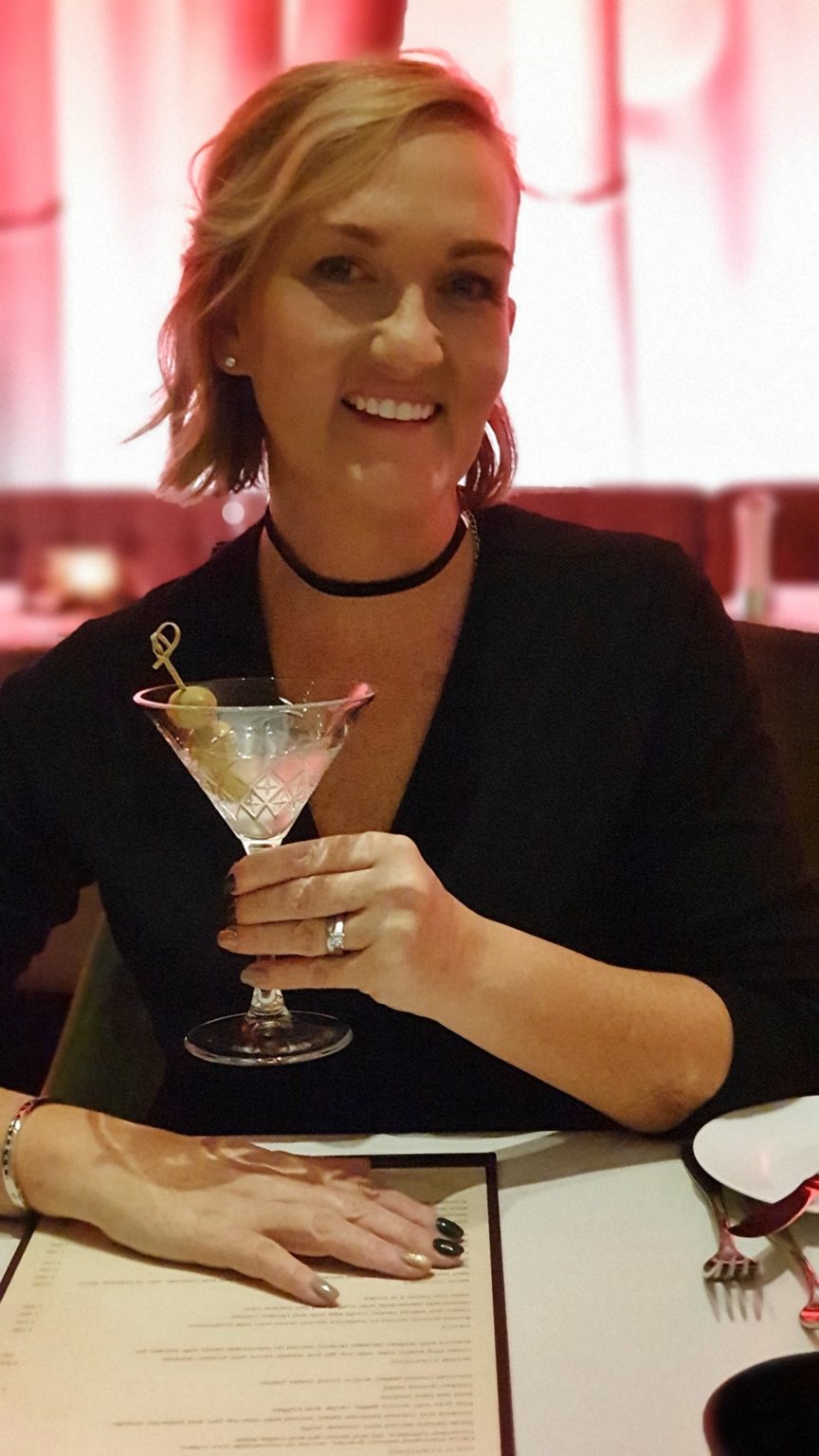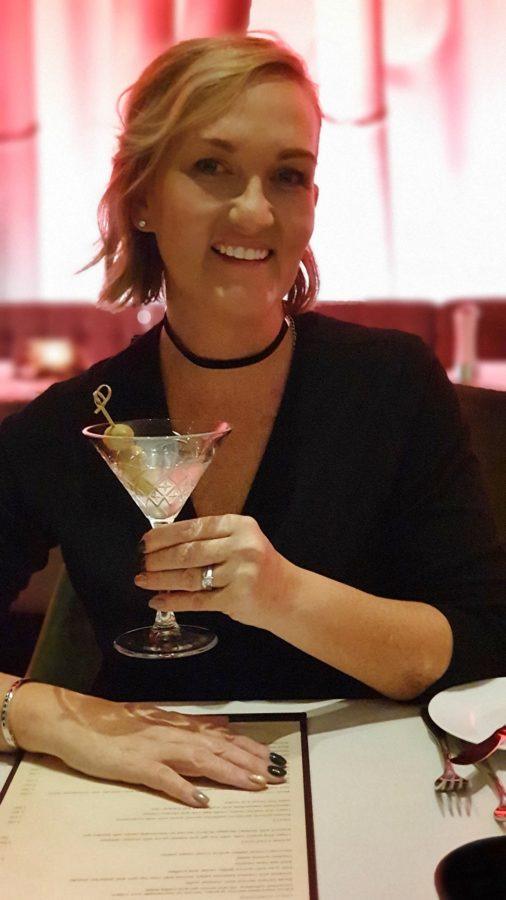 For ladies who want to be super-fashionable while on the go, this crepe midi wrap dress is ideal. The polyester and elastane mix means it's not going to end up creased in your case, meaning you can grab it and wear it whenever you please. I
t's also easy to dress up or dress down; you can opt for boost or heels for the evening or throw on a pair of canvas shoes or sneakers for the day time.
You can choose between black or a navy shade, and it has a bleed middle section, in a slim fit design and long sleeves. This is a super-flattering dress and one which will take you through countless on the road occasions!
Mine is black and looks great with boots and tights at night or with sneakers for the day.
Material: 95% Polyester, 5% Elastane
Amazon Brand – find. Women's Hoodie
This hoodie has a great combination of materials for long-haul travel. The cute arm details also mean it's not just a boring sweatshirt and is wrinkle-free in no time after hanging it up when you unpack it.
It has cute details making it a hoodie with a difference – not so sporty looking.
Material: 70% Cotton, 24% Polyester, 6% Elastane
Amazon Brand – The Drop Women's Natalie V-Neck Lace-Trimmed Camisole Tank Top
Available in five different colors and pattern options ( I got black and also khaki), this pretty camisole top is ideal for summer days and evenings out with a jacket.
Made of a polyester and elastane mix, this top is slightly loose fitting but super flattering at the same time. You can easily dress this top up for nights out, or you can head off sightseeing around town in it too. Versatile, fashionable, and very comfortable.
It does wrinkle a little in the suitcase, so try to pack this in plastic in your bag – but it also unwrinkles enough to be worn the next day after hanging it up.
Material: 95% Polyester, 5% Elastane
Amazon Brand – Find, Women's Tiger Jumper
Fashionable and super comfortable for travel, this on-trend tiger-print jumper is the ideal option to keep you warm during your travels and also completely wearable for a night out!
Slightly loose-fitting, this jumper has a found neck and long sleeves and is available in two different color options. You can also throw it at the washing machine without any worries about it balling up!
Material: 69% Acrylic, 28% Polyester, 3% Elastane
Amazon Brand – Find – Women's Chiffon Off Shoulder Dress
Wrinkle-free clothing does not have to be unfashionable, as this beautiful chiffon dress goes to show! With a fashionable cold shoulder design, the dress is made of polyester and is machine washable, so you can easily wash it on the go. The material is also lightweight and floaty, ideal for keeping you cool in warmer climates.
With short sleeves and a longer length, the dress could easily be worn from day to night with ease, and the neck and waist have adjustable ties for a customizable fit—the ideal addition to your travel wardrobe.
Find. Women's Embroidered Sweatshirt
This crew neck jumper is 50% cotton and 50% polyester, and rolls up nicely without taking up too much space, and is super soft for that long plane ride ahead.
Material: 50% Cotton, 50% Polyester
Amazon Brand – Find. Lightweight Travel Pants Women's Trousers
Comfort while traveling isn't hard to find with this part of fashionable utility pants, available in five different color options. Ideal for sightseeing or traveling from A to B, these loose travel pants have a lightweight fabric made of Lyocell and keep moisture away from the body as a result.
The waist is elasticated, with elasticated sections at the ankles, to keep the pants from rolling up while you're moving around. There is a tie waist section, too, to ensure total fit and comfort. If you're looking for the best women's travel pants for hot weather, take a close look at this pair. They're great!
Amazon Brand – Find – Women's Long Sleeve Top
This is a gorgeous top that could be worn equally during days out or evenings on the town! With chiffon, floaty design, the dress has a halter top with accompanying cold shoulder sleeves. Made of polyester, this is another top that is entirely machine washable, and the ruffle detail makes it a very wearable top no matter what your body type – super flattering!
This top looks great with shorts or jeans, and it won't wrinkle in your suitcase while you're traveling around from A to B.
Material: 100% Lyocell
Amazon Brand – Find – Women's Stripe Bardot Dress
The Bardot design is timeless and super-fashionable, so it makes sense that you would want it featured in your travel wardrobe. However, what you don't want are wrinkles and creases; thankfully, this dress is wrinkle-free in that after you pull it out of your suitcase, it unwrinkles fast – and it's a linen material, so it wrinkles a little as you wear it anyways. Being 100% cotton is excellent for breathable wear on warm days.
With the fashionable off the shoulder design and short sleeves, the dress is mid-calf length and has a waist tie, with pockets to either side. This dress is perfect for both a day of sightseeing with sneakers or on evenings out with strappy sandals.
Wrinkle-Free Fabrics To Look For
The best wrinkle-free fabrics to look out for when deciding on your travel outfit are:
Merino
Wool
Polyester
Lyocel
Nylon
Denim
Cashmere
Cotton might be cool and breathable while traveling, but it's also the material that is most likely to wrinkle and make you look a hot mess. For that reason, stick to the options above for a wrinkle-free travel day!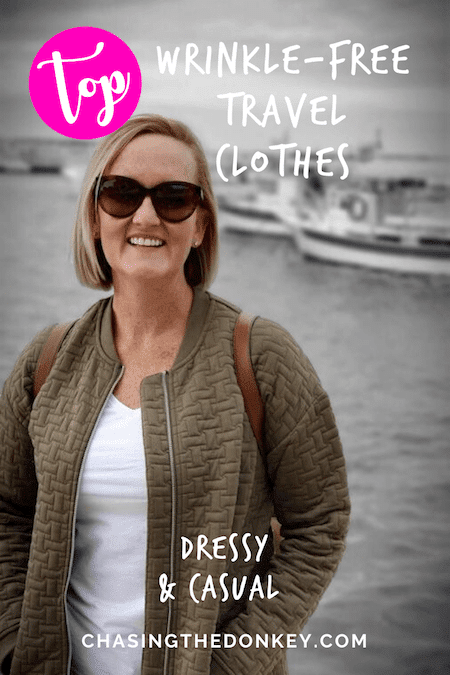 How To Pack Clothes To Help Avoid Wrinkles
Of course, it's not just your travel day outfit that you want to remain free of creases and wrinkles, but the outfits in your case too. It's no fun when you spend time planning what to take, pack them and then arrive at your destination with your wardrobe looking like it all needs ironing again. Nobody has got time for that!
So, how can you pack your clothes in a way which aims to reduce or even avoid wrinkles and creases?
The first idea would obviously be to pack clothes which aren't going to wrinkle in the first place, so the fabrics we've just mentioned are ideal. Other than that, you have the following options:
Roll Your Clothes
Rolling takes up less space, so you can actually fit more in your case, but it also helps avoid creases. If you really do want to take items made of cotton, rolling will help to reduce wrinkles.
Overlap Delicate Items
Folding materials that are classed as delicate, including pants, will increase the chances of wrinkles. However, if you overlap them/layer them in your case, you'll notice less in the way of wrinkles when you arrive at your destination.
Use Plastic Garment Bags
Plastic reduces the amount of friction that the material is subjected to whilst the case is moving around, so if you have items that are quite smart, e.g., a dress or pants, or you have items that are quite prone to wrinkling, then pack them in an individual plastic garment bag to help cut down on creases.
We Also Have A Lot Of Packing And Travel Products Tips Including