Privacy & disclaimers →
Santorini Vs. Mykonos – How To Choose Between Mykonos or Santorini
When deciding on your summer destination, it can be challenging to pinpoint one particular area. You're keen to have the very best time possible, and you're reading about sun, sand, and colorful cocktails in all manner of spots.
It doesn't make your choice very easy.
Greece is undoubtedly one of the most popular holiday destinations, and post-pandemic, it has seen a significant boost in tourism. The Greek islands are gorgeous, with sun-drenched landscapes, plenty to see and do, and delicious food to enjoy.
But then you have to choose which island you want to visit!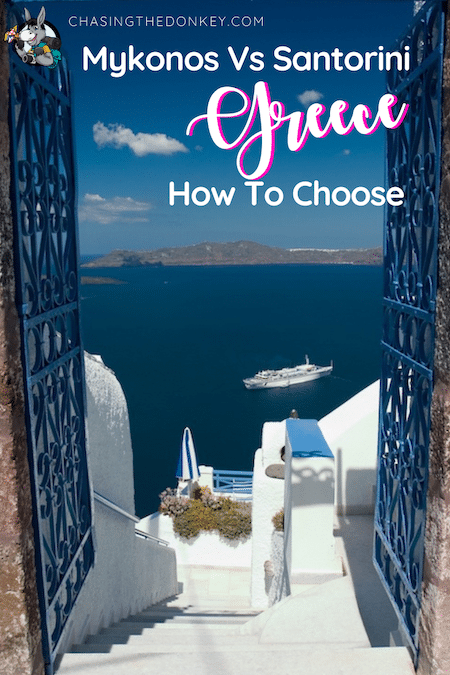 Two of the most popular are certainly Santorini and Mykonos.
So, if you've whittled down your choice to these two islands, how can you choose between them?
Let's help you make your final decision and jetting off on your Greek vacation.
Why You Should Choose Santorini Over Mykonos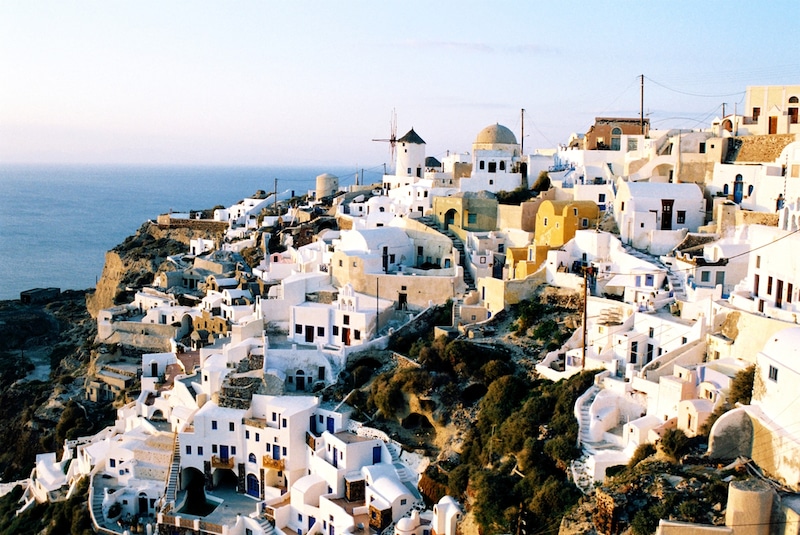 Santorini has long been a traveler's favorite. It's one of the most beautiful spots around, and if you Google it, you'll see exactly what we mean! The downside is that its popularity means a higher price tag, but that may not be an issue if you can find a deal during the shoulder months.
The views over the island are stunning, including a Calder and volcano to gaze upon. The island's capital, Fira, is geared for tourism and gives you everything you could possibly need, although other spots, such as Oia, are also worth a visit.
Beaches in Santorini offer crystal clear waters though they are pebbly with dark, volcanic sand. They're ideal for swimmers as the water is calm, and you have those stunning views as you enjoy a beach day. Many boat trips leave the harbor every day, too, so you can get the best views around.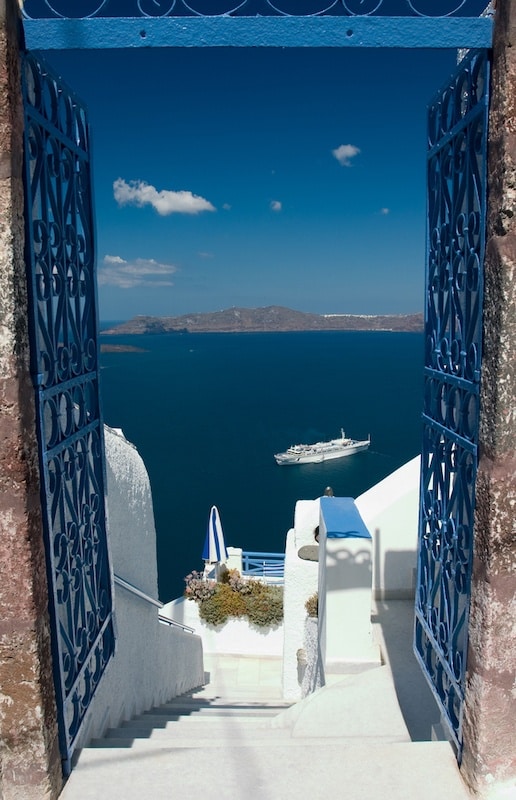 Santorini is known for its luxury hotels; if you want a romantic break, this is a great spot. That's not to say that the island isn't family-friendly, but fewer activities are geared solely towards children and families. Instead, you can look forward to visiting wineries and beauty spots. There is also history to take, with Ancient Akrotiri very well preserved and worth a visit.
Nightlife-wise, Santorini is far more chilled out than Mykonos, but that's not to say you'll be bored when the sun goes down. Fira, in particular, has a vibrant nightlife and a few nightclubs to check out too. You'll also find all different types of food to enjoy, including authentic Greek cuisine and fresh seafood.
Santorini is very well connected to major European cities during the summer months, and there are countless flights from Athens every day during the summer. However, the island is extremely quiet during the winter, and flights are reduced.
PLAN AHEAD TO GET THE BEST DEALS
Why Is Mykonos Better Vs Santorini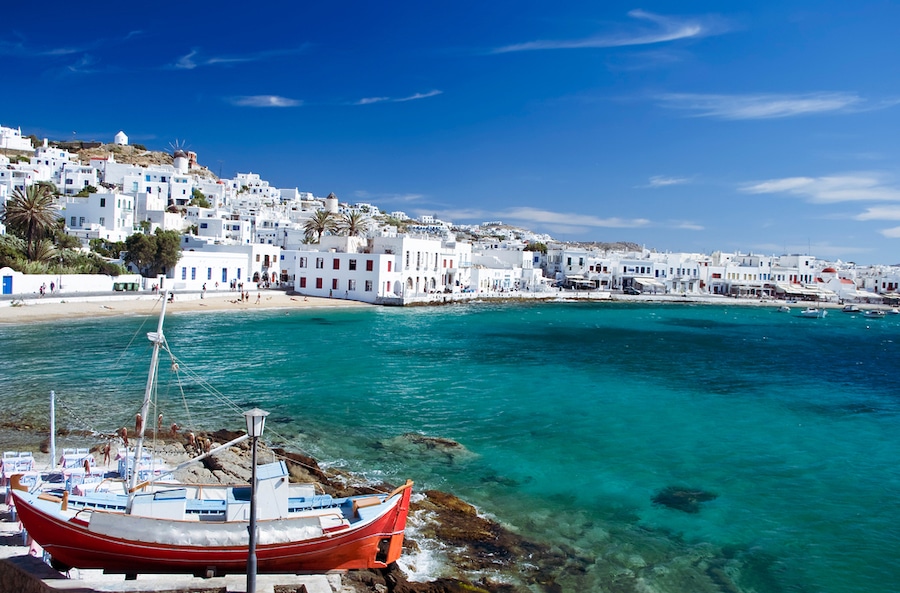 Mykonos has always been popular, and even more so now due to the countless celebrities choosing the island as their summer destination. It has always been a summer favorite and a great spot to enjoy Grece.
Mykonos is known for its fantastic nightlife, but there is more to it than that. It's a more family-friendly vibe than Santorini and is a great spot for groups. Beaches are long and contain golden sand, with calm waters for children to swim. There are plenty of boat trips to enjoy, some of which are party boats.
While Santorini has those dramatic hillside views, Mykonos is more about the beach and laid-back enjoyment. On a boat trip, you can also visit Delos Island and its ruins, which will take around 45 minutes to travel there.
Chora, also known as Mykonos Town, is where most people choose to base themselves during their stay, and you'll find many hotels in the center and around it. There are also some luxurious five-star choices outside the main town, including all-inclusive options.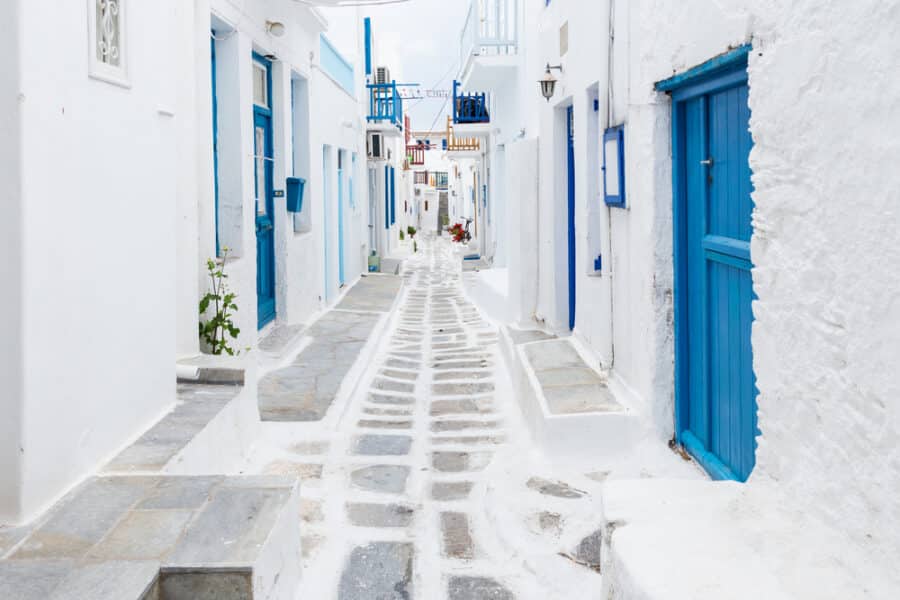 While days are often spent swimming and enjoying the beach, you can also walk around the Old Town's cobbled streets and do a spot of shopping. When night falls, that's when Mykonos Town, in particular, really comes alive. There are all types of nightlife to enjoy and some very exclusive nightclubs on the island, which may afford you the odd celebrity spotting or two!
Mykonos and Santorini are similar in terms of cost, although Mykonos may be slightly less expensive for food and other essentials. Despite that, you can find some outstanding deals for a Mykonos holiday during the spring and autumn months, thanks to a long season of good weather.
Mykonos Or Santorini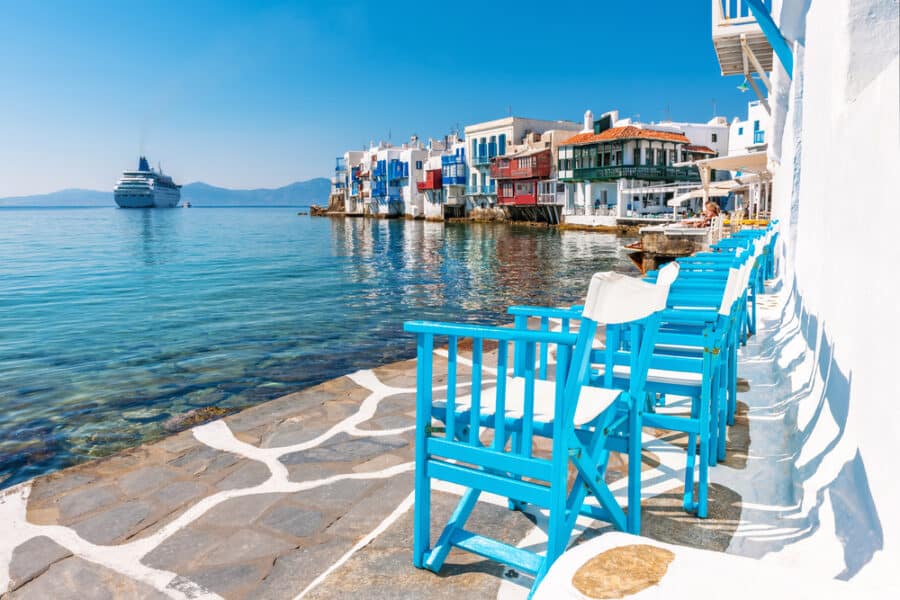 Now you know what to expect from both islands; which one wins?
Honestly, both.
It really depends on what you want your holiday to be about in terms of which destination you choose. Both islands are perfect for soaking up the sun and enjoying fantastic scenery and beach time. You can see history and views on both islands, and gastronomy is top-quality regardless of your destination.
However, some tiny details set them apart, which may help you make your final decision.
Mykonos may be a better option for you if you're traveling as a group of friends or a family. Here you'll find more variety in terms of nightlife, and the beaches are long, wide, and golden. However, if you're traveling as a couple or a solo traveler, Santorini is a great choice. This is a very romantic island, and it could also be an excellent choice for a honeymoon for newlyweds.
It also boils down to this – if you want to party, go to Mykonos. Suppose you want to see jaw-dropping, rugged scenery, to go Santorini.
Or, you could choose both! Both islands are close together, and a ferry ride should only take 2-3 hours during the summer months. In that case, you can visit both islands during the space of one holiday, and you don't have to choose!