We may earn commission from affiliate links →
Croatian Wine Regions & Croatian Wines And Wineries
Co-written by Anca, from One Day Itinerary & Chasing the Donkey.
If there's one part of the world that can be considered foodie heaven, it's definitely the Mediterranean.
A warm (but not too hot) climate, loads of sun, and the azure sea provides absolutely everything you need to cook up a feast.
However, even in Mediterranean gastronomy, one thing holds a very privileged status. This is a drink that can improve your health in several ways if you drink it moderately, and an inescapable feature of every summer dinner out in the open in this part of the world.
Of course, we're talking about wine.
But while French and Italian wines will probably come to your mind first, followed by perhaps those from the Iberian Peninsula, we are here to tell you that there is one other country you need to be aware of when discussing this elixir of gods – Croatia.
Yes, this small but beautiful country will shock you with its quality of wines and always leave you wanting more. Its long winemaking tradition and plenty of unique grape varieties will provide you with a unique wine tasting experience. You should look out for these wineries and varietal wines when in the country.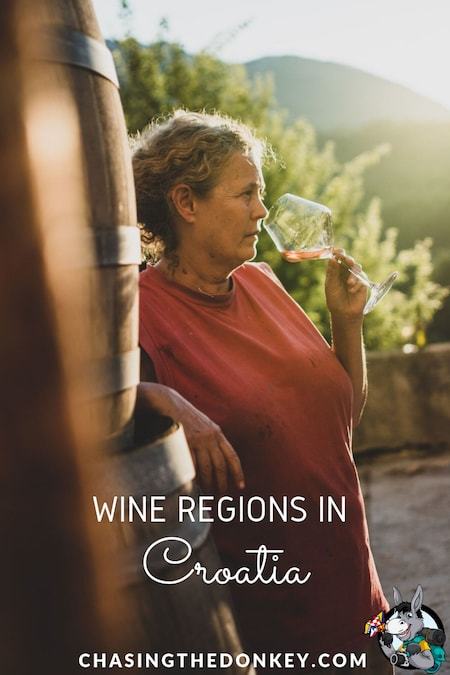 Croatian Wine History And Geography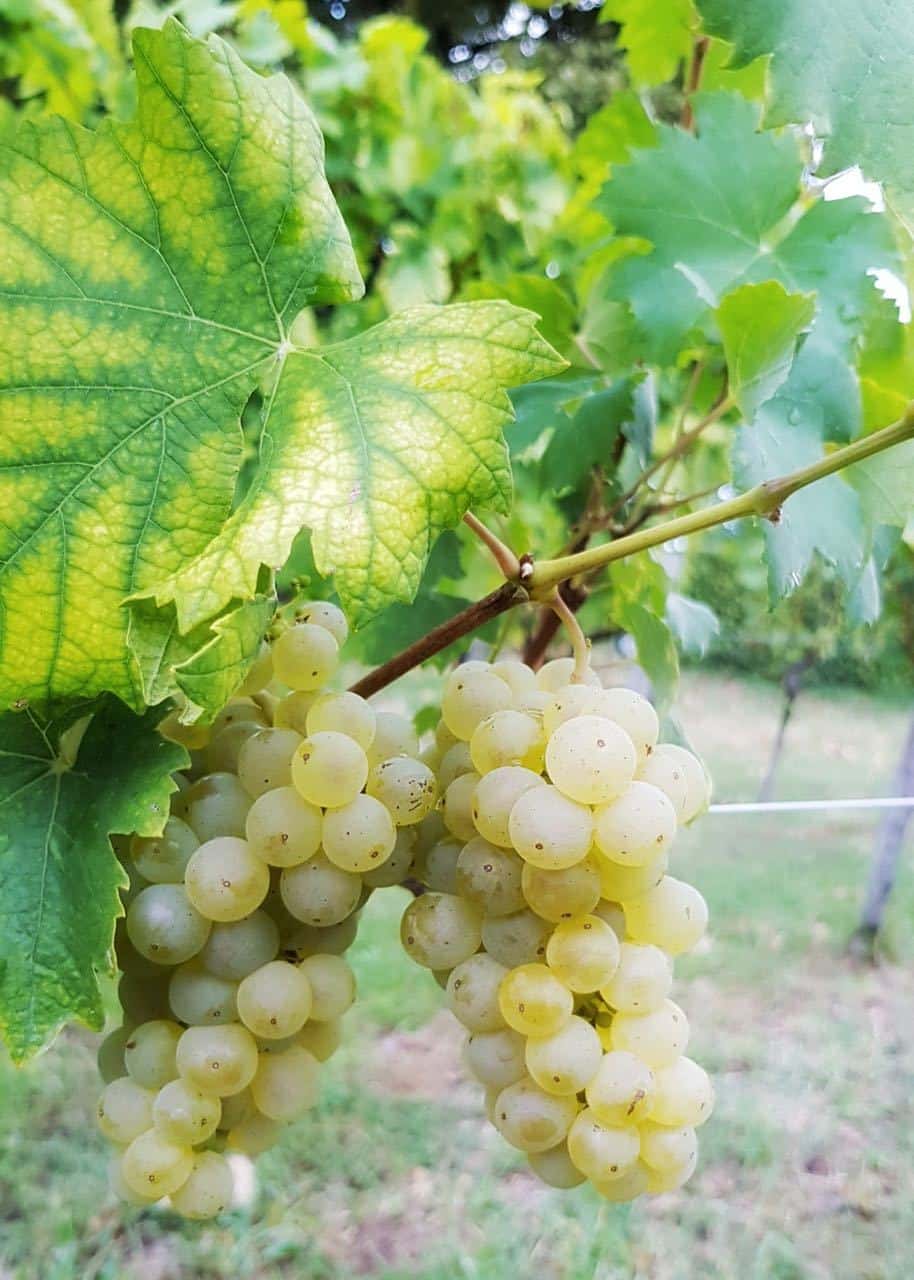 Before we start discussing wines, though, we need to look at the regions they will be coming from (in this article, at least). Two regions in Croatia stand out in this respect: Istria and Dalmatia. They both have nearly the perfect climate for growing grapes, and wine has been created in this part of the world since the time of ancient Romans and even Greeks.
When you look at Croatia's map, Istria (also known as Istra) is that triangular-shaped peninsula all the way up north. The Italian influence is clearly felt here, and it is full of quaint little towns with a lot of history, perfect for a summer wine tour because good wineries are really not very hard to find.
On the other hand, Dalmatia is a region further south, past the Velebit mountain, with a host of beautiful islands. It is these islands that hide some beautiful vineyards from which some genuinely spectacular wines are made.
The oenologist in you will have a field day no matter which part of the country you choose to visit, but let's now get a bit deeper into the issue of the best Croatian wines. There is plenty to choose from, so get ready.
Map Of Croatian Wineries
Istria & Kvarner Wines & Wineries
The northwestern peninsula of Croatia is famous for its picturesque coastal towns and hilltop villages. Istria's rolling hills and meandering coastline create a wide array of microclimates, allowing for the production of a variety of wines. It's also one of the country's culinary hotspots, its cuisine featuring local truffles, seafood, olive oils, and wines.
In terms of viticulture, this beautiful part of Croatia is known for its Malvazija Istarska grape and excellent soils for growing famous red grape varieties, such as merlot and cabernet sauvignon. Istria also has its very own red varieties, known as teran and refošk. Excellent local white wines include yellow muscat and sparkling wines.
Damjanić Winery, Poreč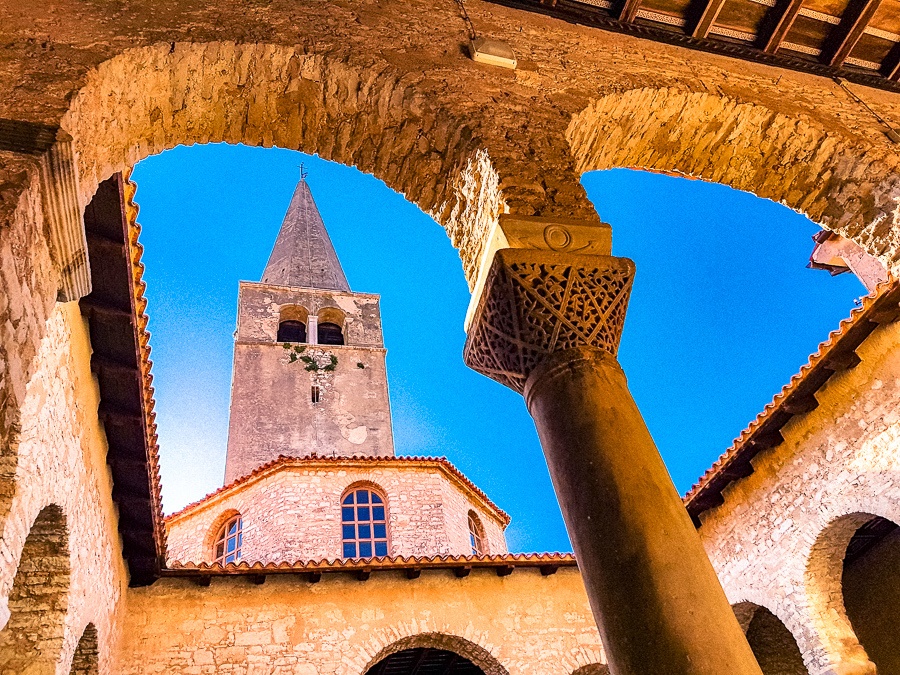 Our trip through Istria will start in Poreč. On the outskirts of that town, you can find the Damjanić winery.
This is a great place to start this tour of Istrian wines. You see, not only has the Damjanić family been producing wine since the 18th century, but they also produce some of the best wines around today.
This was confirmed with two gold medals from the International Wine Challenge – one for their Malvasia from 2016 and one for their Clemente Blanc from 2015.
It should be mentioned that Malvasia is the grape variety characteristic of this part of Croatia, so if you really want something authentic, this is the wine you will want to get your hands on.
Without a doubt, Damjanić's product is among the very best you can find, but there are more great wineries worthy of your attention, so let's move on.
Agrolaguna, Poreč
Poreč is also the headquarters of Agrolaguna, a company dedicated to creating olive oils, wines, and other similar products.
This entry on our list stands out in that it is not a small family-owned winery, but its wines nevertheless deserve to be mentioned. Their Laguna brand comes in three different categories, with Festigia Riserva being the very best of them, so pay attention to it.
Malvasia Vižinada 2016 is a part of that label, and it has recently won a gold medal at the 2019 Mundus Vini. Cabernet Sauvignon from that same label has also received a lot of praise.
So, if you're not close to a winery but would still like to get yourself something good from the local supermarket, Laguna wines should be your choice.
Cossetto Winery, Village Of Broskvari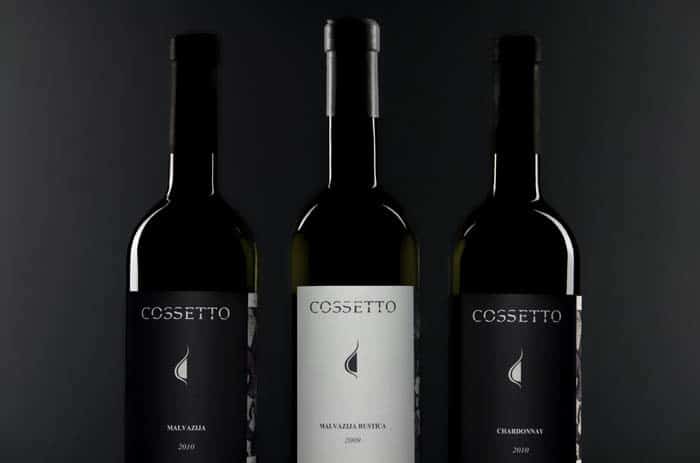 Since we have already broached the subject of Malvasia, we really need to point you to the tiny village of Broskvari near the town of Višnjan (home of Brist Olive Oil).
Yes, we're going back to small wineries now – you will find the Cossetto winery there, and their Prima Luce from 2017 has won so many awards that some Croatian media have already christened it as "the best Malvasia in the world." It's genuinely spectacular, Malvasia!
Indeed, this wine has won numerous recognitions in Croatia and worldwide, but the Cossetto family also produces their own chardonnay. As for red wines, they offer a robust Cabernet Sauvignon and Mozaik, a blend of that same Cabernet Sauvignon, Merlot, and the variety known as Borgonja.
The latter is very similar to the French Gamay. Still, it is considered an authentic Istrian variety, which means Mozaik Cossetto will give you a great idea of what Istria is all about.
Clai Winery, Grožnjan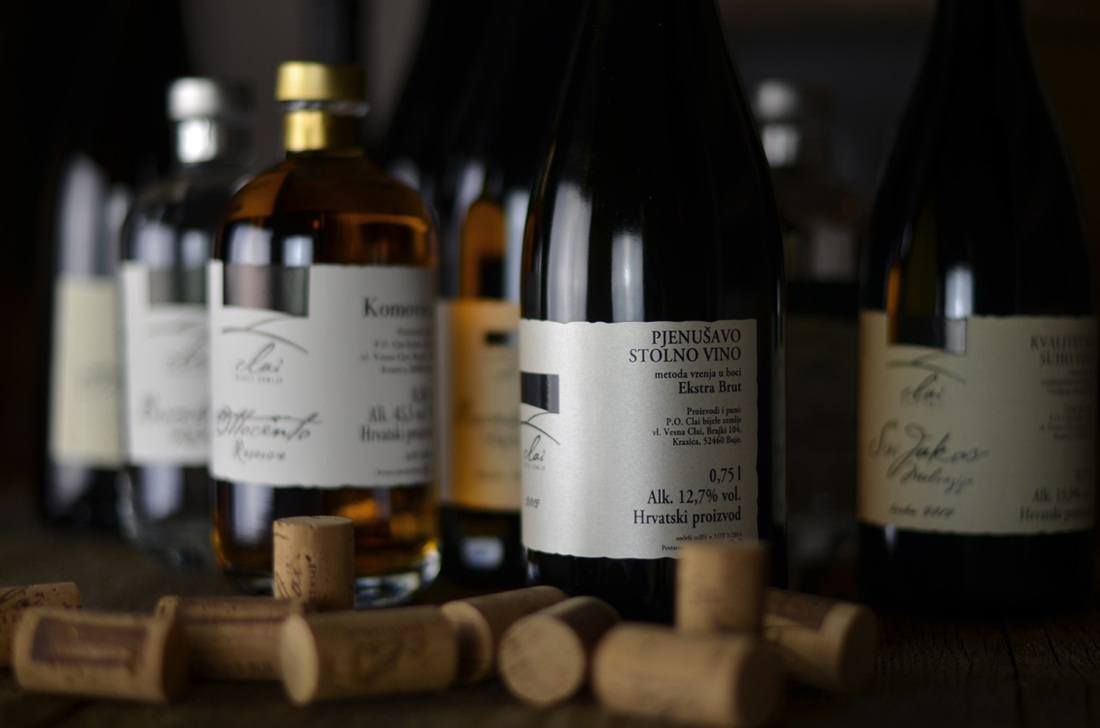 The Clai winery also has to be mentioned here. This is primarily because of its Sveti Jakov wine, an orange wine made of Malvasia, which has been recognized as one of the world's best orange wines.
However, this winery has a lot of other excellent products: their Brombonero is an absolutely sensational red wine (100% refosco), and red and white Ottocentos combine an array of varieties for some outstanding results too. So, come for Sveti Jakov; stay for everything else.
You will find this winery near Grožnjan, to the northwest of Istria. The hosts are incredibly welcoming and are always willing to discuss wine with their guests, so if you want to get to know the people behind the wines from this part of the world, just come here. Of course, tasting includes some great bites perfectly paired with every single wine, but what you get will depend on the season.
Kabola Winery, Momjan
Kabola has a very different approach to winemaking than anywhere else; it's a totally natural vibe and is very hands-off. This winery has never followed the regular rules and often makes wines you won't find anywhere else. They also age their wines in an underground hall while also leaving the grapes on the vines to do their own thing.
Kabola Winery has different packages you can try, but the VIP package is certainly one to go for if you can; you'll learn everything you could ever want to know about wine, and you'll try plenty!
Vina Fakin, Motovun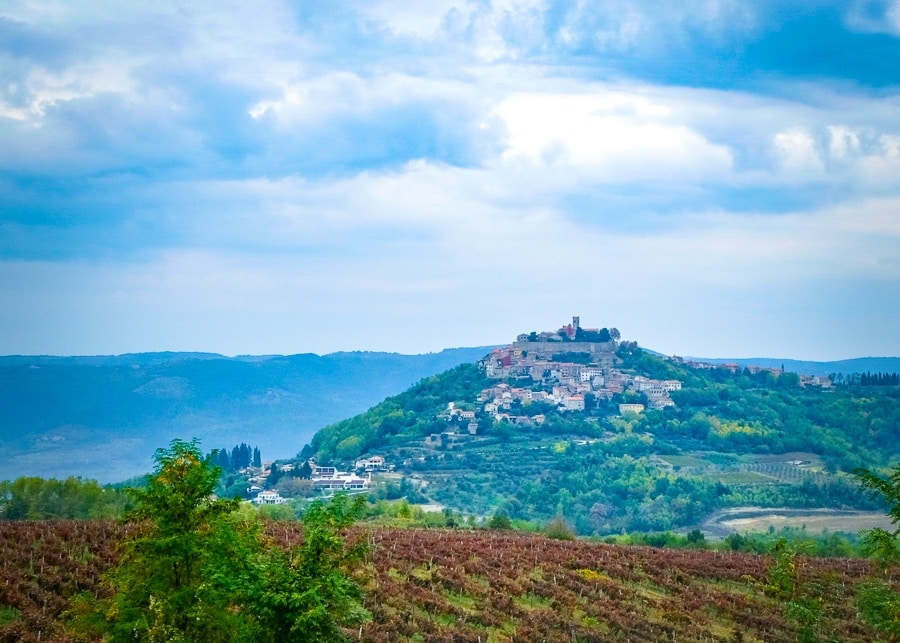 Fakin good wines! Marko Fakin is a young winemaker from Motovun who seems to be destined for greatness in the Croatian wine world and beyond. He has already won numerous awards and recognition and gold and silver medals at the Decanter Awards.
More than half of his production of 75,000 bottles is Malvasia, and his Malvasia La Prima from 2016 and especially 2015 were a huge hit, with the latter winning Decanter's gold medal.
The other big thing from this winery are their Terranos, under the label Il Primo. Rich and macerated for at least three months, they will pleasantly surprise you with their freshness and purity.
Not a big surprise there, given that Fakin's vineyards' location is considered to be among the best in the country.
Add to that the fact that the prices are extremely affordable, and you get the ultimate value when it comes to Istrian wines. You will find this winery in Motovun, a wonderful little town, so combine the two for an unforgettable day trip. Or even a vacation, why not?
Benvenuti Winery, Motovun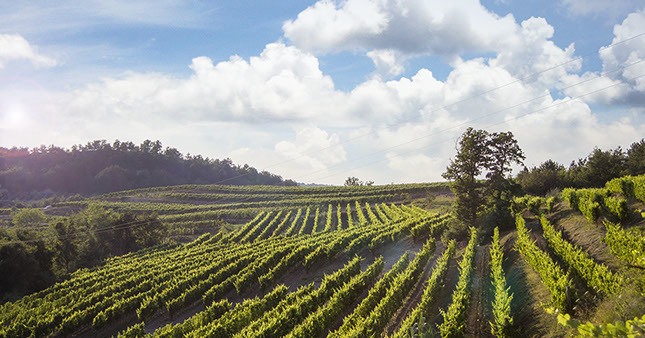 Still in Motovun, Istria, and still focusing on white wines. However, this time, we are not talking about Malvasia – no, what you also want to be on the lookout for is Istrian Muscat – the local Muscat.
The semi-sweet wine made from this variety has a mild but full and long-lasting taste, and there are a few wineries in Istria that excel at extracting the very best from every grape.
The Benvenuti winery is undoubtedly one of them since their San Salvatore 2011 won gold at London's International Wine Challenge (their other varieties include Malvasia and Teran), so look them up if you find yourself anywhere near Motovun.
Roxanich Wine and Heritage Hotel, Motovun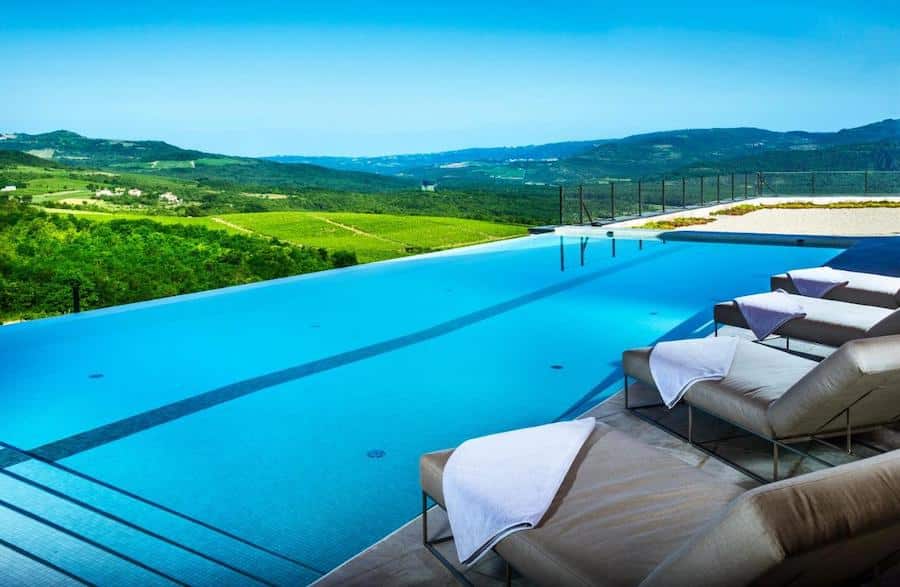 Located in Motovun, the Roxanich Wine and Heritage Hotel is a seriously upmarket hotel that allows you to learn all about wine and stay somewhere fancy too! The hotel has a hammam on site and very luxurious rooms, but the winery itself is pretty impressive.
The hotel offers many different tours, including off-road and elegant options. If you want to go truffle hunting, they've got you covered!
Check Rates On This Hotel Here
Kozlovic Winery, Umag
The Kozlović winery has also received recognition for its work with Istrian Muscat, so you can't go wrong with them. They are located near Umag, to the very north of the peninsula, very close to the Slovenian border.
Kozlovic Winery is one of the most picturesque, and the service when you visit will leave you seriously impressed. This winery covers everything you could need, from small tours to full course tasting menus.
The rolling hills around the winery are certainly Instagrammable!
Before we move on to Dalmatia, allow us to say that apart from some truly excellent wines, wine tours of Istria are very much worth it because of the beautiful and serene landscape all around you.
This part of Croatia is primarily focused on tourism, so you can easily combine beaches and food & wine tasting for the ultimate vacation.
The Mediterranean at its finest, no doubt about that. The same can pretty much be said for the second region in this article. Keep reading to find out why.
Dalmatia Wines & Wineries
Further south along the coast, what wine should you drink and why? Dalmatia and the southern Croatian Islands are another tremendous Croatian wine region. Home to stunning cities like Dubrovnik and Split and amazing islands like Hvar, Vis, and Korčula, this is one of the top tourist destinations in Croatia. When it comes to wines, too, Dalmatia has a lot to offer.
This is a pretty large region, though, so soil types, climate conditions, and topography differ dramatically across the region. Over the centuries, this has resulted in a relatively high number of indigenous grape varieties, enhanced even more by the remoteness of some of the Dalmatian Islands.
The Dalmatian island of Hvar is where you'll find the Stari Grad Plain, a UNESCO World Heritage Site, and the location of the longest continually cultivated vineyard in the world. Grapes have been grown there non-stop since about 400 BC, making it nothing less than a pilgrimage destination among wine lovers.
The stars of the Dalmatian wine industry are all local varieties, from reds like plavac mali, plavina, and tribidrag to whites like debit, bogdanuša, grk, pošip and maraština.
Plavac Mali, The Dalmatian Red Wine
It's only fair to warn you that Plavac Mali is the absolute king in Dalmatia regarding red wines.
That especially goes for the central and southern parts of the region. This is another grape variety unique to Croatia, but its popularity in this part of the country may very well shock you.
You can really find it EVERYWHERE.
Wines made of this type of grapes are characterized by high alcohol content (it can reach as much as 17%), a lot of tannins, and rich color.
However, because of that and because of the fact that so many people are making wine out of this grape variety, you need to be extra careful when choosing what to drink.
Here's a tip: Dingač and Postup Plavac Mali wines are widely considered to be the best, so you really can't go wrong with them. They are always a safe bet if you're not feeling adventurous. As for other examples of this wine, we've already mentioned Ahearne's great product, but Grgić's Plavac Mali and Miloš Stagnum (2007 in particular) also deserve to be on the list.
Degarra Winery, Zadar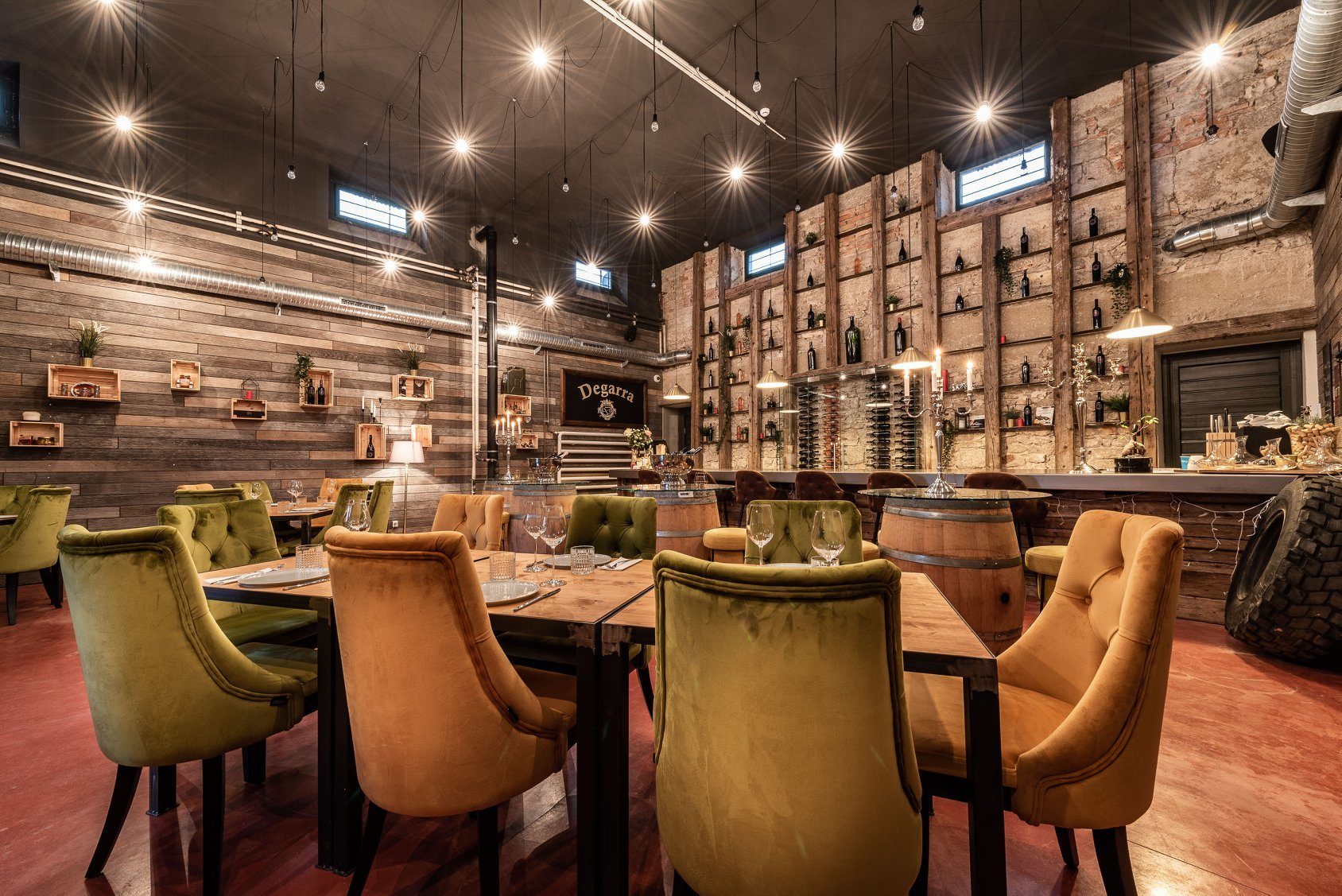 Our wine tour of Dalmatia starts on its northern end. The Degarra winery is a small but exquisite winery located in the city of Zadar.
Although white wines are their specialty, they also make rosé and red wines. Mind you, this is a tiny winery, a project started by just a few enthusiasts that initially yielded only about 8000 bottles.
However, their wines soon became a huge hit, and the demand multiplied several times. Today, they produce 30,000 bottles a year and are very reluctant to increase that any further.
It would diminish the quality, they say, which is of the highest order. So, when in Zadar, look this very intriguing establishment up, and if they have any bottles available, you're in for a serious treat.
Please pay special attention to their Pošip (a variety of white grape indigenous to Croatia) and Bomary, an exceptional and very exciting blend of several types of red grapes, which has caused quite a stir on the local oenological scene.
Without question, this is a great way to start your vacation in Dalmatia.
Ahearne Vino, Hvar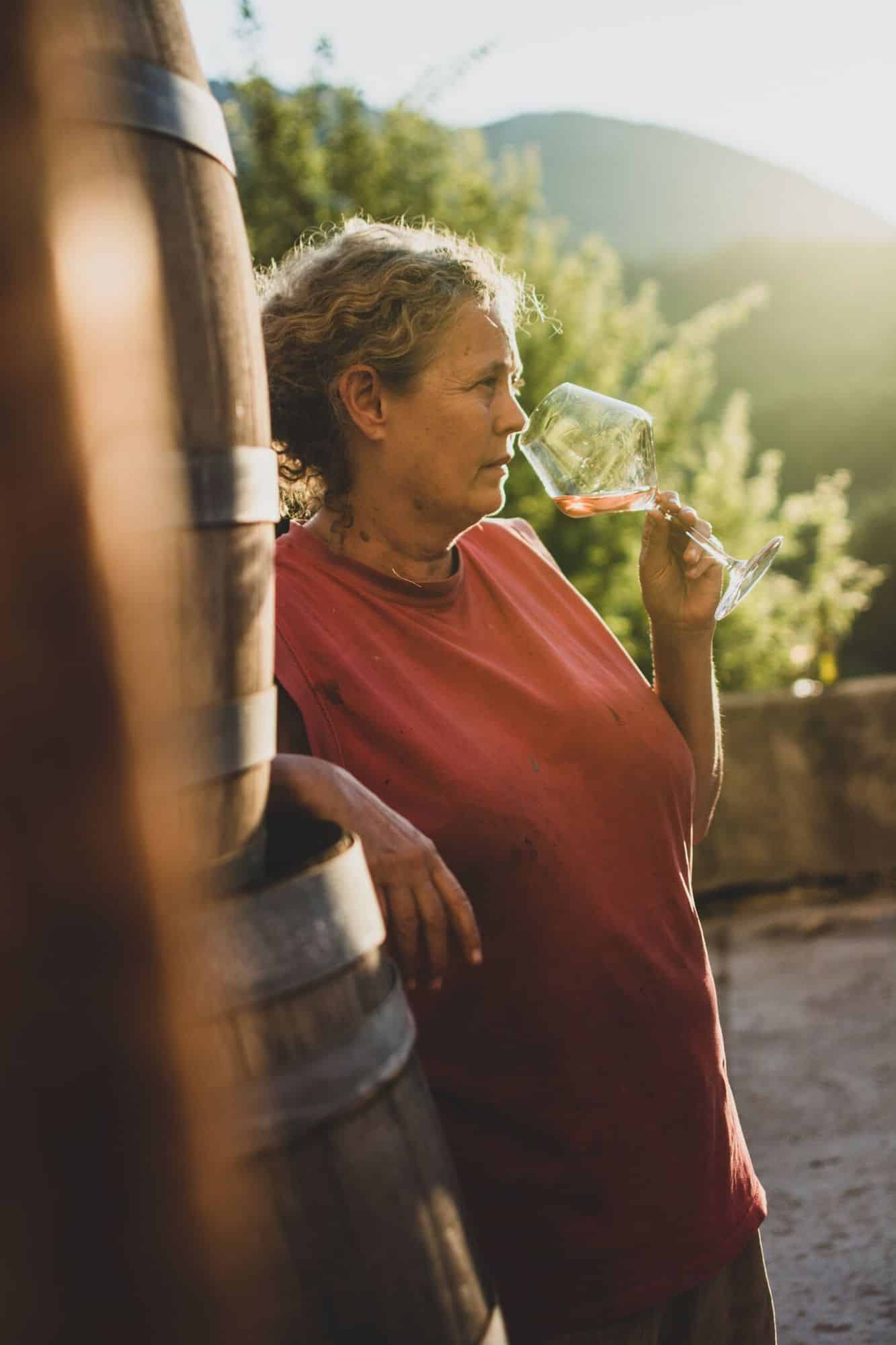 If you're visiting the islands around Split, make sure you pop over to Hvar. That's where Joanna Ahearne has set up her base of operations, which has resulted in some genuinely extraordinary products – we daresay she's a master of wine!
First and foremost, her Wild Skins is a macerated white wine composed of three local grape varieties. This has resulted in a complex and very intriguing aroma you won't find anywhere else in this part of the world (and we seriously doubt anywhere else, for that matter).
Furthermore, she also makes a rosé of drnekuša, a scarce grape variety – drnekuša can be found ONLY on just over one hectare of land on Hvar if you want to taste something that literally cannot be found anywhere else in the world; this is it.
Apart from these two, Ahearne also produces excellent Plavac Mali wines, which are also of the highest quality. Given Joanna's long carrier in the world of oenology and the fact that she has the prestigious title of Master of Wine (the only person in Croatia with one!), a visit to her base of operations on Hvar is something no wine lover will want to miss.
Pelješac Wineries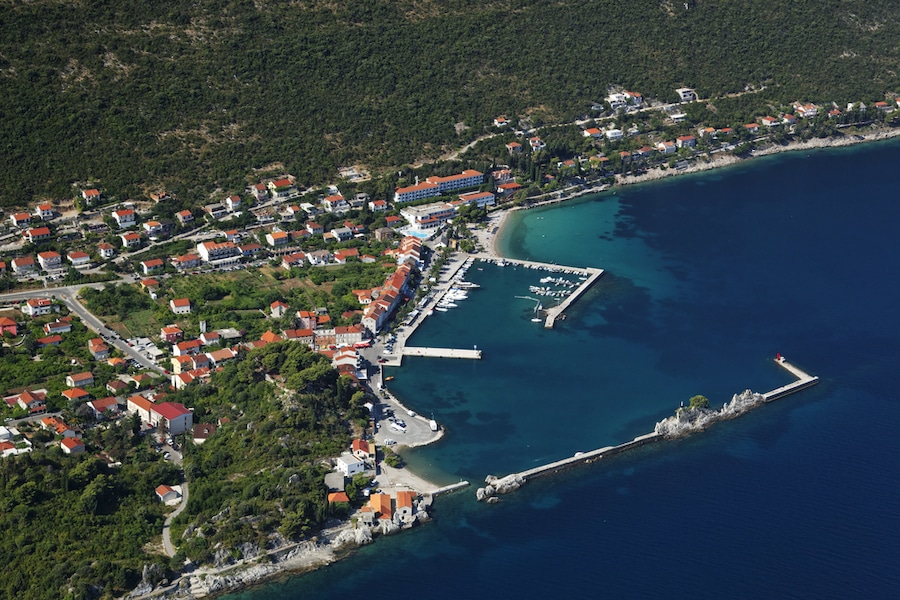 Many of the names mentioned in the last paragraph are closely related to the peninsula known as Pelješac. This is THE place for excellent wine in Dalmatia (and beyond) and a great stop if you're traveling to the Croatian jewel of Dubrovnik, for example.
The Dingač mentioned above and Postup are appellations on this very peninsula. The red wines produced in the area are considered to be the best not just in the country but also in the region.
Considering this area's reputation, it would really be a shame not to stop for a tour of the local wineries if you're in the neighborhood.
There are about 250 wineries in Pelješac alone, which can give you a pretty good idea of how much wine is important to the people living here. This also means you need to know which ones you should visit, so here's a short overview of the best and most interesting wineries in Pelješac.
Vicelić Winery, Pelješac
Although not very big, this winery produces some incredibly impressive wines. The best proof is that their Dingač from 2011 was the first Croatian wine chosen by Berry Bros & Rudd, the British Royal Family's official supplier.
You can't get a much better recommendation than that!
Edivo Underwater Winery, Pelješac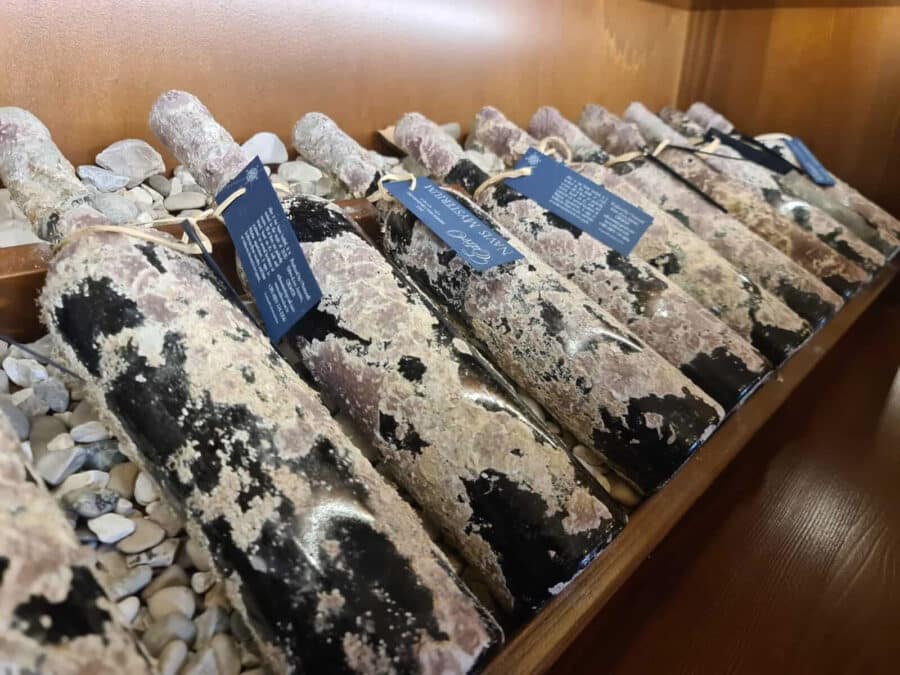 Yes, you read that right! The beautiful Pelješac Peninsula even has its own underwater winery. Located in the small town of Drače, between Orebić and Ston, Edivo Vina is the first underwater winery in Croatia. It stores its wines in amphorae beneath the Adriatic Sea, where the cooling effect of the water provides ideal wine storage conditions.
Visitors can tour these underwater wine cellars on a scuba diving tour with a PADI-certified guide. You do need your own diving license, though, in order to grab your own wine bottle from the bottom of the sea. Tours occur once a day in winter and twice a day in the summertime. Additionally, Edivo Vina also has an above-ground winery where you can taste their wines.
Miloš Winery, Pelješac
We have already mentioned their Stagnum, but this winery deserves the utmost respect because of the tradition they bring to the table (no pun intended).
You see, the Miloš family has been in the winemaking business for generations, and during that time, little has changed in terms of how they produce wine. Oh, and they also make some excellent olive oil, so if you get a chance to taste some of their products, for heaven's sake, don't say no.
Matuško Winery, Pelješac
There are several reasons to visit this winery. The first is that they have some great wine, obviously, but they also have a wide array of different products. Furthermore, the winery itself is exceptionally beautiful, with an incredible underground wine cellar and an awe-inspiring tasting room. Visiting this place will pay off in so many different ways.
Eastern Croatia & Continental Croatia Wines & Wineries
Croatia's third central wine region is continental Croatia (the inland area around Zagreb) and eastern Croatia (the Slavonia region).
Continental Croatia is the place to go for sparkling wines in Croatia, while several white wines are also produced here. This large region encompasses the Croatian Highlands, a series of rolling hills and mountain ridges with a cool climate. Star varieties found in continental Croatia's hills include graševina, sauvignon blanc, furmint, riesling, chardonnay, and kraljevina. Additionally, you can also find some red varieties here, including pinot noir, cabernet sauvignon, and frankovka.
On the other hand, the eastern part is mainly flat agricultural land and river valleys, including the Danube River valley. While the valleys are used for other agricultural production, the surrounding hills are ideal for growing grapes. Varieties in eastern Croatia are pretty similar to those found in the greater Zagreb area. The best and most famous wines in this Croatia region include whites like graševina, riesling, chardonnay, pinot grigio, and traminac (better known as gewürztraminer), and reds such as pinot noir, cabernet sauvignon, and merlot.
Korak Winery, Plešivica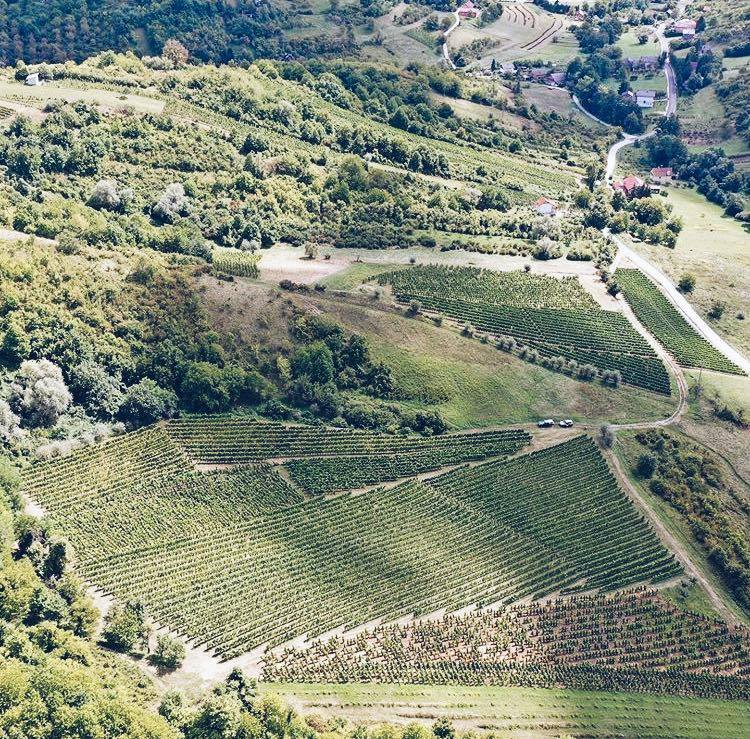 Korak winery is a family-run affair in the beautiful Plešivica region. This particular winery is also famous for Chardonnay, Pinot Noir, Champagne, Riesling, and Sauvignon Blanc. This is an excellent winery for those who aren't advanced in wine tasting and want to try it for the first time.
Having been recently renovated, this winery is a modern option, and it has several packages you can choose from to explore the estate and different dry wines. A picnic for two is a great option here, and you'll have the very best scenery to enjoy your food!
Winery Jagunić, Plešivica
If you want amazing views, this is the one for you! Located in Plešivica, this is a small and welcoming winery that will make you feel like you're part of the family.
There is a lot of history here as this winery began bottling wines before most others in the region, and they have a huge menu of different wines to taste, including local and international options. The package includes tasting a huge six wines and cheese and meat snacks.
Ivančić Griffin Winery, Plešivica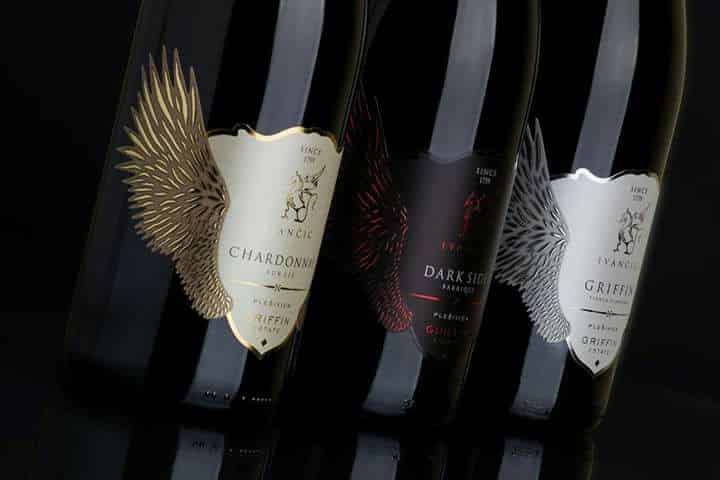 This is a winery with a difference because not only can you tour the area and explore the scenery, but the owner will also show you how to make wine! You'll also find a variety of different wines here, including some lesser-known ones, such as Rizvanac and Blauer Portugieser.
This is a smaller winery, so don't expect crowds or a huge amount of marketing, but its intimacy is what makes it stand apart. Tours last for two hours, and you get a variety of snacks to enjoy.
Sember Winery, Pavlovčani
Sember Winery is a family-run winery that will help you to learn far more about wine than you ever thought possible while tasting some truly delicious samples for yourself. With both sparkling and still varieties of wine, you can also taste wine made in large clay vessels, with the wine left to ferment for a long, long time – it's strong!
Sember Winery has a large tasting package that includes snacks and tasting of five different wines.
PLAN AHEAD TO GET THE BEST DEALS
All In All…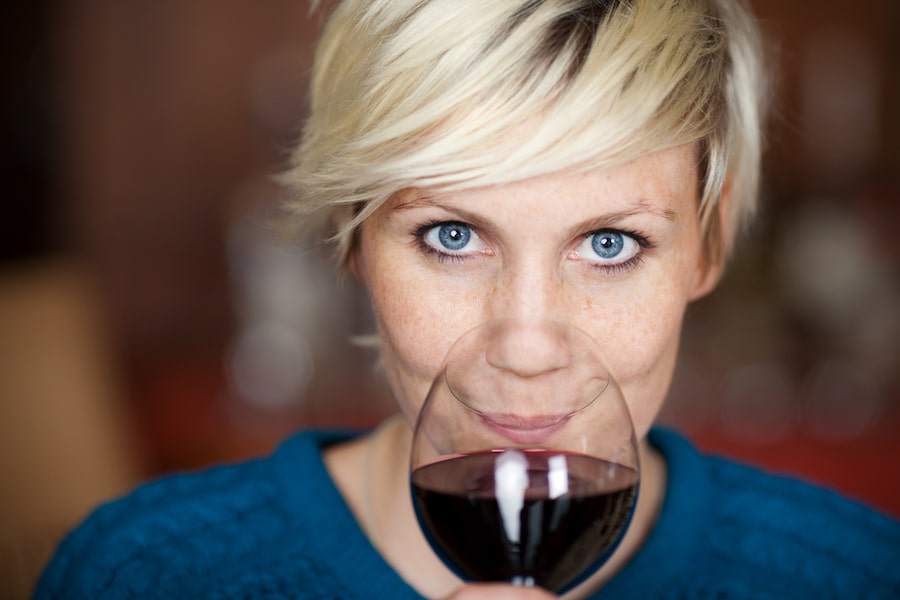 As you can see, no matter where you go, great Croatian wines can easily be found. White wines, red wines, rosé wines… an excellent example of each type will always be nearby. What is particularly interesting is that Croatia has many grape varieties that appear solely in this part of the Mediterranean. So, if you're going on a wine tasting tour, you can try some truly unique products.
We reiterate that winemaking has been going on since ancient times, primarily due to almost perfect conditions, and today it is both a profession and a hobby for many people.
Don't worry, though; serious oenologists work here as well (even Jo, the Master of Wine), which means you can buy meticulously crafted wines worthy of the best restaurants and tables in the world.
So, in conclusion, a wine tasting trip to Croatia is a perfect choice for adults for their summer vacation because it will give you a glimpse into the very essence of the Mediterranean – picturesque towns and villages, beautiful turquoise sea, excellent food, and of, course, great wine.
Don't hesitate to visit Croatia and prepare to enjoy premium wines.
MORE CROATIAN WINE & FOOD TRAVEL BLOGS
Share