Some posts contain compensated links. Please read this disclaimer for more info.
Zadar Food and Wine Tour + Cooking Class
If you have a soft spot for fantastic food and wine and want to learn how to make the most succulent, tasty meat using a Croatian Peka, you are in the right place. Zadar has produced several top places to visit posts in recent months – and with good reason. My home city has lots to offer.
Recently we had the pleasure of being the guests of Exclusive Food & Wine Tours for a bespoke, hands-on cooking class and wine tour in Zadar. It was our first time taking a peka cooking class (although we've eaten hundreds!).
The day also came with a few glasses of delightful wine, and olive oil tasting, and great company in the lesser-known Zadar Hinterland. A great video of our day (at the end of the post) will give you just an idea of how much fun you can have.
You may be wondering what the heck a peka is and why everyone in Croatia loves it. Well, here you go:
A peka is a clay or iron-shaped bell which you heat up over an open fire and then place over a tray of potatoes, vegetables, and meat or seafood. Once the bell is sufficiently heated, it is set over the raw food you have prepared, and then you need to shovel embers from the fire onto the peka.
This allows the food to roast in its juices, oil, lard, and sometimes a drizzle of wine. The result is tender, juicy meat and seafood and the BEST potatoes you will ever eat! Trust me; you will be hooked.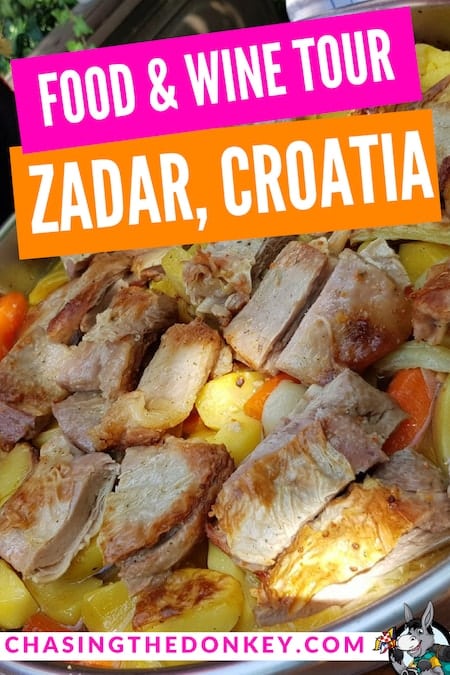 Zadar Wine Tasting
In my experience, the best day trips on vacation always involve a few glasses of wine and a great meal with friends. Fortunately for us, this day was to be no different.
The day started with our host, Mate (a good name if I do say so myself), who picked the four of us up in Zadar, and our food and wine journey into the Zadar Hinterland began.
For those of you that don't know where the Zadar hinterland is, let me explain. When you are standing bikini-clad on any of Zadar's brilliant beaches, take a look at the mountain range visible in the distance, known as the Velebit Mountain, and between where you are standing and the mountain range is the Zadar hinterland.
This is where wine in the Zadar Region is being produced, most of which is organic. The area is a real unsung hero and is somewhat overshadowed by the beaches and Zadar Old Town, but not for much longer.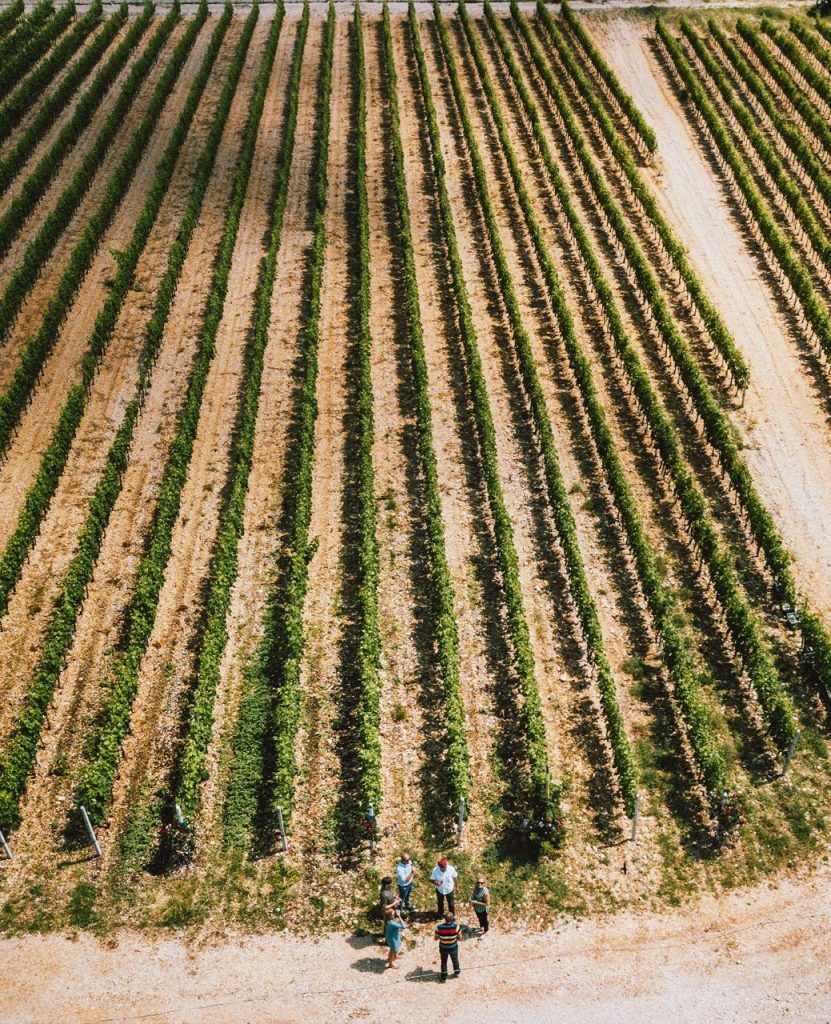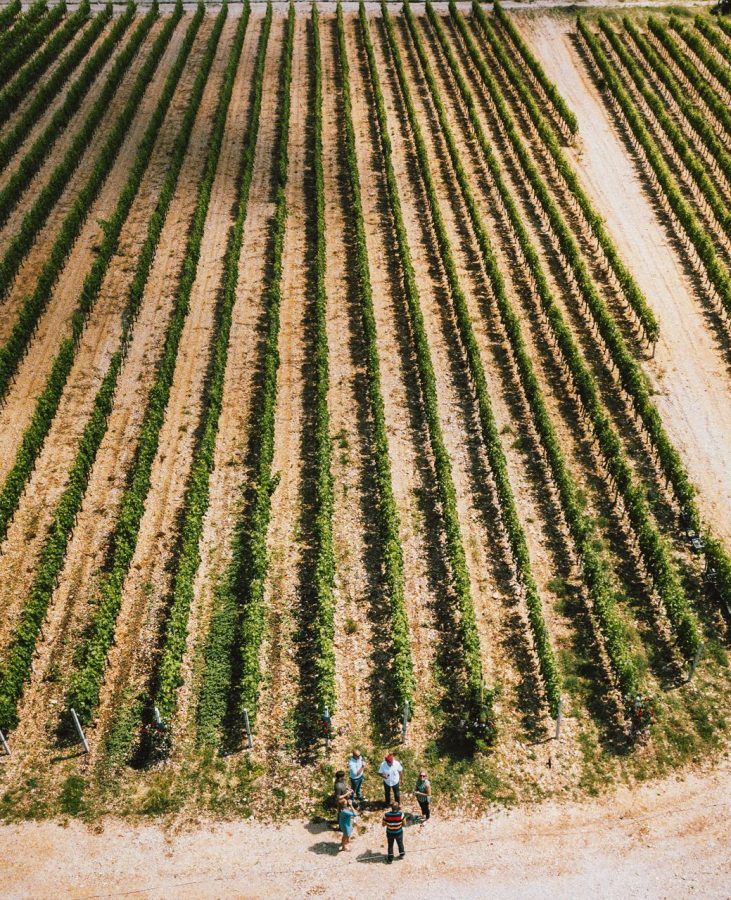 Back to the wine tasting…
After about a 25min drive, we arrive at the winery in Polaca. This 60-hectare property is covered in vineyards, olive groves, and figs and is just stunning. Mate, our host, introduces us to Radoslav, the winery manager, who welcomes us as if we are his own family. This guy is a real character whose passion lights up the room. You'll see for yourself what I mean.
The first wine that we try is their Marastina / Chardonnay, which comes out promptly along with a plethora of cheese, charcuterie, and their extra virgin olive oils (EVOO) for us to try.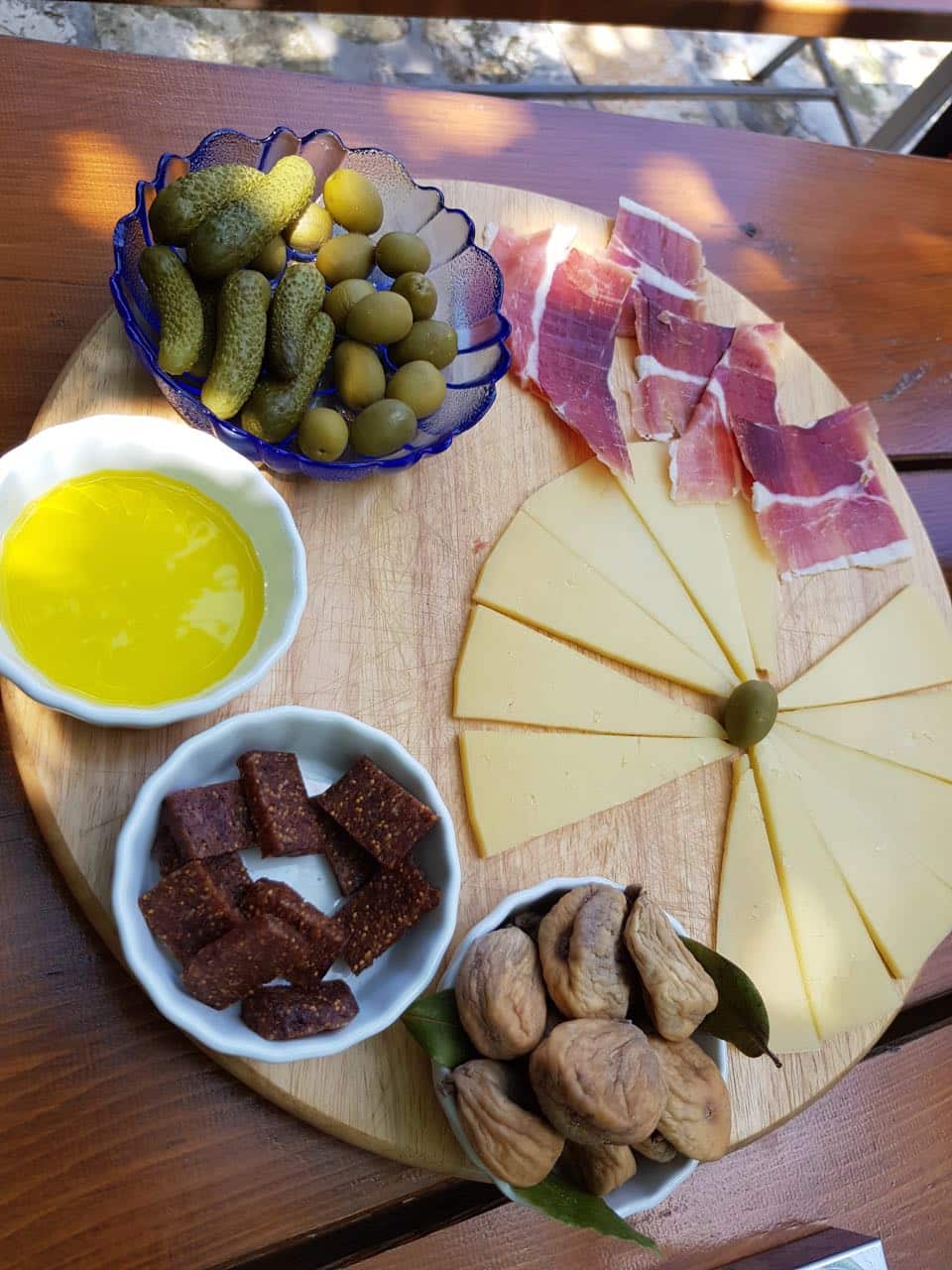 I have to say the spread was magnificent and all the produce is organic and locally produced. The wine goes wonderfully well with the food, with the table olives being a real standout.
Radoslav tells us they produce the table olives themselves and have their own secret recipe. Damn those secret recipes!
Over the course of the next hour, we try many top-quality wines while Radoslav takes us through the history of the vineyard and their wine story. Some of the wines included a delightful Rose, Crljenak (the story about how they discovered the origins of this wine is fascinating), a Merlot, Cab-Sav, and Shiraz. All of which are superb.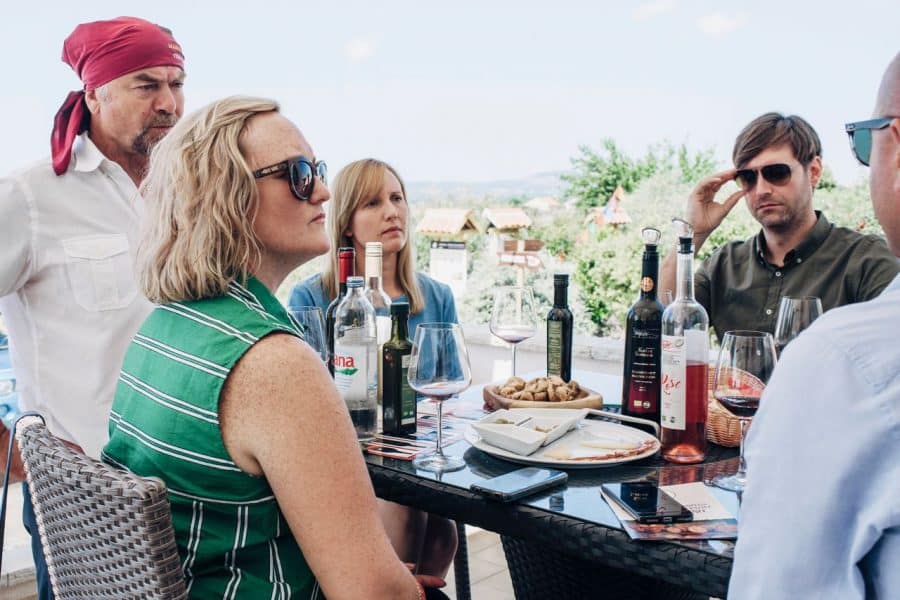 I must also mention they produce two blended EVOO's, a mild version of 11 mixed olive varieties and a potent blend of 3 Italian varieties of olive that is intense and bold. We absolutely loved the strong EVOO. Must have dipped 1/2 kilo of bread into that liquid gold.
After stuffing ourselves, it was time to take the grand tour, and we headed into my favorite part of any winery, the cellar. Radoslav walked us through their production process and was kind enough to let us sample many of the wines straight from the tanks! Let's just say they have several outstanding reds on the way. We are all a little tipsy, laughing, joking, and really enjoying the experience by this stage.
With our time at the winery over, it was time to move on to the next part of the tour, the peka cooking class.
Zadar Cooking Class – Peka
When traveling in Croatia, there are a few things you absolutely must do. You've all seen the lists, visit Plitvice Lakes, swim at Krka waterfalls, walk the walls in Dubrovnik, go sailing……. What you need to add to that list is eating anything cooked in the peka!
It will change your life!
The juicy tenderness of the meat and the to die for potatoes are just food heaven! What better way to experience the joy of Peka than actually learning how to do it yourself in a farmhouse in the Zadar hinterland. Right?
We arrive at the farmhouse and are warmly greeted by an older gentleman named Šime, who takes us through the big entry gates into a charming courtyard where we take a seat under a giant mulberry tree.
The scene is set for some fun. Šime offers us an aperitif, with a variety of different types of rakija on offer. I select the superb almond flavor. As we sip (shoot) the rakija, Šime explains that all the products we will be using, eating, trying today are all locally produced and organic.
After a bit of chit-chat under the mulberry tree, we head to the kitchen to get cracking on the preparation of the peka. Like all good kitchens worldwide, you need to have a mama or baka (grandmother) running the kitchen, and the place is no different!
Mrs. Chasing the Donkey is quick to jump in and get her hands dirty, with seasoning the meat, potatoes while Šime tends to the fire and get this Peka fired up.
The process is simple under the guidance of our great hosts. With the meat and potatoes seasoned and a few other secret ingredients added, it's time to get this tray ispod peke "under the bell."
From the kitchen, we head to the black kitchen where all things fire and BBQ-related happen. This is my kind of place. While we were preparing the food, Šime was preparing the flames and has had a fire raging away, heating up the peka in preparation for baking.
Šime allows me to shift the ember, place the food tray onto the cooking area, and lower the peka into position.
Then I shovel the embers all over and around the peka. We then grab a glass of wine each, and Šime grabs his Tambura and plays some traditional music for us while we watch the peka roast away!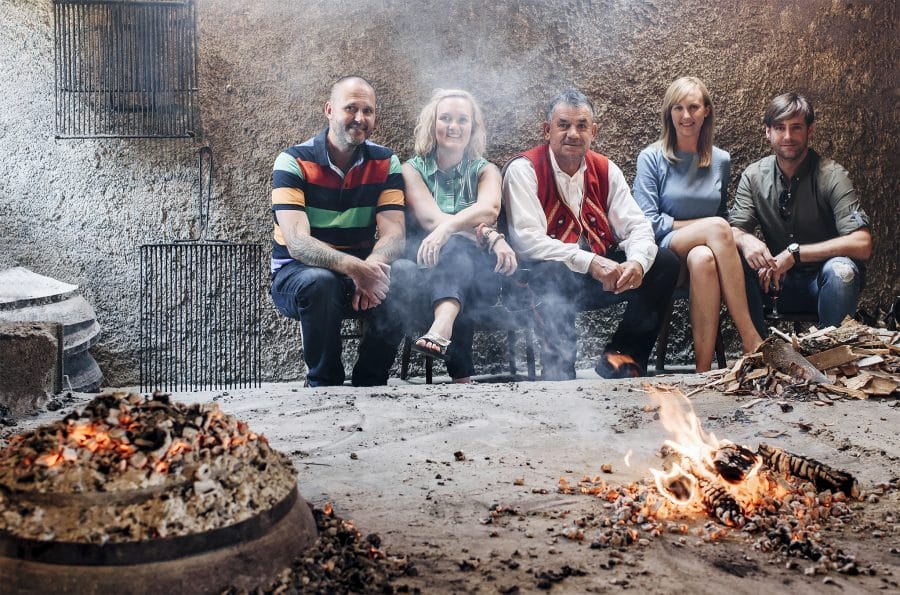 While the Peka is roasting, the food assault continues with prosciutto, local cheeses, olives, local wine, and olive oil. I must say the prosciutto or pršut as it's known in Croatia is phenomenal. The leg is enormous, and it's clear to see that this is not store-bought and produced from a gigantic pig. Being mindful to leave some space for the actual Peka, Mate, our hosts invites us up to see another little gem they have at the farmhouse.
We head up some stairs to a little Ethno Museum the family has put together. They have an impressive little collection of local artifacts that demonstrate life in Nadin from yesteryear. No king-size beds back in those times.
A little over an hour passes by since we placed the peka over the food, and it is ready. Wow, talk about impressive. The meat is oozing goodness, and the potatoes have soaked up meat juices, wine and are a feast for the eyes. Time to dig in!
One of the things we get asked quite regularly is, "what is there to do in Zadar beyond the old town and beaches? Well, this is it! An authentic Dalmatian food and wine experience where you'll take home fabulous memories and a couple of extra pounds.
Enquire Or Book Your Tour Here
They say that a picture tells a thousand words, so I'm not sure how many words a video tells. In any case, here is some footage of how the day played out.
Thanks to Toni Filipovic for putting the video together.
Next time you're in Zadar, take this day trip and let us know your thoughts?
More Zadar Travel Information
Share