Some posts contain compensated links. Please read this disclaimer for more info.
Best Beaches In Zadar County
Zadar County lies in the middle of the Croatian coast, effectively comprising the border of Dalmatia and Lika. Its central city is Zadar, an ancient Roman and Venetian town with museums, ruins, and centuries-old architecture with many "can't miss" activities.
Zadar is also the place I have called home for many years and an area I continue to explore. Just recently, I discovered my new favorite foodie highlight of the region, and I can't believe it's taken me this long to find it!
Other features of the Zadar Region include the gorgeous Zadar archipelago (check out our favorite private boat tour for exploring the archipelago), the Velebit Mountains, Paklenica National Park, and of course, what almost everyone comes to Croatia for – the numerous beaches. So, I've selected the best beaches in Zadar to help you swim with joy this summer.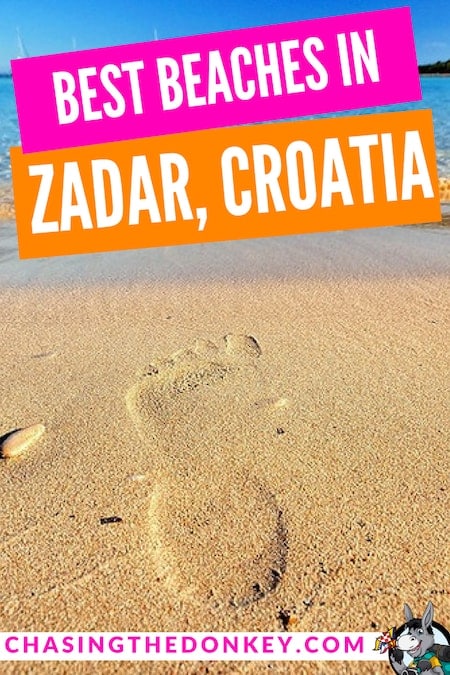 Here are my choices for the best beaches in the city of Zadar and the wider region.
City Of Zadar Beaches
There are two beaches in Zadar that are truly phenomenal and make for convenient sunbathing destinations within close proximity to the Old Town.
Vrsi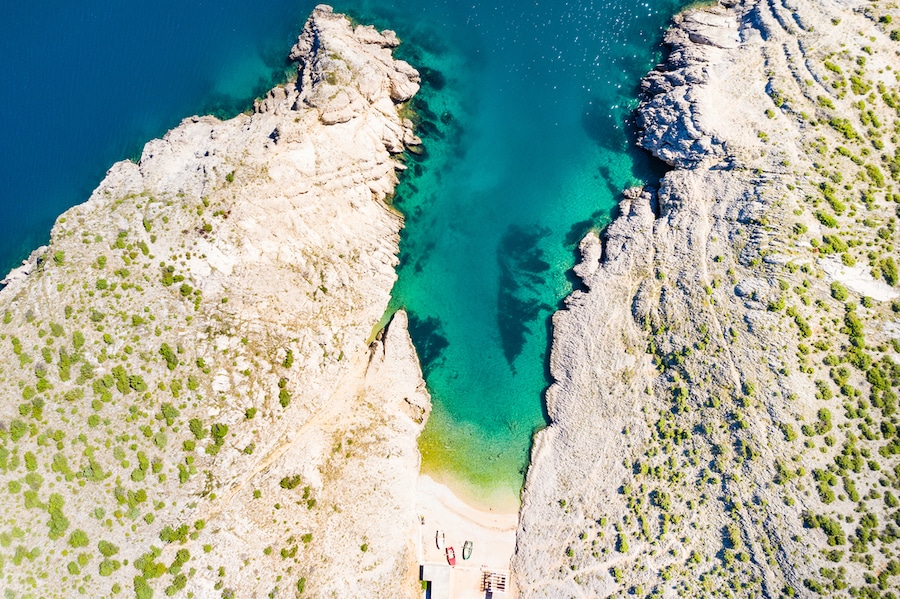 Hard to find, but worth the effort if you dare!
Borik Beach, Zadar
Only four kilometers outside of the Zadar city center, you'll find Borik Beach.
It is part of the Falkensteiner Resort, so remember that you might have to pay a small fee to use this half-sand, half-gravel beach. That fee, however, covers plenty of facilities and activities.
There are changing booths, toilets, showers, numerous places to get a snack or refreshment, beach games, and various water sports. The kids will also have a blast here. They can enjoy pools, water slides, and entertainment. You can quickly get to Borik Beach, one of the best beaches in Zadar, by car or bus.
Kolovare Beach, Zadar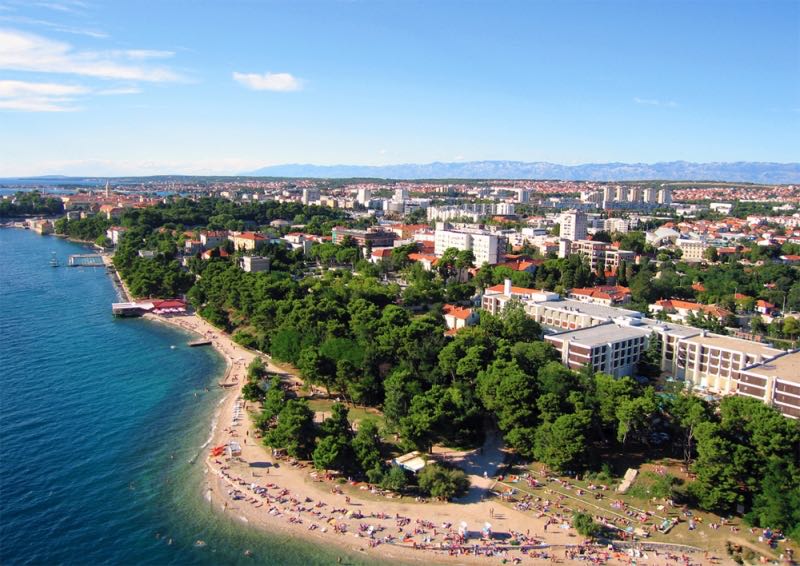 Arguably the best beach in Zadar is Kolovare Beach, a public city beach underneath Hotel Kolovare and near the Old Town.
This is both the longest and the oldest beach in the city, characterized by paved areas and pebbly shores, pine trees, and lawns. There's plenty of sunshine as well as shade, several bars and restaurants, changing rooms, showers, and toilets.
This lush Mediterranean beach oasis is the absolute best place to catch some rays in Zadar. You can also rent kayaks, play water polo, beach volleyball, throw a beach ball with the kids, or go for a refreshing dip in its Blue Flag waters.
Best Beaches In The Zadar Region
Zadar County has a plethora of stunning beaches. Whether you go north, south, or west, you'll find great spots for sunbathing, swimming, and water sports. Although the following overview may not be exhaustive—there are too many beaches in Zadar County to list—it does contain all the best ones that I have found after five years of living in the area.
Queen's Beach, Nin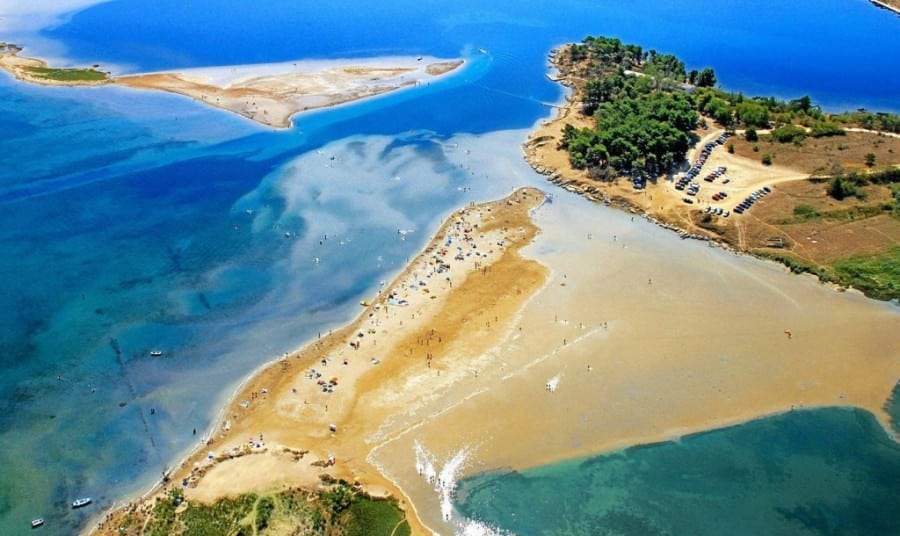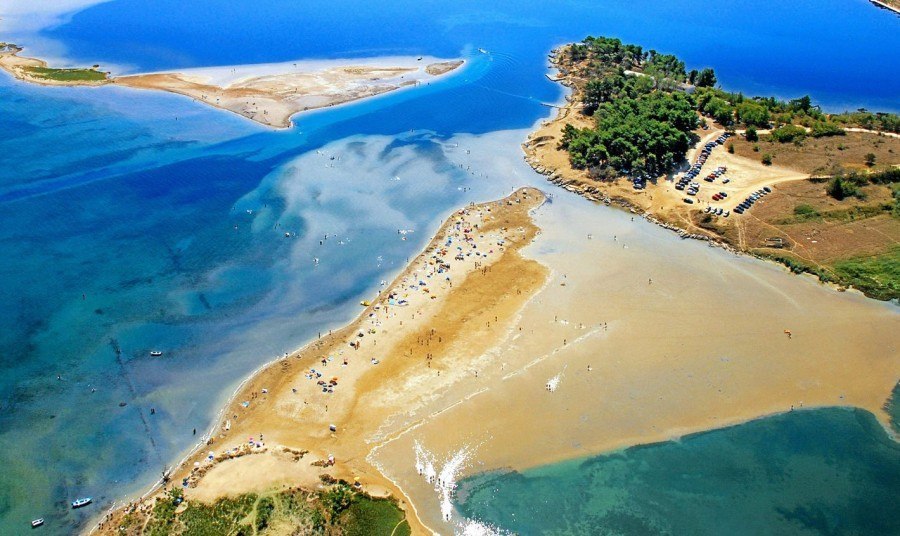 In the town of Nin, northwest of Zadar, you'll find Queen's Beach. This three-kilometer-long stretch of sand in the Nin lagoon, backed by striking Mount Velebit, is one of the best beaches in Zadar and its surroundings.
Just because of its abundance of soft sand, it's a hugely popular beach for families with small kids. Calm, clear lapping water only adds to this beach's attraction. Legend has it that even the wife of Croatia's first king, Tomislav, was drawn to its beauty.
Hence the name Queen's Beach. Another fun feature of Nin is that it's the largest location of medicinal mud in the country. So, spending a day in this beautiful area certainly won't do you any harm!
Tip: This is a sand and mud beach, so we recommend bringing a sand-free beach towel to keep things clean and the need to wash yourself off to a minimum.
Sakarun, Dugi Otok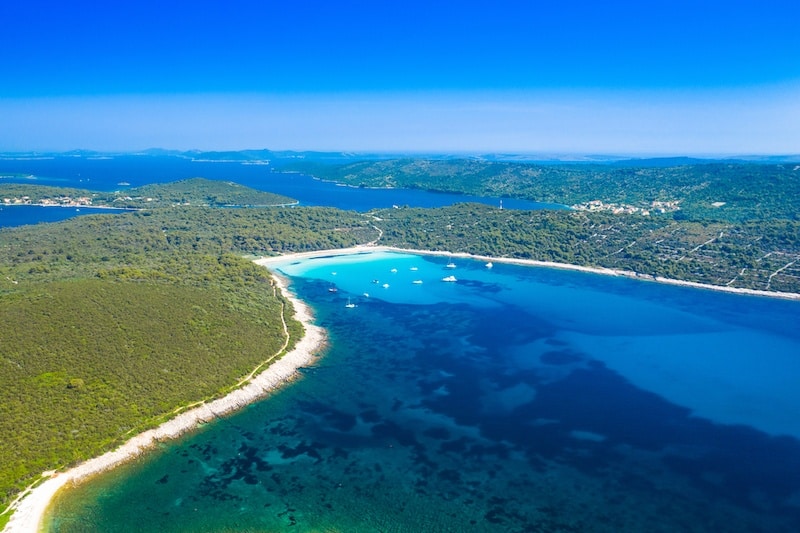 In addition to the mainland beaches in Zadar County, there are also several visit-worthy beaches in the Zadar archipelago.
Arguably the best one of them all is found on Dugi Otok (or Long Island). It's called Sakarun, located in a cove on the northwestern tip of the island.
What sets this beach apart from the rest is its white sands and pristine and extremely shallow water, all backed by magnificent shade-offering pine trees. It has been named the most beautiful rural beach in the Adriatic more than once, as well as one of the most beautiful coves in the world.
You can quickly get to Dugi Otok from Zadar by ferry or catamaran.
Pinija Beach, Petrcane
Pinija Beach in Petrcane is in front of Hotel Pinija, which also boasts a beauty center, mini-golf course, tennis court, convention center, and a children's playground.
This is not one of the most spectacular beaches in Zadar County, but it is an enjoyable spot to hang out for an afternoon – especially if you have kids.
The beach itself consists of a platform and a small pebble area, while pine trees provide shade for those who seek it. Facilities include showers, changing rooms, kids' entertainment, and a beach bar/restaurant.
Dražica, Biograd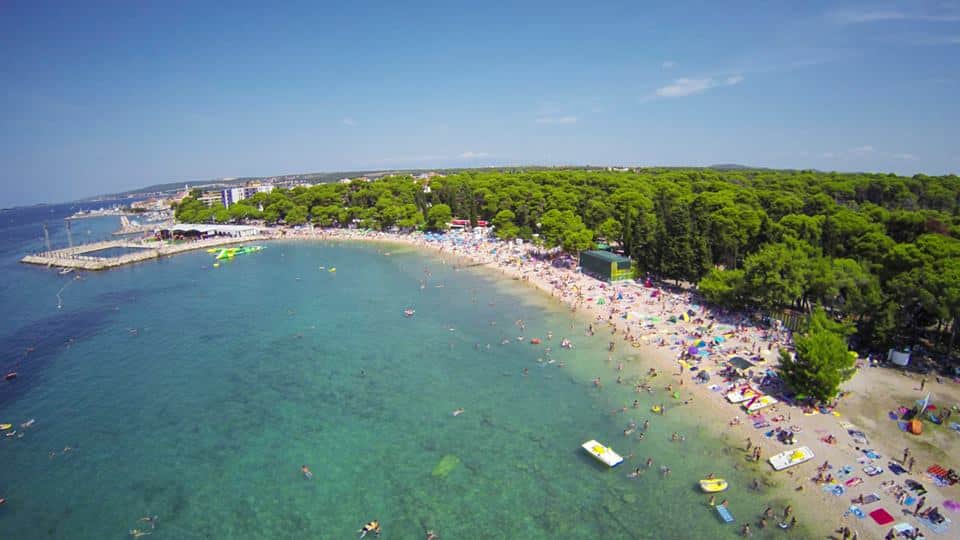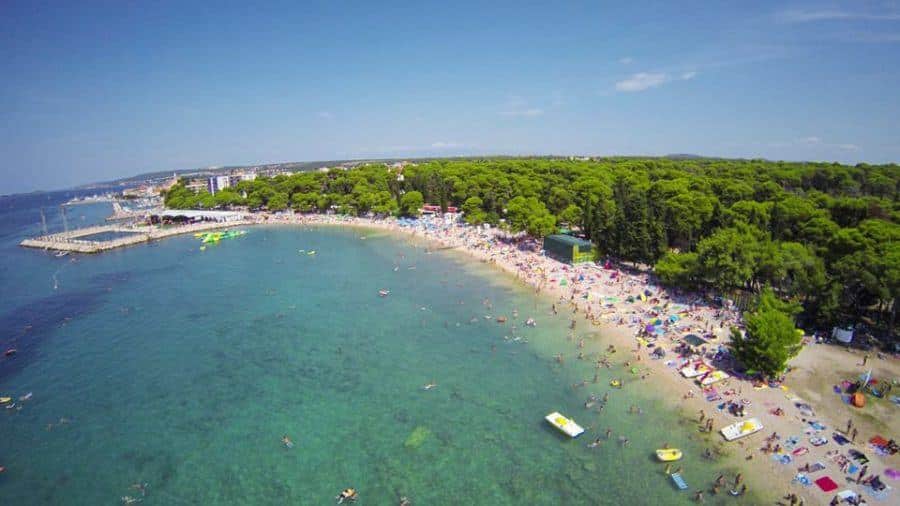 Hope in your rental car, and take a short drive along the coastal road to the southeast- it will bring you to Dražica in Biograd. This is one of several beaches near the Biograd town center.
Its location makes it a favorite place for sunbathing and water fun, but it's not the only reason people go there. There are plenty of facilities as well, including showers, changing rooms, parasol and sunbed rentals, a slide, a diving center, and pedal boat, canoe, and scooter rentals.
All this makes this an excellent destination for a day out, indeed one of the best beaches in Zadar County.
Pisak-Kulina Beaches, Starigrad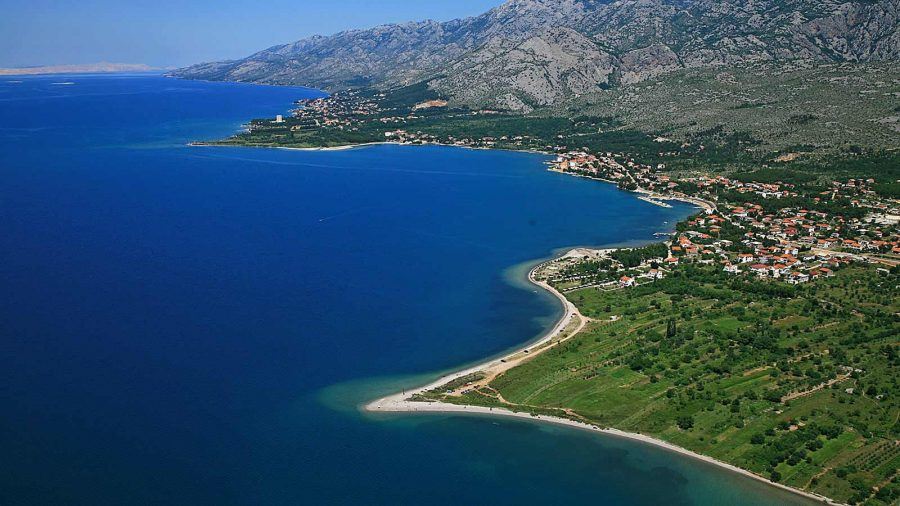 Pisak and Kulin's twin beaches lie in the gorgeous Paklenica Riviera in Starigrad, a quick drive northeast of Zadar. Starigrad is the gateway to Paklenica National Park, which entices nature lovers, while beach enthusiasts will find everything they need on Pisak-Kulina Beaches.
These beautiful beaches on the tip of sharp promontories consist of pebbles (so be sure to bring your swimming shoes) and shallow, crystal-clear water. Kulina Beach is fascinating because of the old fortified Večka Tower at the end of the peninsula.
Zaton Beach, Zaton
Between Petrcane and Privlake lies Zaton, yet another coastal town in northern Dalmatia, a quick jaunt northwest of Zadar. Gorgeous Zaton Beach is part of the Zaton Holiday Resort, which has everything you could possibly want from a beachside hotel – and also means you'll need to pay entry to park and access the facilities.
The sand and pebble beach itself is 1.5 kilometers long, its Blue Flag status indicating the purity and safety of the seawater. Active vacationers can participate in sports such as jet skiing, beach volleyball, tennis, and badminton.
Refreshments are available at several snack bars, cafes, and restaurants.
Sabunike Beach, Privlaka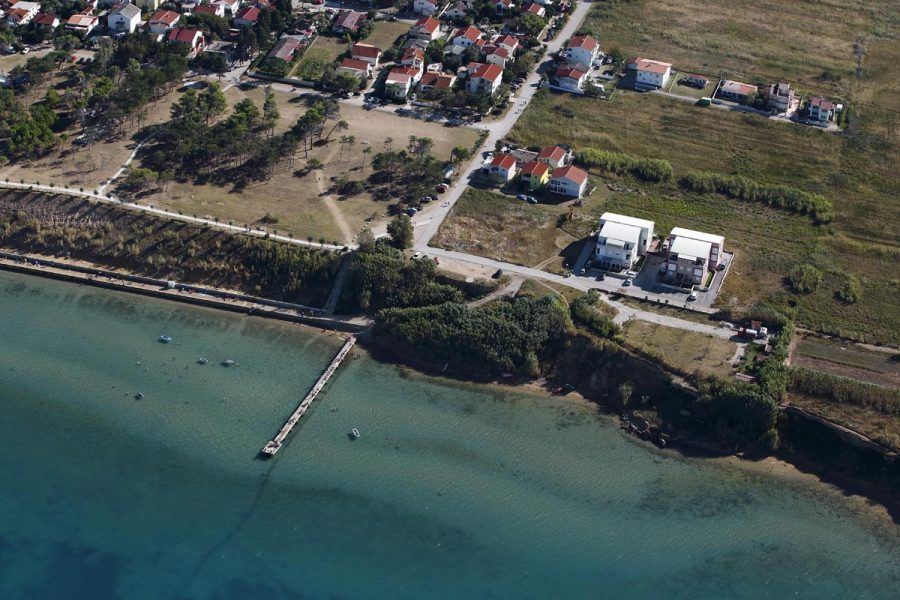 In Privlaka, northwest of Zadar, lies Sabunike Beach. This area is a peaceful and calm tourist area away from the hustle and bustle of central Zadar. Located in the Nin lagoon, it features shallow waters and sandy shores. It's a superb place to take the kiddos to.
Additionally, the local climate created partially by nearby Mount Velebit is ideal for water sports, windsurfing, and sailing.
Prosika Beach, Pag
Located a few hundred meters from the Pag town center, Prosika Beach is an 800-meter-long public beach that's super-suitable for small children. Lined by bars and cafes, this is a beach that also has plenty of shade underneath the trees behind it. Additionally, there are plenty of facilities here, including a playground, tennis courts, a beach volleyball court, and pedal boat rentals.
Zrce Beach, Pag
There are plenty of beaches in Zadar County, but few are as famous as Zrce Beach in Pag. This long pebble beach is one of the party hotspots on the Adriatic Coast, home to a few all-hours beach bars and clubs. It's also the setting for a couple of extremely popular summer music festivals.
If you'd like to hit the beach while visiting Zadar, these are definitely the best beaches in Zadar County. We especially suggest checking out Kolovare Beach in the city and Queen's Beach and Sakarun in the region. If you are visiting off-season, there are still other great ways to enjoy the region's stunning waters.
Don't forget to check out this list of lesser-known Zadar beaches to elude the crowds!
Do you know any other beaches in Zadar? Did we miss an off-the-beaten-path beach that's totally worth going to? Leave a comment below and tell everyone about it!
More Zadar Travel Ideas
Share