Zadar is an ancient Roman and Venetian city with museums, ruins, and centuries-old architecture, and beaches. Here is a list of my favorite best beaches in Zadar that we've enjoyed for the last few years.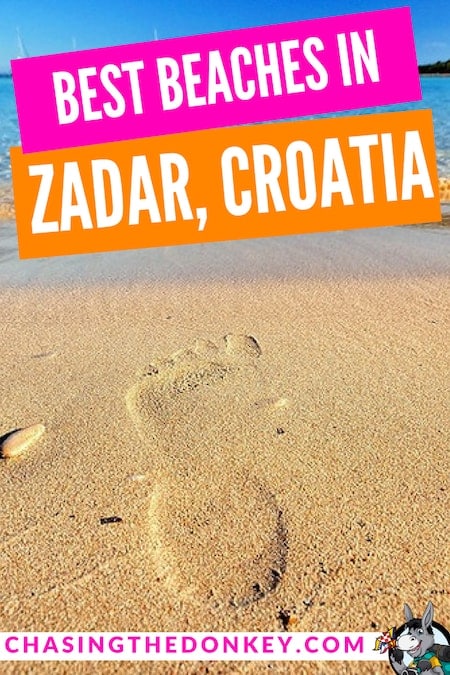 Zadar County lies in the middle of the Croatian coast, effectively comprising the border of Dalmatia and Lika. Its central city is Zadar, an ancient Roman and Venetian town with museums, ruins, and centuries-old architecture with many "can't miss" activities.
Zadar is also the place I have called home for many years, an area I continue exploring. I recently discovered my new favorite foodie highlight of the region, and I can't believe it's taken me this long to find it!
Other features of the Zadar Region include the gorgeous Zadar archipelago (check out our favorite private boat tour for exploring the archipelago), the Velebit Mountains, Paklenica National Park, and of course, what almost everyone comes to Croatia for – the numerous beaches.
So, I've selected the best beaches in Zadar to help you swim with joy this summer, some in the city and others throughout the county, some beaches that are buzzing with activity, and some you may have never heard of.
Here are my choices for the best beaches in the city of Zadar and the wider region.
City Of Zadar Beaches
Several beaches in Zadar are phenomenal and make for convenient sunbathing destinations near the Old Town.
1. Borik Beach, Zadar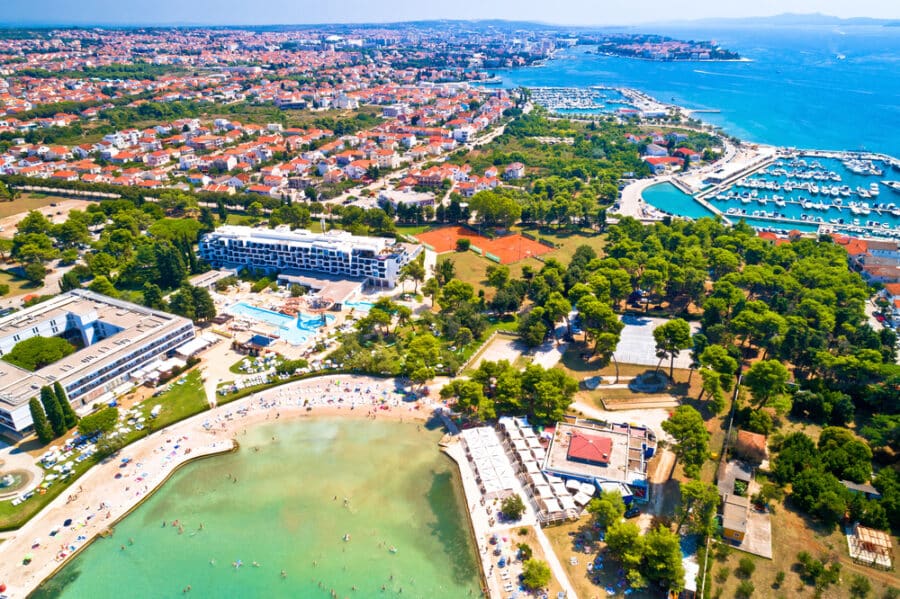 Only four kilometers outside of the Zadar city center, you'll find Borik Beach.
It is part of the Falkensteiner Resort, so remember that you might have to pay a small fee to use this half-sand, half-gravel beach. That fee, however, covers plenty of facilities and activities.
You can quickly get to Borik Beach, one of the best beaches in Zadar, by car or bus. There are changing booths, toilets, showers, numerous places to get a snack or refreshment, beach games, and various water sports. The kids will also have a blast here. They can enjoy pools, water slides, and entertainment.
2. Puntamika Beach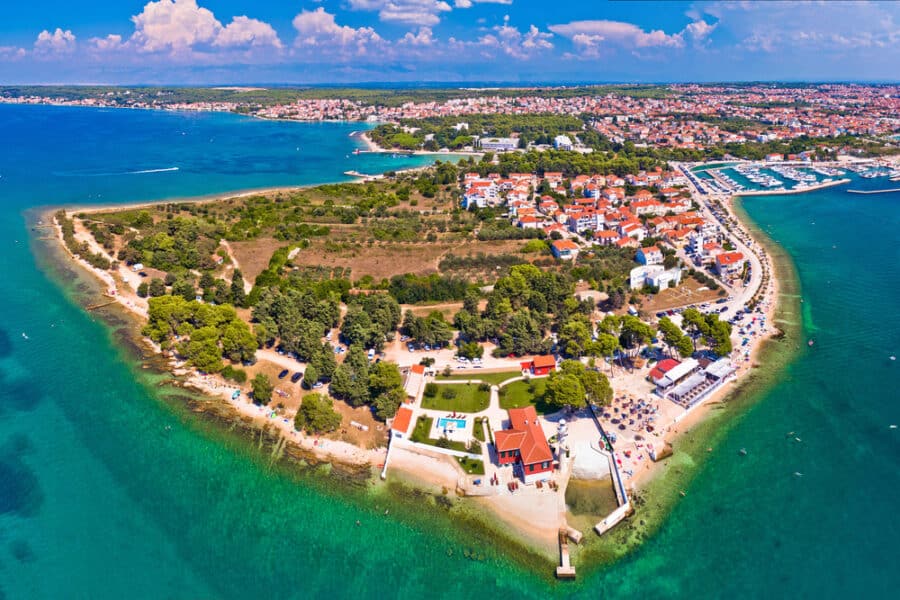 If you are looking for a quiet, romantic, and cozy beach, this little gem in the city is for you.
The beach has coarse pebbles and a walkway that you can use to enjoy the lovely colors of the coastline. If you get hungry, a cafe is nearby, and for those who enjoy exploring the local surroundings will find both a lighthouse and the marina nearby.
3. Punta Bajlo Beach
This lovely, laid-back beach is made from a combination of pebbles, rocky sections, and concrete, and the waters here are incredibly clear. Because this beach is found on a wooded peninsula (about 3km from Old Town), sunbathers can find retreat from the heat in the shade of the forest.
A restaurant serves pizza and grilled menu items onsite, so it's a great place to spend the whole day away from the crowds!
4. Kolovare Beach, Zadar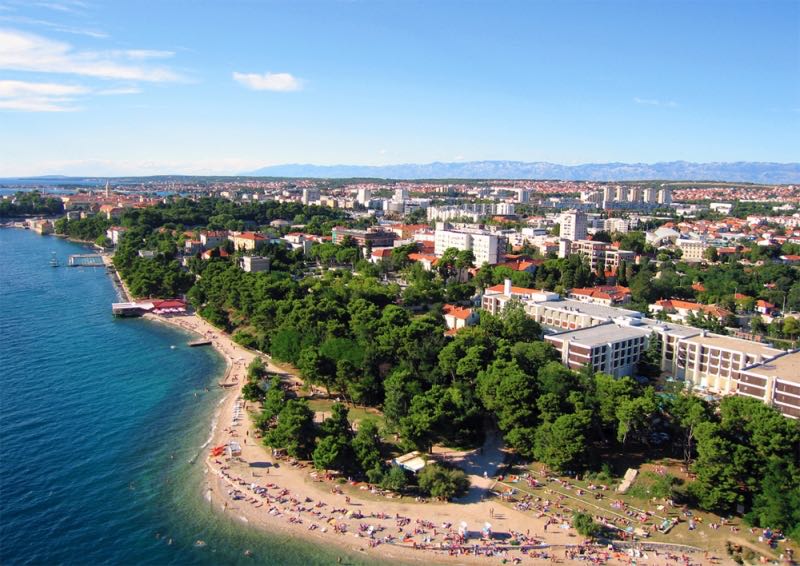 Arguably the best beach in Zadar is Kolovare Beach, a public city beach underneath Hotel Kolovare and near the Old Town.
This is the longest and oldest beach in the city, characterized by paved areas, pebbly shores, pine trees, and lawns. There's plenty of sunshine and shade, several bars and restaurants, changing rooms, showers, and toilets.
This lush Mediterranean beach oasis is the absolute best place to catch some rays in Zadar. You can also rent kayaks, play water polo and beach volleyball, throw a beach ball with the kids, or go for a refreshing dip in its Blue Flag waters.
5. Beach Riva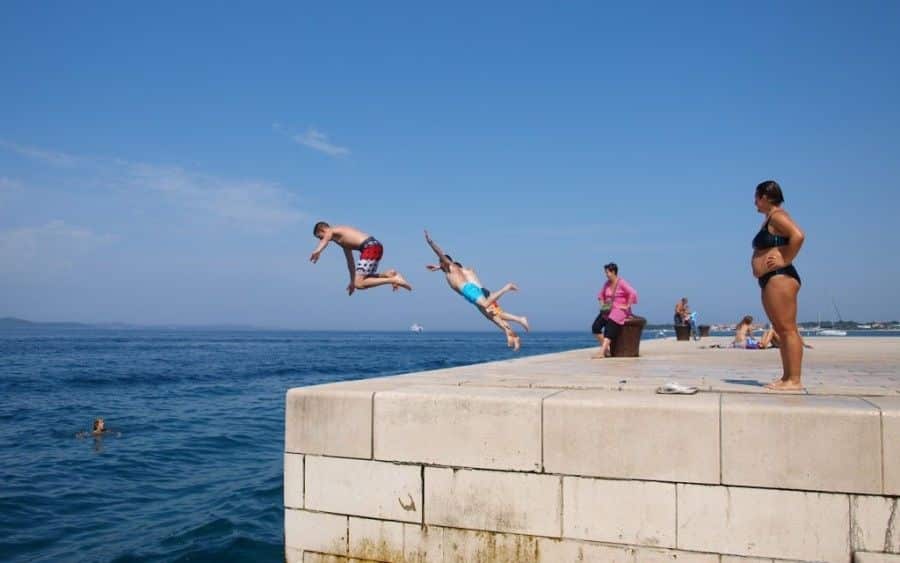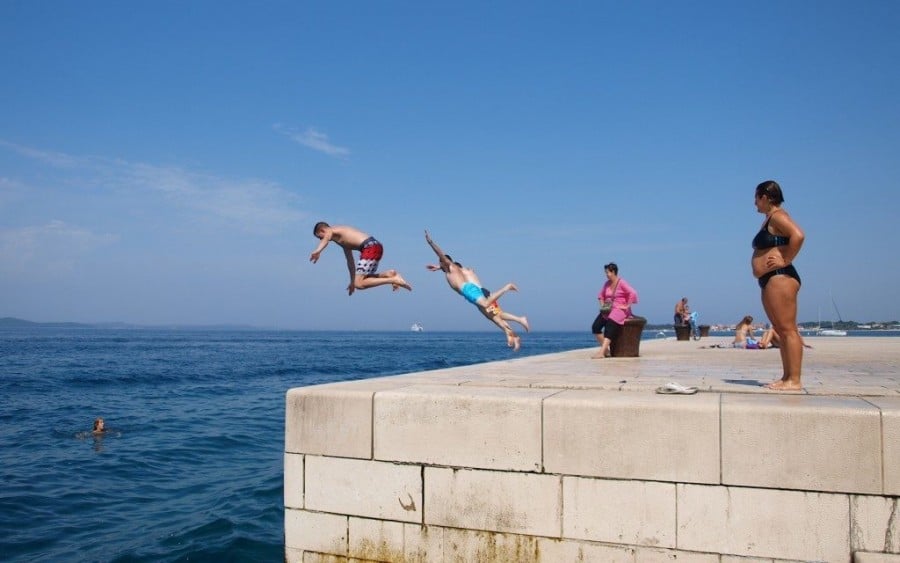 Conveniently located in Zadar Old Town, this 1-kilometer-long promenade is a favorite for those looking to enjoy the sea while also spending time in the heart of the city.
The paved promenade features multiple sea access points with ladders for those looking to cool off in the clear water on a hot day. Right in the center of the promenade, you will find the Sea Organ, a must-visit spot in Zadar.
TRAVEL COMPANIES WE USE AND TRUST
Best Beaches In The Zadar Region
Zadar County has a plethora of stunning beaches. Whether you go north, south, or west, you'll find great spots for sunbathing, swimming, and water sports. Although the following overview may not be exhaustive—there are too many beaches in Zadar County to list—it contains all the best ones I have found after five years of living in the area.
6. Duboka Draga, Vrsi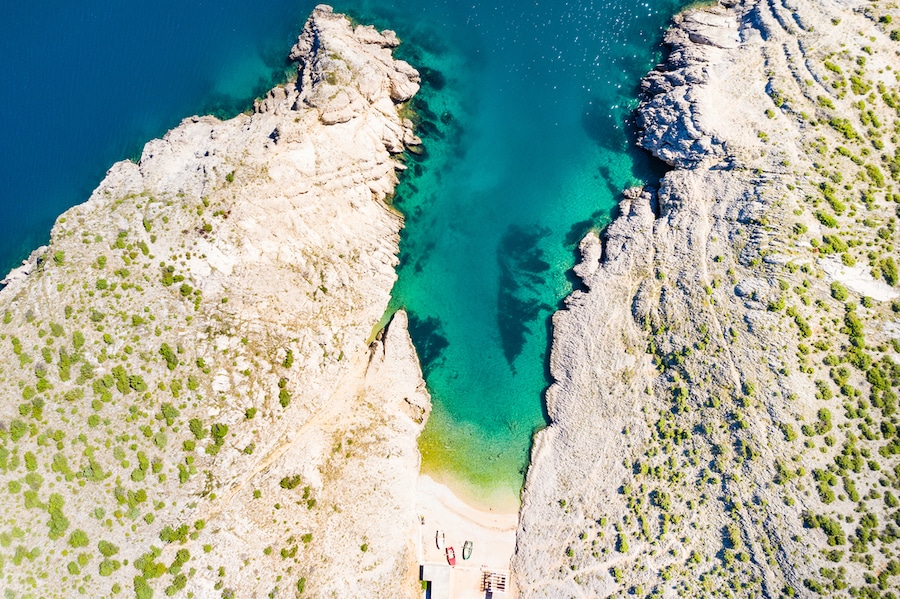 Hard to find, but worth the effort if you dare! This wholly wild and natural beach, away from the city and the villages, is where you'll find a beautiful view of Velebit Mountain.
This beach is accessible only by car, and you won't have much room for many people to laze about. The sea here is extremely enticing, even though there are no facilities at the beach.
To access the beach, you need to walk a long distance along a stony path – but it is absolutely worth it once there.
7. Beach Kukinica
Beach Kukinica has stunning, picturesque views as it's among the mountains and surrounded by cliffs. Tucked away in such a natural setting, you won't find any amenities here, but the beauty of the bay more than makes up for that!
Turquoise waters and a gentle slope make it a great place for people of all ages to enjoy swimming, snorkeling and sunbathing.
Parking is about 300 meters from the beach, so just a short walk along the path is required.
8. Beach Racina, Vrsi
Found near Vrsi in the Mulo settlement, this beach offers a spacious coastline with brown sand, perfect for sunbathing and walking barefoot. The waters here are turquoise and crystal clear.
Loungers and umbrellas, along with showers, toilets and a restaurant are all onsite, so you can easily spend the whole day relaxing.
9. Beach Vrsi-Mulo
Another beach found near Vrsi in the Mulo settlement, this one offers natural shade as it's partially covered with trees. The waters are clear and the beach is covered with a fine pebble sand, so no special shoes should be needed to explore the area.
Resorts in the area occupy portions of the coastline, but there are still areas that are free for daily visitors.
In the area, you can rent catamarans and jet skis, pay for access to an inflatable water park and take part in SUP & surfing.
10. Queen's Beach, Nin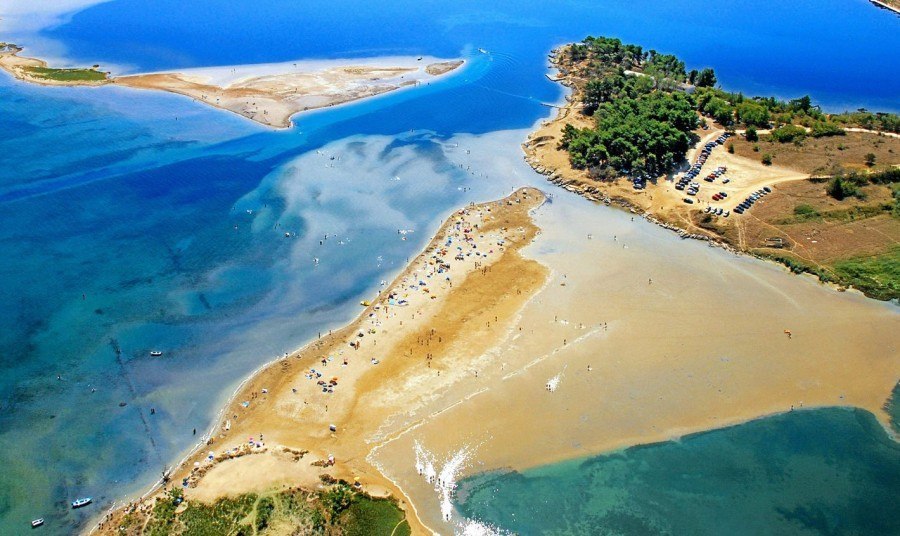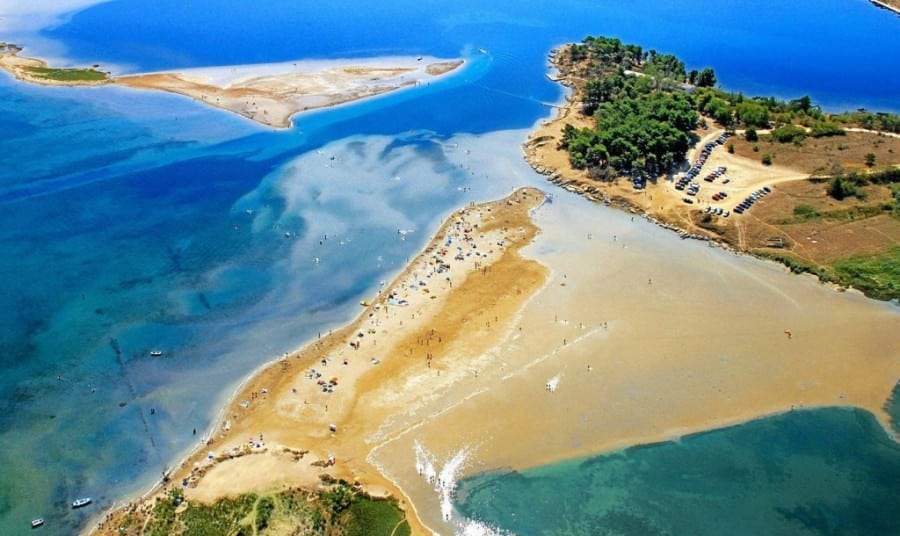 You'll find Queen's Beach in the town of Nin, northwest of Zadar. This three-kilometer-long stretch of sand in the Nin lagoon, backed by striking Mount Velebit, is one of the best beaches in Zadar and its surroundings.
Just because of its abundance of soft sand, it's a hugely popular beach for families with small kids. Calm, clear, lapping water only adds to this beach's attraction. Legend has it that even the wife of Croatia's first king, Tomislav, was drawn to its beauty.
Another fun feature of Nin is that it's the largest location of medicinal mud in the country. So, spending a day in this beautiful area certainly won't harm you! Hence the name Queen's Beach.
Tip: This is a sand and mud beach, so we recommend bringing a sand-free beach towel to keep things clean and the need to wash yourself off to a minimum.
11. Beach Sveti Petar, Kožino
St. Peter's Beach is located on the edge of Kožino. If you don't like crowds on the beaches, this place is ideal for you. It is surrounded by a pine forest, which provides natural shade all the way to the sea. The sea here is extremely clear. In some parts, the beach is rocky, and there is also a small bay with sand.
The whole town of Kožino is private, without the large tourist crowds of many other seaside villages, and has mostly natural beaches – it is excellent for families.
12. Sakarun, Dugi Otok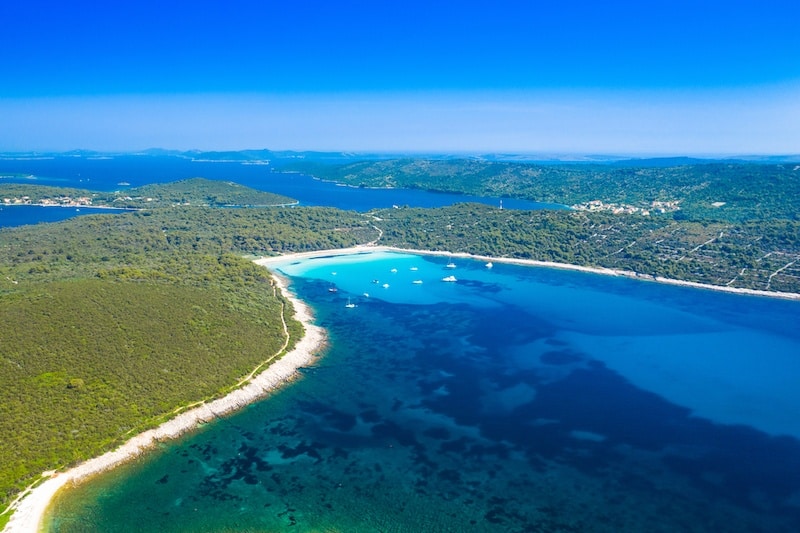 In addition to the mainland beaches in Zadar County, there are also several visit-worthy beaches in the Zadar archipelago.
Arguably the best one of them all is found on Dugi Otok (or Long Island). It's called Sakarun, located in a cove on the northwestern tip of the island.
What sets this beach apart from the rest is its white sands and pristine and extremely shallow water, all backed by magnificent shade-offering pine trees. It has been named the most beautiful rural beach in the Adriatic more than once, as well as one of the most beautiful coves in the world. You can quickly get to Dugi Otok from Zadar by ferry or catamaran.
13. Pinija Beach, Petrcane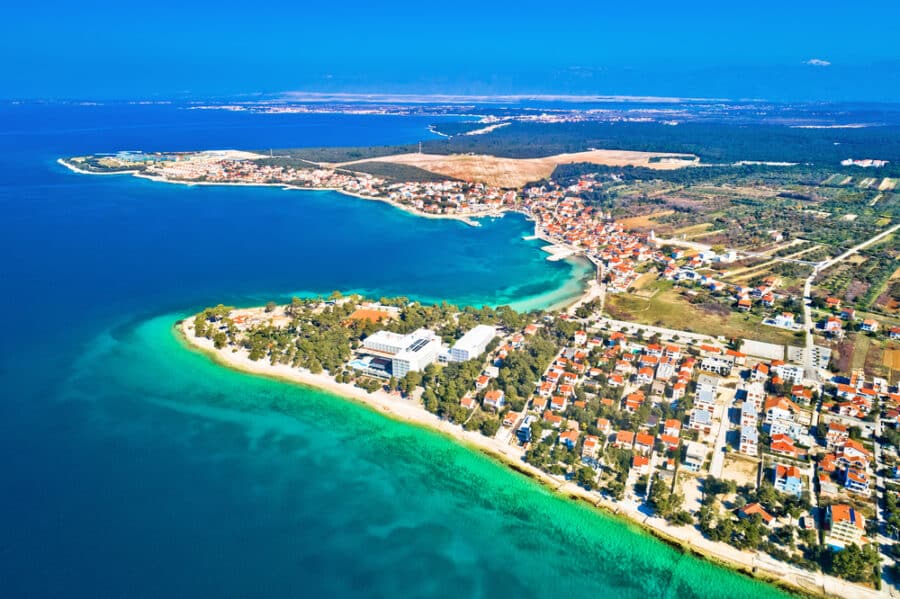 Pinija Beach, also known as Cape Radman, is in front of Hotel Pinija, which also boasts a beauty center, mini-golf course, tennis court, convention center, and a children's playground.
This idyllic beach is located on Radman Peninsula, and the ancient pines provide excellent shade cover for beachgoers.
This is not one of the most spectacular beaches in Zadar County, but it is an enjoyable spot to hang out for an afternoon – especially if you have kids.
The beach consists of a platform and a small pebble area, while pine trees provide shade for those seeking it. Facilities include showers, changing rooms, kids' entertainment, and a beach bar/restaurant.
14. Zaton Beach, Zaton
Between Petrcane and Privlake lies Zaton, yet another coastal town in northern Dalmatia, a quick jaunt northwest of Zadar. Gorgeous Zaton Beach is part of the Zaton Holiday Resort, which has everything you could possibly want from a beachside hotel – and also means you'll need to pay entry to park and access the facilities.
The sand and pebble beach itself is 1.5 kilometers long, its Blue Flag status indicating the purity and safety of the seawater. Active vacationers can participate in sports such as jet skiing, beach volleyball, tennis, and badminton.
Refreshments are available at several snack bars, cafes, and restaurants.
15. Bilotinjak, Privlaka
Bilotnjak beach in Privlaka is a little slice of paradise. It is an entirely natural beach, not disturbed by the construction of any kind, with no concrete or sunbeds. Just a little warning – there are no facilities at all here.
The steep rock descends into the sea and sand, a real natural oasis away from the village. There is a place to park your car (which you will need to access this beach), and then you need to walk down the steep set of stairs to the beach.
16. Sabunike Beach, Privlaka
In Privlaka, northwest of Zadar lies Sabunike Beach. This area is a peaceful and calm tourist area away from the hustle and bustle of central Zadar. Located in the Nin lagoon, it features shallow waters and sandy shores. It's a superb place to take the kiddos to.
Additionally, the local climate created partially by nearby Mount Velebit is ideal for water sports, windsurfing, and sailing.
17. Dražica, Biograd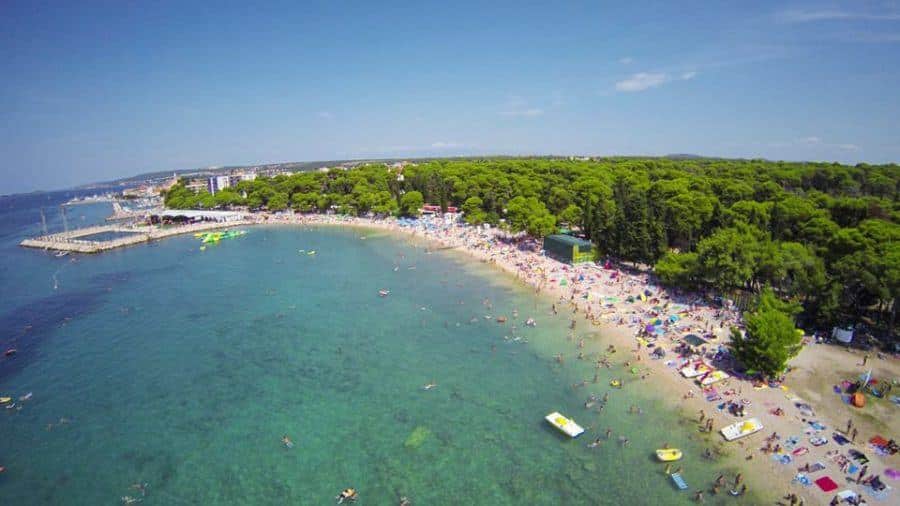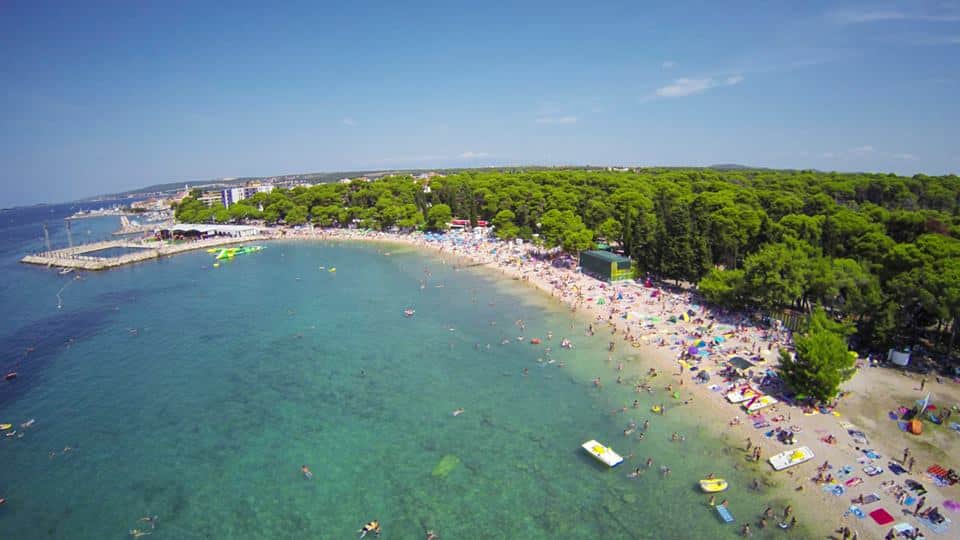 Hope in your rental car, and take a short drive along the coastal road to the southeast- it will bring you to Dražica in Biograd. This is one of several beaches near the Biograd town center.
Its location makes it a favorite place for sunbathing and water fun, but it's not the only reason people go there. There are plenty of facilities, including showers, changing rooms, parasol and sunbed rentals, a slide, a diving center, a pedal boat, a canoe, and scooter rentals.
All this makes this an excellent destination for a day out, indeed one of the best beaches in Zadar County.
18. Zlatna Luka Beach, Sukosan
In Sukosan, just southeast of Zadar, is Zlatna Luka Beach, a pebble beach along a road featuring palm and pine trees, chemical toilets, showers, and changing rooms.
This is an excellent destination if you want to escape busy Zadar for an afternoon and relax on a quiet-ish beach.
Additionally, this is also the location of the Zlatna Luka Diving Center, which organizes diving excursions to the spectacular Kornati National Park.
19. Pisak-Kulina Beaches, Starigrad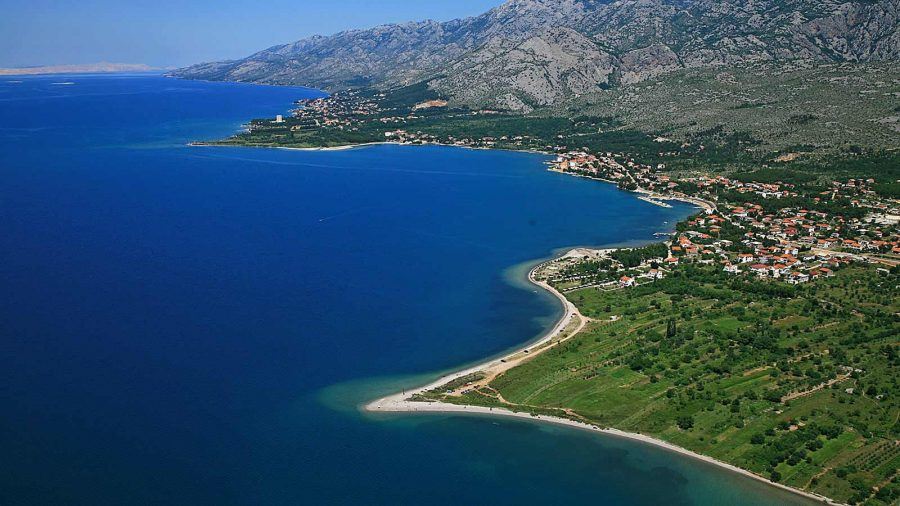 Pisak and Kulin's twin beaches lie in the gorgeous Paklenica Riviera in Starigrad, a short drive northeast of Zadar. Starigrad is the gateway to Paklenica National Park, which entices nature lovers, while beach enthusiasts will find everything they need on Pisak-Kulina Beaches.
These beautiful beaches on the tip of sharp promontories consist of pebbles (so be sure to bring your swimming shoes) and shallow, crystal-clear water. Kulina Beach is fascinating because of the old fortified Večka Tower at the end of the peninsula.
20. Divlja Plaža (Wild Beach), Pakostane
Along the road known as the Jadranska Magistrala, between the towns of Pakoštane and Drage, you will find another beach of untouched nature.
The beach is pebbly, with occasional rock, surrounded by a pine forest. Here you can enjoy the peace and quiet and be at one with nature. The crystal clear sea will delight you as it is far from the crowds and the bustling city.
Just keep in mind that this beach has no facilities.
21. Zrce Beach, Pag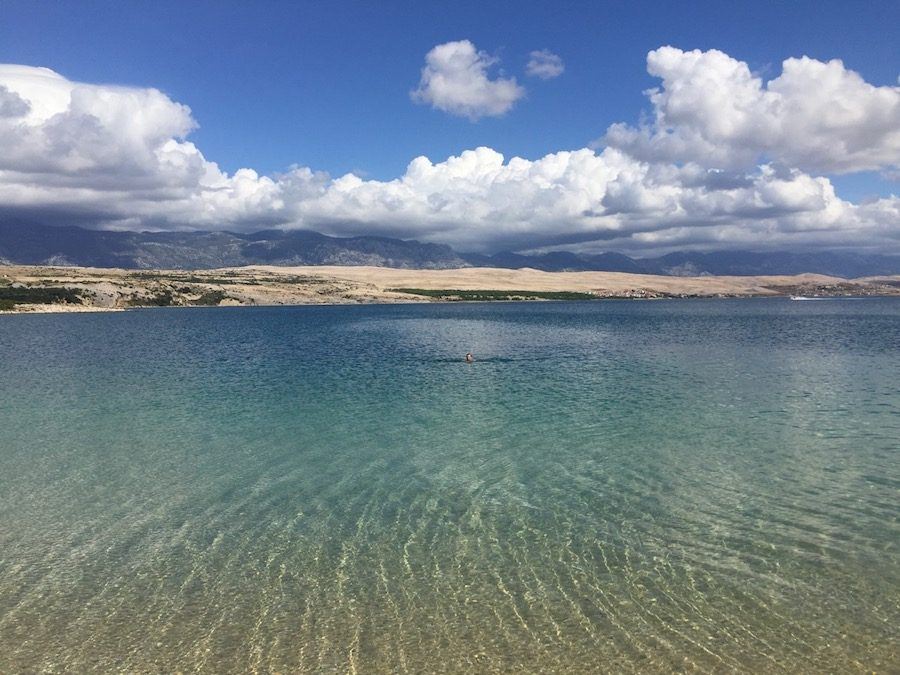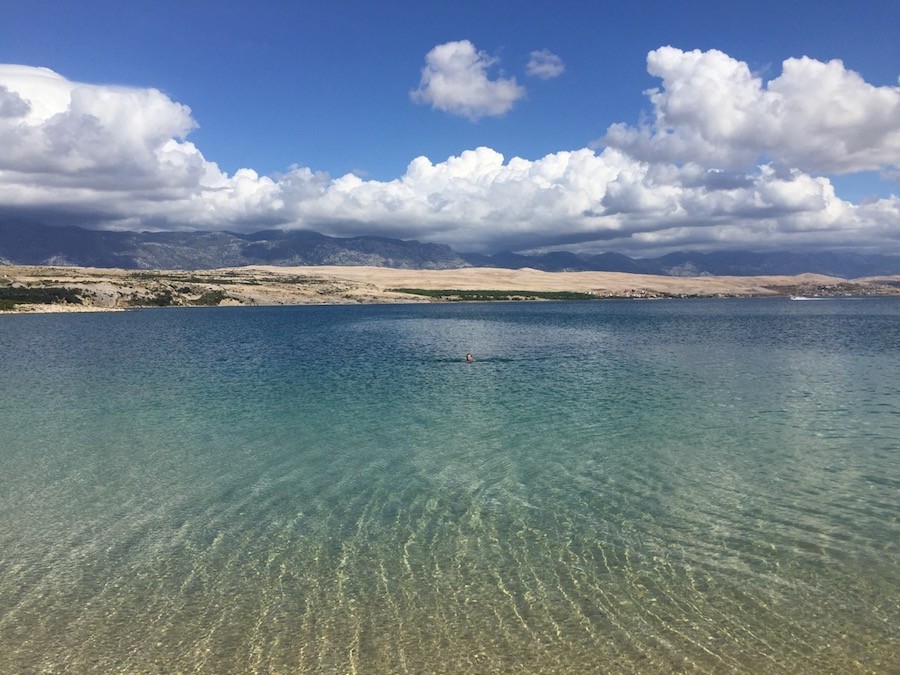 There are plenty of beaches in Zadar County, but few are as famous as Zrce Beach in Pag. This long pebble beach is one of the party hotspots on the Adriatic Coast, home to a few all-hours beach bars and clubs. It's also the setting for a couple of extremely popular summer music festivals.
If you'd like to hit the beach while visiting Zadar, these are definitely the best beaches in Zadar County. We especially suggest checking out Kolovare Beach in the city and Queen's Beach and Sakarun in the region. If you are visiting off-season, there are still other great ways to enjoy the region's stunning waters.
22. Bošana Beach, Pag
On a long and narrow island north of Zadar, connected to the mainland by the Paški Most bridge, lies Bošana Beach. Located near Pag, this is the far northern corner of Zadar County. Many beautiful beaches dot this area, blessed with breathtaking coastlines made up of rocky cliffs, sandy beaches, pebbly shores, and crystal-clear waters.
The Bošana coast is several kilometers long and characterized by numerous bays and coves. Note that there are few facilities, and the walk down to the water is steep. Once there, take cover under a pine tree and relax.
23. Prosika Beach, Pag
Located a few hundred meters from the Pag town center, Prosika Beach is an 800-meter-long public beach that's super-suitable for small children. Lined by bars and cafes, this beach also has plenty of shade underneath the trees behind it. Additionally, there are plenty of facilities here, including a playground, tennis courts, a beach volleyball court, and pedal boat rentals.
Zadar Beaches Map
BEACHES IN XADAR FAQs
What are some popular beaches in Zadar County?
There are several popular beaches in Zadar County, including Sakarun Beach, Nin's Lagoon, Kolovare Beach, and Punta Rozica Beach.
Which beach is best for families with children?
Nin's Lagoon is an excellent choice for families with children due to its shallow and calm waters.
Are there any secluded beaches in Zadar County?
Yes, if you prefer a quieter and more secluded beach experience, you can visit Veli Rat Beach or Sakarun Beach, especially during the off-season.
Are the beaches in Zadar County suitable for water sports?
Yes, Zadar County offers various water sports opportunities at beaches like Kolovare Beach and Punta Rozica Beach, where you can enjoy activities like jet skiing, windsurfing, and more.
Are there any blue flag beaches in Zadar County?
Yes, some beaches in Zadar County have been awarded the Blue Flag certification for their cleanliness and environmental standards. Some of these beaches include Sakarun Beach and Kolovare Beach.
Do you know any other beaches in Zadar? Did we miss an off-the-beaten-path Zadar beach that's totally worth going to? Leave a comment below and tell everyone about it!