Some posts contain compensated links. Please read this disclaimer for more info.
Guide To Paklenica National Park & Starigrad
With more and more flights to Zadar, people often ask us what I should do in Zadar? One of the items on the list has to be to visit Paklenica National Park. We recently decided to go to Paklenica to experience it for ourselves.
Fortunately for me, Mrs. Chasing the Donkey had pre-arranged a local guide named Zeljko from the Paklenica National Park Service to show me around while she and the baby donkey enjoyed the beach.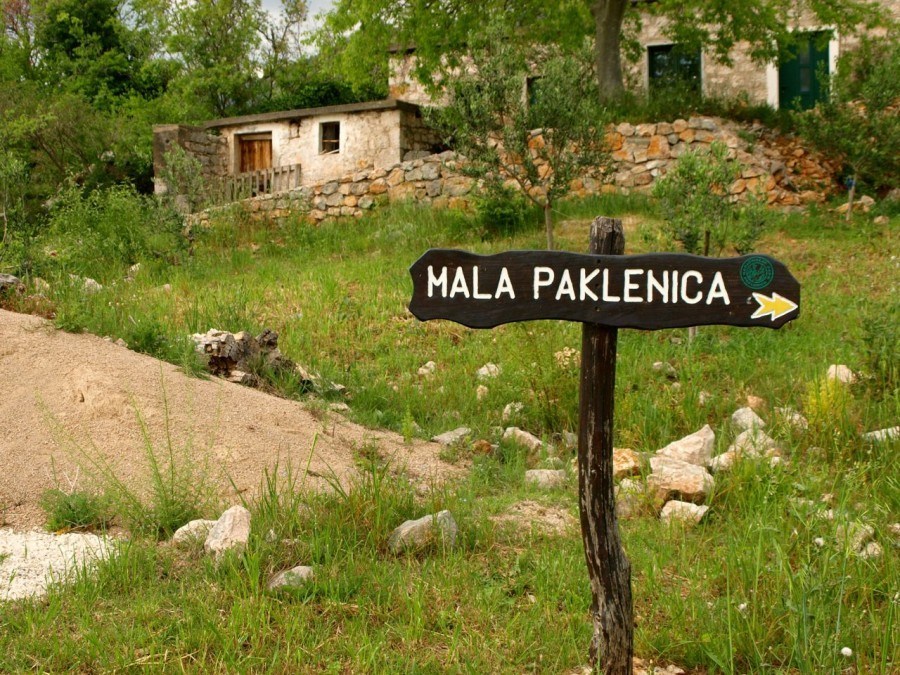 Paklenica National Park was established in 1949 and is Croatia's second oldest national park behind Plitvice Lakes National Park (a must-see!) in Northern Dalmatia. Croatia is home to 8 stunning national parks, all offering something different.
Paklenica National Park is 95 km2 and consists of two dolomite limestone canyons called Velika (big) Paklenica & Mala (Small) Paklenica in the Velebit mountain, which is Croatia's largest mountain range. The Velebit mountain range is a part of the Dinaric Alps, which also runs through Slovenia, Montenegro, Serbia, Kosovo, Albania, Macedonia & reaches its highest point in Bosnia-Herzegovina.
Mrs. CtD is always saying that the Velebit often looks like a Hollywood backdrop on a clear day.
The park has around 150km of hiking trails, which, if you have the legs for it, will ultimately take you up to the highest peak of Vaganski Vrh at 1757 meters. The mountains rise sharply from the sea, and while the park initially looks very rocky, you'll be surprised to find out that 75% of the national park is, in fact, forest, which is primarily Beech and Black Pine.
If you are into adventure sports, then Paklenica National Park is calling your name.
Climbing In Paklenica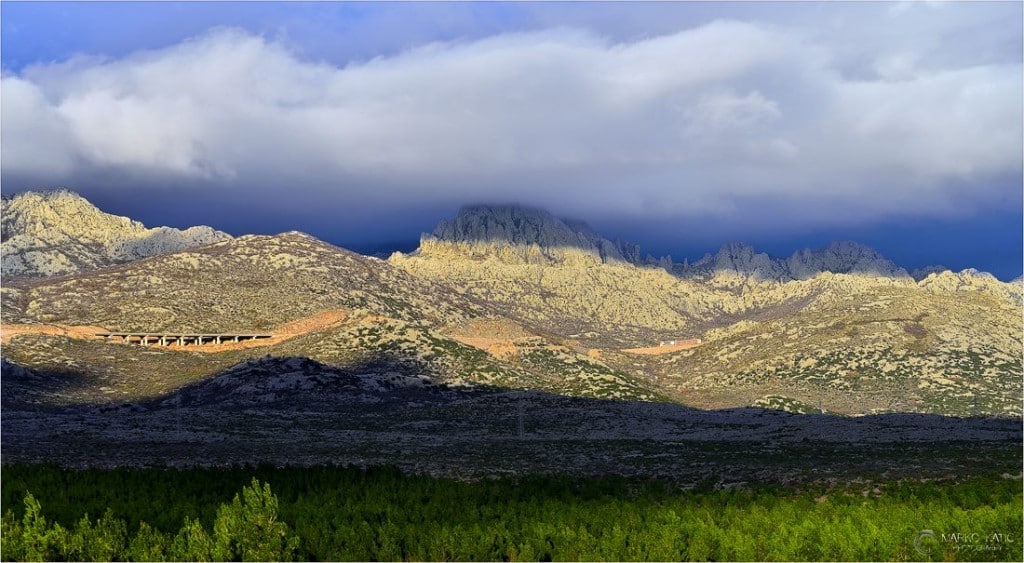 The first thing I noticed upon entering the park were rock climbers. They were everywhere! Zeljko explained that one of the positives for climbers who come to Paklenica is that there are no massive hikes required to get to your climbing location. The climbing positions await you just meters from the entry point into Velika Paklenica canyon.
As you enter the park, the walls of rock immediately surround you. Paklenica National Park is also favored by climbers because there are climbs available for all levels of experience.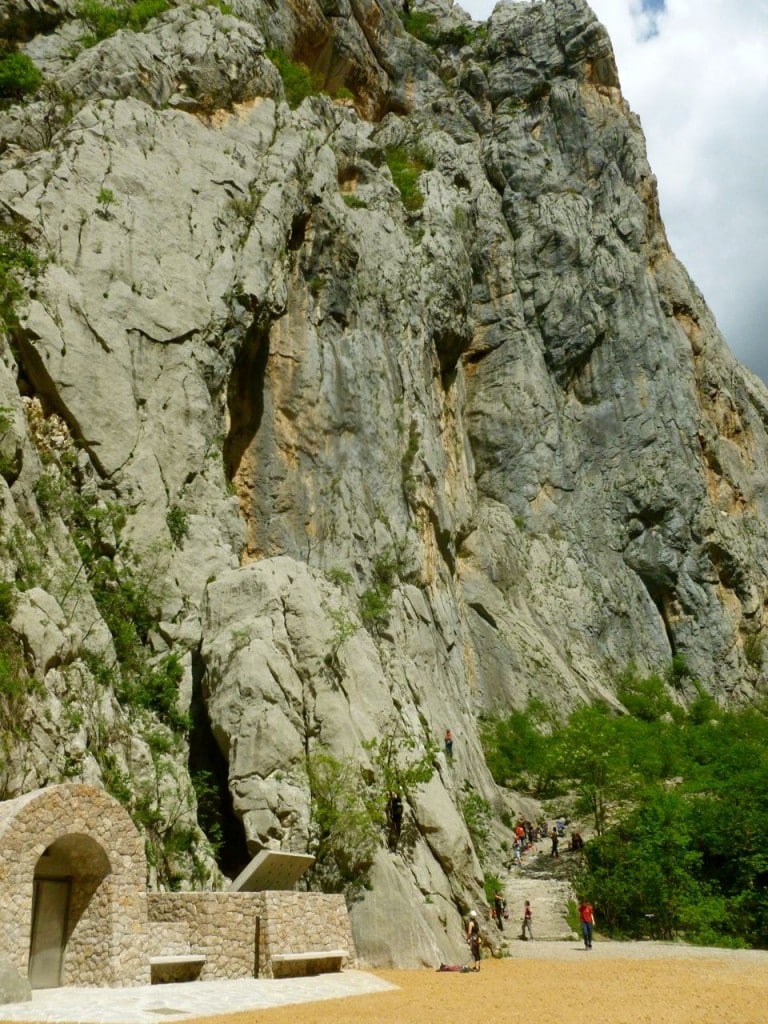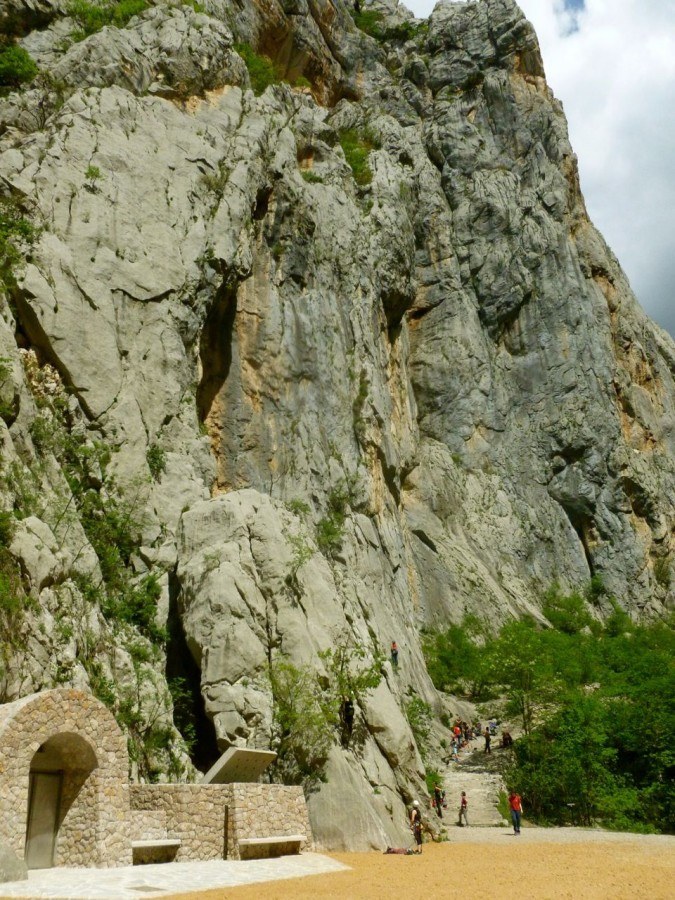 I was surprised to find out from my guide that 35% of all visitors to the park are climbers. Zeljko also explained that an annual event is held on the 1st of May in Velika Paklenica called the Big Wall Speed Climb.
It's a pairs climbing event where the teams are timed climbing a staggering 160m cliff! Clearly, the quickest pair to the top wins.
When I saw the rock face that is climbed for the event, I was gobsmacked! It is scary. The record for the climb, which is done in 5 pitches, stands at 15 minutes and 16 seconds won by Croatian Jurica Levatić.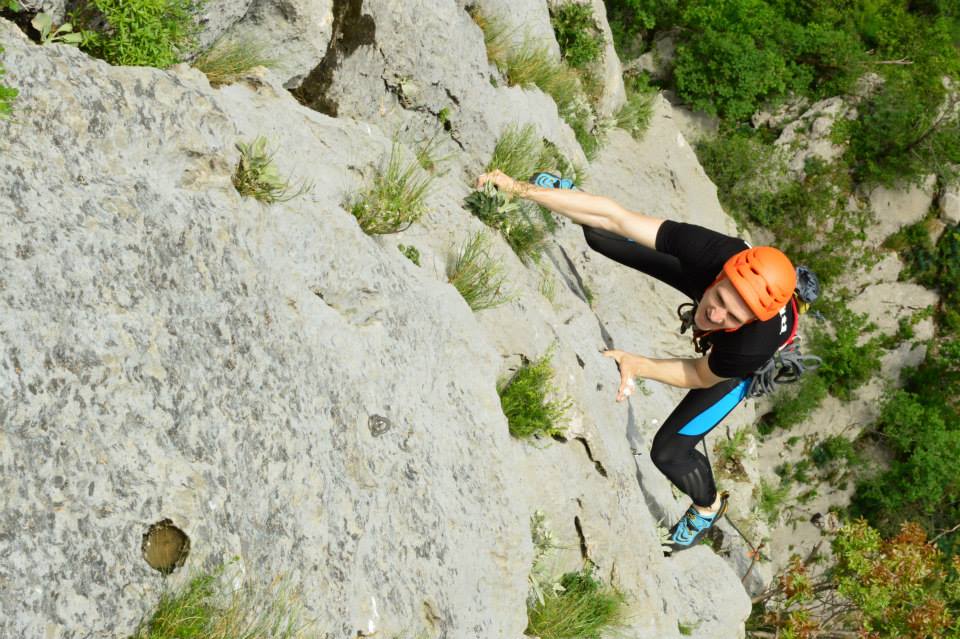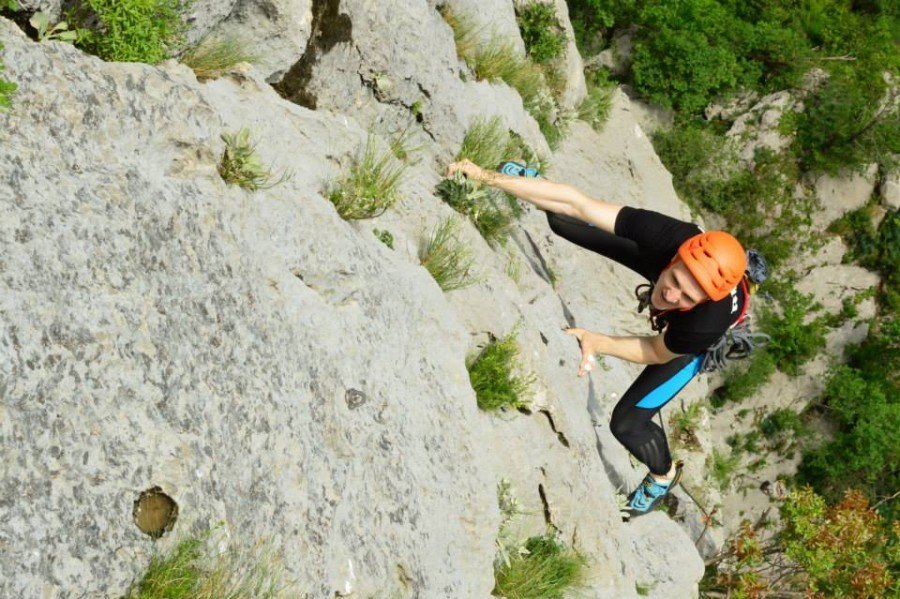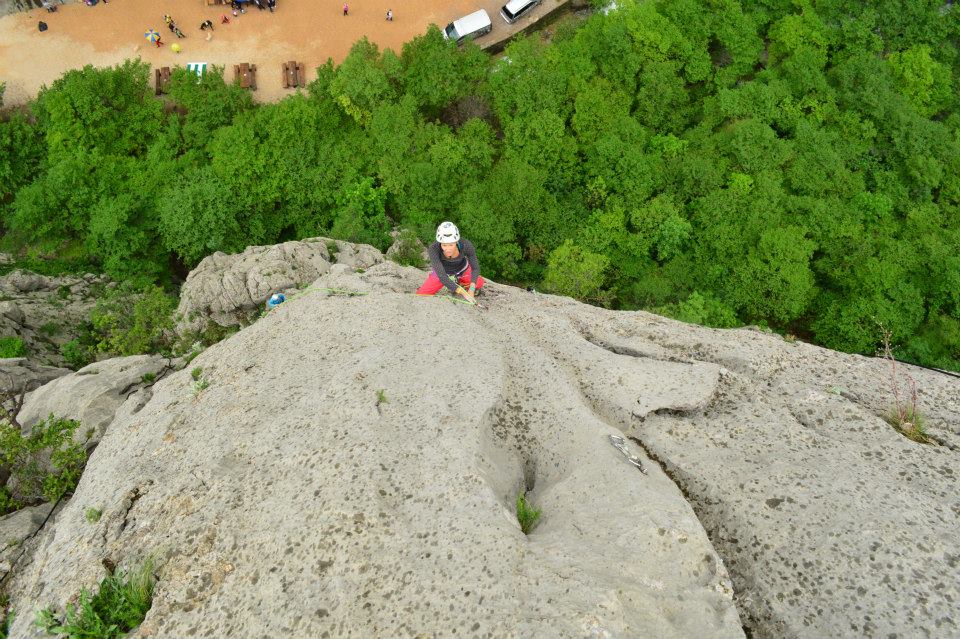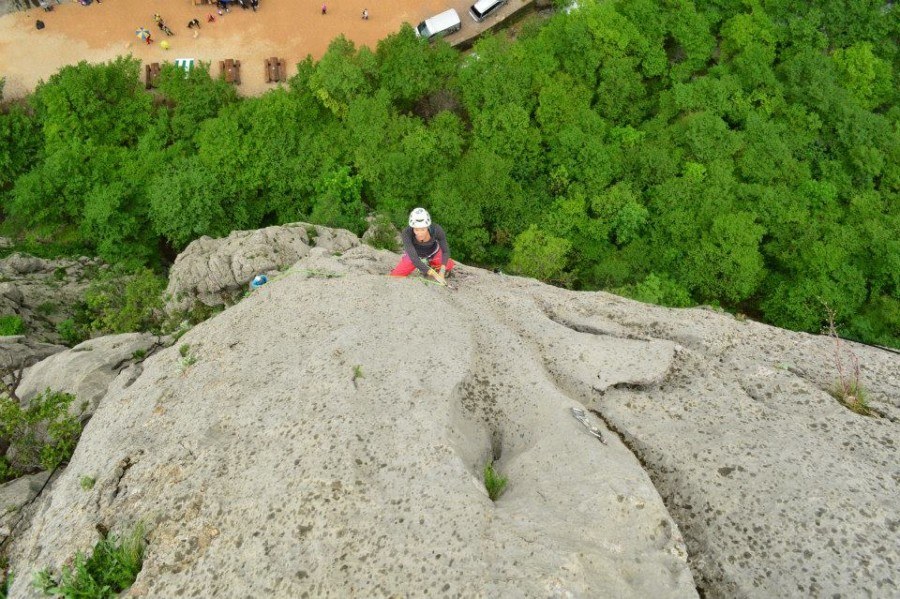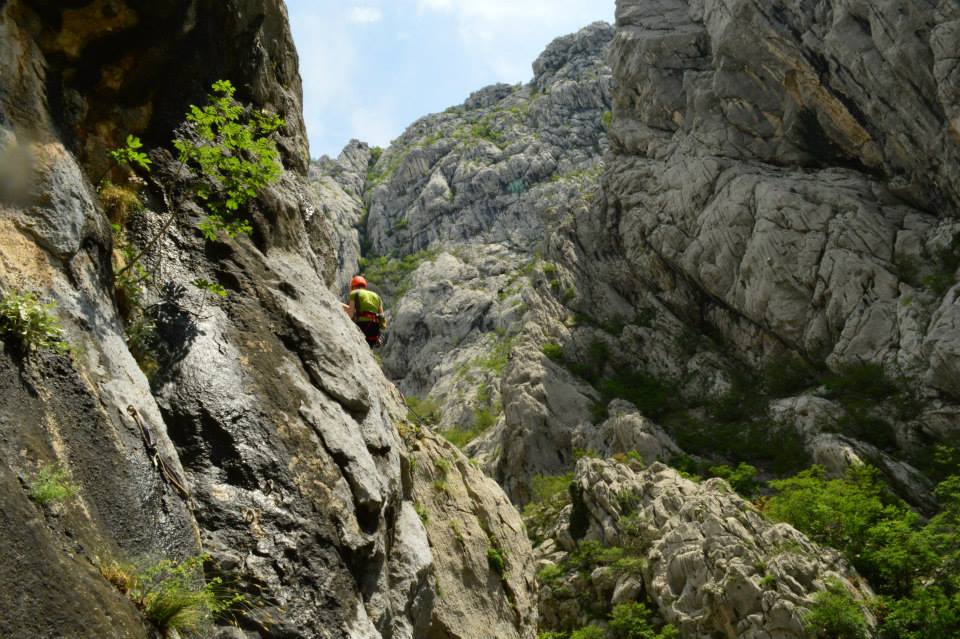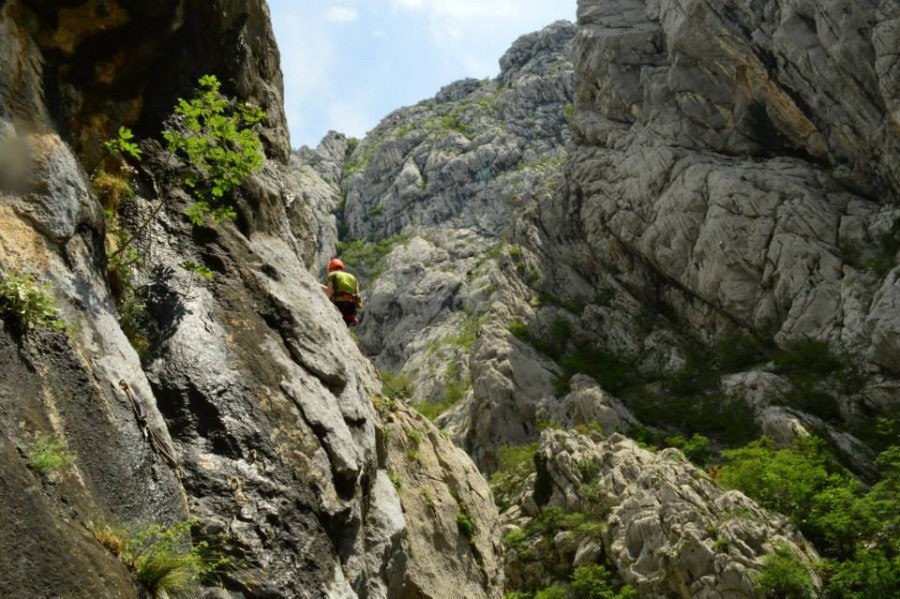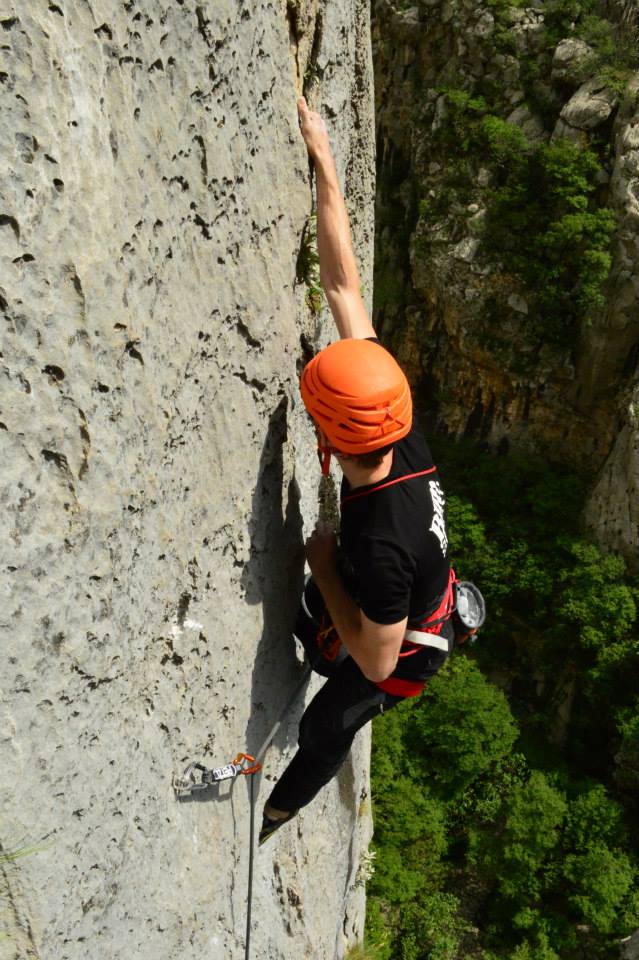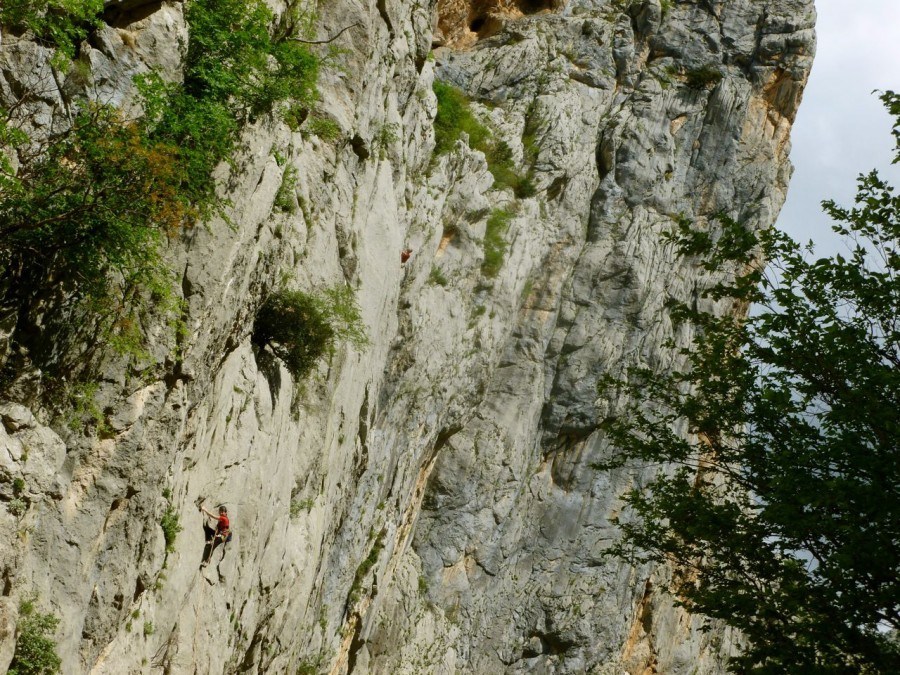 Hiking Paklenica National Park
Paklenica National Park is a hiker's paradise. With over 150km of trails that take you from rocky canyons to lush green meadows and mountain peaks. Zeljko and I stuck to the novice trail winding our way through Velika Paklenica.
We walked beside a beautiful stream that had lots of little waterfalls.
Local Tip: If you ever make the walk, make sure you drink some of the spring water along the way. It's signposted so you shouldn't miss it. It's so crisp and refreshing!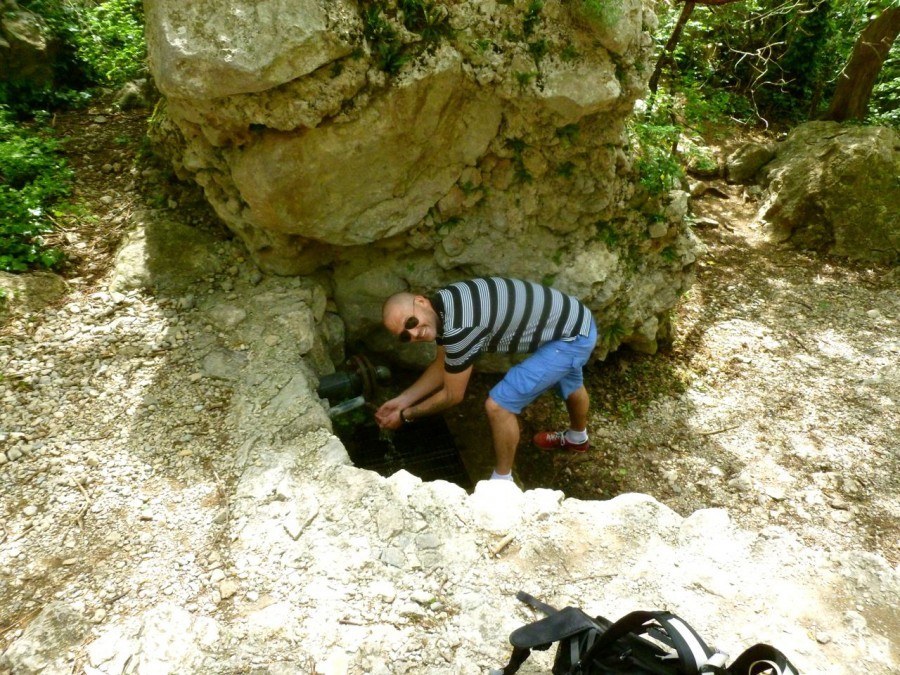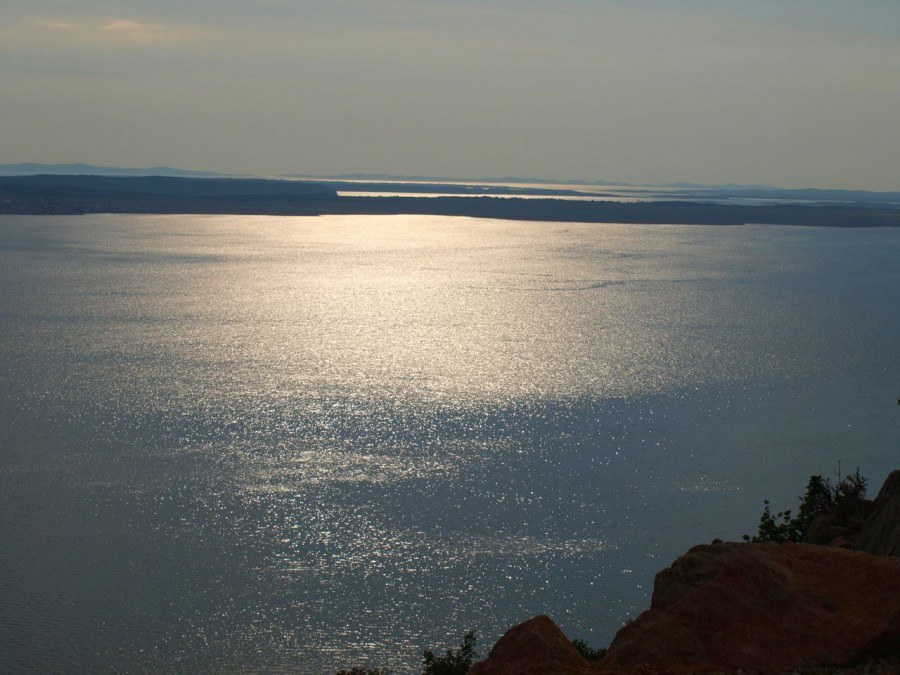 For those that are more experienced, the park offers various shelters and accommodation up in the mountains, so it's possible to hike over a few days and reach mountain peaks such as Sveto Brdo 1753 meters and Vaganski Vrh 1757 meters.
I'm planning to return and take the two-hour guided tour along the mountain trail, where I'll be able to take a look at Manita Peć Cave. This cave is 175-meters-long and is divided into two halls filled with gorgeous stalagmites & stalactites.
The Most Popular Hikes In Paklenica National Park Are:
Manita Pec Cave (1.5 hours)
Forest House (1.5 hours)
Mountain hut (2 hours) – you can even rent this out and sleep overnight in the park
Velika Paklenica to Mala Paklenica (6 hours)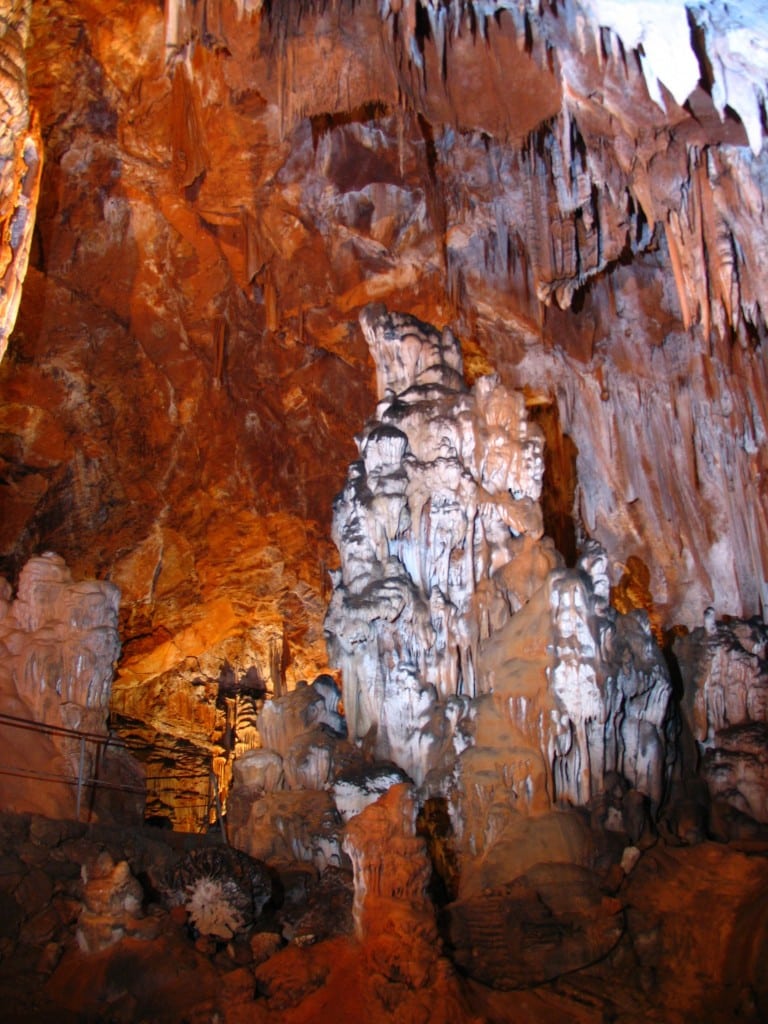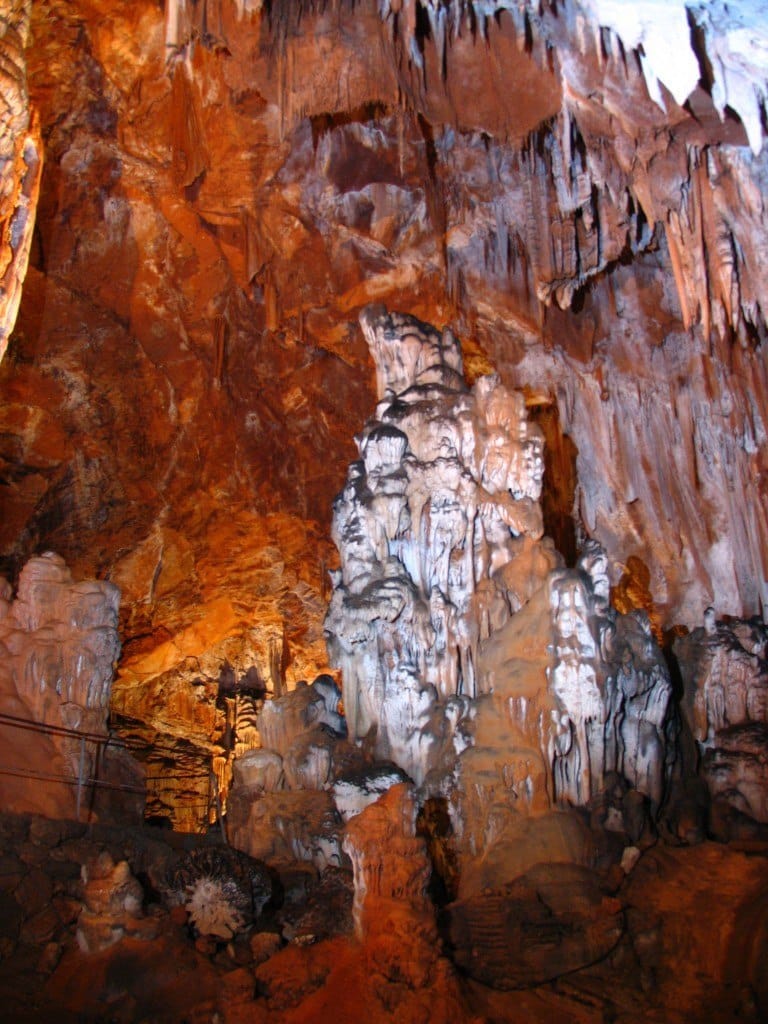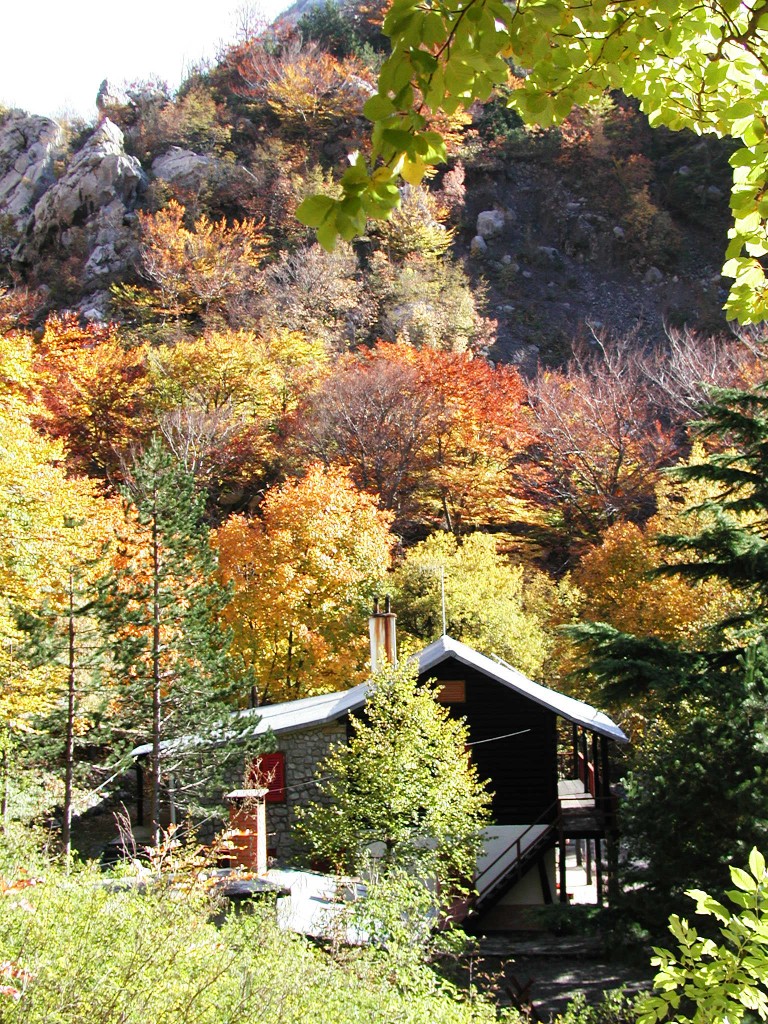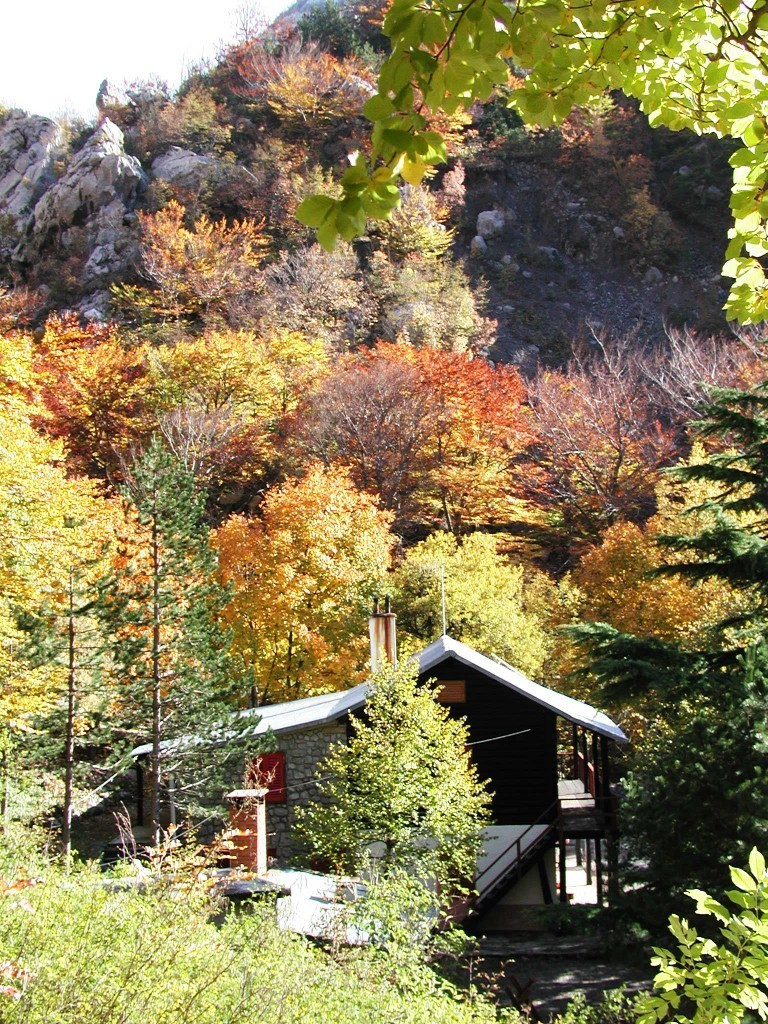 Be Safe
You can start out your day with blue skies, and it can end with the bura wind blowing a gale and find yourself soaking wet from the rain. Equally a day on the Velebit mountain can warm up quickly, and you'll be hot and thirsty so visit Paklenica well prepared and stay safe with these tips;
Hike or climb in pairs or small groups
Be safe and wear

appropriate

footwear

Bring a jacket, as it can get very chilly in a matter of hours

Pack plenty of freshwater

More hiking safety tips can be found here
If you become lost or in any danger, help is on hand by phoning 112 where the Mountain Rescue Service can be reached.
Local Tip
Once you've ended your magical day in the national park, head to Dinko's cafe that is just outside the entrance to the park. Owned by a local, named Dinko (see what he did there), this cafe has been serving tired and hungry hikers and climbers for 40 years. Decorated with old climbing gear, this is the perfect place to unwind. Dinko will serve you up an icy cold Croatian beer, Paski Sir, and prsut with bread for a great price. Let him know Mr. Chasing the Donkey said hi!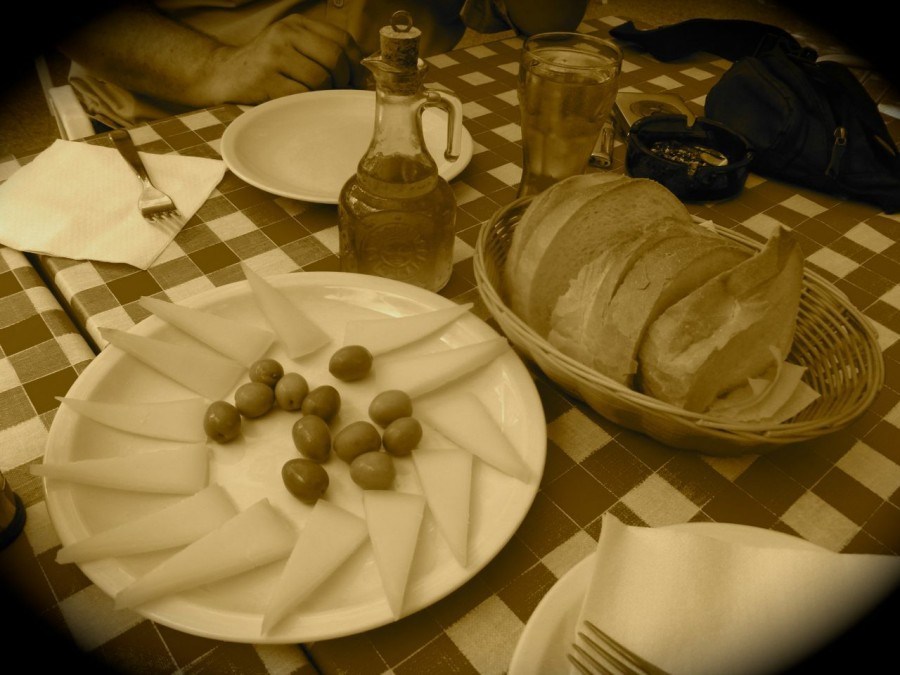 Where Is Paklenica National Park?
The park's entrance is from Starigrad Paklenica at the base of the Velebit mountains and is located just 40 kilometers from Zadar, 260 kilometers from Zagreb, and 170 kilometers from Split.
Paklenica national park has car parking facilities available right at the entrance.
Paklenica National Park can be reached by the A1 Highway, which stretches from Zagreb to Split. Take the Maslenica exit and then join the D8 state road and follow the signs to 'Starigrad.'
Contact: Paklenica National Park for more info on current entrance fees or to book a local guide (optional).
Fun Facts About Paklenica National Park
Not very far from the entrance to Velika Paklenica, there is a human-made cave & tunnel system, which took several years to build. It was commissioned by the Yugoslavian leader Tito during the Cold War as a fallout shelter; he believed that Croatia (then known as the Republic of Yugoslavia) would be attacked. These tunnels are planned to be turned into exhibits at some point in the future.
Way back in the 60's Paklenica National Park doubled as the American Wild West in 11 movies filmed on-site about the fictional Native American hero Winnetou. Based on a series of novels written in German by Karl May the novels & movies have since developed a cult following and each year many flock to Paklenica to retrace Winnetou's footsteps.
Accommodation In Starigrad Paklenica
There are some accommodation options close to the national park. Including private apartments, small and family-run hotels, but the biggest hotel in the area is the Bluesun Hotel Alan, where we spent several nights. The hotel is located just 20 meters from the beach, and a few minutes drive to the national park entrance. In addition to the 139 hotel rooms, they also offer 24 villas & camping facilities.
Best of all, the Hotel Alan has a wellness center, which offers full-service spa facilities at very affordable rates – the perfect way to end the day after hiking or climbing.
Another great option is Hotel Vicko; it's family-run, and very close to the National Park, you can read what we thought here.
Have you ever been to Paklenica National Park, or is a visit on your bucket list?
What Is There To Do In Near Starigrad Paklenica?
There are several Croatian national parks accessible for day trips; all you have to do is decide if you want to raft, hike, go mountaineering, explore caves, waterfalls or head out on your mountain bike.
There are several beaches within easy walking distance. Hotel Vicko provides complimentary beach chairs and towels for use during your stay. Also, bikes are available for rent so that you can head to some of the beaches a little further away.
We want you to know: We were provided entry into the national park along with a guide without charge. All thoughts and opinions are given honestly and without bias. Photo Credit for cover image – Marko Katic Photography
More Travel Blogs
Share