Peaks of the Balkans is a hiking route that stretches across the hilly region between Kosovo, Albania, and Montenegro. Mountaineering groups, national and local tourist agencies, and GIZ all worked together to create this epic trail.
The highest peaks reach an altitude of over 2300 m, of which the largest is Maja Jezerce in Albania, 2694 m. The trail passes through pristine mountainous areas, including old cattle trails, lakes, rivers, and waterfalls, as well as small villages tucked away in mountain ranges.
Depending on hikers' fitness level, it takes 10-13 days to tour the entire trail. This is a circular trail so you can start the hike in any of the three countries it passes through, Plav – Montenegro, Theth – Albania, or Peja – Kosovo.
One-third of the total length of the trail passes through Montenegro. This is the most beautiful part of the Balkan Peaks trail. You will visit Lake Hrid, Ropojanska Valley, and many villages and katuns where the tradition and culture of this region are still preserved.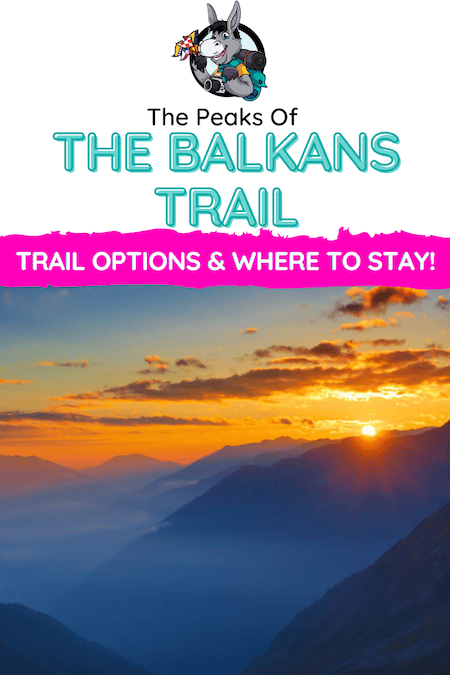 Choosing A Trail For The Peaks Of The Balkans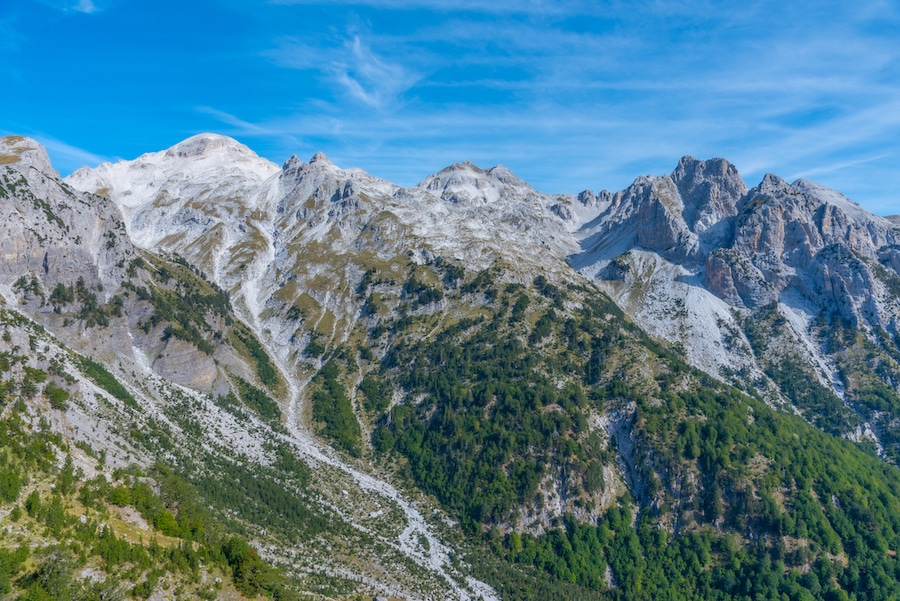 Original Peaks of the Balkans Trail: 10–12 Days
A 192-kilometer (119-mile) circuit over the uninhabited mountain ranges of northern Albania, western Kosovo, and southern Montenegro makes up the entire Peaks of the Balkans excursion. Ten days are required to complete the path, which includes overnight stays with local families in the villages.
Since the trail is a loop, you can start and finish it wherever you like. The most popular trailhead is in Albania, either Theth or Valbona. You may, however, decide to leave from Pejë (Kosovo) or Plav (Montenegro).
Some boring sections on the official Peaks of the Balkans trail involve tar and dirt highways rather than mountain trails. Political decisions were made to try and guarantee that trekkers who followed the route would spend an equal number of days in each of the three nations.
Since then, private trekking companies have stepped in to provide itineraries that include a "best of" Peaks of the Balkans and other distinct trekking opportunities that continue to adhere to the organizing principle of promoting rural and sustainable tourism while providing a more enriching experience.
TRAVEL COMPANIES WE USE AND TRUST
How To Reach The Peaks Of The Balkans Trail
Since the trail is a loop, it is possible to begin and end it at several different locations along the Peaks of the Balkans. All of them are excellent choices, and it is better to go with the one that allows for the simplest transport to and from the area. We've arranged the selections by the fact that the majority of travelers will pass through one of the region's major cities.
Albanian Capitals: Tirana And Theth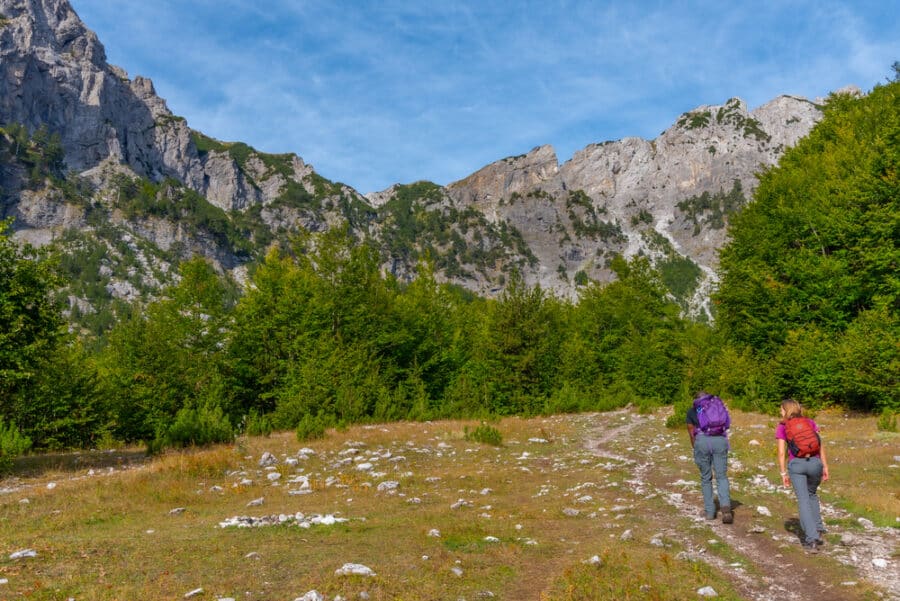 Theth is the perfect point to begin your walk if you're passing through Tirana. To go to Theth, you must first take a minibus to Shkodr (2 hours) and then another minibus from there (2.5 hours). If you are pressed for time and don't speak Albanian, finding your way through the bus system on your own might be feasible, but we advise booking your transportation through a tour operator. The price for a round-trip ticket should be around 60 euro per person.
Plav, Montenegro > Podgorica, Montenegro
The quickest route to and from the Peaks of the Balkans is via Podgorica. The major bus station in Podgorica is where several buses depart each day for Plav. It takes roughly 4 hours to travel. You can also schedule a taxi or shuttle to get you between the two.
Kosovo's Pristina, Pejë, And Rugova Valley
Even though getting to the path from Pristina is less simple, it is still a viable alternative for individuals traveling from that direction. It would be best if you first took a bus to Pejë from the central Pristina station (2 hours). Buses leave every 20 minutes or so, and one-way tickets cost 5 euro for each person. You can take a bus from Pejë to the end of the road in the Rugova Valley, from whence you can walk for about 5 kilometers to Rekë e Allagës to start the route.
Shortcuts And Detours
As previously said, there are various ways to cut your hike short. One option is to hike on Stage 4 from Dobrdol to Babino Polje, eliminating three trail segments that primarily go through Kosovo. Most hikers can now finish the journey in around seven instead of ten days. It's helpful to be aware of your alternatives for altering the route, regardless of whether you're running low on time or encountering an unanticipated difficulty.
In addition to changing the path, there are a few points along the route where you can transfer to skip some of the walking:
Valbona to Çeremi:

A transfer can be successfully set up to skip the entire process.

It is feasible to organize a shuttle to eliminate the 6 km of road walking on this stage from Milishevc to Rekë e Allagës.

To avoid walking 13 kilometers of paved roads, a transfer from Drelaj to Restaurant Te Liqeni can be arranged through a travel agency or at the Shquiponja Guesthouse in Drelaj.

Babino Polje to Plav:

Babino Polje to Plav: You can skip the entire stage by taking a taxi from Babino Polje to Plav. Any Babino Polje hotel will assist you in calling a cab.

Plav to Vusanje:

You can plan a jeep transfer to skip the first 10 kilometers of inclining road walking.

Many of the tour operators who provide escorted POB treks will also be able to assist you with making transportation arrangements along the way. If you want to plan transportation in advance, we advise contacting a few tour operators to see what's available and compare costs. Begin by asking the hosts of your guesthouse if they can assist you
How To Get To Peaks Of The Balkans Trail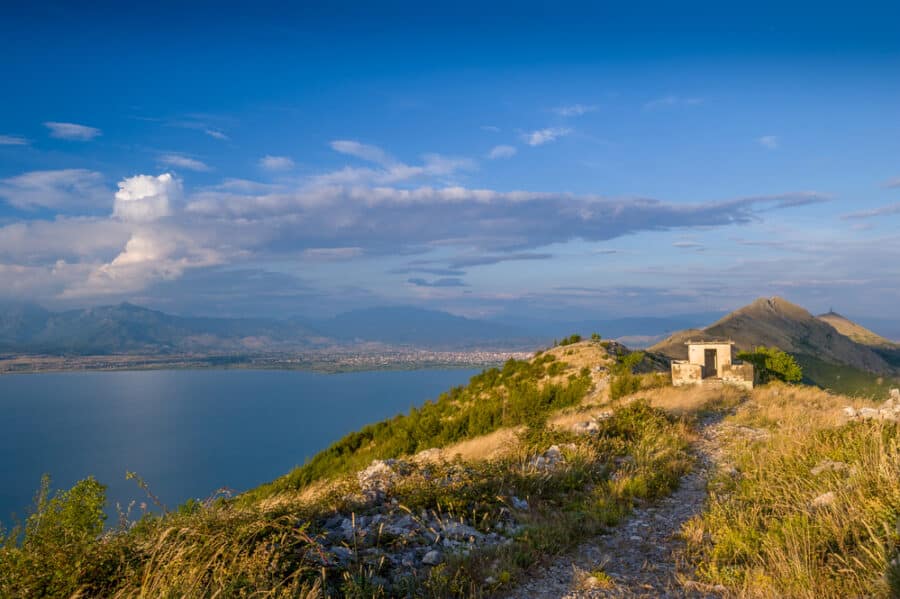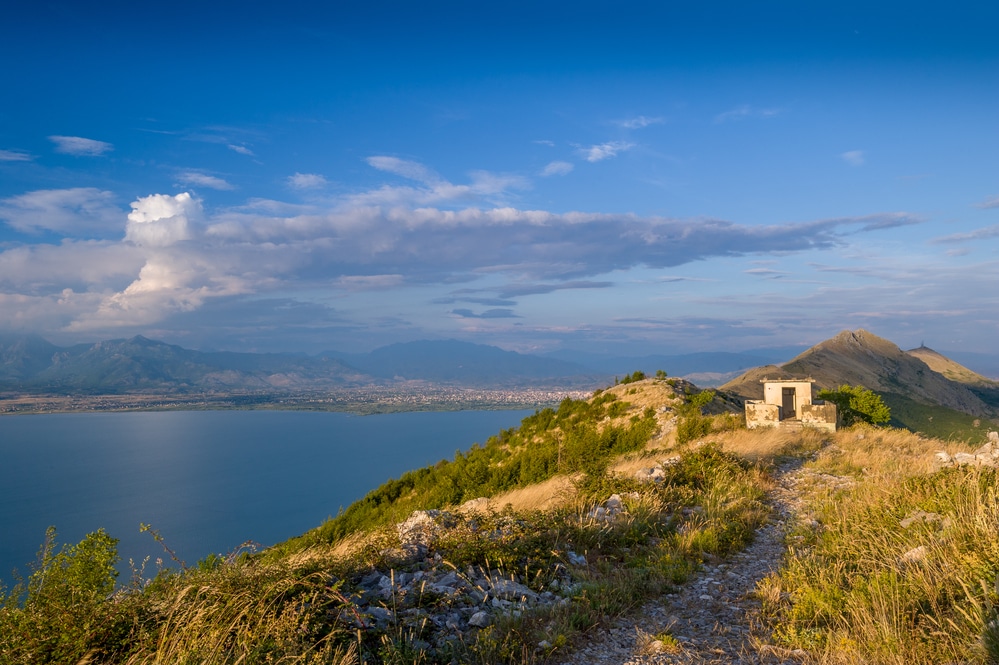 Since the track is circular, you can begin anywhere. This indicates that there are three ways to access the trail—one in every nation. Fly into Podgorica if you're starting in Montenegro, then take a bus to Plav. Fly into Tirana if you're starting in Albania, then take a bus to Theth or Valbona. Finally, if you begin in Kosovo—which I do not advise—find transportation to Reka e Alleges after arriving in Pristina by plane. From there, take a bus to Peja. Of course, you can always go by bus if you are already in Europe to be more environmentally friendly. For instance, from Germany, it costs around 50 euros and takes 20 to 30 hours to get there, depending on your luck at the border crossings.
With Or Without An Experienced Peaks Of The Balkans Trail Guide
You can trek with or without a guide like any other hike. I advise hiring a guide because of the number of hikers who need rescuing as they get lost on the Balkans Peaks. There are various causes for my feelings, including:
Because the track is not especially clear, The last thing you need is to become lost after hours without someone to help

A local guide is invaluable. Having a local tour around their house is a unique experience that significantly enhances the trek

There aren't many English speakers in the region, and a guide arranges all travel and hotel arrangements
I realize that not everyone wants or needs a guide; if this describes you, you might consider signing up for a self-guided tour. Self-directed tours include all the organizational benefits of a guided tour without a guide. Consider signing up for a self-guided trip if you want to manage just part of the hassles of planning lodging, permits, meals, and transportation.
Camping Or Guest House On The Peaks Of The Balkans Trail
The Peaks of the Balkans Trail can be hiked in two different ways (POB). One is to pack all of your camping supplies and spend each night camped out on the path. The option is to pack a little and stay at neighborhood inns. Each has benefits and drawbacks. Naturally, the choice will depend on your preferences and level of experience.
The trail is difficult even if you carry nothing on your back. I have slept in guest houses and camped, thanks to the convenience of living along the route. I would only ever stay in hotels if I were in your position. Every day is difficult when you camp because of the extra weight. Each day, I had to complete the sections as quickly as possible to set up camp and prepare dinner before dark – not so much fun.
When you are not rushing, the mountains are considerably more delightful.
When To Trek The Peaks Of The Balkans?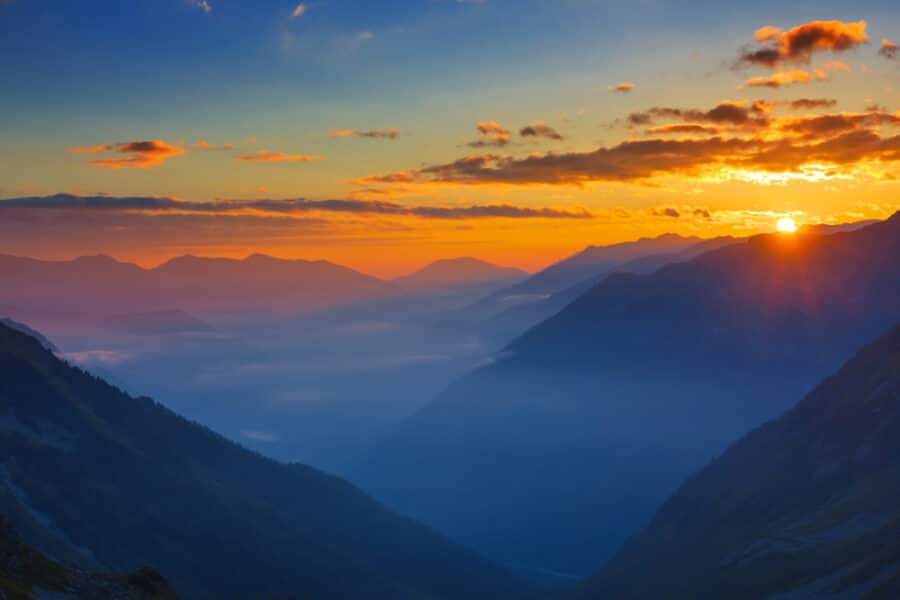 The Peaks of the Balkans are typically available from mid-June to mid-September. Restrictions are imposed at other times caused partly by trail conditions determined by weather, when there may still be a lot of snow on the mountain passes, making them hazardous. For information on safety precautions for the Valbona Pass in May at the beginning of the season, see our note above.
Additionally, many local families that own guest homes generally arrive and depart from their farms and shepherd huts during that period.
Weather is the luck of the draw and at Mother Nature's discretion. Since you are in the highlands, the weather along the Peaks of the Balkans trek is frequently unpredictable. Scheduling to avoid rain or bad weather is nearly impossible.
Because the weather would be cool, wildflowers would be in bloom, and there would be fewer tourists on the trails and in the guesthouses, we decided to hike the Peaks of the Balkans between mid-June and early July. The fresh air, wildflower-covered slopes, and relatively quiet guest rooms more than made up for the still snow on some hikes and the occasional need for our hats and gloves.
What To Pack For The Peaks Of The Balkans
As with any hike you go on, you should pack lightly and give up your sense of vanity. When wearing the very same clothes every day, nobody will notice or care. We promise. Any excess pack weight will be readily noticeable, especially while ascending steeper inclines. Here are some things you must pack for your Peaks of The Balkans trail:
Trekking backpack:

When hiking in the summer, you don't need to pack as much because you won't need as much bulky clothing, and lodging and meals will be supplied – but in winter, it's advisable to have a good-sized one with you

Trekking pole/walking stick (travel friendly):

You can find hiking poles cheaply, and you'll be glad if you did, as parts of the Peaks of the Balkans' trails are rocky and unstable

Waterproof gear:

Make sure to carry a waterproof jacket and a backpack cover with you. Also, old plastic shopping bags are great for keeping your clothes dry in your pack for extra protection

Cold weather gear:

It can get cold enough that you'll need a cap and gloves. And, of course, a hiking-friendly fleece jacket and wearing layers is always a good idea

Trekking pants:

Despite the heat, do not be tempted to wear shorts because trekking pants will shield your legs from cuts, branches, thorns, and other hazards. We suggest that you find a pair that has pockets for keeping your phone and other belongings secure while hiking

Hiking shoes:

We suggest quality hiking shoes – you do not want to skip them here
MORE BALKANS TRAVEL BLOGS