If you search for the top attractions to see in Turkey, the hot springs of Pamukkale will 100% appear very close to the top of any list. The natural rock pools of Pamukkale are one of Turkey's most visited destinations and one of the most gorgeous.
If weird and beautiful sights are your thing, this is for you. However, this spot isn't just a little odd and very wonderful. It's also stunningly beautiful – and a great place to take kids. Our two boys (aged five and ten) loved the day we spent here.
No doubt, you've seen Pamukkale in Turkey on TV or online. It's blindingly white, has terraces that run down a mountainside, and glassy blue water on top. Of course, Pamukkale is far more than that, but that's the eye-watering visual you'll get when you see a picture of it for the first time!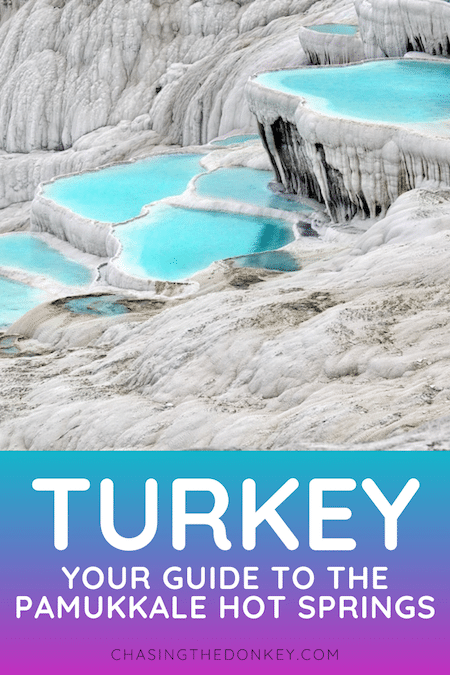 If you're keen to tick Pamukkale off your Turkey bucket list, there are plenty of things you need to know, and thankfully, this guide will give you all the details you need to make your visit to Pamukkale five stars.
Where Is Pamukkale Turkey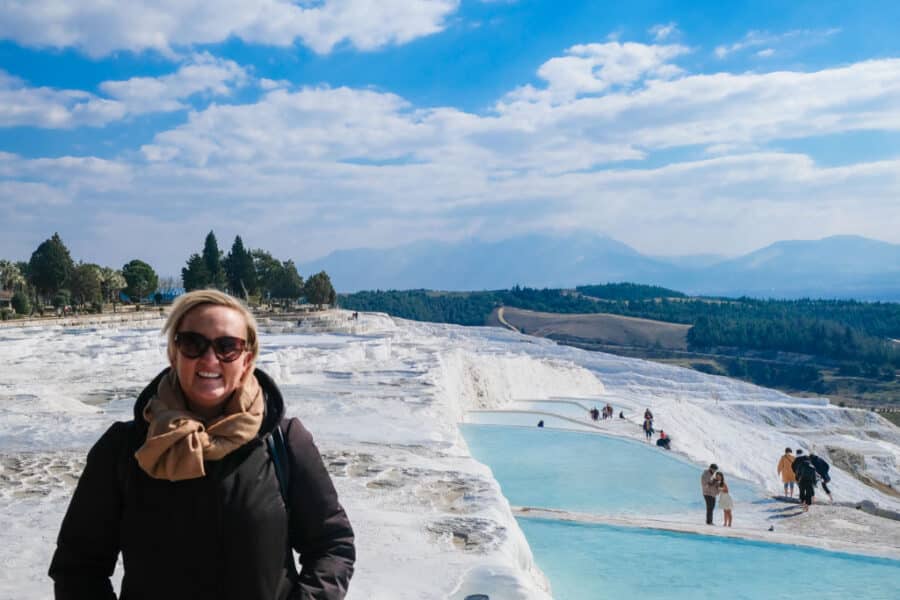 These world-famous Turkey hot springs are a short distance from Denizli, located in southwestern Turkey. Denizli is just 15 minutes from Pamukkale, and there are regular local buses, or you can take a taxi.
If you decide to add Pamukkale to your itinerary, find more details on how to get to Denizli from all over Turkey further down in this post.
What Are The Pamukkale Hot Springs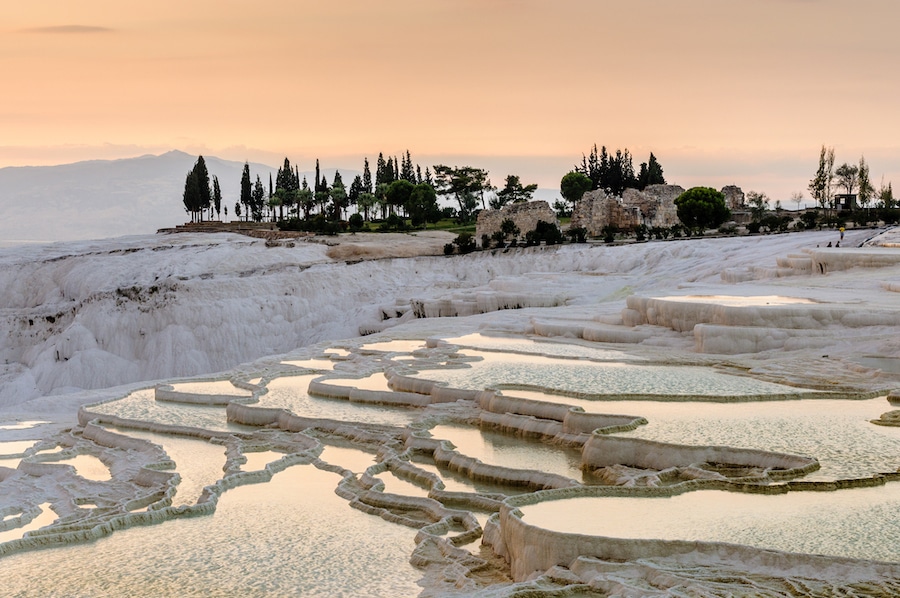 Now, on to the question you may all have. What on earth is Pamukkale?
When you see a picture of the Pamukkale thermal pool landscape, you'll be forgiven for experiencing a little confusion. It's the middle of summer (probably), and all you see is a snowy white landscape in front of you – or if you are like me, I thought it was salt for the longest time (doh!).
Give yourself a minute to adjust because it's not snow that you're seeing – it's travertine.
In the southwestern Turkish province of Denizli, Pamukkale is also the site of the ancient city of Hierapolis. This Greco-Roman city used to be bustling back in the day. This whole part of Turkey is packed with ruins from Greek times worth visiting.
Pamukkale-Hierapolis is also more than just ruins. The site is characterized by white terraces formed of sedimentary rock (travertine, to be exact) and has been deposited by hot spring waters over millennia. Several sources of hot spring water in the area combine to create exceptionally high calcium carbonate water. When that water hits the open air, it turns into white travertine over time. So yeah, it is not snow…or salt.
I was curious about how the water was so warm, and I learned from the buggy driver (read on for info on that option) that the water is heated by volcanic lava, and the white calcium water is carried up to the surface,
That's your science lesson over.
Why Do The Hot Springs Of Pamukkale Look Like That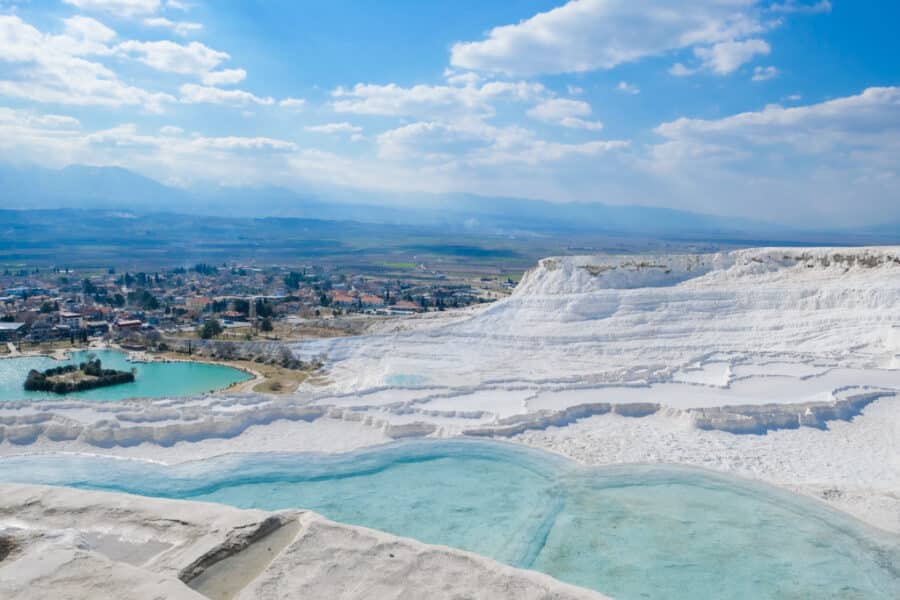 This travertine is why the terraces of Pamukkale have that blinding white appearance. The water that hasn't yet solidified gives off the brightest blue shade as it cascades over the top of the travertine.
Pamukkale is astonishing. There's no other word for it, and it's in such stark comparison to the rest of the landscape around the area, which is as green as green can be.
Back in the day, Pamukkale was one of the most famous thermal pools in Turkey. It literally was a spa, first used in the 2nd century BC. The water is naturally warm year-round. Across the terraces, there are a total of seventeen hot springs, which range in temperature from 35 to 100 degrees Celsius (95-212 Fahrenheit).
TRAVEL COMPANIES WE USE AND TRUST
Why Are Some Travertines Filled With Water & Others Not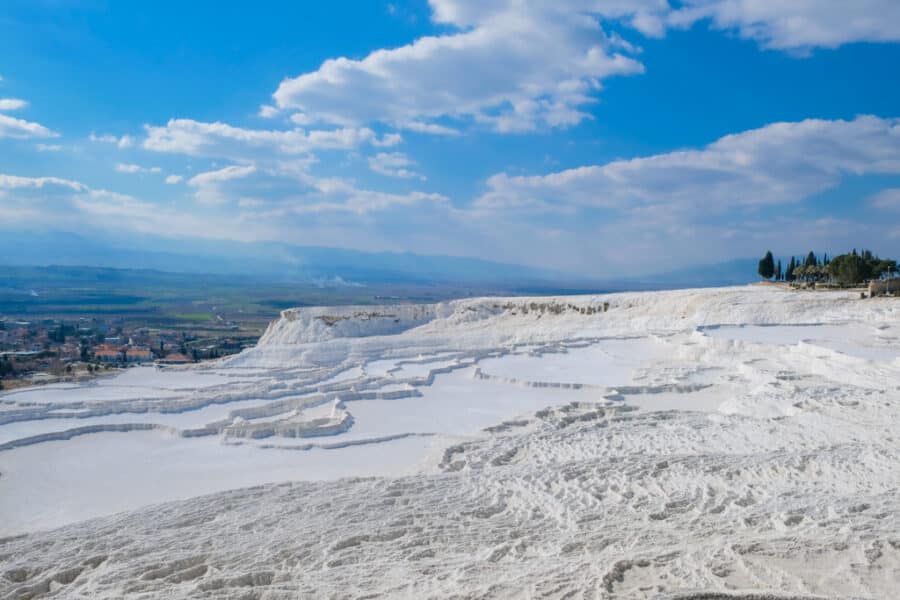 Once upon a time, the calcium-rich water used to pour freely over all the travertines, but that water has since been diverted to other uses (read hotel pools), so many of the terraces are now dry. Sad if you ask me – but that's tourism for you, huh?
What Is The Pamukkale Cotton Castle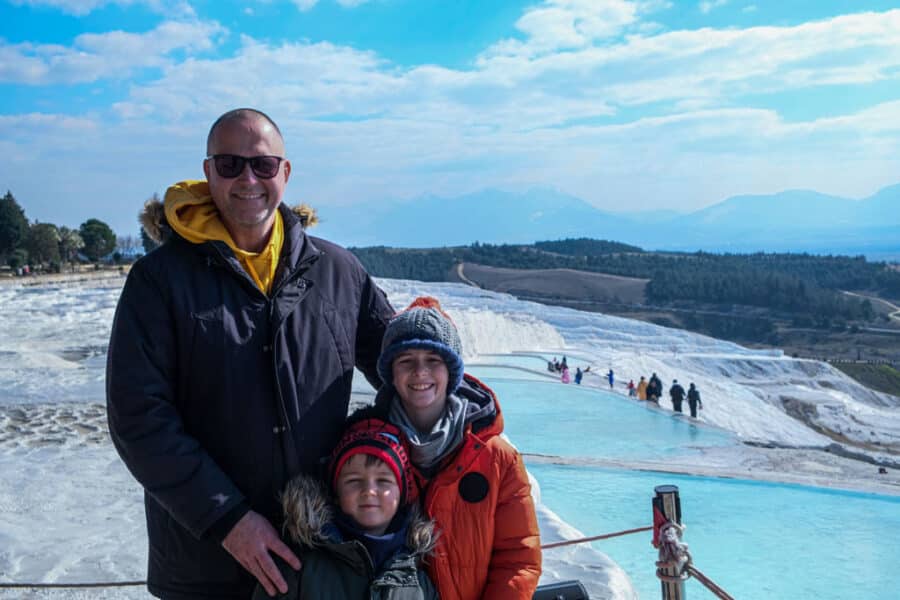 I had read about the "Pamukkale Cotton Castle" and thought there was an actual castle on site. Dumb of me. On this trip, I also learned that Pamukkale translates to the cotton castle in Turkish, describing exactly how the site looks.
Things To Do In Pamukkale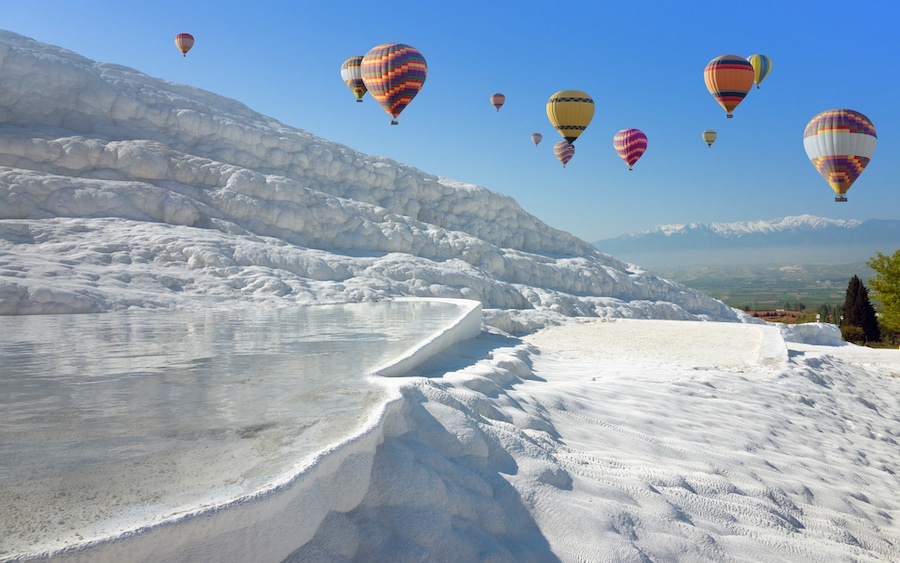 Aside from standing in awe and taking plenty of Insta-worthy pictures, Pamukkale has plenty of things to see and do.
Swim In The Hot Springs
You can swim in the hot spring waters, which are reputably great for healing. You will need to walk over some of the travertine shelves barefoot to reach the pools, but be careful – more on that below.
There are changing facilities next to the Pamukkale pools for bathing in the crystal clear waters when you're finished.
Explore The Ruins Of Hierapolis
When you visit Pamukkale, don't forget to learn more about Hierapolis. This spa city was founded in 190 BC, and the ruins are notably well-preserved. Visiting the Necropolis, the theatre, and the Byzantine church are all a must.
The theatre is especially noteworthy as it overlooks the rest of the ancient colony, giving fantastic views
Bathe In Cleopatra's Antique Pool
Bathing in the Antique Pool, or Cleopatra Pool, where many famous people washed, is a must.
This area is something that will make your jaw drop. You'll find Roman columns that have submerged in the water due to a large earthquake many years ago.
Note: There is an extra charge to bathe in the Antique Pool, with kids six and under allowed to enter for free.
Visit The Museum Of Hierapolis
There is a nearby archaeology museum in a Roman bathhouse you can visit to learn more about the area. Visitors can better picture life here in ancient times with sculptures, relics, and art from the area.
Go Hiking & Walking
Of course, the local area is also great for hiking and walking if you want to burn off some calories or generally soak up the local atmosphere.
Take A Hot Air Balloon Ride
For those looking for a one-of-a-kind experience, consider taking a hot air balloon ride over the pools. These rides take place at sunrise, so the views are spectacular.
Enjoy Tea By The Lake
After we roamed all the sites, our legs were tired – and we needed a caffeine hit. We drove the car down from the gate to the bottom (or you can walk) to the little cafe near the lake. Once there, we enjoyed tea and the ducks. The views up to the travertines were sublime. The kids begged for a swan ride – a pedal boat that cost just 30 Lira per person. I sat lakeside to take photos and watch our bags – while Mr. Chasing the donkey and the boys enjoyed a scenic ride.
Pamukkale Hot Springs Entrance Fees & Opening Hours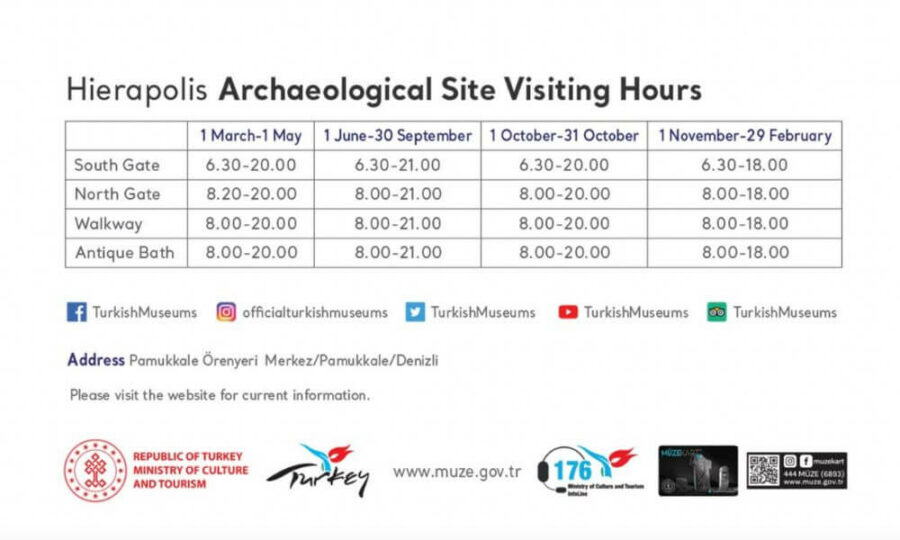 Pamukkale is open from 6.30 am until 9 pm during the summer months from the south gate, and opening times in winter vary slightly according to the weather, so you will need to check out times just before you visit – in winter of 2023; the times were from 6:30 am to 6 pm.
Pamukkale Hot Springs tickets allow access to both the travertines and the Ancient City of Hieropolis.
The baseline entrance fee (see below) is 200 Lira for adults and children over 6. Parking was 20 Lira.
If you plan to explore more of Turkey, the All Turkish Museum Pass also allows access to Pamukkale. The cost for the pass (February 2023) is 1000 Lira but includes entrance into 300 museums and archaeological sites throughout the country. This pass also means you can skip the entrance line.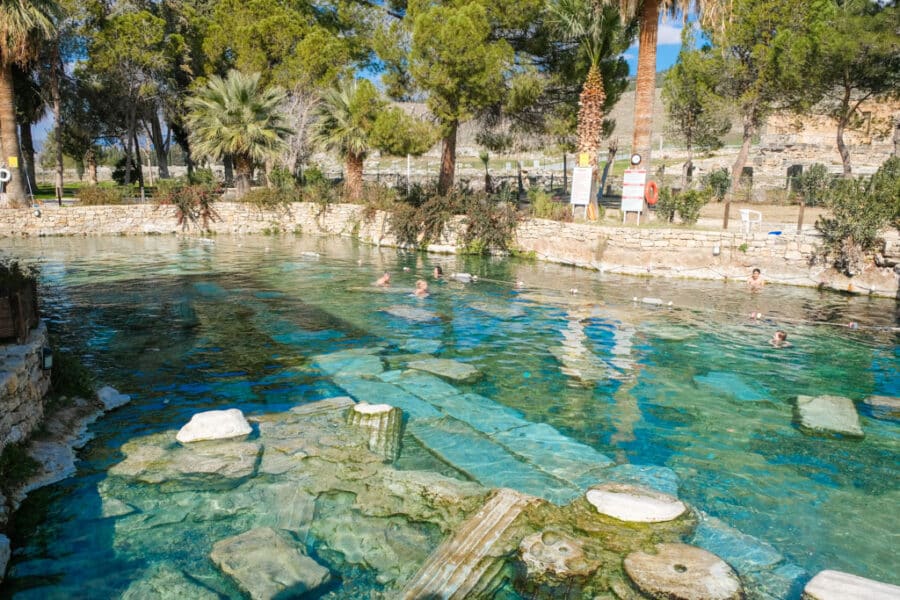 The entrance fee doesn't include entry to swim at Cleopatra Antique Pools (although you can wander around to look like we did), so you must pay extra to use that. I had read many places that the Cleopatra Antique Pools were not open in winter, but we were there in winter, and as you can see – people were swimming. The kids were unhappy that we did not bring our swim gear with us—sorry kids.
Entry Points To Pamukkale-Hierapolis
You can enter Pamukkale from three places:
The Town Center Entrance
North Entrance
South Entrance
All three entrance points have ticket offices.
If you go on a tour, this part won't apply to you, but the best entrance point is the south entrance if you are like us and have a car. It took us a minute to locate it, and it was totally worth the 20 Lira parking fee to keep the rental vehicle safe. From there, we purchased our tickets and then stumbled across the golf cart rental.
Tickets Are A One Time Entry
After we exited the Pamukkale-Hierapolis site, we realized we missed most of the Ancient Necropolis, so we drove the car to the entrance closest to it and thought we'd catch the sun setting there – but sadly, the ticket officer denied us entry, stating that you can only enter once, despite the ticket being purchased just hours before. Us explaining the small kids could not have walked that far from the entrance we came in at. A real shame that was.
Tickets are valid all day, yet you cannot return once you leave.
Golf Cart Rental At Pamukkale-Hierapolis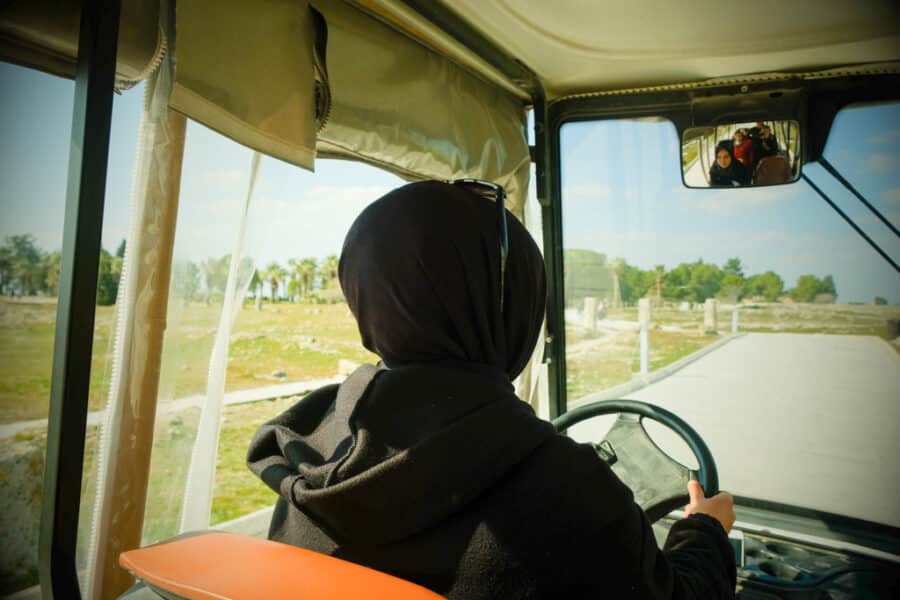 What a find this was! My younger son (aged five) can only walk so far, and although really expensive, I do not regret paying the 750 Lira fee to have someone drive us around in an electric cart for 60 minutes to see the main sights. It was kind of rushed, and the place is so enormous. Still, the driver took us to several sites in the city, including the ancient theatre, the bazaar, and the tombs, which we would NEVER have been able to walk that far to see given my dodgy arthritis and the small kids in tow.
I am glad we decided to take the golf cart tour of Hierapolis, given its sheer size. After the rental was over, we then explored the travertines – and the driver told us we could spend a few hours there and call when we were done to be picked up and taken back to the carpark, but that was not necessary as we walked past the travertines back to the entry point with ease.
Best Time To Go To Pamukkale Thermal Pools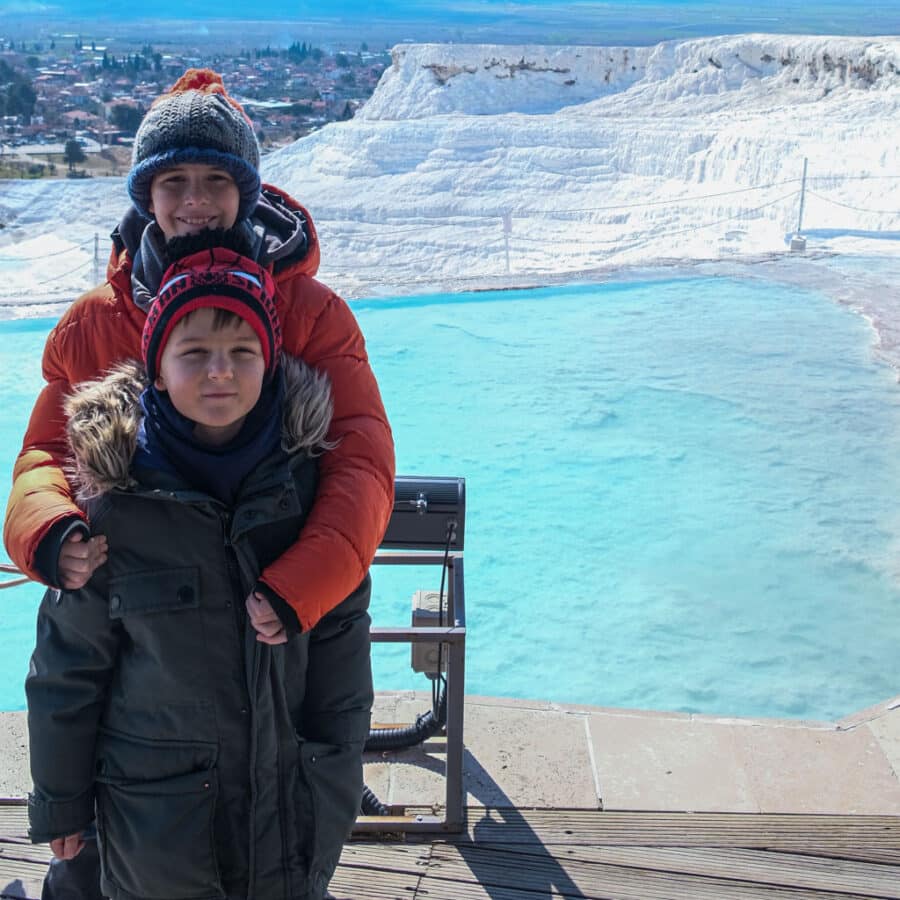 Shoulder Months (May – June, September – October)
Pamukkale is open all year round, but spring, especially May, is an incredible time to visit Pamukkale. Although the shoulder seasons can bring a bit more rain than during the summer, rain isn't often unpredictable if it does come at this time, and a quick check on the forecast should tell you what will occur.
May to June and September to October are more comfortable in terms of weather and crowds, with temperatures hovering around the high 20s and early 30s.
Summer Months (June – September)
From June until the end of September, Pamukkale is very busy. This is a combination of tourists visiting the beach resorts around this part of the country and incredible weather.
The temperatures hit 40 degrees from June to September, with July and August feeling stifling hot at times.
Remember to wear a hat and drink plenty of water, slapping on that sunscreen too as there is no shade while out on the Pamukkale travertines, and even when you're in the Antique Pool, that sun can be fierce, despite the slight shade from the trees.
Beat the crowds: To beat the summer crowds, be at the gates as soon as they open (6:30 am) and enjoy it before it gets ridiculously crowded and hot.
Winter
If you want to visit during the winter, you'll have Pamukkale primarily to yourself as we did, but it will be cold – so rug up; the wind was icy!
In January, the weather can often hit zero, and it can rain quite unpredictably, but it can snow, too, meaning you might get to see a magnificent snowscape if you're lucky! Despite that, this part of Turkey does experience many mild, sunny winter days, so you may also hit the jackpot as we did with blue skies.
Are The Pamukkale Thermal Pools Safe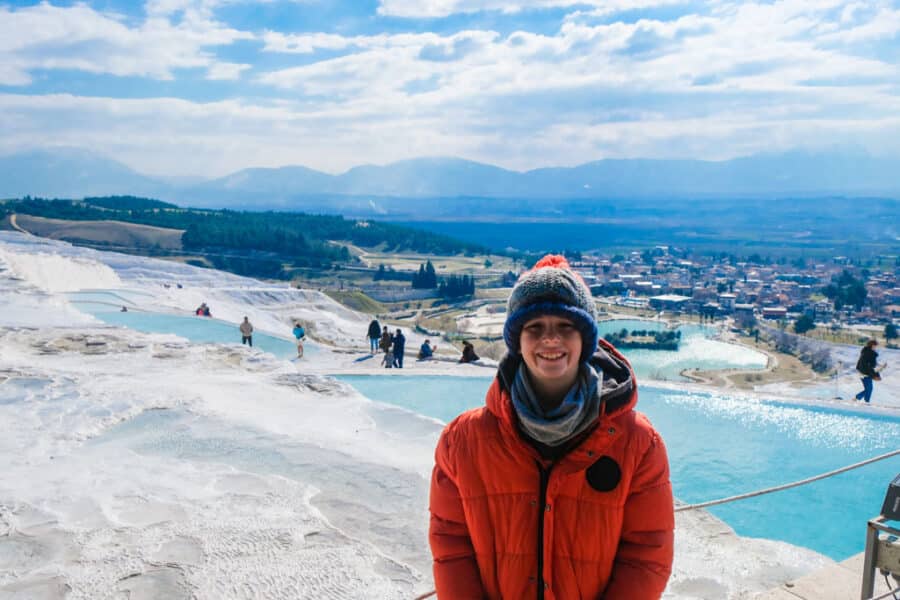 Don't panic! Pamukkale is not unsafe in any particular way. The thing is simply that it's, well, a little slippery. A friend of mine was happily making her way over the Pamukkale travertines, enjoying the scenery and taking photos as she went, only to step on a remarkably smooth bit of calcium deposit coated with water. You can guess what happened next – she fell over. But also ended up with a broken leg.
Many people visit Pamukkale, the best-known calcium pool in Turkey, year after year and have zero problems, but be aware that water and rocks create a slippery surface. You could have a nasty fall if you're too busy taking photos and not paying much attention to where you're putting your feet.
Equally, I noticed many people walking like penguins and looking uncomfortable walking on the dry sections – as the calcium becomes hard and bumpy, and all I could think of was it would be like walking on legos.
How Long To Stay At Pamukkale
You could easily spend a full day here; we stayed around 3 hours – that did not include swimming, as I mentioned. We also chose not to walk in the travertines (remember arthritis and small kids), but we did walk around them to get a good view. Don't forget we also rented the golf cart, so if you plan to walk Hierapolis, you'll need much more time.
So I would say around 4-6 hours would be ideal to also include a swim and get bare-footed and walk along the travertine pools.
What To Wear In Pamukkale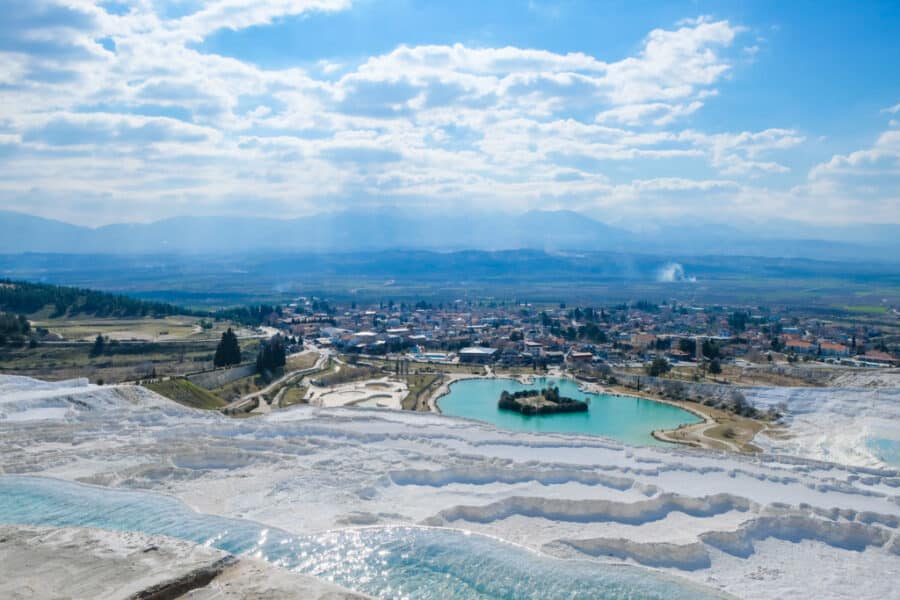 Dress however you like. We were freezing and rugged up in jackets and scarves in February. We saw many people in shorts in the pools looking miserably cold – though they were trying to look warm for their IG photos. In summer, this place would be scorching hot, so dress in cool flowy fabrics like cotton (see what I did there) and wear a hat
You should wear shoes that are easy to take off if you want to walk the travertines. Pamukkale is ancient, and since tourists have been in this region for many decades, the travertines have been eroded and damaged (hopefully soon they ban walking and swimming in them). Some of the travertines are closed off to prevent further damage, but you can still walk over many of them, with small pools of water on top for ease of walking, as long as you follow the marked footpath and do so barefoot. You're required to take your shoes off when you walk over the travertines to prevent damaging them any further than they already are
Swimmers, if you plan to swim – bring your usual swimming gear (swimsuit, rash guard, towel, etc)
Best Places To Stay At Pamukkale Hot Springs
Pamukkale has a few great quality hotels and guest houses, and although their prices are higher, due to the proximity, this will save you the drive to and from Denizli every day. If you're visiting the Turkish hot springs of Pamukkale during peak season and want to stay close by, it's worth booking well ahead of time to avoid disappointment and get a good deal.
A few accommodation options you might like to look into include:
Pamukkale Melrose Viewpoint Suites is a central spot with its own swimming pool on site and breakfast included in the price. It's literally a stone's throw from the center of Pamukkale town, and it has an onsite restaurant and bar for evening chills
Bellamaritimo Hotel – This is another very close hotel with a shuttle to the travertines. This small hotel feels family-run but has a swimming pool and a small restaurant that provides breakfast every morning
Hierapark Thermal & Spa Hotel – This one is awe-inspiring, although slightly further away from Pamukkale. The hotel has an onsite spa and a huge swimming pool. There is a shuttle that goes into town
Venus Suite Hotel – This is a very popular hotel, and it's a stone's throw from the town center itself. The views from the rooms are second to none, and breakfast is included, which can be eaten al fresco during the summer
Lycus River Thermal Hotel – At just 2 miles away from Pamukkale itself, this hotel is a five-star choice that many people choose for the relaxing atmosphere. Breakfast and dinner are included in the price, and it's an awe-inspiring choice for anyone who wants to chill out
Richmond Pamukkale Thermal– we stayed here and totally regret it. I had seen that the hotel had a thermal pool and dinner included with a family suite with enough beds for all of us, which was hard to find. As we needed to work and the kids love to swim, I thought the extra money would be worth it. Let me tell you, it wasn't. The pool water is brown (they said due to the iron content) and smells bad. My kids look horrified when we went swimming. We turned around and went back to the bedroom. And the dinner, well, let me tell you, it's choas. Hoards of people clamoring for pide and grilled meats. I should have saved my money and stayed at one of the above places
How To Get To Pamukkale
There are several ways to get to Pamukkale, depending on where you are basing yourself.
Istanbul To Pamukkale
If you're in Istanbul, you can fly to Denizli in one hour. You can then take the shuttle bus from the airport into the city center (about one hour), depending upon traffic, and then a taxi or a short bus ride to Pamukkale. We rented a car at the airport and drove there – it is a very easy and scenic drive.
Izmir To Pamukkale
If you're in Izmir, you can take the train, the bus, or drive to Denizli. The drive is around 3 hours, but the bus will take up to 5 hours, depending on where it stops. The train is a 6-hour journey, but it is super-scenic and worthwhile. Again, you'll then take the bus or taxi to Pamukkale.
Southern Tourist Resorts To Pamukkale
You'll see trips to Pamukkale and Ephesus in any southern tourist resort. Some allow you to see both, and in that case, you'll stay one or two nights with bus travel and accommodation included in the price of your trip, or you can make a day trip to Pamukkale, usually leaving very early in the morning and arriving back in the early evening. These trips include your entrance fee (typically double-check) and are available from Marmaris, Icmeler, Bodrum, Gumbet, Dalyan, and Kusadasi.
Antalya To Pamukkale
If you're staying in the Antalya region and want to visit Pamukkale, excursion offices will often arrange a day trip for you; though undoubtedly, we recommend a two-night-long trip at least.
Ephesus (Selcuk) To Pamukkale
If you're visiting Ephesus first, you can quickly jump over to Pamukkale on the train from the nearest station, Selcuk. The journey takes just over 3 hours, and once you arrive in Denizli, get the bus or a taxi over to Pamukkale.
Cappadocia To Pamukkale
There are several ways to get from Cappadocia to Pamukkale; use this guide for all of the nitty-gritty
Additional FAQs About Pamukkale
PAMUKKALE FAQ
Can I eat and drink at Pamukkale: While the prices will be more expensive than other nearby locations, there are plenty of restaurants in Pamukkale for visitors, though they looked pretty touristy, so we avoided them
What is the weather like in Pamukkale: You can expect sun throughout the year. If you love heat, July and August are hot, hot, just below 40C (104F)! Temperatures are more moderate from November to March. Be sure to pack sunscreen, hats, sunglasses, and clothing that covers your skin, as the sun reflects off the stone, making it quite intense.
Is Pamukkale natural: Yes, the area has been popular for thousands of years and was once used as a Roman spa resort.
Is Pamukkale a UNESCO Site or a Wonder of the World: Pamukkale was added as a UNESCO World Heritage Site in 1988 along with Hierapolis. It ranks 8th on the list of the new 7 Wonders of the World – so close to making it!
What is the nearest town to Pamukkale: Denizli is the closest town, just 15 minutes away.
Can I swim in the pools: Absolutely! The pools at the top are the hottest, and those at the bottom are lukewarm.
Can I wear a swimsuit in the pools: Yes, you can wear a swimsuit, and even a bikini if you wish. The tourist areas of Turkey are quite liberal when it comes to swimwear.
What else can I see in the area:
Visit The Ruins Of Hierapolis
Check Out The View In The Theater Of Hierapolis
Bathe in Pamukkale's Antique Pools – near the Temple of Apollo; there are pools carved in the rock by the Romans that you can soak in alongside submerged columns and marble pieces of the temple! The pool is open April-October
Hot Air Balloon Ride: get an overhead view of the pools and ancient sites
Nymphaeum
Martyrium Of St. Philip
The West And East Necropolises
Is Pamukkale safe: Pamukkale is safe, but it can be slippery. Use caution when walking near the travertine pools.
What should I bring to Pamukkale:
Towel
Sunscreen
Rash Guard/Long Sleeved Shirt
Hat
Camera
Lunch if you don't want to eat at the dodgy places we looked at, or it isn't included in your tour package
What time should I get to Pamukkale: Opening times are between 6:30 to 21:00 in the summer, and the entrance fee gets you in for the whole day. We'd recommend arriving as early as possible as many visitors arrive on a day trip from Denizli by bus in the early afternoon.
Final Thoughts On Pamukkale Thermal Pools
A Pamukkale trip is on many a bucket list, and with relatively easy access from major towns and cities, there's no excuse not to go. This is one of those places that will remain with you forever, however, do remember to tread carefully and don't end up like my friend!