We may earn commission from affiliate links →
Pamukkale Hot Springs Guide – Entrance Fees, How To Get There & More
If you do a Google search for the top attractions to see in Turkey, the hot springs of Pamukkale will 100% appear very close to the top of the list. The natural rock pools of Pamukkale are one of Turkey's most visited destinations and one of the most gorgeous.
If weird and beautiful sights are your things, this is for you. However, this spot isn't just a little odd and very wonderful. It's also stunningly beautiful.
No doubt, you've seen Pamukkale in Turkey on TV or online. It's blindingly white, has terraces that run down a mountainside, and glassy blue water on top. Of course, Pamukkale is far more than that, but that's the eye-watering visual you'll get when you see a picture of it for the first time!
If you're keen to tick Pamukkale off your Turkey bucket list, there are plenty of things you need to know, and thankfully, this guide will give you all the deets.
First things first, however, what on earth is Pamukkale?
Pamukkale Hot Springs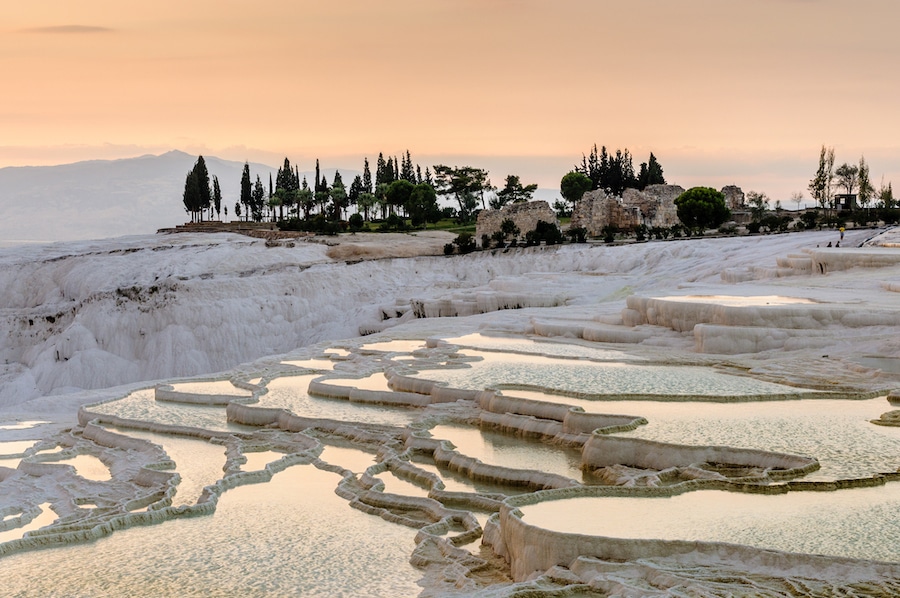 When you see a picture of the Pamukkale thermal pools landscape, you'll be forgiven for experiencing a little confusion. It's the middle of summer (probably), and all you see is a snowy white landscape.
Give yourself a minute to adjust because it's not snow that you're seeing.
Located in the southwestern Turkish province of Denizli, Pamukkale is the site of the ancient city of Hierapolis. This Greco-Roman city used to be bustling back in the day. This whole part of Turkey is packed with ruins from Greek times worth visiting.
Another attraction very close by, Ephesus, is a definite must-visit. However, Pamukkale is also more than just ruins. The site is characterized by white terraces formed of sedimentary rock (travertine, to be exact) and have been deposited by hot spring waters over millennia. There are several sources of hot spring water in the area, and they come together to create water that is exceptionally high in calcium carbonate. When that water hits the open air, it turns into white travertine. Not snow.
That's your science lesson over.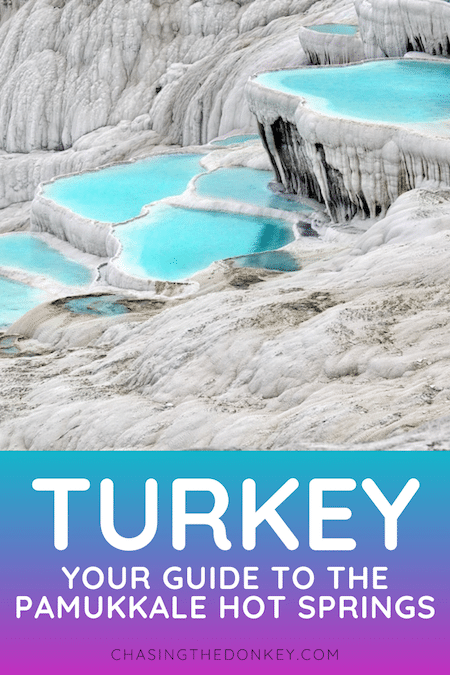 Why Do The Hot Springs Of Pamukkale Look Like That?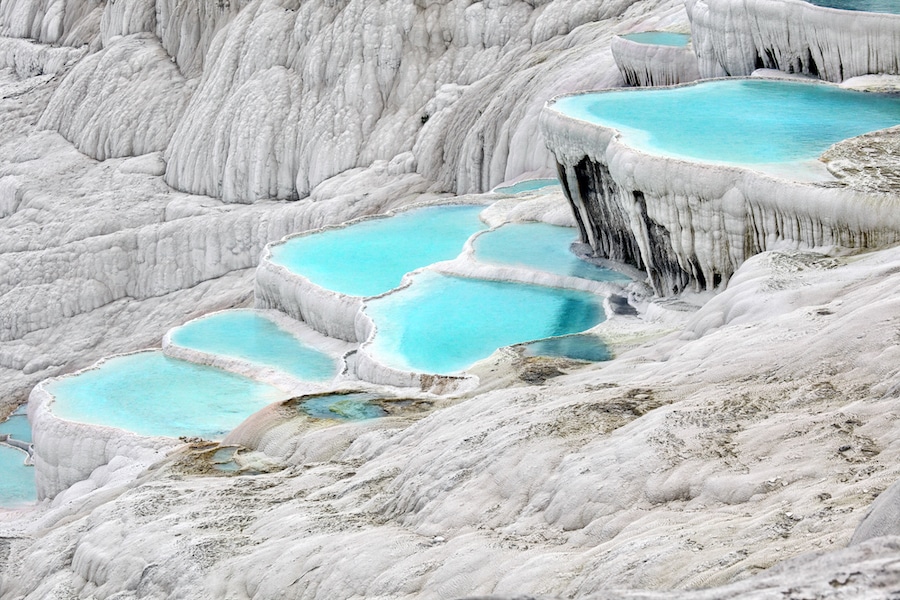 This travertine is why the terraces of Pamukkale have that blinding white appearance. It's the water that hasn't yet solidified that gives off the brightest blue shade as it cascades over the top of the travertine.
Pamukkale is astonishing. There's no other word for it, and it's in such stark comparison to the rest of the landscape around the area, which is as green as green can be.
Back in the day, Pamukkale was one of the most popular thermal pools in Turkey. It literally was a spa, first used in the 2nd century BC. The water is naturally warm, around 50-100 degrees Celcius, year-round.
Cotton Castle Pamukkale: In Turkish, Pamukkale translates to "cotton castle," describing exactly how the site looks.
PLAN AHEAD TO GET THE BEST DEALS
What Can You Do At The Pamukkale Thermal Pools In Turkey?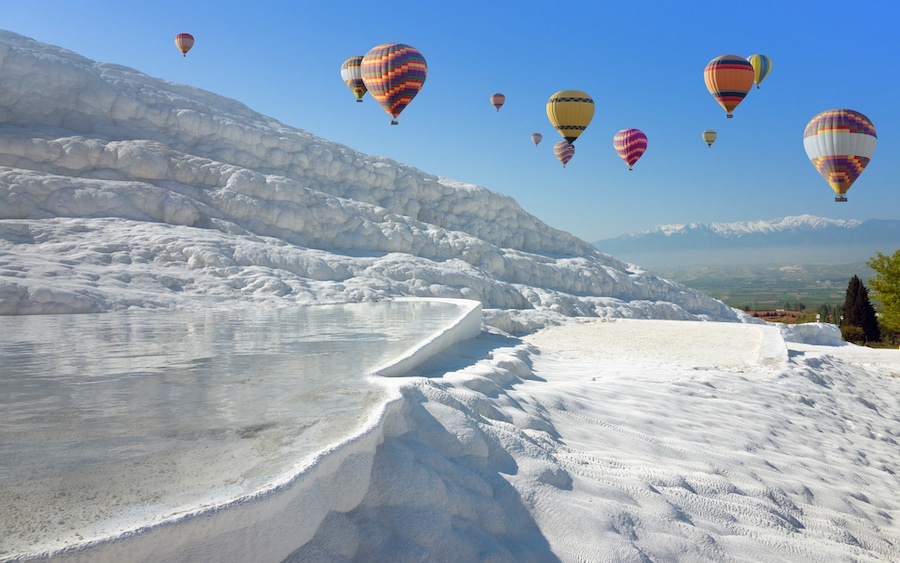 Aside from standing in awe and taking plenty of Insta-worthy pictures, Pamukkale has plenty of things to see and do. You can swim in the hot spring waters, which are reputably great for healing. You can walk over some of the travertine shelves, but be careful – more on that below.
When you visit Pamukkale, don't forget to learn more about Hierapolis. This spa city was founded in 190 BC, and the ruins are notably well-preserved. Visiting the Necropolis and theatre is a must, as is the Antique Pool, or Cleopatra Pool, where many famous people bathed.
This area is something that will make your jaw drop. Here you'll find roman columns that have submerged in the water due to a large earthquake many years ago. There are changing facilities next to the Pamukkale pools for when you're finished bathing in the crystal clear waters. There is also a nearby archaeology museum if you want to learn more.
Of course, the local area is also great for hiking and walking if you want to burn off some calories or generally soak up the local atmosphere.
Where Is Pamukkale Turkey –

How To Get To Pamukkale

These world-famous Turkey hot springs are a short distance from the city of Denizli, located in southwestern Turkey. Denizli is just 15 minutes from Pamukkale, and there are regular local buses, or you can take a taxi.

There are several ways to get to Pamukkale, depending on where you are basing yourself.
A Word About Safety At Pamukkale Thermal Pools
Don't panic! Pamukkale is not unsafe in any particular way. The thing is simply that it's, well, a little slippery. A friend of mine was happily making her way over the Pamukkale travertines, enjoying the scenery and taking photos as she went, only to step on a remarkably smooth bit of calcium deposit coated with water. You can guess what happened next – broken leg.
Many people visit Pamukkale, the best-known calcium pool in Turkey, year after year and have zero problems, but be aware that water and rocks create a slippery surface. You could have a nasty fall if you're too busy taking photos and not paying much attention to where you're putting your feet.
What To Wear In Pamukkale Turkey
You're asked to take your shoes off when you walk over the travertines to avoid damaging them any further than they already are. Pamukkale is ancient, and since tourists have been in this region for many decades, the travertines have been eroded and damaged a little. Some of them are closed off to prevent further damage, but you can still walk over many of them, with small pools of water on top for ease of walking, as long as you follow the marked footpath and avoid wearing anything on your feet.
Pamukkale Hot Springs Entrance Fees
You can enter Pamukkale from three points: the town center entrance, the north, and the south. All points have ticket offices, and you can choose a few other options.
Pamukkale is open from 6.30 am until 11 pm during the summer months and opening times during winter vary slightly according to the weather, so you will need to check out times just before you visit.
The baseline entrance fee is 80TL for both adults and children. Parking is 5TL. The entrance fee doesn't include entry into the Antique Pool, so you will need to pay 50TL extra. Do be aware that the Antique Pool isn't open during the winter.
Best Time To Go To Pamukkale Thermal Pools
Pamukkale is open all year round, but the busiest time is obviously during the summer months. This is a combination of tourists visiting the beach resorts around this part of the country and incredible weather. However, if you want to visit these stunning Turkey pools during the cooler months, that's perfectly acceptable too, and you might even get to see a snowy scene if you're lucky! Again, remember that swimming in the Antique Pool isn't possible during the winter months (too cold and it's closed!)
From June until the end of September, Pamukkale is very busy, and July and August are stifling hot and extremely busy. Remember to wear a hat and drink plenty of water, slapping on that sunscreen too as there is no shade while out on the Pamukkale travertines, and even when you're in the Antique Pool, that sun can be fierce, despite the slight shade from the trees.
May to June and September to October are more comfortable in terms of weather and crowds, with temperatures hovering around the high 20s and early 30s. The temperatures can easily hit 40 degrees from June to September, especially in July. However, May is an incredible time to visit Pamukkale, although the shoulder seasons can bring a little more rain than during the summer when it's zero. Rain isn't often unpredictable if it does come at this time, and a quick check on the forecast should tell you what will occur.
If you want to visit during the winter, you'll have Pamukkale primarily to yourself, but it will be cold. In January, the weather can often hit zero and rain quite unpredictably, but it can snow too! Despite that, this part of Turkey does experience many mild, sunny winter days, so that you may hit the jackpot.
Best Places To Stay At Pamukkale Hot Springs
Pamukkale has a few great quality hotels and guest houses, and although their prices are higher, due to the proximity, this will save you the drive to and from Denizli every day. If you're visiting the Turkish hot springs of Pamukkale during peak season and want to stay close by, it's worth booking well ahead of time to avoid disappointment and get a good deal.
A few accommodation options you might like to look into include:
Pamukkale Melrose Viewpoint Suites is a central spot with its own swimming pool on site and breakfast included in the price. It's literally a stone's throw from the center of Pamukkale town, and it has an onsite restaurant and bar for evening chills.
Bellamaritimo Hotel – This is another very close hotel with a shuttle to the travertines. This small hotel feels family-run but has a swimming pool and a small restaurant that provides breakfast every morning.
Hierapark Thermal & Spa Hotel – This one is awe-inspiring, although slightly further away from Pamukkale. The hotel has an onsite spa and a huge swimming pool. There is a shuttle that goes into town, however.
Venus Suite Hotel – This is a very popular hotel, and it's a stone's throw from the town center itself. The views from the rooms are second to none, and breakfast is included, which can be eaten al fresco during the summer.
Lycus River Thermal Hotel – At just 2 miles away from Pamukkale itself, this hotel is a five-star choice that many people choose for the relaxing atmosphere. Breakfast and dinner are included in the price, and it's an awe-inspiring choice for anyone who wants to chill out.
Final Thoughts On Pamukkale Thermal Pools
A Pamukkale trip is on many a bucket list, and with relatively easy access from major towns and cities, there's no excuse not to go. This is one of those places that will remain with you forever, however, do remember to tread carefully and don't end up like my friend!
Share