Privacy & disclaimers →
Tours From Istanbul To Ephesus: How To Plan An Unforgettable Day Tour
Are you looking for a day tour that will leave an indelible mark on your memory? Look no further! In this post, we'll guide you through every step of planning an unforgettable day trip to one of Turkey's most iconic destinations. Get ready to embark on a journey through time as we take you from the bustling streets of Istanbul to the ancient ruins of Ephesus.
Ephesus & Istanbul
Ephesus and Istanbul are two of the most popular tourist destinations in Turkey. Ephesus is an ancient city located in southwestern Turkey, about 80 miles from Istanbul. The city was once the capital of the Roman empire and is home to some of the best-preserved Roman ruins in the world. On the other hand, Istanbul is a bustling metropolis that straddles Europe and Asia. It's home to iconic landmarks like the Blue Mosque and Hagia Sophia, as well as world-class museums and cuisine.
A day tour from Istanbul to Ephesus is the perfect way to experience both of these fantastic destinations. The journey will take you through the stunning Turkish countryside before arriving at Ephesus. Once there, you'll have plenty of time to explore the ruins, learn about its history, and take in the breathtaking views. Afterward, you'll head back to Istanbul, where you can enjoy a delicious Turkish meal and explore some of its many attractions.
Different Tour Options For An Ephesus Day Trip From Istanbul
Many different tour options are available for an Ephesus day trip from Istanbul. The most popular choice is to take a private tour, which can be customized to your specific interests and needs. Private tours include round-trip transportation from Istanbul, a professional guide, and entrance fees to all of the major sites in Ephesus.
Another popular option is to join a small group tour. Small group tours typically have a set itinerary and departure date, but they offer the opportunity to meet other travelers and save on costs.
TRAVEL COMPANIES WE USE AND TRUST
Transportation Options For Traveling From Istanbul To Ephesus

A few different transportation options are available when traveling from Istanbul to Ephesus. The most popular option is to fly into the Adnan Menderes Airport, which is located in Izmir, and then take a transfer, bus, or taxi from there to Ephesus.
Another option is to take a bus or ferry from Istanbul to Kusadasi and then take a bus or taxi from Kusadasi to Ephesus, but this is very lengthy.
If you choose to fly into the Adnan Menderes Airport, there are several different airlines that offer flights from Istanbul. The flight time is about 1 hour and 10 minutes. Once you arrive in Izmir, there are several different bus companies that offer shuttle service between the airport and Ephesus. The ride takes about 2 hours and 30 minutes. If you prefer, you can also take a pre-booked private transfer or taxi from the airport to Ephesus. The ride takes about 1 hour and 45 minutes.
If you choose to take a bus or ferry from Istanbul to Kusadasi, there are several different companies that offer the service. The ride takes between 8 and 10 hours, depending on which company you choose and whether you take a direct ferry or one with stops along the way. Once you arrive in Kusadasi, several bus companies offer shuttle service between Kusadasi and Ephesus. The ride takes about 45 minutes.
Places To See In Ephesus On A Day Trip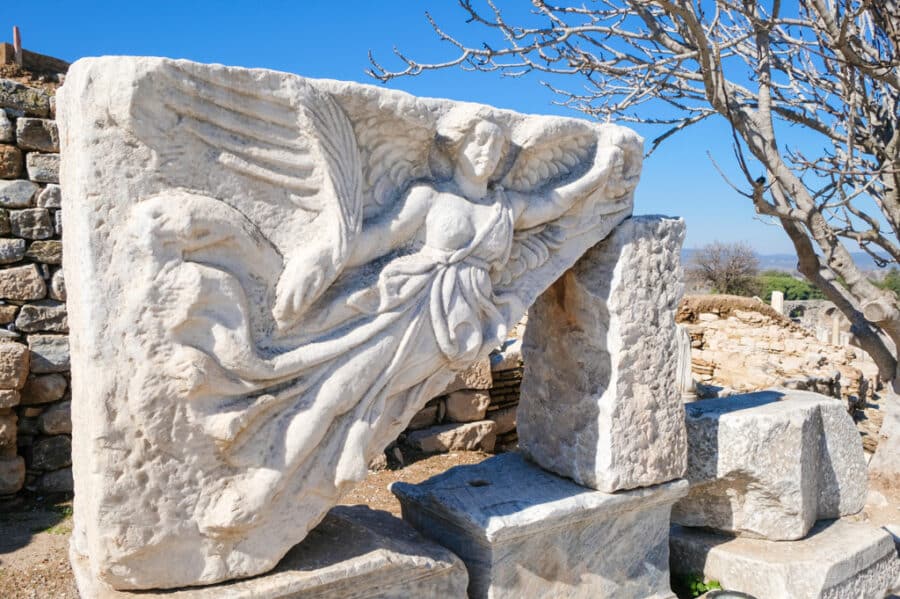 There's no doubt that a trip to Ephesus is a must-do when visiting Turkey. This ancient city was once one of the most important trade hubs in the Mediterranean and is now an archaeological wonder. If you're short on time, a day trip from Istanbul is the perfect way to experience all that Ephesus has to offer. Here are some of the best places to see in Ephesus on a day trip:
The Temple of Artemis: this temple was built in honor of the goddess Artemis and is one of the Seven Wonders of the Ancient World. Although only ruins remain today, it's still an impressive sight
The Library of Celsus: this library was built in 135 AD and is one of the best-preserved Roman buildings in Ephesus. It's definitely worth a visit for its architecture alone
The Great Theatre: this 20,000-seat theatre was used for entertainment and public speeches. It's now a popular spot for concerts and other events
The House of the Virgin Mary: according to legend, this was the last home of the Virgin Mary before she ascended to heaven. Whether or not you believe the story, it's a beautiful spot with stunning views of Ephesus
Tips And Suggestions For An Enjoyable Day Trip To Ephesus
Here are a few things to consider when planning an unforgettable day tour from Istanbul to Ephesus:
The best time of year to visit Ephesus is between March and October when the weather is warm and dry
Since it can get quite hot in Ephesus during the summer months, be sure to pack lots of water, sunscreen, and hats for everyone in your group
Istanbul is a huge city with a lot to see and do. If you're pressed for time, consider taking a quick flight or high-speed ferry from Istanbul to Kusadasi (the gateway city to Ephesus)
Many tour companies offer day trips from Istanbul to Ephesus. Do your research in advance to find one that fits your interests and budget
Ephesus is an ancient city with a lot of history. Make sure to allow plenty of time to explore all the ruins, including the Library of Celsus, the Temple of Artemis, and the Great Theatre – do not rush it; allow a minimum of two hours
Istanbul To Ephesus Tour Options: Private, Group, Or DIY
There are many different ways to tour from Istanbul to Ephesus. You can book a private tour, join a group tour, or even do it yourself (DIY).
Private tours are the most expensive option: but you will have a dedicated guide and driver for the day. This is the best option if you want a hassle-free day and want to learn more about the history and culture of the area
Group tours are a cheaper option: and are great if you enjoy meeting new people and learning in a group setting. However, you will not have as much flexibility with your itinerary or timing
DIY touring is the cheapest option: but it requires the most planning. You will need to research transportation options, buy tickets in advance, and map out your route. This option is best for travelers who are comfortable with some uncertainty and enjoy having complete control over their schedule
How Long Does It Take To Drive From Istanbul To Ephesus
Self-Drive From Istanbul To Ephesus
The journey from Istanbul to Ephesus, the trip takes a minimum of 8 hours in total if you drive yourself – though group bus tours can take much longer. This includes a stop for lunch and a few short breaks along the way. The drive is around 6 hours each way, but it could be slightly longer or shorter depending on traffic conditions.
The journey begins early in the morning as you leave Istanbul and head toward Ephesus. The drive is relatively uneventful; you'll take the E80 highway most of the way. As you get closer to Ephesus, there will be much less traffic and even more easygoing.
After exploring this incredible site and learning about the city's history, you will head back to Istanbul, arriving in the evening – which means much more traffic – and potentially adding to just how long the day will be.
Pre-Arranged Tours From Istanbul To Ephesus By Plane
On a group tour from Istanbul to Ephesus, you'll often be picked up from your hotel in Istanbul around 5 am and be taken to the airport for a very early morning flight to Izmir (1.5-hour flight time). From there, you'll meet your local driver and enjoy the ride to Selcuk to the House of the Virgin Mary and then onto Ancient Ephesus. After seeing the sights, you'll be driven back to Izmir for your return flight to Istanbul, where another driver will greet you and take you back to your hotel.
The total travel time is between 12 and 16 hours, depending on the travel agency. It is a very long day, but you can nap along the way as you'll have a driver.
Tours From Istanbul To Ephesus Wrap Up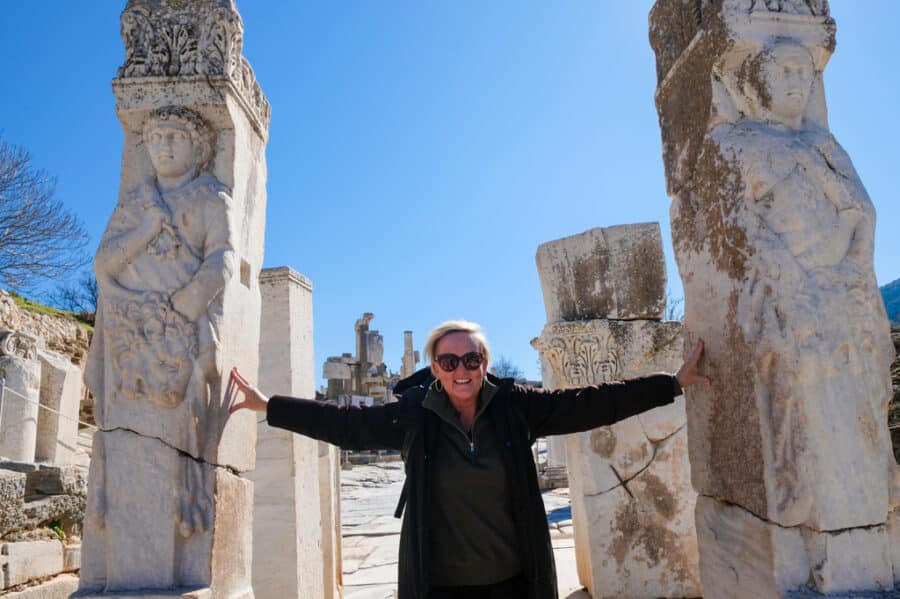 An unforgettable day trip from Istanbul to Ephesus is a great way to experience the best of both worlds. With careful planning and research, you can create an itinerary with enough time for sightseeing and relaxation.