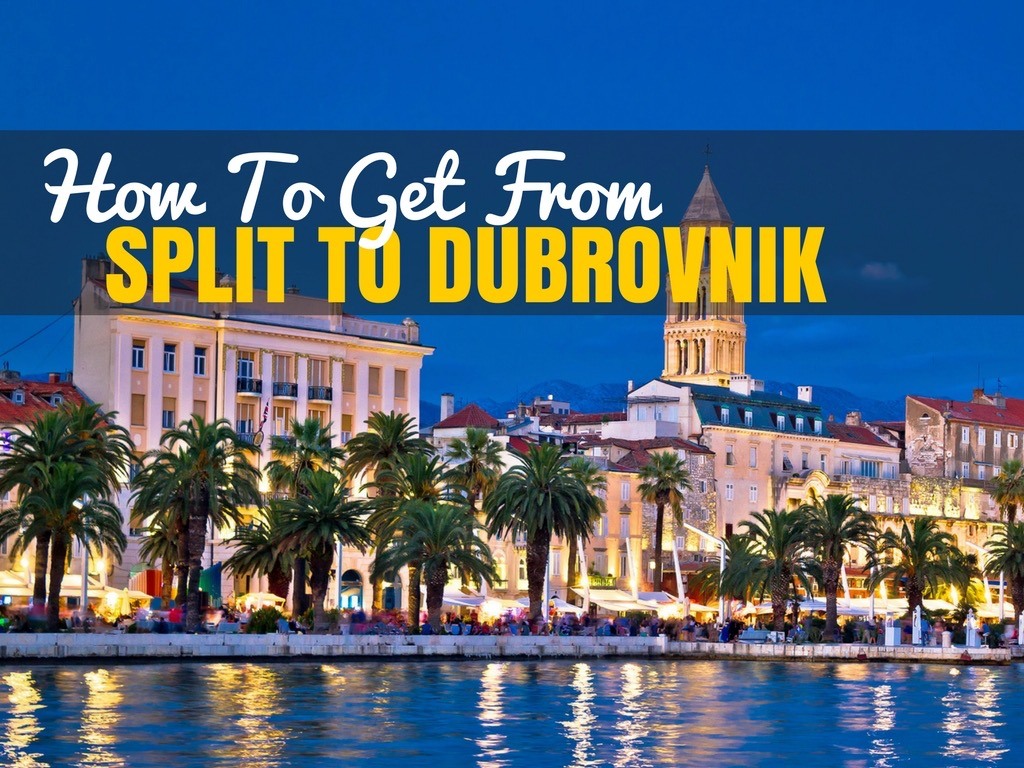 How to Get from Split to Dubrovnik & Dubrovnik to Split 2018
One of the questions we get asked the most is: "how can I get from Split to Dubrovnik? or how to get from Dubrovnik to Split?" It's an important question. Travel between Dubrovnik and Split is probably the most popular route on the Croatian coast. Both home to a UNESCO World Heritage Sites—Diocletian's Palace and the Dubrovnik Old Town respectively—and boasting amazing waterfronts and beaches, superb seafood restaurants and centuries-old architecture, Split and Dubrovnik will no doubt be the anchor points of your itinerary so you will, therefore, need to know your best option for travel from Dubrovnik to Split.
You have various options to get from Split to Dubrovnik, some more complicated than others. Whether you take a private transfer, flight or the bus from Dubrovnik to Split the choice is yours.   We've compiled all the options into this post to assist you in making the best decision for your Dubrovnik to Split transfer. Please note, that schedules may change and that you should always check the transportation company's website for the latest, up-to-date travel information.
Split to Dubrovnik by Car
If you look up the route for driving from Dubrovnik to Split on Google Maps, it will seem like a pretty straightforward, three-hour drive. However, things are not as easy as they seem. The thing is that the shortest, most direct route involves two border crossings—into Bosnia-Herzegovina, which is not an EU member state, and back into Croatia. Known as the Neum Corridor, this extremely short stretch of coastline can pose significant problems if your documents are not in order. 
Questions like "do you need a visa?" and "do you need extra insurance" are valid ones. There is an agreement between the Croatian and Bosnia-Herzegovinian governments that allows tourists to cross this section without border control, with the condition that they don't stop on the way. The legal details, however, are rather vague.
This agreement was never officially ratified, and border officials may still interpret the law in different ways. Also, the agreement would only apply to cars registered in Croatia. So, if you've rented a car in, say, Italy or Slovenia and are driving along the Adriatic coast, you may not be allowed to cross the border without a visa, extra insurance or another document. Always check with your car rental company to see whether or not you're allowed to leave the European Union.
More than 99% of the time, however, there will not be a problem to travel from Dubrovnik to Split and vice versa via the Neum Corridor, but there have been documented cases of people who were stopped. Also, EU residents, as well as people from Switzerland, Iceland, Norway, and Liechtenstein, can cross the border with just a passport or ID card. Residents from other countries will need a passport and will get a stamp each time they cross a border. If you have a single-entry visa for Croatia, you may want to avoid this section, for example.
Luckily, there is an alternative, which is a lot longer but also a lot more scenic. Once you get to Ploce, you can hop on the ferry to Trpanj on the Peljesac Peninsula and continue your drive eastward on the peninsula and toward Dubrovnik. This way, you won't have to cross any borders at all. This beautiful detour will make getting from Split to Dubrovnik about four hours long.
Private Transfer from Split to Dubrovnik

For those of you that like to travel in style, and don't want the stress of driving in a foreign country, and like to have someone knowledgeable taking care of the journey, then a private transfer from Dubrovnik to Split is what you're after. A Dubrovnik to Split transfer is a superb way to travel and best of all, it takes away the stress of worrying about border crossings, insurances, and navigating foreign roads. A Split to Dubrovnik private transfer will pick up from your accommodation, no need to hunt down taxi's or go hiking to the bus station, and then you just sit back and enjoy the Split to Dubrovnik drive. You also have the freedom to make any stops you'd like along the way – heck its a private transfer, that's what you're paying for!
Private Transfer Dubrovnik to Split start at 199€.
Catching the Dubrovnik to Split Bus
Backpackers and budget travelers may want to catch a Split to Dubrovnik bus and they're in luck. Whether you want to catch a Split bus or Dubrovnik bus there are numerous services between the two cities which will get you to Split Bus station and Dubrovnik bus station respectively. This makes travel from Split to Dubrovnik very easy and affordable and if you are on your way back to your home country you can quite simply jump on the Split or Dubrovnik airport bus fairly easily. The average travel time is approximately four and a half hours on a bus from Dubrovnik to Split. Note, that busy summer traffic may slow down progress and that there may be delays at the Neum Corridor as well – especially if 'that person'  on the bus does not have the correct paperwork, or as was the case one time for us – someone forgot where they put their passport. 
When riding the Dubrovnik to Split bus, make sure to have your passport ready. Don't put it in your checked luggage because you will need it twice. Again, make sure you don't have a single-entry visa for Croatia. Nationals from the EU, USA, Canada, and Australia won't have any trouble at these border crossings, though.
There is usually also a break in Neum, giving you the chance to stretch your legs, go to the bathroom, buy a basic snack and take a quick photo of yourself in Bosnia-Herzegovina. So if you have time on your side, are budget conscious and you don't mind catching public buses, taking the Split to Dubrovnik bus or the Dubrovnik to Split bus will be your best bet.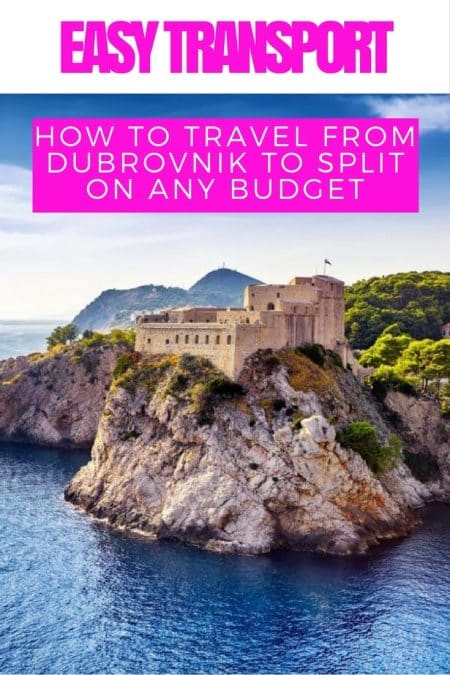 Flights From Split to Dubrovnik
The fastest way to travel from Split to Dubrovnik is by plane. The flight time is around 40 minutes. Croatia Airlines operates direct flights from Split to Dubrovnik. Check their website for detailed information about their schedules.
Also, note that there are no direct flights from Dubrovnik to Split—that would require a stopover in Zagreb. Therefore, If you need to get from Dubrovnik to Split the fastest option is to use a private transfer.
Catching the Split to Dubrovnik Ferry
You might have assumed that catching the Dubrovnik to Split ferry, a region well-known for its beautiful islands, is easy. Unfortunately, there is no direct service so if time is on your side and you would like to travel from Split to Dubrovnik by ferry it's just under a 5-hour journey with 4 stops along the way. 
Check out krilo and Jadrolinja w
ebsites for prices and updates on the ferries from Dubrovnik and Split.
Lastly, if you have loads of time to spare, by far the best way by sea is to sail from Dubrovnik to Split on a private yacht, with a island stops, Hvar and Brač perhaps!!
More Transport Tips