Written by Sinead Camplin from Map Made Memories
The small, coastal village of Lumbarda lies on the east coast of Korčula Island. The pretty village – reputed to be the oldest settlement on the island – is situated around a picturesque, sheltered bay nestled among vineyards and gently rolling hills.
What To See & Do In Lumbarda
There are no famous sights to tick off here; people visit Lumbarda to relax and enjoy the food, local wine, sun, and sea. That's what we did on our family trip!
Visit A Lumbarda Vineyard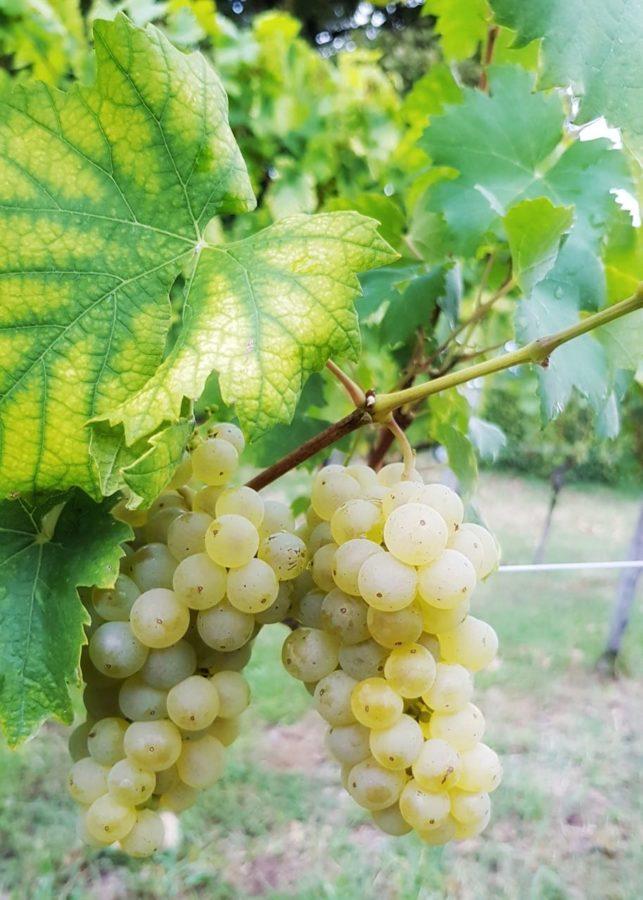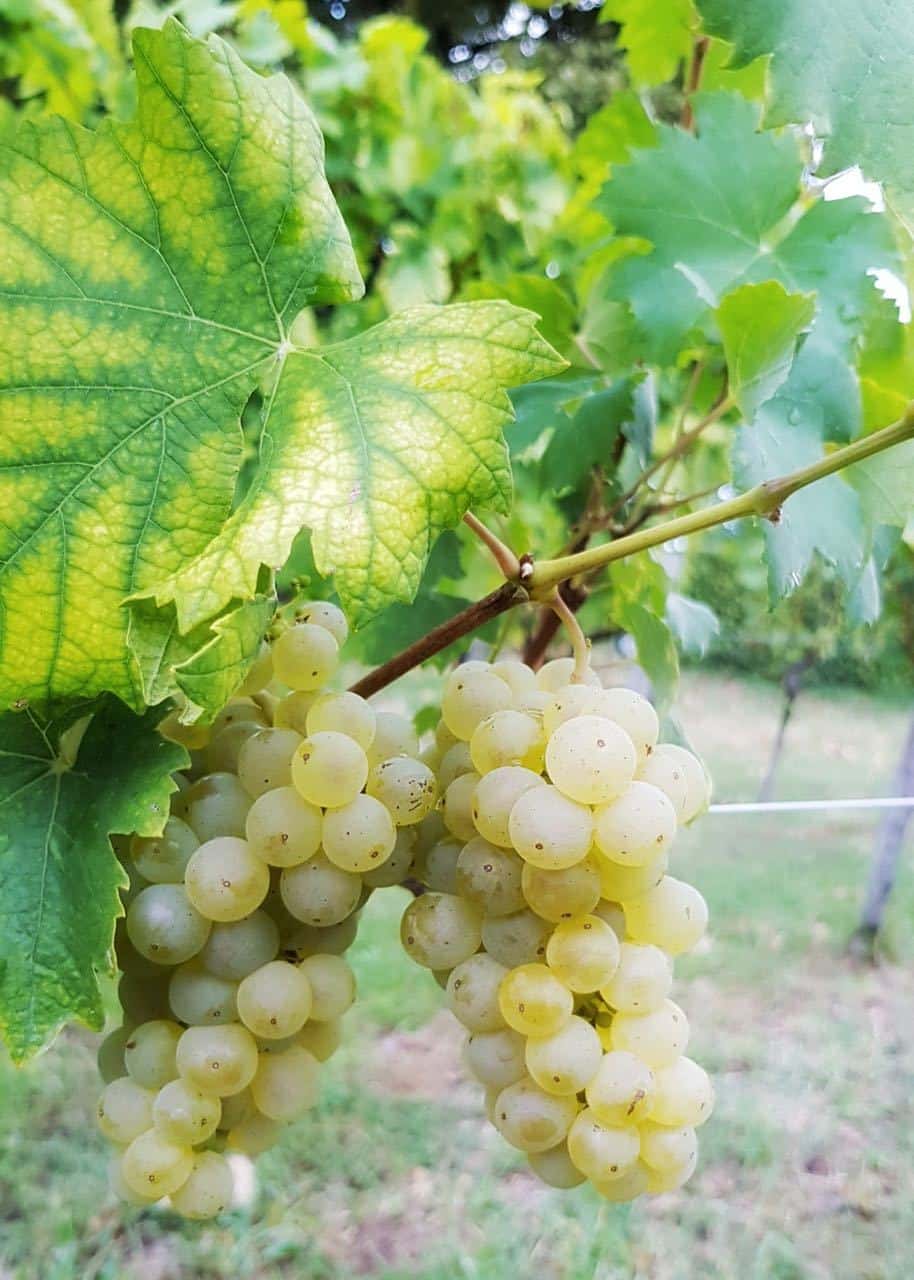 Lumbarda is famous for its locally grown white wine called Grk. Produced from the grape of the same name, Grk is not grown anywhere else in Croatia.
There are vineyards and vines everywhere in Lumbarda. Vines hang from family homes and balconies, and once you leave the village center, you are surrounded by dense vineyards. Every spare piece of land is cultivated.
Several family-owned vineyards offer free, pre-booked tours and tastings, such as the friendly Lovric winery or the Popic winery. Purchase some delicious wine as a souvenir or to enjoy yourself.
In addition to the Grk white wine, you can try Plavac, a red wine, or Travarica, a grape brandy infused with various herbs.
Soak Up The Sun On Lumbarda's Sandy Beaches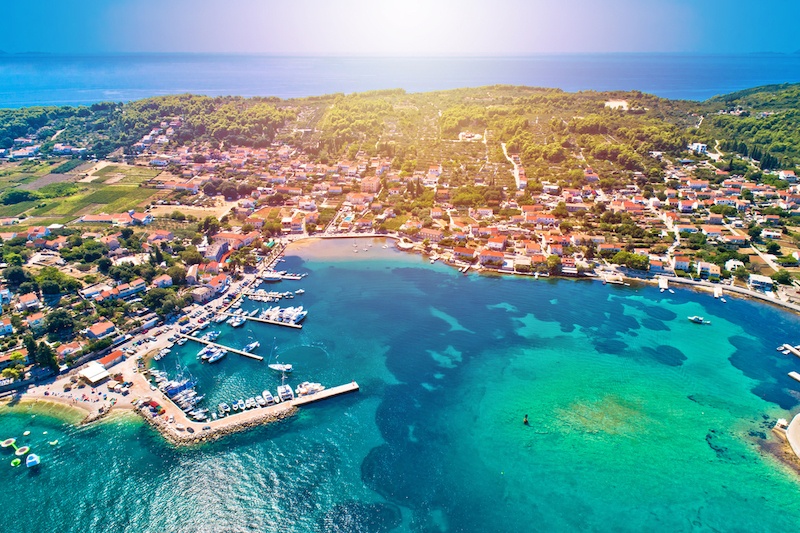 Lumbarda boasts the only sandy beaches on Korčula and is one of only a few locations for sandy beaches in Croatia.
The closest sandy beach to Lumbarda is a five-minute walk from the village along the coast road. Tatinja Beach is a very narrow strip of sand right on the edge of the road and fills up very quickly.
Vela Przina (which means big sandy beach in Croatian) is just 1.5 kilometers from the village center on the south coast of the headland. It is the best sandy beach in the area.
You can reach the beach by car though there is very limited fee-paying parking available. Ideally, take a taxi or hire a bike to get to Vela Przina; the narrow road does not have pedestrians' footpath.
The clean beach is a long, narrow strip of sand, and due to the rarity of sandy beaches, it is very popular and gets very busy in peak season. The beach lies in a sheltered bay with a gentle slope into the sea, making it ideal for swimming and children who like to paddle but watch out for submerged rocks.
From Vela Przina, enjoy a walk on a car-free footpath through pretty vineyards to the other side of the headland to reach Bilin Zal, a small, lively beach that is very popular with local families. (Bilin Zal can also be reached directly from Lumbarda by following the narrow coast road from the marina, which turns into a coastal path from Tatinja Beach. The 1-kilometer walk to or from Lumbarda is scenic, especially at sunset).
Bilin Zal has stunning views of the Peljesac Peninsula and the Skoji Archipelago. The Konoba Bilin Zal adjacent to the beach has a large terrace offering what must be one of the best views on Korčula Island. We stopped for a cold beer at sunset and didn't want to leave. We loved mingling with local families meeting up with their friends, and relaxing after work.
A pebble beach is at the end of the marina, backed by a popular cocktail bar in Lumbarda village itself. There are fee-paying inflatables in the sea, which children will love.
The sea around Lumbarda is warm and calm, making the beaches perfect for swimming. But churned-up sand at a busy beach is not ideal for snorkeling. For the best snorkeling experience, you must choose quieter locations or snorkel from the rocky shoreline. The clarity is breathtaking; you have visibility to impressive depths and will see various fish and sea creatures.
Remember to wear wet shoes to protect your feet from the rocks, and be aware that when entering the sea from a rocky shore, you may immediately access very deep water. If you are snorkeling far from the shore, make sure you are visible to passing boats.
TRAVEL COMPANIES WE USE AND TRUST
Mingle At The Farmers Market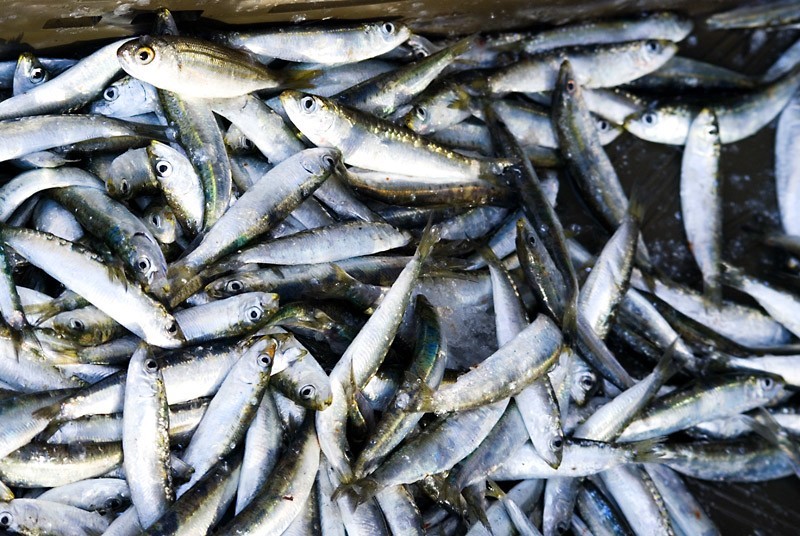 Every Friday night in the long summer season, Lumbarda village square plays host to a convivial 'Fishermans Market. 'Local fishermen and Lumbarda families set up stalls selling cooked food to locals and tourists alike, including meat, vegetables, and fresh fish caught that day. It is more of a communal outdoor restaurant rather than a farmers' market for buying groceries.
Most of the food is freshly cooked in front of you so it can be cooked according to your preference. You can buy a plentiful main course dinner at one stall, then move onto another stall for a delicious homemade dessert washed down with locally grown wine sold from another stall.
Our dinner at Lumbarda Fisherman's Market was one of the best meals we enjoyed in Croatia. The market has a fun, buzzing atmosphere and is always busy.
Get Sporty In Lumbarda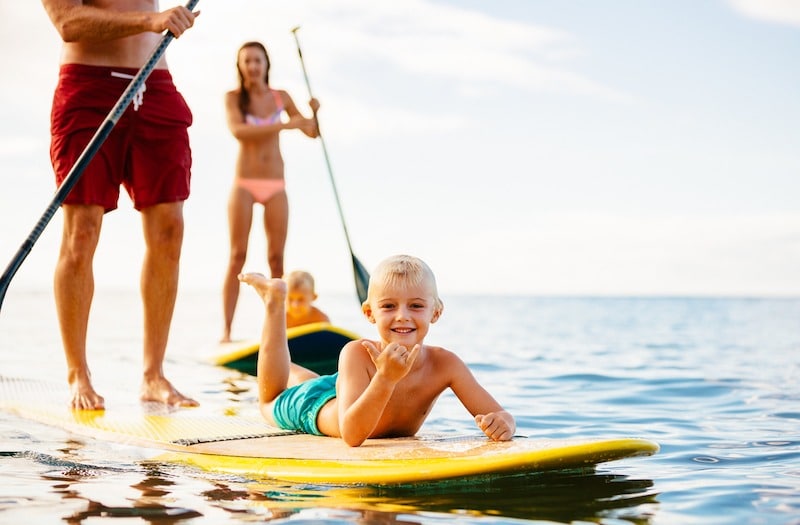 There are several water sports on offer in Lumbarda to help you enjoy the tantalizing, azure waters of the Adriatic.
A handful of locations in the village and along the harbor hire single and double kayaks for short, unescorted paddles on the sea. The calm waters of the Adriatic are an ideal place to test your balance and attempt stand-up paddleboarding.
You can also hire mountain bikes in the village, which are perfect for exploring the quiet lanes of the area and for accessing the local vineyards and beaches.
Explore Historic Korčula Town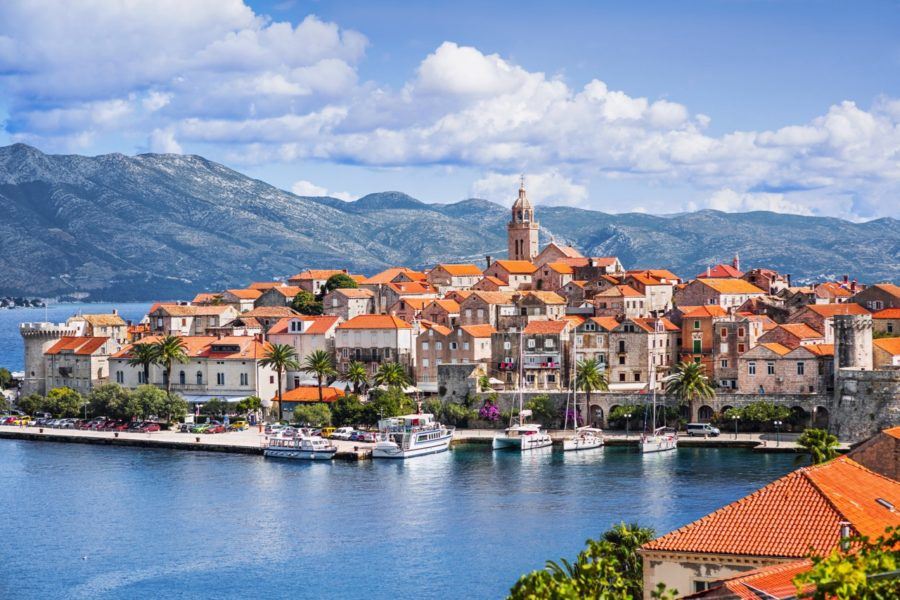 Korčula Town is only six kilometers from Lumbarda and is well worth a visit. You can reach Korčula Town from Lumbarda by a scenic taxi boat trip or by scheduled public bus. As a family of five, we found it was cheaper for us to take a regular taxi than to travel by public bus.
Korčula Town is a medieval walled city with the majority of buildings built in the Venetian Renaissance style. The city is an impressive sight if you are approaching by boat. The old town is small and made for wandering; cars cannot access the maze of old town streets.
Honey-colored stone buildings line paved narrow lanes. Washing lines hang from wooden shutters, and window boxes full of colorful flowers add to the mix. Family homes mix with cozy cafes and artisan craft shops. It is easy to spend a few hours just meandering!
Visit the impressive 15th century St Mark's Cathedral and the small but interesting Korčula Town Museum. The famous explorer Marco Polo was allegedly born in Korčula, and you can visit his birthplace, which is now a museum.
If you stay in the evening, try to catch a local dance performance, the Moreska Sword Dance. In the summer months, you will need to pre-book tickets to see this heart-stopping dance.
Explore Neighbouring Islands
Join a boat trip leaving from the Lumbarda marina or nearby Korčula Town. Choose between a timetabled guided tour or the cheaper, scheduled taxi boat service to explore independently.
Pack a picnic, your hiking shoes, and your swimming stuff, and visit the beautiful neighboring island of Mljet, a designated National Park, which is a short, thirty-minute boat ride from Lumbarda. Mljet is predominantly forest and has several inland saltwater lakes to hike or cycle along shaded forest tracks.
Alternatively, make a long day trip to explore the scenic island of Lastovo with its accessible and easy-to-follow hiking and cycling tracks. To reach Lastovo by public transport, you will need to travel by car or bus to Vela Luka on the west coast of Korčula Island, approximately 1.5 hours from Lumbarda. From Vela Luka, it is a two-hour boat trip to Lastovo. For convenience, consider joining a tour to Lastovo departing from Lumbarda.
Places To Stay In Lumbarda
Lumbarda is thankfully unspoiled by large, sprawling hotels. There are a handful of sympathetically built, low-rise apartment complexes such as Lumbarda Resort Apartment or the gorgeous The Dreamers Club. The majority of accommodation in Lumbarda is self-catering apartments in local homes, holiday home rentals, or family-run guesthouses. The lack of large hotels adds to Lumbarda's charm and gentle vibe.
We stayed in a two-bedroom, self-catering apartment on the edge of Lumbarda, just meters away from the sea. The friendly owner lived on-site and helped provide information about her village and the local area. The roads are quiet around Lumbarda, and most of the houses we saw offered fantastic views of the Adriatic and the Peljesac Peninsula across the water.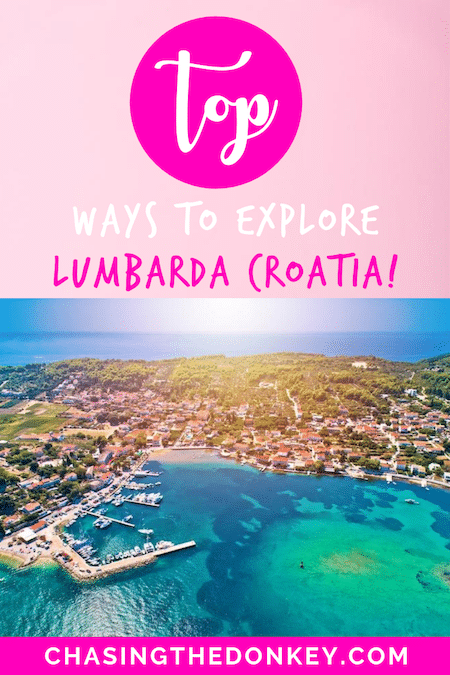 Where To Eat In Lumbarda
Lumbarda has several excellent restaurants strung along its pretty waterfront with freshly caught fish featuring on almost every menu. Each restaurant boasts a terrace offering beautiful sunset views.
The popular Diva Faustia restaurant provides tables adjacent to the water itself. Don't miss a mouthwatering pizza from Pizzeria Torkul, which also offers convenient takeaway pizzas.
Getting To Lumbarda
There is no airport on Korčula island, so you must arrive by car ferry, or foot passenger catamaran.
You can catch a regular, scheduled service to Korčula Town from Split or Dubrovnik (around 2 ½ hours journey time to each city) or from Orebic on the nearby Peljesac Peninsula, a short thirty-minute boat ride.
From Korčula Town, take the hourly bus to Lumbarda or catch a taxi or Uber for the short 6-kilometer journey.
There is something special about Lumbarda, which is hard to quantify. Once you see it for yourselves, you will not want to leave!
More Croatia Travel Blogs