Privacy & disclaimers →

Best Full Face Snorkel Masks
If you're thinking of venturing off to somewhere warm and sunny this summer, you're probably also considering checking out the underwater residents of the sea. Great choice! So, now you need to be able to see clearly and breathe! Right?
Not everyone wants to use the type of snorkel you place in your mouth, so full-face snorkel masks (also known as a head snorkel masks) are ideal.
What Is A Full-Face Snorkel Mask?
As the name suggests, a full-face snorkel mask is a mask that covers your whole face and allows you to breathe underwater and see clearly. Breathing is far more comfortable with this type of mask than with the kind you place in your mouth, and you can also control the eye section and the breathing section as one, rather than them running in direct opposition to one another.
A full-face snorkel mask is an excellent option for a beginner because it is far easier to use and gives confidence. Placing your head underwater can be a worrying thing for some people, but a full-face mask is a more reassuring choice than using a regular snorkel and mask.
Top-Rated Full-Face Snorkel Mask Reviews
Click on any heading to sort the table accordingly to see our full-face snorkel mask review choices.
PLAN AHEAD TO GET THE BEST DEALS
Reviews Of Full-Face Snorkel Masks
Here are our top picks for which snorkel masks are the best.
This full-face mask is an excellent choice for beginners and comes reasonably priced. The mask allows natural breathing while underwater and has an anti-fogging mechanism to help prevent fogging while breathing and condensation. The view from the mask is high quality, with a 180-degree view and panoramic vision. There is the dry snorkel feature with this particular mask, which stops water from getting in through the top of the snorkel, and in terms of fit, it is a very secure and comfortable mask to own.
Features:
Easy to adjust and a comfortable mask overall
Anti-fogging mechanisms to allow overall air circulation
180-degree panoramic views
Textile straps to avoid pulling hair when changing and wearing
Dry snorkel top section to stop water from getting in
Good price
October moon Original Second Generation 180° View
This mask is the second version of the original, with any quirks ironed out! This means you're getting an improved version, which is also a highly regarded product, at a reasonable price. The mask is available in large and extra-large only, is 1lb in weight, and is lightweight. The perk with this mask is that you have 180-degree panoramic views, so you're not going to miss anything when underwater, and you can easily breathe in the most natural of ways. The mask is also straightforward to adjust and has high comfort levels.
Features:
Available in large and extra large only
Easy to adjust and comfortable while wearing
180-degree viewing section with panoramas
Lightweight
Good price
.
WSTOO 180° Full Face Snorkel Mask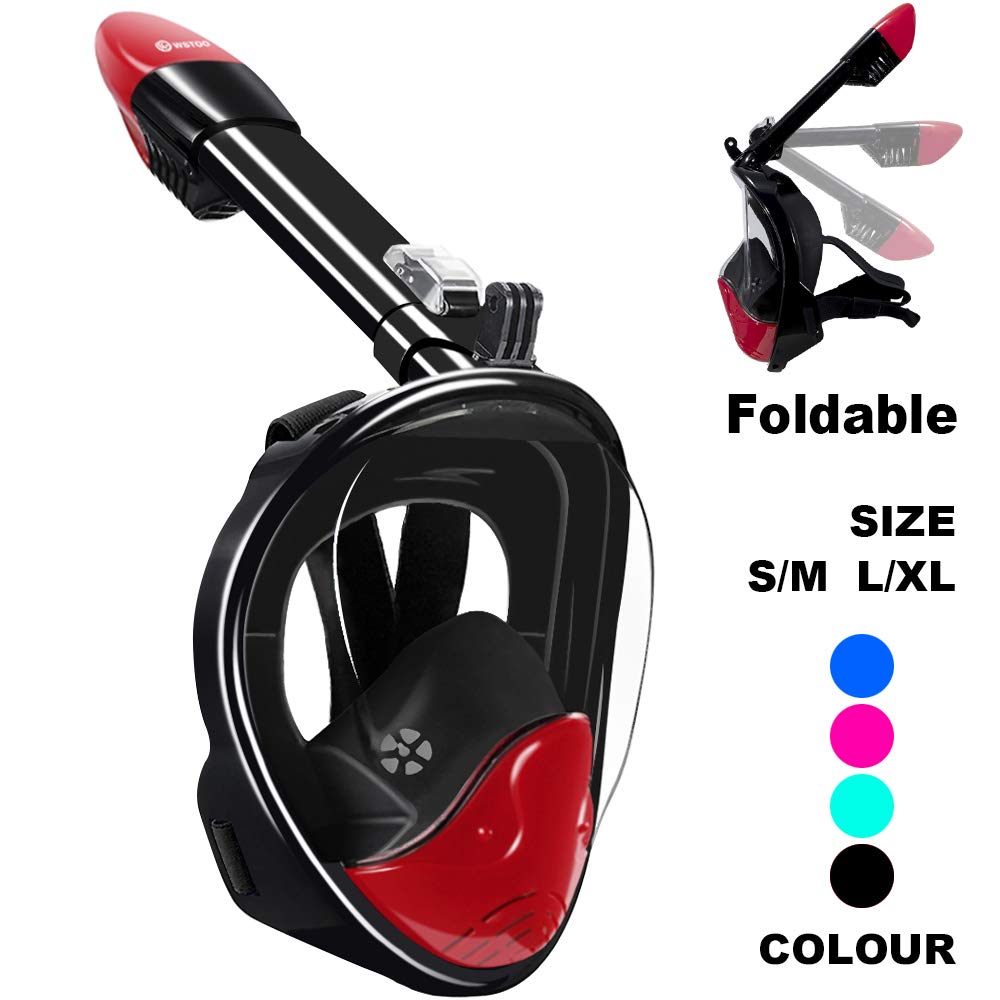 This mask is a good option for beginners and anyone over 12. This mask is, therefore, not suitable for children. However, it is a straightforward to adjust and comfortable mask for anyone over that age. The material is anti-allergy silicone for a soft feel against the skin and no rubbing. There are a few extras with this particular model, such as a floating ball fitted into the breathing tube, which stops water from getting inside when underwater. The lens is also flat, which helps with vision, and has anti-fogging. This mask also has a camera fixture, which is GoPro-compatible and folds up for easy travel.
Features:
Water is unable to get into the mask when submerged due to the floating ball in the breathing tube
A flat-designed lens for better visibility
Anti-fogging
Camera fixture which is GoPro compatible
Easy fold-up for travel
.
X-Lounger Full Face Snorkel Mask 2.0
This mask is ideal for those who snorkel and travel a lot, as it folds up and clicks shut to allow ease of travel. A detachable camera mount is included on the mask, a 180-degree vision field, fantastic views, and a flat lens for better overall visibility. With anti-fogging technology, you can see everything in front of you, and there is a mechanism on the top to stop water from getting into the mask when submerged. The mask is comfortable, easy to adjust, and available in S/M and L/XL.
Features:
Available in two sizes
It has a camera insert on the top
Water is unable to get into the mask thanks to the mechanism at the top section
Flat lens and a 180-degree field of vision for better visibility
Folds and clicks shut for easy and compact traveling
Anti-fogging technology also
.
Seaview 180° GoPro Compatible Snorkel Mask
This mask is compatible with GoPro, so you can easily attach the camera and capture all the beautiful sights you see while snorkeling. Overall, this mask is ideal for those who snorkel regularly, and it is incredibly comfortable while straightforward to breathe when wearing the mask. The viewing area is 180 degrees, and a dry snorkel mechanism is on the top to stop water from leaking inside. Fog resistance comes as standard, and the mask is also straightforward to clean. On a separate note, it comes in all different colors, so your snorkeling equipment can match your style.
Features:
Several color options and sizes are available
Fog resistant and a 180-degree viewing area
Dry snorkel technology to stop water leaking in
GoPro compatible so that you can use a camera with ease
Very comfortable to wear and fit
Easy to clean
.
SEGMART Panoramic Snorkel Mask
This is another GoPro-compatible mask, allowing you to attach a camera and capture your underwater fun. As with all masks of this type, you should not free dive while wearing the mask, but you can go down to depths of around 10 meters while wearing this mask.
The mask is straightforward to adjust with straps and buckles, and the silicone makes the edges soft on your skin. The viewing area is 180 degrees and completely panoramic, with anti-fogging and dry snorkel technology to stop water from inside. Several color options and an extensive range of sizes are available for your comfort.
Features:
Four colors are available, and a range of sizes
GoPro compatible
A 180-degree viewing area with anti-fogging
Dry snorkel technology
Comfortable mask with straps and buckles for easy adjusting, as well as soft silicone edges
.
Seaview 180 Degree Snorkel Mask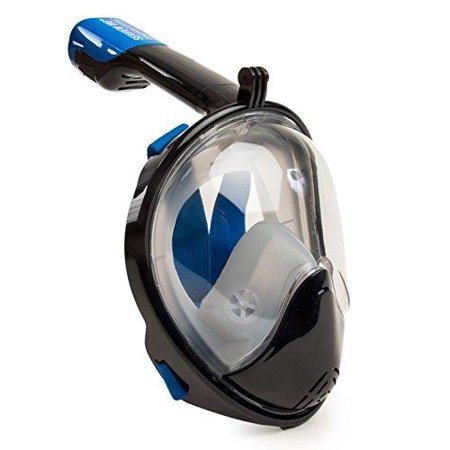 This is the basic version of the Seaview mask, with the same camera attachment, and it is an ideal choice for beginners. Available in two sizes and a wide range of colors, this mask is very comfortable and easy to adjust, giving you a more customized type of snorkeling gear. A carry bag is included with the mask to make it easy to travel with and offer the regular 180-degree visual field and fog resistance.
Features:
Several colors available
Camera mount
180-degree visual field with anti-fogging
Comfortable and easy to adjust
Carry bag included
.
Ocean Reef Aria Full Face Snorkel Mask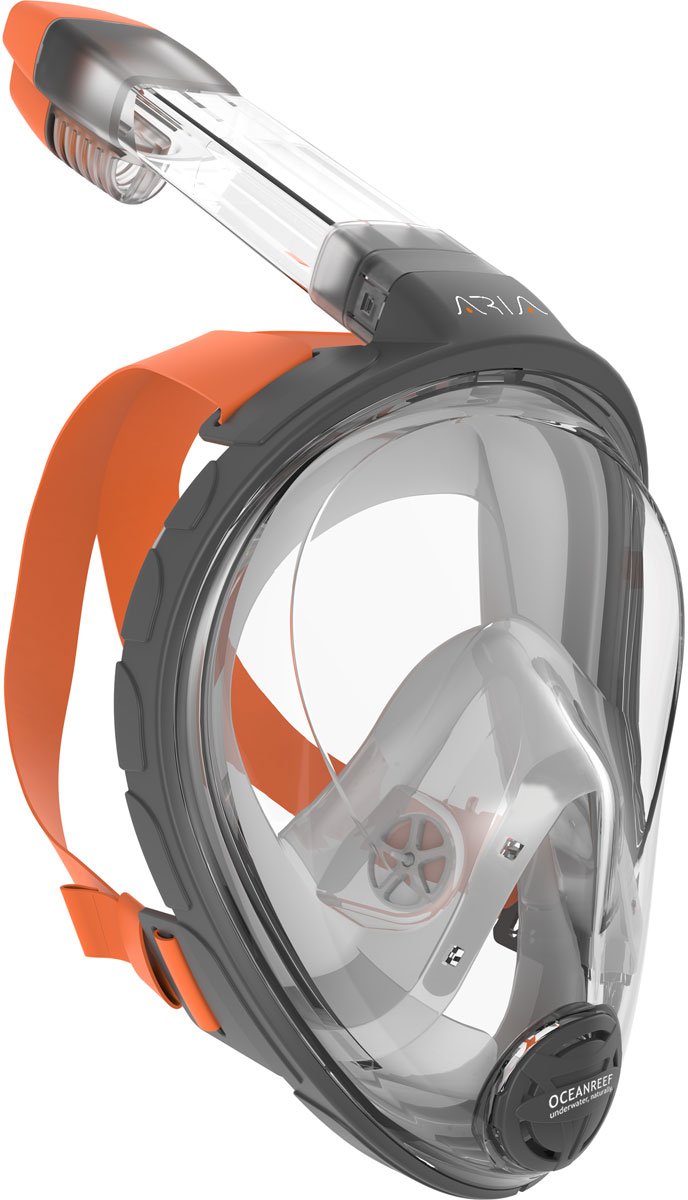 This mask is a basic option once more and comes at a very low price compared to some other models. Despite that, it's ideal for beginners and those who are just testing the waters to see whether they like snorkeling or not. The mask helps you breathe naturally and stops water from seeping through the top when submerged. The same 180 vision field comes with this mask, and anti-fogging technology is included. With several color options, the only downside is that this mask doesn't have a camera attachment.
Features:
180-degree visual field
Anti-fogging technology
Easy to adjust and comfortable
Low price for beginners
.
Seabeast AF90 Full Face Snorkel Mask
This is a very adaptable mask and has a removal camera mount, so you can decide whether you want to use the camera option or not. The visual field is 180 degrees and anti-fogging, and it has a mechanism at the top to stop water from getting in when submerged. The mask is also easy to travel with as it folds up and secures closed and compact. Three colors are available, and the mask is very easy to adjust for a personalized fit.
Features:
Easy to fold up and travel with
180-degree visual field with anti-fogging
Water is unable to get into the top of the mask
Three color options are available
Detachable camera mount
.
Greatever Foldable Snorkel Mask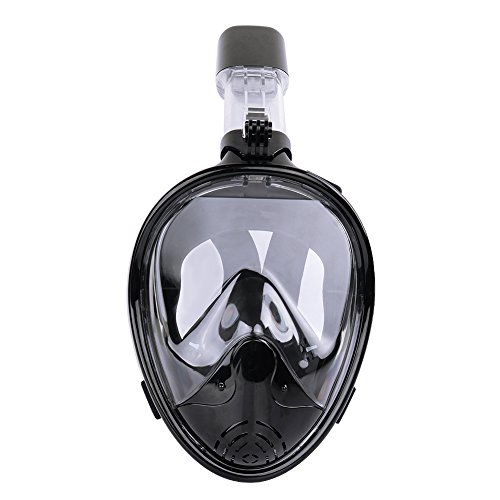 This mask comes in two sizes and is a very comfortable option, especially for beginners. There are several color options if that is important to you! The visual field is a huge 180 degrees and allows panoramic views of underwater fun. There is also anti-fogging technology; water cannot get into the top, thanks to the dry snorkel mechanisms. There isn't a camera mount with this mask, but you can purchase the support if you want to add it later.
Features:
180-degree viewing field with anti-fogging
Dry snorkel technology
Several colors available
Two different sizes are available
Easy to adjust and comfortable for beginners
.
Why Should You Buy A Snorkel Mask Instead Of Renting One?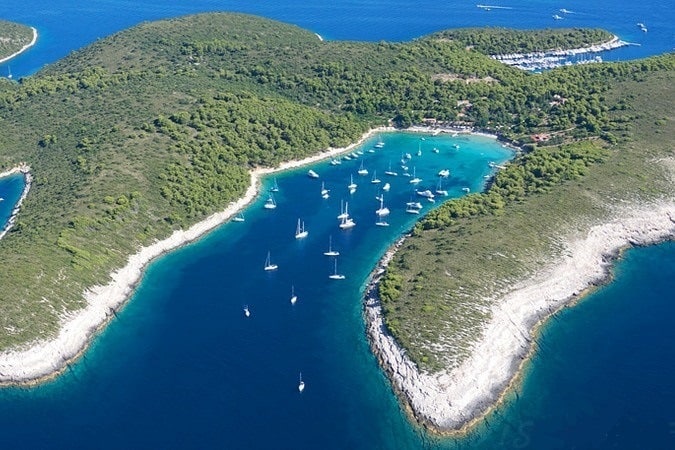 For two reasons really – firstly, hygiene and secondly, cost-effectiveness. You're likely going to get the snorkeling bug and in that case, always renting a mask will work out expensive in the long run. Buying a high-quality full-face snorkel mask will work out far cheaper, and you can also be sure that it is your mask alone, i.e., you don't have to think about hygiene or germs.
Of course, when you rent a mask, they are adequately cleaned, but some prefer to have a personal choice and not something used before.
When you have your mask, you also adjust the sizing to your particular needs, and you don't need to keep changing it every time, as you would with a rented option.
If you want to snorkel regularly, owning your full-face mask is far better.
How To Fit A Full-Face Snorkel Mask
Your mask must be snug and secure, so you're going to need to adjust it carefully. Place the mask over your face and secure the straps or clips accordingly – every mask has different ways of being secured, so read the instructions with your particular mask. From there, adjust the sliders to find your ideal fit, and make sure you get a good seal, so no water leaks in.
Most full-face snorkel masks have a cross-over section behind your head, giving you a more secure and bespoke fit.
How To Defog A Full-Face Snorkel Mask
At some point, you might need to defog your snorkel mask so that you can see more clearly. This is entirely normal and is down to condensation.
The best way to defog your mask is to use a defogging solution, which you can find very easily online or from a diving shop, rinse the mask and then clean it in saltwater. Allow the mask to dry, but do not touch the lens, as you'll smear it and make everything even harder to see!
How To Clean A Full-Face Snorkel Mask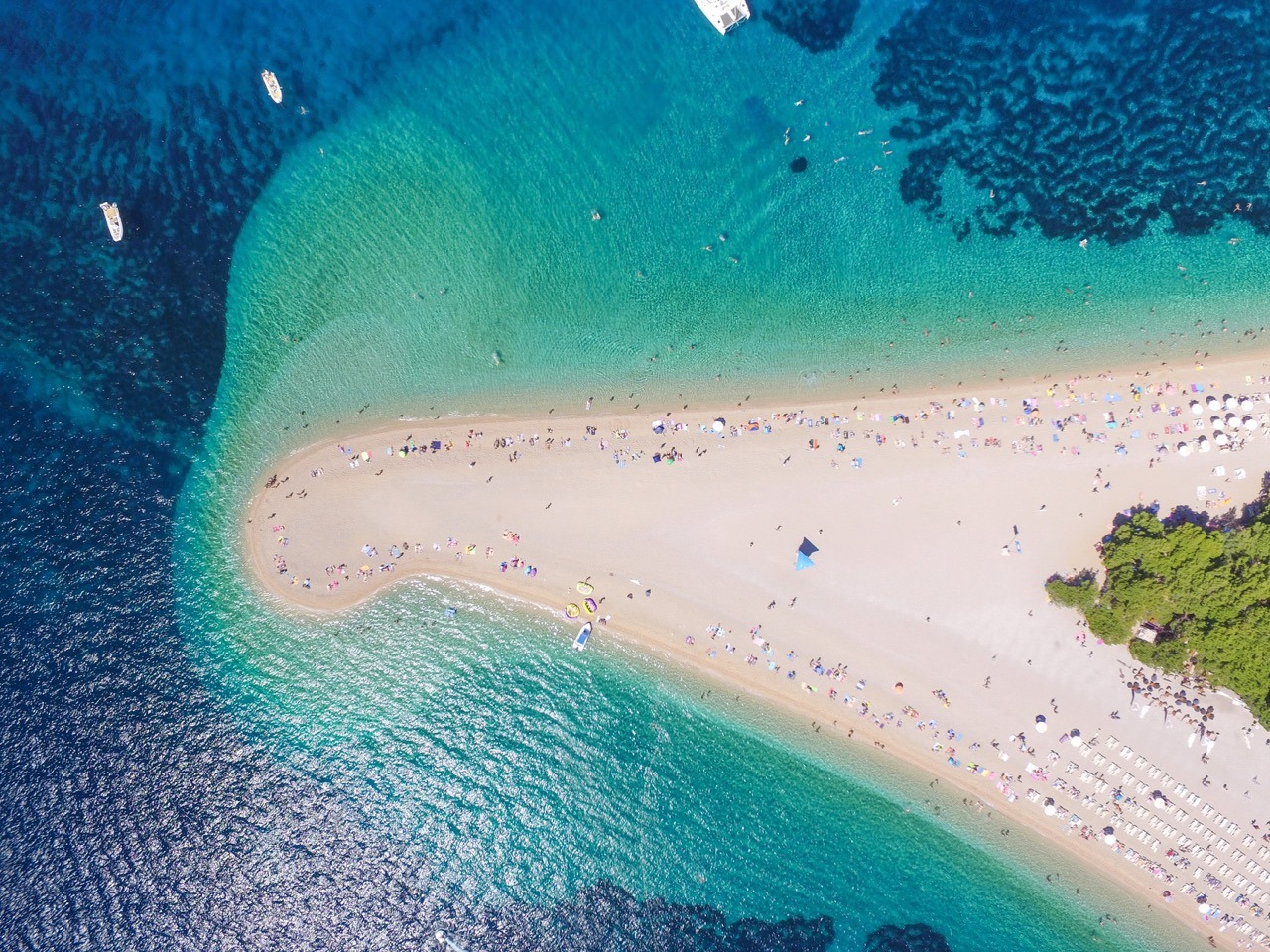 You'll need to clean your mask after snorkeling, which is very easy to do. All you need is warm soapy water and to rinse your mask carefully, avoiding touching the lens itself.
Ensure you carefully rinse the soap off the mask and then place it down onto a soft towel. This will remove salt, odd pieces of debris, and sand that might have found their way into the mask and onto the outside. Dry carefully and avoid leaving it to air dry, making it easier for bacteria to grow on the surface.
When storing your mask, make sure you have a storage case to keep it clean.
Who Can Wear A Full-Face Snorkel Mask?
Most people can wear an all-in-one snorkel mask with a bit of practice. Some people feel claustrophobic to start; some find it more reassuring from the get-go; it's down to personal choice.
Children can comfortably wear a full-face snorkel mask, but be sure to find one specifically for children and adjust it properly before wear.
Many people ask whether you can wear this type of snorkel mask if you have a beard. A beard causes an irregular edge, which means there will be micro-spaces that may allow water to drip inside. There will be problems because a mask is intended to make a seal around the edge of your face to stop the water from getting in.
How To Choose The Best Snorkel Mask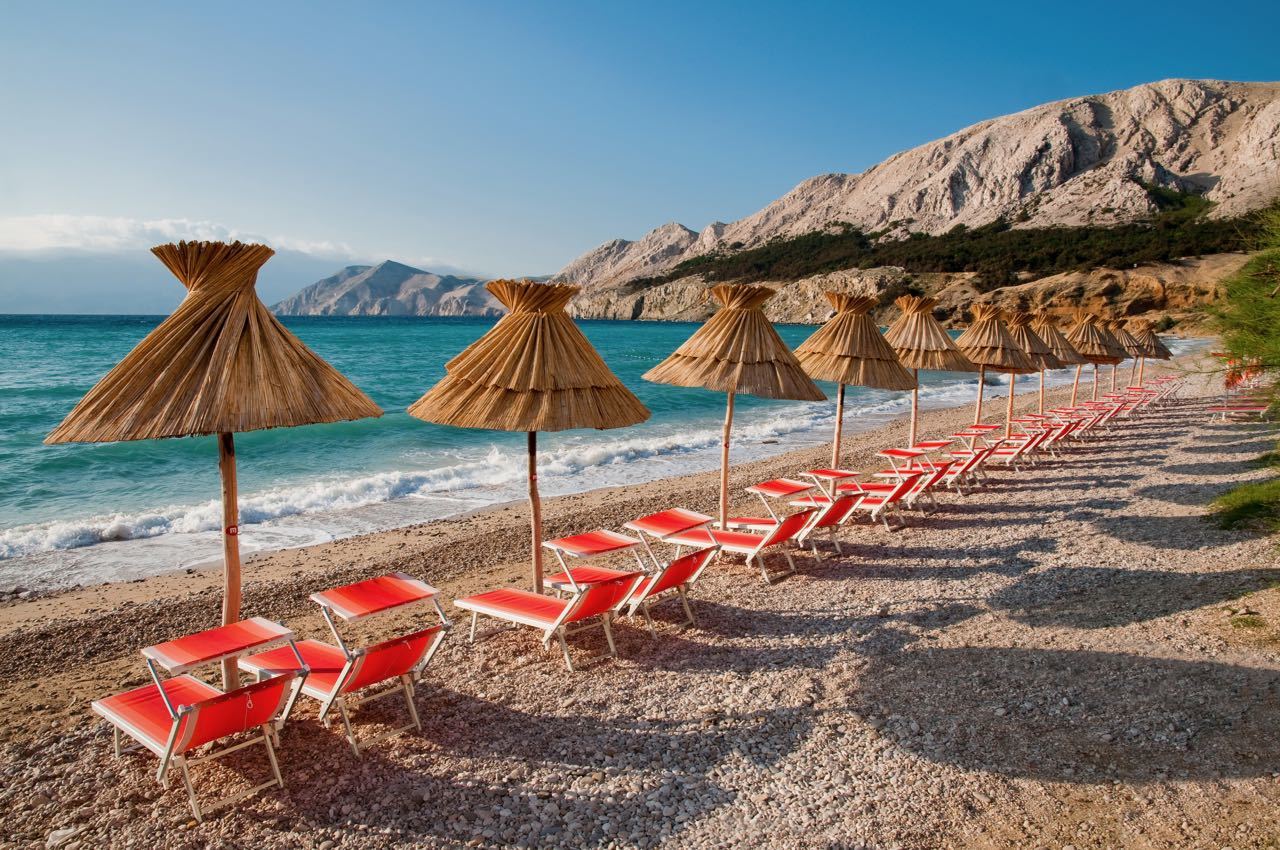 The market is flooded with choices, so it's important to know what you're looking for when purchasing this type of mask. The following areas are essential to pay attention to:
Lens
This is the part you will be looking through, so it's imperative! Does the lens have any specific features, e.g., anti-fogging? What is the lens size?
Size
Most snorkels come in small, medium, large, and extra-large, but not everyone has a standard-sized face! If you're not sure, go down a size to be sure.
Comfort
It's a good idea to try the mask before you purchase it, if possible. It would help if you had the mask to be comfortable while in the water. Otherwise, you're going to be distracted.
Dry Snorkel
Some masks have a dry snorkel feature, which includes a valve at the top, which allows the water and air to be sealed out during certain situations, e.g., When you dive or when a wave comes.
Quality and Shape of Lens
Again, the lens is your viewpoint, so check the shape, see whether it suits your field of vision, and check reviews on the quality.
Fog Resistance
This is a great extra to look for, and fog resistance is much more common with a one-piece snorkel mask.
Travel Compatibility
A mask that is small or comes with a compact carry case is far more comfortable to travel with.
Snorkel Depth
Different masks have different depth amounts, so be sure to look at how deep you think you'll be going.
Pros & Cons Of A Full Face Mask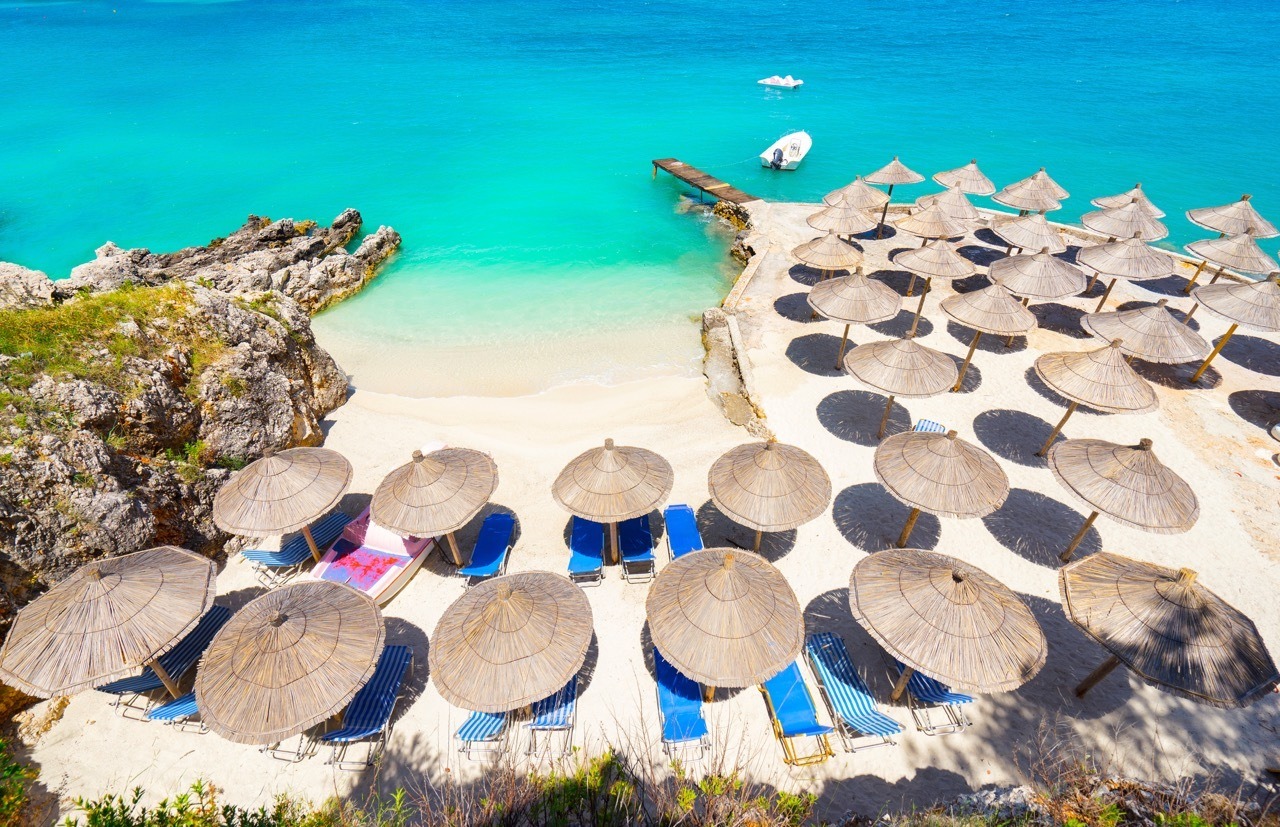 Every item has upsides and downsides, so let's check before you dive (pun intended) into buying a new snorkel mask.
Pros
Some people find a full-face mask more reassuring when underwater
It may give you the confidence to snorkel as a result
A full-face mask is a more comfortable option because everything is sealed in place and works together
Better visibility underwater
A more natural way of breathing
A quality barrier between you and the water
Using this type of mask doesn't hurt your jaw; trying to grip the mouthpiece in place
Cons
People with beards will find it difficult because water may start to leak in
A higher price than regular snorkels
Some people might feel claustrophobic, but this is a personal thing
You can't free dive with this type of mask
The lens is relatively easy to scratch, so you need to look after it well
Not so easy to travel with, so you need to find a compact mask with a storage option