We may earn commission from affiliate links →
How To Get From Izmir To Ephesus (& Ephesus To Izmir)
Ephesus is one of the must-visit places in the whole of Turkey, heck, in the whole of the world! Yes, it's that good.
A UNESCO World Heritage Site, Ephesus was once a vast and bustling port city located in the Aegean region of modern-day Turkey. However, it was a huge Greek settlement and was one of the most important and strategic cities in the Mediterranean. It passed hands from Ancient Greece to the Roman Empire, and you'll see countless ruins and artifacts on your visit there.
Built in the 10th century BC, there are a few things you need to know about Ephesus before you go:
EPHESUS FACTS & TIPS
It's huge. You will need comfortable shoes and plenty of time to explore. We recommend at least 2-3 hours for visiting the site.
There is no shade. Make sure you have a hat, sun cream, and plenty of water
Ephesus gets VERY crowded during the peak summer months. If possible, try to go during the shoulder months or the winter. You'll be able to explore much easier and with less stress
You'll need a lot of memory space on your phone to take the number of photos you want
Don't rush; make sure you spend the whole morning or afternoon exploring. Take your time because the sun can be very tiring
There are different ticket options available, e.g., you can choose to visit the House of the Virgin Mary or not; it's up to you, but if you do, it will cost you more.
Ephesus is open daily, but hours can vary from summer to winter and on religious holidays.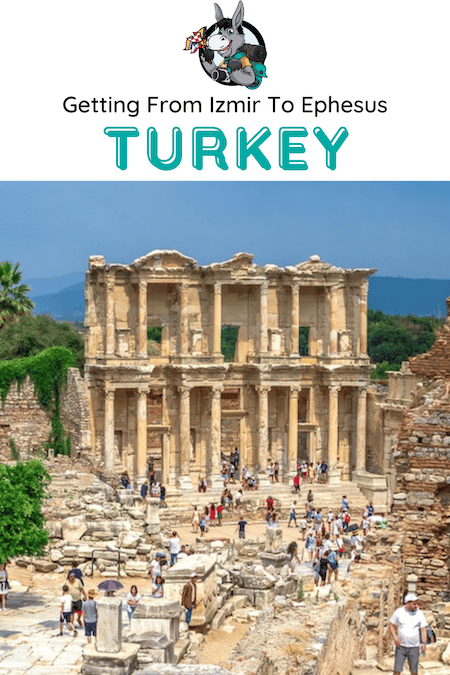 Ephesus is located around one hour from Izmir, and it's relatively easy to get there and back within a day. But there are a few different options, and you need to find the one that's right for you.
Here is your guide on how to get from Izmir to Ephesus (and back again).
You have four main options to get to Ephesus from Izmir:
Drive
Take an excursion

Jump on a train
Ride the bus
Driving
From

Izmir To Ephesus (& Ephesus To Izmir)
If you feel confident to drive in Turkey, this is undoubtedly the most relaxing and easiest way to get from Izmir to Ephesus. The plus point is that you can also stop along the way and have a traditional Turkish breakfast!
The two cities are about 75 km apart and make for a great day trip by car. The drive from Izmir to Ephesus takes about 1.5 hours, depending on traffic. The route takes you through some stunning scenery, including olive groves & mountains. You'll also pass by some historical sites along the way, such as Pergamon and Sardis.
The majority of the trip is on the E87 highway to go to Ephesus and back to Izmir. We did this drive in February 2023 in our hire car, and the roads are well maintained, the tolls are just a few euros (your rental car will have this set up to be deducted automatically), and there is ample parking on site at Ephesus.
Excursions
From

Izmir To Ephesus (& Ephesus To Izmir)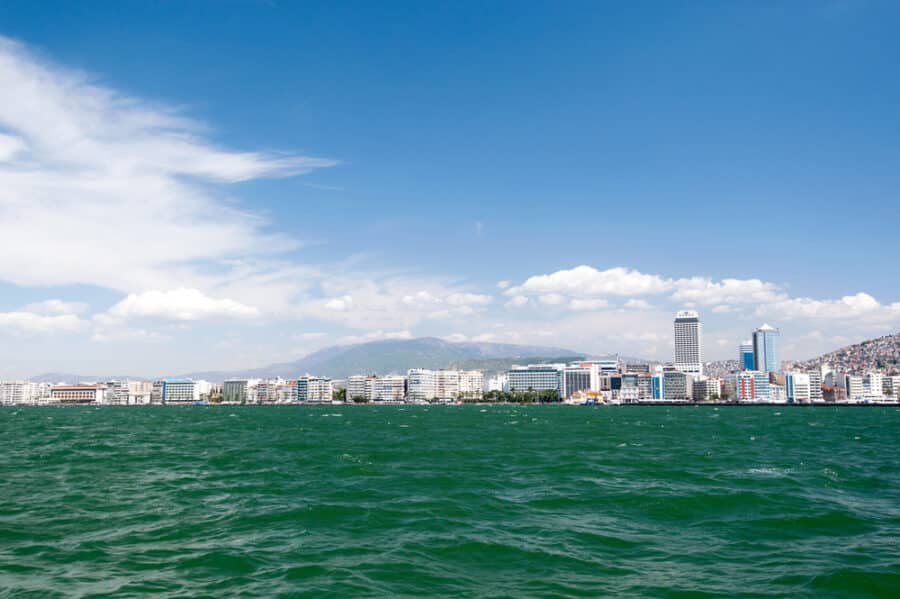 You'll find many online vendors offering tours to Ephesus from Izmir. Find the one that suits your budget and needs, e.g., guided or unguided.
Most standard tours will include pickup & drop-off to & from your accommodation, transport to Ephesus, a guided tour of the Ephesus archeological site and the Temple of Artemis, and some version of lunch. Be sure to check reviews and that the particular excursion you choose gives you the time you need to explore fully. For instance, some tours may not go to the House of the Virgin Mary, and this may be something you want to do.
Take A Train
From

Izmir To Ephesus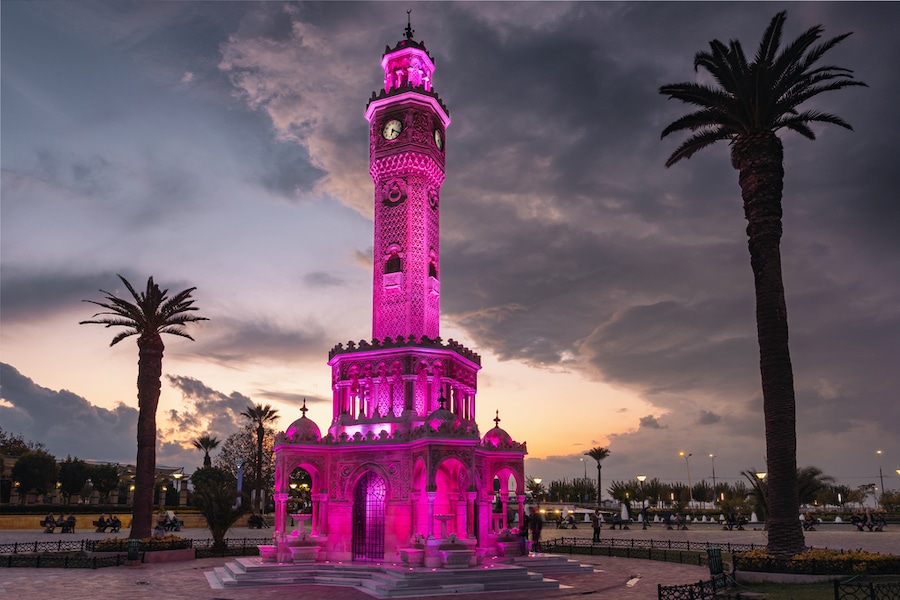 Taking the train between Izmir and Ephesus is a budget friendly way to travel.
TCDD is the company responsible for the train service in Turkey, and trains are comfortable and air-conditioned. Traveling between Izmir and Ephesus by train is scenic and laidback. Trains do not run particularly frequently between Izmir and Ephesus, and you will need to go to a nearby village first – Selçuk. However, this is the case if you take the bus, too.
Getting To The Train Station
There are six daily scheduled journeys between Izmir and Selcuk (and back again). The first is at 7.10 am, with another at 10.45 am, 12.30 pm, 2.30 pm, 4.45 pm, and 6 pm. However, remember to check online just before your visit, as things can and do change quickly!
The train takes 1.5 hours, and you must go to Basmane Gar (train station) in the center of Izmir, or you can catch the train from the Izmir Airport. You can book your ticket online or get it on the day you travel. However, it's best to do it beforehand if you can. The train runs from Izmir to Denizli and then down to Selçuk.
Consider taking the earliest train to Ephesus, as you will arrive around 8:35, beating most of the daily crowds and the heat!
Getting From Selçuk To Ephesus
Once you arrive in Selcuk, we recommend taking the dolmus (minibus) the rest of the way to Ephesus. The minibus is a quick and cheap way to travel the remaining 4km to Ephesus, and they are very frequent. You can catch a minibus at Selcuk Otogar or Selçuk Bus Station, which is an 8-minute walk from the train station. You can ask the staff at the train station to point you in the right direction. Minibusses will have signs in the front window indicating the final destination, so hop on one that says "Ephesus" and pay the driver directly. The 10-minute ride will take you right to the north entrance of the site.
Alternatively, you can take a taxi. They will be waiting at the train station, so flag one down once you depart.
If you're feeling energetic, you could walk, but it's not the best use of your time.
Izmir To Ephesus By Bus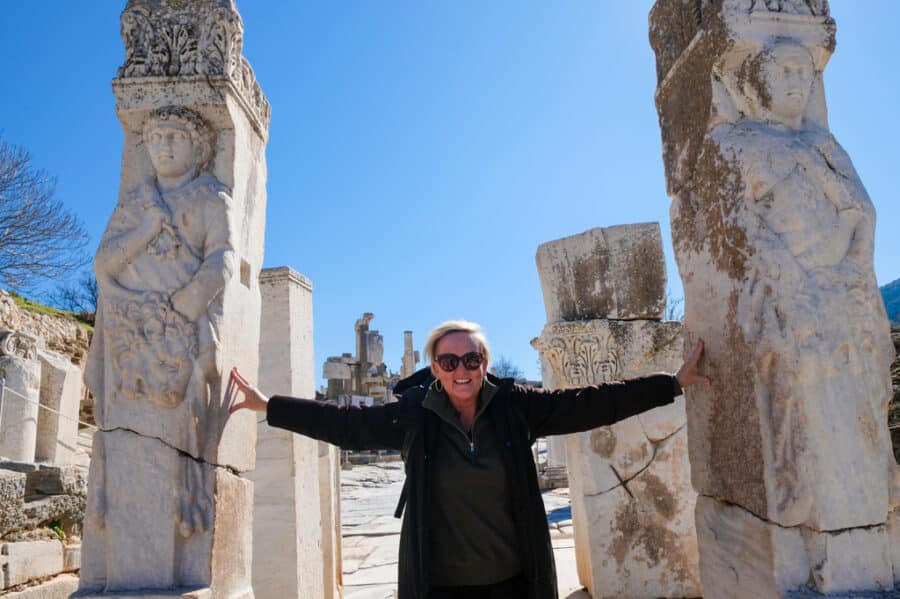 Taking the bus from Izmir to Selcuk is possible, but it's not the fastest or easiest option. You must go to Izmir Otogar (the bus station), located in the Bornova part of the city, which is on the outskirts. Izmir is huge, and you most likely will not be staying anywhere near there.
The journey to the bus station via metro and city bus can take up to an hour, and then the long-distance bus to Selçuk is another hour!
If you do happen to be close to the Otogar (bus station), then you can take the bus to Selcuk. The journey is 1 hour, and buses leave regularly throughout the day, about once each hour.
Once you arrive at Selcuk, you'll need to take the minibus to Ephesus or a taxi, the same as if you arrive in Selçuk via train.
Overall, we'd recommend the bus only for those already staying near Otogar.
Traveling From Ephesus
To

Izmir
Once you are ready to exit Ephesus, you must make sure you head to the north entrance. This is where the minibus back to Selcuk leaves from. Don't go to the south entrance. Otherwise, you may need to pay to get back in and walk back out the other side!
However, if you are taking a taxi back to Selçuk, you can leave via either exit.
Once in Selcuk, head back to the train station and look for the train to Izmir—these run at 2.22 pm, 4.04 pm, 7.49 pm, and 9.40 pm.
Buses back to Izmir are also available from Selcuk, but as we advised before, this is a challenging option unless you're staying near the central bus station in Izmir.
PLAN AHEAD TO GET THE BEST DEALS
Make A Ceramic Pit Stop In Selçuk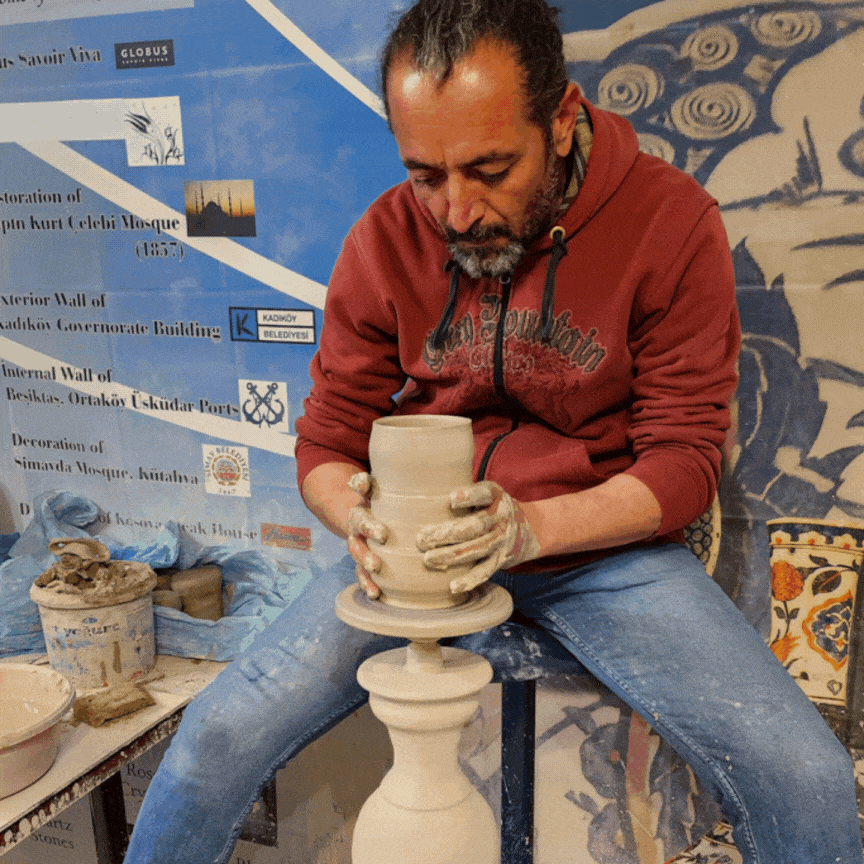 If you have time, I recommend a stop by at Firca Ceramic in Selçuk is an exciting place to visit for anyone interested in ceramics. The shop is full of beautiful and unique pieces, all made by local artisans. The staff are friendly and knowledgeable, and they're always happy to chat with visitors about the history and process of making ceramicware.
Even if you're not in the market for a new vase or plate, it's worth stopping by Firca Ceramic to see the amazing work that goes into each piece. Be sure to haggle for the best price – it's all part of the fun!
Now that you know how to travel to Izmir from Ephesus, we hope you enjoy your travels.
Share