Eastern European countries are a paradise for shoppers and souvenir collectors since it is easy to find inexpensive, high-quality gifts, often handmade and gorgeous. But not just that, these countries offer the possibility to go after unique communist paraphernalia that can make the perfect travel gift or memory both for you or your friends back home.
This Bulgarian souvenir post will give you a few ideas of what gifts and souvenirs you can buy in Bulgaria and take back home.
I am a sucker for country t-shirts for my kids, like this Bulgarian shirt…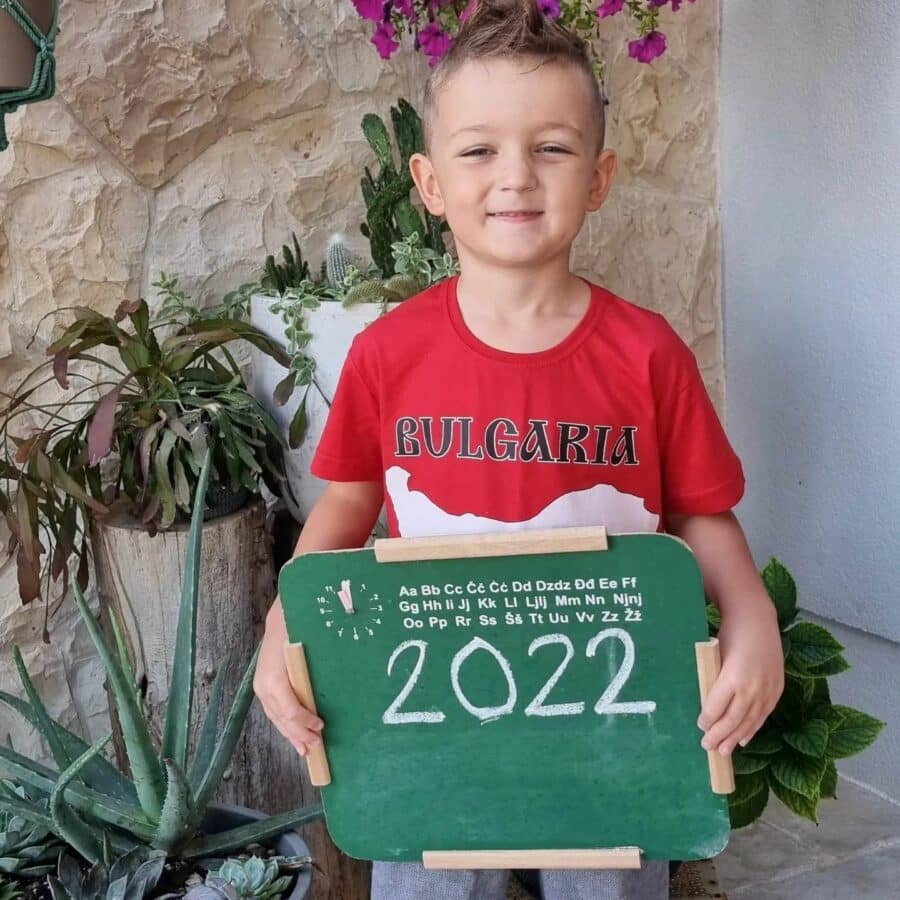 But what other Bulgarian souvenirs should you buy?
Crafts And Useful Objects To Bring Home From Bulgaria As A Souvenir
Many artisanal products are easy to bring home from Bulgaria; some might be more fragile than others, but if you're careful enough and pack them well inside your luggage, you can make an excellent souvenir for your trip.
If you fall in love with oversized artisanal pieces, remember that locals are often honored and help you mail that piece of art shipped home. Let's see the most common crafts you can buy in Bulgaria.
Pottery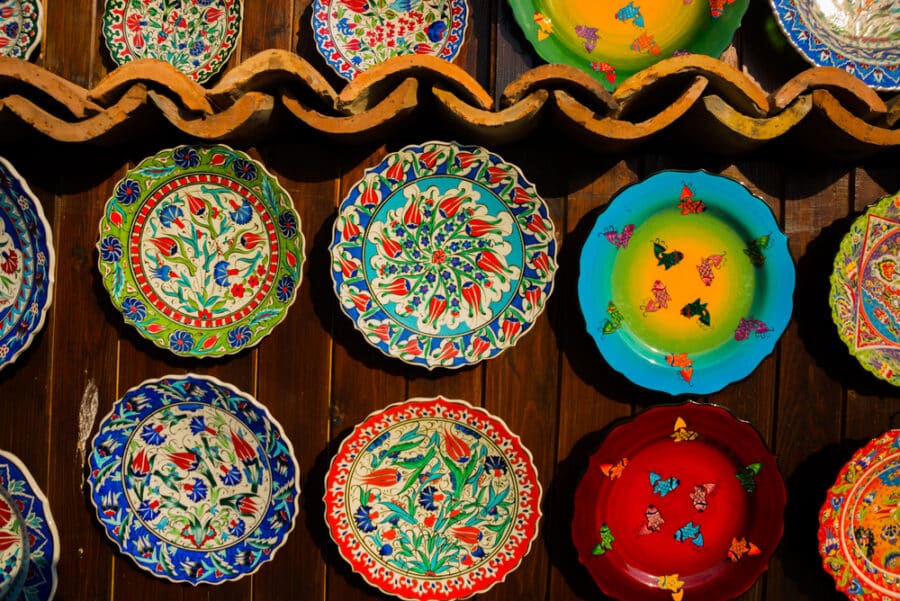 Cheerful, colorful, and distinctive patterns are exclusive characteristics of Bulgarian pottery and ceramics.
One of the most famous types of pottery you can purchase is Troyan Ceramics; these are red clay pieces decorated with glazes, often used for cooking; the largest pieces are crafted according to the local cuisine traditions. However, you will easily find smaller reproductions especially made for tourists.
Wood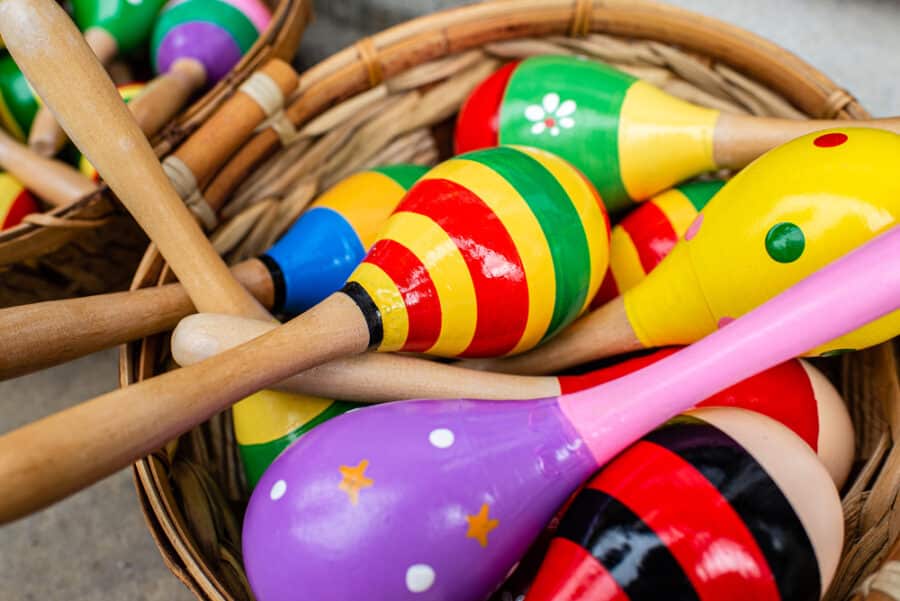 Bulgaria is well-known for its super-skilled master woodcarvers that will turn any everyday-use wooden object into a masterpiece.
When visiting Bulgaria, you will come across different wood carving styles, including religious icons, kids' toys, wood kitchen utensils, and beautiful pieces made by local shepherds perfect for decoration and, of course, as Bulgarian souvenirs.
TRAVEL COMPANIES WE USE AND TRUST
Leather Products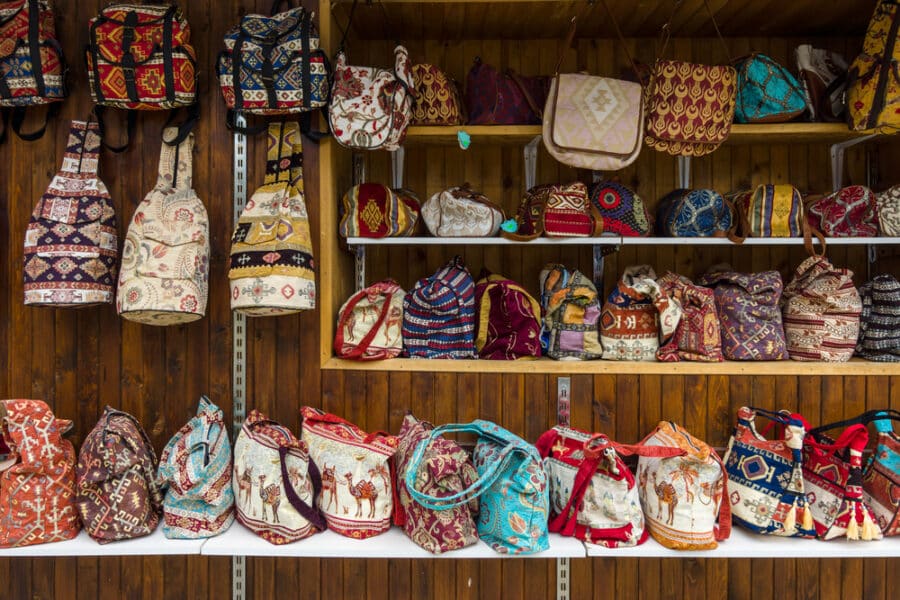 A long-lasting skill, artisanal crafts made of leather are one more Bulgarian souvenir worth checking. Tanned and dyed to perfection, sheepskin is a soft material that gives shape to gorgeous bags and shoes and smaller pieces of garment, such as belts, hats, and wallets.
Wool And Weaved Products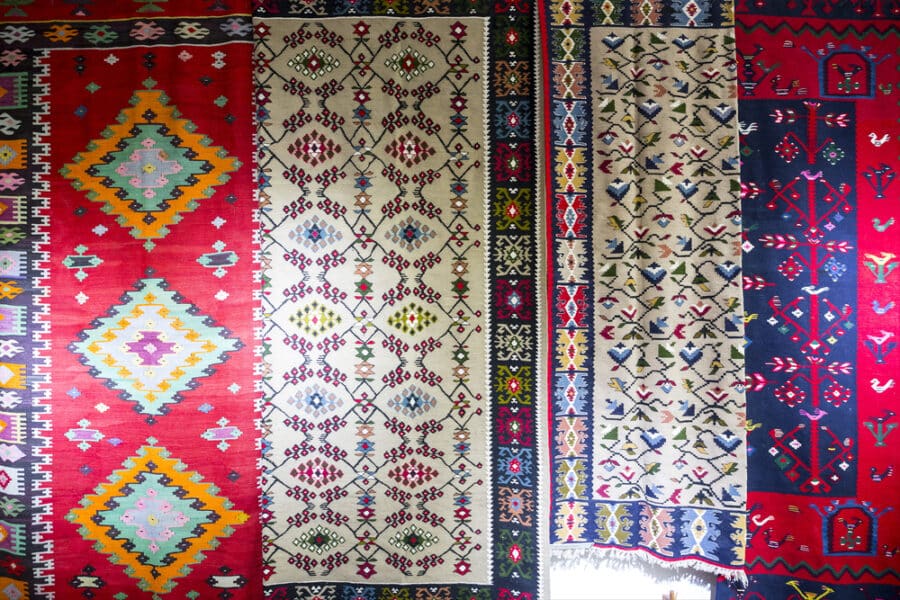 Carpets, rugs, blankets made of wool, or even natural plants are famous across the country. The objects have a unique design, often floral or geometric, and are top quality.
When considering what to buy in Bulgaria, we suggest you look out for the traditional colorful carpets from the Chiprovtsi region in Bulgaria, as pictured.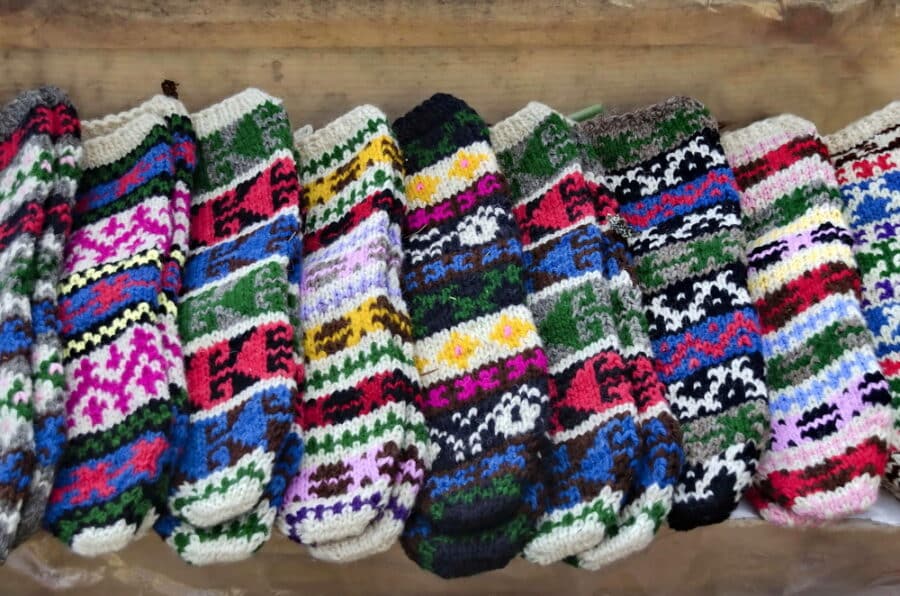 Another great souvenir from Bulgaria has to be a pair of woolen socks – there are so many colorful patterns to choose from!
Bulgarian Jewelry
Filigree, scrollwork, and enamel are just some of the traditional Bulgarian works for creating unique jewelry objects since ancient times.
At present, contemporary artisans and jewelers incorporate these one-of-a-kind technics in modern designs that are perfectly wearable for any occasion.
Paintings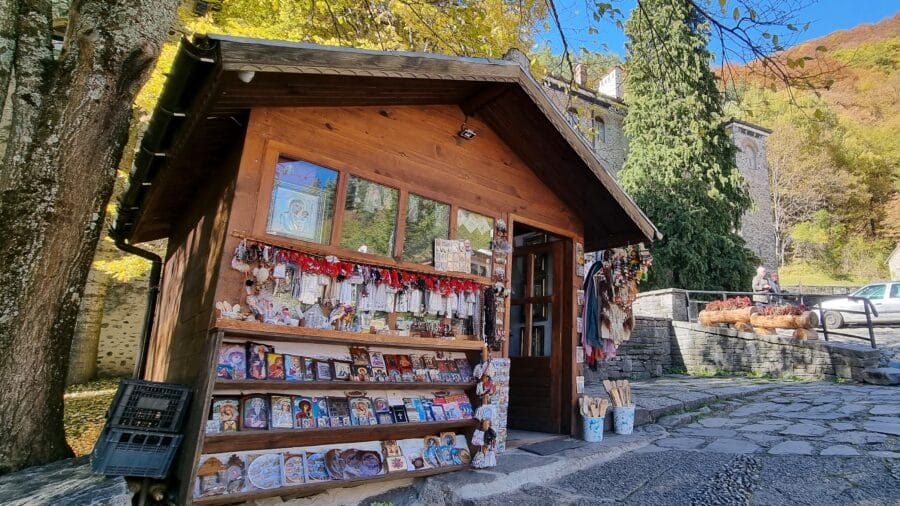 Whether it is a reproduction of religious icons or small modern paintings you can find in any street market, bringing home a small handmade painting can make all the difference.
Instead of getting mass-produced souvenirs, why not go for an object with a unique soul and intent that will keep bringing back memories from your trip?
Religious Icons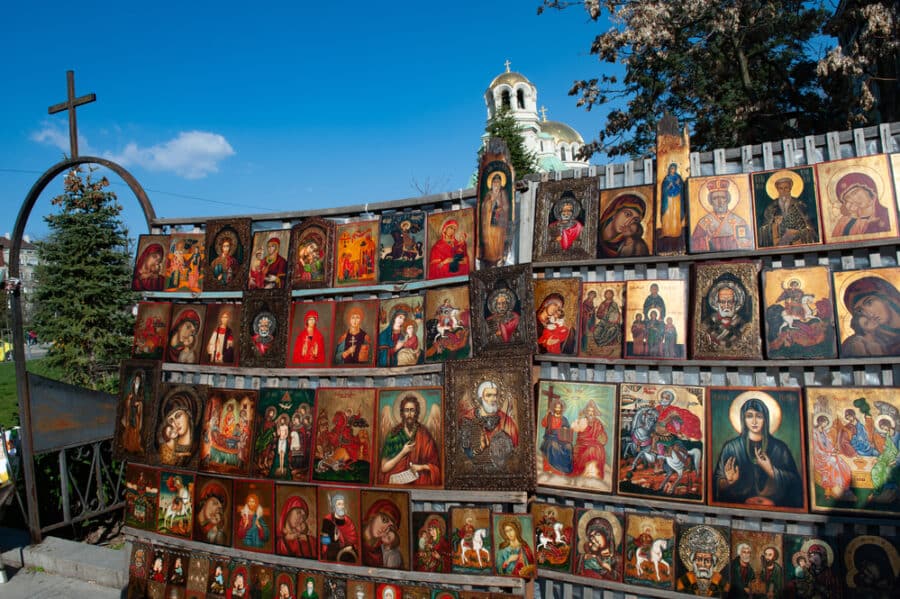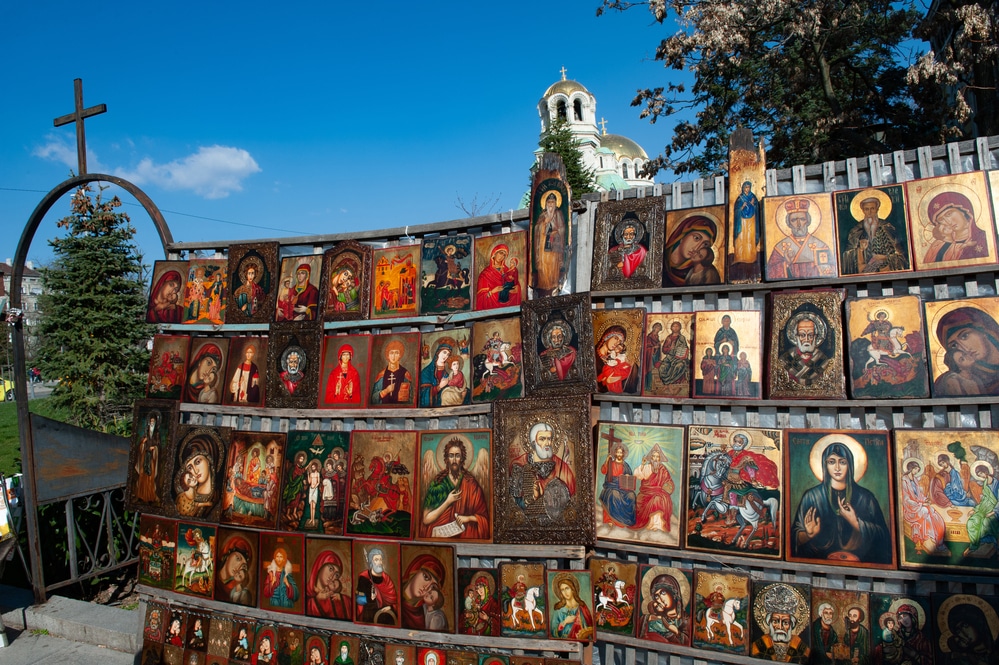 As in many other Balkan countries where icon painting is a craft with deep and significant meaning for the whole community, Bulgaria is a great place to purchase a beautiful religious icon.
This particular kind of art has Byzantine roots and follows specific guidelines and rules that the artist must respect and convince. It's easy to notice that icons share the so-called contemplative manner made of stylized imagery instead of naturalistic figures, even for those who are not knowledgeable.
A style that seeks to inspire a sense of wonder and admiration in which the artists are less concerned about mimicking reality but interested in showing religious symbolism.
Authentic Byzantine icons can be expensive since artisans use genuine gold leaf for decoration; however, there are religious reproductions and icons made of wood and color, without any gold in them, which makes prices more affordable.
Bulgarian Embroidery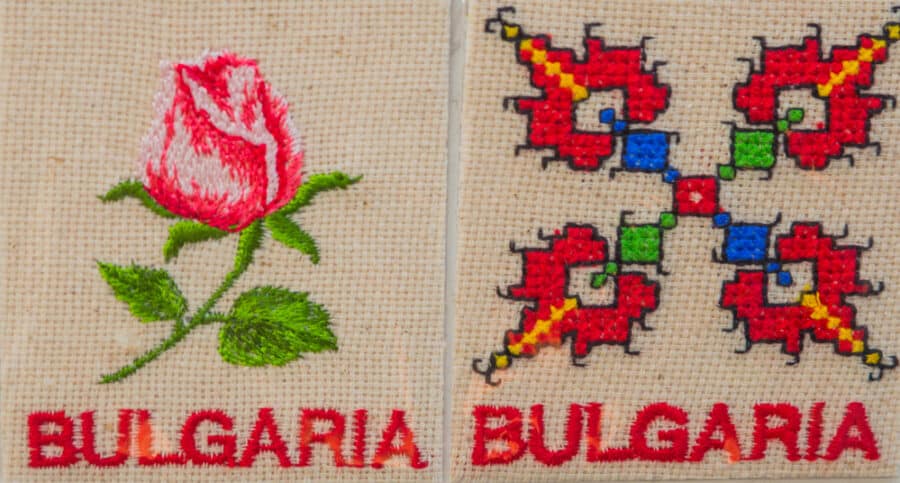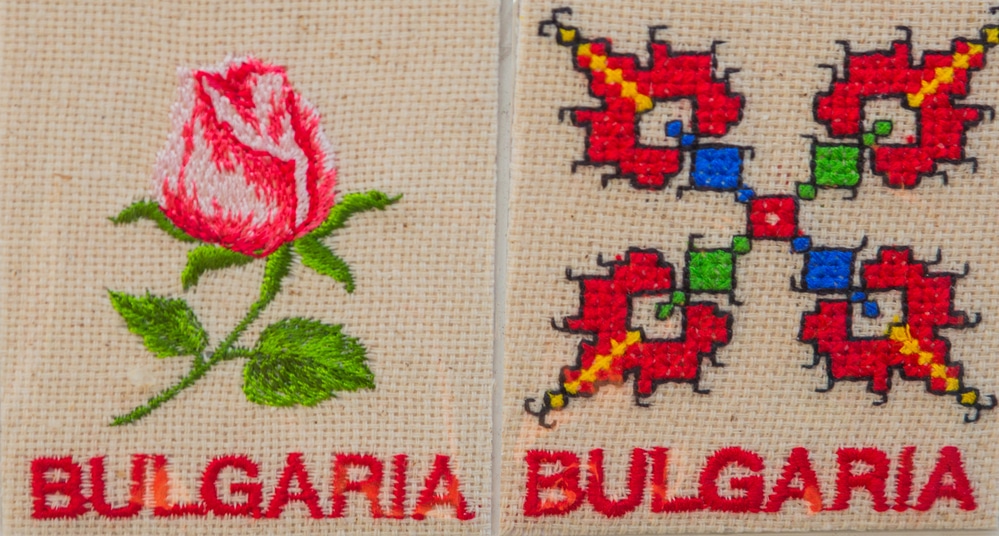 If you like to bring home souvenirs that are not so heavy in your luggage, think about shopping for something that can have practical uses if you are a fan of wearing ethnic pieces to add a glamorous touch to your outfit.
Bulgarian embroidery can be intricate, complex, and very ornate, with vivid red hues, and it is an authentic piece of the country's cultural heritage. Finding a souvenir as beautiful as these handmade garments and other textile objects (including tablecloths, covers, and more) is challenging.
Although handmade crafts tend to be expensive, their price is also there to honor the hundreds of hours invested in producing a unique piece of art.
Natural and beauty products to bring home from Bulgaria
Bulgarian Rose Products – What Bulgaria Is Known For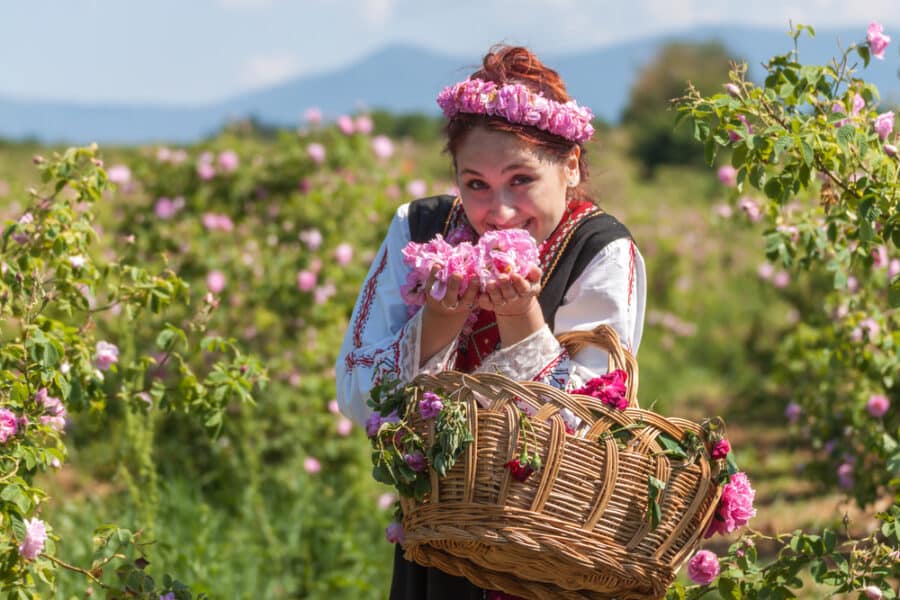 One of the first things you'll learn about Bulgaria during your visit is that the country is a rose-growing region. And not just that, Bulgaria is the world's largest producer of rose oil!
The striving local industry uses every part of the plant to produce different cosmetic and beauty products. At the same time, they also obtain pure and top-quality rose oil from the pressing of rosebuds and flowers.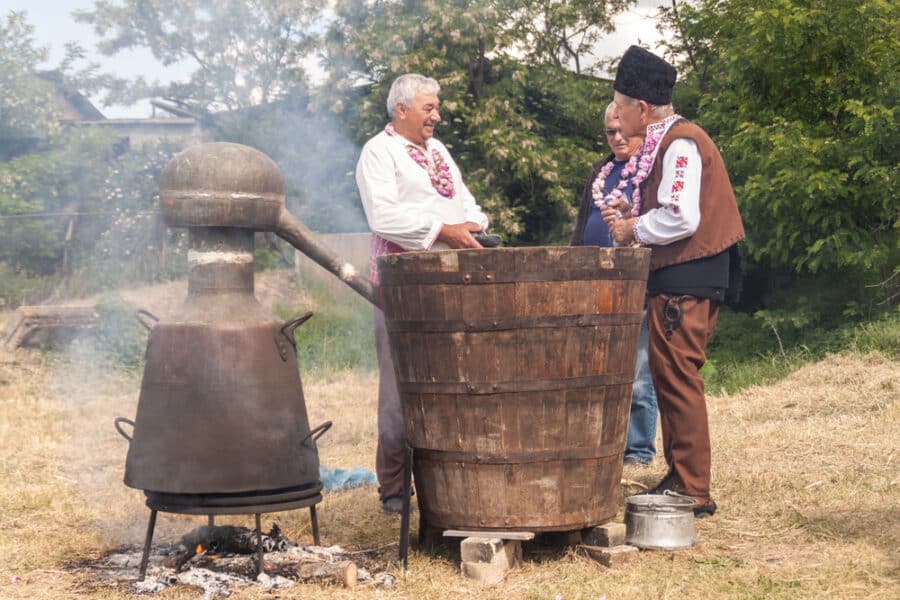 Although pure rose oil can be relatively expensive, prices will still be below the standard in Western countries. For a better purchase experience, try to avoid buying rose oil from tourist shops and find small, artisanal shops. Remember that authentically pure rose oil typically comes in sealed vials, so don't overlook this detail when researching about buying your souvenirs to bring home from Bulgaria.
Another rose-derived product you can purchase is rose water, a by-product of rose distillation. It is much cheaper than oil and has added beauty benefits as it has anti-inflammatory properties and is rich in antioxidants.
Foodies will adore delicacies such as rose jam, rose sweets, and even rose syrup or liquors that can make an original treat for those back home.
Lavender Products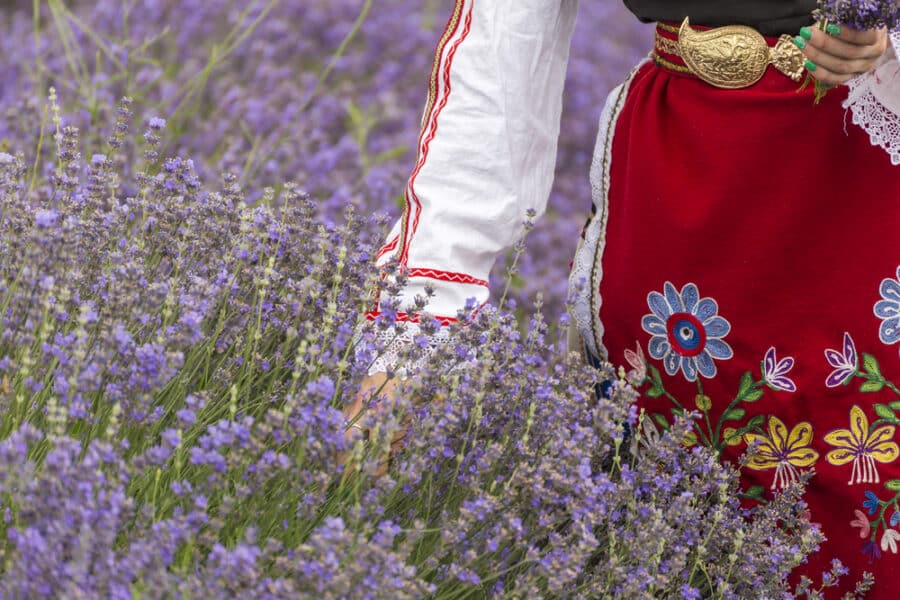 Not everything is about roses in Bulgaria; the country is the first-world producer of lavender (nope, it is not France, as you may have thought!)
Although lavender may be a more humble product than the rose, it is equally aromatic, and — if possible — it carries many more health benefits and uses than roses. Plus, lavender is often more affordable, which will make these souvenirs a tat less inexpensive too.
The most common products include lavender essential oil, which has relaxing and anti-anxiety properties. It is also good to treat various health-related issues, including fungal infections, allergies, and eczema when it comes to skin problems, but also efficiently against nausea and even depression!
Among the lavender products you can buy, check aromatherapy oils, sachets from your cupboard and luggage, lavender shampoo, and more.
Want an easy, cheap, and cute souvenir idea? Get a bar of lavender soap. We are confident it will go a long way with your mom, grandma, or auntie!
Food And Drinks To Bring Home From Bulgaria
Bulgaria has top gastronomy and wine scene unique to the country, and many of the fantastic tastes you have tried during your trip will make a wonderful Bulgarian souvenir…
After all, is there a better experience than tasting a flavor that transports you back to a country you visited in the past? Check out these fantastic gastronomic souvenirs from Bulgaria.
Lokum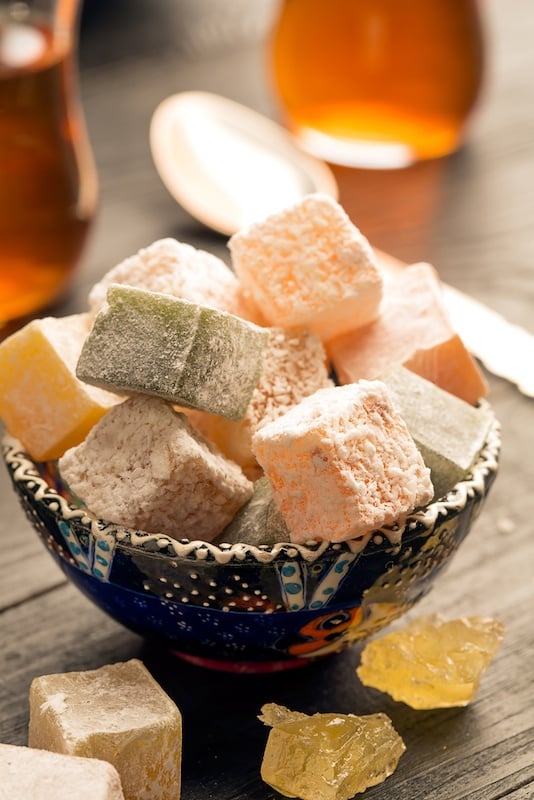 Let's start talking about something simple: the delicious lokum. Also known as Turkish Delight and eaten all over the Balkans, especially in the areas once ruled by the Ottoman Empire. This popular sweet treat is made from simple ingredients, such as sugar and starch, and comes in various flavors.
As you may have already guessed, rose lokum is the most popular flavor in Bulgaria and the most typical variety you can take home with you. Other styles of lokum include nuts (pistachio is also popular), almonds, or coconut.
Rakia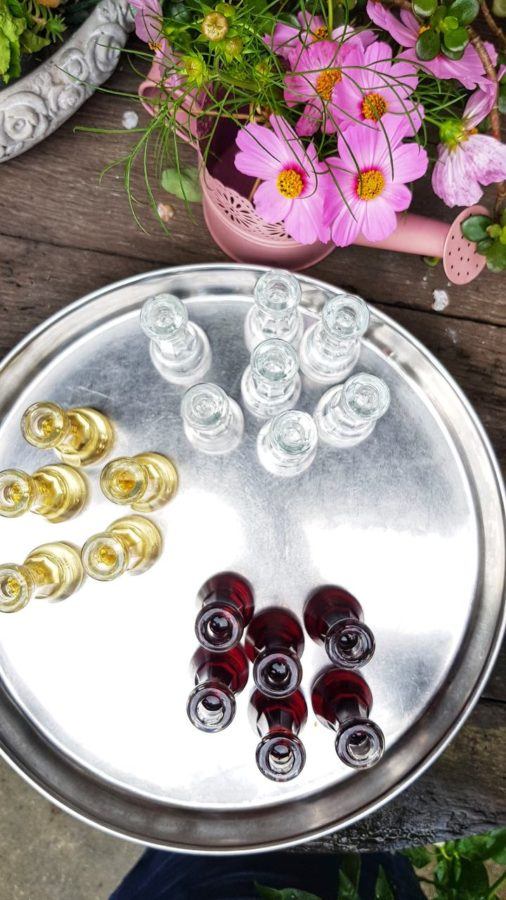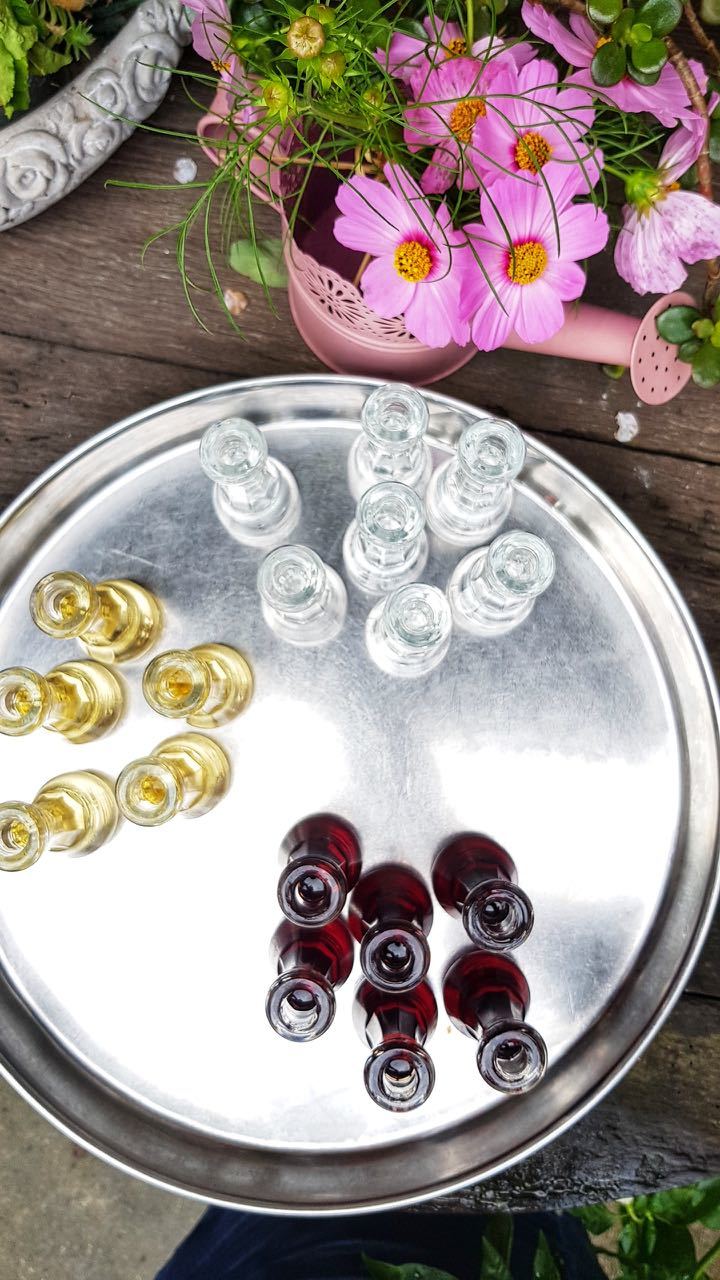 Bring home with you a bottle (or a small bottle, we get it) of this quintessential Bulgarian spirit that had made its way across the country with you when it was served after every meal or as an authentic hospitality treat when meeting a local.
It is possible to buy homemade rakia for better taste and quality heading to local monasteries, small street stalls, and even open markets. If you buy from a tourist shop, you might not get that typical rakia taste you've learned to enjoy during your travels.
This is a top souvenir idea for boyfriends, hubbies, and dads too, and to make it even more authentic, buy a couple of rakia glasses (they're small and easy to pack) to give together with the spirit. It will undoubtedly be appreciated.
Bulgarian Wine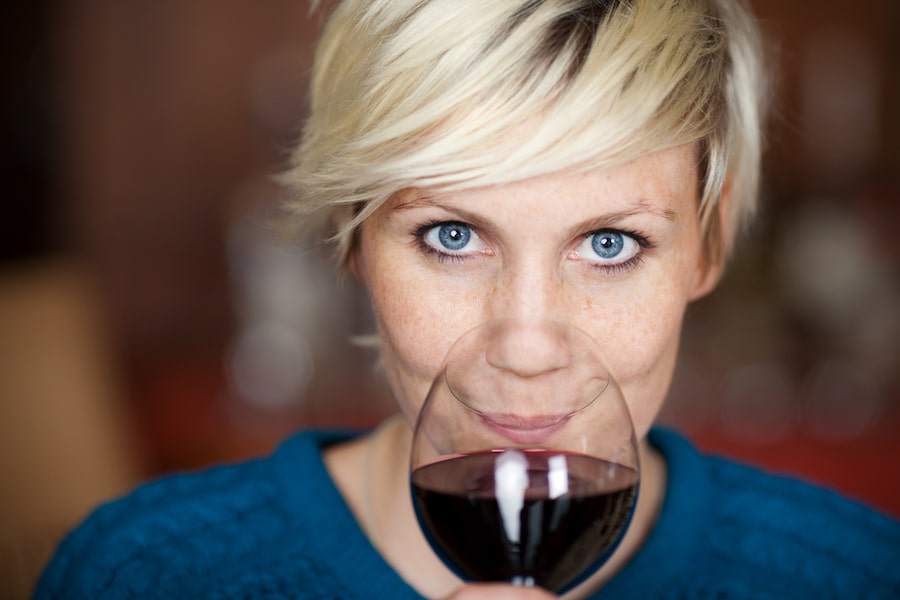 Grapes are grown in virtually every region of Bulgaria; there are so many wineries to visit that wine tourism is becoming a trend. Purchasing a bottle of your favorite wine can be an excellent souvenir idea, whether you intend to give it as a present or keep it all to yourself!
The Bulgarian wine market is very active and varied; sommeliers and wine connoisseurs from all over the world travel to the different Bulgaria wine regions to taste and learn about the best-known labels and to discover unique gems that still haven't made it to the general public.
You can choose from barrelled, full-bodied wines to pair with the rich local stews and meat dishes, or younger and lighter versions, that are easy to drink any time of the day.
Bulgarian Herbs And Spices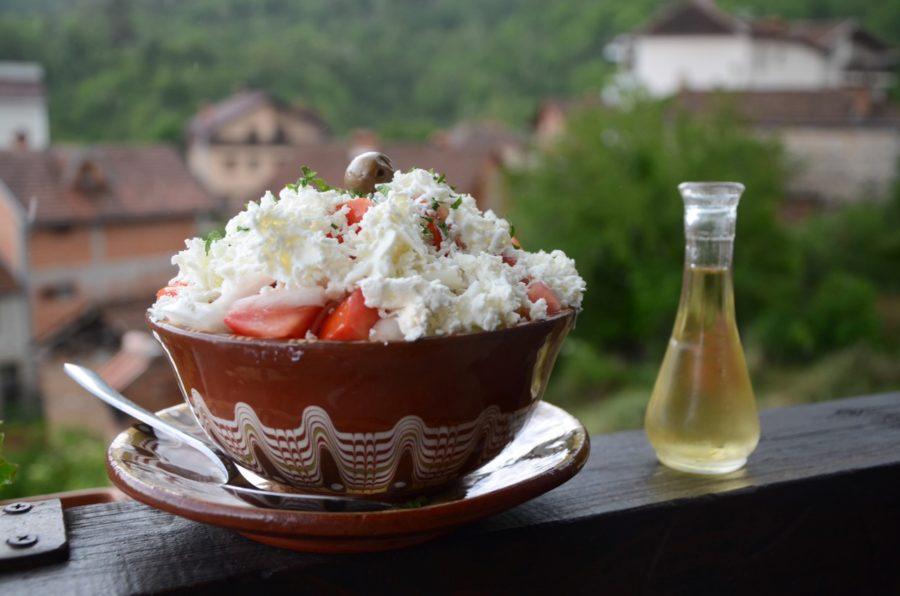 If you're a fan of Bulgarian food, why not recreate some local dishes back home? Learning the secrets of Bulgarian cuisine with a food tour can be an excellent non-material souvenir that will never break in your suitcase.
Accompany that idea by purchasing dried herbs and spices that you won't easily find back home and enhance your dish by giving them the right touch of Bulgarian flavor.
Chubritsa is probably the best, and it is a flavor you've tasted in your Shopska salad. It is a unique herb Bulgarians love to use in many other dishes.
Alternatively, Sharena sol is a popular spice mix that contains salt, paprika, and the local chubritsa. This tasteful mix goes exceptionally well on your Bulgarian-inspired bread and cheese snack.
The local tradition wants a slice of toasted bread drizzled with olive oil or white cheese presented to the guest when visiting a Bulgarian home as a hospitality sign. In return, the guest will take a piece of that bread and dip it in sharena sol.
Original Souvenirs To Bring Home From Bulgaria
In this section, we have added those less traditional souvenirs you can take back home from your trip to Bulgaria.
On a budget? Inexpensive tickets
Those who travel with a very tight budget often see the need to cut back on excessive expenses, and souvenirs can be the first ones to get banned from a shoestring travel list. However, this doesn't mean you should travel across Bulgaria without taking some memories with you.
Besides fantastic photos or inexpensive postcards, keeping a small envelope in your backpack where you store bus tickets, museum entrance tickets, a Lek banknote, or even small maps can make a perfect travel souvenir you can display at home in a personal and customized travel-related board.
Communism Objects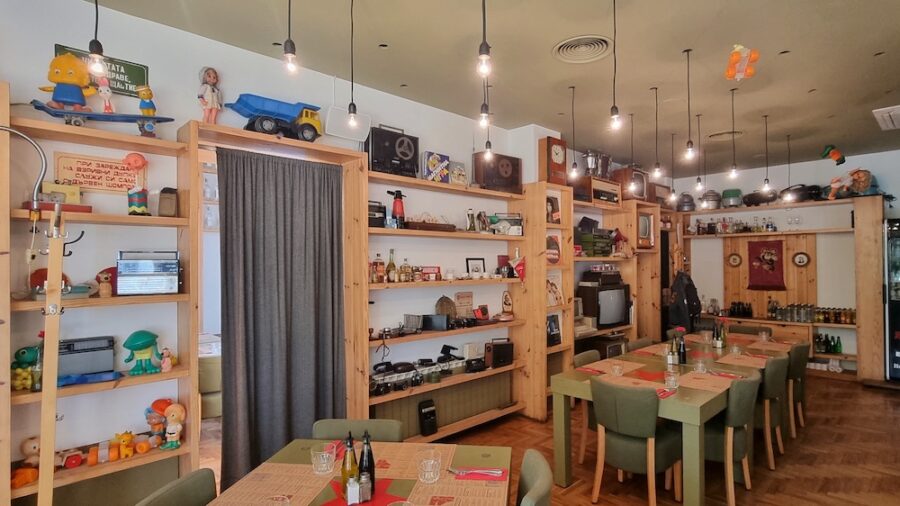 Communist memorabilia are original souvenirs that you can get in former Communist countries with some history. Interesting objects include banknotes, stamps, old letters, and other vintage things, which can be found in different flea markets around the country.
Books
It's not difficult to find books about traditions, heritage, culture, geography, and history in any Bulgarian city. It's easy to pick a small, easy-to-carry book (even in English). Alternatively, you can choose a decorative coffee-table book or a curious publication in Cyrillic…
Even if you have no idea what it says, it will make excellent home decor and a fantastic conversation starter. And for friends back home, getting them a foreign language edition of a favorite book, even in an unknown language, can be nothing but an excellent and very thoughtful souvenir too.
Getting that unique souvenir…
Although it might read like a contradictory phrase, get away from the souvenir shop to get the best souvenir ever!
Think out of the box; head to flea markets, second-hand shops, farmer's markets, street stalls, and old towns if you want your souvenir to be a real gem and not just one more overpriced fridge magnet!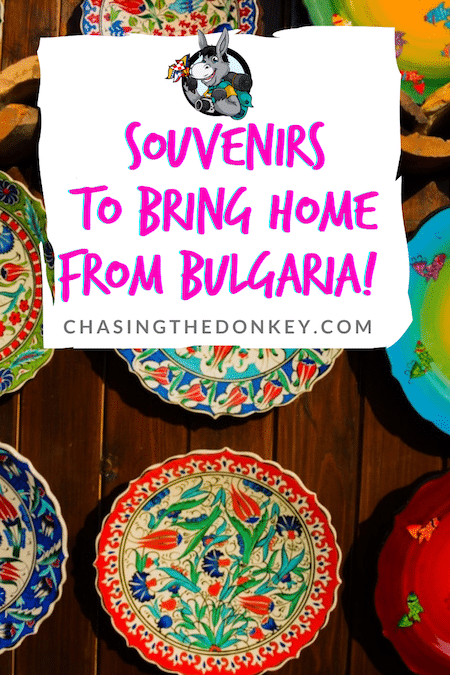 So, tell us, which of these souvenirs to bring home from Bulgaria will jump into your bag first?
MORE BULGARIA TRAVEL BLOGS