We may earn commission from affiliate links →
Croatian Cooking: Bijela Pita (White Slice)
"Bijela pita" is another traditional cake in Croatia and several other countries in the Balkans. It's also considered to be like a "sister dessert" to Mađarica, one of the most popular cakes in our region. Bijela Pita is usually made for the holidays and various celebrations, such as birthdays and weddings.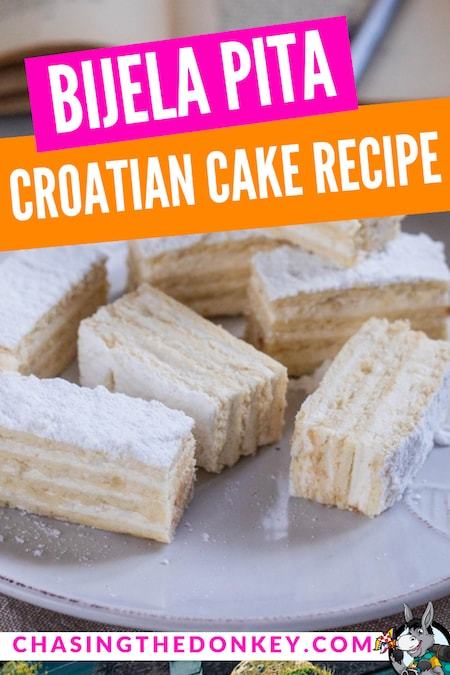 Bijela pita, or if translated exactly, "white pie," was considered a dessert for the people in the countryside, mainly working in agriculture considered less wealthy than those in the big cities. The reason for that is that you don't need a lot of money to make this slice, and it's often the case that you'll already have all the ingredients at your house.
Nowadays, it's one of the most loved desserts to be seen on the tables.
Don't be afraid of making this dessert for fear that it's complicated – it's not! Making the dough is very simple; you just need to mix it and roll it out, and the filling is one the most accessible creams to make – and then, that's it, you'll have yourself one delicious dessert in around an hour.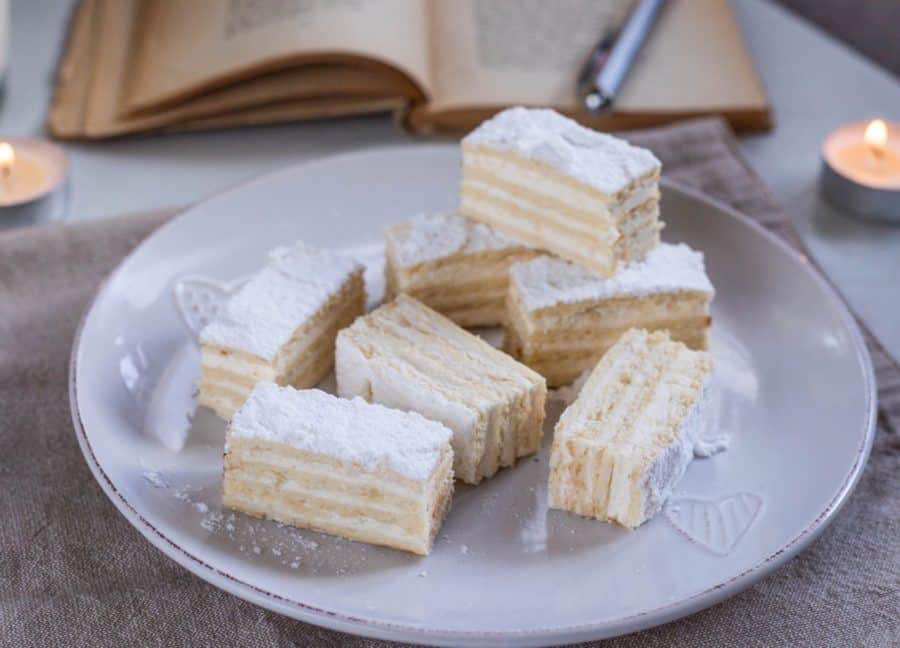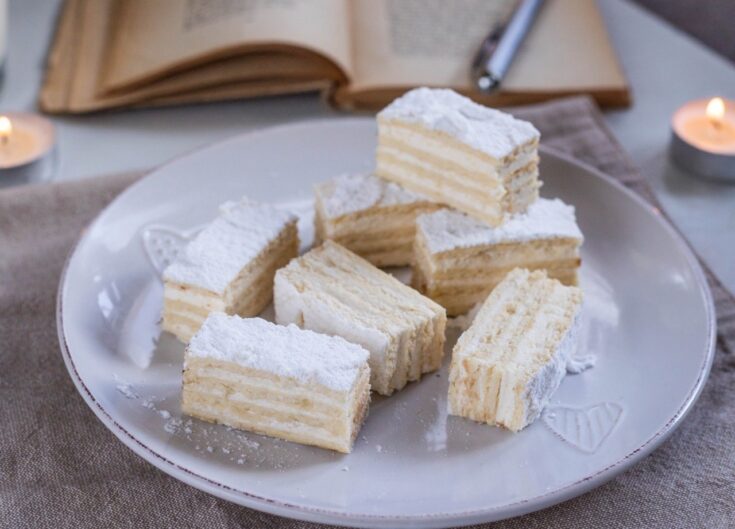 Bijela Pita Recipe (White Slice)
Bijela pita is a traditional cake in Croatia and several other countries in the Balkans. Here is an easy to make bijela pita recipe, this Croatian white slice is sure to please.
Ingredients
The dough:
400 g flour (2 3/4 cups)
100 g sugar (0.5 cup)
120 g lard (2/3 cup)
1 egg
1 teaspoon baking powder
4 tbsp milk
The filling:
500 ml milk (2 1/4 cups)
3 tablespoons flour
150 g sugar (3/4 cup)
1 tablespoon vanilla essence (or 1 packet vanilla sugar)
100 g butter (7 tablespoons)
Instructions
Mix all the dough ingredients, to make a ball of dough. It should be smooth and soft
Shape it into a ball, leave it in a bowl, and cover with cling film and let it rest in the fridge for at least half an hour
Divide the dough into 4 same-sized pieces and, using a rolling pin, roll them out around 3-4 mm thick
Bake the 4 pieces of dough in a pre-heated over (180°C/350°F) until they are slightly golden on the edges.
Transfer to wire racks and let the sheets cool down. Hot tip: One trick before baking the sheets, is to use your tray as a template and cut the 4 rolled out sheets to the exact size/shape - this makes the final assembly much fast, easier and neater
In a saucepan heat, the milk with sugar and vanilla sugar. Add the flour slowly while constantly stirring. Cook until the mixture starts to get thick (it will take a few minutes). Set aside to cool.
When the filling has cooled down, add in the butter, and with an electric hand mixer, mix until you get a soft cream-like texture
Now we need to start assembling this delicious dessert. Place the first sheet of pastry put on a tray and cover with 1/3 of the filling. Spread the filling evenly before putting on the second layer of the pastry.
Continue to do so until you have used all 4 sheets and filling. Simplified: pastry-filling-pastry-filling-pastry-filling-pastry
Dust with powdered sugar and let it rest in a fridge overnight
Slice it and serve it the next day
Notes
The reason for letting the slice rest overnight is so that the pastry has time to soften and is easier to slice.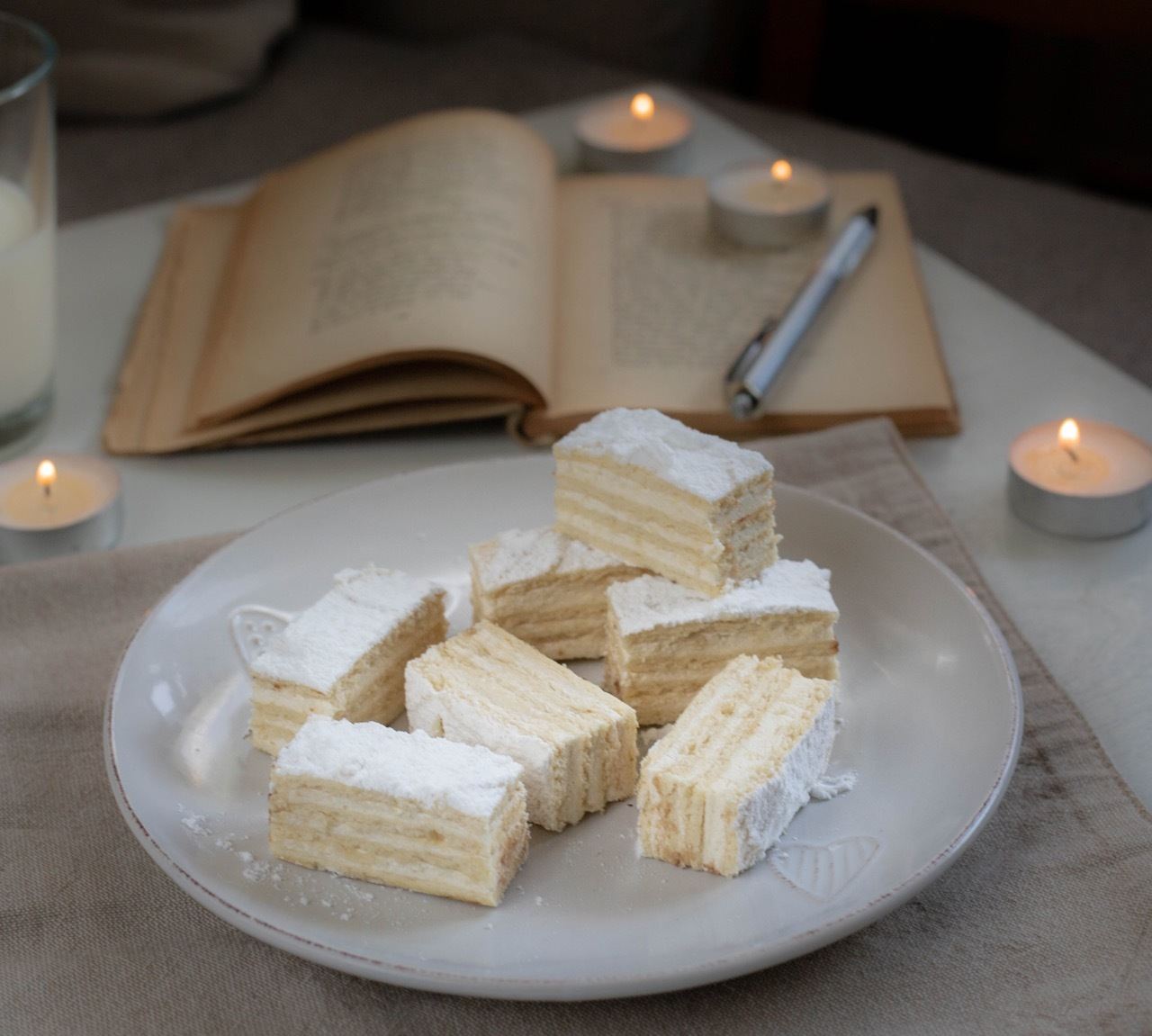 More Tasty Croatian Recipes
Share