How To Make Croatian Breskvice – Peach Shaped Cookies
"Breskvice" are usually made for special occasions like Christmas, Easter, or weddings, as are almost all desserts that require lots of time. You really need a few hours to prepare them, but the efforts are well worth it.
Breskvice (peaches) are very traditional in all the countries of former Yugoslavia, and as I usually write in my recipes, there are many recipe variations out there for these little cuties. Below I share with you the recipe that delivers the tastiest result.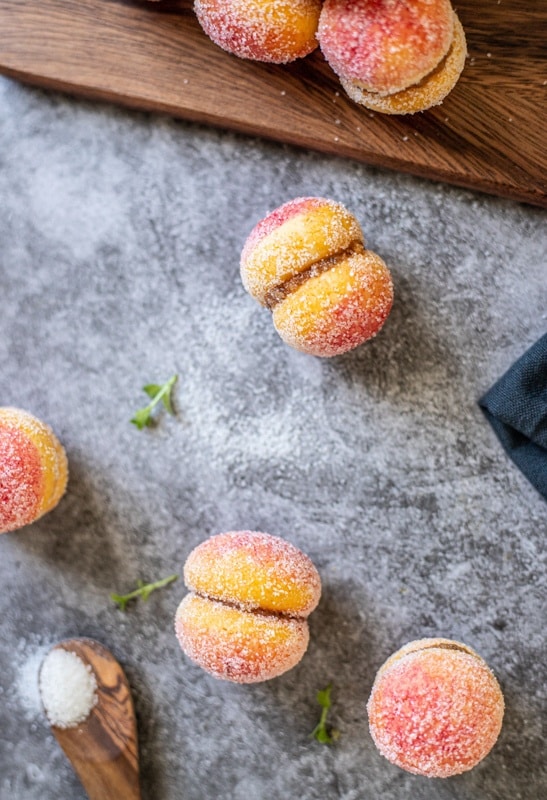 I do know that they really look like little peaches but, in reality, the taste is something totally different!
They have a "cookie" texture from the outside and a delicious filling made with marmalade, walnuts, and liquor in the middle.
This can quickly become a dessert where every member of your family can be involved in making these because they are very delicate to make. They require a lot of time, and several steps (small shaping, lots of precise carving, dipping in two different colors) would be best to do with some company…
After making them now for the first time ever, I have the utmost respect for all the people worldwide who make more than 50 of these at once. Now, when I see them on a plate, served with other cookies, I'll be sure to take a "breskvica" and eat it with great pleasure because now I know that someone when a grand effort to make them.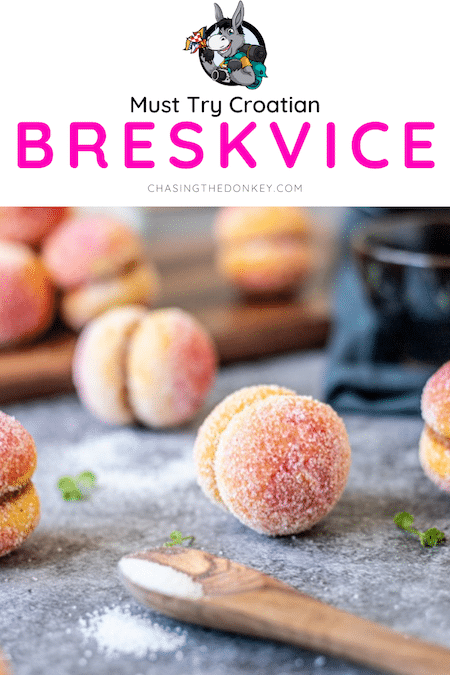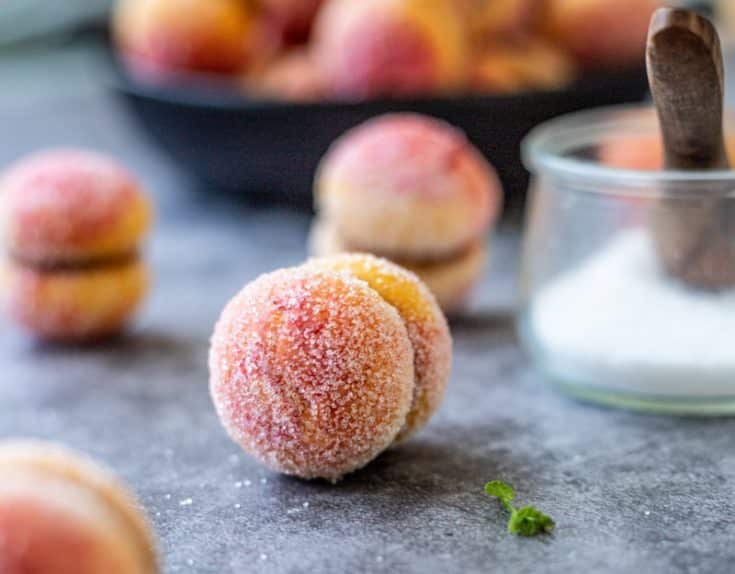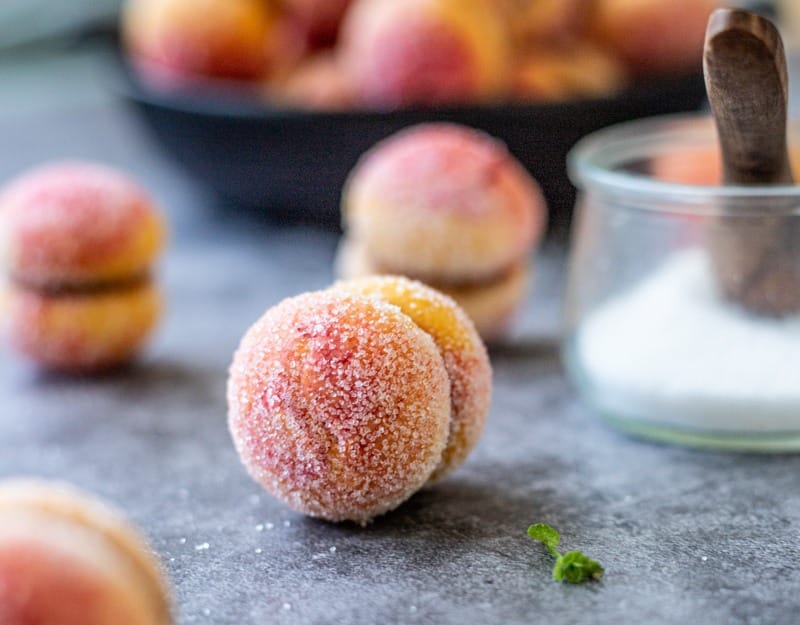 How To Make Croatian Breskvice - Peach Shaped Cookies
Here is how to make Croatian Breskvice cookies. These little peach-looking cookies are very traditional in all the countries of the former Yugoslavia and although they really look like peaches, the taste is something totally different!
Ingredients
For The Cookies
2 medium eggs
60 g butter, room temperature (3 tablespoons)
90 g powdered sugar (2/3 cup)
125 g all-purpose flour (1 cup)
125 g fine/pastry flour (1 cup)
a pinch of salt
1 teaspoon baking powder
For The Filling
70 g walnuts, ground (approx 1/2 cup)
1 vanilla sugar pkt (or 2 teaspoons of vanilla extract)
10-15 g powdered sugar (2 tablespoons)
150 g jam, apricot or rosehip (1/2 cup)
2 tablespoons rum, dark
70 g cookies crumbs (approx 1/2 cup)
200-500 mls milk, hot (1-2 1/4 cups)
Extra
Raspberry extract
Pear extract
1-liter water (4.2 cups)
White sugar
Instructions
We start with making the dough for the cookies. Beat eggs, sugar and butter with a mixer, add in the other ingredients and knead a smooth dough
Wrap the dough in cling film and refrigerate for about 30 minutes
From the dough, we will make small balls. I have used a kitchen scale at the start to make the balls around 10g in weight. When I made a few of them I stopped using the scale and they all turned out pretty much the same size.
Place the balls in a baking tin lined with a parchment paper.
Bake the balls in an oven preheated - 160°0C (320°F) for 15 - 20 minutes. Be sure not to overbake them as they should stay bright and firm on top and only the bottom should get a color.
Leave them to cool, for around 30 minutes, and then using a sharp knife pierce the cookies and make the holes from the bottom side.
Save the crumbs as we will use them for the filling
Now is time to make the filling. Combine all the ingredients and add the milk to get a thicker cream
The exact amount of the milk is not precise in the ingredient list as it depends on how thick your jam is. If it's softer than you will add less milk. If it's very thick then you will probably need milk closer to 500 mls (2 cups).
Place the filling in a piping bag and fill each ball
Connect two balls together and leave in the fridge for 1-2 hours (this step is not 100% necessary if you are short on time, but the filling will get thicker and stronger once cooled).
Pour about 500 mls (2 cups) of water into two containers; add raspberry extract to one bowl and pear extract to the other. Add in as much of the coloring as you need to achieve the desired shade of your choosing
Dip each ball sideways into one color (pear) and then dip the top and bottom side to other (raspberry). Try to do this quickly, as dipping them for too long will make the balls soggy
Arrange the peaches on a paper towel. Once you have about 6, carefully roll them in a bowl of sugar. And repeat till you have finished
Place the peaches on a serving platter and air dry before serving.
Notes
The cookies can last for almost a week in an airtight container, and will taste even better after the first day!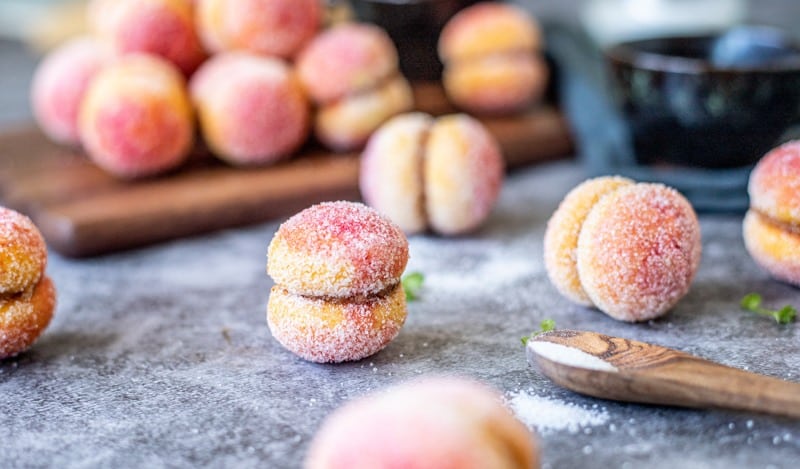 More Croatian And Balkan Recipe Ideas