Some posts contain compensated links. Please read this disclaimer for more info.
How To Make Buredžici: Meat Pie Topped With Sour Cream, Yogurt & Garlic
Written by Aida Ibišević, from Balkan Lunch Box, a blog about the art of Balkan cuisine.
Buredžici are delicious rows of meat pie crowned with a sour cream, yogurt, and garlic topping. They are a diminutive form of burek with a couple of differences that make them unique.
The pronunciation can be challenging, but if you'd like to give it a shot, it sounds something like: 'booh-reh-gee-tzee.' The plural form is always used. Don't ask for one buredžik, or you might get just one bite.
Hailing from Herzegovina, these bites of deliciousness are also found in most Sarajevo buregdžinica (a fast-food type restaurant that sells Balkan pies, also known as pitas).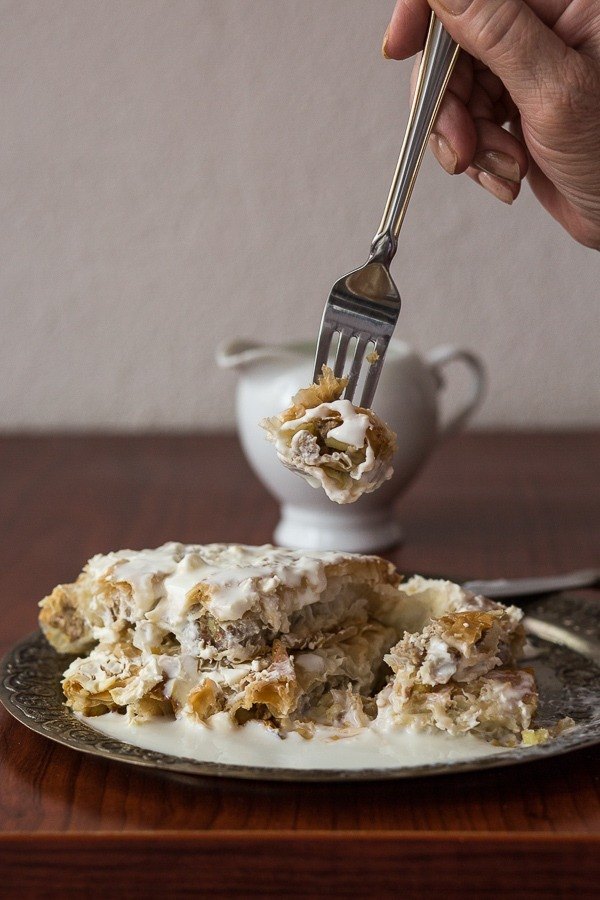 In shape and preparation, buredžici are similar to mantije, another burek-like specialty coming from the Sandžak region in Serbia, although by some accounts, buredžici require more dough. In Muslim families, buredžici are usually made during Ramadan; however, their preparation is not limited just to holidays.
Burek In Bosnia And Herzegovina Cuisine
Before we get into what makes buredžici different, let's talk burek.
Originally burek ('börek') is a Turkish dish brought to the Balkans by the Ottomans. In Turkey and the rest of the world, burek designates flaky pies made with very thin dough, stuffed with different ingredients, then baked.
In all places except Bosnia and Herzegovina, that is.
In BiH, the only pita (pie) called burek is the pie made with meat. Every other pita has a name based on its filling. For example, cheese pie is called pita sirnica (sir means cheese), squash pie is pita tikvenica (tikva being squash), etc.
At the end of the day, what pita is called is irrelevant.
What's interesting is the importance burek has in Bosnia and Herzegovina cuisine compared to the non-meat pitas. It's the evidence of a versatile, yet meat-centric cuisine.
As it relates to buredžici, having ground beef as their main ingredient helps them benefit from burek's popularity. Although meat-only is the most prominent version, we'll add a finely diced potato to our buredžici recipe today for that extra kick of flavor.
A tip if you're traveling to BiH. Asking for something like a burek with cheese will give you strange looks. Or, like one woman, you may receive a piece of actual cheese in between two halves of a meat pie. If you're not sure how to order, just ask for a pita with your stuffing of choice, or point to the pita you want.
Shape And Topping Make Buredžici Unique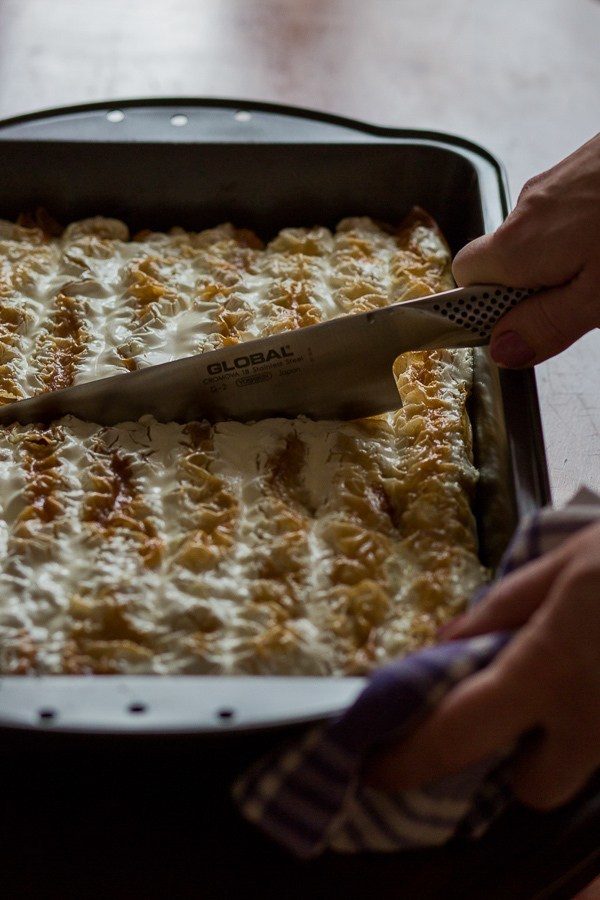 There are two main differences between buredžici and other pies: shape and topping.
Buredžici are shaped in several different ways depending on the way the dough is cut and folded.
In some places, they are shaped like little triangles. Other people like to make dozens miniature stuffed dough balls. The taste is equally great; however, this is the most visually appealing way of forming the dough; when they come out of the oven, buredžici look like a million flowering bites in a pan.
There are versions of buredžici made with flaky, croissant-like dough, while other versions call for regular.
Today we'll shape them the way you're most likely to encounter them in a pita place. This is also the easiest way to make them, and they taste just as divine. We'll shape stuffed dough into thin, long rolls and cut them into small rows.
This results in several rows of short rolls snuggling next to each other, perfectly placed for what comes on top.
Which brings us to the topping.
After buredžici are baked, they are generously topped with a mixture of sour cream, European style plain yogurt, and garlic. This topping is allowed several minutes to seep in while buredžici are resting in the warm oven.
The addition of this topping gives buredžici a different taste than what you may be used to if you've had burek before. Yogurt and sour cream mixture give the dough and meat an influx of freshness. It takes away the heaviness that sometimes surfaces in richer pitas.
Meanwhile, garlic gifts the dish with just enough spice to raise the appetite without taking the taste overboard.
It's best to make extra topping (lots of it!) as most people like to pour more over their serving of buredžici.
If you're unfamiliar with the European style yogurt, it is the non-sweet yogurt sold in most International food stores. The consistency falls somewhere between plain Greek yogurt and regular milk.
Some of you may have trouble finding it. There are several good substitutes. One is only to use sour cream. Another option is to mix the sour cream with a little bit of heavy cream. Plain Greek yogurt also works, but add a little bit of water and whisk it until its consistency is liquid. Finally, you can use buttermilk, which is in viscosity, and taste the closest North American product to European yogurt.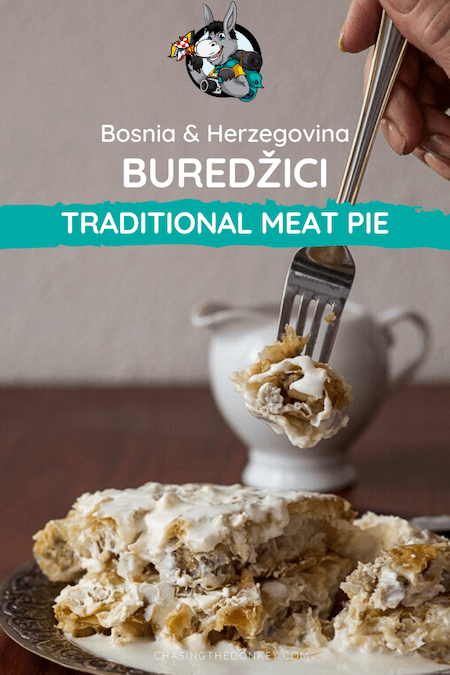 A Couple Of Garlic And Yogurt Tips
If you have low blood pressure, make sure you have a place to nap after eating buredžici. Both yogurt and garlic lower blood pressure individually. Together they're twice as potent. About 30 minutes after you eat them, you may want to lay down for a bit.
Another tip for visiting the Balkans: refrain from eating garlic and onion early in the day.
Understandably this is hard to do when you're surrounded by delicacies such as ćevapi and klepe dumplings. However, it's a cultural no-no to walk around (and especially to take public transportation) with garlic or onion breath. The best thing to do is to wait until late afternoon or evening to consume these dishes. And if you're hanging out with a group of people, make sure everyone eats the same or similar.
Homemade Versus Store Phyllo (Filo) Dough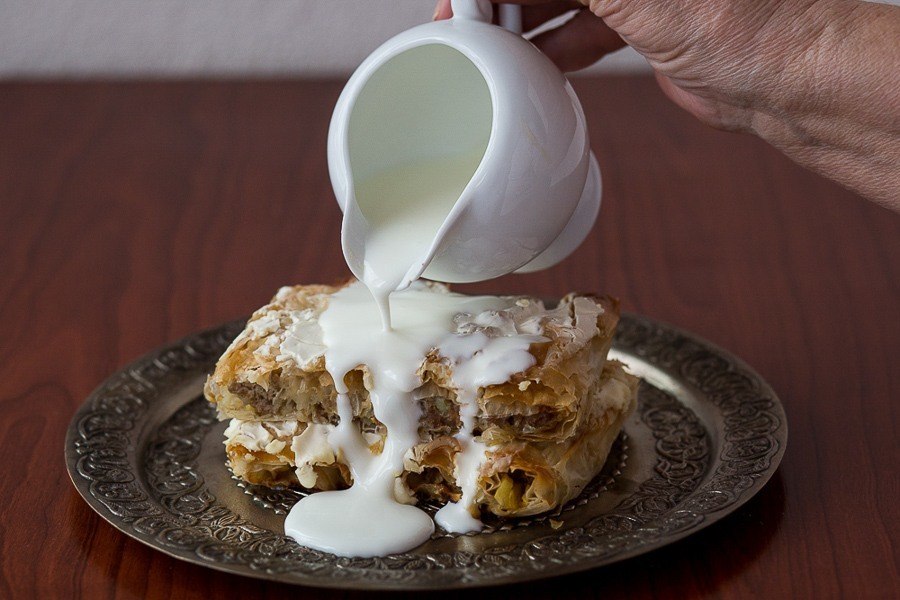 Homemade phyllo for pitas beats any other phyllo. Always and forever.
However, you're probably short on time. And as you're making something you're not even sure you'll like (although I guarantee you will!) for the first time, you don't want to spend lots of time making it. So, for this buredžici recipe, we'll be using store phyllo.
You can make your burek style phyllo own using this recipe if you wish.
The recipe has been tested and re-tested. These buredžici are so tasty most people have no idea they're made with store phyllo. One of the tricks is using mineral water with oil for brushing phyllo sheets before stuffing them. Mineral water softens phyllo. This allows for phyllo and stuffing to unite in the same way they would with homemade dough.
The result are the flakiest, softest, most moist buredžici that will delight your taste buds. You are really like these! Buredžici have a way of sneaking into the hearts of people who try them.
Prijatno!
How To Make Easy Buredžici
Prep time: 15 min
Cook time: 35 min
Serving size: 4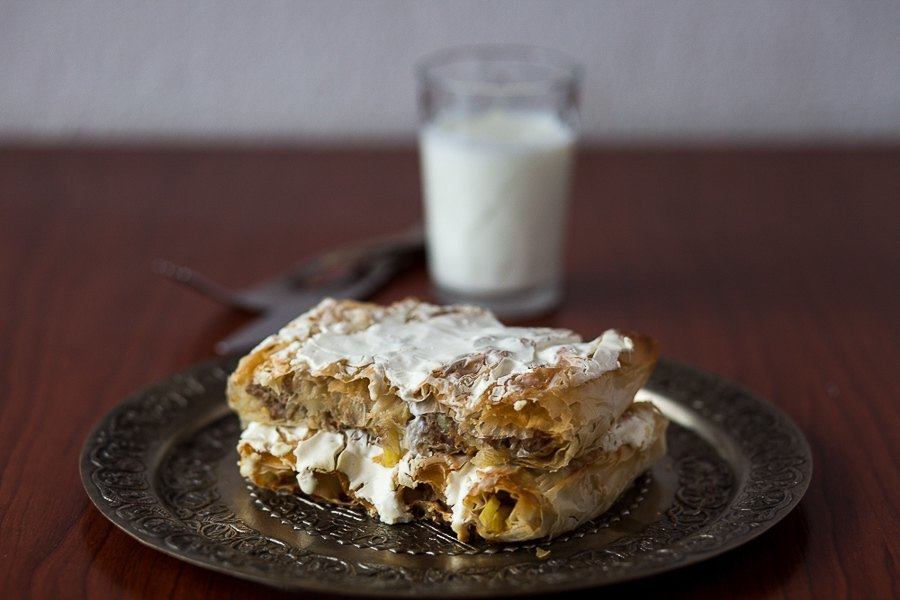 Ingredients
Dough
One 16-18 ounces (500 grams) box of phyllo dough (about 16-18 sheets)
Dough coating
1/4 cup oil
1/4 cup mineral water
Stuffing
18-20 ounces (500-600 grams) ground beef
2 medium onions (peeled, minced)
1/2 cup (100 milliliters) warm water
2-3 potatoes (peeled, finely diced)
Salt and pepper to taste
Topping 1
2 tablespoons butter
1/2 cup water
Topping 2*
16-18 ounces (500 mls) sour cream
4-6 garlic cloves (peeled, minced)
1/2 cup European style plain yogurt
heavy cream or buttermilk
Instructions
In a large bowl, combine all stuffing ingredients and mix thoroughly with hands until the stuffing is fully integrated
In a small bowl, combine ingredients for dough coating. Unwrap your phyllo dough — heat oven to 480°F (250°C)
Using a coating brush dab coating generously over the top phyllo sheet. Grab approximately 2 tablespoons of stuffing and with it line the phyllo edge that corresponds in length to your baking pan.** Roll up the phyllo sheet with stuffing semi-tightly like a thin, long cigar. Transfer roll to the greased baking pan.
Repeat step 3 until you use up remaining dough and stuffing, and fill up the pan with lined up rolls. Dab rolls with the remaining coating
Bake 10 minutes on 480°F (250°C). Lower the temperature to 390°F (200°C) and bake another 20 minutes **
A few minutes before the pie is done, heat up water and butter (topping 1) in a small pan. Meanwhile, in a medium bowl, combine all ingredients for topping 2 and mix until well integrated and viscous
Take buredžici out of the oven and pour topping 1 over it evenly, then follow up with topping 2. Return to oven for another 5 minutes
Cut buredžici rolls perpendicularly into four small rows
Serve warm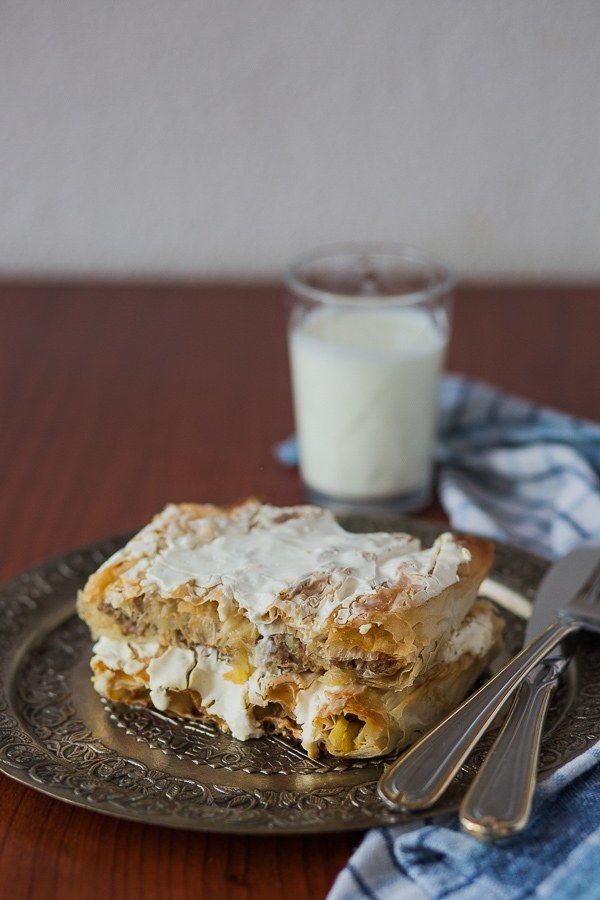 Cooking Notes:
* Your best bet is to double the dopping as most people like to add more to their buredžici.
** Baking pan size will depend on the dimensions of your phyllo dough. One of the dough edges should correspond to one of the pan sides in length. I like to use the 10×20 inch (35x50cm) pan.
*** As each oven is different, pay attention to temperatures and adjust accordingly. It generally takes between 30-40 minutes on medium to high temperatures for most pies to be done. If buredžici blush too quickly cover with baking paper (or foil) and add a few more minutes to total baking time.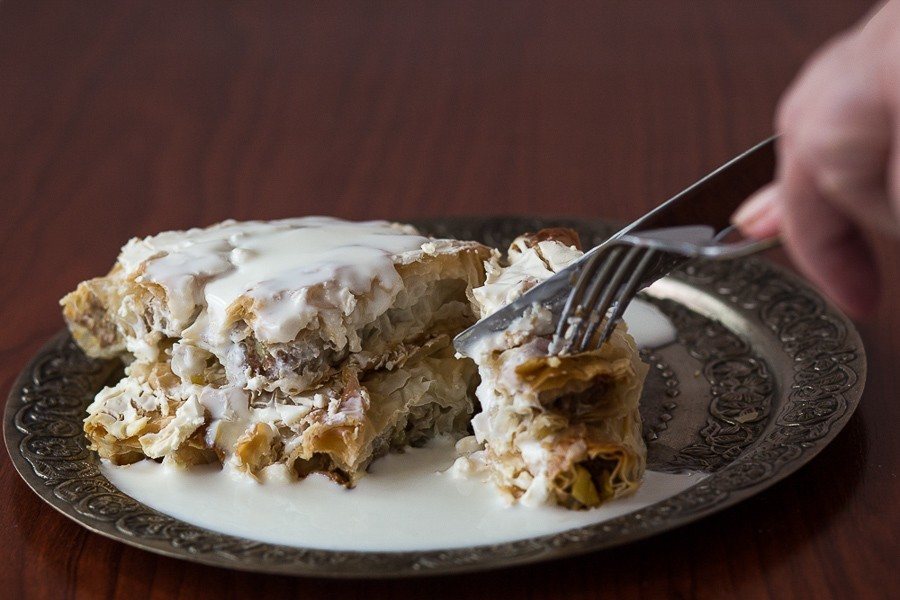 More Balkan Recipe Ideas
Share