Some posts contain compensated links. Please read this disclaimer for more info.
Closest Islands To Athens For Your Next Greek Adventure
Greece is a unique country with a plethora of landscapes to discover and enjoy. The Greek Islands are among the most coveted destinations in the Mediterranean… in fact, a holiday in world-famous places such as Mykonos or Santorini is something that many travelers add to their wish list.
However, not everybody has enough time to go Greek island hopping and also take a short break in Athens. Well, we have good news for you, there are many islands you can visit from Athens without spending lots of hours sailing. The islands closest to Athens might not be as famous or glamorous, but they are indeed as beautiful as the best-known Greek Islands.
All you need will be a short ferry ride to discover the Greek island lifestyle and the unique vibe that sailing in Greece allows you to experience.
In this article, you will be able to discover which are the best Greek islands close to Athens, what to do on each of the islands, and how to get to them.
Before we go through the best islands close to Athens, let's first explain which are the most convenient ports for you to get to the islands. Skip ahead if you already know the ports, and want to just know islands to visit near Athens.
Athens Main Ports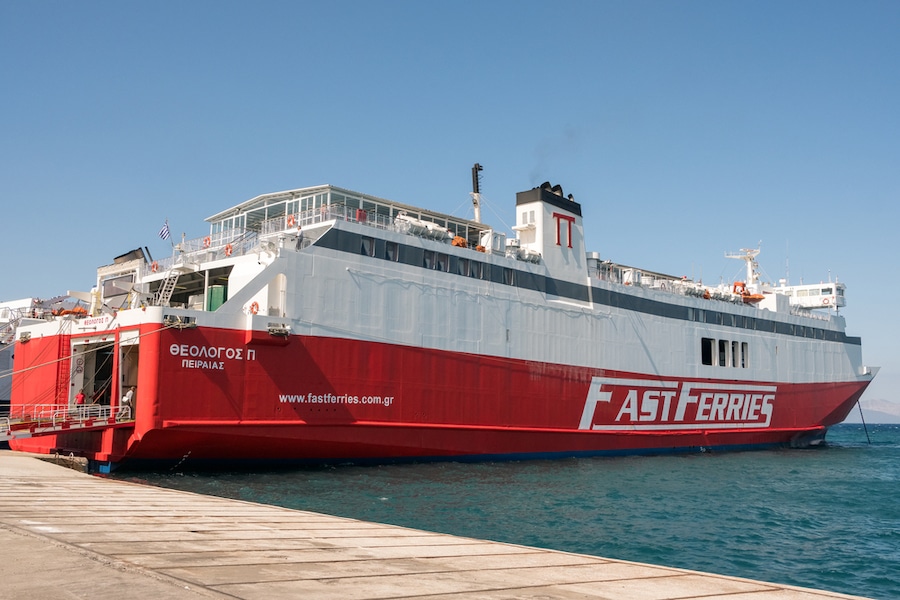 The first thing to know when planning a trip to one (or more) of the Greek islands near Athens is that most of them don't have an airport, so the ideal way to get there is by jumping on a ferry. There are three ports in Athens, each serving different islands.
The port of Piraeus is the biggest and best-known one, with ships sailing to hundreds of islands, both the ports of Lavrio and Rafina can be less crowded and easier to reach. They connect the capital to some nearby islands and can be a good alternative if you're reaching them directly from the Athens International Airport.
Port of Piraeus
Piraeus is the chief port of Athens and the largest passenger port in Europe. And despite being such a huge place where getting lost could seem feasible, it is well organized and easy to navigate from one terminal to another. The port even offers a free shuttle bus service to take passengers from one terminal to the other.
If you're planning trips to islands in the Saronic Gulf, the Cyclades, the Dodecanese, Rhodes, Crete, Kythira, and the islands on the Northern Aegean Sea as well as Rhodes, you will undoubtedly depart from here.
Piraeus is located about 13 km from the center of Athens, and it can be easily reached from the center of town. Bus 049 departs every 20 minutes from Omonia, while Bus 040 departs every 15720 minutes from Syntagma Square. It's also possible to get to Piraeus by train and — the most convenient means — by metro. You have to board your subway either at Monastiraki or Omonia stations. It will take a little more than 15 minutes to reach Piraeus metro station, just across the street from the port.
Athens International Airport is located 35 km from Piraeus, so the trip takes longer, sometimes a bit more than an hour. Although the bus's cheapest option (Bus X96 departs every 15 minutes, the ticket costs €6), the most comfortable way to travel is with the suburban train (€10).
A taxi or transfer service is more expensive (from €40 to €80), but it's ideal if you do not have so much time to spare.
Port of Rafina
It is also possible to travel to some Greek Islands leaving from the Port of Rafina. It's Athens' second-busiest port, and it is located 33 km east of the center of Athens. Since it is very close to Athens International Airport, it can be a great place to start your island journey.
Due to its location, most travelers choose Rafina to travel from Athens to the northwestern Cyclades, including nearby Andros, as well as Tinos and Mykonos. Other island destinations reachable from this Athens port include Milos, Santorini and there's also a seasonal ferry to Crete.
The trip to Andros from Rafina takes only 1-2 hours while Tinos can be reached in 2-3 hours. So, although Tinos is not really the closest island to Athens, the location of this port puts Tinos among some of the closest islands to visit from Athens.
The ride to Rafina Port from the city center takes about 90 minutes. There's an intercity bus that departs from Pedion tou Aeros, and the ticket is €3. A taxi ride from the center of Athens takes approximately an hour, and the trip can cost up to €60.
Port of Lavrio
Third port in importance, Lavrio serves the routes connecting Athens to the Cyclades and the islands of the Northeast Aegean. Departing from the port of Lavrio works excellent for those traveling to some of the Cyclades, mainly Kea (Tzia) and Kythnos. The trip to Kea takes only an hour while reaching Kythnos can take up to 2.5 hours.
Since it is located about 60 km from the center of Athens, it might not be the most comfortable port for your departure. However, Lavrio is just 30 km from Athens International Airport.
The main ways to reach the port of Lavrio from the center of Athens are by taxi (from €60 to € 80€) or with the intercity bus departing from Pedion tou Areos (departure is hourly and the trip can take up to 2 hours, the ticket is €6).
Getting to Lavrio from Athens Airport costs about €60 by taxi or bus (the ticket costs €5 and the journey is about an hour).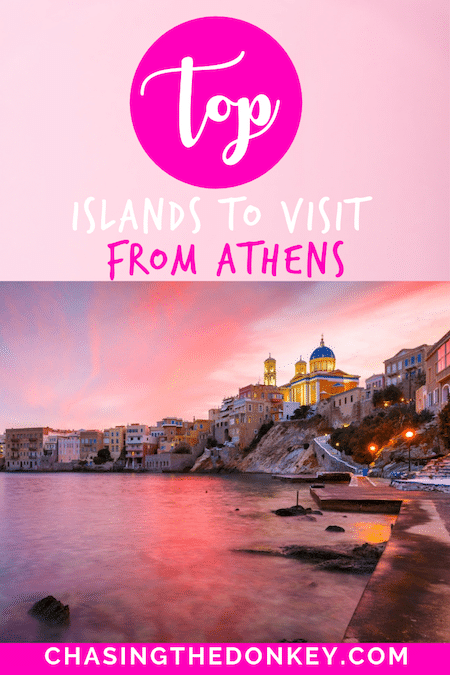 Best Islands To Visit Near Athens
In this section, we will discuss the most convenient Greek islands close to Athens. Keep in mind that although a few of them might seem far from Athens, if you depart from the correct port, the sailing times can still be short and convenient.
Hydra Island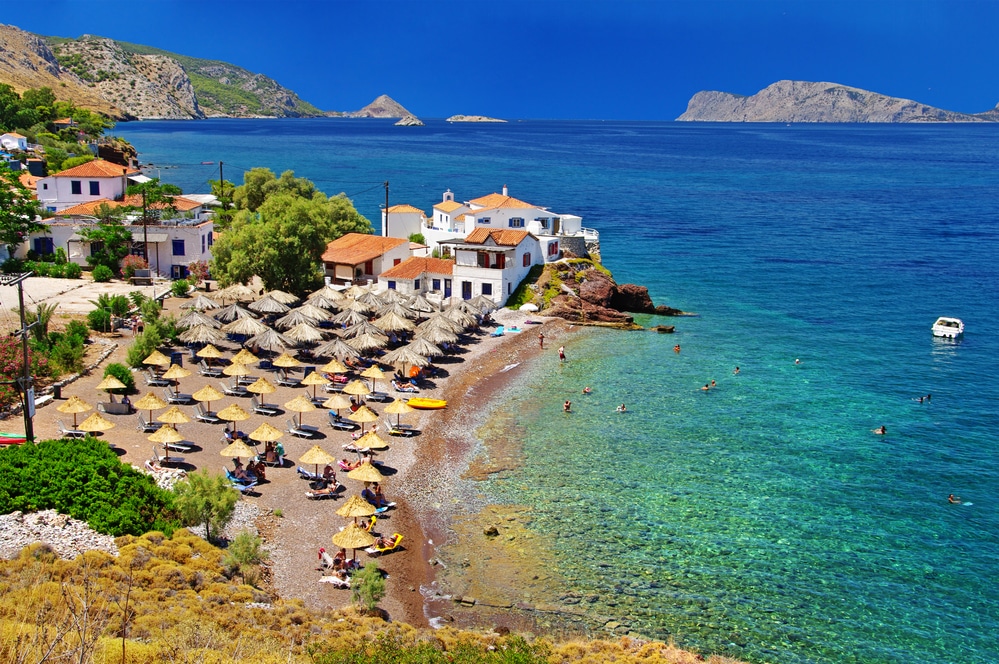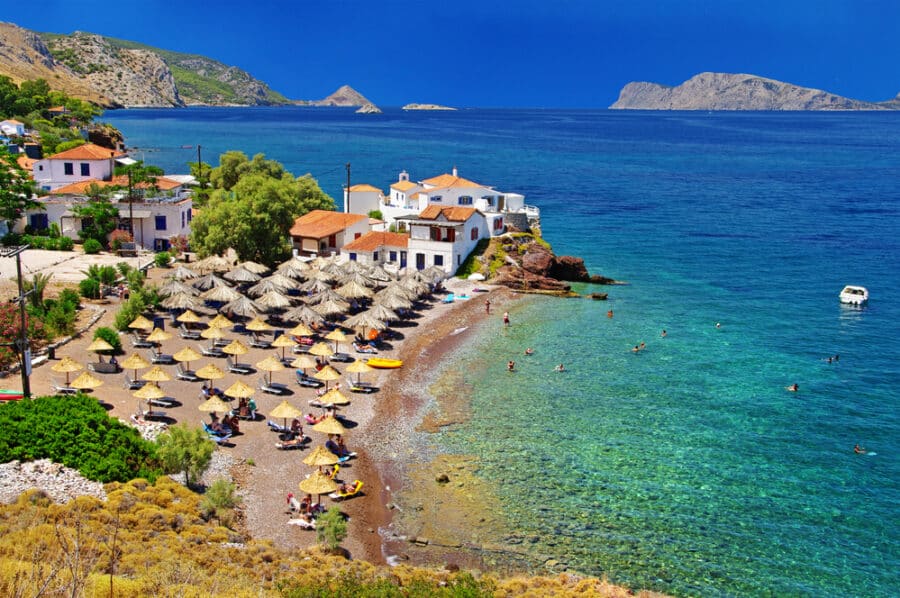 One of the most beautiful close islands to Athens is the tiny island of Hydra, located on the Saronic Gulf. This island is only about one hour from Piraeus, and it can be a great place to visit whether you have only one day to spend there or a whole week.
Hydra is well-known for being a place where wheeled vehicles are banned, so the alternatives to moving around limit to walking, getting a taxi boat, or riding a donkey.
The island is tiny, and the best of it can be seen in a day or two. There are beautiful beaches and a few museums worth a visit as well. The main attraction in Hydra is the small but picturesque seaside promenade with traditional cafés and tavernas.
If you plan to stay in Hydra, it's a good idea to opt for a rental home to fully experience Hydra's lifestyle. We recommend checking Douskos Port House, right on the waterfront or Botsis Guest House if you are on a budget.
Spetses Island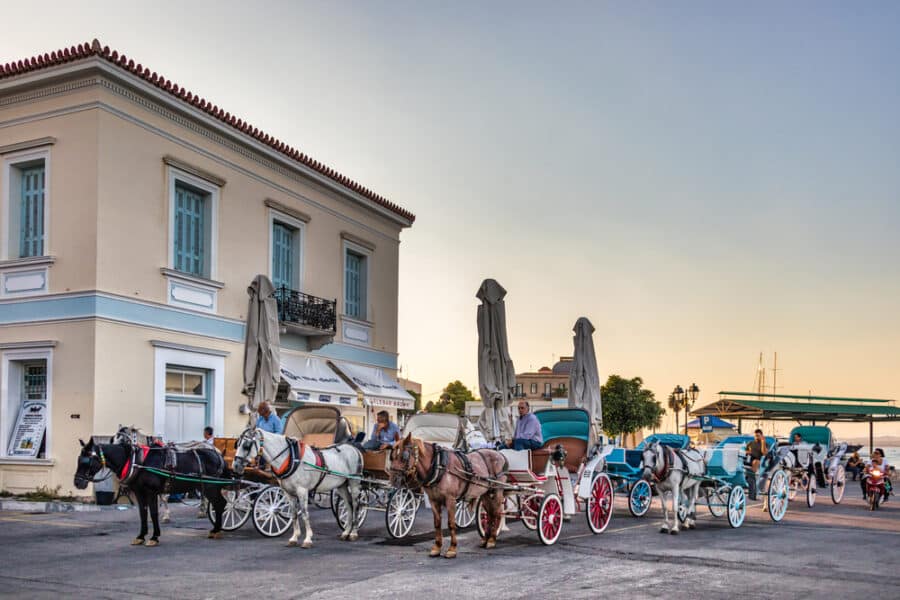 Spetses is another Saronic Island close to Athens since the ferry route from Piraeus to Spetses typically takes about 2.5 hours.
With its cosmopolitan vibe and laid-back atmosphere, this is another excellent option if you're looking for a superb weekend escape not far from the mainland.
The island has gorgeous beaches and excellent shopping options, ideal if you're looking to combine some quiet time with moments of retail therapy.
Those who would like to spend the night can experience the thrill of staying in a former mansion at the refurbished Kastro Hotel or enjoy the views of Spetses Old Port district staying at Porto Vecchio Luxury Suites.
Poros Island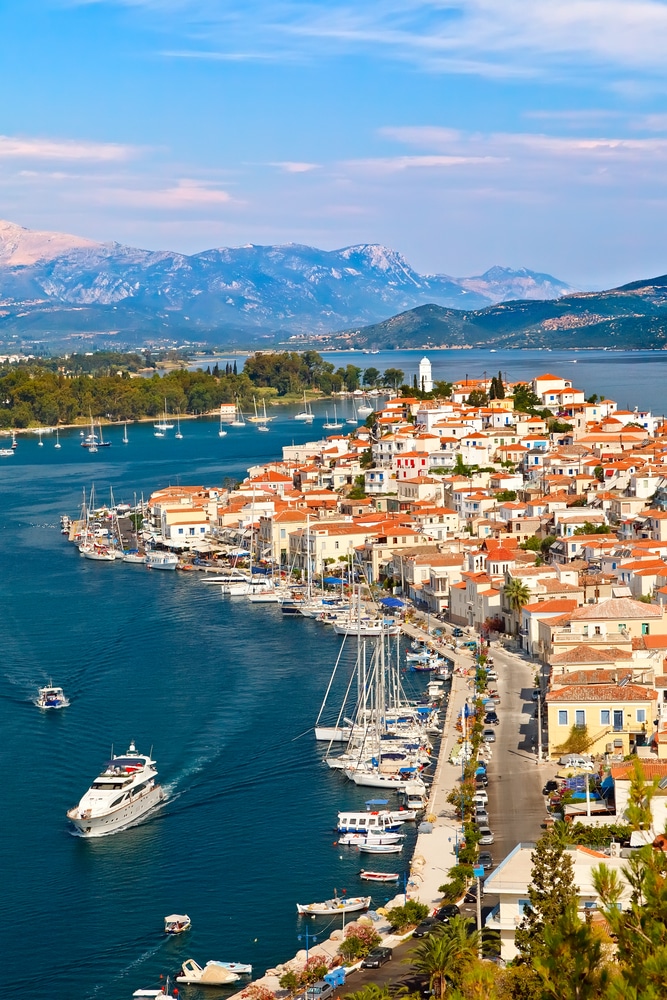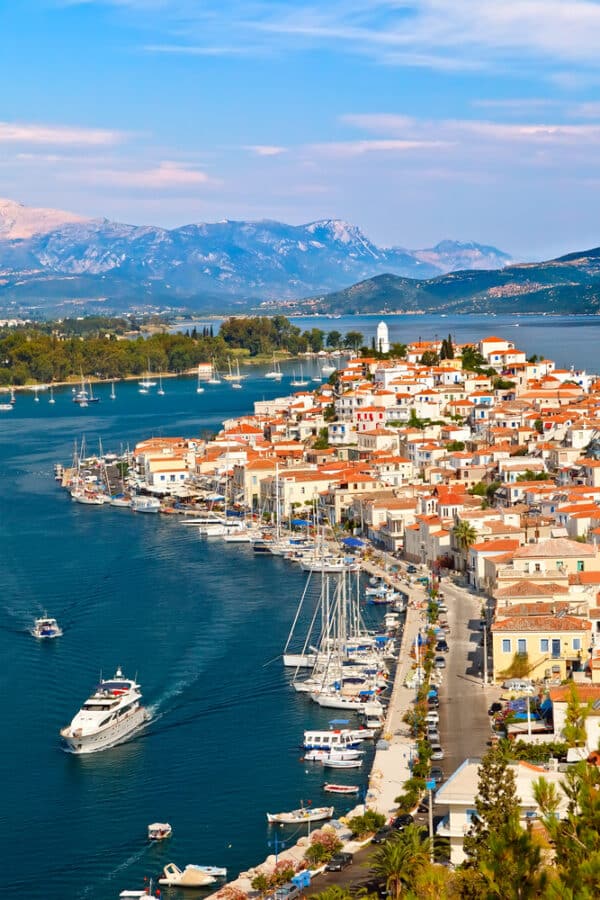 Located in the heart of the Saronic Gulf, Poros is easy to reach from Athens and other small islands, such as Aegina and Agistri. Only an hour from Piraeus, Poros has earned the status of a popular destination for a weekend away from Athens.
Once on the island, it's a good idea to take a stroll along the alleys of Poros Town to discover the many cafés, shops, and traditional taverns that populate the area. Instead, if you are interested in the island's history, don't miss a stop at the Archaeological Museum of Poros or explore the Roloi Tower for an awe-inspiring view of the island.
An excellent place to stay in Poros is the family-friendly Villa Dolphins, only 180 meters from Askeli Beach, Dionysos Hotel is another good alternative, facing the new port and Mount Kimomeni.
Thanks to this abundance of attractions, cultural landmarks and family-friendly activities, this is easily one of the best islands near Athens for a short getaway.
Aegina Island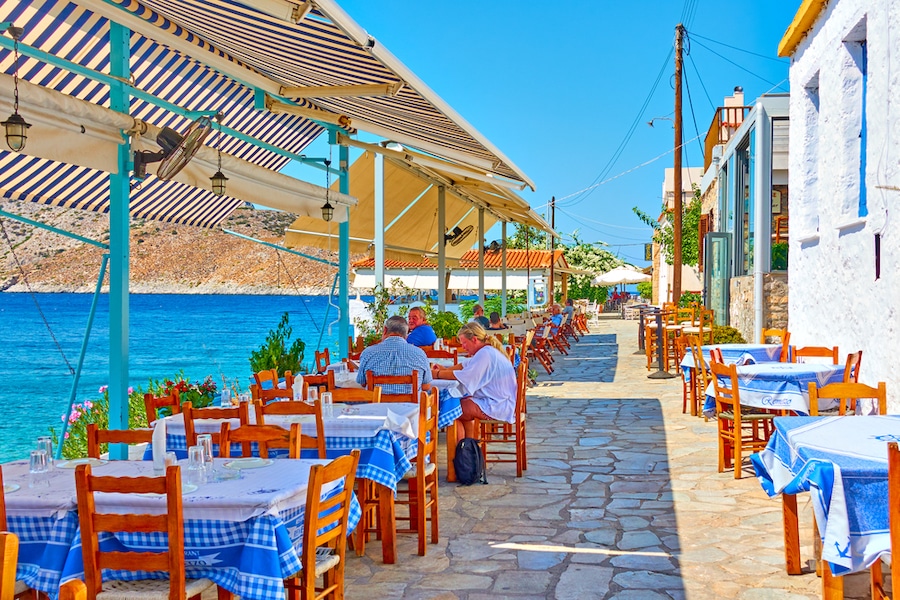 One of our favorite islands off Athens is Aegina, located just an easy 45-minute ride from Piraeus. This is a bigger island which can be perfect for a four-day vacation. This is the closest Greek island to Athens, which makes it a pretty popular destination.
There's plenty to do in Aegina, such as visiting the Temple of Aphaia, Greece's best-preserved Classical temple, or sample top-quality pistachios, a trademark on this nearest island to Athens.
Aegina also boasts some unique, pristine beaches and beautiful fishing villages where it is possible to feast on fresh fish and stunning seaside views.
Ulrika is a convenient place to stay in Aegina Town, while those looking to stay close to the beach can opt for a hotel in the center of Agia Marina, such as the Panorama Hotel.
Agistri Island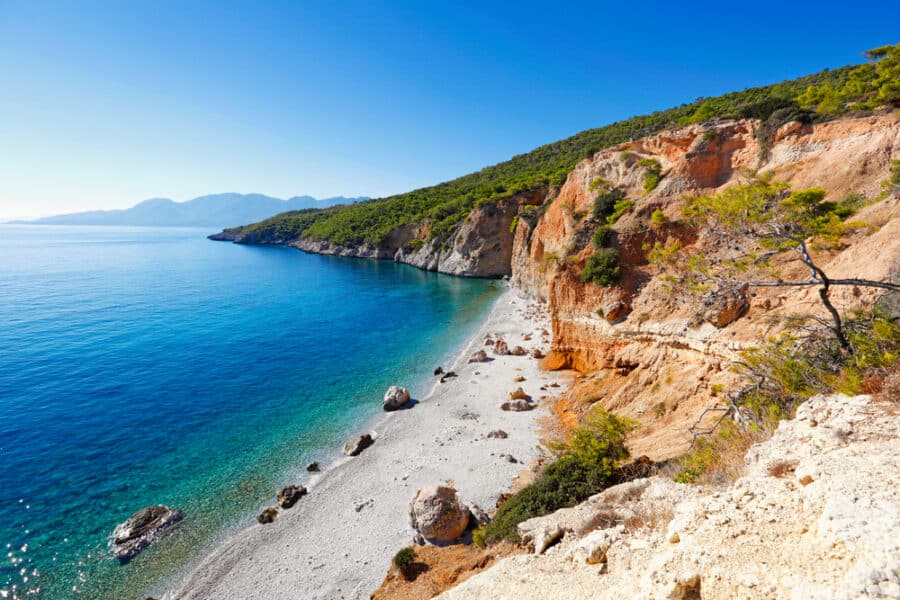 One more Saronic island that you can easily visit from Athens is Agistri. Travelers need from 45 minutes to 1.5 hours to get there and enjoy all the beautiful things that the destination offers. Agistri is also well connected to Aegina, making it easier for visitors to explore both islands during the same trip.
Agistri is home to the best of everything featured on the most famous Greek Islands, including fantastic beaches, a delicious gastronomic panorama, and unique natural landscapes. Hiking, cycling, and trekking are some of the popular sports on Agistri, while those into nightlife can easily have a great time in some of the bars at Skala.
Staying in Agistri can be pretty cheap if you book accommodation in advance. We recommend checking the Aktaion Beach Boutique Hotel in Skala as well as Meltemi Studios in the village of Megalochori .
Kea Island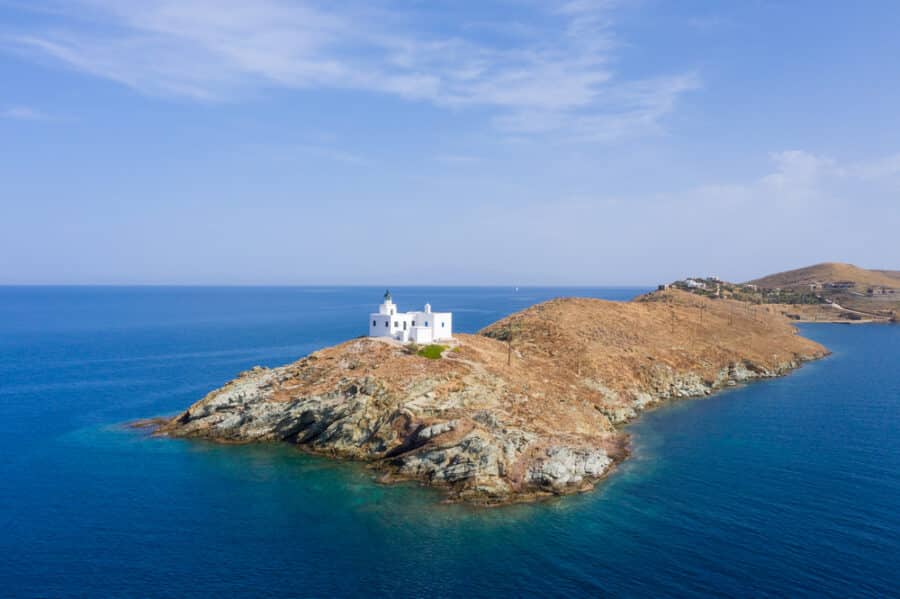 Also known as Tzia, this is the closest Cycladic island to Athens. The best way to reach Kea is to travel from Athens to Kea is departing from the Port of Athens, the travel time is about an hour.
A perfect destination for a relaxing holiday or a weekend escape, the island features impressive beaches where you can unwind and relax, admiring the unique views of the island. Among the best beaches, travelers can choose between Sikamia, Xyla, or the lesser-known Spathi.
The island boasts a super laid-back vibe. On Kea, it's possible to hike through ancient forests, explore remote coves or enjoy the vibrant atmosphere of different festivals during the high summer season.
Are you planning a staying in Kea? Then don't book before you have checked some of the most convenient places to stay on the island, including the superb Kea Village in Ioulida as well as the more convenient Anemousa Studios in the village of Otzias.
Kythnos Island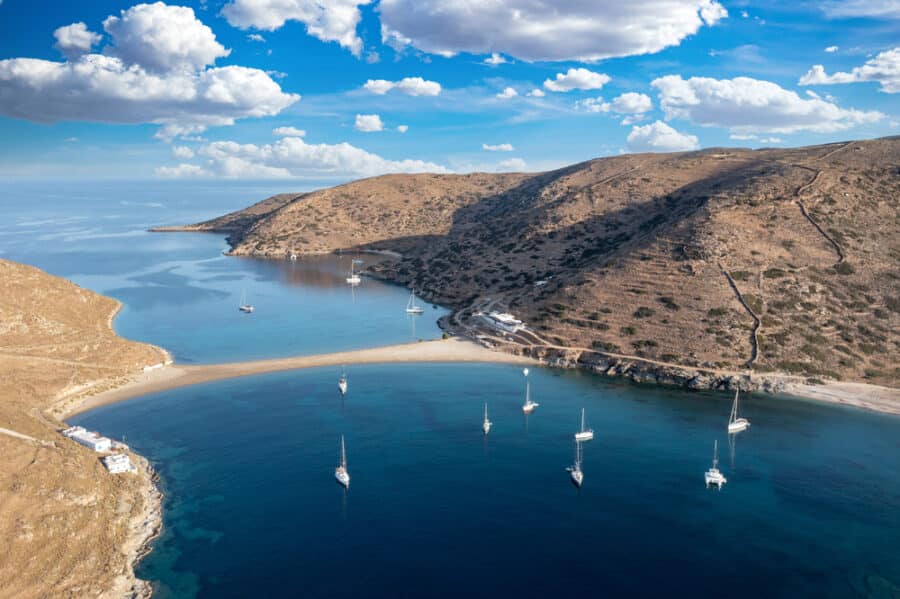 Kythnos is a rather unusual destination not far from Athens, the best way to get there is traveling the ferry route Lavrio – Kythnos, which usually takes about 2 hours. Therefore, the island is a convenient and nearby destination for a weekend or a short escape from Athens.
The coast of Kythnos boasts over 70 different beaches, so there's no shortage of magnificent places to swim and sunbathe on the Aegean. The island offers a plethora of outdoor activities to enjoy and unique spots such as hot springs and caves.
The best area to stay on the island is the capital, Kythnos Chora, especially if you are not renting a car to move around. Helichrysum Kythnos is a top-rated hotel with fantastic reviews. For a more intimate and private stay, go for accommodation in the pristine village of Loutra, here you can check the comfortable Nefeli Suites Kythnos.
Andros Island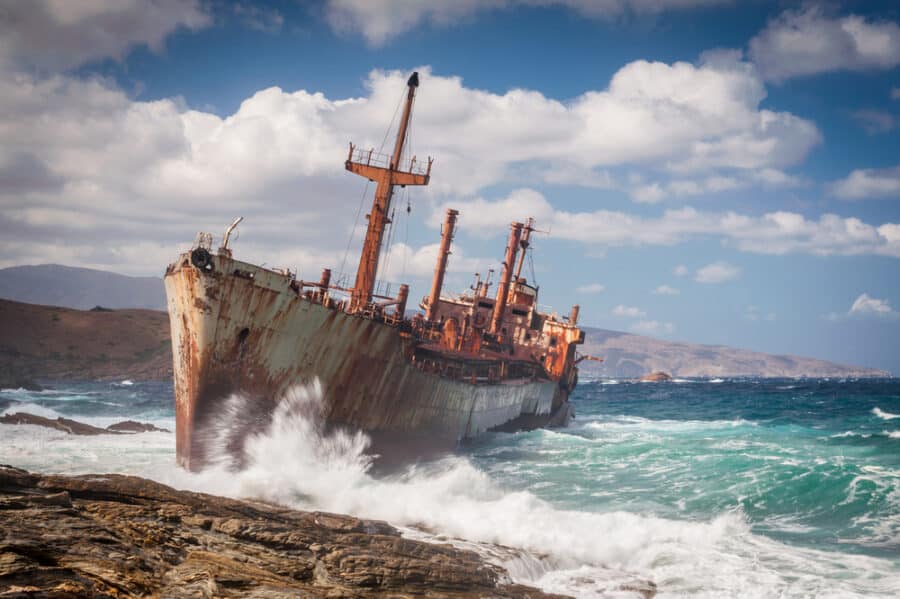 The northernmost island of the Cycladic cluster, Andros, is a mountainous island with fertile valleys and magnificent coasts. Andros can be reached from the Port of Rafina, while the ferry takes only 2 hours.
The island features gorgeous traditional villages where travelers can get in touch with locals and discover the Greek authentic traditions that still live on Andros. A visit during the high season guarantees the possibility of experiencing summer festivals to sample the delicious local cuisine, dance, and have fun.
If you're looking for a convenient place to stay in Andros, check accommodation in the main town and port of Gavrio, but also in Andros Chora. Ostria Hotel & Apartments is a convenient family accommodation in the center of Gavrio, while Anemomiloi Andros is a lovely, pet-friendly place, just steps from the old town of Andros, close to museums and other attractions in the Chora.
Tinos Island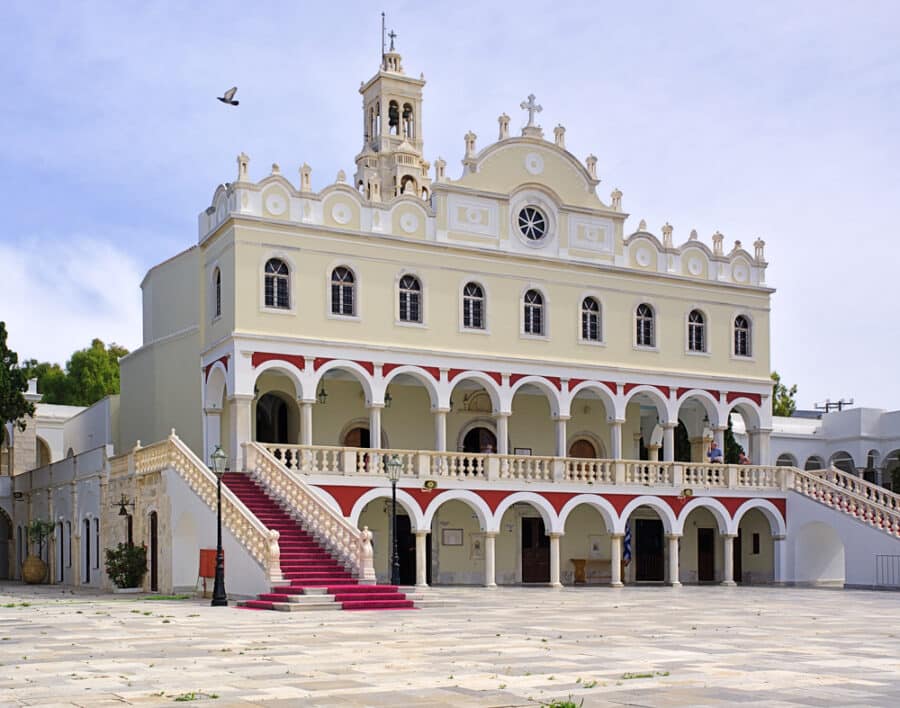 Tinos is another marvelous Cycladic Island that can be easily reached from Athens departing from the port of Rafina. The trip lasts from 2 to 4 hours, depending on the ferry you choose for the ride. Tinos is one of Greece's most beloved destinations and one of the best islands close to Athens. Moreover, since it's located quite close to Andros and Mykonos, it can easily be included in an island-hopping itinerary.
The island is famous for the many religious festivals and cultural events hosted all year round, including the imposing feast held on August 15, the feast day of the Virgin Mary, which has been attracting thousands of pilgrims and visitors for centuries. Tinos' most important church, Panagia Megalochari, is the central focus of the celebration.
Hiking and cycling are some of the popular activities you can enjoy on the island, as well as some of the most relaxing and stunning beaches in the Aegean. When visiting Tinos, it is a good idea to book a hotel in Tinos Town if you plan to walk or use public transport.
Golden Beach Hotel & Apartments is located near Agios Fokas Beach and offers the best of the city center in a waterfront property. For a dreamy seaside stay, why not checking Kardiani? Here, we recommend the romantic setting of Living Theros Luxury Suites.
Sifnos Island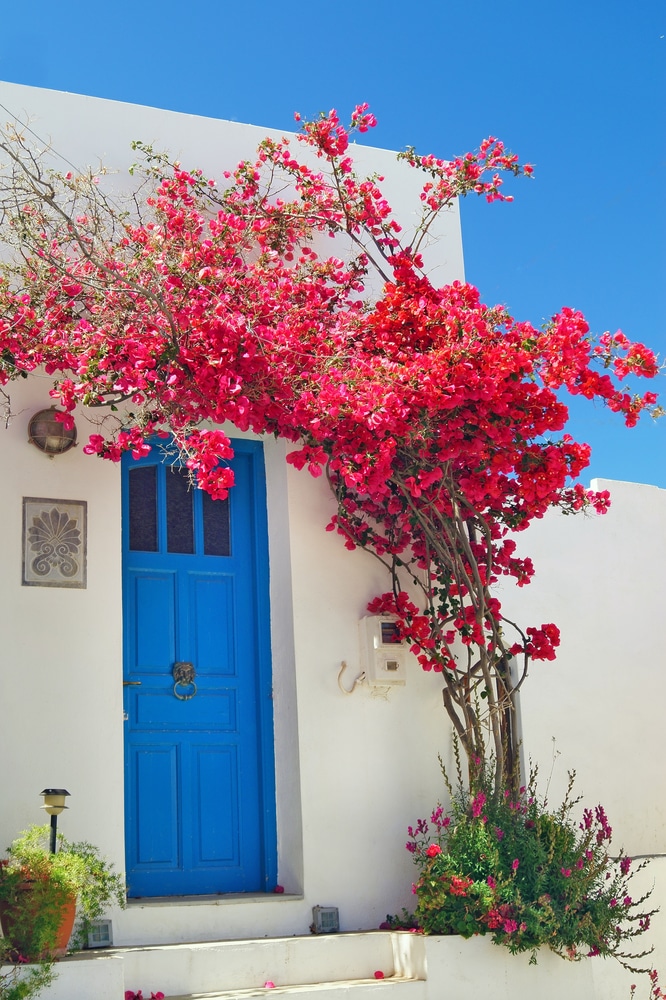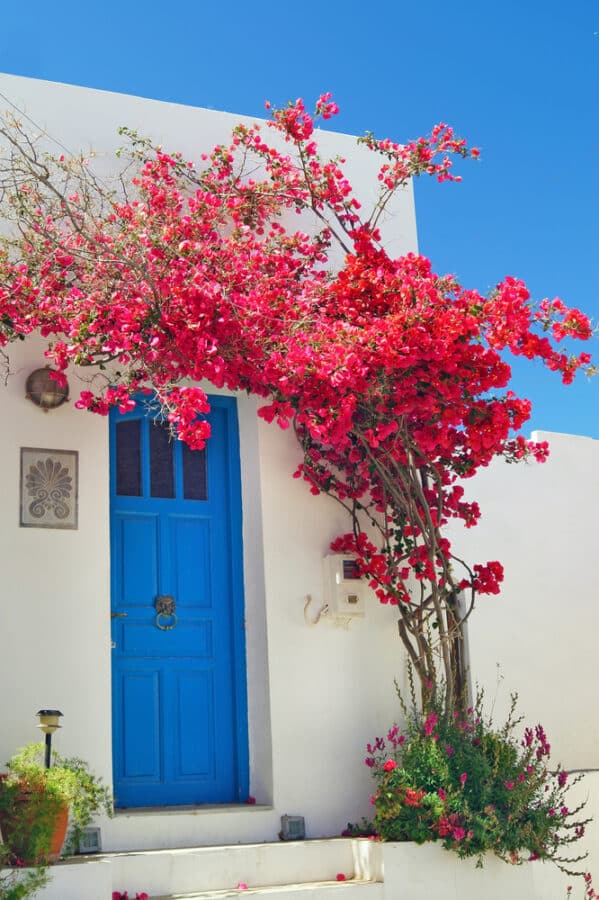 Sifnos can be both close and far from Athens, it all depends on what kind of ferry you choose. The crossing to Sifnos can last 2.5 hours with a fast ferry or 5 hours with regular service.
Sifnos can be an incredible travel experience and the perfect destination to marvel at the beautiful traditional Cycladic architecture of whitewashed houses and chapels in solitary spots close to the sea.
Among the many things to do on the island, do not miss a stroll around the old Kastro of Sifnos, an ancient Venetian citadel dating back to the fourteenth century, or explore some of the most beautiful photogenic monasteries in Greece.
Accommodation is available all over the island; it all depends on what kind of traveler you are. Book a stay in Kamari, Agia Marina, or Apollonia if entertainment is crucial work during your holidays. Go for the villages of Faros or Vathi if you prefer peace and a bit of isolation.
Nival Boutique Hotel is a top choice in Apollonia while Aerides Boutique Rooms is a very convenient as well as a classy place to stay in Vathi, with very affordable prices.
Serifos Island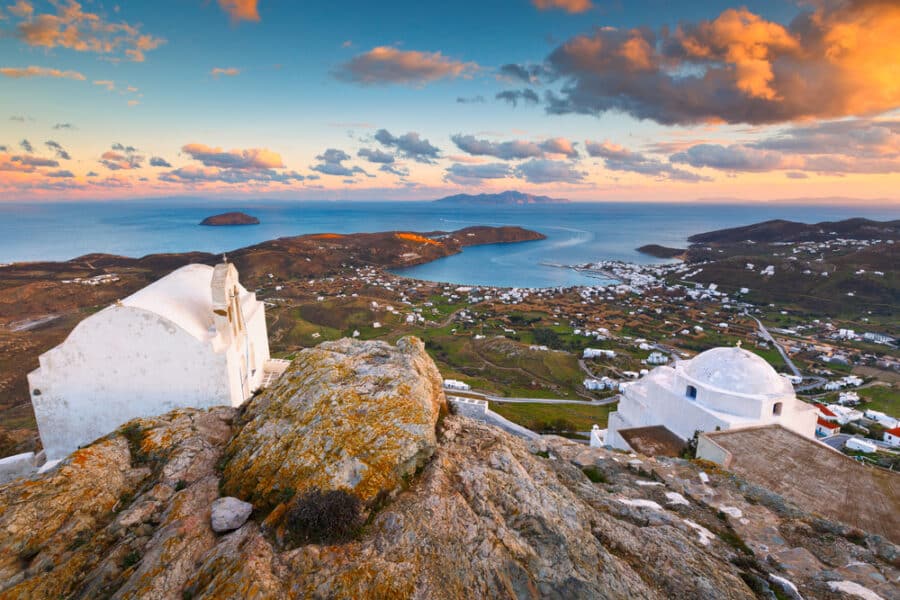 Like reaching Sifnos, traveling to Serifos can be convenient depending on the vessel you choose to get to the island. Ferry crossings from Piraeus to Serifos can take 2.5 to 5 hours, so getting on the fastest ferry can make all the difference.
Often considered the best starting point to venture on an island-hopping holiday, trips to Serifos can be crowded and often challenging to get tickets during the busiest months of the season; booking in advance is always a good idea.
When exploring this tiny island, keep in mind that the landscape is not flat, so hiking, walking, or driving are necessary to reach the idyllic beaches of the beautiful Chora of Sifnos, on top of a hill not far from the main port.
When considering where to stay, remember that staying close to the port makes exploring and moving around easier. Astrio Studios is a luxurious but affordable place to stay in a very central position yet offers private and secluded accommodation [https://www.booking.com/hotel/gr/astrio-studios.en-gb.html]. If you're in Serifos to swim and enjoy its pristine shores, it can be a good idea to stay at Alexandros Resort Serifos on the enchanting beach of Livadakia.
Syros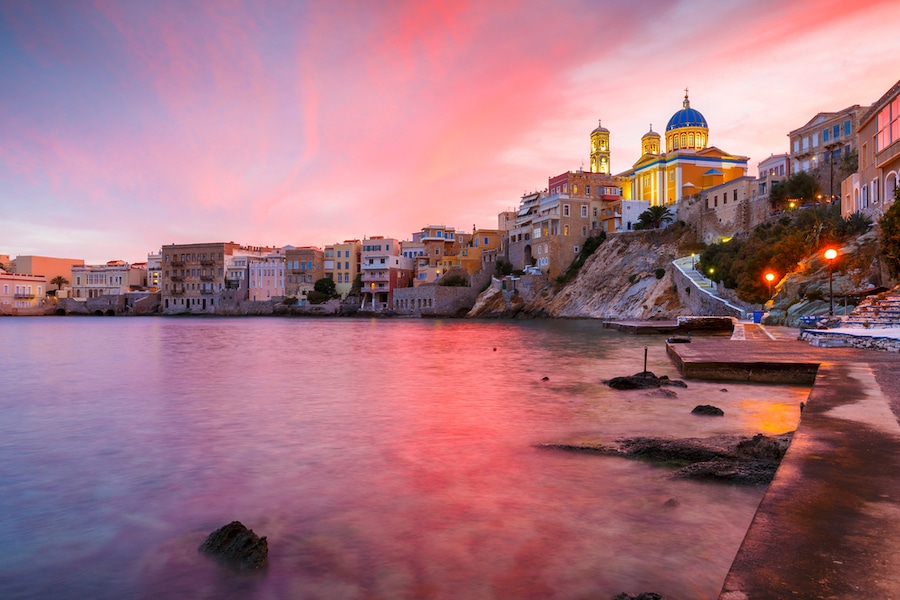 Another island that could not miss from this list is Syros, probably the most elegant destination in the Aegean. Although Syros is the capital of the Cyclades and an essential place in Greece, it is pretty off the beaten track and free from mass tourism, which makes it a desirable place to visit for those searching for extreme relaxation and tranquility.
The journey from Athens to Syros can take 2 to 4 hours departing from the Port of Lavrio (the routes from Piraeus can take longer). Syros is famous for its gastronomy, traditional music, and Neoclassical mansions in the capital, Ermoupolis, with imposing and colorful facades.
Are you traveling to Syros soon? Check Aegean Paradiso Vacation Club, particularly good for families, only steps from the beach. Faros Resort is a comfortable Syros hotel for families right by the sea; it overlooks a private natural bay and boasts stunning views over the Aegean, only 3.5 km from Ermoupolis.
As you can see, there are more islands than you ever thought that you could reach that are close to Athens. With a relatively short sailing time, all you have to decide is which ones will you sail to?
Share