Picturesque and lavish, home to an elegant capital, a gorgeous port, and dozens of interesting trails to explore, Sifnos is an island relatively close to the coast of mainland Greece and quite easy to reach from Athens. It also features beautiful beaches and is one of the best summer destinations in the Cyclades island group.
Small and relatively easy to explore in a short period, the island is known for its impressive churches and monasteries. This Sifnos travel guide will give you all the information you need to plan your fantastic Sifnos holidays.
Where Is Sifnos Island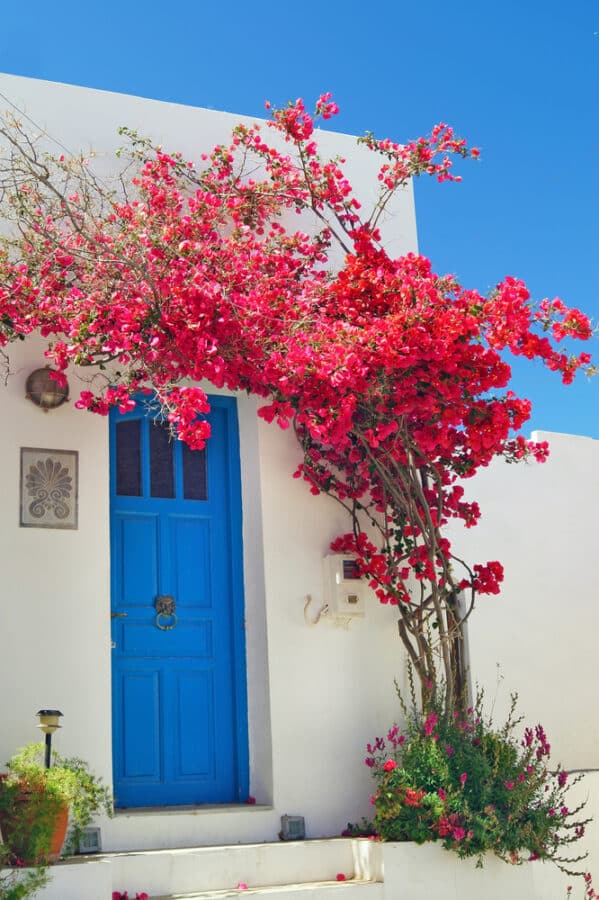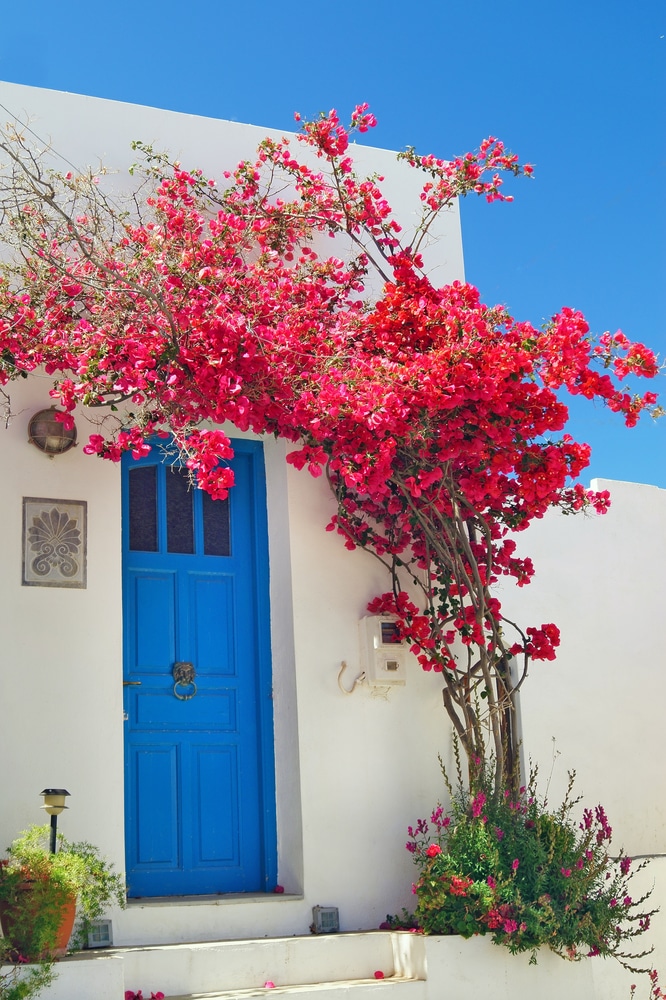 This Cycladic island is not far from the mainland, in the northern area of the Aegean. It can be reached from Athens with a short ferry ride.
How To Get To Sifnos & How To Get Around Once There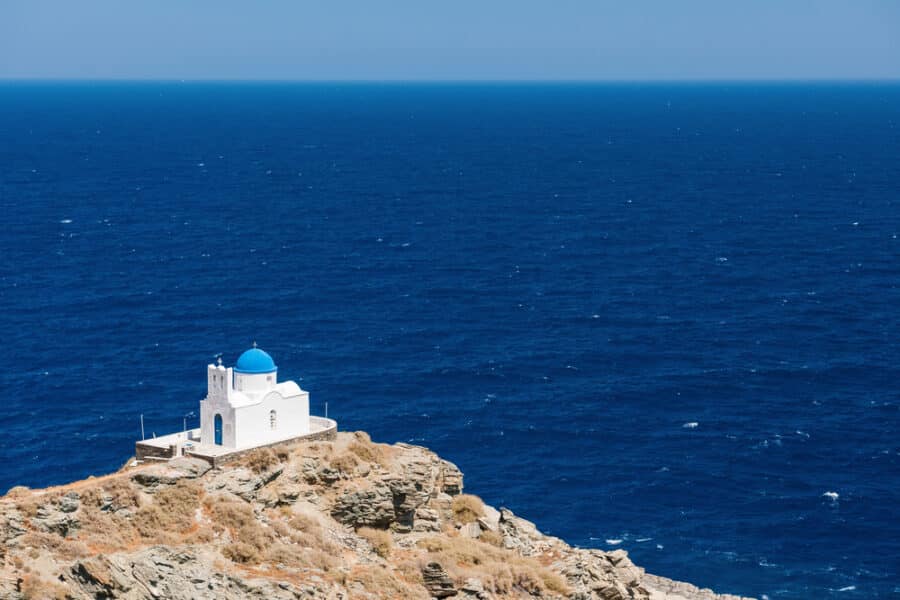 Taking A Ferry To Sifnos
The island has no airport, so the best way to get there is by sea. Several daily ferries, especially in summer, cover the route Athens-Sifnos, from the port of Piraeus.
The island is also well-connected to other Cycladic Islands, including the nearby Serifos, Santorini, Folegandros, Kea, Kimolos, Kythinos, Milos, Mykonos, and Syros. These connections make it a perfect place for those interested in island-hopping in Greece.
These routes can take from 2.5 hours to 6 hours, depending on the ferry's starting location.
Getting Around Sifnos
Sifnos is well connected by bus, with hourly buses from Kamares to both Apollonia and Artemonas. The frequency of buses increases during the high season.
Once in Apollonia, you can take a bus to Faros, Platys Gialos, Kastro, and Vathy.
Car rentals, motorbike, and bicycle rentals offer a more flexible schedule if you desire, and roads are relatively easy to navigate.
When Is The Best Time To Visit Sifnos
If you're interested in spending your holidays in Sifnos, do not miss the island during the warm season, from late May until September. During this period, the temperatures are pleasant for seaside activities. On the other hand, this is the most popular time to travel in the Greek Islands, so more travelers visit Sifnos in summer, and prices tend to go up for accommodation.
Winters do not see as many travelers since many local businesses and accommodations are often closed for the cold season. Days get shorter in autumn, although you can still experience some sunny mornings. Spring is also an excellent season to visit, as days are still long and bright.
Top Things To Do In Sifnos
Even though this is a tiny island, several villages you can visit, incredible beaches to explore, and unique religious sites have made it quite a popular destination.
Let's discover the best things to do on the island of Sifnos below.
Visit Apollonia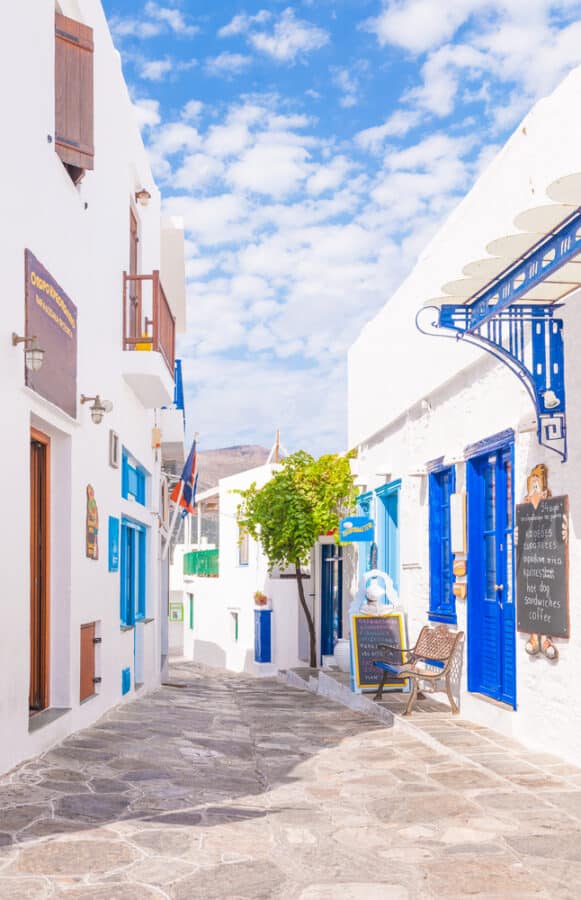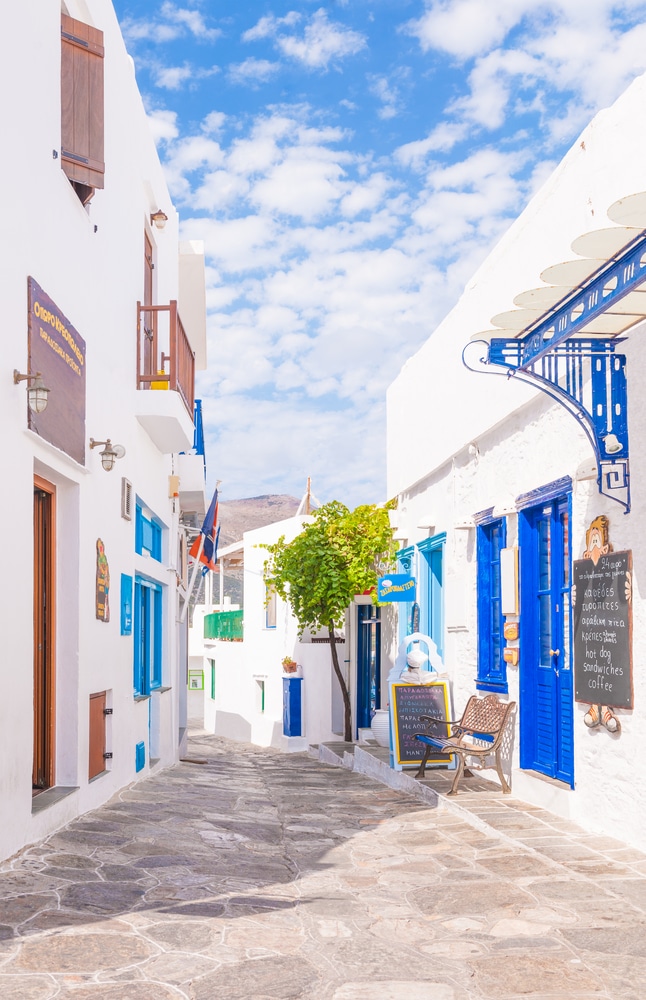 Unlike many other Greek Islands, the capital of Sifnos, Apollonia, is not situated on the coast but up in the mountains. It is one of the most picturesque places to visit in Sifnos.
The town is about 5 kilometers from the port of Sifnos, a relatively big settlement. It was initially made of 5 different villages on top of the hill that, as time went by, blended, giving birth to the island's current capital.
Folklore & Pop Art Museum Of Apollonia
In this place, you can discover the popular traditions of the island, ancient costumes, furniture, kitchen utensils, and work tools that have been used for centuries.
Other interesting objects exhibited include embroidered fabrics and lots of pottery and ceramics. Sifnos is one of the islands where this was one of the most important and representative crafts.
The most popular ceramic object made in Sifnos, the gastra, was a covered pot used to cook stews in the wooden ovens of Sifnos. This small, forgotten object has given the world the term "gastronomy."
Check Out Artemonas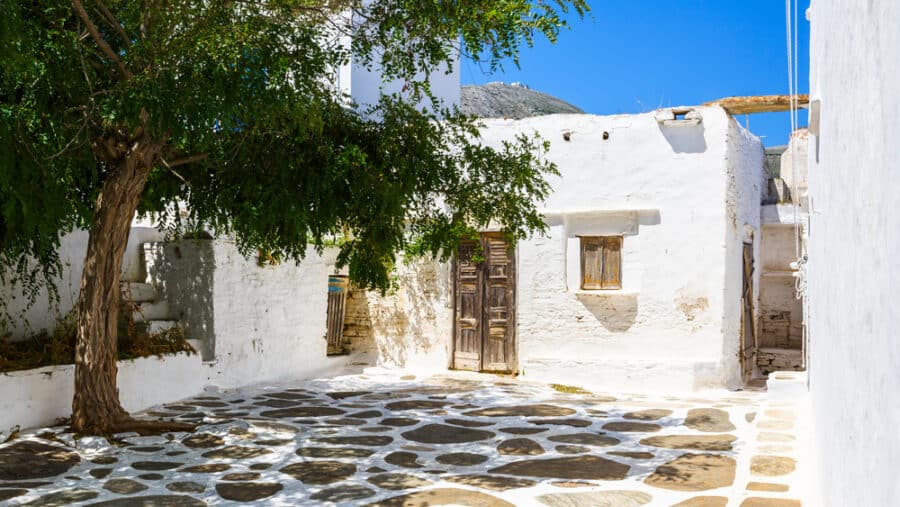 Towards the north of the settlement, Artemonas is a micro town with gorgeous whitewashed homes, plenty of staircases to climb, and churches with simple bell towers.
The colorful area is quite a gem to discover and a gorgeous retreat for a quiet walk in Sifnos. Take in the view of ancient windmills, wander the alleyways to discover mansions and lovely gardens, and take a break from the busyness of daily life.
You can reach the village by walking, biking, or driving along a well-marked road from Apollonia for 1.6km. The walk will take about 30 minutes.
Explore Steno
Located in Apollonia, the Steno is a pedestrian zone where you will find some of Sifnos's most traditional (and delicious) restaurants.
Walking along this road, you will also find the main square in Sifnos and a road connecting Apollonia and Artemonas villages.
Have A Fish Lunch At The Port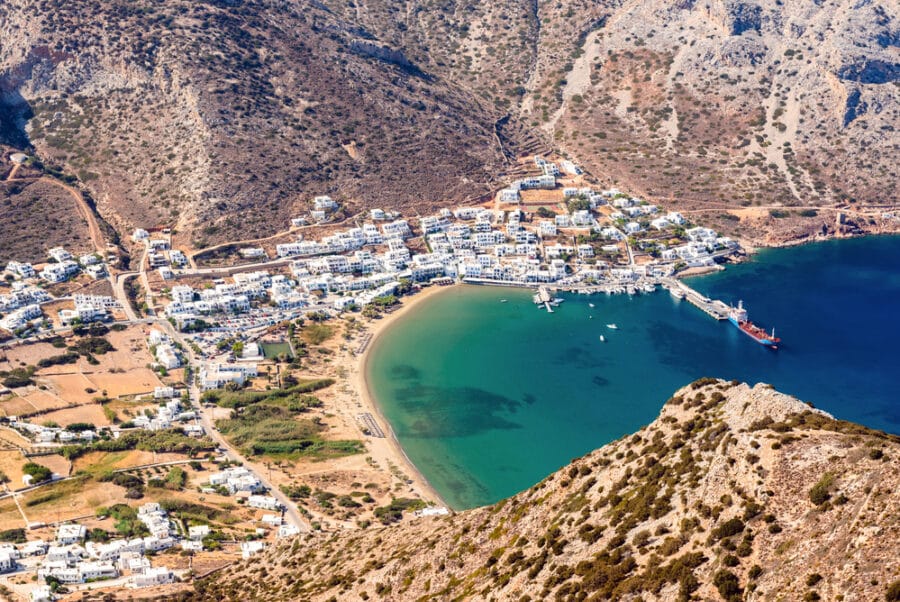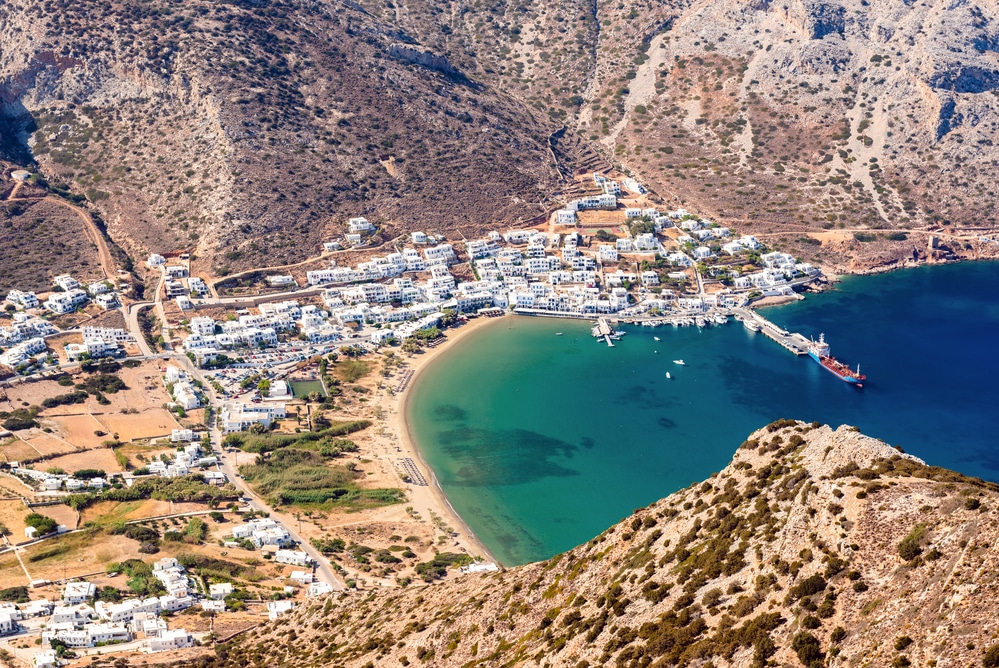 The island's main port, Kamares, is a popular place to visit Sifnos. The port is also home to one of the most popular beaches on the island, and there are dozens of incredible seaside restaurants where you can try some of the best fresh fish on the island.
And if you don't love fish, do not worry! One of the most famous dishes in Sifnos is the revithada, a thick chickpea soup that locals and visitors cannot resist trying and then eating again during their stay.
Discover Local Pottery
The pottery produced in Sifnos is known worldwide. The island's soil is rich in quality white clay used to make these crafts.
You can visit pottery makers all around the island, but we suggest Apollonia, the village of Vathi, and the area of Kamares for finding many artisans.
You can watch potters at work and buy anything from small cups to large gastras, clay pots used by locals use to prepare the traditional chickpea stew that can be eaten around the island.
Visit The Village Of Vathi
Spend a day at the beach along the quiet coast of the sea in Vathi. Browse the local ceramic shops, grab a bit at one of the taverns along the harbor, and enjoy wandering around on foot, as cars are prohibited in the village.
To get to Vathi, you can take a boat from Kamares or drive a car from Apollonia and park outside the village.
Check Out Chrissopigi Monastery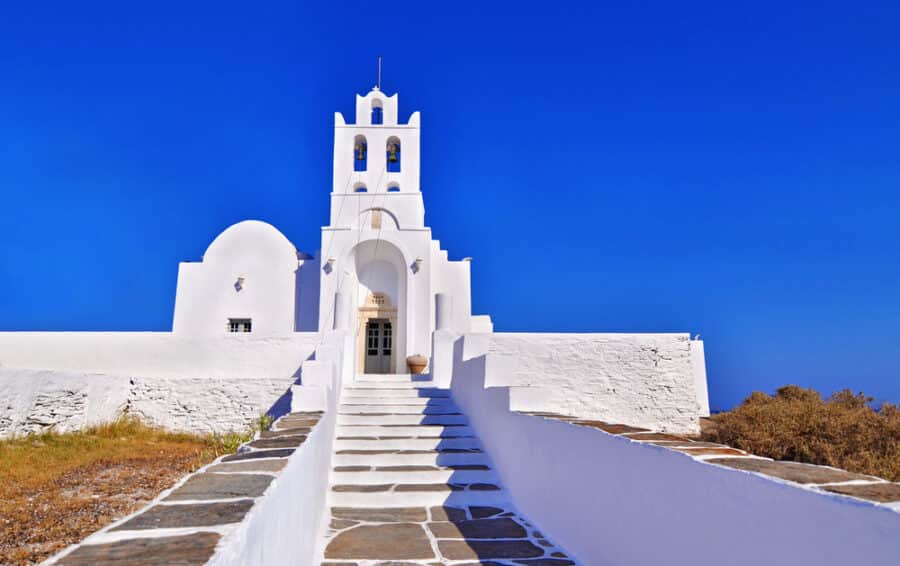 Located on a high promontory plummeting into the blue waters of the Aegean, this monastery boasts one of the most impressive locations on the island, something that has put it among the most visited landmarks to explore in Sifnos.
The monastery is located near Apokofto Beach, and there is a short hiking path to follow to reach the whitewashed church.
Monastery Of Prophet Elias
Another religious site worth visiting is the Monastery of Prophet Elias. The whitewashed complex is found at the island's highest point and can only be reached by foot.
Hiking up to the church takes about 2 hours along a well-marked path, and once reaching the summit, you can explore the fortress-like structure and enjoy gorgeous views.
Don't forget to bring water along and maybe even a few snacks for a picnic!
Visit The Village Of Kastro & Church Of Seven Martyrs
This is the ancient capital of the island and a beautiful medieval settlement built on the sides of a winding stone path that climbs towards the top of the mountain made by the walls of the houses, which, in a way, give shape to the walls of the protective fortress or Kastro (castle in Greek).
This village has five Cycladic churches – including the famous Church of Seven Martyrs – featuring decorative floors and simple external decorations. The Church of Seven Martyrs is one of the most famously photographed churches on the island, sitting atop a rocky islet on the sea.
There is also a miniature archaeological museum worth a stop that is located inside an ancient, desecrated catholic church.
Spend A Day At Faros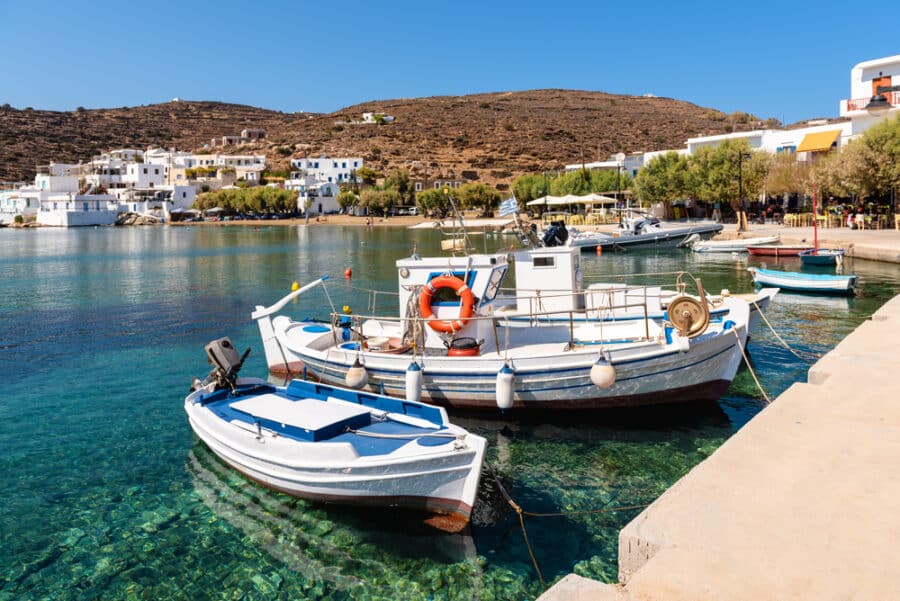 Head to Faros for a completely different aspect of Sifnos. Faros is a humble village with small beaches and pristine sea waters. Besides the main Faros beach, you can also visit Fasolou beach and Glyfos beach.
Here you won't only spend a very relaxing day at sea, but you can also try some incredible seafood while your feet rest on the warm sand!
Relax At The Fishing Village Of Herronissos
Another seaside village to spend the day at is Herronissos.
This village is home to one of the most beautiful sandy beaches on the island. The waters are crystal clear, making it perfect for families with kids and those who love snorkeling and diving.
See The Ancient Watch Towers
An old network of watch towers, thought to have once protected the island from pirates, are located along the island's trails. It is believed that when danger was spotted, the roof of a tower would be ignited, alerting the next closest tower, which would, in turn, light up as well, ultimately sending the message of danger around the island.
Over 50 of these ancient towers can be found, with the most popular being Aspros Pyrgos or White Tower, due to its great condition.
TRAVEL COMPANIES WE USE AND TRUST
Best Beaches In Sifnos
A long asphalt road goes around the island, offering access to Spetses' most famous beaches. However, some of the most beautiful shores on the island do not have easy access, and to visit, you should hire a boat or get there by bike.
These are some of the beaches that you should visit in Sifnos.
Platis Gialos Beach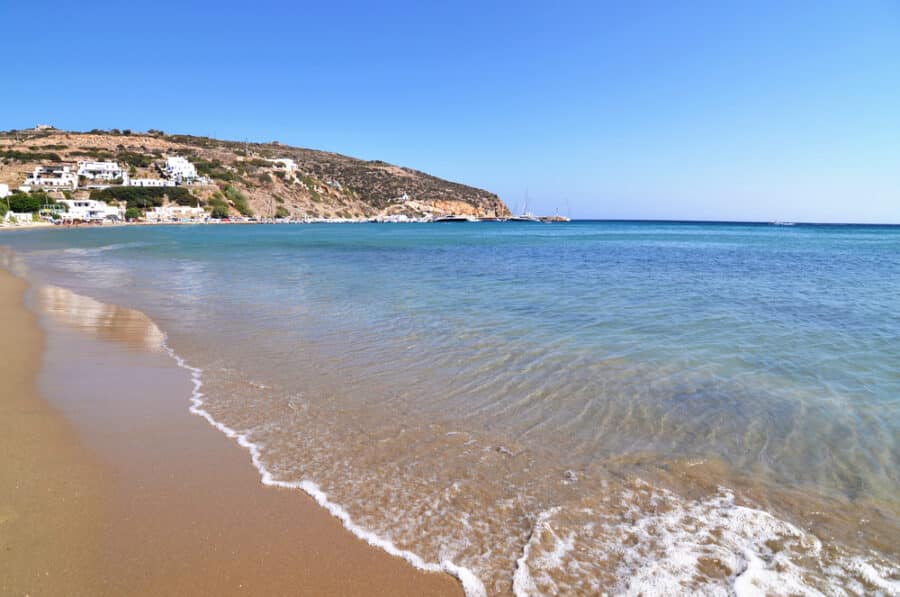 Considered the most popular beach on the island, this impressive shore lies on a huge, open bay featuring fine golden sand extending for a thousand meters.
The beach is well organized and arguably the best place on the island for families with kids since it is safe, shallow, and not hit by heavy winds. Several bars and restaurants are perfect if you don't want to pack a lunch and prefer traveling light.
Close to the beach, you can admire the White Tower, one of the many ancient towers that are scattered all over the island. This one, in particular, is one of the best-preserved ancient towers in Sifnos.
Kamares Beach
Upon arriving on the island, this is the first beach you will encounter, and it will undoubtedly leave an ever-lasting impression. Located next to the port of Sifnos, this is one of the most popular shores among families but also with those visitors who do not explore much of the island and prefer to spend their days in Kamares.
This makes it quite overcrowded too. The area has several organized structures to rent lounges and umbrellas, dozens of cute bars, and some of the best restaurants on the island.
Apokoftos Beach
The place has become popular as it is close to the Chrissopigi Monastery. Therefore many people who visit the breathtaking church also decide to spend time in this area.
Located on a picturesque bay that mixes sand and pebbles, Apokoftos is only 2 km from Apollonia. It has crystalline waters and is in a quiet setting, making it a popular shore for those who enjoy quiet stops to spend tranquil days by the sea.
Vathi Beach
Located on a fantastic small bay, this picturesque shore features impressive emerald green waters and clear, fine sand. This golden beach is about one kilometer long and is pretty shallow and safe for families.
The area is well organized, featuring bars, restaurants, and a long line of trees offering plenty of natural shade.
Faros Beach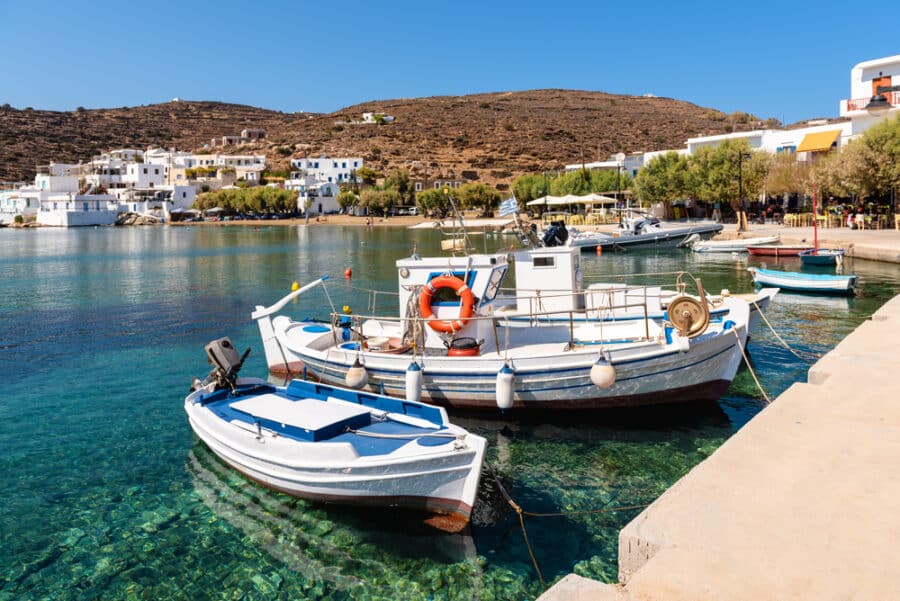 This sheltered port features crystal-clear waters, sandy shores, and natural shade.
The beach itself is spacious, with fine sand and taverns nearby for refreshment.
Fasolou Beach
East of Faros Beach, this picturesque beach is home to calm waters and waves.
Near the beach is a peninsula with a whitewashed monastery and a hiking trail leading to Kastro.
Hersonissos Beach
This shore is hard to reach unless you have a car or a motorbike. Originally a small fishing port on the island's northern tip, this is a gorgeous place that many describe as the best beach in Sifnos.
The golden sand beach features green, lush trees offering natural shade and a few taverns by the sea.
Sifnos With Children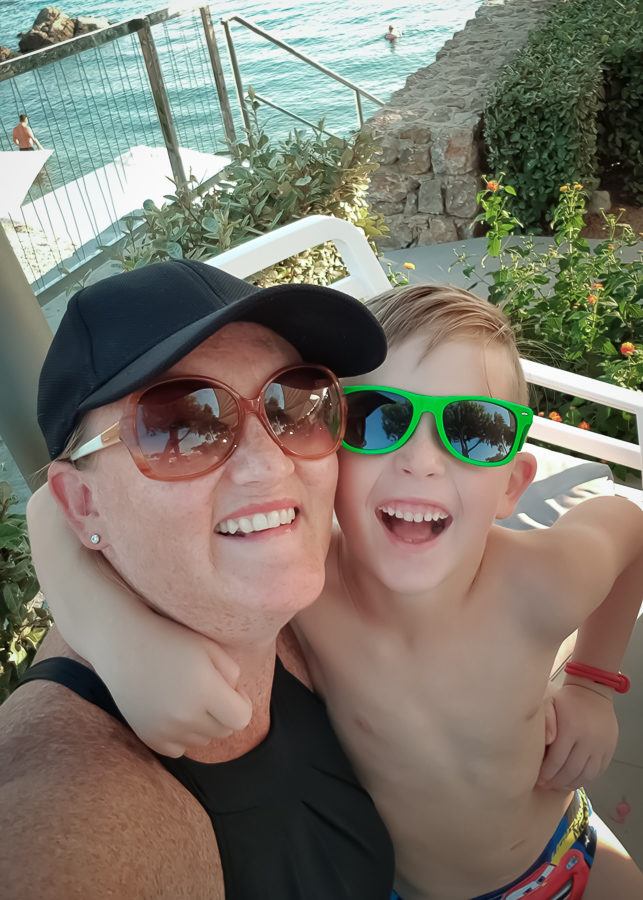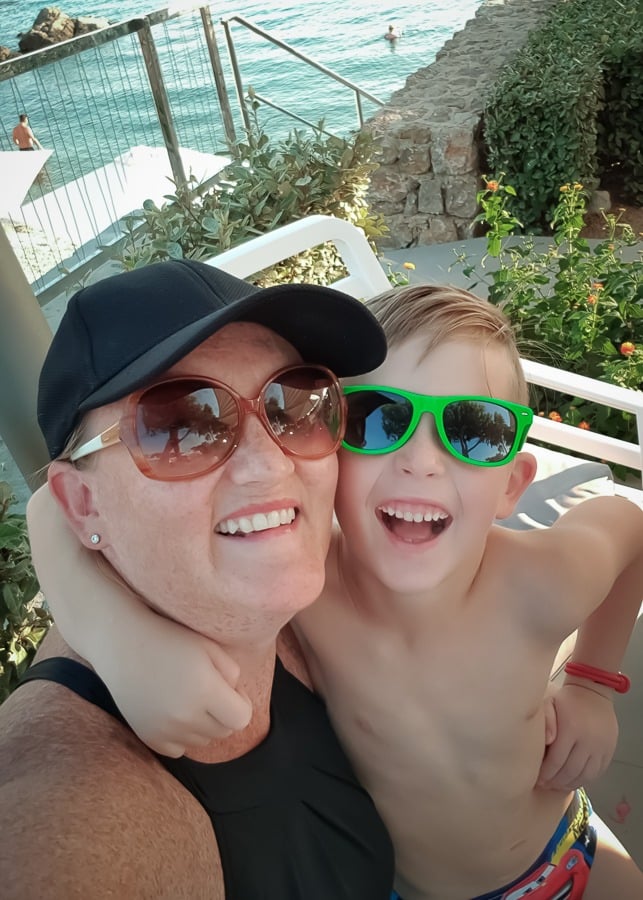 A low-key island with incredible beaches might be just the right place for your next family vacation. And Sifnos offers all of that and some more.
On the island, interesting hiking trails connect Sifnos' ancient towers. These well-marked paths offer excellent opportunities for outdoor activities with the family and a good way to discover the endless marine landscapes of the island.
In Sifnos, it is also possible to ride horses, swim, and practice water sports, but also run or ride bikes through the lush valleys and magnificent verdant hills.
Sifnos At Night
Despite Sifnos being a relatively tranquil and relaxing spot in the Aegean, the island takes pride in its lively nightlife during the summer.
There are interesting places to spend the evening listening to music and drinking in several villages, although Apollonia and Kamares remain the two best places for night entertainment. Whether you prefer to have your cocktail by the sea or in a mountain village, you'll undoubtedly find the right place to enjoy after dinner.
For a wider option of things to do at night, head to the island's capital, the mountain village of Apollonia, where several bars stay open until the early hours of the following day!
Best Places To Eat In Sifnos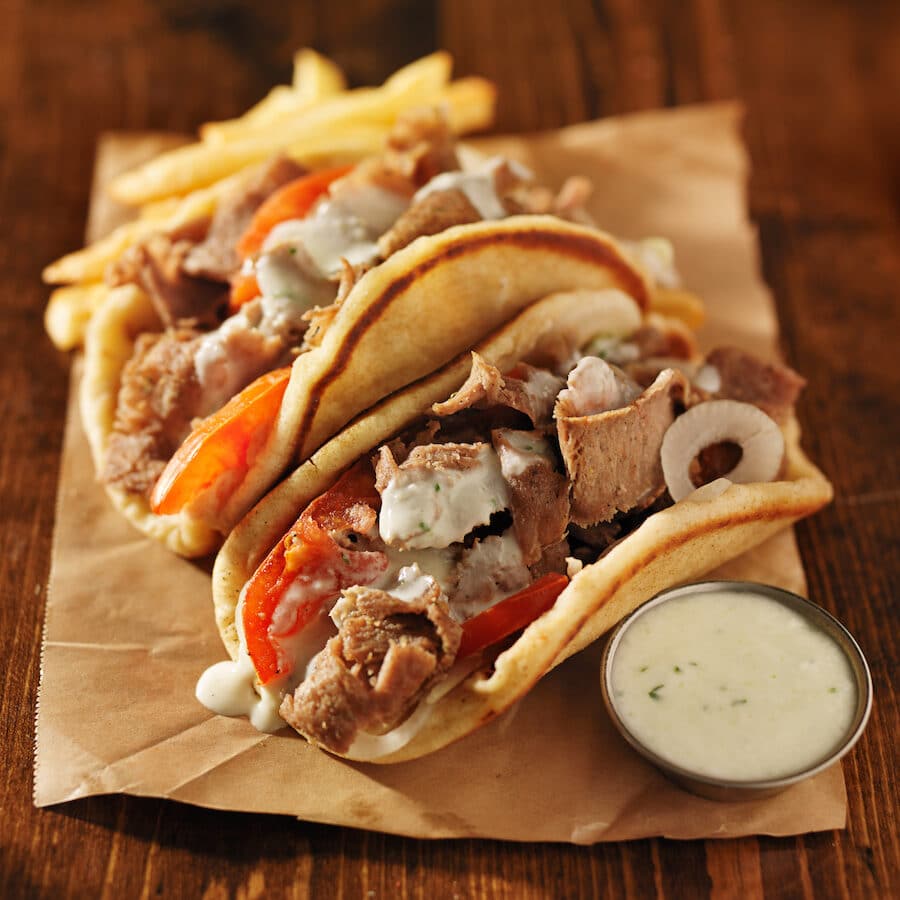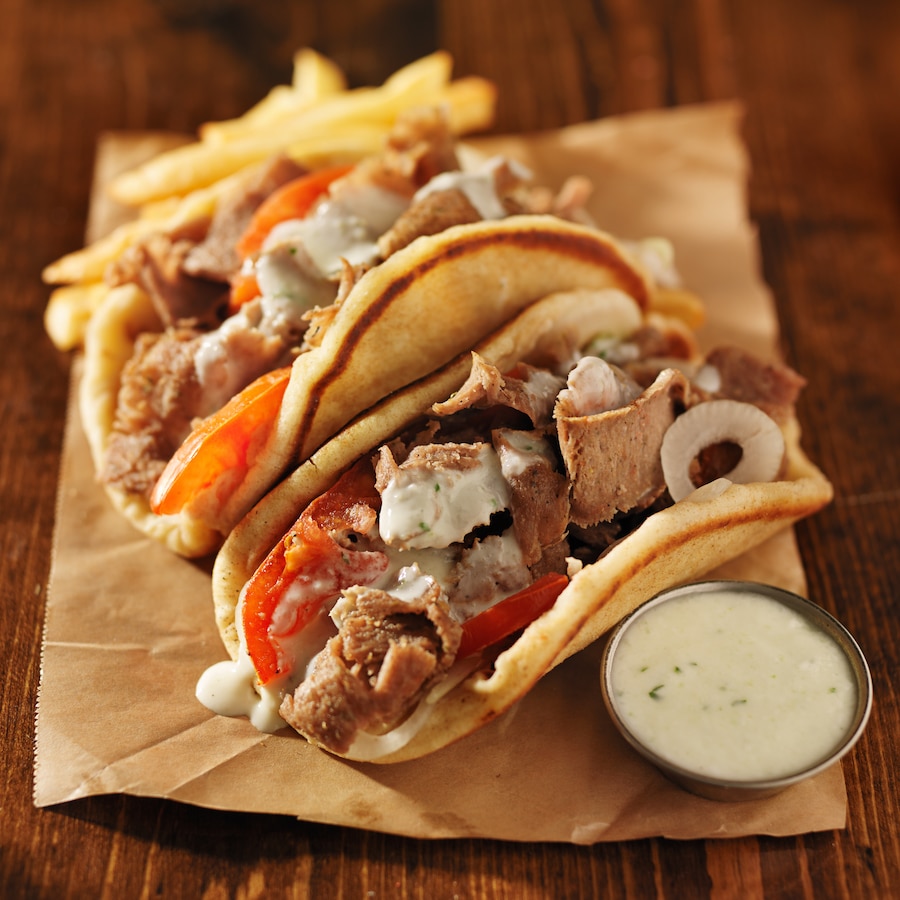 Sifnos is known for local specialties and a rich culinary tradition. Some local specialties not to miss when visiting are:
Revithada: A chickpea stew, slow-cooked in a pot overnight in a wooden oven
Revithokeftedes: Fried chickpea balls served as an appetizer
Mastelo: Lamb or goat meat, washed in red wine and dill, then slow-cooked in a clay pot
Chloromanoura, Gilomeni Manoura & Xinomizithra: Locally produced cheese
To sample some of these popular dishes along with other great cuisine, we recommend the following places to eat in Sifnos.
Iliovasilema Sto Troullaki
For local specialties, head to Troullaki (Artemonas). Enjoy the flavors of the island and the calming views of the sea.
Okyalos
Another great spot for local dishes is Okyalos in Apollonia. Featuring vegetarian cuisine, fresh fish, a kid's menu, and Sifnian dishes, there's something for everyone.
Eat on the balcony for lunch and inside the restaurant for dinner.
Perantzada
Perantzada is a very affordable eatery in Apollonia serving gyro wraps, skewers, tzatziki, and other staples of the Greek fast food panorama. Kids and grown-ups alike enjoy this place for its quick, abundant, and affordable portions.
Passione Italiana
Passione Italiana is the place in Kamares for those who cannot live without a good oven-baked pizza. The place also specializes in seafood pasta and serves delicious desserts too.
Maiolica
Maiolica is an amazing place serving Israeli food in Sifnos. Set in a gorgeous location on Platis Gialos beach, prices are pretty reasonable, and portions are sometimes to be shared.
Where To Stay On Sifnos Island
The good thing about Sifnos is that it caters to mountain lovers and those who cannot resist getting up with a foot on the sand. There are several fantastic five-star hotels but also more modest studios.
Families will undoubtedly find the right place to stay in one of the many apartments and villas, no matter the budget.
These are some of the best places to stay in Sifnos.
Budget Places To Stay In Sifnos
Giannakas Studios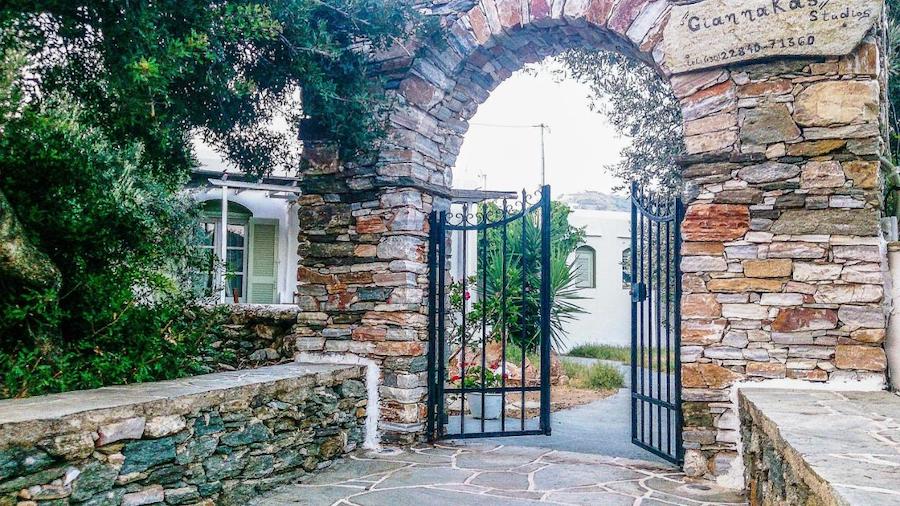 Located only meters from the cosmopolitan Platis Gialos Beach, this place offers rustic-style accommodation only a 15-minute drive from the scenic capital of Apollonia is a 15-minute drive away. The units feature air conditioning, balconies with views, and a comfy sitting area with a kitchenette.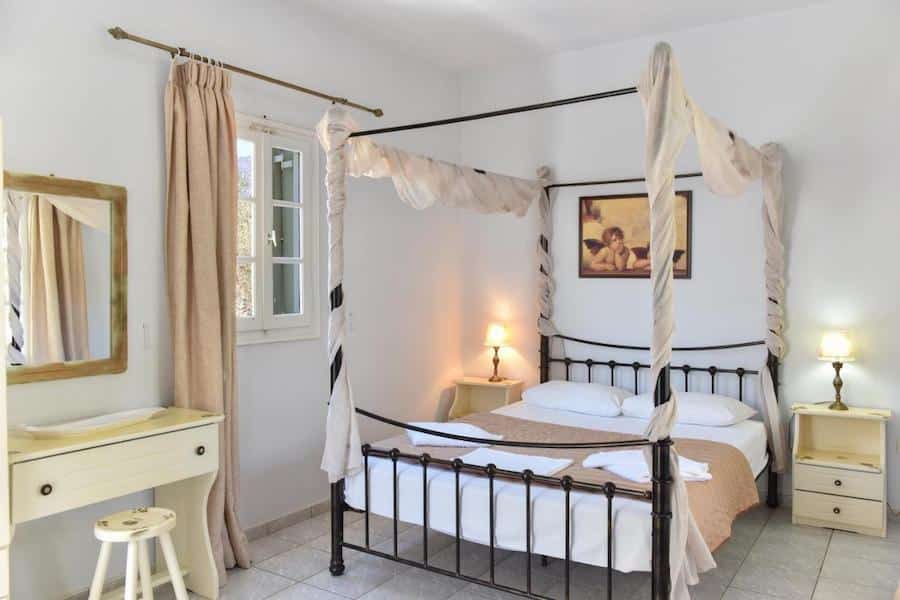 .
Kamarado Studios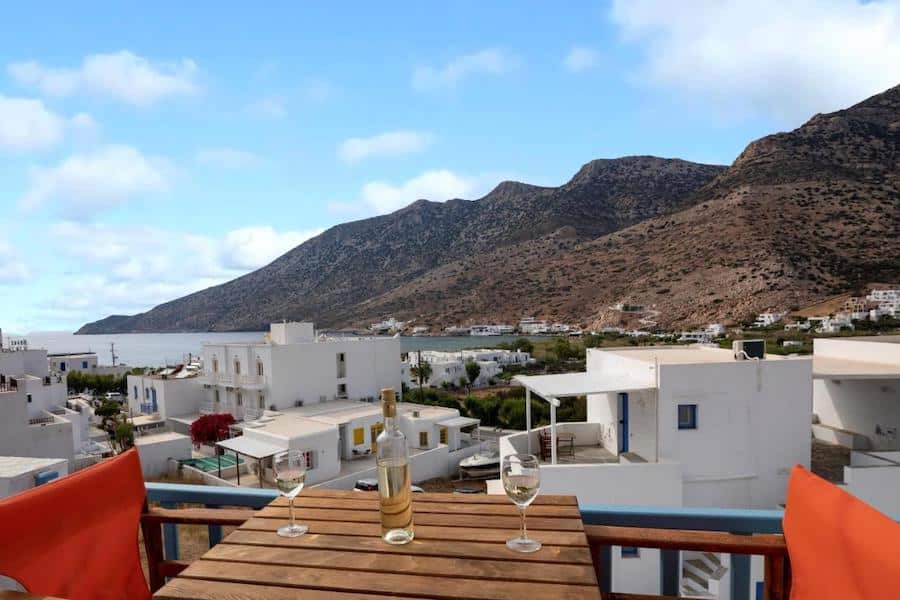 Only 400 meters from Kamares Beach, the property features air-conditioned rooms with a small but well-equipped kitchenette and a gorgeous terrace with sea views. The accommodation is located about 13 kilometers from the scenic Chrisopigi Monastery.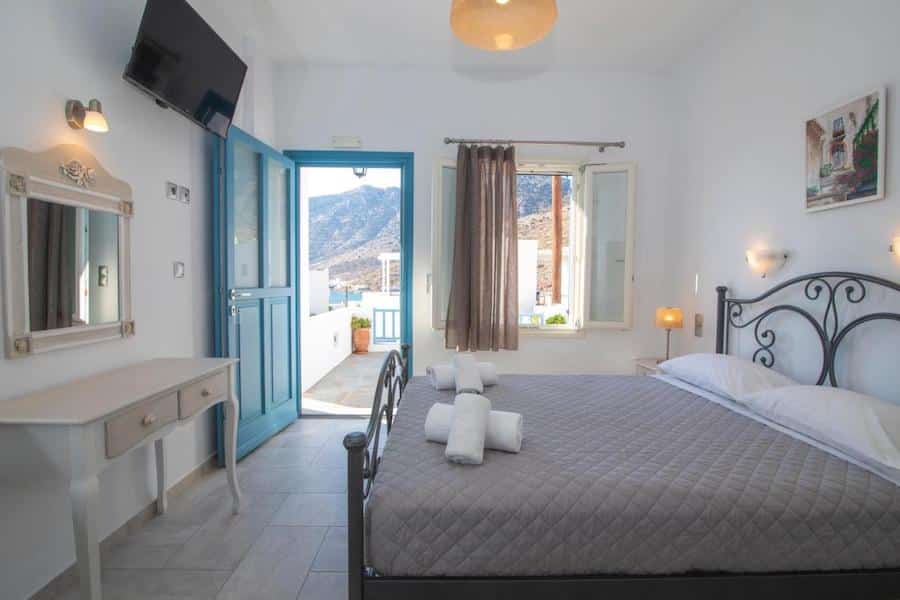 .
Mid-Range Places To Stay In Sifnos
Arhontou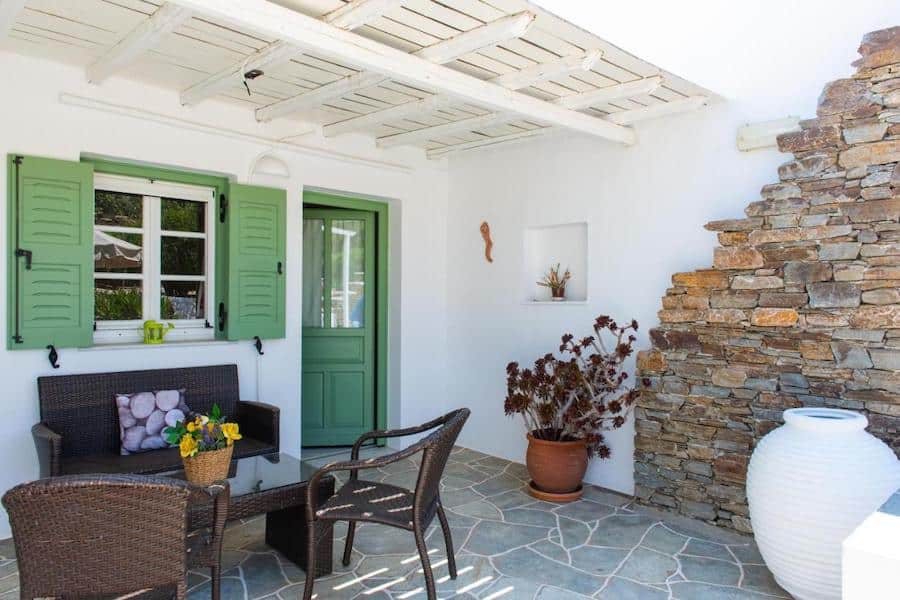 Ideal for those looking for a place to stay in the mountains, this accommodation is in Appolonia, the scenic capital of Sifnos. The picturesque Kastro village is only three kilometers from the accommodation. This Cycladic-style hotel has balconies with mountain views, an outdoor dining area, and traditional rooms with a mini fridge and TV. Some rooms also have a kitchenette.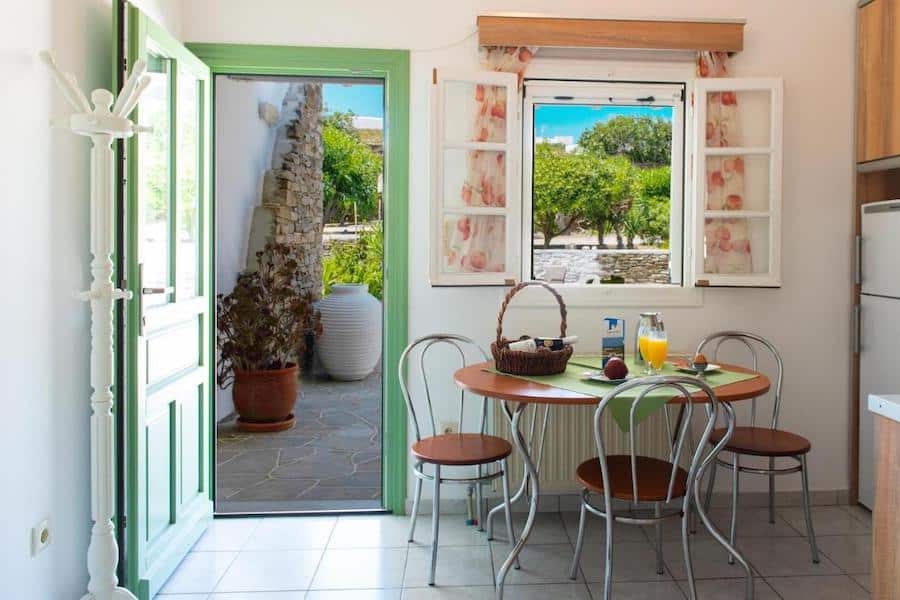 .
Alk Hotel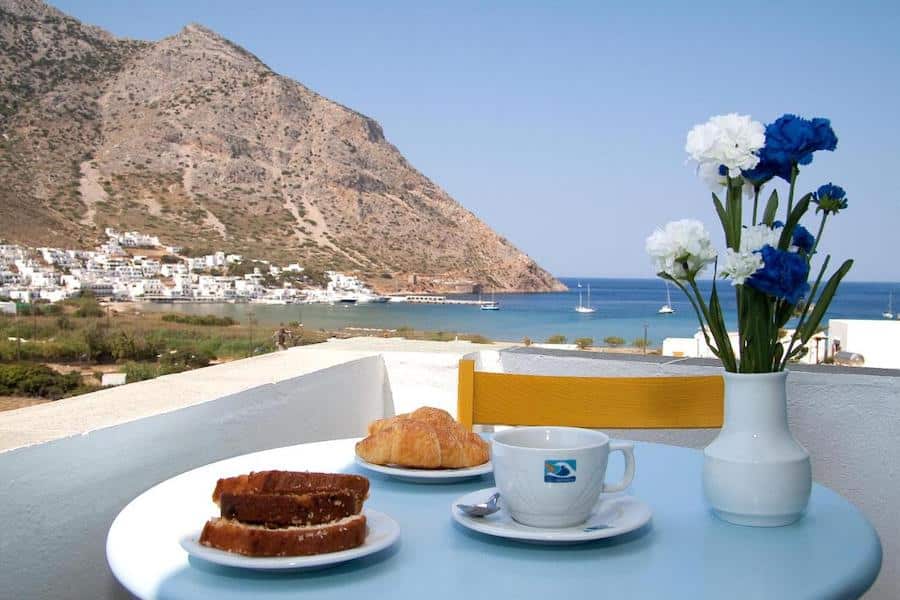 This Cycladic-style hotel features a gorgeous bar with a panoramic terrace only 100 meters from the pristine Agia Marina Beach. The hotel serves a delicious Greek buffet breakfast, while there is also a bar with stunning views over the sea and the port of Kamares. All rooms are bright and airy, and each enjoys a private balcony and comfortable beds. Heating is also provided. For further convenience, laptops can be provided upon request.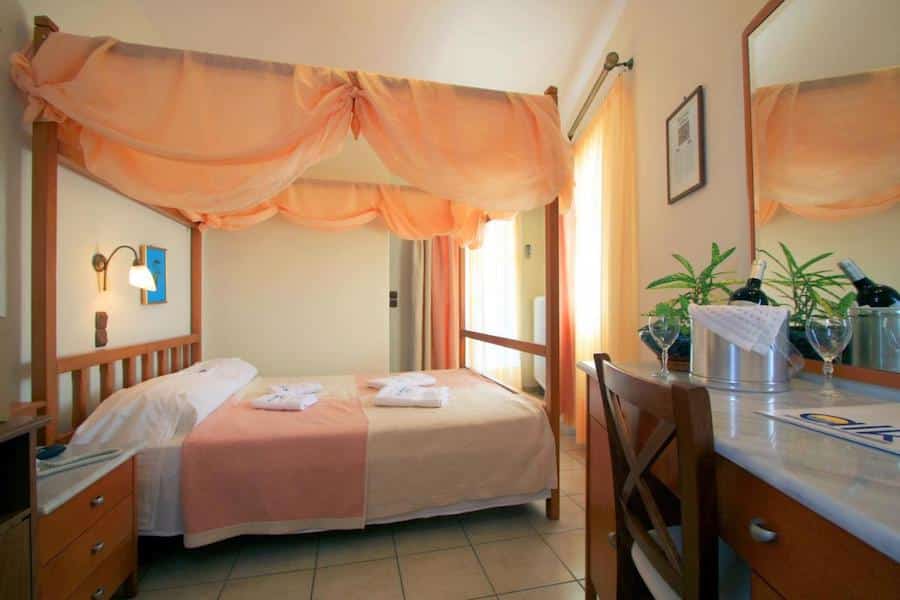 .
Luxury Places To Stay In Sifnos
Sifanto Mare Apartments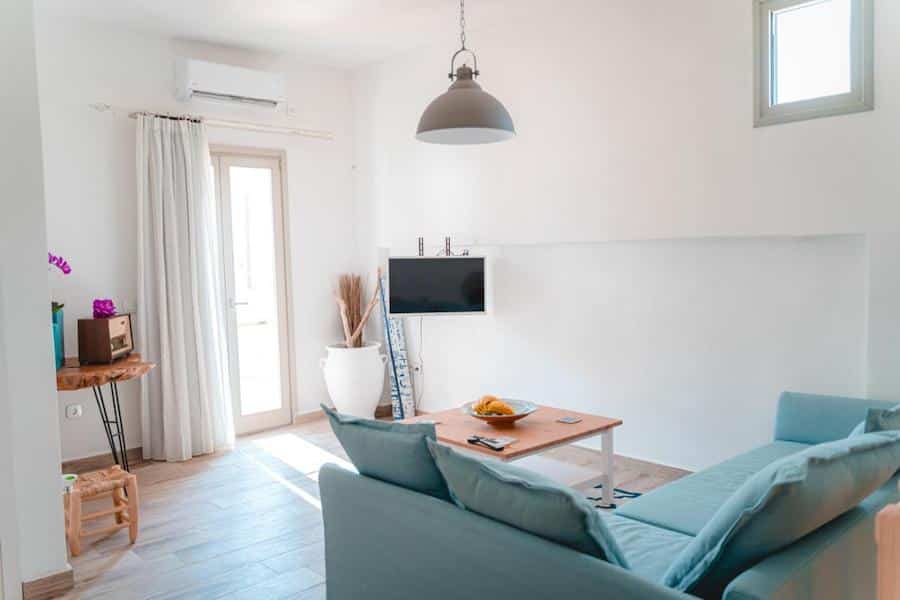 Located in the village of Faros, about eight kilometers from Apollonia, the flats feature a dining area and a seating space with a TV. There is also a kitchen available in every unit. Some units include a terrace with sea or city views.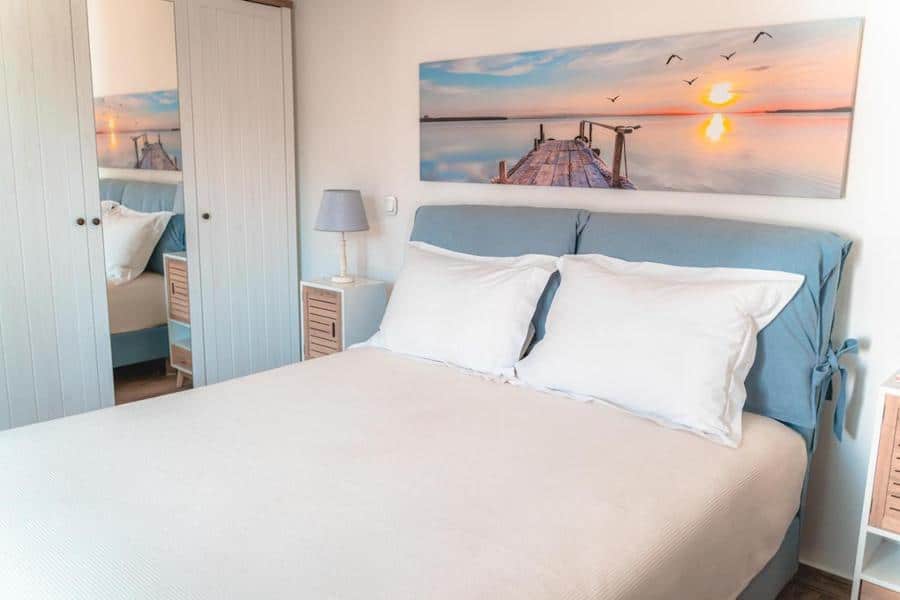 .
Apsila Pool Suites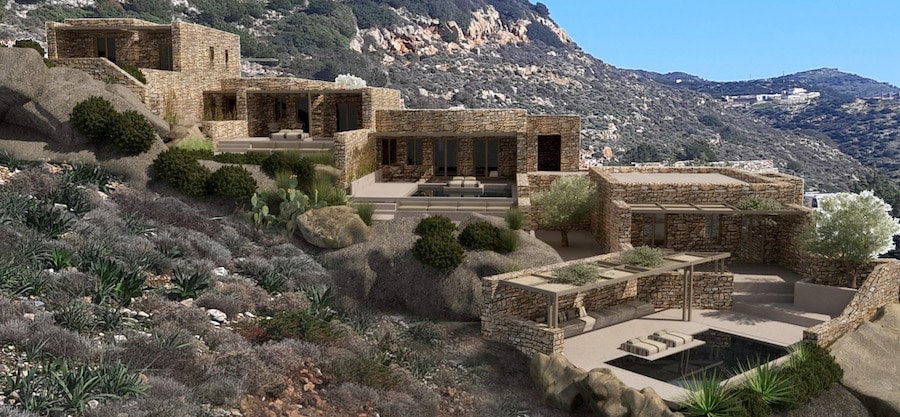 This super modern place to stay in Sifnos is just minutes from Kamares Beach. All units have a terrace, air conditioning, a TV, and convenient amenities such as a small fridge and coffee machine. You can take advantage of the bike and car rental services to explore the island at the property.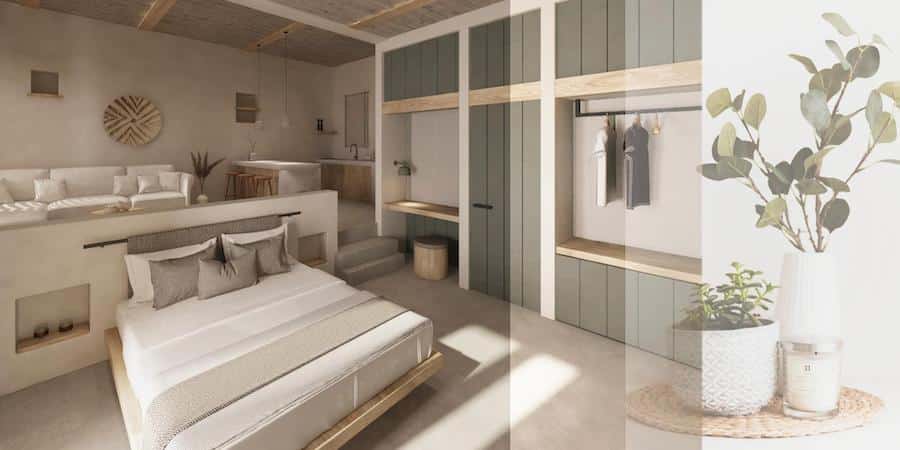 .
Now that you have all of the Sifnos Island travel advice you need, you have to decide which of these things to do in Sifnos you will see first.