We may earn commission from affiliate links →
Kimolos Island – Where Hidden Coves And Secluded Beaches Await You
Pretty unknown and off-the-beaten-track, Kimolos is a beautiful Greek island with just under a thousand permanent inhabitants, gorgeous beaches, and plenty of opportunities for outdoor experiences. If you're thinking about a different destination in Greece, this guide will tell you all about the best things to do in Kimolos.
General Information About Kimolos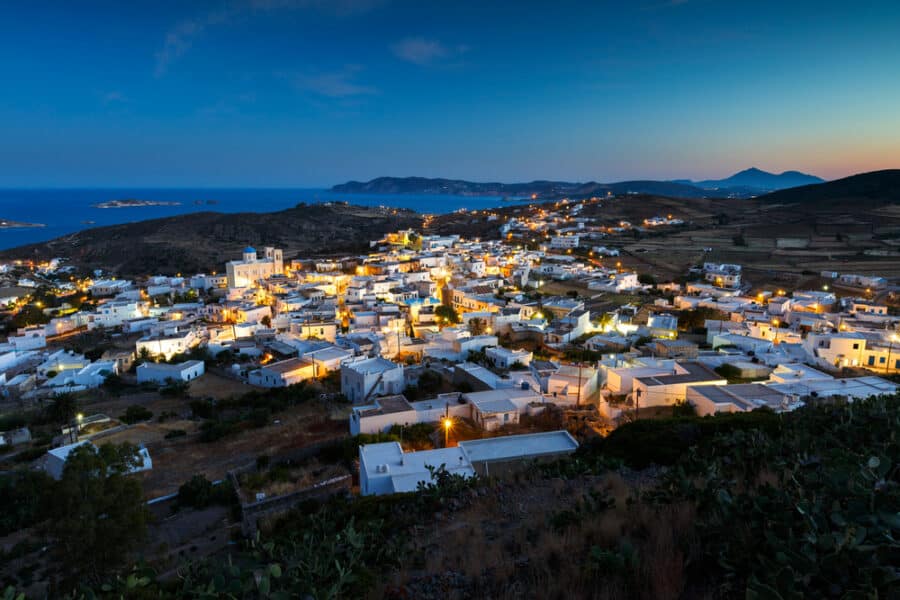 The island of Kimolos features a bare, rugged landscape, amazing whitewashed houses, cobble-stoned alleys with typical Greek churches, and a charming atmosphere.
Kimolos is often a fantastic destination for a day trip from other islands; however, not many tourists consider Kimolos as a final destination for their vacation. And they are missing quite a lot… First and foremost, by overlooking a stay in Kimolos, they miss the chance to experience living on an unspoiled island that has kept many traditions alive. With an economy based on land-related activities, including farming and mining, life on Kimolos is slow-paced and relaxing, where timing has a whole different meaning.
If you're looking for an alternative destination in Greece, then do give Kimolos a chance. It will surprise you with its amazing landscapes and allow you to relax and enjoy those sometimes forgotten but important simple things in life. This guide to Kimolos offers you everything you need to get ready to visit the island.
PLAN AHEAD TO GET THE BEST DEALS
A Curious Fact About Kimolos
Kimolos is an island of volcanic origin, something that has shaped the landscape. White cliffs and rocks can be found all over the coastline and on the hinterland. This white, powdery material, which is made of minerals such as perlite and bentonite, gives the island an aspect of chalk, kimolia in Greek. During the Venetian rule, the occupants used to call the island Arzentiera, which makes sense since silver is "argento" in Italian. That's how white the landscape in Kimolos looks.
How To Get To Kimolos
You can only travel to Kimolos via sea, so you will need to take a ferry from either Athens or the nearby island of Milos if you're island-hopping in Greece.
If you're departing from Athens, ferries leave from the port of Piraeus. The ferry frequency in summer is higher than during the rest of the year, with one daily boat departing from Athens. The trip can take anywhere between 3 to 6 hours, depending on the type of vessel (regular or fast ferry). Since Kimolos is not as visited as other Greek islands, you won't need to purchase the tickets months in advance; just a few days before the trip will often be enough.
Visiting from Milos is easily done, whether Kimolos is part of your island itinerary or on a day trip. The islands are connected by a local ferry that runs between both destinations at least four times daily (this can even double during summer). This ferry has a cheaper ticket fee but is easily canceled in bad weather conditions. If you're traveling in autumn, then it might be better to travel with a conventional ferry. The crossing from Milos to Kimolos takes about half an hour with the small ferry, while conventional ferries take longer.
Best Time To Visit Kimolos
As with most of the Cycladic islands, the best time of the year to visit are the months between May and September. The weather starts to warm up as early as the end of April, and it can remain pleasant as long as October.
The central months of this period, July and August, are often the hottest months in Greece as well as the ones when you'll see more crowds almost in every destination.
Since Kimolos is quite off-the-beaten-path, the island won't be as crowded; however, you'll indeed find dozens of tourists coming from Milos for the day.
Best Things To Do In Kimolos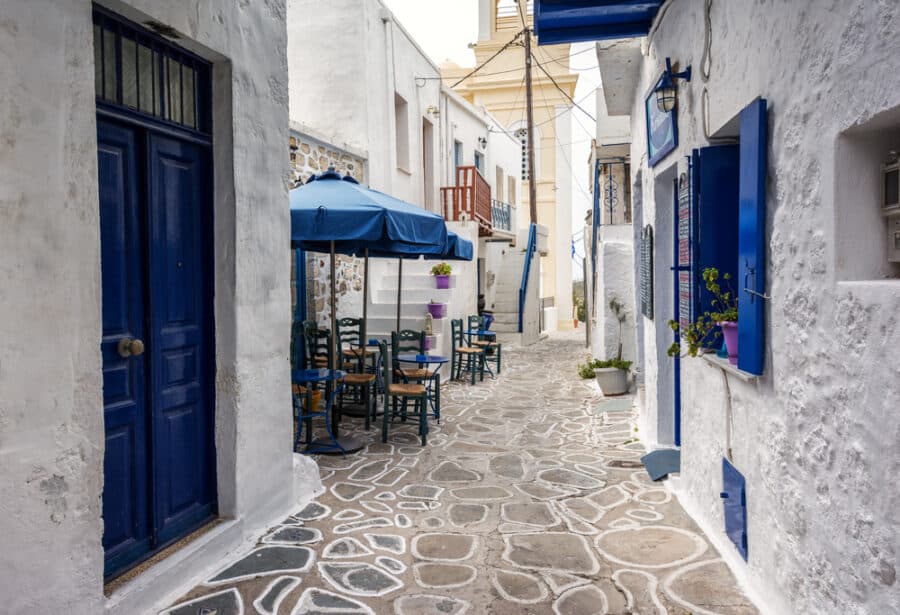 The island is not as big as you would expect, yet it is home to some unique beaches. Visiting them all will undoubtedly take most of your time. However, going to the beach is far from being the only thing to do in Kimolos. You can also enjoy sightseeing, hiking, and exploring its small but super charming main town. These are some of the top things you can do in Kimolos during your visit.
Kimolos's Main Settlement: Chorio
Chorio is the most important town on the island. The small but highly picturesque town is a perfect concentration of Cycladic architecture. In Kimolos' Chorio, you will find traditional cobble-stoned winding alleys, colorful and narrow, dotted with cubic whitewashed homes with typical blue shutters and wooden doors, small balconies or patios facing the streets, and plenty of pots and flowers.
In the village, you will have the opportunity to taste delicious food in the local restaurants, fish taverns, and authentic cafés (locally called kafenia), but also to check small blue-domed chapels and buy local souvenirs in the many small shops.
There are also other small settlements on Kimolos that you can visit, but they are small and have just a few inhabitants. Some of them are Psathi, Prassa, Alyki, Bonatsa, Poliegos, and Groupa.
Check The Kastro
Arguably one of the most attractive places you can visit in Chorio is the area of the Kastro. As you probably already know from our extensive selection of guides to the Greek Islands, Kastro translates as castle, and the same as many of these islands, there is always a castle to visit, often of Venetian origin, from the times when most of the islands were ruled by the Republic of Venice.
Greek castles were built as a protective defense against common pirate raids and sea attacks (mainly coming from the Ottoman Empire). Particularly in Kimolos, the area of the Kastro is made of two different tiny neighborhoods, Mesa Kastro and Exo Kastro, which literally mean "in the middle of the Castle" and "outside the castle.
Houses were built and inhabited inside the castle's walls until the end of the nineteenth century, when buildings started to expand outside its walls, thus creating two different neighborhoods. Arched doors connect both areas.
Visit The Folklore And Maritime Museum Of Kimolos
You cannot visit a Greek Island without making at least a quick stop in its folk museum. In Kimolos, the museum is inside a traditional Venetian Mansion in the area of Mesa Kastro. The museum focuses on the island's local traditions and historical lifestyle, exhibiting local tools used for daily tasks and occupations, including fishing, mining, and agriculture.
In the museum, you can also check out traditional costumes, unique handmade fabrics and garments, kitchen pottery, and elements related to marine activities as well.
Explore The Archaeological Museum Of Kimolos
The next museum you can visit in Kimolos is the archaeological museum, also located in Chorio. You will find this exhibition in one of the oldest houses in the area of Exo Kastro, outside the Venetian Castle's walls.
The two-story building, an ancient mansion from the nineteenth century, features findings excavated around the island dating as far back as prehistoric times. The small but pleasant exhibition presents the collections in an orderly and chronological manner, making it easier for visitors to understand the historical evolution of the island.
You can find clay and pottery objects, figurines, and funerary relics among the most impressive artifacts. The museum also features an interesting multimedia area, photos, and other documents depicting interesting traits of the local history.
Pay A Visit To Panagia Odigitria Cathedral
Another place you don't want to miss in town is Panagia Odigitria, the main church in Kimolos, right across from the Archaeological Museum. Dedicated to the Blessed Virgin Mary, the island's patron, this imposing church was built between 1867 and 1874 and houses very old and significant icons. The most remarkable of them, the icon of the Panagia Odigitria, dates back to the fifteenth century, and its origin is uncertain.
Spend A Few Hours In Groupa
Located towards the eastern area of Chorio, Groupa is a small and uniquely picturesque fishermen's settlement that you can also visit. In the area, you will discover the curious sirmata.
Sirmata are small caves that have been carved in the rock and that have been used for hundreds of years to shelter fishing boats during wintertime. These unique caves are also used as houses in the hot season.
Church Of Saint Methodia
One of the places you should also visit inside the Kastro is this tiny church dedicated to Saint Methodia. The saint was born on the island back in 1861. According to the legend, Saint Methodia had been married to a local fisherman who drowned at a shipwreck.
At that time, she became a nun and lived inside the castle in a small and simple room right next to the ancient church of the Birth of Christ. She was made a saint about ninety years after her death, and afterward, her room was transformed into a small chapel.
Marvel At The Natural And Mineral Landscape
Just like its neighboring island, Milos, Kimolos, and other smaller islands around them are part of the so-called Aegean Volcanic Arc, featuring acidic volcanic rocks. The constant volcanic activity is visible in the many hot springs in different areas and the unique and often bizarre rock formations.
The island is rich in tuff — locally known as poria; this common volcanic rock has often been used in construction due to its excellent insulating qualities and because it is also a light material. The poria had long represented an important revenue for the islanders as it was the most important product of the island, and it was also commerced in many areas of the Mediterranean.
Another unusual element you will abundantly find on the island is a kind of clear clay known as Kimolia Gee. Due to its unique chemical composition (and since it is only found in Kimolos), this mineral element has one-of-a-kind detergent and pharmaceutical properties, and it was another valuable product exported by locals.
The island also boasts a huge variety of Mediterranean species (about 400), including hundreds of medicinal plants and aromatic herbs used in gastronomy and by the pharmaceutic industry.
Species such as capers, thyme, myrtle, sand lilies, and cedar trees easily grow on the island alongside traditional species such as figs, olives, and grapes. Although these may sound common on other Cycladic islands, they are not expected on a dry island like Kimolos.
Take A Snapshot At Skiadi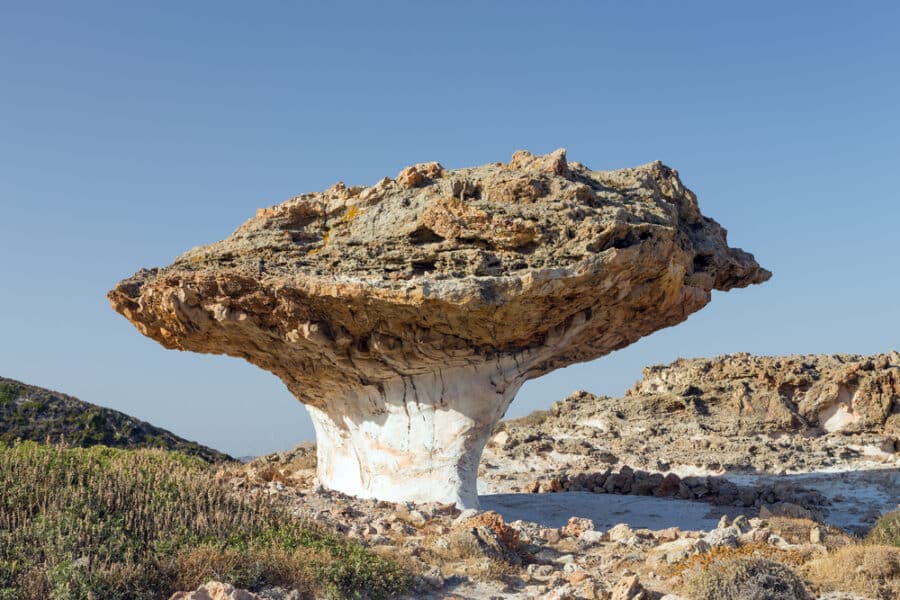 When it comes to unusual landscapes, there's no more clear example on the island as the Skiadi, an impressive stone formation that looks like a mushroom or umbrella, located in the heart of a valley and eroded by the constant winds in the area.
The curious rock features a base made of a kind of material much softer than its top. The rock has been included in the Atlas of Geological Monuments of the Aegean, and it is one more landmark in Kimolos that should not be missed.
Hiking In Kimolos
Like many other islands in Greece, walking, hiking, and trekking are some of the most popular activities. The island features some interesting hiking trails, which represent a top opportunity to see the best areas of Kimolos and will take you along lesser-known spots around the island, some of which are not accessible by car.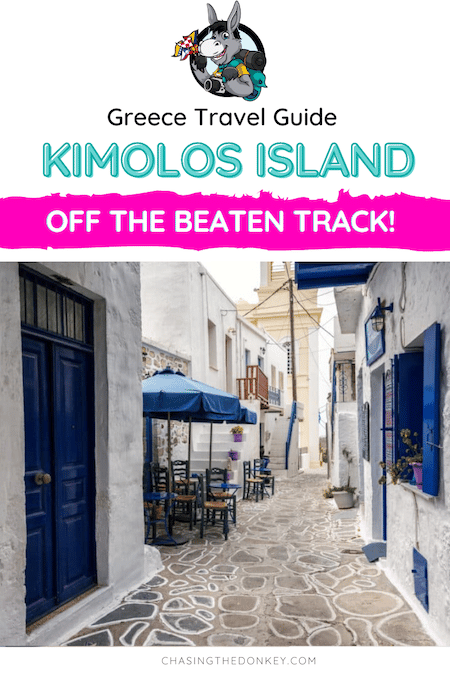 Best Beaches In Kimolos
It would be a pity to visit the Greek Islands and not pay a visit to at least some of the stunning beaches. This is also true in Kimolos, where you won't only find several incredible beaches, but you will be happy to know that many are often very quiet and allow you to spend a day in total solitude.
Kimolos boasts some incredible unspoiled shores that you shouldn't miss.
Although some of these beaches can be reached with the local bus, renting a car to reach less-visited beaches is always better.
Psathi Beach
Psathi Beach is probably the most important and popular beach on Kimolos. It is a small, sandy shore close to the port and features some basic organization, including sunbeds and umbrellas. The beach is close to the island's center, making it easy to access.
Aliki Beach
Aliki Beach is a long beach that mixes sand and pebbles, while a few trees offer natural shade. In the area, you can check a unique salt pan where you'll be able to spot unique bird species.
Bonatsa
Bonatsa is another tranquil beach that we recommend you to check on Kimolos. It is a popular beach for families with children as it features calm, shallow waters, natural shade, and a few structures in the area for a day out, such as tavernas and snack bars for refreshments.
Dekas Beach
Another shore that's also good for families is Dekas Beach. The tranquil, long beach features soft sand and crystal-clear waters, and it can only be accessed by a dirt road. Probably the lack of easy access is what makes it a top place for naturism and free camping.
Prassa Beach
Those into popular places should spend at least a day on Passa Beach. The picturesque shore is shallow and kid-friendly, well-organized, and often full of visitors.
Mavrospilia
If you're looking for a scenic beach, head to Mavrospilia, a fantastic sandy beach shore with unique white rock formations.
Monastiria
Located in the northern part of the island, the gorgeous beach of Monastiria is another must-visit place when discovering the island. It is accessed by driving along a dirt road up to one point, but then it is necessary to hike for a while to get there.
Surrounded by unique rocks, the beach is really quiet and unspoiled. Not far from the shore, about a 30-minute walk away, you will find Soufli, another bay with plenty of shade trees that is also popular for camping and naturism.
Where To Stay In Kimolos
Although the island has yet to see a tourist invasion (hopefully it won't), a few interesting hotels cater to all travelers and for every budget. Most of them are simple but hospitable and welcoming. These are the ones I recommend:
Picturesque Stays In Kimolos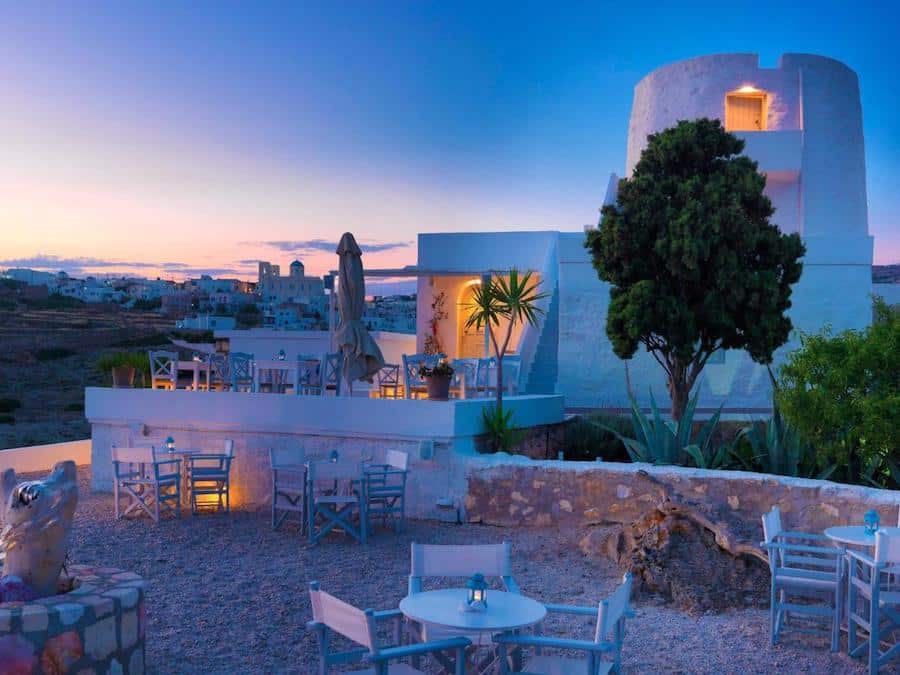 Windmill Kimolos is an original property located only 5 minutes from the beach, about 500 meters from the port of Psathi. The accommodation is set in a nineteenth-century traditional windmill that has been restored. It features a bar and a terrace with terrific sea views. 
The elegant units open either to a balcony or a patio and include comfy beds and built-in sofas. The property offers a daily English breakfast at the sea-view sun terrace, while drinks and light snacks are available all day at the on-site bar. The property is located 1 km from Chorio, while Aliki Beach is 3 km away.
Family Stays In Kimolos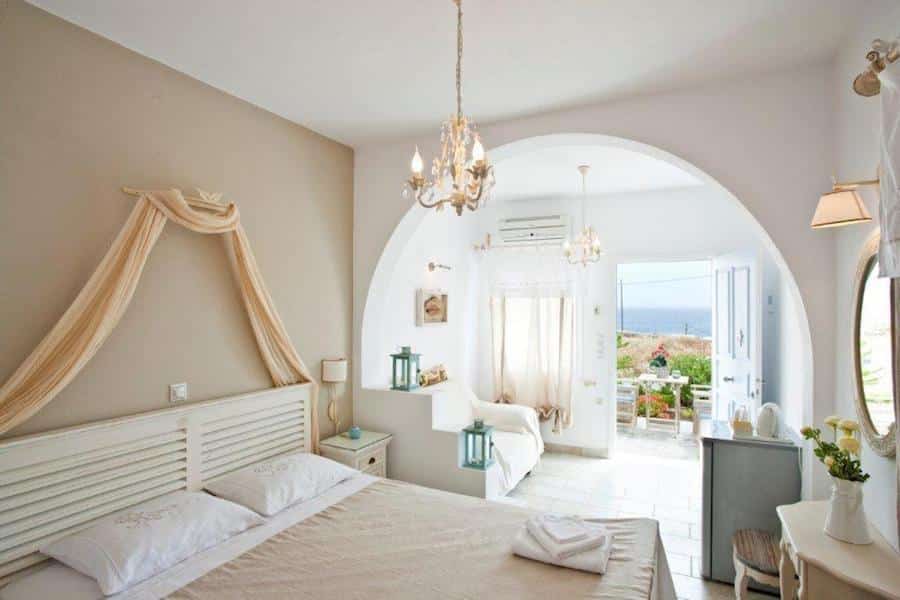 Kimolis is a Cycladic-style accommodation located about 250 meters from Psathi beach, offering balconies with stunning views of the Aegean Sea. Some units feature a fully equipped kitchen with a dining area. The home is just a short distance from Chorio and the main port of Kimolos.
Homey Stays In Kimolos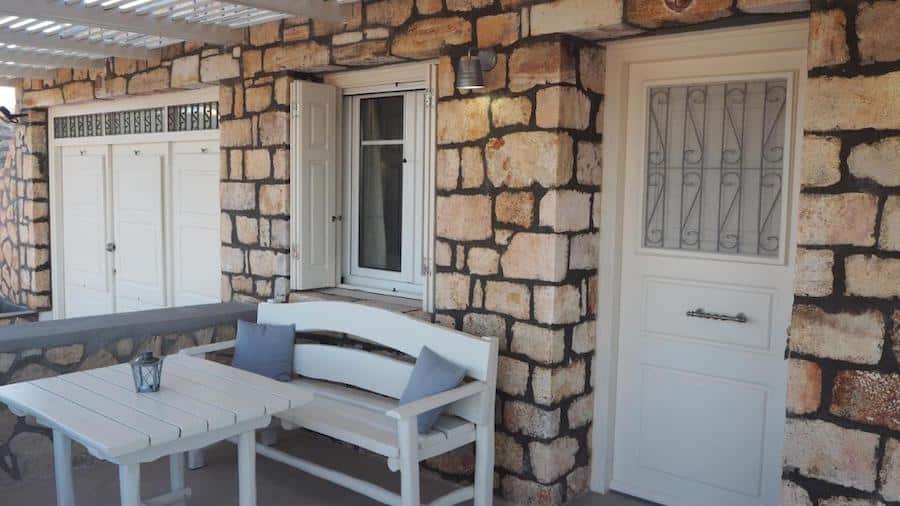 Ataraxia- Stonebuilt Studios and Apartments is a perfect alternative if you want to enjoy the comfort of a villa or even a small apartment on the island. The property boasts impeccable online reviews, is just a 5-minute walk from the beach, and has a beautiful and relaxing garden. The apartments are close to Klima Beach.
Where To Eat In Kimolos
Avli Tou Samplou
In the main square of Chorio, Avli tou Samplou is a popular tavern set in a picturesque garden serving traditional Kimolian and Greek food at affordable prices and suitable for the whole family.
To Raventi
Are you craving some unique Greek sweets? Then head to To Raventi in Psathi, near the port and the beach. Here you can enjoy some unique pancakes and the traditional Greek galaktoboureko cake with creamy, vanilla-flavored custard and tons of delicate honey syrup.
Agora Cocktail Bar
For a drink and a chilling moment in the Kastro, choose a table at Agora Cocktail Bar and enjoy friendly service, a great selection of cocktails, incredible music, and a friendly atmosphere.
Share