We may earn commission from affiliate links →
A Guide To Milos Island, Greece
Sharing the exact volcanic origin as Santorini, Milos is one of the many magnificent Greek Islands at the southernmost part of the Cyclades Island cluster. And it's precisely because of its volcanic past that Milos has a stunning lunar landscape and bizarre coastline with some of the most exotic beaches you can find in Greece.
The advantage of visiting Milos is that since it's pretty close to some of the significant and better-known islands of Paros, Santorini, and Mykonos, it's straightforward to include it as a stop in your Greek-island-hopping itinerary.
The island features fantastic entertainment, great hotels, tasty food, and a unique coastline – all ingredients that often place Milos among the top ten Greek Islands you should see at least once in your life. This travel guide to Milos can be your perfect companion in planning the most unforgettable summer holiday, so get ready and read on!
The island features incredible things to do despite being relatively small. You can explore traditional white villages, check archaeological sites, eat delicious food in authentic Greek tavernas, and relax on the island's magnificent beaches.
Read on to discover all the possibilities of what to do on Milos Island and what Milos attractions you will encounter when you visit Milos for your summer vacation!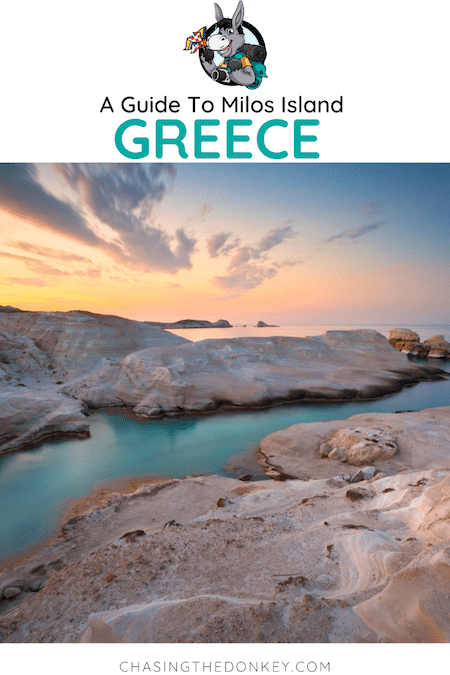 How To Get To Milos Island, Greece
These are the various ways to reach Milos, Greece.
How To Travel To Milos By Plane
The only direct flights to Milos come from Athens. You can reach Athens and then travel by ferry or fly to Santorini or Mykonos and board a ferry from these bigger islands.
How To Travel To Milos By Ferry
Getting to Milos from Santorini, Mykonos, Paros, or Naxos: The only way to get to Milos from these islands is by ferry.
Getting to Milos from Athens and other islands: There is a regular ferry connection between Milos and the port of Piraeus in Athens. The trip lasts from 4 to 8 hours, depending on whether you are traveling with a high-speed ferry or not. Milos is also connected with other islands, such as Sifnos, Serifos, Folegandros, and Ios. In summer, there's a ferry connection from the ports of Heraklion and Rethymnon in Crete.
PLAN AHEAD TO GET THE BEST DEALS
Best Things To Do In Milos
The unique rocky formations that shape Milos island are among the most bizarre ones you will ever encounter in Greece. The island is a paradise for those who love to explore exotic beaches but also who adore those quaint Greek villages that are Instagram-ready.
In no particular order, these are some fantastic things you cannot miss when visiting Milos – check them out!
Tour The Sea Caves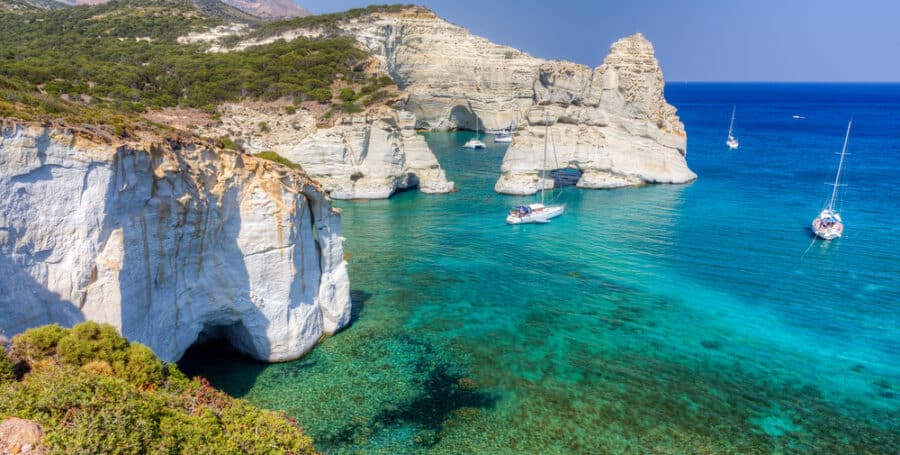 There are plenty of sea caves to explore in Milos, which is one of the top things to do in Milos Greece. Due to its position, Papafrangas Cove is undoubtedly the top spot to witness the best sunset in Milos! Visitors usually want to check out Papafrangas on the northern coast, Sykia on the east, and Kleftiko on the south.
Sykia, on the other hand, is often called the Emerald or the Blue Cave, and it's only possible to visit by boat. Not far from this cave, there's a magnificent beach located in a cave without a roof, and it's a perfect spot for those who love photography!
Finally, Sarakiniko Caves can also be visited by boat. Here it's possible to observe the remains of a sunken ship.
Explore Glaronissia
One of the best things to do in Milos is to explore Glaronissia. These four very tiny islands are a major tourist attraction in Milos. Here, the unique landscape features some impressive basalt blocks that are said to be like large mineral glasses.
To visit these islands, you can take a boat tour, including a stop at the dreamy nearby islets of Antimilos and Arkadies.
Discover The Fishing Village Of Klima
A place you've undoubtedly seen in pictures when checking information about Milos is this picturesque fishing village with colorful houses on the sea.
Indeed the most picturesque fishing village of Milos it's located on the Gulf of Milos, near Tripiti. The picturesque fishermen's houses are known by the name of syrmata. These tiny houses are carved into the rocks and have colorful wooden doors.
Check Out The Village Of Plaka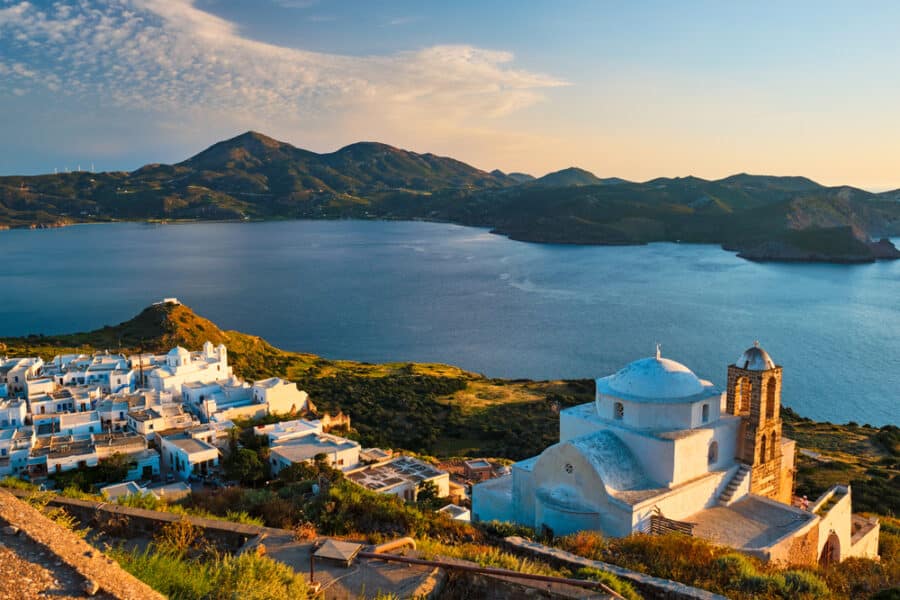 Plaka is the capital of Milos, and it was founded back in 1800. It features traditional Cycladic buildings, including small chapels and whitewashed square houses, with colorful doors and windows as well as verandas and balconies adorned with flowers and plants.
The paths and alleys are narrow and made of stones, and there are plenty of souvenir shops, boutiques, and tavernas to visit.
Plaka is the perfect spot to admire the magnificent Gulf of Milos, especially when the sun sets on the Aegean.
In the small town, it's also possible to check the Folk Museum of Milos and the local archaeological museum.
Visit The Kastro
Kastro is the highest point in Plaka, which was the ancient town of Milos. It used to be surrounded by a Medieval castle wall for protection against pirates and has to be one of the things to do on Milos for photographers! This high spot was built on top of a hill, and its strategic position was a perfect observation point to protect the island from enemy attacks.
The Kastro of Milos has a distinctive Medieval character given by its stone houses, paved roads, and some unique churches open for you to visit. They include the church of Panagia Thalassistra and the church of Panagia Shiniotissa, located inside the castle walls.
Visit The Catacombs
One of the many archeological findings of Milos is the catacombs, which were found in 1844. These three interconnected catacombs were Christian cemeteries during Roman times. It is believed they date from the end of the first century.
The catacombs were not just graves but also used as Christian churches during the Roan persecution. Most catacombs cannot be visited, and a local tour is the best way to explore them.
Milos Ancient Theater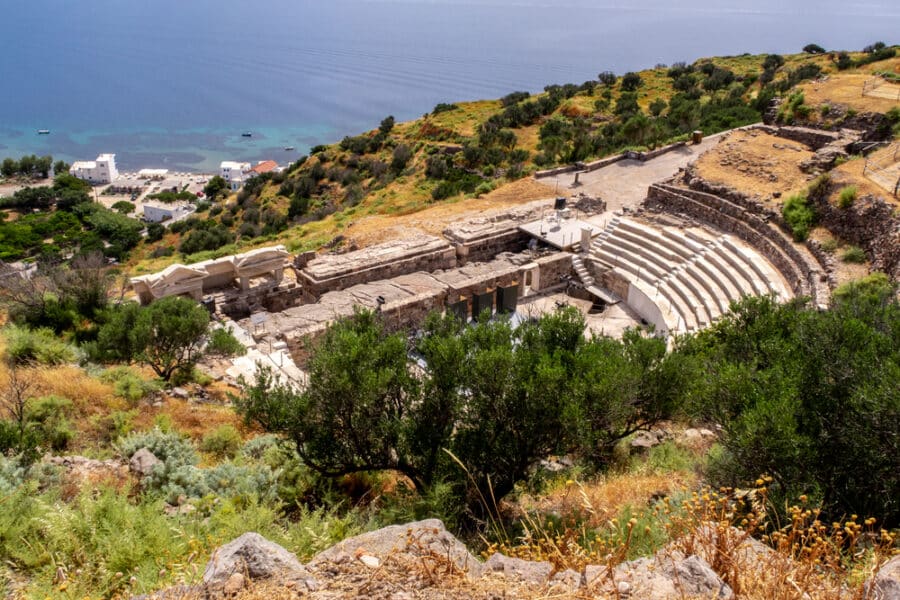 Next on the list of things to do on Milos has to be a stop at this ancient theater. It is found on a rocky slope not far from the catacombs. It has a Roman origin and was constructed during the Hellenistic period. Continuing with its ancient traditions, still today, it's possible to attend festivals and cultural events in Milos' ancient theater, especially during summer.
Archaeological Museum Of Milos
This museum is located in Plaka, inside a Neoclassical building, and it exhibits objects and findings from excavations around the island.
You can see statues, ceramic vases, and coins, as well as a copy of Venus of Milos, the famous statue found on the island, today featured in Paris, at the Louvre.
Mineralogical Museum Of Milos
Another one of our recommended Milos island attractions is the Mineralogical Museum Of Milos, which you can visit in the village of Adamas. The Mineralogical Museum of Milos promotes and explains the effects of mining on the island's history, featuring the impressive mineral wealth that makes Milos an important place in Greece.
Sulfur Mines At Paliorema
Near the beach of Paliorema, Milos' sulfur mine is a rare place to discover on the island and should be considered one of the must-see things to do on Milos Island. Although there is not much information available regarding the history of the place, they are a magnificent witness of the island's mining past.
Monastery Of Agios Ioannis Siderianos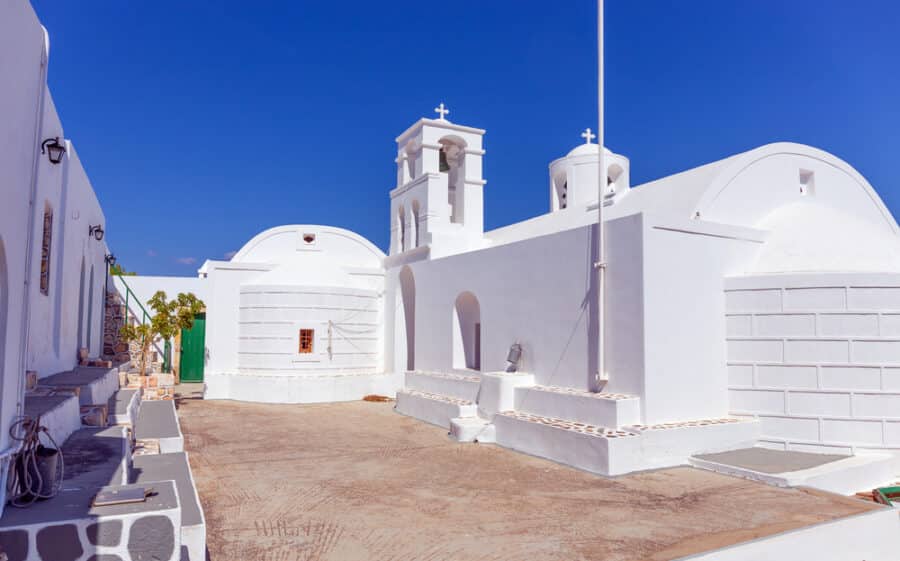 Check out this ancient monastery and its church which is famous for a miracle that also gives the name to the building.
According to a local legend, some island inhabitants locked themselves in the church to escape the pirates and prayed to Saint John to close the door with an iron bar (sideros means iron in Greek). According to the legend, their prayer was heard by God, who prevented the pirates from assaulting the monastery.
Panagia Portiani
This church is located in the center of Zefyria village, dating back to the seventeenth century. It's a whitewashed Cycladic building with beautiful interiors, and it's considered a local monument.
The picturesque chapel is dedicated to the Assumption of the Virgin.
Folklore Museum Of Milos
The Folklore Museum of Milos is in Plaka, not far from the Archaeological Museum. It's located in a magnificent 19th-century mansion and features unique objects locals would use to carry out their everyday work. You can also see traditional clothing and furniture, old photos, and other folk pieces that are part of the Cycladic tradition.
Best Beaches In Milos
Check out some of these stunning shores when spending time in Milos.
Sarakiniko Beach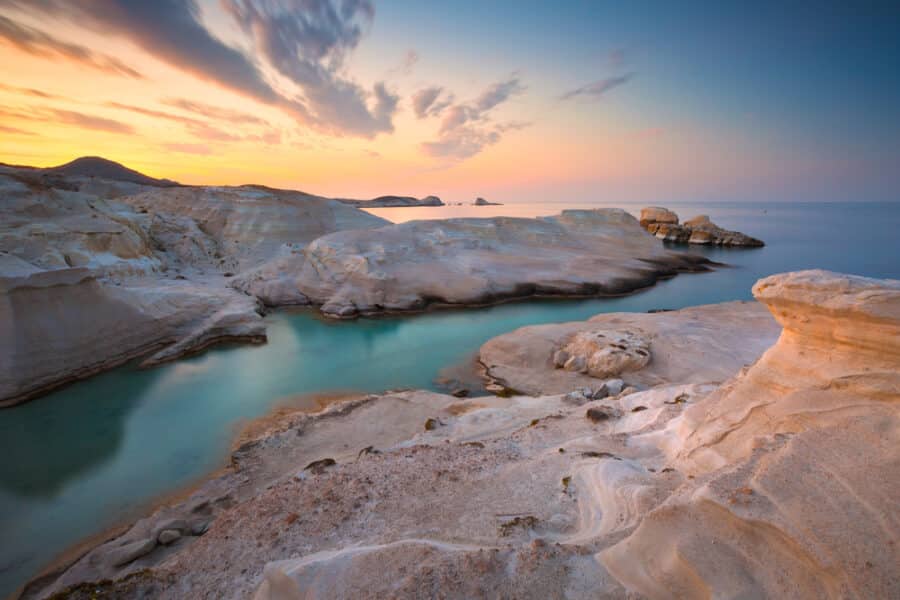 Probably the most famous and definitely one of the most beautiful beaches in Milos. Sarakiniko has to be considered when you're wondering what to do in Milos. It is located along the coastal road east of Adamas. This impressive shore is made of soft white long rocks, wholly eroded by the wind and the sea. Since there's no sign of vegetation in the area, the white rocks make an impressive contrast with the blue sea, giving the impression of being out in space more than on an island!
Gerakas Beach
Looking for another stunning shore to spend some time swimming and tanning on the island? Then Gerakas is an impressive place to discover. Located in the south, it has unique geological formations and can be reached only by boat.
Tsigrado Beach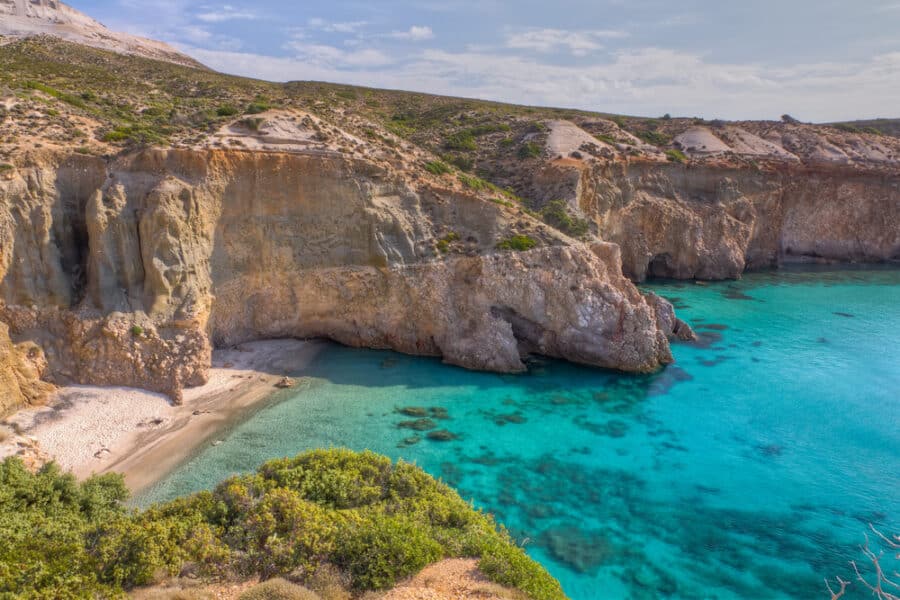 Another beautiful beach you can check out in Milos is Tsigrado, on the island's southern area and often listed as one of Greece's best beaches.
This small sandy cove features beautiful crystal clear waters and an impressive rocky cliff surrounding the shore. Although hiking down the beach can be a bit difficult, the remarkable landscape is worth the try.
Firiplaka Beach
Check it out the same day you visit Tsigrado Beach, as both shores are close to each other. Firiplaka is another superb beach on the island featuring a long white sand coast and remarkable colored rocks along the coastline.
Best Milos Hotels
Budget Milos Hotels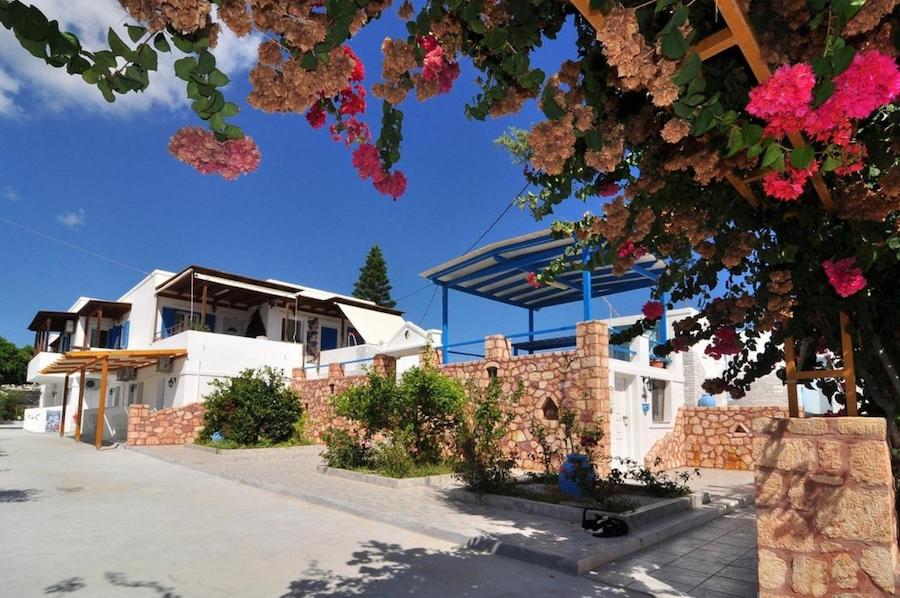 Aphrodite Diamondi is located in Adamas, and it's a convenient and comfortable complex of apartments featuring air-conditioned rooms and self-catering accommodations quite close to Adamas Port and Papikinou Beach.
Korina's Rooms is in Pollonia, and it is a complex built in Cycladic style decorated in white and blue. It offers free WiFi in all areas and air-conditioned rooms with a balcony or patio. It's only 50 m from the sandy beach and a short walk from taverns and bars.
Casa Bianca is in Firopotamos, and it's a pretty traditional home. The accommodation can host four guests with all the comfort of a home, so it's an excellent place for families on a budget.
Mid-Range Milos Hotels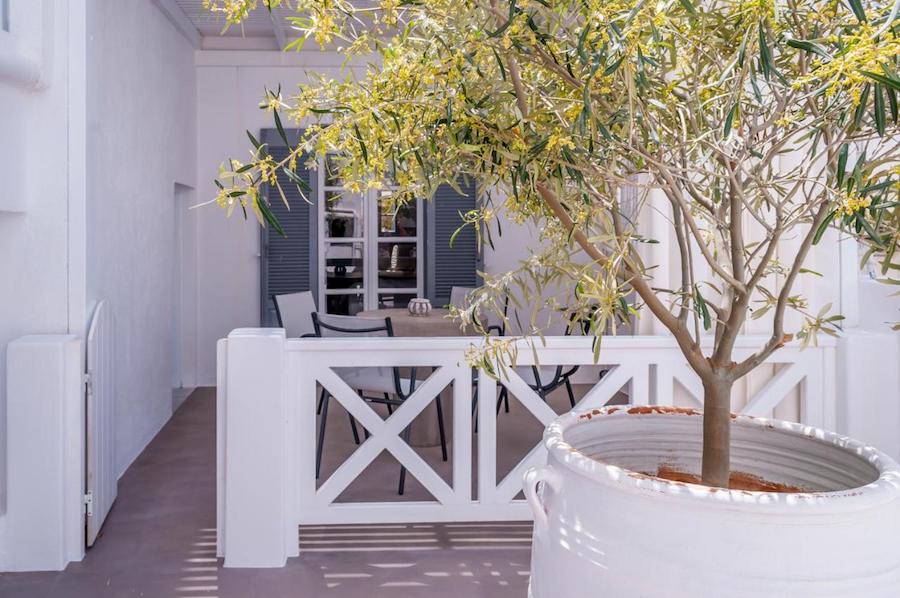 Hotel Ippocampos Studios is located in Adamas. It features beautiful and traditional whitewashed walls and blue wooden shutters, only 200 m from the beach in the seaside village of Adamas. It features air-conditioned studios and free WiFi throughout. Opening out onto a balcony, all the units include a small dining area, safe, TV, and bathroom with toiletries and a hairdryer. Some have sea views. Guests can enjoy a Continental breakfast while there are tavernas, cafés, and shops within a short walking distance.
Milos Bay Suites is located 60 m from the sandy beach of Papikinou in Adamas. The accommodation offers tastefully decorated rooms with a private patio or balcony fitted with white furnishings and anatomic mattresses. All spacious, air-conditioned studios offer views of the garden or the Aegean Sea.
Corali Hotel is at the heart of Adamas, offering easy access to the port and the beach. Here, guests can enjoy panoramic views of the town and the port from the hotel's lounge while all rooms are en-suite with air conditioning, fridge, TV, telephone, and private balcony. The hotel's mini-bus will expect visitors daily at the port with a complimentary transfer service.
Luxury Milos Hotels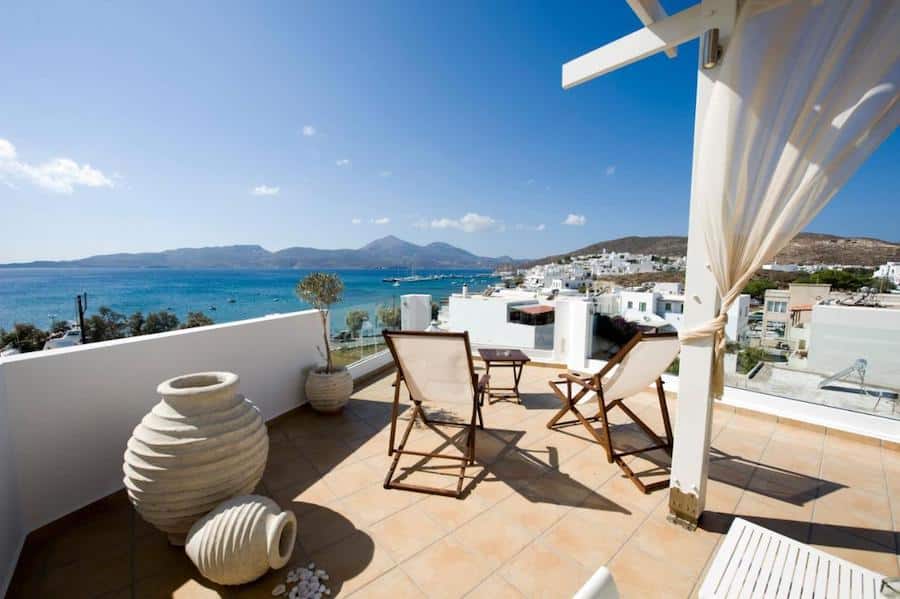 Zoe Milos is 50 m from the sea and 200 m from the beach of Apollonia. The hotel features air-conditioned studios and rooms with a balcony or patio. Rooms are decorated in elegant blue or earthy tones and in a Cycladic style. Rooms have a kitchenette with cooking facilities and a fridge. Each has a flat-screen TV, while guests have the option of an in-room breakfast. There are seafront tavernas, shops, and cafés in the center of Pollonia, only 500 m away.
Mavrokastro is in Adamas, a few minutes by car from Mytakas Beach. Mavrokastro features accommodation with free WiFi, BBQ facilities, a garden, and free private parking. Fitted with a patio, the units offer air conditioning, a flat-screen TV, and a private bathroom. This holiday home also offers a sun terrace.
Ostria Hotel is 300 m from Papikinou Beach. This Cycladic hotel features a rooftop garden with views of Adamas and the bay. It offers rooms decorated with warm colors and iron beds, all with a flat-screen TV and a fridge. A homemade breakfast buffet with cheese pie, pastries, and local products is served in the breakfast area or the rooms. Drinks and coffee are served in all areas of the property.
Where To Eat In Milos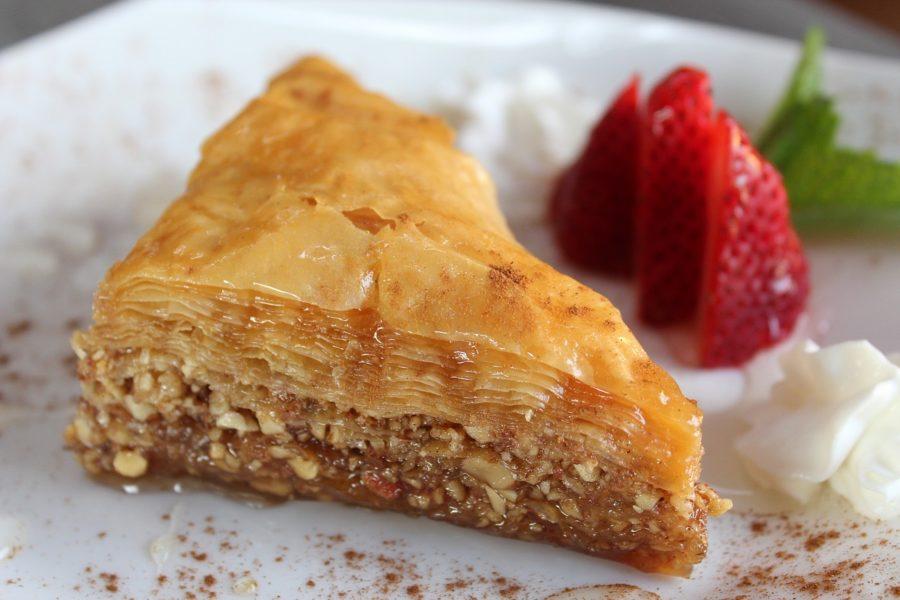 The best areas to go for dinner, a drink, or a coffee are the tourist places on the island, including Pollonia, Adamas, and Plaka.
Port Of Pollonia
For the best seafood and fresh fish, don't hesitate to book a table in the port of Pollonia.
Akrotiri Seafood Obsession
Akrotiri Seafood Obsession is a fantastic fish tavern in Pollonia. It has excellent reviews and is in a magnificent location, next to the sea. All products are sourced locally, so the place is known for serving fresh and tasty dishes.
Aragosta
Aragosta is a bar-restaurant in Adamas with Cycladic decoration and romantic views over the sea. Aragosta is praised for its high-quality food with touches of Greek and international cuisine.
Kivotos Ton Gefseon
Kivotos ton Gefseon is also in Pollonia and is another restaurant with ravishing reviews in Milos. The place features a relaxing garden, and it's ideal any time of the day, no matter whether you're looking for an abundant breakfast, a quick lunch, or a hearty and tasty dinner.
So, now that you know what to do in Milos, we hope you enjoy your vacation.
Share