Here is all the Kasos Island travel advice that you need. We've got a list of things to do in Kasos, top Island of Kasos sites, and tips for where to stay on Kasos Island.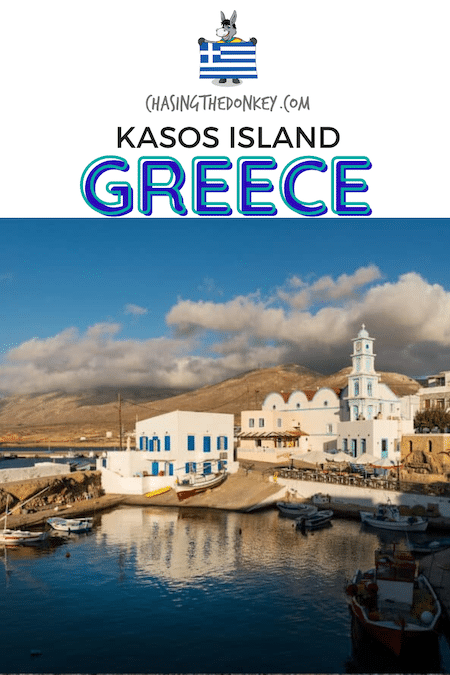 Hidden at the southern tip of the Dodecanese, the small island of Kasos is a hidden gem. Boasting a rugged, untouched landscape, beautiful Byzantine architecture, and stunning turquoise bays, Kasos offers a quieter alternative to the more popular Greek islands.
If you are looking for a Greek escape, here is everything you need to know for a great trip to Kasos, Greece.
How To Get To Kasos, Greece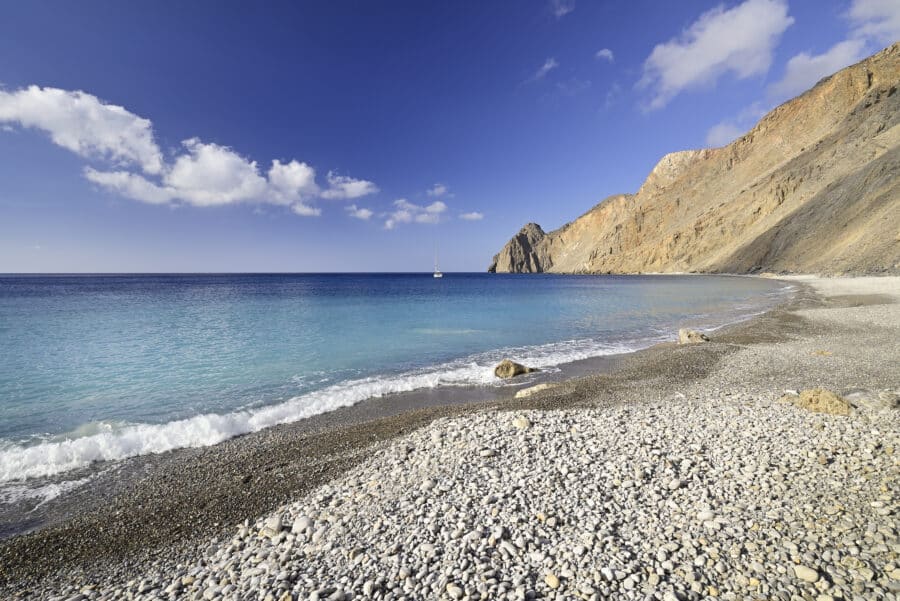 Fly
There is a small airport on Kasos connecting the island via domestic flight to Athens, Rhodes, and Crete.
Ferry
As flights may be infrequent and expensive, the most common way to reach Kasos is by ferry. The best way to reach Kasos is from the neighboring islands, Karpathos and Crete.
Karpathos offers the quickest journey, with regular crossings lasting only one hour. However, there are also frequent ferries from the Cretian port of Sitia to Kasos (journey time of two hours) or Heraklion (journey time of six to seven hours).
More infrequent crossings are also available from the nearby island of Rhodes, with journey times lasting around five hours.
TRAVEL COMPANIES WE USE AND TRUST
Where To Stay In Kasos, Greece
Kasos is one of the smallest and least touristic islands in Greece. Therefore there are fewer accommodation options. However, given its size, wherever you choose to stay, you will be able to visit the island's best sites.
KASOS ISLAND NEIGHBORHOODS
There are four main villages on the island. Most of the tourist accommodation is centered in the main town, Fry, with some rentals available in other towns.
Fry
As the island's main town, Fry offers most accommodation options close to the port, beaches, various eateries, and nightlife. The port is home to the old Church of Aghios Spyridonas, which houses an important collection of family photographs illustrating life on the island over the past century.
Agia Marina
The second biggest town on Kasos, Agia Marina, is full of picturesque alleys and traditional houses. If you are looking for a traditional stay, this is the perfect place for you.
Panagia
Close to the main town, Panagia is a small village with a couple of good accommodation options. If you happen to visit in August, the Church of Pera Panaghia hosts one of the biggest celebrations on the island on August 15.
Arvanitochori
A beautiful old town full of cute churches and old traditional houses, Arvanitochori is home to the island's folklore museum. This village is a great place to stay if you are interested in being close to the island's cultural heart.
Things To Do In Kasos, Greece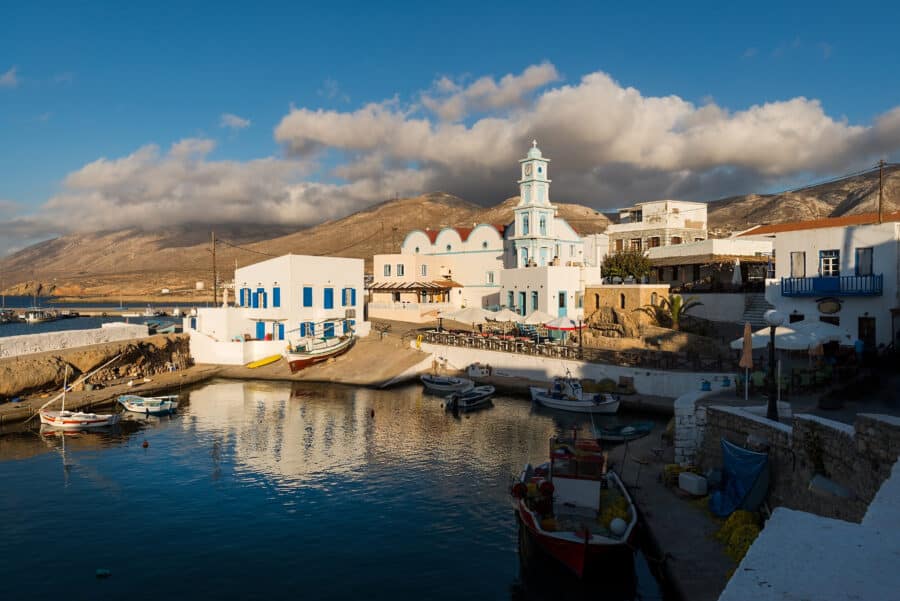 Experience One Of The Island's Many Festivals
The island of Kasos boasts many festivals throughout the summer months. With celebrations of food, music, and dancing going well into the night, it really is something that cannot be missed. Whilst most of the celebrations take place during the summer months, the dates change annually, so check ahead of time if you want to plan your trip accordingly.
Explore The Six Churches Of Kasos
Located in Panagia, each church is dedicated to a different saint: Agios Charalambos, Antonios the Great, Apotomi tou Timios Prodromos, Agia Varvara, Agios Ioannis, and Agios Nikolaos. Interestingly, legend has it that the six churches were built to drive away the fairies that once lived in the area. Whether
you believe the legend or not, the churches offer a taste of beautiful Byzantine architecture.
Visit Armathia Island
Frequent day trips take visitors from the Kasos to the uninhabited Armathia island. The island boasts one of Greece's most famous beautiful beaches, Marmara, as well as some other stunning locations, Karavostasi Beach and Apopantoula Beach. You can also find people renting boats in the harbor, should you prefer the freedom to explore the island alone.
Taste Local Cheese
Kasos is famous for its local cheese industry, especially around the villages of Agia Marina and Agios Georgios. The most common local cheeses to try are almyrotyri, mizithra, sitaka, and elaiki. The cheeses are generally thick and creamy and used in many of the island's most popular dishes.
Best Kasos Island Beaches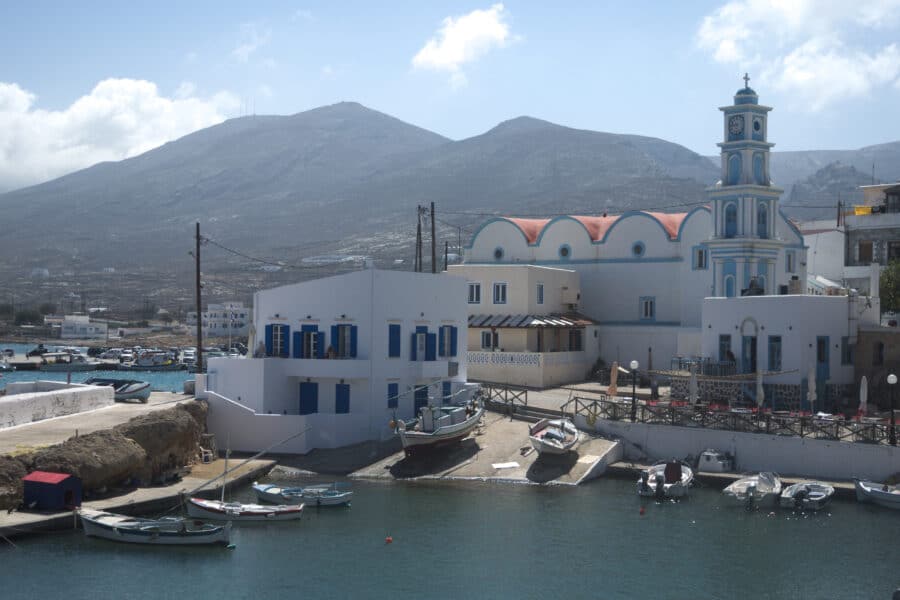 With crystal clear waters and many secluded coves, Kasos boasts beautiful beaches waiting to be explored. Here are some of the best spots to spend the day beside the sea.
Emporios Beach
Located close to the town of Fry, Emporios is the most popular sandy beach on the island. With many sun beds and tourist facilities, such as restaurants
and cafes, Emporios is a great option for a family day out close to town.
Kofteri Beach
Another beach located in the town of Fry, Kofteri, is a pebble beach. The beach is close to many tourist facilities and also offers some sun beds.
Interestingly, throughout summer, Kofteri is often used for volleyball competitions which are great entertainment for visitors.
Ammoua Beach
One of the only sandy stretches on the island, Ammoua Beach, is only four kilometers away from Fry. With plenty of sun beds, toilets, and a cafe, Ammoua is the perfect spot for a beachside day out.
Antiperatos Bay
This turquoise bay offers three different beaches. The coves are exposed to the winds, making them a great place to practice windsurfing or, alternatively, to escape crowds and cool down on a summer day.
Helatros Beach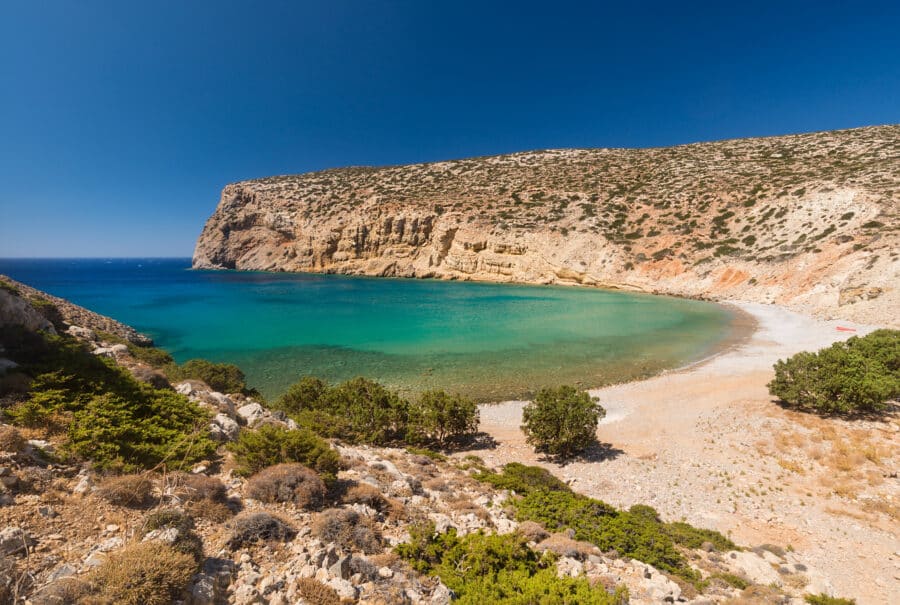 An off the beaten track beach, Helatros is perfect for those seeking seclusion. Although it is relatively unknown, the beach boasts snorkeling opportunities, sun beds, and a restaurant throughout the high summer season.
Now you have everything you need for a great trip to Kasos, Greece.