Privacy & disclaimers →
Secluded & Quiet Islands In Greece
There are many well-known islands to visit in Greece when you are looking for an active holiday, with plenty of night entertainment opportunities, high-end resorts, and popular beaches.
However, not everyone is up to that for their Greek holidays; many travelers look for more somewhat secluded Greek islands in Greece for a relaxing vacation. If this is your case, you've landed at the right place, because here we will tell you which are the best tranquil islands in Greece for a peaceful holiday.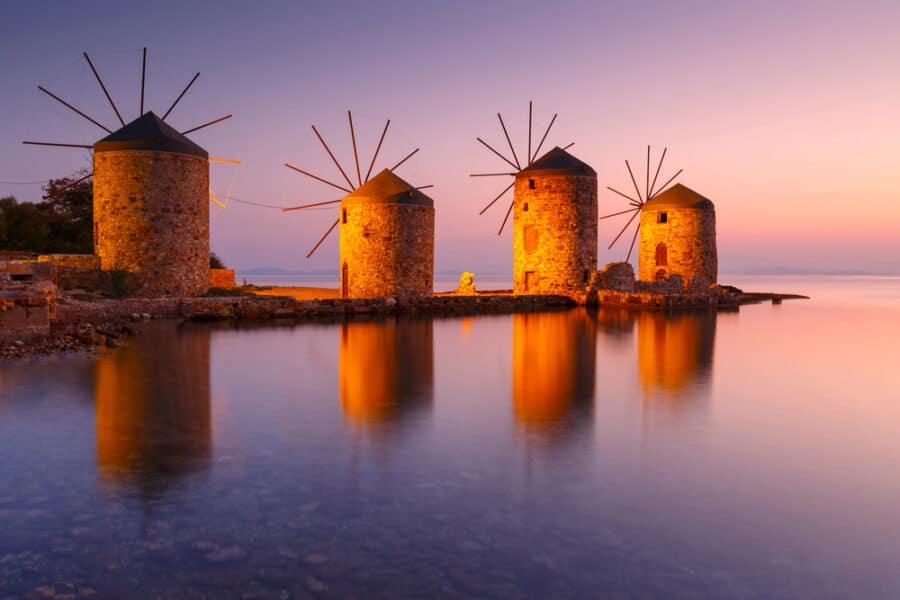 Mostly off-the-beaten-path destinations, these islands display untouched beaches, where it won't be challenging to sunbathe all on your own.
Many quiet Greek islands not only do not have thousands of tourists each summer, some lack enough infrastructure to accommodate you. For that reason, we have chosen islands where you can still enjoy quiet days and have great places to stay – we have given you some recommendations below.
Keep in mind that these lesser-visited islands remain so for a reason. It's not that they are less beautiful than others, but it is often more challenging to reach the destination.
Some trips might require you to travel long hours by ferry; others might even require you to board more than one boat. However, you shouldn't worry; keep it in mind to organize your trip better, but remember it will be worth the effort.
Our Pick Of The Best Quiet Islands in Greece
Read on for our list of the quietest Greek islands:
Donousa
If you want to escape the crowds and enjoy a once-in-a-lifetime getaway, Donousa is the perfect spot. The warm weather and sunny skies make it the ideal destination for beachgoers, while the rich history of the Cyclades and cultural attractions offer plenty of opportunities for exploration. Plus, on Donousa, you will have the chance to try world-renowned Greek cuisine!
The island of Donousa, sometimes spelled Donoussa, is located in the Aegean Sea and is a true treasure for travelers seeking a tranquil and serene vacation destination. Whether you like to spend your days lounging on the beach or exploring the island's hidden corners, Donousa has something for everyone. And, if you want to learn about the main attractions on Donousa, keep reading this guide we prepared specifically for you!
Kasos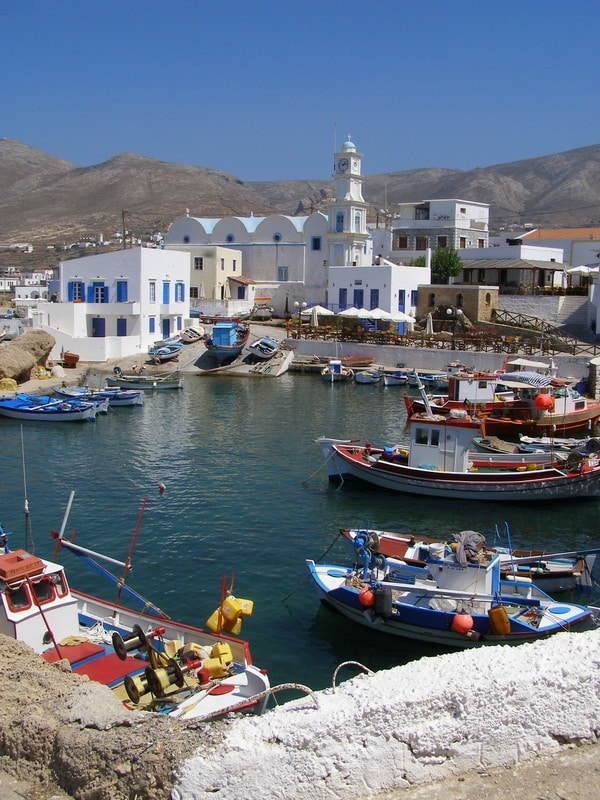 Lonely and unspoiled, this is one of the quiet Greek islands in the Dodecanese, reasonably close to Karpathos Island.
How To Get To Kasos
Maybe you didn't expect it, but it is possible to reach Kasos by plane with daily flights that leave from Karpathos, Rhodes, and Crete.
If you prefer to travel by ferry, you can connect from other Dodecanese islands and the port of Piraeus on the mainland. The trip from Athens is less than 20 hours, but if you travel to Crete and then connect to Kasos, the ferry will only take about three hours from Sitia.
Things To Do In Kasos
The best thing you will do on the island is enjoy the fantastic beaches, most of them isolated. And indeed, the best Kasos beaches are the ones you have to visit by boat.
Not far from the island, the small, uninhabited islet of Armanthi is home to Marmara, one of the most beautiful beaches in Greece.
Being so close to Karpathos, their landscape is relatively similar. Kasos is also rugged and offers plenty of hiking opportunities to discover unique landscapes, small chapels, and rural villages where the cuisine will undoubtedly surprise you.
Where To Stay In Kasos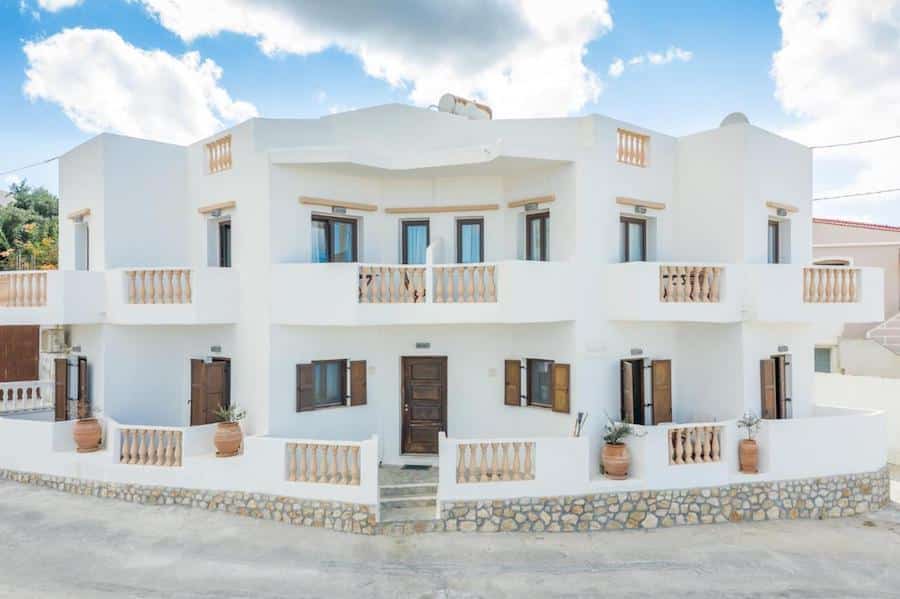 Theoxenia Kasos is a family-friendly place to stay, located in the picturesque village of Panagia. The property features flats and studios with a kitchen, sitting area, and free parking for guests. What is more, the flats are only 2 km from Thassos Airport.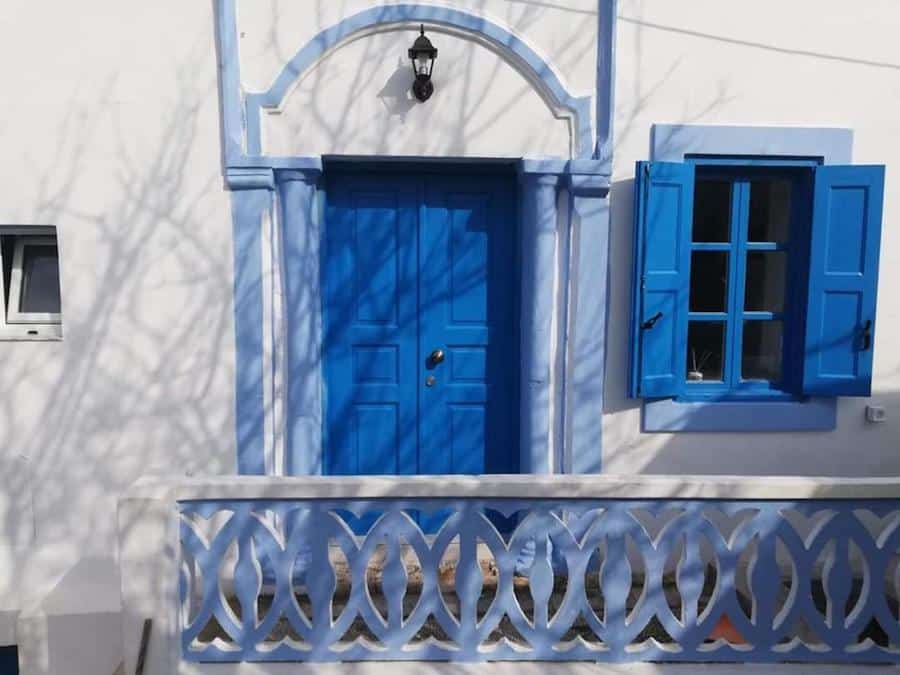 Another place to stay in Kasos is Villa Evdokia Kasos, a traditional home in Arvanitochori with a garden and a terrace, perfect for families with kids. Guests can enjoy a cozy kitchen with an oven and a washing machine, among the amenities.
Lipsi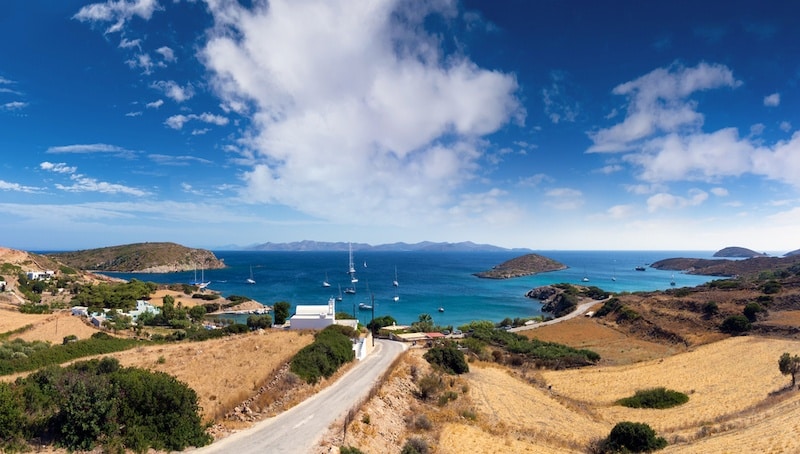 A beautiful gem also in the Dodecanese, Lipsi is a tiny & quiet Greek island about one hour from Patmos, known for its spectacular beaches and excellent seafood.
How To Get To Lipsi
The best way to get to Lipsi is by ferry from Patmos, Leros, or Kalymnos. The fastest option is to travel by plane from Athens to Leros and take a ferry to Lipsi.
You can also reach Kalymnos or Patmos by ferry and then cross to Lipsi with the daily boat.
Things To Do In Lipsi
There is not much to do in Lipsi, and probably that is the beauty of it. The island is small and has a very relaxed vibe. Other than checking the pristine, somewhat isolated beaches, such as Platys Gialos or Kampos.
The small Chora, or main town, right by the port, is a great place to explore during the evening. A few colorful tavernas serve traditional Greek food and some ouzeries, that is, bars known for serving Ouzo and appetizers, including the famous octopus cooked on the island.
Where To Stay In Lipsi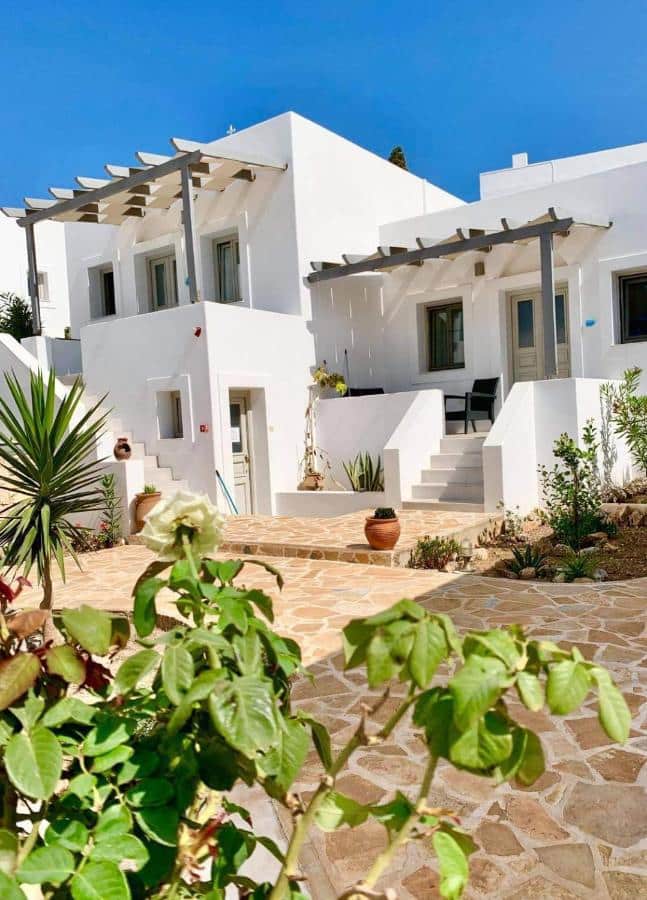 Aegean Muses is a comfy complex of flats and studios, some with balconies or a patio enjoying great views of the island. Since the units also feature a well-equipped kitchen, you can even take advantage of the property's grocery delivery service to its guests.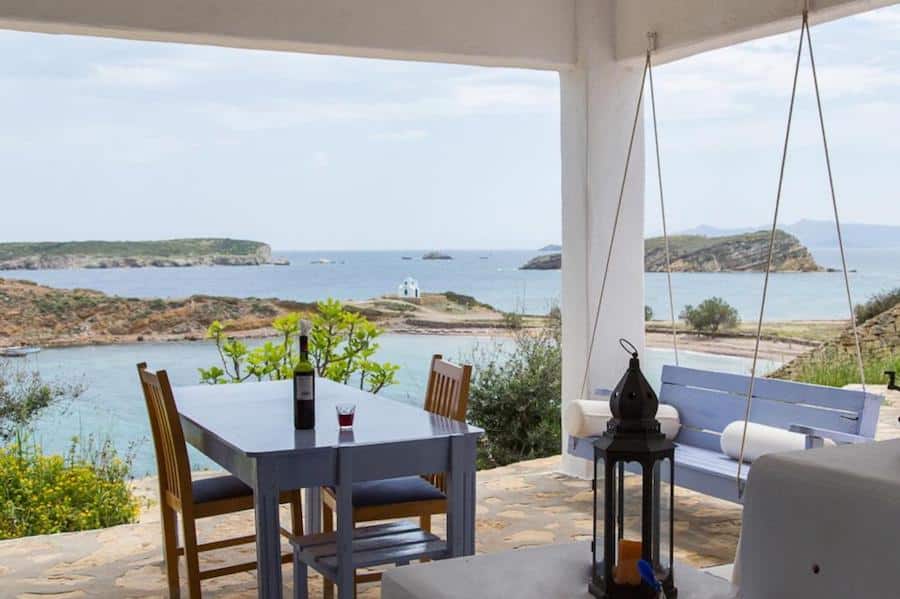 Are you looking for a whole home for you and your family? Then this is the best Greek island for a quiet family holiday. Book Villa Vasiliki, located 100 meters from the beach; the house also features access to a garden, a private beach area, and room service. A continental breakfast is available every morning at the villa as well.

Lemnos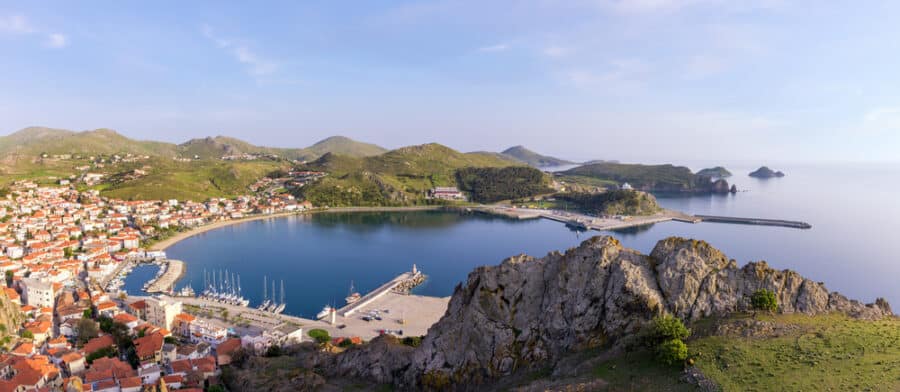 Not far from the more popular Thassos Island, Lemnos is a North Aegean island. This is an unspoiled Greek island with some of Greece's quietest and most varied beaches.
How To Get To Lemnos
You can reach Lemnos from Athens with a ferry departing from the port of Lavrio; this trip lasts less than ten hours, while the ferry departing from Piraeus takes a whole day to take you to Lemnos.
The island of Lemnos also has an airport that receives domestic flights from Athens and Thessaloniki and the islands of Ikaria, Chios, Lesvos, Samos, and Rhodes.
What To Do In Lemnos
The island offers beaches for all tastes; some on the eastern coast of Lemnos are highly recommended for water sports, such as kitesurfing and windsurfing because they have impressive waves to ride.
History buffs will love to explore the island's cave of Philoctetes and the different archaeological sites, such as Poliochni, Kaveirio, and Hephaestia, magnificent churches, and even Lemnos' medieval castle.
Where To Stay In Lemnos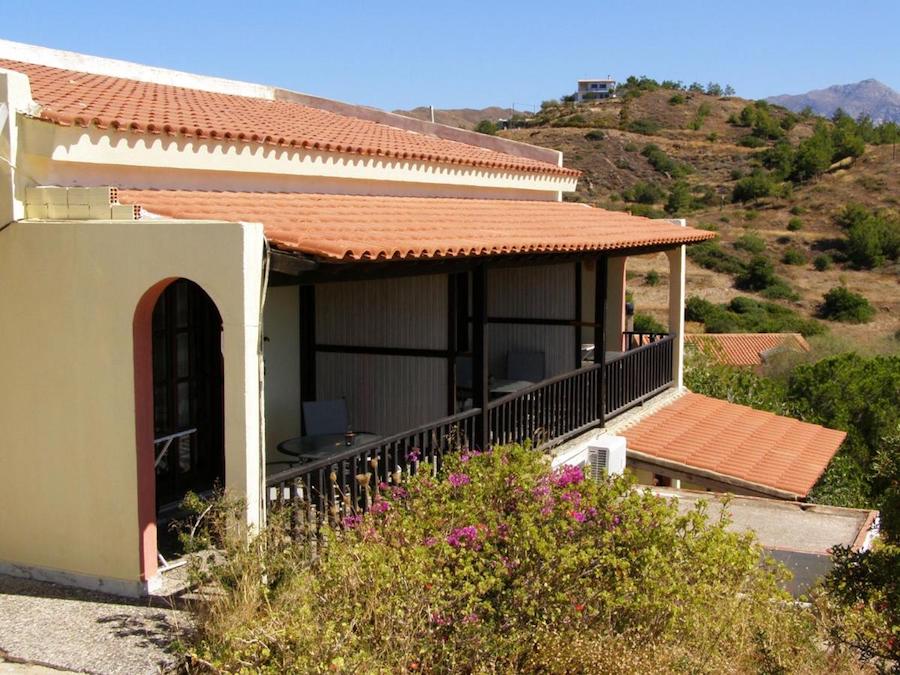 Marvina is a convenient and comfortable home that you can book on Lemnos Island, offering accommodation for couples and families of four. Although it is not so easy to reach from the port (you would need a rental car or a taxi), it is located in an isolated area, perfect for those looking for authentic relaxation.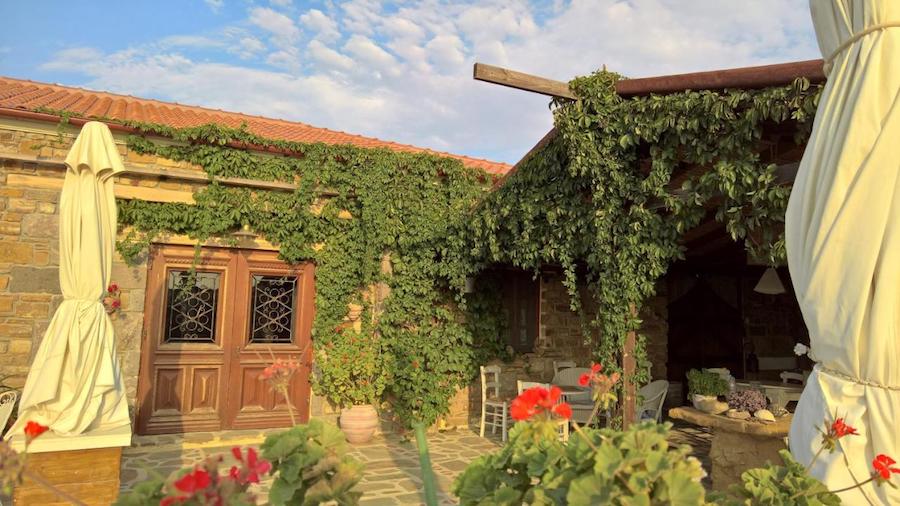 For a more central place to stay on Lemnos, why not check Ethaleia Hotel? This beachfront property features gorgeous beachfront rooms and suites blending antique furnishings, contemporary technology, and genuinely stunning views over Moudros Bay.
Chios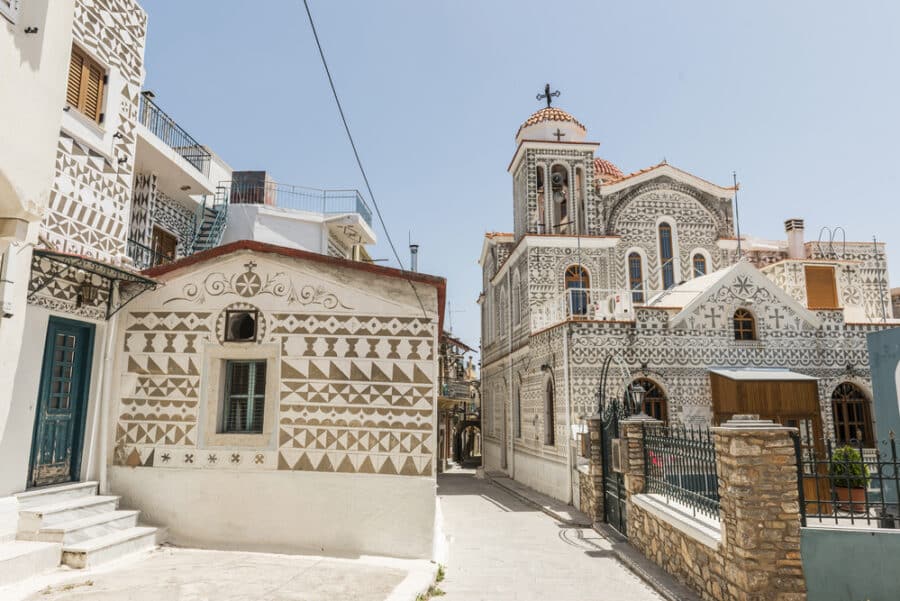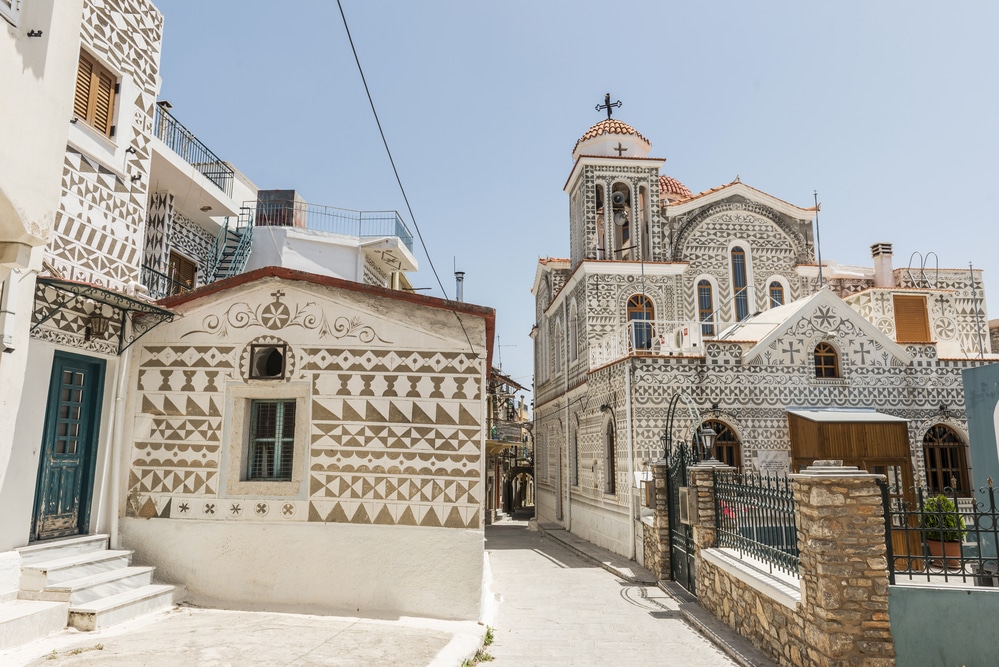 A bit more visited than some of the previous islands, Chios is another North Aegean place to visit in Greece if you're looking for solitude and peaceful moments by the sea.
How To Get To Chios
You can get to Chios from Athens with the ferry departing from the port of Piraeus, and the trips can take up to ten hours. It is also possible to reach Chios from other Greek islands, such as Lesvos, Syros, Mykonos, Ikaria, and Samos.
The island also has a domestic airport, receiving flights from Athens, Thessaloniki, Lemnos, Lesvos, Rhodes, and Samos.
What To Do In Chios
Chios is among the bigger islands in Greece, so lesser-known or less explored does not necessarily mean smaller! For this reason, renting a car can be a good idea if you intend to explore the island.
Chios is known for the so-called mastic villages, located on the half of the island where this unique natural product is found. Pyrgi is one of the best-known mastic villages and a picturesque medieval town to explore.
On the island, you can also enjoy the majestic views of Chios' windmills and explore antique Byzantine villages and churches, monasteries, medieval castles, and the fortified village of Anavatos.
Where To Stay In Chios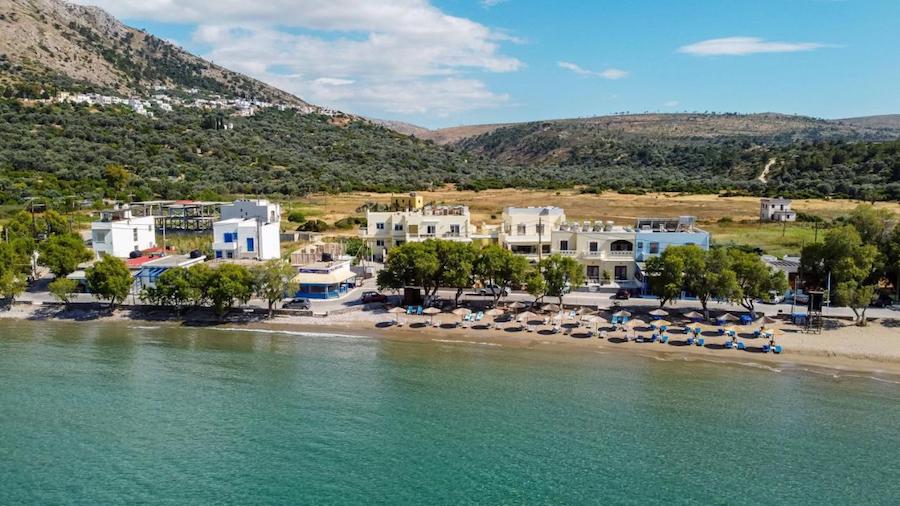 If looking for a seafront property, check Almiriki Hotel. It is located on Lithi Bay in the southwest of Chios. The hotel also has beachfront and free parking for guests. Inside the venue, rooms and apartments are decorated in earthy tones, including a minibar, kitchenette, and balcony.
Erytha Hotel & Resort Chios is another good option on the island with convenient fees and family-friendly facilities. The hotel stands right on the sandy beach of Karfas, and it has two outdoor swimming pools, a children's pool, and a private beach. There are also two restaurants serving Mediterranean cuisine and two poolside bars.
Kastellorizo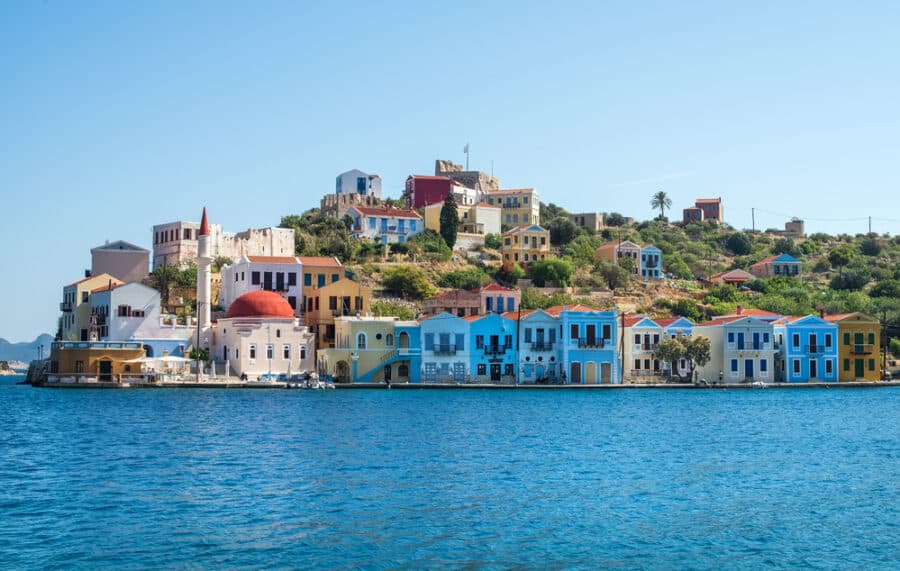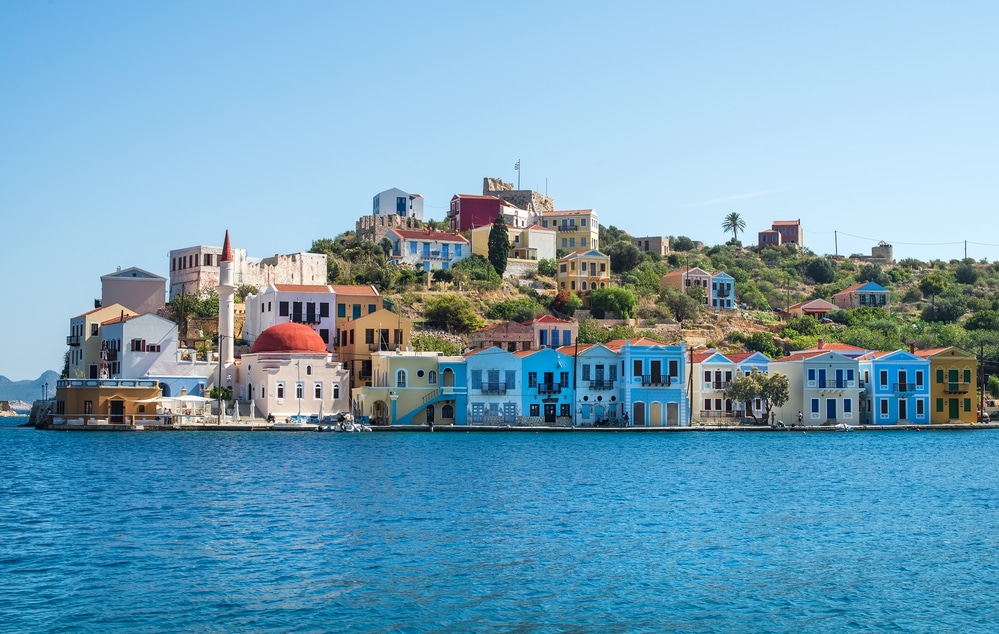 Kastellorizo, a charming and remote Greek island, is one of the best options when looking for a secluded and quiet Greek Island to spend your holidays.
How To Get To Kastellorizo
It is probably one of the most challenging islands to reach from mainland Greece; it is easier to get there by ferry from Turkey. We promise that the travel time to this quiet island in Greece will be worth it.
However, there are daily summer flights from Rhodes (the flight needs to be booked well in advance because it is a small plane with only 36 seats); this trip takes about 25 minutes. Ferries leaving from Rhodes take about four hours to get to Kastellorizo.
What To Do In Kastellorizo
Kastellorizo is a unique little gem belonging to the Dodecanese Islands, just opposite the Turkish coastline.
The island is well-known for its spectacular Neoclassical homes and mansions; this distinctive eighteenth-century mosque adorns the harbor area, the Castello Rosso, a medieval castle close to the port, and the picturesque fishing village.
During your visit, don't forget to tour the island by boat to discover the beautiful Blue Grotto and check out some unique coves for swimming and diving.
Where To Stay In Kastellorizo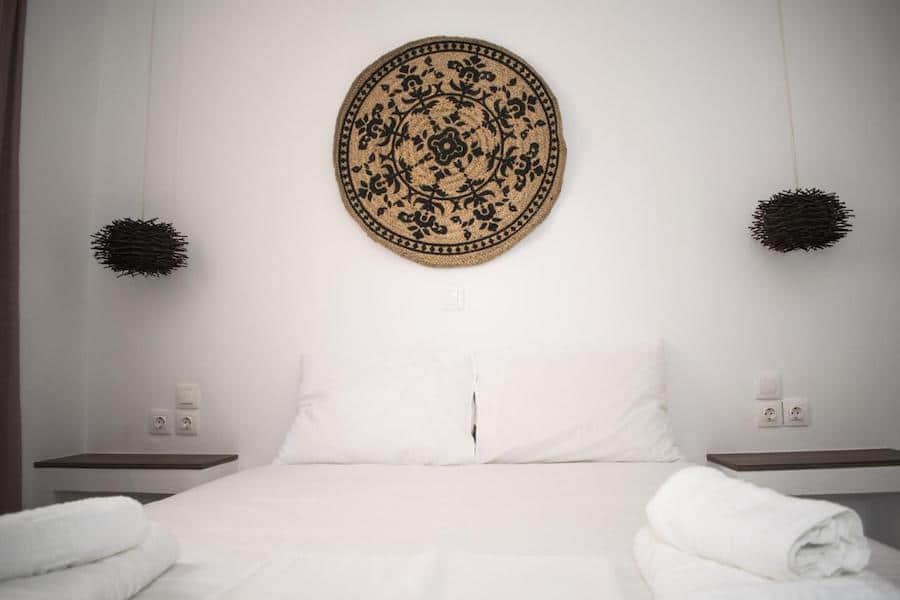 Although there is not plenty of accommodation on the island, you can stay at the fantastic Joanna's Home, only 600 meters from Palaiokastro and a few steps from the port of Megisti Port. The comfy apartment features a bedroom, a kitchen, and a convenient seating area.
Ithaka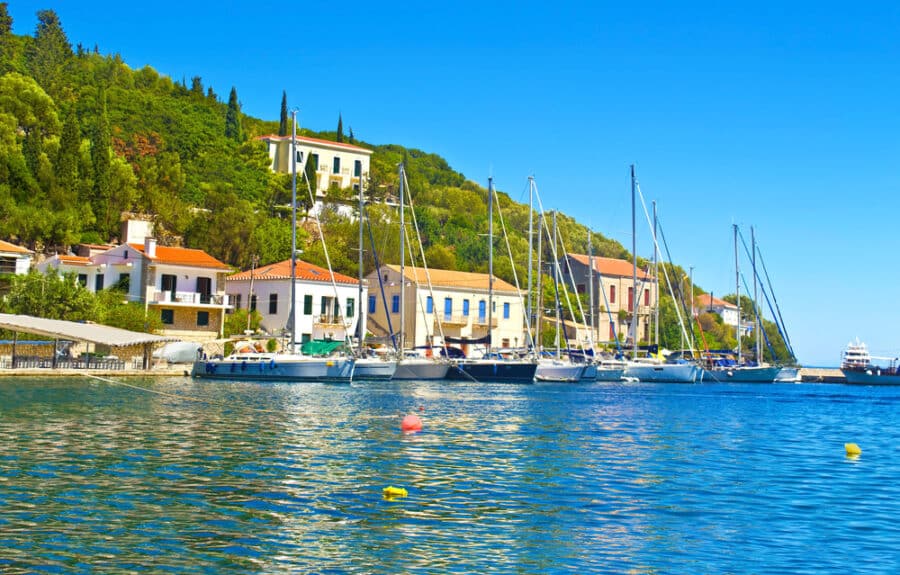 Located on the Ionian Sea and home to green landscapes and beautiful shores, Ithaka is very close to Kefalonia Island.
How To Get To Ithaka
There is no option for travel to Ithaka; the only way to get there is by ferry from mainland Greece, Kefalonia, and Lefkada.
If you prefer to travel by plane, the best option is to land on the island of Kefalonia and then reach Ithaca by ferry.
What To Do In Ithaka
Stroll along the beautiful beaches of Ithaka, either sandy or pebbled, with pristine seas and protected by long lines of tall pine trees providing shade and a fresh atmosphere even during the most torrid summer days.
The capital of Ithaka, Vathy, is a picturesque settlement amphitheatrically arranged around a deep bay. This traditional settlement features attractive houses built in the classic style of the island and a beautiful cathedral.
Finding the Archaeological Museum in town is also possible if you are interested in art and objects from the Geometric and Mycenaean periods.
Where To Stay In Ithaka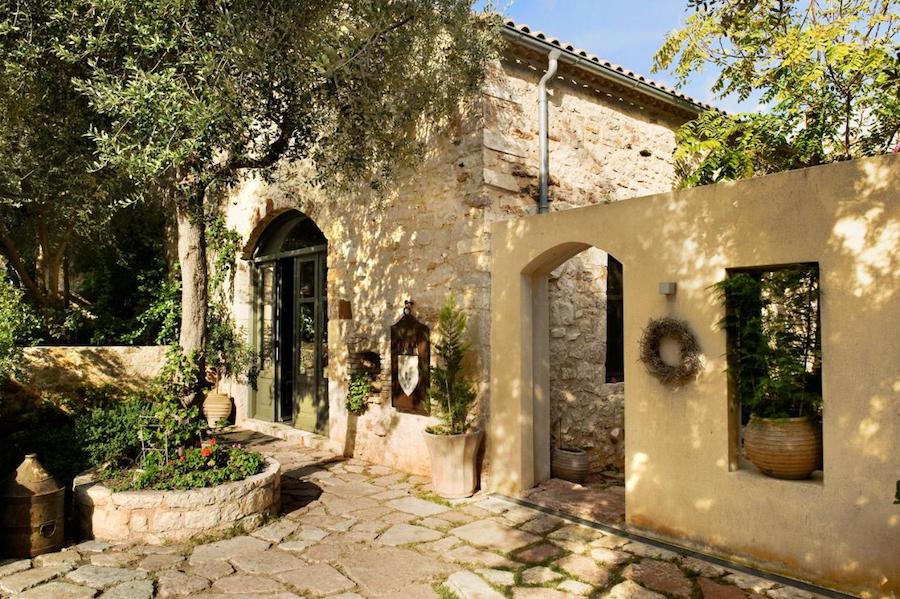 Familia is a beautiful place to stay in Vathy. It features a shared lounge, a garden, and comfortable family rooms a few meters from the port of Ithaka and not far from attractions such as the Folklore Museums, the Archaeological Museum, and imposing places like Skinos Beach and Sarakiniko Beach.
Anafi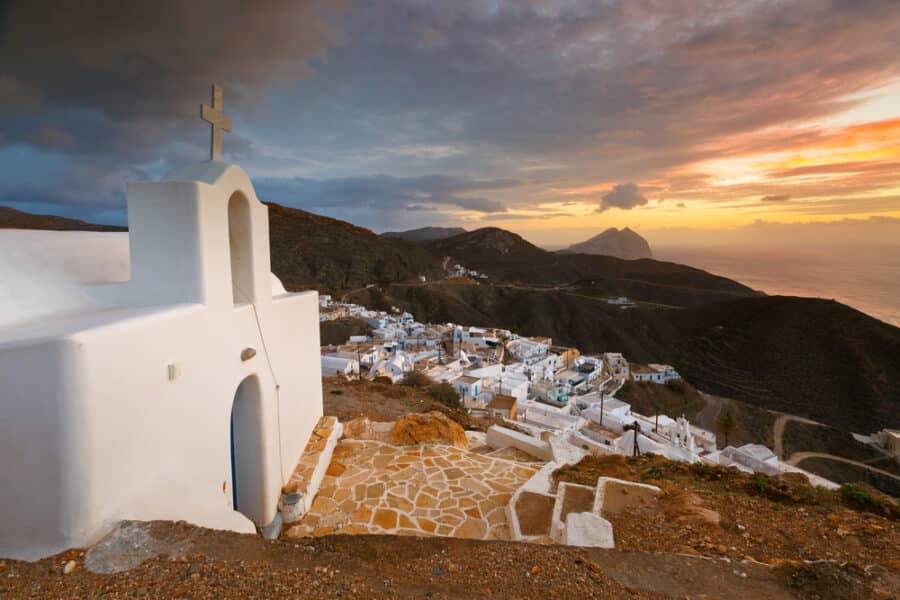 Just a stone's throw for the popular and overcrowded Santorini, Anafi is one of the lesser-known Greek islands in the Aegean region. It is a fantastic place for peace and quiet, although quite difficult to reach.
How To Get To Anafi
You can travel to this quiet greek island, from Athens, with one of the three weekly ferries that leave from the port of Piraeus. Otherwise, you can take the ferry from Santorini, Ios, or Milos. The trip is about 10 hours long.
Since there is no airport in Anafi, those looking to fly should first need to reach Santorini Airport and easily reach Anafi by ferry; the ride is about 2 hours.
What To Do In Anafi
Anafi is one of the most picturesque islands you can visit in Greece. Even if it is close to the cosmopolitan Santorini, Anafi has remained a virgin destination, untouched by mass tourism, charming and authentic.
With Santorini, Anafi shares its volcanic origins, with an impressive landscape made of cliffs and bizarre sandy beaches, most of them easily accessible by foot.
Anafi is one island where you won't need to rent a car, there is only one village to visit, and it's pretty simple to move around. Anafi is also a popular camping destination in the country.
Where To Stay In Anafi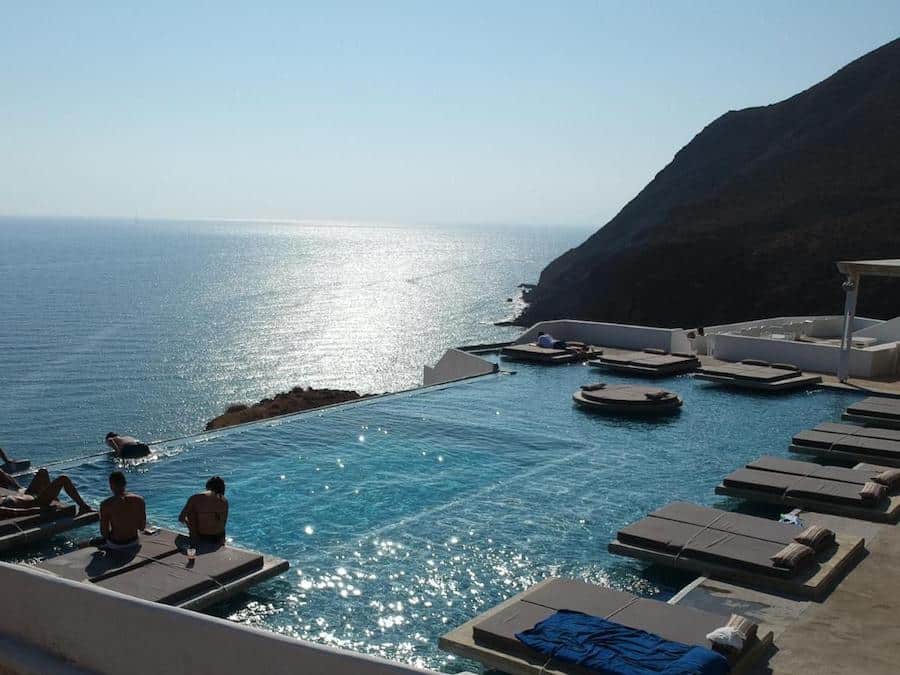 Golden Beach Resort Anafi is a modern and comfortable place to stay on the island, featuring a restaurant and amazing sea views. Children can take advantage of the outdoor pool while a delicious a la carte breakfast is served every morning at the property.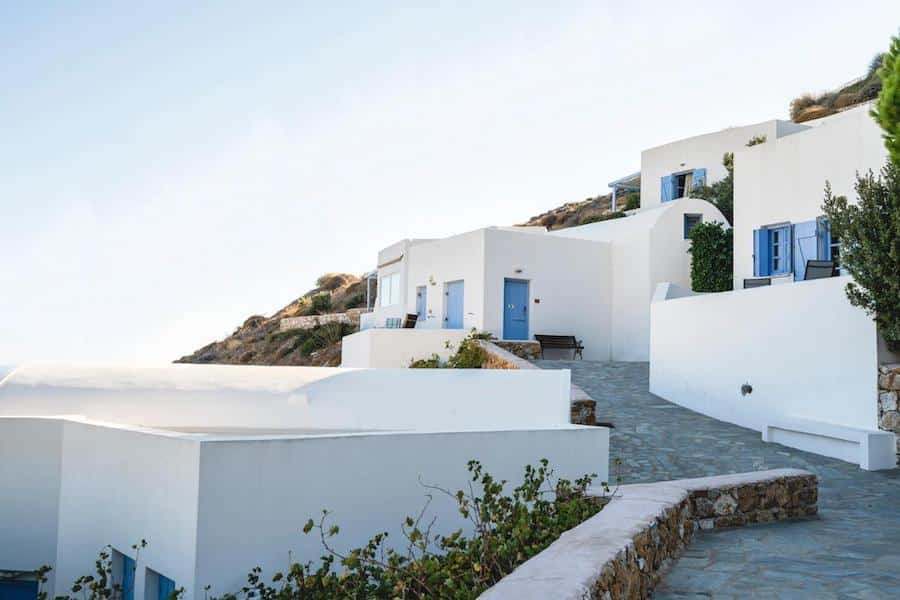 Apollon Village Hotel is another great place to stay in Anafi; it is perched on a hill only meters from Klisidi Beach. The hotel is built in authentic Cycladic style with panoramic views over the Aegean Sea. It has studios and rooms open to a furnished balcony, while free parking is possible on-site.
Skyros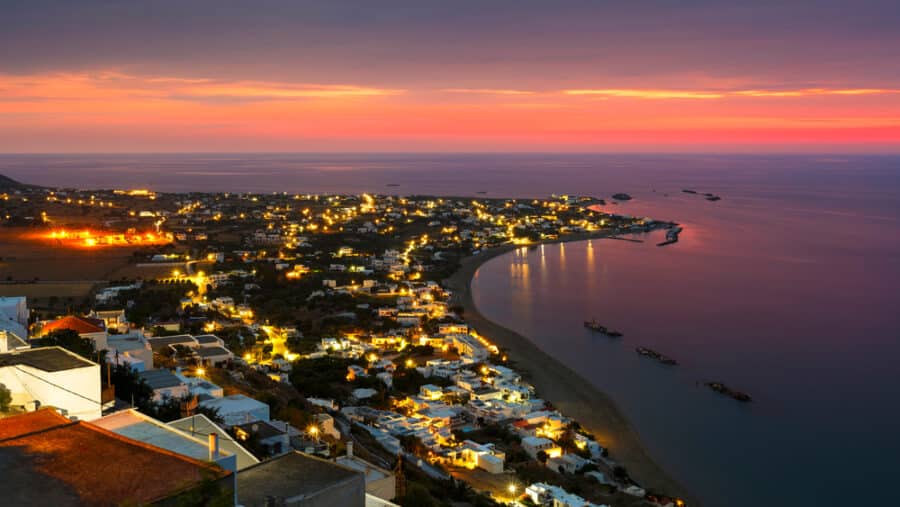 Belonging to the Sporades, Skyros boasts an impressive and relaxing vacation spot made of traditional villages, a rugged coastline, and incredibly blue seas.
How To Get To Skyros
Ferries to Skyros depart from the island of Evia, with 2 or 3 ferry crossings per day. Alternatively, you can reach Skyros from the bigger Alonissos Island if you're traveling in the summer.
It is also possible to reach Skyros with a domestic flight from Athens or Thessaloniki. However, you need to book a taxi or rent a car as the main village is about 17 km from the airport.
What To Do In Skyros
Being a relatively small island and certainly entirely off the beaten path, there is not much to do on Skyros, making it the ideal destination for a peaceful stay by the sea.
Skyros is a perfect place for those who love long beach days, with the pristine shore for swimming, exploring the seabed, and enjoying the most traditional seafood in a tranquil tavern by the sea.
The island is a paradise for outdoor activities; it is possible to venture into one of the ancient footpaths that cross the island if you are a fan of hiking and discovering forgotten churches and villages, as well as stunning sea views.
Where To Stay In Skyros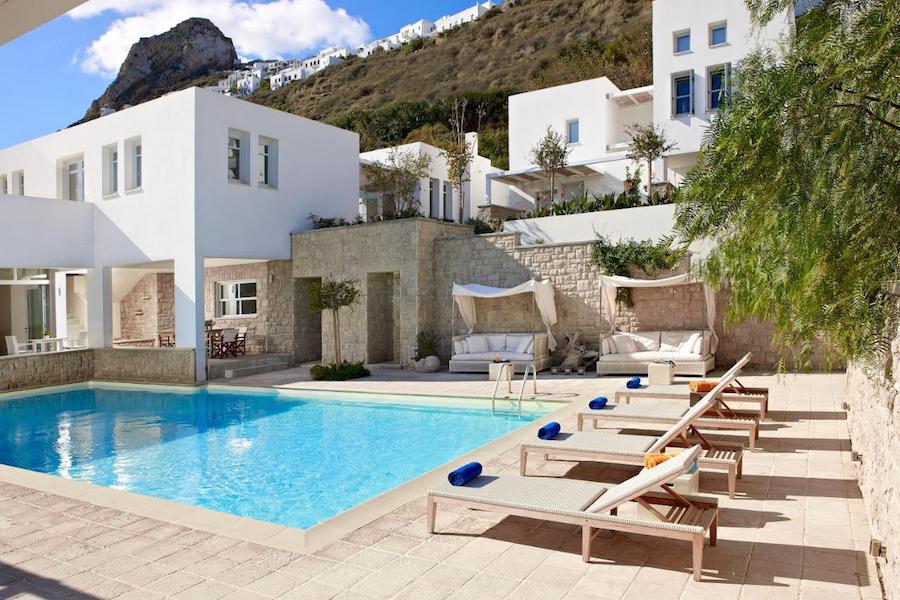 Skyros Ammos Hotel is located only 60 meters from Magazia Beach, and it features an outdoor pool surrounded by modern sofas and sun loungers on a decked terrace. Inside the hotel, guests will find elegant accommodation with a garden or Aegean Sea view, some split-level. Their delicious traditional breakfast includes handmade jams, pies, local cheeses, and honey.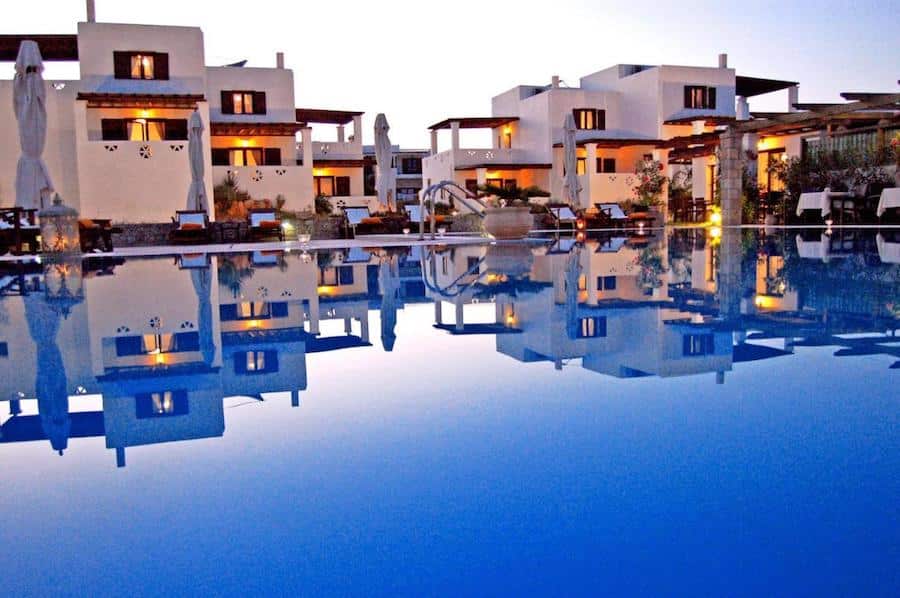 Vina Beach Hotel is a fantastic place to stay in Skyros, featuring a 162-m2 pool right on its private beach area. A well-tended garden with a playground surrounds the family-friendly hotel, while the studios open to a furnished balcony overlooking the pool and the sea.
Kythira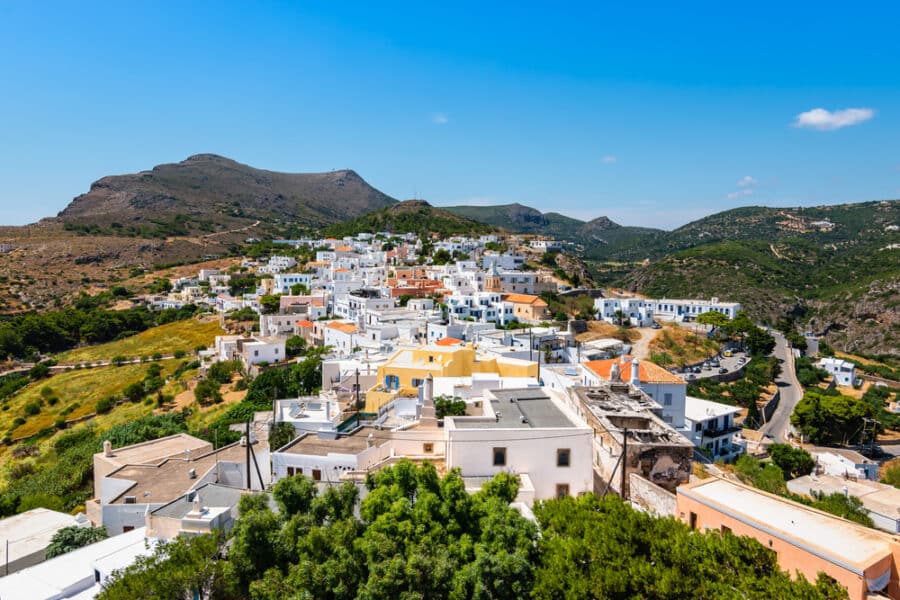 Not far from the coast of eastern Peloponnese, the forgotten island of Kythira is a wonderful and tranquil Greek destination, also quite near to the western coast of Crete.
How To Get To Kythira
Kythira is pretty secluded but can be easily reached from the Ionian Islands. The best way to get to Kythira is traveling by boat from the port of Neapolis, on the south of the Peloponnese. There are daily ferry routes, and the trip does not last more than one and a half hours.
What To Do In Kythira
When visiting the island, do not miss a visit to the ancient old town, the Chora of Kythira. It is located high on a hill, dominating the island's landscape. The ancient citadel faces the port and offers unique views of the island.
Besides visiting the old churches, monasteries, and Venetian castle, you can also check out some of Kythira's most amazing beaches. The most exotic beach with turquoise waters is Diakofti Beach, on the northeastern side of the island; it is a fabulous spot for young children since it's calm and shallow.
Where To Stay In Kythira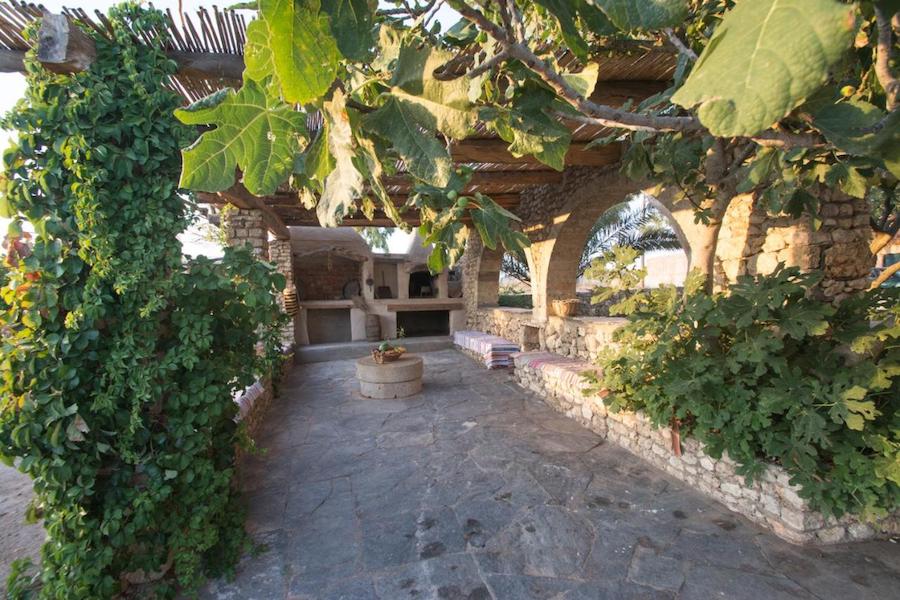 Abramis Studios is a comfortable home in the village of Mitata; upon request, guests can enjoy a traditional local breakfast in a basket outside your door. On the property, there are a beautiful garden and barbecue facilities.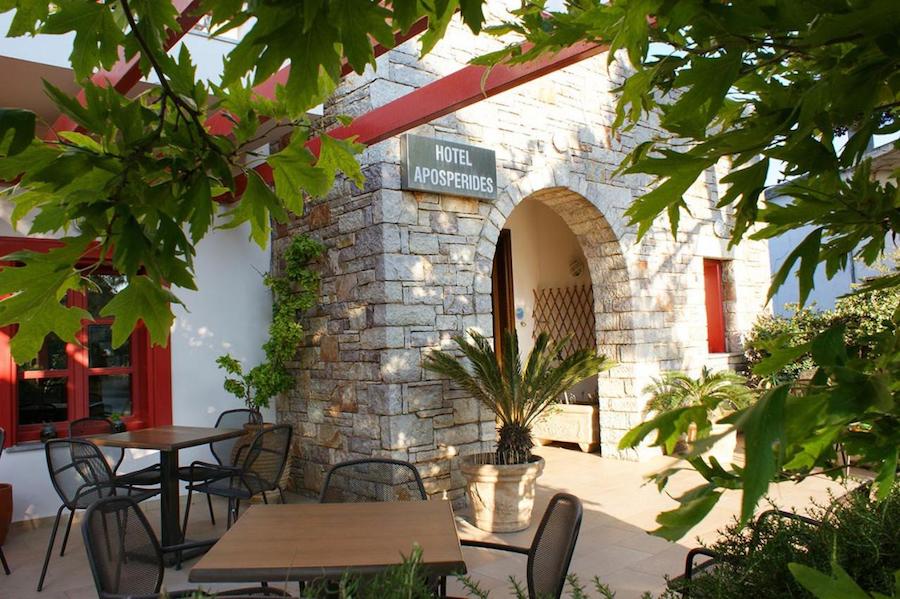 Check the beautiful Aposperides Hotela in Livadi. The hotel offers accommodation with private balconies as well as beautiful city views. Every morning, the hotel offers a delicious continental breakfast.
Tilos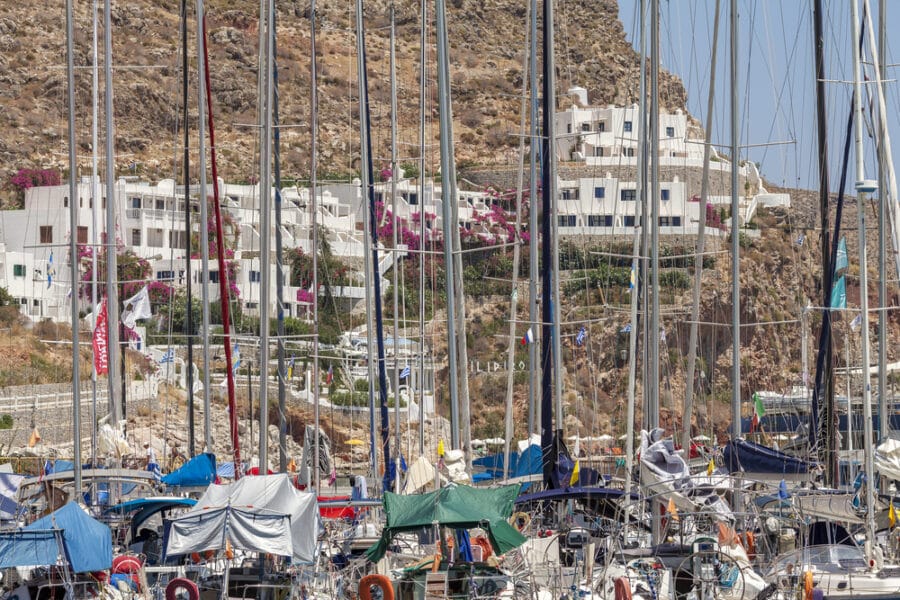 One more beautiful island in the Dodecanese, Tilos, is a lonely Greek destination, perfect for walks in nature, beautiful beaches, and top-quality seafood. This one is a top pick for the non-touristy Greek islands this year.
How To Get To Tilos
The island of Tilos can only be reached by ferry, either from the port of Piraeus in Athens or from the island of Rhodes. You can also fly to Rhodes and then catch the ferry to Tilos from there.
What To Do In Tilos
Another island where the most remarkable activities for visitors are connected with its rugged landscapes and the endless possibilities to hike and explore the landscape.
One exciting place you can reach while walking on the island's paths is to pay a visit to Mikro Chorio (a small village). The old abandoned village is a mysterious place that offers excellent spots for those who are photography fans.
Tilos offers plenty of opportunities to discover the varied local flora and fauna, including the curious remains of dwarf elephants that lived on the island more than 4000 years ago.
Where To Stay In Tilos
Super convenient and affordable, George Apartments offers excellent value in the small town of Livadia. The place is meters from the port and the beach and offers self-catered accommodation, a picturesque flowered courtyard, and a roof terrace overlooking the Aegean. George Apartments provides a free two-way transfer from the port is provided to its guests.
So tell us, which of these quiet Greek islands tickle your fancy?