If you're planning a trip to Tinos, Greece, then look no further. In this blog, you will find all the best information to help you plan your Greek vacation.
Tinos is the third largest island in the Cyclades and is conveniently located next to the hugely popular tourist destination, Mykonos. Unlike its party-famous neighbor, Tinos Island is often dubbed the spiritual heart of Greece. This is because Tinos has deep-rooted religious significance spanning over centuries.
However, the island's charm goes much further than its spiritual history. Tinos has so much to offer visitors, with delicious food, rugged nature, and wild Aegean beauty – there is so much to discover on this island.
Here is your Tinos travel guide. A go-to page to one of the lesser known rising stars of the Aegean, including how to get there, where to stay and what to do on this magnificent Greek island.
How To Get To Tinos, Greece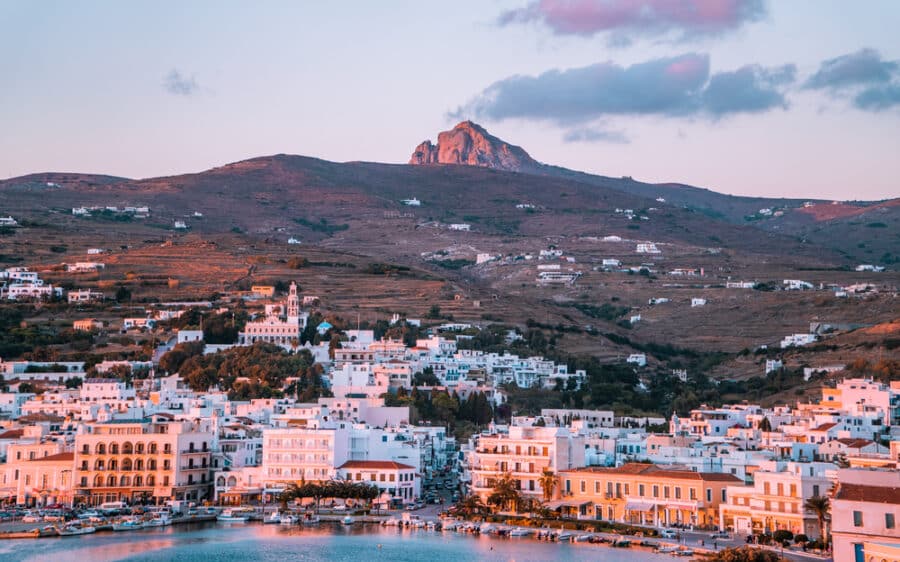 As Tinos is a small island without an airport, the only way to arrive at the island is by ferry. However, its strategic position means that there are many easy ways to get to Tinos, and no matter your time or budget, you'll never be short of transport options.
How To Get To Tinos From Mykonos
The fastest way to get to Tinos is by flight to the neighboring island Mykonos. As one of the busiest islands in the Aegean, Mykonos International Airport (JMK) receives many daily domestic and international flights during the high season.
Once you arrive, it's only a short thirty-minute ferry ride from Mykonos Port (Tourlos) to Tinos. Tourlos Port is only a short 6km ride from Mykonos International Airport and is easily accessible by taxi or public bus.
During the Greek high season (July and August), ferries in the Cyclades can be extremely busy. Therefore, we recommend booking your ferry ticket in advance and arrive at the port at least an hour before departure.
How To Get To Tinos From Athens
Another simple and common way to get to Tinos is via the Greek capital, Athens.
Athens boasts a large international airport with many international flights daily and three ferry ports, each offering services to Tinos: Piraeus, Rafina, and Lavrio.
Piraeus is the largest port in Athens, from which large conventional ferries generally embark. In high season the slow ferry services to Tinos (approximately 4-5 hours journey time) leave Piraeus port twice daily. Tickets should be purchased in advance and exchanged for a paper ticket at the port ahead of travel. You can choose between economy, business-class, and first-class cabin fares and will find a selection of food and drink services on board.
Rafina Port is the second largest port in Athens, providing fast ferry services to the islands. During high season fast ferry services (approximately 2-3 hours journey time) leave for the Greek island of Tinos several times a day.
Lavrio Port also offers a fast ferry service to Tinos with a similar journey time to those leaving from Rafina.
How To Get To Tinos Island From Other Greek Islands
Other islands in the Cyclades which offer airports are Paros (International), Santorini (International), Naxos (Domestic), and Syros (Domestic). While less convenient, flying to those islands and taking a ferry to Tinos is also possible.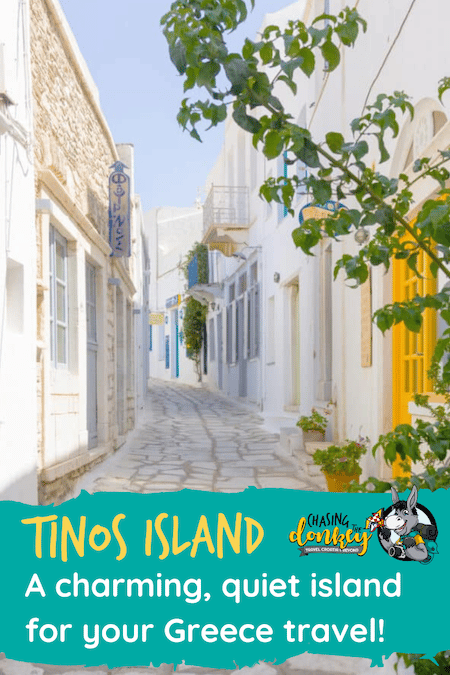 TRAVEL COMPANIES WE USE AND TRUST
Where To Stay In Tinos Greece
TINOS ACCOMMODATION GUIDE
While Tinos Island is less commercial than its neighbors, the island boasts accommodation options for all budgets. There are many different Tinos villages, each offering its own unique stay on the island.
Tinos (Hora)
As the island's capital, Hora is a cluster of beautiful, white-washed houses traditional to the Cycladic architectural style. With winding alleys filled with boutiques and souvenir shops, charming tavernas, and international cuisine and bars, you will find everything you need in Hora. A collection of accommodation options is available in town to suit any traveler.
Agios Ioannis Porto
Located by one of the most popular beaches on Tinos, the village of Agios Ioannis Porto is a great place to stay if you're looking for a quiet beach resort. The relaxing seaside village offers a few restaurants and a frequent bus service to the main town, Hora.
Agios Sostis
Another great beachside resort in Tinos, Agios Sostis, boasts a variety of accommodation options. The village is very close to Agios Ioannis and is served by the same public bus to the main town.
Pyrgos and Panormos
The island's largest village, the architecturally stunning town of Pyrgos, is another perfect place to stay on the island. With plenty of tourist infrastructure, including plenty of cafes, bars, and restaurants, Pyrgos is a great option for all budgets.
Only a few kilometers from Pyrgos is the small coastal village of Panormos. This is an ideal location if you are looking for a seaside retreat close to excellent fresh seafood tavernas.
Kardiani
There are plenty of small mountain villages in Tinos Island; however, Kardiani is the most picturesque of them all and offers a few local tavernas and cute bars. You can find rustic accommodations here, many with views over the entire island of Tinos and out to the blue Aegean Sea.
Things To Do On The Island Of Tinos, Greece
Tinos has something for everyone – incredible beaches, fun sea sports, impressive mountains, and an unbelievable amount of religious and ancient sites for soaking up the culture. Below we have listed the best things to do on Tinos Island.
Visit The Holiest Church In Greece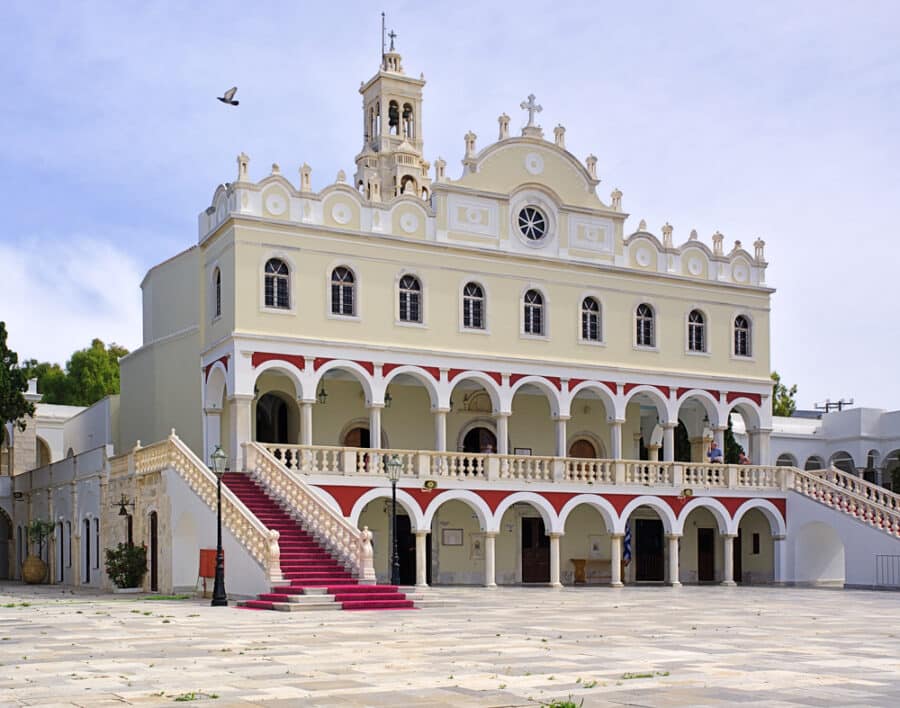 With several hundred chapels, churches and monasteries, and numerous ancient settlement sites, it's no surprise that Tinos is renowned for its religious significance. However, the most famous church of them all is' Our Lady of Tinos' church (also known as "Panagia Evangelistria," "Megalochari," or "Panagia tis Tinou") located in the main town, Hora. Inside the church is a holy icon of the Virgin Mary, which is believed to have healing powers, and so the church is a major pilgrimage center for Orthodox Greek Christians.
The largest pilgrimage occurs on 15 August each year, which marks one of the most important days in the Greek Orthodox religious calendar. Upon disembarking from the ferry, pilgrims crawl their way from the port to Our Lady of Tinos Church to touch the icon inside. Even for the unreligious, the magnificent church and surrounding streets are worth a visit. Just remember to cover up when you visit; otherwise, you won't be allowed to enter.
Take A Trip To The Beautiful Marble Town Of Pyrgos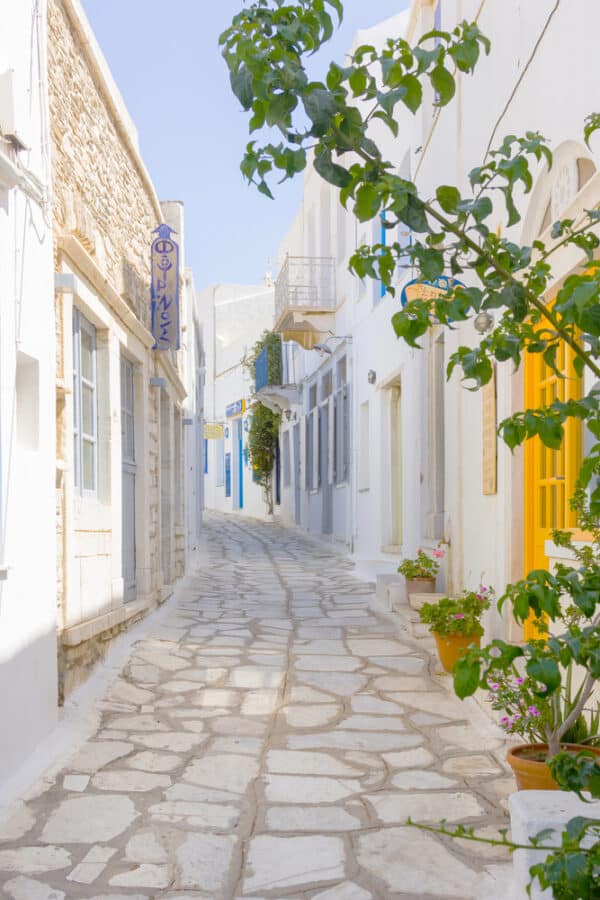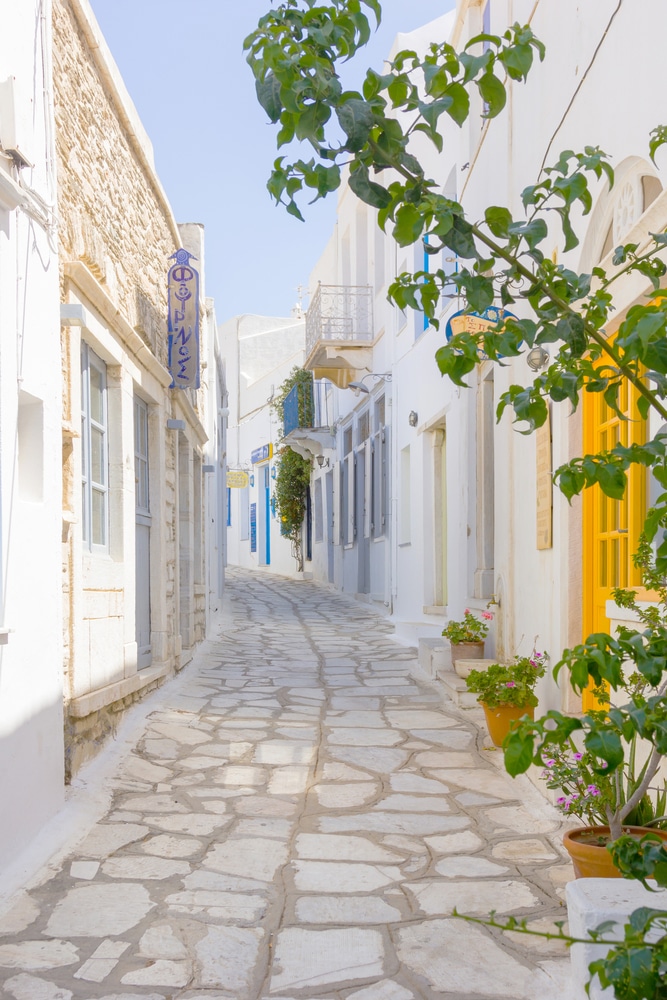 The island's largest village, the stunning marble town of Pyrgos, is considered the heart of marble arts. It is the perfect place to wander the streets admiring the architecture, and stop at the many boutiques and restaurants lining the streets.
The village became famous for marble sculptures and boasts two museums showcasing the marble craft, which are both worth a visit: the Museum of Marble Crafts and the Halepas Museum. Unique to the Greek island of Tinos, the Museum of Marble Crafts guides visitors through the history of marble craft from ancient times to the present. The museum exhibits several marble sculptures and ordinary objects and is said to boast the wealthiest collection of marble carvings in Greece. The Halepas Museum is located at the birthplace of Giannoulis Halepas, a Tinos-born sculptor, often regarded as one of the best modern Greek artists.
There is even a world-renowned sculpture school in the village where masters come to learn the trade.
Visit The Rustic Mountain Villages Of Kardiani And Volax
While Tinos is famous for its picturesque mountain villages, one of the most beautiful is Kardiani. With typical white-washed Greek buildings, you can spend the afternoon strolling around the small alleys of the Kardiani village. If you enjoy hiking, you can also hike down to Isternia Bay, a beautiful beach.
Volax is a small village located in the heart of Tinos and is the site of a geological phenomenon. Volax is famous for its unique landscape of granite rocks, which are said to have been formed by a meteorological shower. The village also boasts a thriving basketry industry. You can watch basket weavers work and take handmade goods home when you are there.
Visit Panormos And The Wild Beaches Of Rochari, Agia Thalassa And Kavalargos
Picturesque Panormos offers a charming, rustic port village style, with many excellent tavernas serving up the day's catch. The beautiful, rugged beaches of Rochari Beach, Agia Thalassa, and Kavalargos are all located close to Panormos village. A perfect way to spend a day on Tinos is exploring these three beaches and relaxing while protected from the frequent Cycladic winds.
Try Out Adventure Sports
The island of Tinos offers some grand trekking opportunities. A great hike is from the village of Xinara up to Mount Exomvourgo, where you can enjoy beautiful 360 views of the Aegean and neighboring islands.
Another awesome adventure sport to try while on Tinos is surfing. The island is hailed as the best place to surf in central Greece and the perfect spot for beginners. The best sites to try surfing on Tinos are Kolimbithra and Livada.
The Best Beaches On Tinos Island, Greece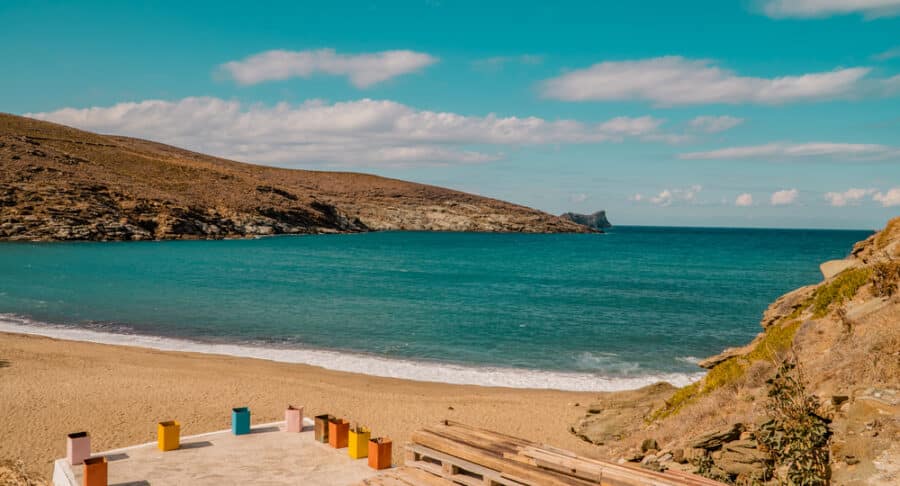 No Greek island getaway is complete without a few days spent lounging on the beach, and Tinos has several outstanding beaches to visit.
Agios Romanos Beach
Agios Romanos is one of the most popular beaches on Tinos. The long, sandy, the calm beach is a short drive from the main town and provides a secluded feel with beach beds, a taverna to enjoy delicious food, and a beach bar. The beach offers plenty of tree shade and beautiful blue waters, perfect for a relaxing swim. If you want to get further away from the crowds, you can walk to the smaller beaches of Apigania Beach and Kantani Beach. While both beaches are beautiful, they could be more organized, so you must come prepared for the sun.
Agios Ioannis Porto Beach
Agios Ioannis Porto beach is the most cosmopolitan beach on Tinos. Located in Porto's town, the beach boasts beautiful crystal clear waters and a few beach bars and restaurants to enjoy the whole day.
Agios Sostis Beach
Agios Sostis is another splendid beach on Tinos, which attracts many crowds. The beach is well equipped, with restaurants and plenty of deckchairs and umbrellas for rent.
Agios Fokas Beach
Agios Fokas is one of Tinos' most famous beaches. This long sandy beach is located right next to Hora. It's the perfect place to relax or enjoy a long stroll along the beach. Given its proximity to the main town, the beach offers plenty of places to eat and drink both in town and right on the shore.
Kolimbithra Bay
Kolimbithra is a large bay with two superb sandy beaches (one large and one small). The larger of the two (Megali Ammos) is the perfect spot to try surfing. The beach does not offer beach beds; however, you can rent beach umbrellas and order drinks and snacks from a bar. The smaller beach (Mikri Ammos) is more organized, with plenty of beds for rent and a few tavernas to choose from.
Remote Beaches
Given its size, Tinos has plenty of wild, remote beaches to explore, where you will likely have the entire beach to yourself. The beaches of Santa Margarita, Kalivia, and Livada are all quite wild and often only accessible on foot. If you feel up for the walk, you won't be disappointed as these beaches are absolutely beautiful. It would be best if you came prepared though, as no facilities are available.
As you can see, there is much to do on the Greek island Tinos – all you have to do is decide which of the Tinos Island attraction or beaches you'll head to first.