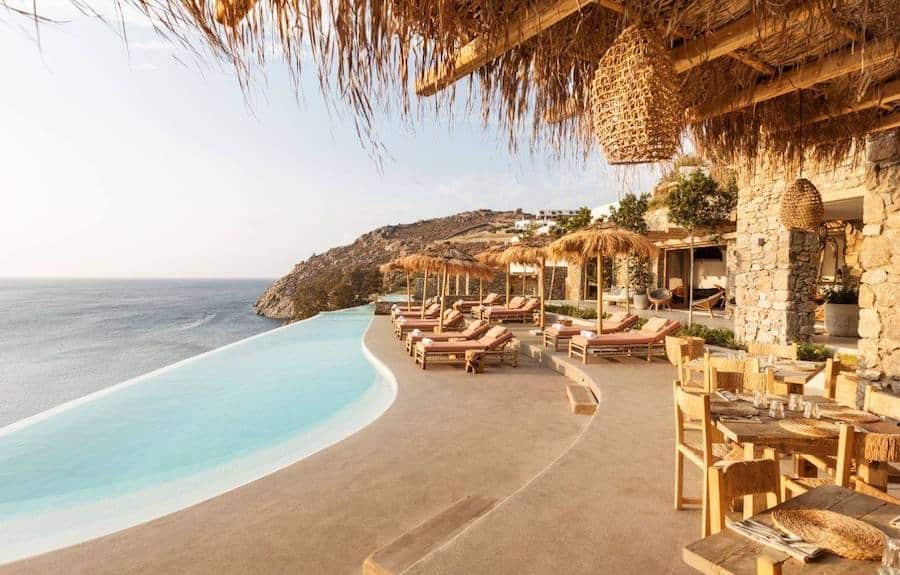 If you're looking for a honeymoon destination that offers a combination of spectacular natural beauty with captivating history and intriguing culture, then Mykonos should be a top option. Keep reading for some suggestions on where and how to spend your romantic getaway on this beautiful island.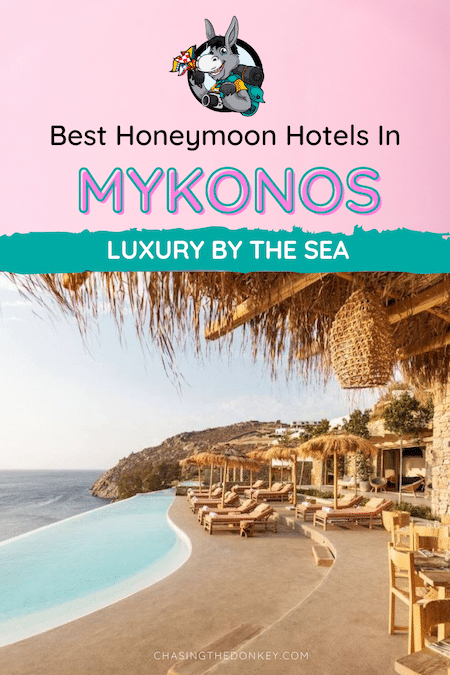 Once In Mykonos Luxury Resort – Designed For Adults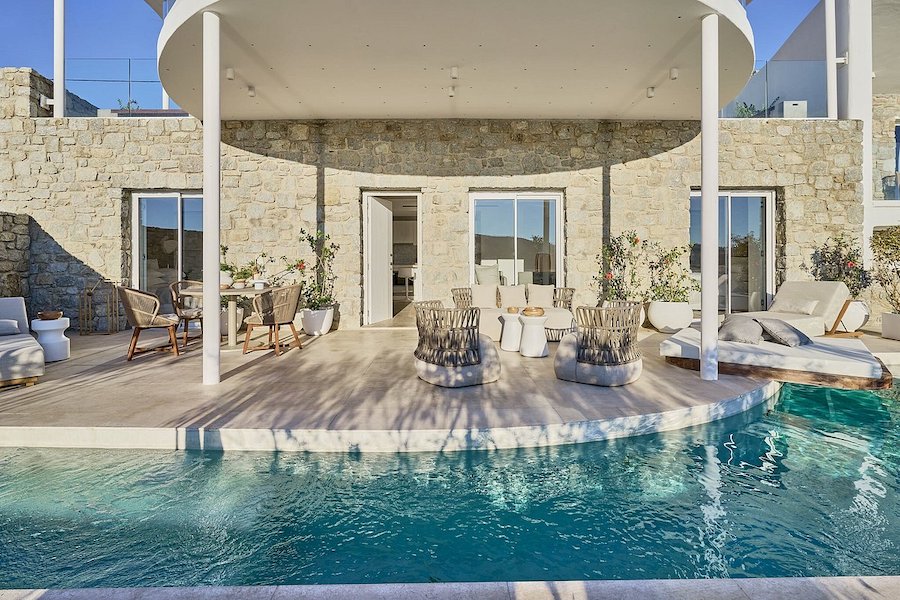 Once in Mykonos Luxury Resort – Designed for Adults, located above famous Ornos Beach, provides a blend of historic Cycladic flair with modern bohemian décor. The accommodation offers a 24-hour front desk, a free roundtrip airport shuttle, room service and free WiFi throughout the property.
The suites in the resort are equipped with a terrace with Aegean sea views. Some more expensive suites have private pools. Guests can relax on the sun loungers surrounding the hotel's swimming pool, get a drink at poolside bar and enjoy delicious meals at the two onsite restaurants. Massage and beauty treatments are also available on site.
The nearest airport is Mykonos Airport, 2 km from the hotel.
WHAT'S NEARBY
Ornos Beach – 2 min walk
Agios Ioannis Beach – 9 min drive
Platis Gialos Beach – 13 min drive
Mykonos Windmills – 2.6 km from resort
Little Venice – 2.9 km from resort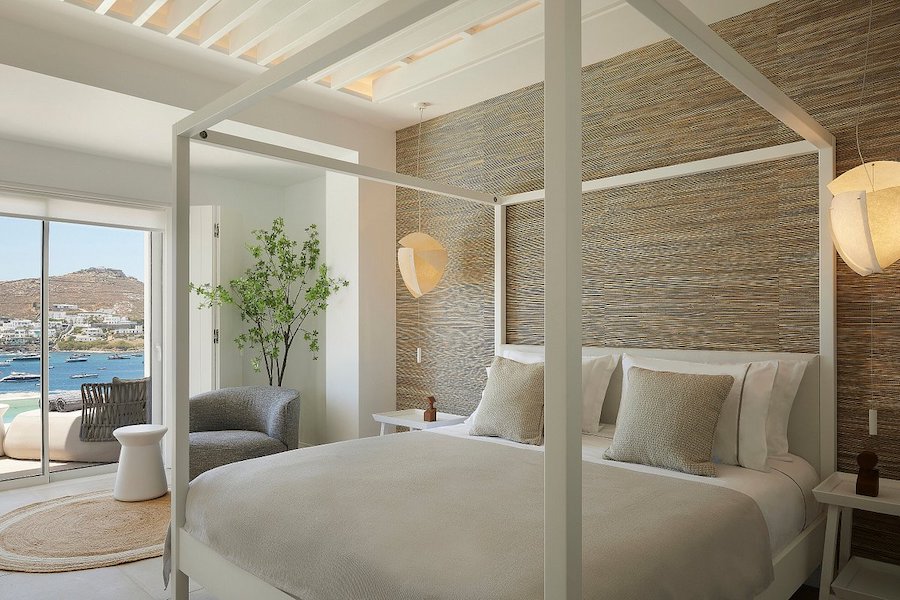 TRAVEL COMPANIES WE USE AND TRUST
Myconian Utopia Relais & Chateaux Resort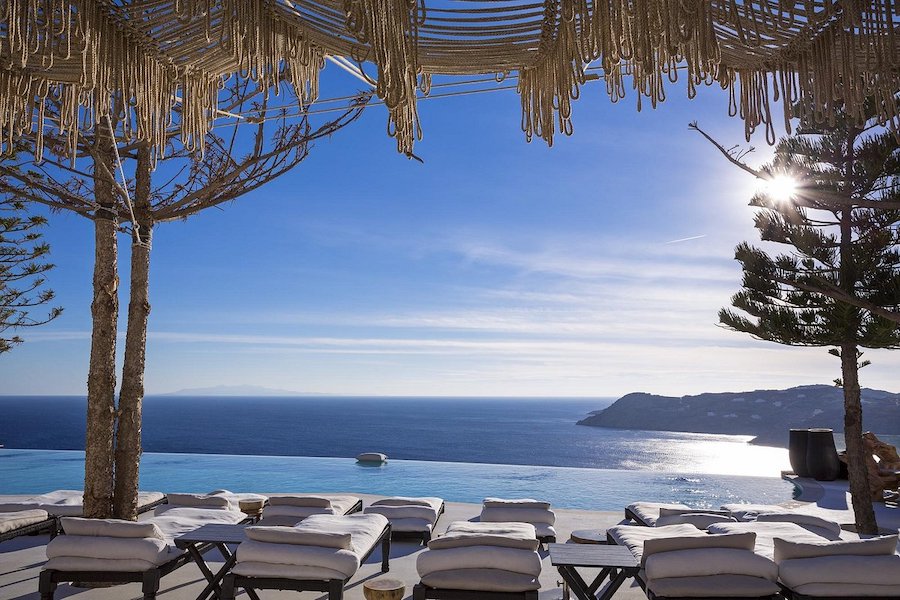 The Myconian Utopia Relais & Châteaux, built into the cliff 300 meters above Elia beach, lives up to its name as the pinnacle of upscale hospitality and unsurpassed natural beauty. In addition to seducing with the highest standard of luxury and excellent service, the hotel combines the natural beauty of its location with modern elegance.
Utopia is one of the favorite hotels with honeymooners who seek a romantic getaway in a perfect setting, just a few steps away from the longest beach on Mykonos. The lavish rooms and villas offer every amenity and personalized attention, while the outstanding entertainment spaces have a wide range of restaurants, bars, calming Thalasso spa treatments, and breathtaking views.
One thing you should take into consideration is the fact that the resort is about a 25 minute drive to town. This is perfect for anyone who wants some peace and quiet. But if you are planning to spend most of your time at town, maybe you should look for a hotel that is just a little bit closer.
WHAT'S NEARBY
Elia Beach – 8 min walk
Kalo Livadi Beach – 5 min drive
Kalafatis Beach – 25 min drive
Mykonos Airport – 20 min drive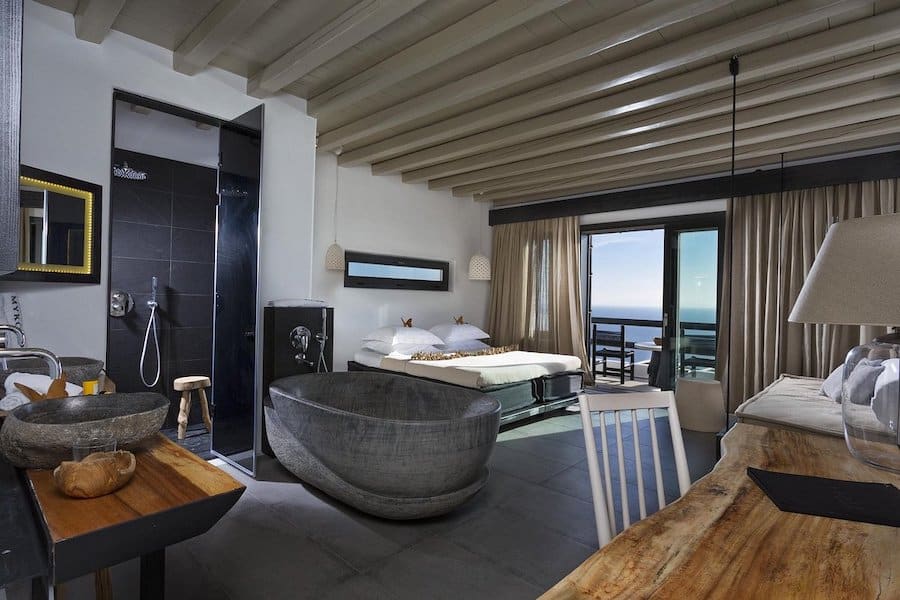 Casa Cook Mykonos – Adults Only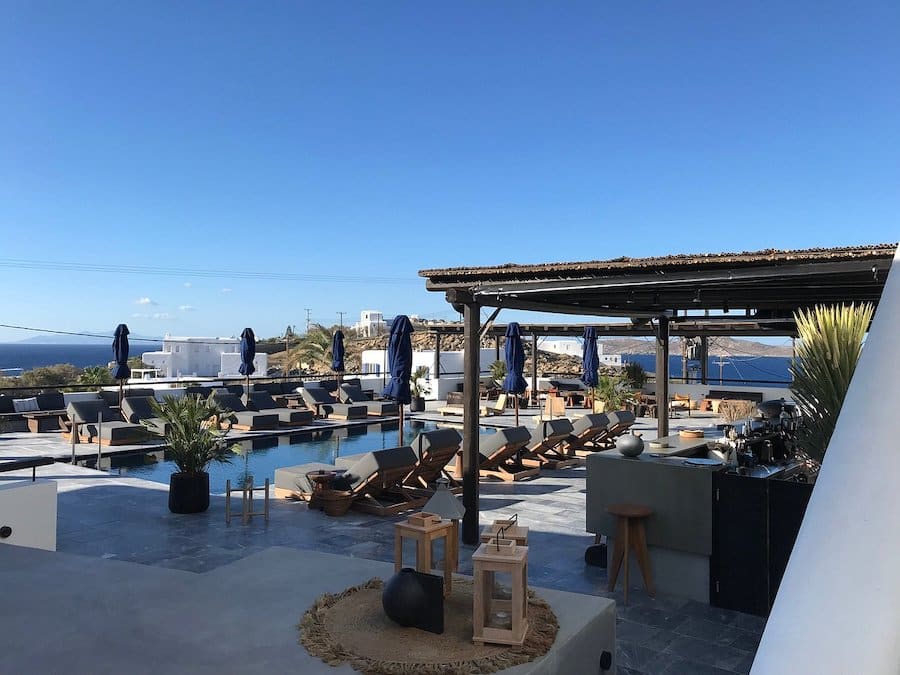 This boutique retreat with just 26 rooms and suites, opened its doors in summer 2022. The hotel is located on the spotless shoreline with a view of the UNESCO World Heritage Site of Delos, the mythical birthplace of Apollo and Artemis. This is a place where peace and breathtaking views combine.
The hotel's seven structures were constructed using ancient Cycladic architecture, and they have smooth, clean lines and whitewashed exteriors to resemble a classic Myconian town. However, they also have a touch of Casa Cook's characteristic modern luxurious flair. The same design can be seen inside the hotel, where each of the 26 luxurious rooms and villas maintain Casa Cook's distinctive design aesthetic. A combination of earthy materials and colors, which allude to the island's rustic past, contrast the minimalist architectural lines.
The hotel restaurant serves recreated Greek food and classics from around the world, always with a creative local twist and an emphasis on local, fresh vegetables.
WHAT'S NEARBY
Kápari – 3 min drive
Ornos Beach – 6 min walk
Kórfos – 10 min walk
Mykonos Airport – 10 min drive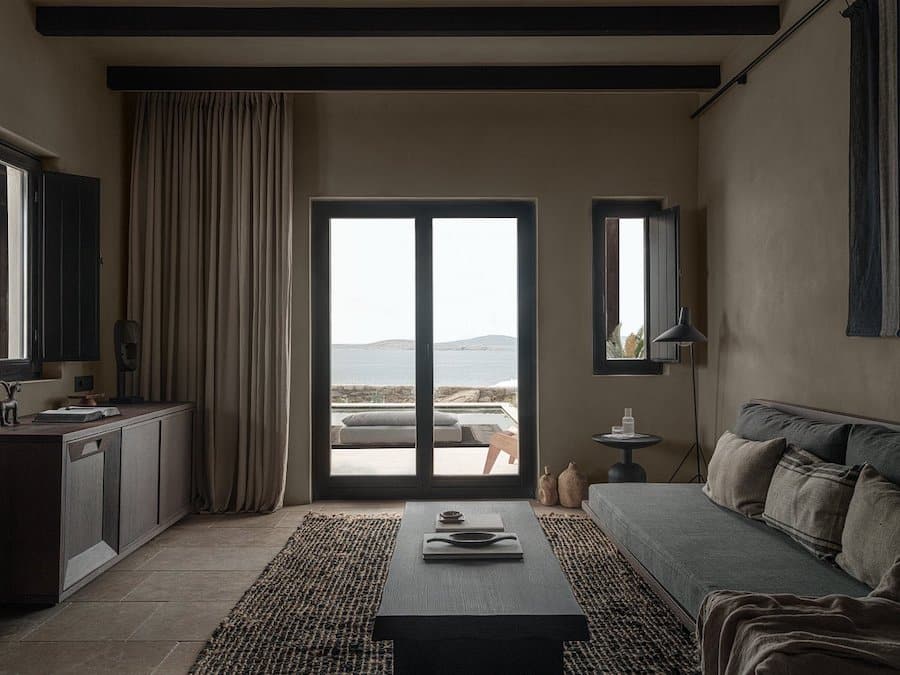 The Wild By Interni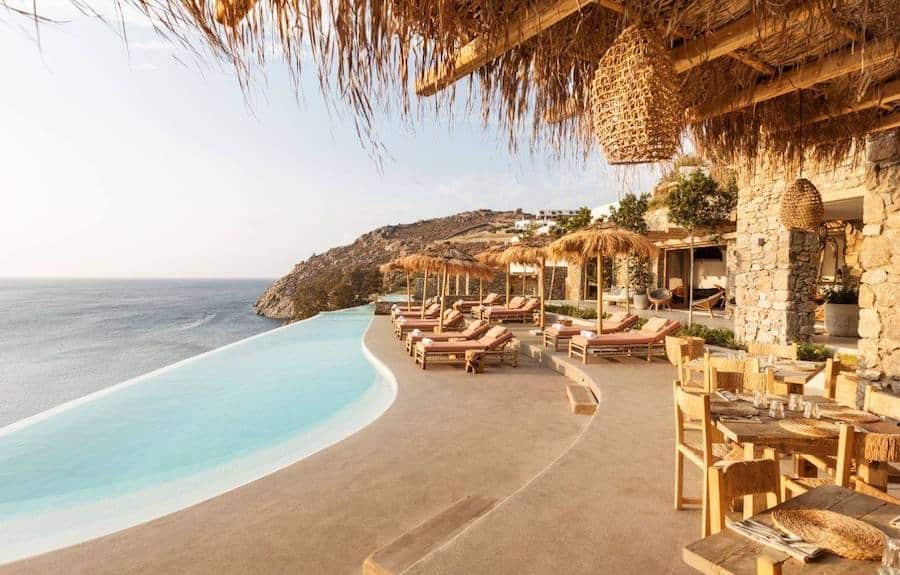 Blessed with its own private beach, The WILD offers privacy and seclusion. The hotel is located on a cliffside with views of the Aegean sea and a little cove that was previously inhabited by "the Wild Ones," Mykonos' most daring fishermen.
All 40 of the hotel's rooms, suites, and villas are arranged in a way that all of them have breathtaking views of the ocean. Each unit, no matter how big or tiny, with one or two bedrooms, and some with their own dining room and plunge pool, has a unique style that combines natural materials and an earthy color scheme.
For those who want to unwind and relax, or even chat over cocktails, freshly squeezed juices, or expertly prepared coffee, the swimming pool with views of the Aegean sea is ideal. There are two different restaurants at the hotel. Both of them serve fresh vegetables sourced from the local farms and the fresh fish from local fishermen. The hotel also has its own gym and spa area, where you can restore and relax the body, mind, and spirit.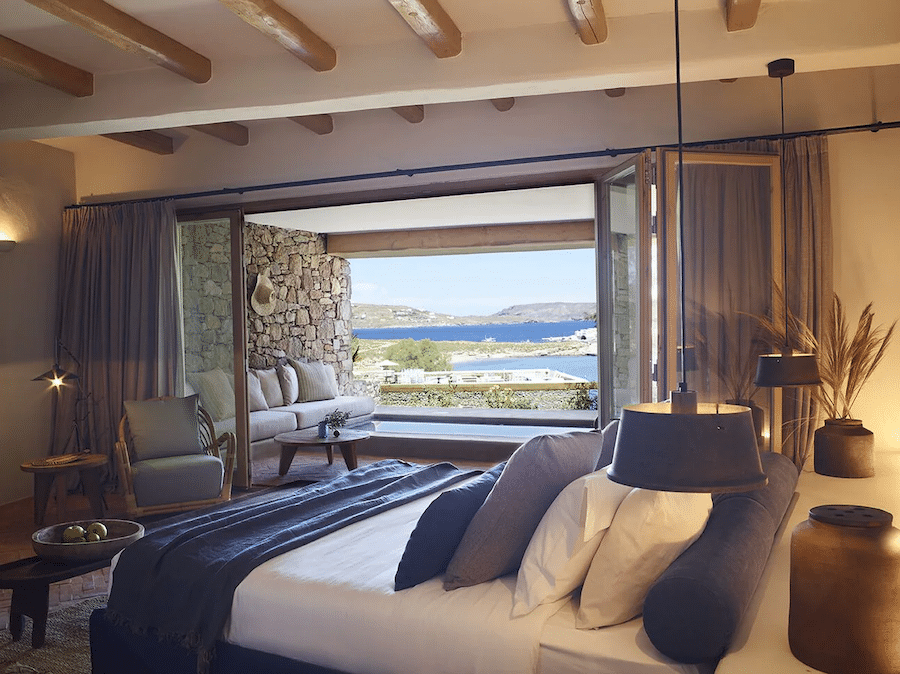 Mykonos Theoxenia Boutique Hotel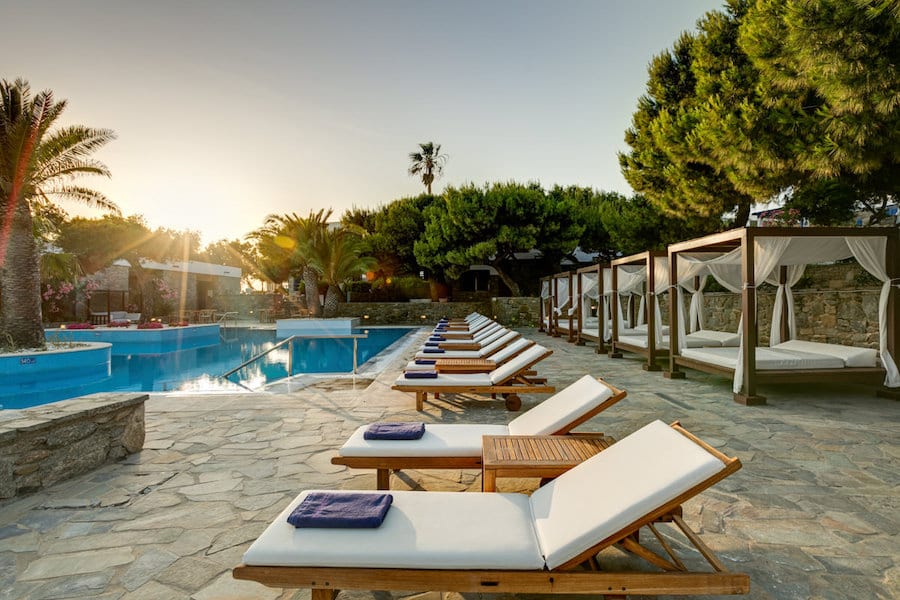 This historic seafront hotel is located near the famous Little Venice, Mykonos windmills, and less than a five minute walk to restaurants and nightlife. A stunning infinity pool, massage rooms and a fantastic complementary breakfast are available as benefits.
Despite its convenient location close to the island's best entertainment, restaurants, and shopping, as well as some of the best beaches in the world, it feels calm and remote. The hotel features 38 stunningly charming rooms with sea or garden views, and four luxury suites with private swimming pools and terraces, looking at the Aegean Sea. Each of these suites offers the cozy feeling of being at home in the ideal summer setting.
WHAT'S NEARBY
Windmills of Mykonos 2 min walk
Metropolitan Church 4 min walk
Mykonos Old Port 16 min walk
Mykonos Airport – 4 min drive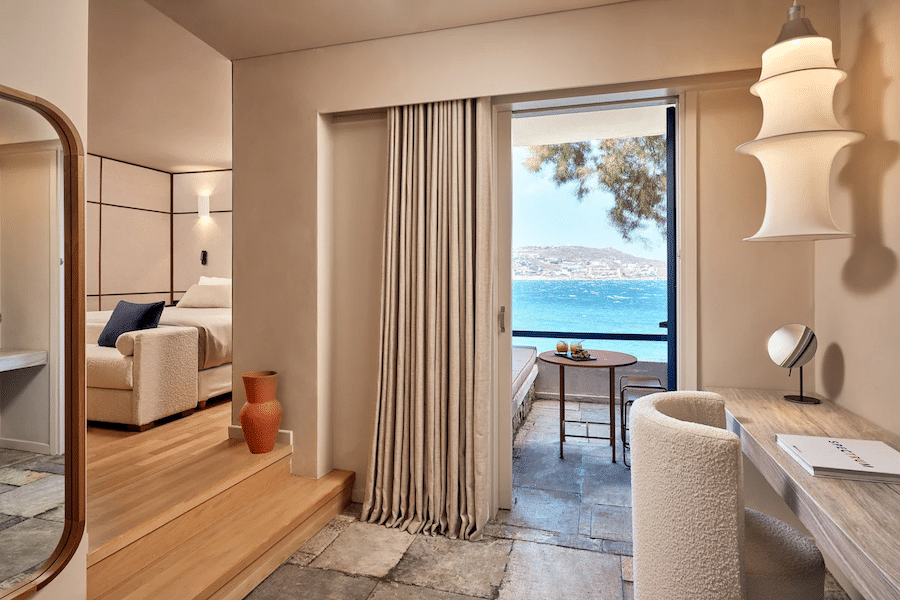 Cavo Tagoo Mykonos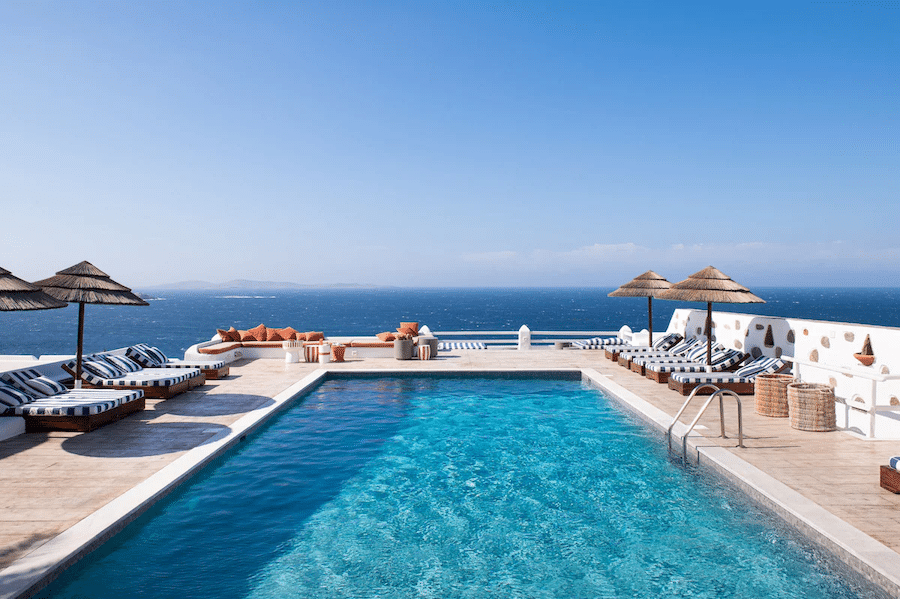 The award-winning Cavo Tagoo hotel in Mykonos is located just a few minutes from Chora. It has an sea-view indoor pool and an infinity pool with a 40-meter aquarium bar. Most rooms have views of the ocean and the villas and suites each have private pools or outdoor spa baths.
The Cavo Tagoo Golden Spa offers traditional body and face treatments, and traditional sauna, steam bath and salon services. There is aslo a gym at the hotel, if you want to stay in top shape even on holidays. Cavo Tagoo restaurant has contemporary Mediterranean cuisine cooked with fresh Greek products. The heart of Mykonos Town is a short walk away, though most people use the hotel's free shuttle to get there.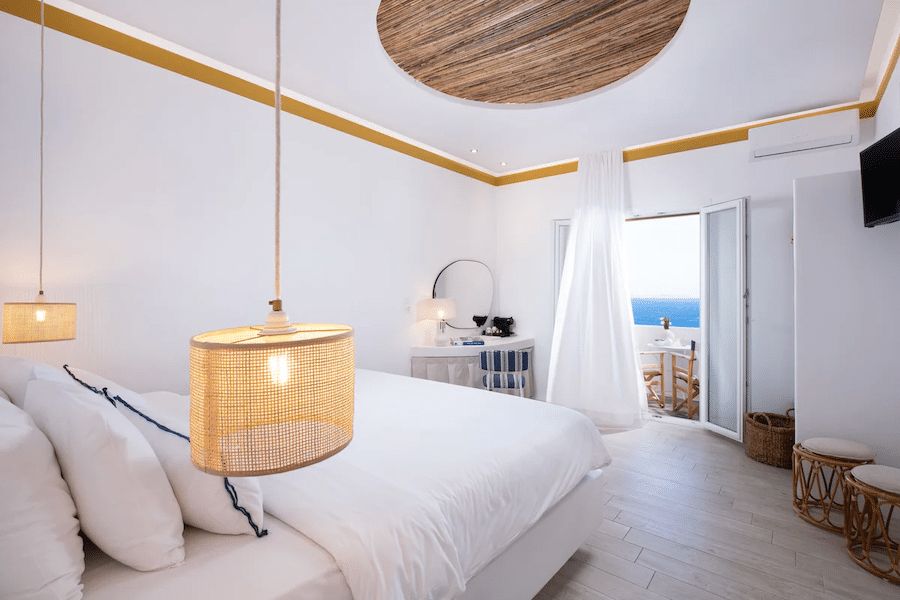 Casa Del Mar – Small Luxury Hotels Of The World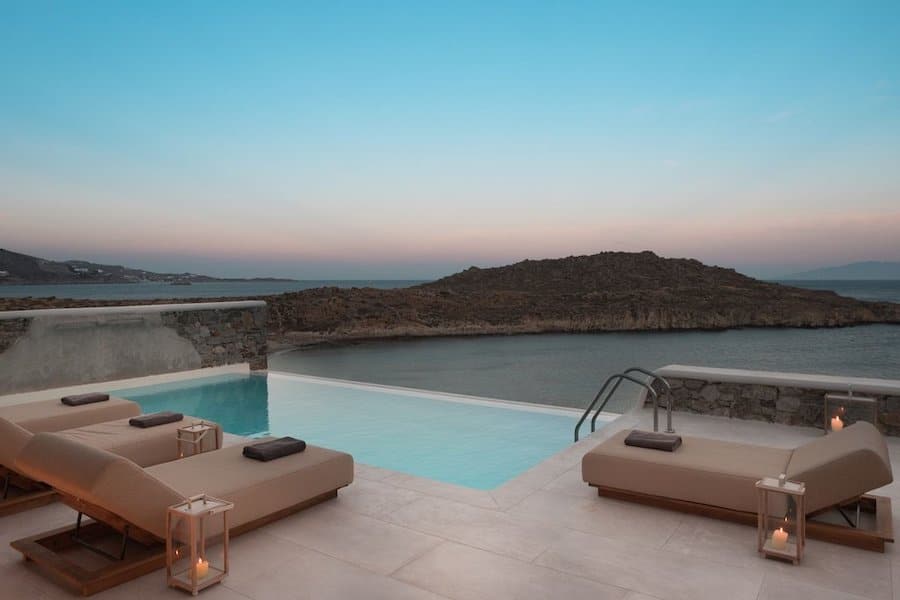 Casa del Mar Mykonos is a gorgeous beachfront villa and spa resort with views of Glifadi private cove in Aleomandra. A great level of privacy is offered by nine exquisite villas with sea views, some of which have a private pool or jacuzzis.
The resort offers free two-way transfer services to Mykonos airport and port. There are also other sevices available, such as car rental, yacht rental and private chef on request. Sun beds and umbrellas on the private beach are free to use. The cosmopolitan Mykonos Town and the airport are just 4 km away from the resort. Ornos with its many restaurants, shops and well known beach is just 2 km away.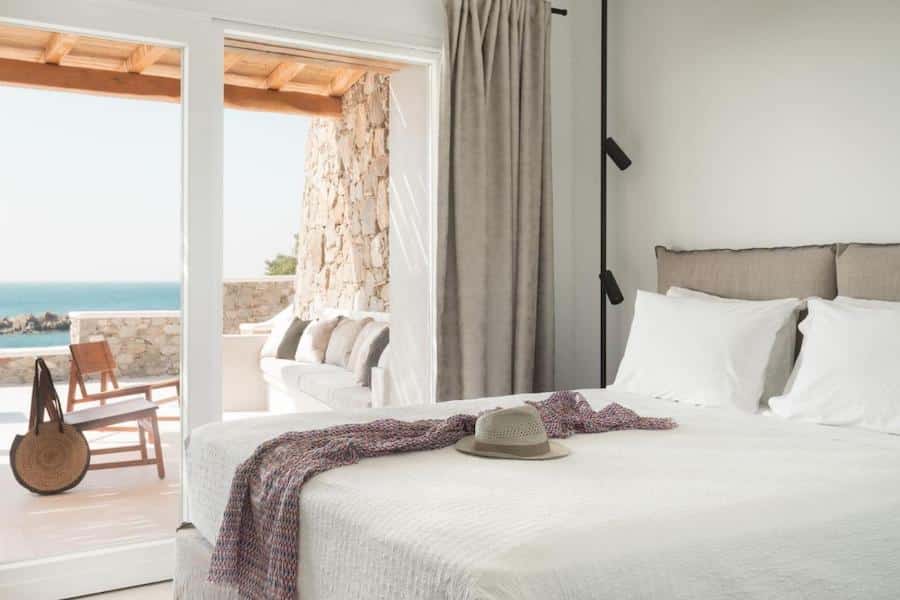 Royal Myconian Hotel And Thalassa Spa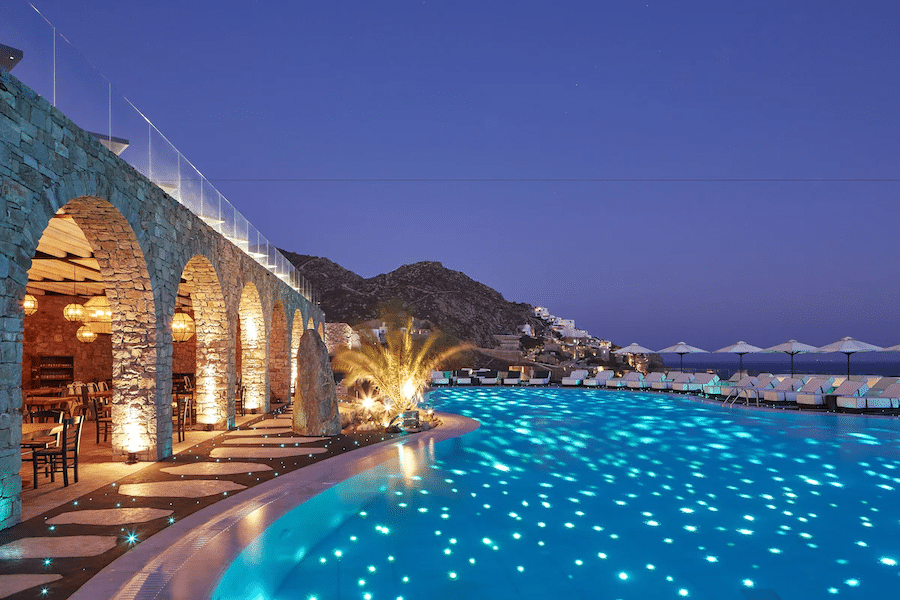 Overlooking its private sandy beach, the luxurious Royal Myconian Hotel has elegant rooms with amazing views of the Aegean sea and luxury spa facilities. Guests can enjoy immediate access to the pure sandy Elia Beach. Towels, refreshments, comfortable sun beds and refreshments are available at the beach. This hotel is the perfect place to soak up some sun.
Some of the more expensive rooms and suites have private pools or hot tubs, which are perfect for a honeymoon vacation. The hotel's Ambrosia a la carte restaurant serves fine cuisine with Mediterranean flavors and offers spectacular views of the pools and the sea. Refreshing cocktails are served at the 3 on-site bars located around the pools. You can also enjoy the 24-hour gym, as well as organized boat tours.
WHAT'S NEARBY
Elia Beach – 2 min walk
Kalo Livadi Beach – 10 min drive
Super Paradise Beach – 20 min drive
Mykonos Airport – 20 min drive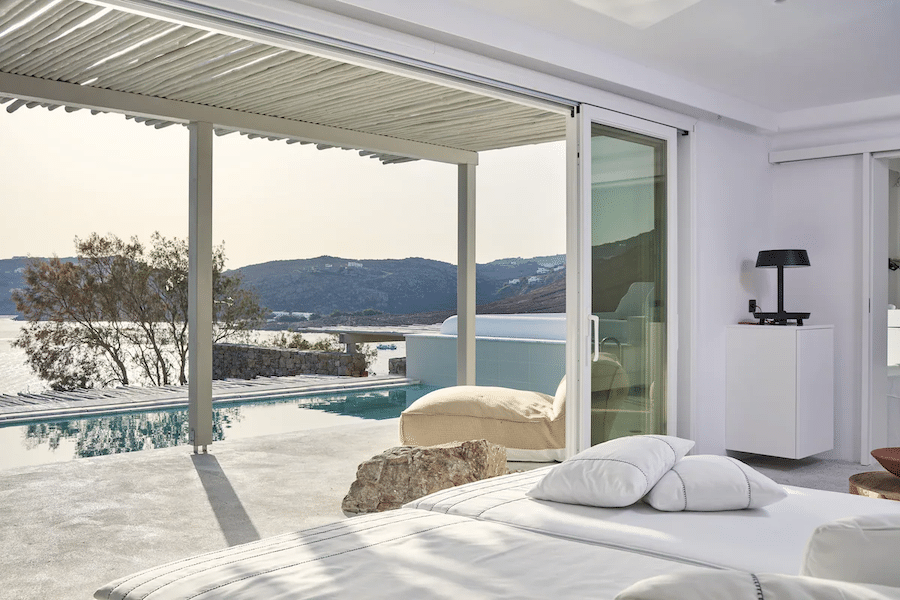 Kivotos Mykonos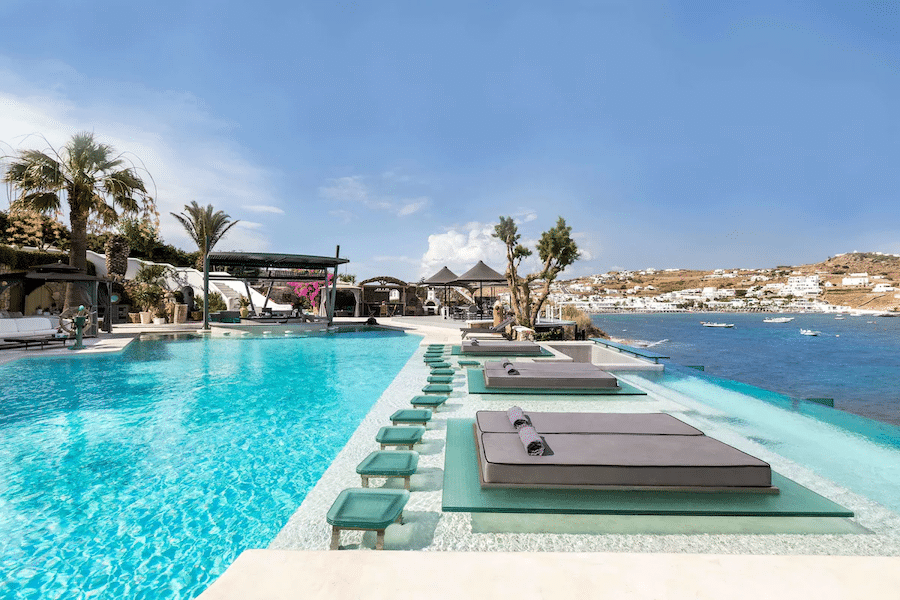 This all-suite resort overlooks its own pebbly private beach and is tucked into a rocky slope. Honeymooners can expect a suite in the 39-suite property, a private pool, an open-air jacuzzi, two restaurants and a spa. A few days at Kivotos Mykonos hotel will instantly relax honeymooners.
The two amazing restaurants serve creative Mediterranean cuisine, plus there is an overwater cabana for secluded, candlelight dinners.
A unique feature about this hotel is the fact that it has its own historic, wooden, sailboat. The sailboat can be booked for day trips or overnight stays. Famous Ornos Beach, with its own restaurants and beach clubs, is just a 5-minute walk away from the resort.
WHAT'S NEARBY
Ornos Beach – 5 min walk
Agios Ioannis Beach – 15 min walk
Mykonos Airport – 12 min drive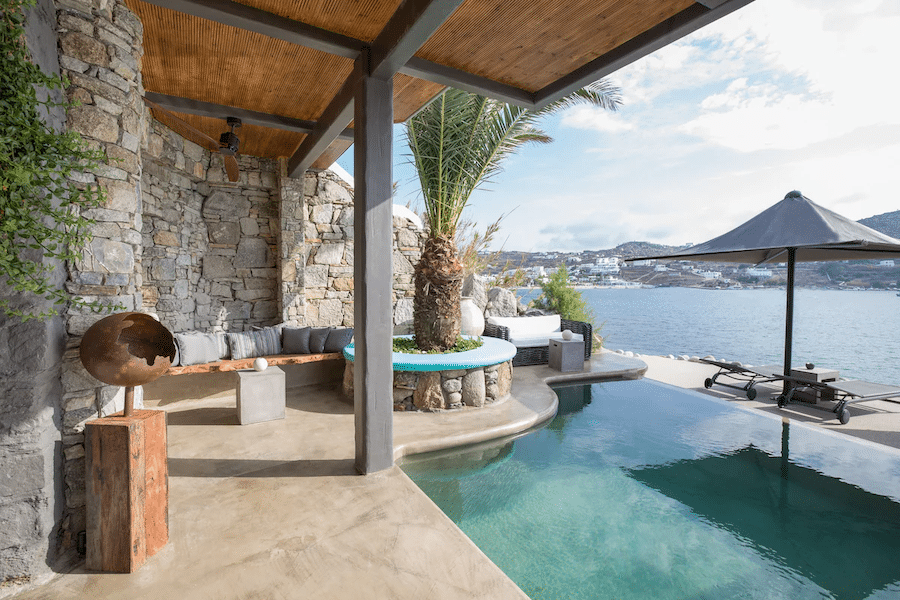 Mykonos Grand Hotel & Resort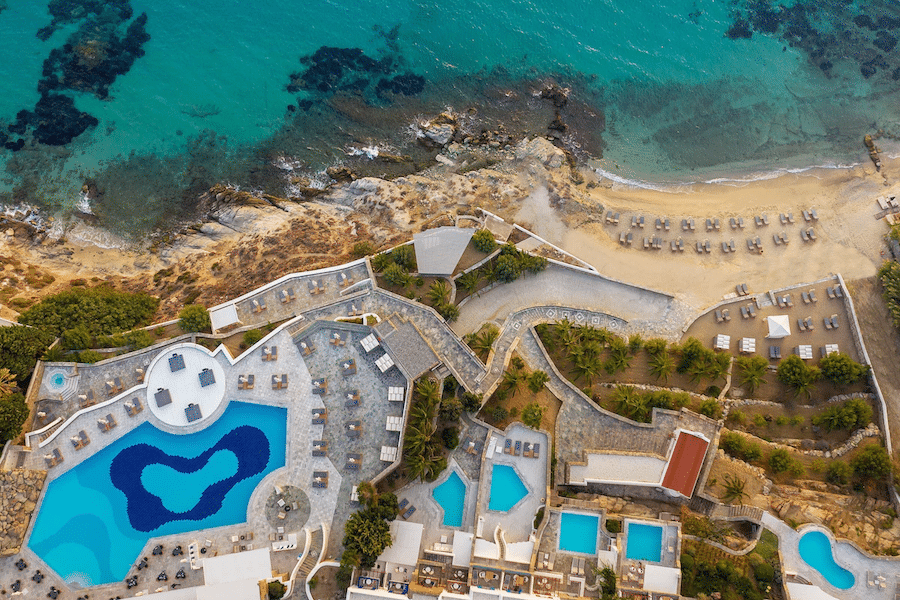 Mykonos Grand Hotel is considered as one of Mykonos' best holiday hotels! This five-star beachfront hotel is ideal for a romantic getaway. All rooms and suites have private terraces, most with sea views, and some with private pools.
This hotel is a great place to enjoy the sun with its private beach, free beach cabanas, and sun beds. You can also treat yourself with all kinds of massages or detox wraps at the onsite spa. The onsite Mediterranean cuisine restaurant, Nama, offers great ocean views. Hotel staff can organize horseback riding for you, if you want a unique way to explore island. A well equipped gym and a tennis court are also available at the hotel.
WHAT'S NEARBY
Ornos Beach – 20 min walk
Fabrica Square – 10 min drive
Mykonos Airport – 15 min drive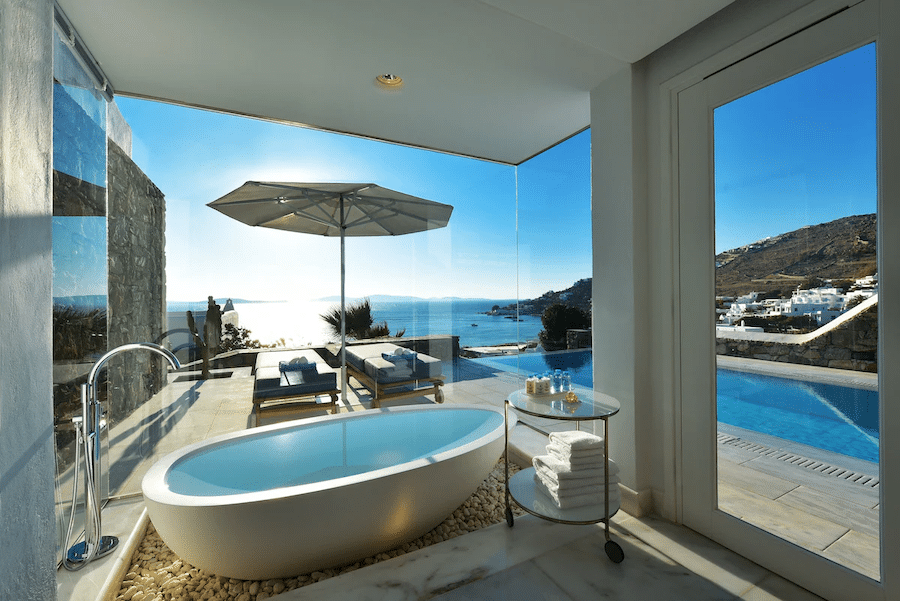 Chasing the Donkey - Balkan travel blog includes affiliate links. If you decide to make a purchase through these links, we receive a commission without any additional cost to you. We appreciate your support helping to keep this site free. Find our disclaimer & privacy policy here.