Privacy & disclaimers →
Where To Stay On Honeymoon In Greece – Everything You Need To Know
Are you considering the idea of spending your honeymoon in a magical place? Greece can be the most fantastic option!
Any Greek Islands can be a dreamy destination for the utmost romantic trip of your life.
There are endless options, from a classic island-hopping itinerary with a regular ferry service to a stunning and luxurious cruise around the Aegean. You can also explore a bit of Athens during your trip is interested in the history and the magnificent cultural panorama of the country.
In this article, we have included some of the most romantic escapes and beautiful that Greece can offer to experience an unforgettable fairytale Greece honeymoon.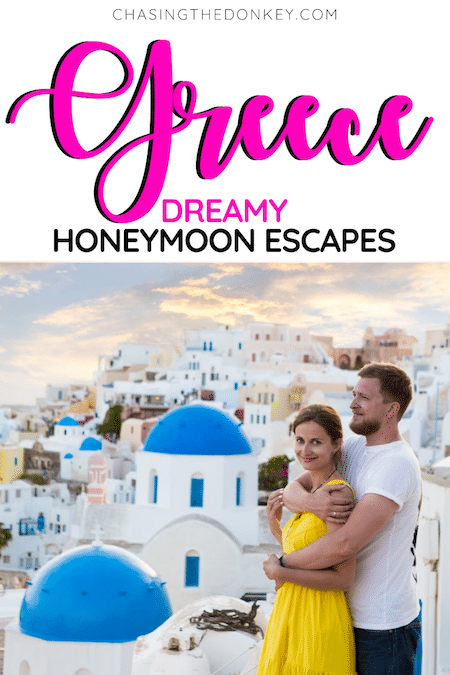 A Greece Honeymoon, Why It Is A Good Idea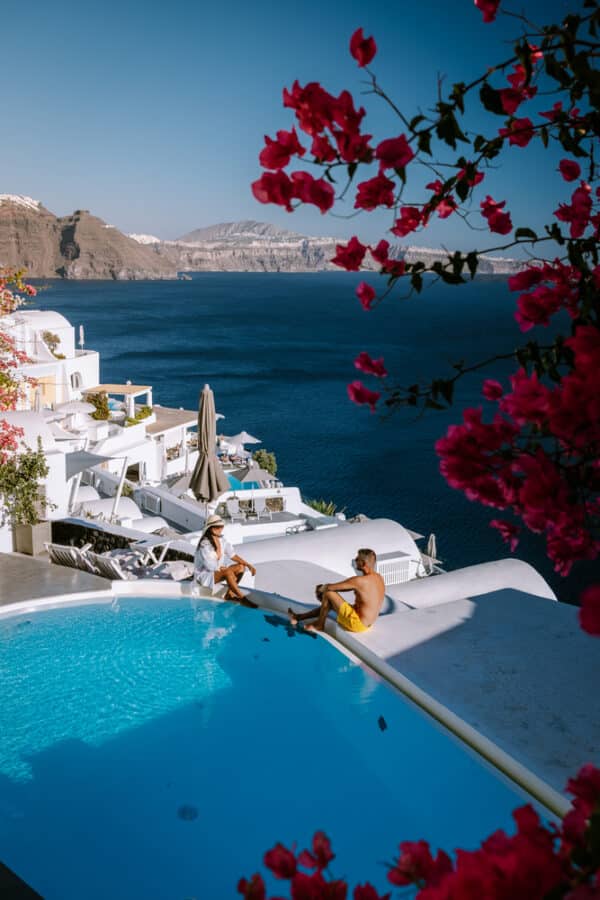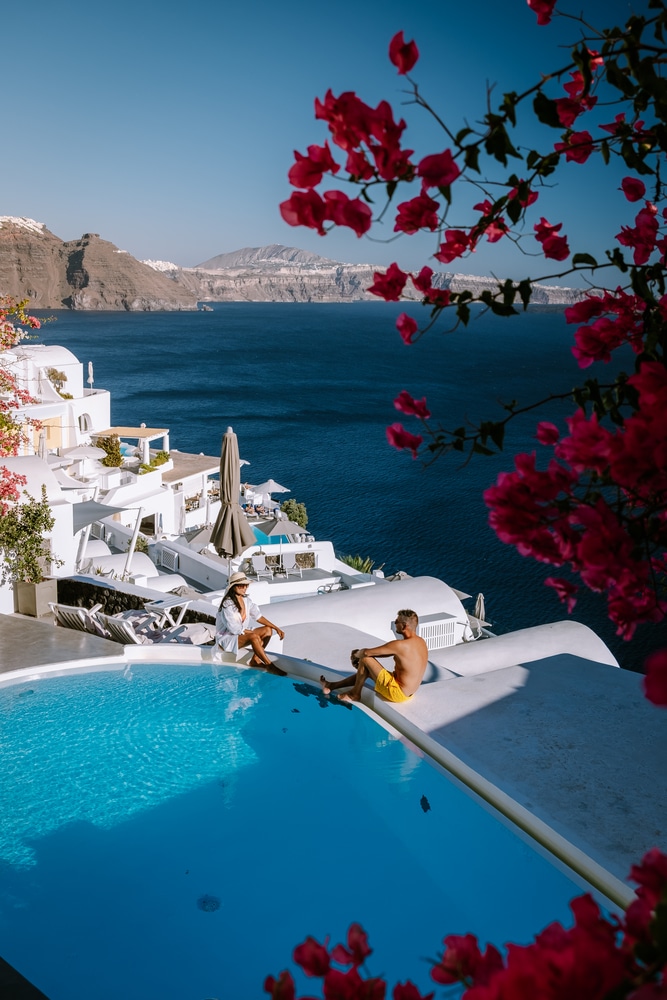 Romantic, breathtaking, home to unique traditions, alluring landscapes, pristine beaches, romantic whitewashed villages, delicious food and wines, and dreamy hotels and resorts, Greece offers all the elements you've always dreamed of when thinking about the perfect honeymoon.
A honeymoon is one of the most important trips in your life; it marks the beginning of a new life and is a fantastic way to celebrate love and commitment. What better idea than making it memorable by choosing one of the most romantic scenarios you can find in Europe… and in the world!
Choosing one, or even a few islands, to start this new phase of your life always sounds like the perfect idea… Do you know why? Because it is indeed a perfect idea!
Dozens of whitewashed islands scattered around the striking deep blues of the Aegean offer endless possibilities for an unforgettable honeymoon in the magnificent Mediterranean.
Let's look at the most romantic Greek Islands for a honeymoon. No matter how you decide to get there, either on your own or on a cruise, these places will ignite your imagination and get you planning your honeymoon in no time.
For those planning their honeymoon independently, we have included some of the most romantic hotels in each destination, offering fantastic honeymoon suites!
Stating The Obvious: A Santorini Honeymoon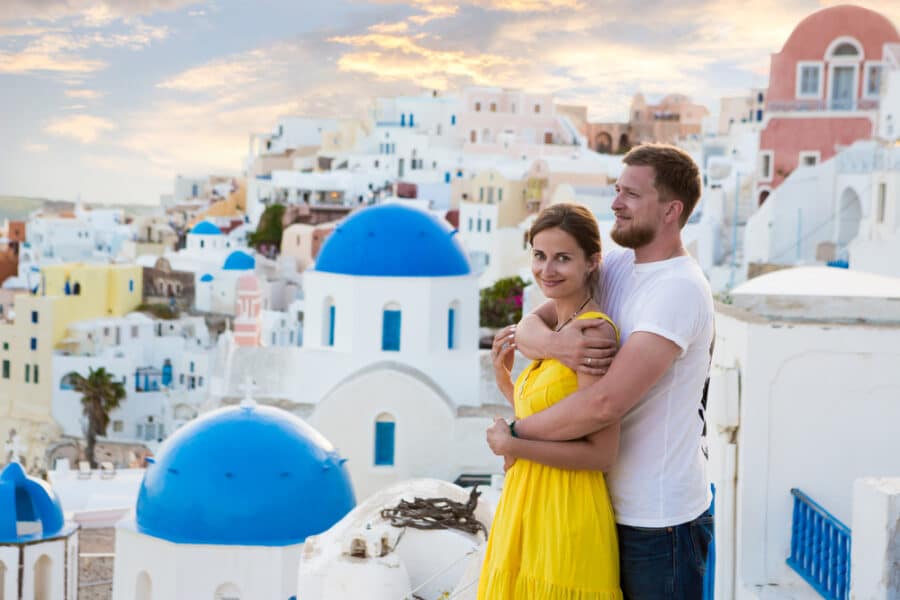 Probably the most romantic destination in Greece, a honeymoon in Santorini is, for many, the only possible way they can think of a honeymoon! And who are we to blame them?
Impossibly romantic, the famous Caldera of Santorini offers a spectacular setting to create unforgettable moments in this new life that has just begun.
Imagine sipping your favorite cocktail with your partner from your private infinity pool, enjoying a dinner for two on your suite's balcony, or sailing around the Red Beach at sunset; nothing can beat such an itinerary.
Best Honeymoon Hotels In Santorini
When honeymooning in Greece, most would say that Santori would be the obvious choice. And it is. Let's look at the top honeymoon hotels in Santorini.
Kapari Natural Resort (Imerovigli)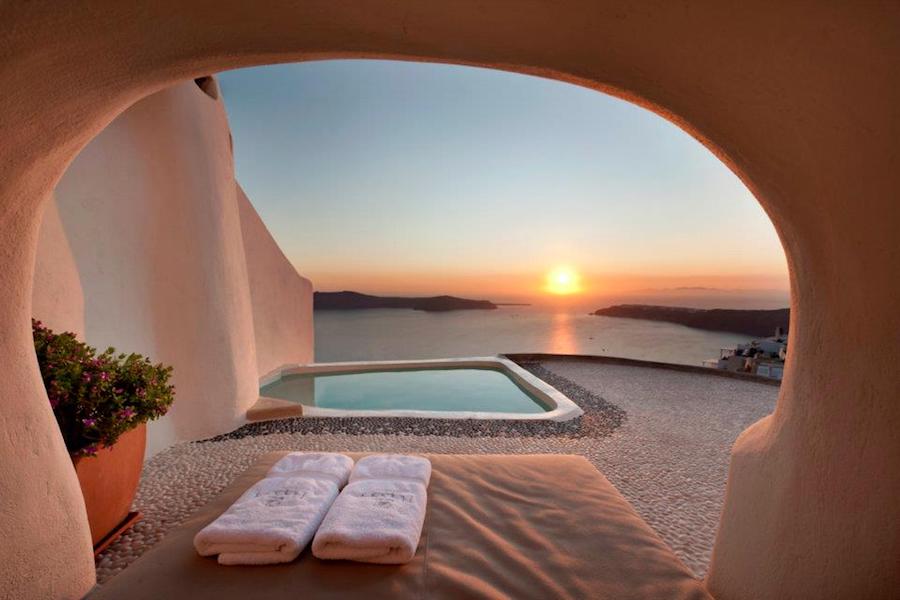 Probably the most beautiful hotel on the island, this is an exclusive place to stay, ideal for a honeymoon, a romantic escape, an anniversary, or an intimate celebration.
The 5-star resort features traditional Santorini architecture, with rooms and suites with unobstructed views of the Caldera, some with a private pool, and all with luxurious beds and a pillow menu.
Kapari's terrace has a fantastic restaurant where breakfast is also served to guests. The pool bar offers fresh juices, refreshing cocktails, and delicious finger food.
Katikies Santorini – The Leading Hotels Of The World (Oia)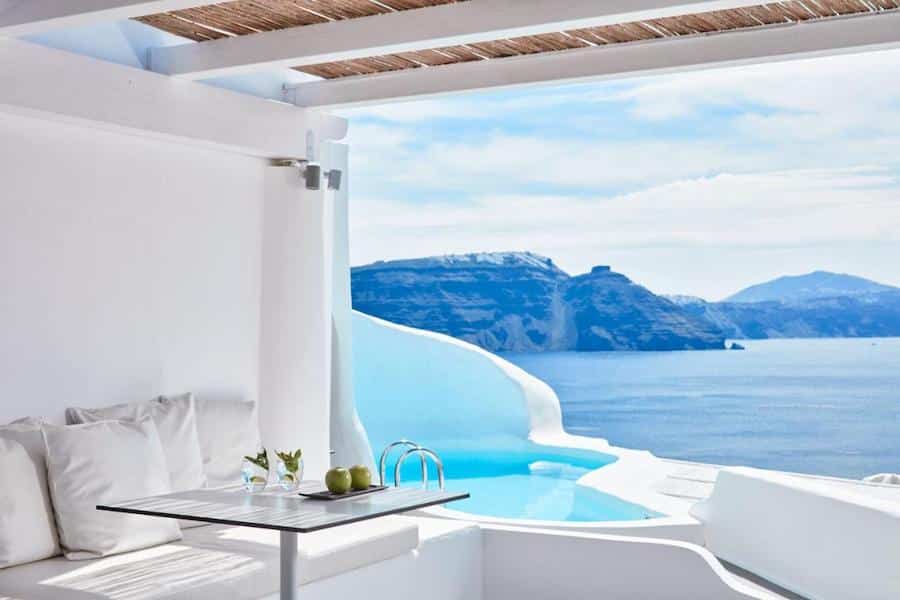 Nothing can beat Oia's beauty when choosing the most romantic spot on the island.
Perched on the cliffs of Oia, high above the blue waters of the Aegean, Katikies is the perfect location for a heavenly honeymoon in Greece.
Its whitewashed suites and rooms boast fantastic infinity and hot pools with sweeping views of the Caldera.
Santorini Princess Spa Hotel (Imerovigli)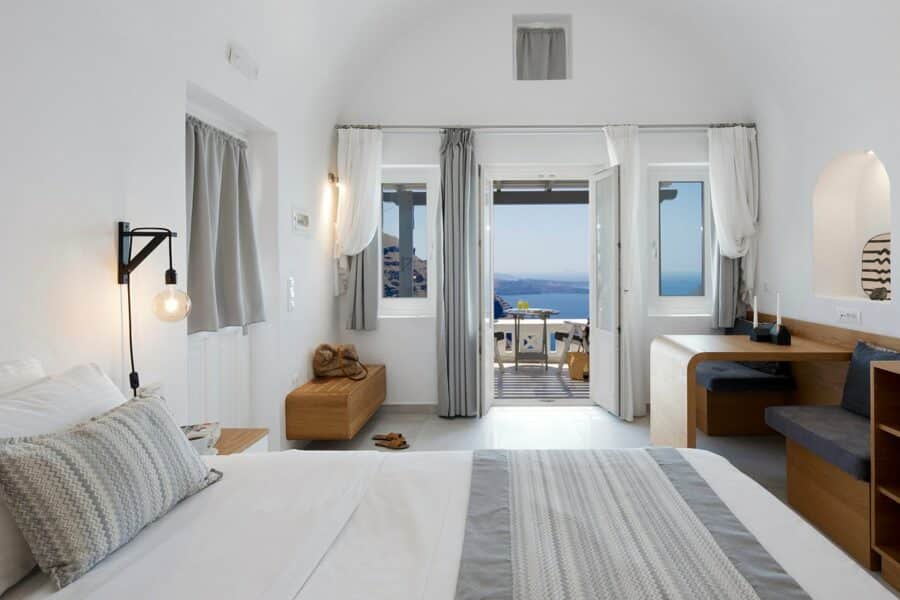 This adult-only spa hotel is a super romantic spot facing Santorini's famous Caldera. It is located in what has been known as the balcony of Santorini, Imerovigli, a small and romantic settlement just a few miles from Santorini's capital, Fira.
The suites have balconies with panoramic coastal views. Guests can enjoy luxury amenities and a delicious buffet breakfast that can also be served in the privacy of the room.
Other Honeymoon Destinations In Greece
Santorini is, and will long remain, the most famous, attractive, and romantic place in Greece for a honeymoon; however, the following destinations do not lack landscapes and atmosphere. Some of them can even be a bit more affordable and original, and of course, much less crowded!
TRAVEL COMPANIES WE USE AND TRUST
Party Island + Dreamy Beaches: Mykonos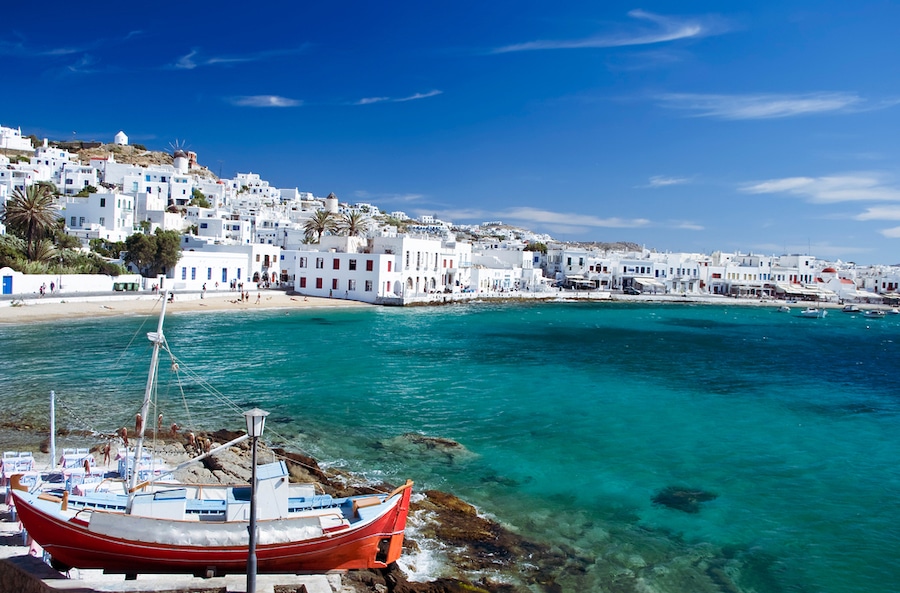 Ok, yes, Mykonos could not be counted on a list of affordable or not crowded destinations in Greece; however, it can be a spectacular destination for young couples as it boasts the most active and wild nightlife on the Greek Islands.
If you and your partner enjoy dancing the night away and exclusive beach locations with stunning waters and loud music, Mykonos can offer all that and more.
Home to a very romantic old town, or Chora, Mykonos has a collection of romantic places for the perfect honeymoon photo album. From the stunning seaside windmills to whitewashed churches and fantastic sunsets by the sea in the old district of Little Venice.
Mykonos is often included in every cruise ship that sails the Aegean, and it can be part of your itinerary or a destination all on its own.
Best Greece Honeymoon Hotels In Mykonos
When honeymooning in Greece, Mykonos is a no-brainer. These honeymoon hotels in Mykonos will make your Greek honeymoon romantic and hassle-free.
Legendary Suites (Mykonos Town)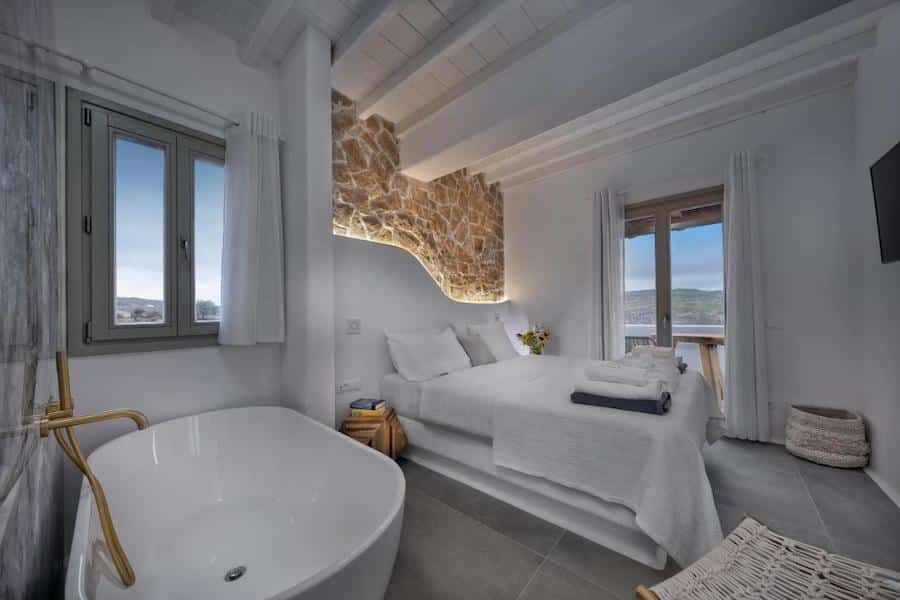 This magnificent hotel is located in Mykonos City, just minutes from the most beautiful beaches on the island. It features an impressive seasonal outdoor swimming pool and a sun terrace for guests.
The newlyweds can enjoy their continental breakfast with a romantic view of the sea every morning.
Alissachni Mykonos (Psarou)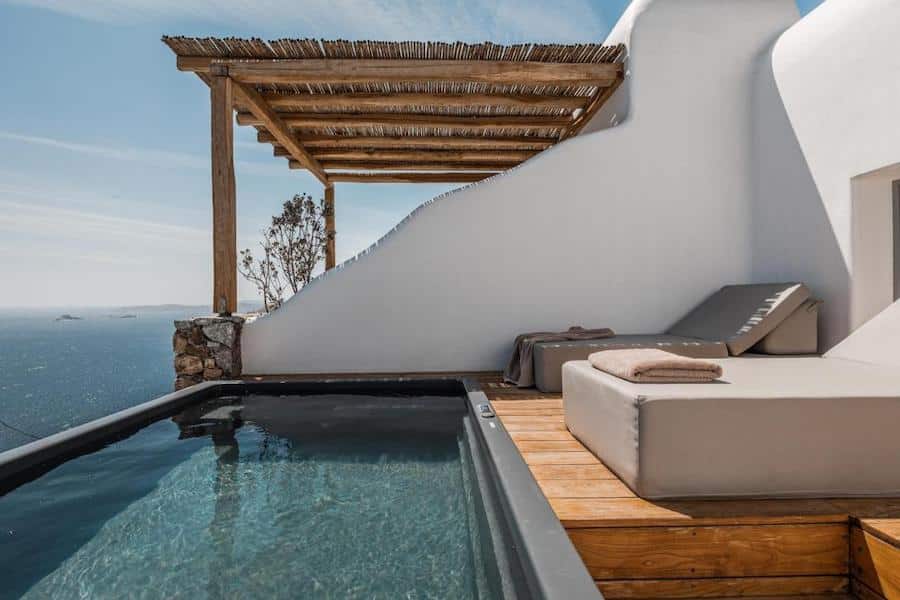 Cavo Psarou is one of the most impressive areas of the Mykonos coast, boasting emerald waters and a relatively private beach.
The area is only minutes from the center of town and offers easy access to Platis Gialos, a popular beach from where boats depart to explore the rest of the island.
Perfect accommodation for couples, suites and rooms are elegant and modern and feature incredible island views.
Aegon Mykonos, Autograph Collection (Kalo Livadi)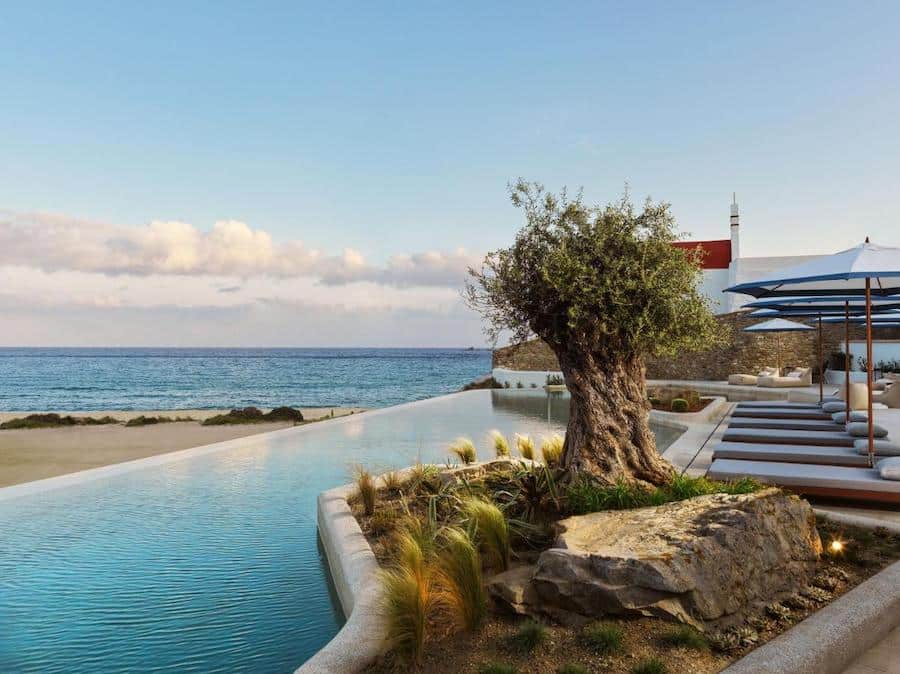 Perfect location for an unforgettable honeymoon, Aegon Mykonos features two stunning outdoor pools, a relaxing spa, and wellness facilities.
The premises are right on the beach of Kalo Livadi, and its modern restaurant has a dreamy terrace with the perfect sea view terrace and two poolside bars.
Modern rooms feature unique design elements; some include private pools or hot tubs, while others offer direct access to the beach.
Other Less-Usual Honeymoon Destinations In Greece
Limiting our honeymoon choice in Greece to Mykonos and Santorini is reductive. You can choose from dozens of incredible islands, magnificent cities, including Athens and Santorini, perfect mountain escapes (ideal if you get married in winter), and much more to pick from.
The following islands are valid alternatives for a different honeymoon, with a touch of romance and many other ingredients.
Active Honeymoon: Kalymnos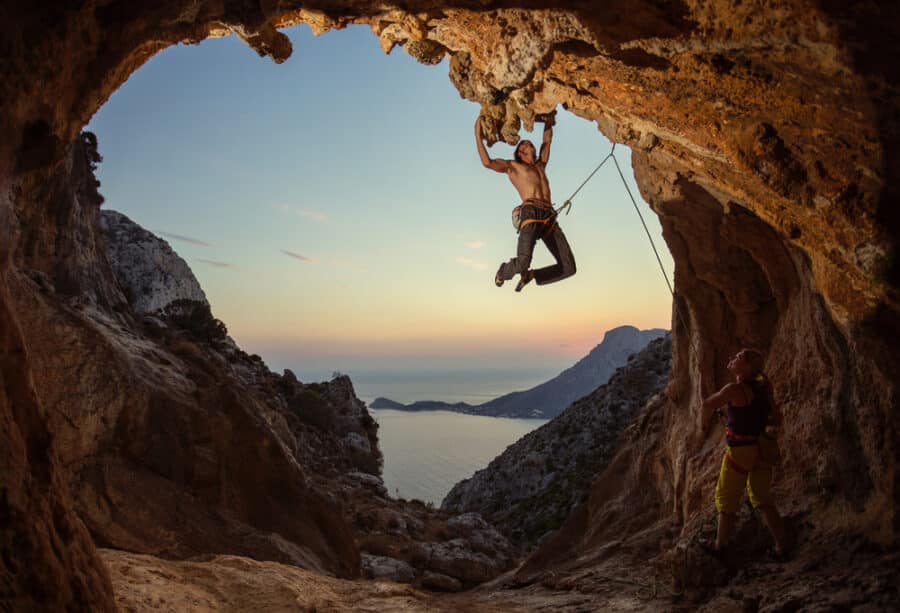 Located in the Dodecanese cluster of islands, Kalymnos can be both a romantic and an exciting place to spend your honeymoon.
Fairly off-the-beaten-track, the island of Kalymnos has a fantastic array of beaches, often not as crowded as the shores on other islands, but also several activities to enjoy.
One of the most important things you can do in Kalymnos is to go climbing. The island is an annual host of different events, competitions, and celebrations that see the arrival of climbers from all over the world.
Kalymnos has a long history and tradition for sponge harvesting, making the place a must-see destination for submarine activities, including immersion, scuba diving, and even snorkeling. Several schools will offer PADI certifications too.
Suppose you and your partner would love to spend a very active honeymoon full of adrenaline and excitement. In that case, Kalymnos can combine the ingredients of an active holiday with the perks of a romantic Greek destination minus the high prices you can find in more popular islands.
Best Greek Honeymoon Hotels In Kalymnos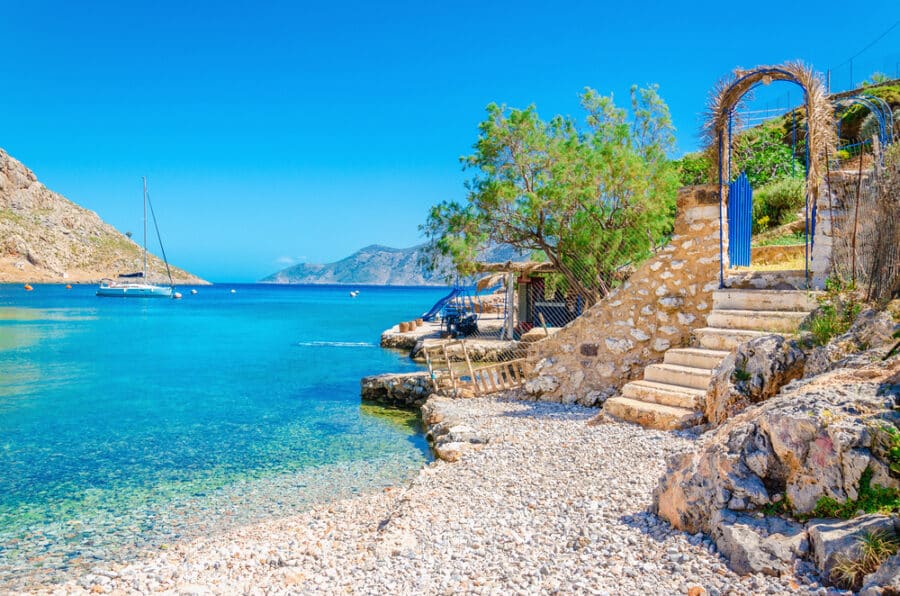 Kalymnos is a destination that won't break the bank, and these accommodations make for a romantic place to stay after a day out on the rocks or in the water.
Secret Paradise Beach Villa (Agios Panormitis)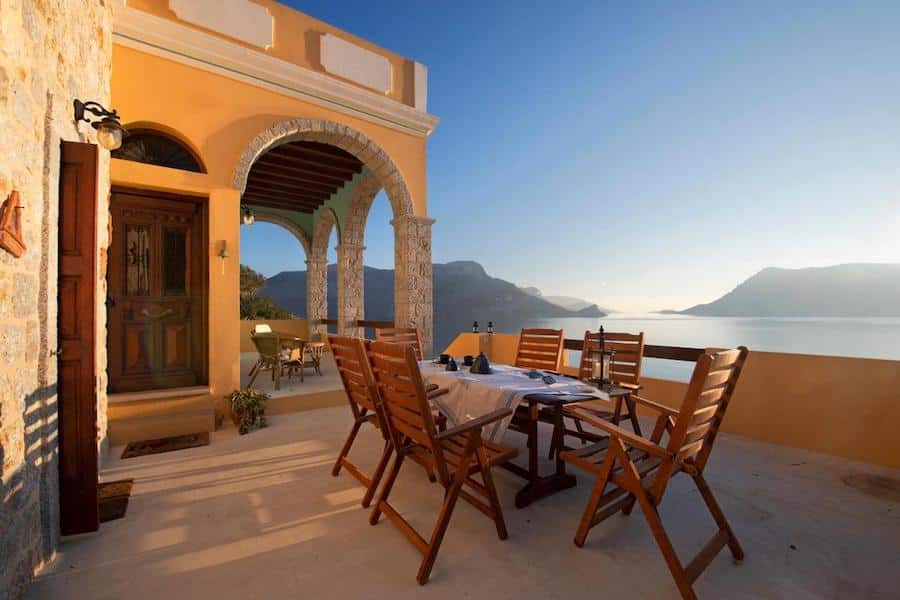 Ideal if you're eager to start life as if you were already home! This stunning villa is privileged, offering some of the most spectacular views of the sea and the nearby Telendos Island.
The villa is close to the beautiful Castle of Kalymnos and the Castle of Chryssocheria, and it offers every amenity and facility for a romantic getaway.
Evanik Hotel (Kalamiotissa)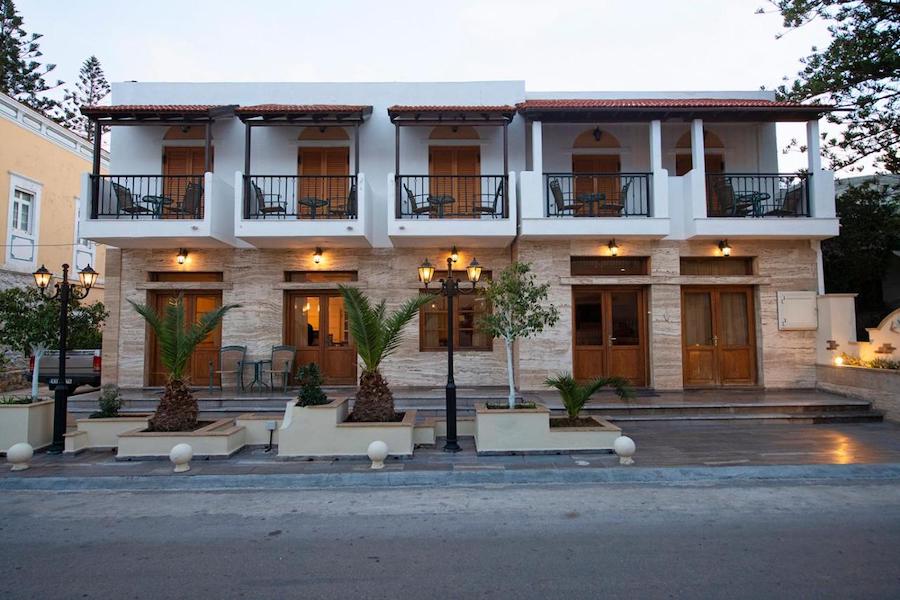 Both beautiful and affordable, this is an excellent hotel for an unforgettable honeymoon without emptying your bank account!
The hotel is centrally located in Kalymnos Town, just minutes from the port and a short walk from restaurants and shops. Some suites offer imposing mountain views.
All-Inclusive And Entertaining: Honeymoon In Kos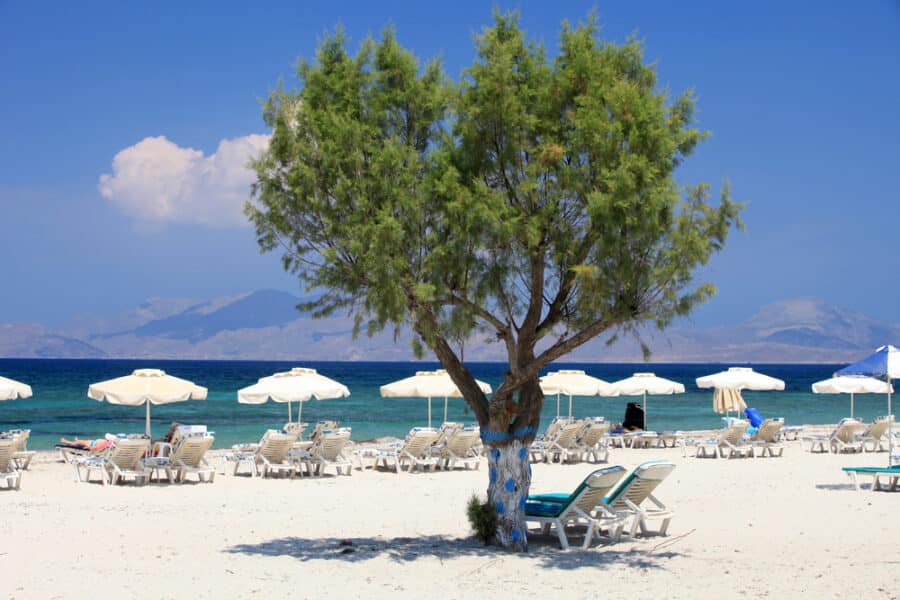 Not far from Kalymnos, Kos is another famous Greek Island that, during summer, is well connected to the rest of Europe with frequent regular and charter flights.
This makes it a destination that is easy to reach and quite affordable as well. It has such a vast range of options for romantic accommodation that it's almost impossible not to find the right hotel for you and your partner!
Although there's plenty to do on the island, and it is arguably nothing short of a beautiful destination, Kos can also be the perfect place to spend your honeymoon if you want to rest from the hassle of organizing a wedding and spending lazy afternoons by the pool sipping refreshing cocktails and not doing much more!
Most hotels offer in-house entertainment, from greek nights to exclusive shows and gastronomic events, perfect if you don't even dream of leaving the premises at any time during your stay!
Best Grecian Honeymoon Hotels In Kos
Kos is probably not so well-known for all of the Greek islands' honeymoon ideas, but it is sure to impress.
D'Andrea Lagoon All Suites – Adults Only (Marmari)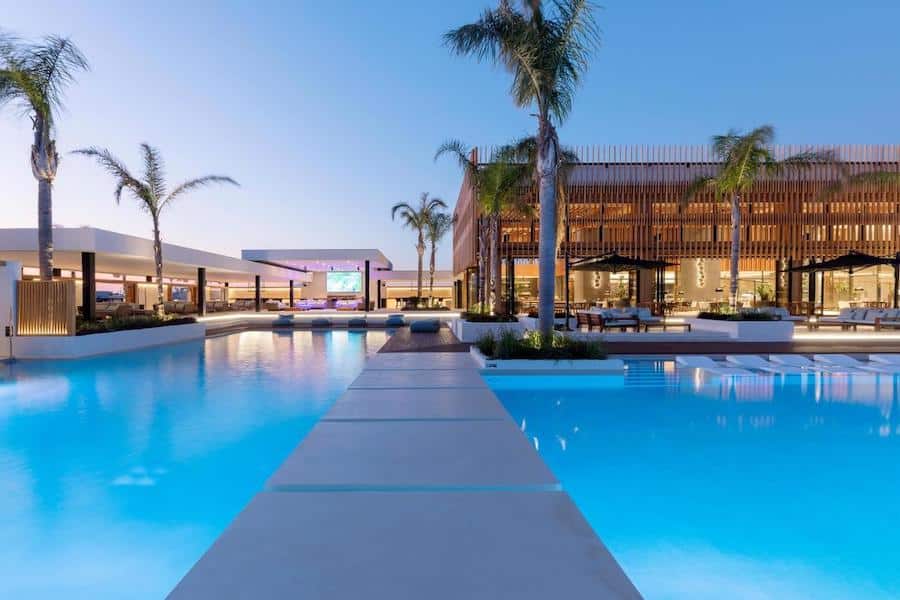 Located on a super idyllic spot on the island, the 5-star suites provide pool views, an outdoor pool, and a very romantic setting. Guests can enjoy a buffet or vegetarian breakfast on the beautiful terrace or restaurant.
The resort also offers access to a private beach with an all-day transfer service.
And if you do change your mind and want to visit the island, the hotel is close to the Ancient Agora and the Tree of Hippocrates.
Aqua Blu Boutique Hotel & Spa, Adults Only – Small Luxury Hotels of the World (Lampi)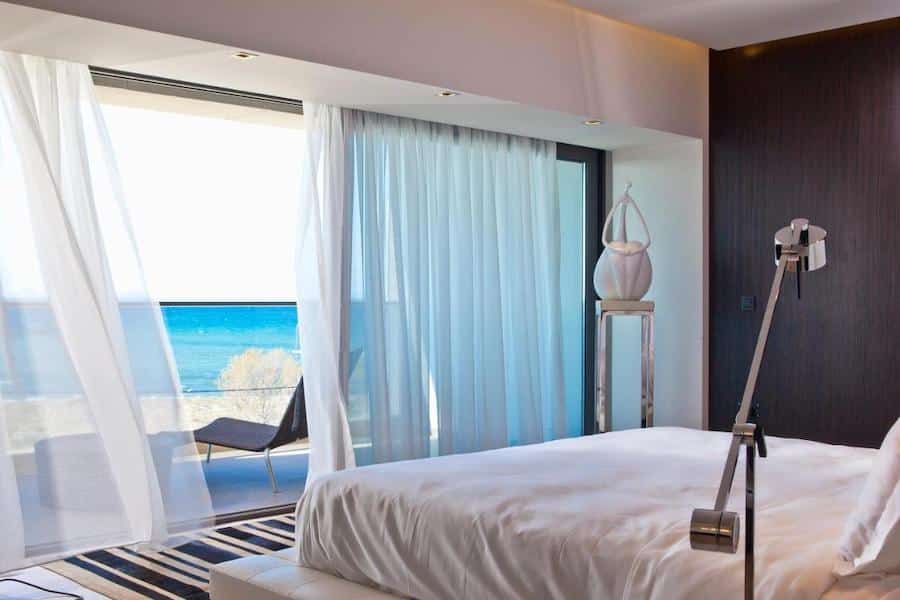 Set on one of the most spectacular seafront areas on the island, this 5-star resort is a magnificent setting for a peaceful honeymoon. Guests at the suites can enjoy an indoor and outdoor swimming pool and a contemporary wellness center for utter quietness and relaxation.
Foodies will be happy to know that the hotel restaurant serves international dishes made by awarded Greek chefs or that there is also an indoor lounge bar serving drinks and exotic cocktails.
Couples love the on-site spa with sauna, hammam with aromatherapy, and steam bath.
Classy and Unknown: Kimolos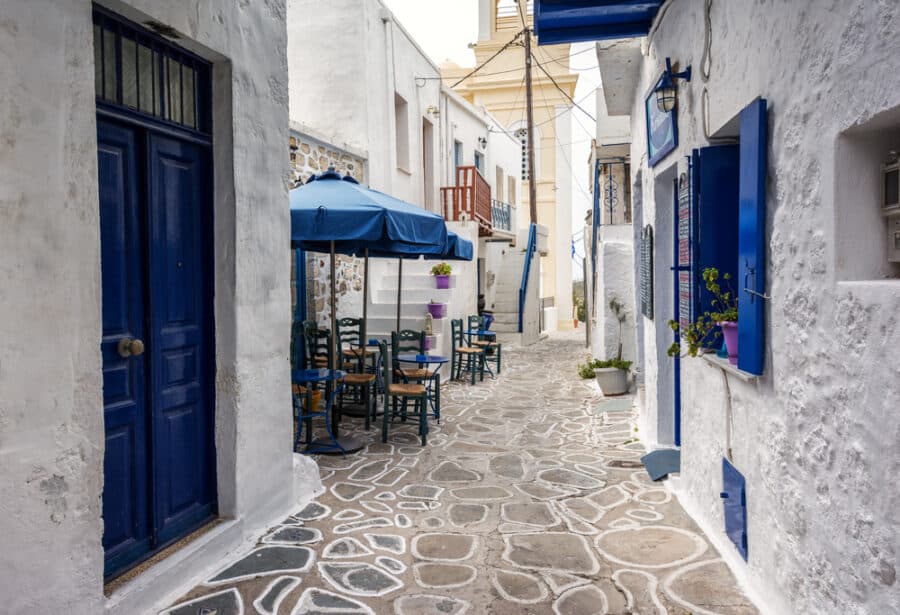 Those couples looking for classic Cycladic landscapes made of whitewashed villages and dreamy beaches but no crowds should direct their attention to the lesser-known island of Kimolos.
Not far from the most popular islands and relatively easy to reach from Athens, Kimolos has remained entirely off the radar, charming, and traditional.
This is the right honeymoon destination if you dream of romantic alleys, lush bougainvillea, blue-domed churches, simple white homes, and spectacular shores with impressive white cliffs.
Also, Kimolos is quite affordable for accommodation and entertainment, offering the perfect compromise between beauty and convenience.
Best Honeymoon Hotels In Kimolos
The Windmill Kimolos (Psathi)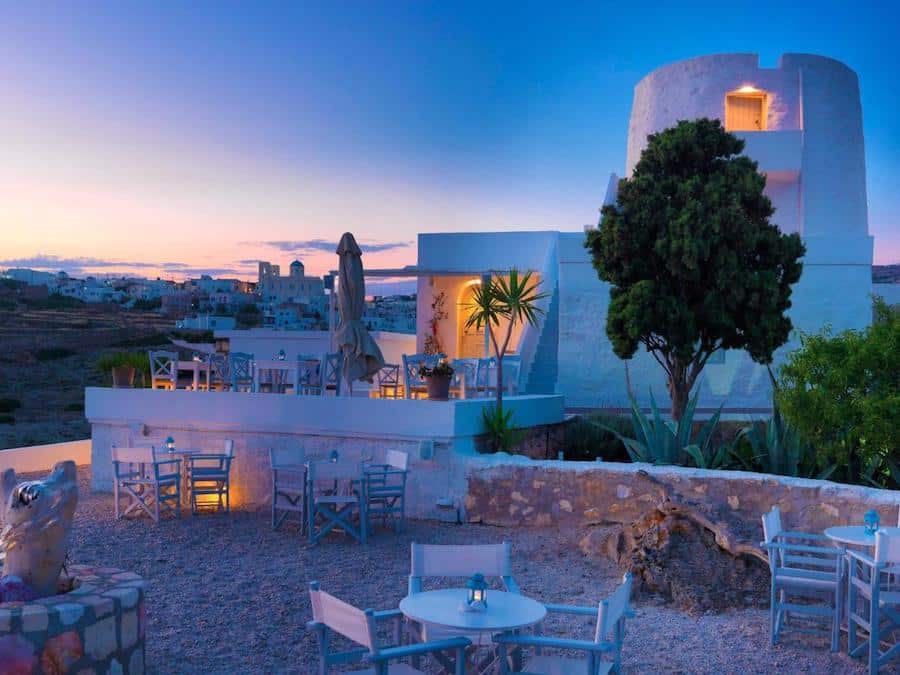 Home to a super inviting atmosphere, the property is just steps from the port of Kimolos. Set in a 19th-century traditionally restored windmill, the venue features a fantastic bar, a sea view terrace, and elegant suites with unique sea views.
Each morning, guests can start their day with an English breakfast served on the sun terrace.
Psathaki (Psathi)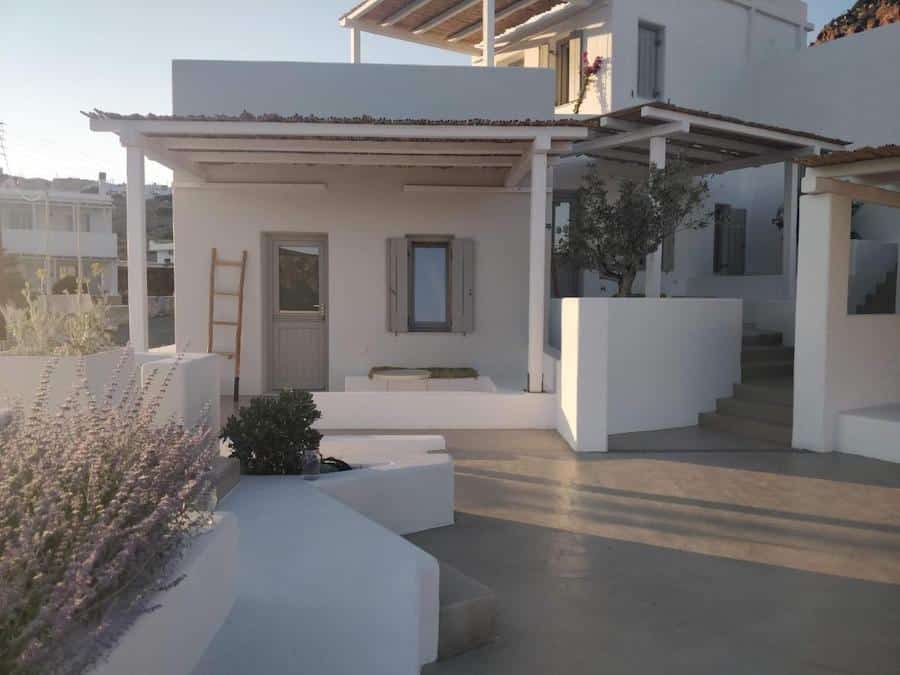 Elegant, private, and romantic, this is a unique choice in Kimolos when planning a romantic getaway.
This aparthotel is perfect for couples looking for an unforgettable setting to spend their honeymoon in Greece.
Honeymoon On Board: Cruising The Greek Islands
If time is not a problem, and — of course — one island is not enough, different cruise options allow you to explore more popular islands in a week, ten, or fifteen days, and not all of them have incredibly high price tags. Regarding cruising, booking in advance can make all the difference.
During your honeymoon onboard, you will be docking at the most famous ports of the Cyclades, such as Mykonos, Crete, or Santorini. Still, many more itineraries are available if you prefer a cruise in the Ionian or the Dodecanese.
It doesn't matter if you prefer smaller or bigger islands; sailing in Greece is a winning honeymoon to Greece idea, and routes vary immensely. You will spend active days visiting different islands, then get back on board at sunset for more quality time with your partner.
You can comfortably lay on the deck and catch a glimpse at the breathtaking views of Greek traditional villages, an imposing volcano, or a heavenly beach.
Spending your honeymoon on the Greek Islands can be the best fairytale to ever come true for the two of you! Keep your uncorked bottle of champagne at hand and dream together about a lifetime of shared adventures to come. You will not be sorry if you choose Greece for your wedding trip.
So, are you ready for your honeymoon to Greece yet?