Here is your guide on how to choose between Paros vs. Naxos. Which would suit your Greek vacation better? Let us locals help you decide on Naxos or Paros with ease.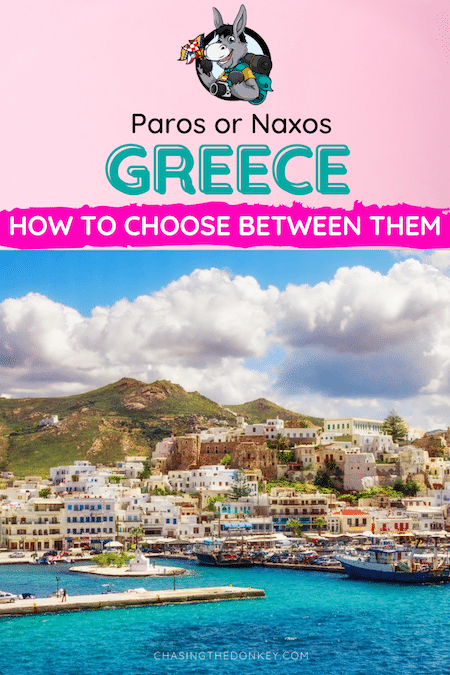 You're seriously spoiled for choice when deciding which Greek island to visit. Most people go to the big islands, such as Rhodes, Santorini, Crete, or Mykonos. These are all great options, but they're also highly touristic, swamped, and, consequently, more expensive.
Keep reading below for our in-depth analysis on weighing up Paros vs. Naxos.
If you want to enjoy all the tourist fun you can have this summer but don't want to go to the main islands, there are two options you should think about – Paros or Naxos.
Both of these Cyclades islands are beautiful and have amazing beaches to kick back and relax on. They're also packed with natural beauty so they're ideal for a relaxing break away from the noise.
These are close-by islands (40 minutes apart) that aren't too far away from Mykonos and Santorini. They can be reached by ferries from either island pretty easily.
But which should you visit? You could go to both, but what if you wanted to base yourself in one spot for a week or two?
Let's compare Paros vs. Naxos to determine if it is Paros and if Naxos is the best island for you.

TRAVEL COMPANIES WE USE AND TRUST
Paros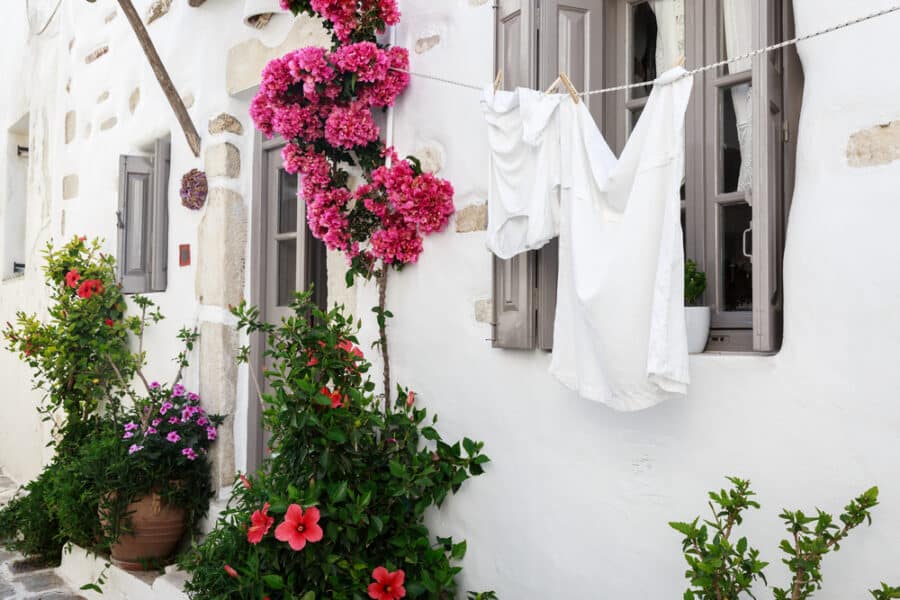 Paros is located just 40 minutes away from Naxos by ferry and it's a fantastic spot for beach time and chilled out vibes. Parikia is the capital and links to many other islands in the Cyclades. Compared to Naxos, Paros is slightly livelier, but don't expect it to be anywhere near some of the more vibrant islands, such as Zante and Santorini!
Paros is the ideal spot for foodies, those who enjoy medium-level nightlife, and a little romance. It's certainly a more romantic island than Naxos.
Beaches on Paros tend to be a little smaller, and some are a little rougher around the edges than Naxos, but you can find opportunities to go windsurfing, waterskiing, and sailing.
Pros And Cons To Visiting Paros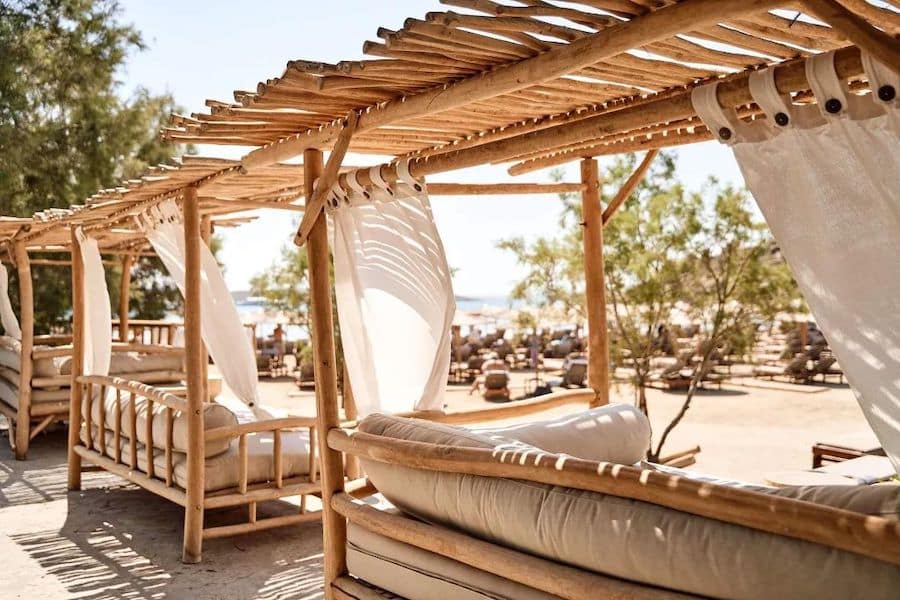 REASONS TO VISIT PAROS
Paros is a more lively island, and it has two main towns to explore.
You'll find fantastic food and plenty of nightlife in Paros, although it's still not wild.
There are also countless beaches, some of which are very secluded.
History lovers will love Panagia Ekatonapiliani, a church dating back to the 4th century and Byzantine times.
Paros is better than Naxos for shopping, fine dining, boutique stores, and it's a top spot for honeymoons too.
You will find many upmarket hotels on Paros.
Paros' public transport is better than Naxos' – the island has a road which goes all the way around it, so you can easily hire a car and explore more. The roads are also smooth and flat, as the island is less mountainous than Naxos.
Paros has more flights from Athens and other islands. You can also visit several other islands via the port.
REASONS NOT TO VISIT PAROS
Paros has no international airport, so you will have travel indirectly.
If you want a low-cost holiday, Paros probably isn't for you as it's geared more toward fine dining and sophistication.
Nightlife still isn't on a high level, so if that's what you want, you should probably check out larger islands.
Best Tours In Paros:
🚢 Take to the sea on your Paros vacation, and spend a day visiting the islands of Antiparos and Despotiko with traditional boat & BBQ
🍲 Learn more about Parian cuisine than you ever could by simply dipping into restaurants or recipes in this small-group cooking class in Paros
🚌 Enjoy the highlights of Paros and Antiparos without the hassle on this full-day bus tour
Naxos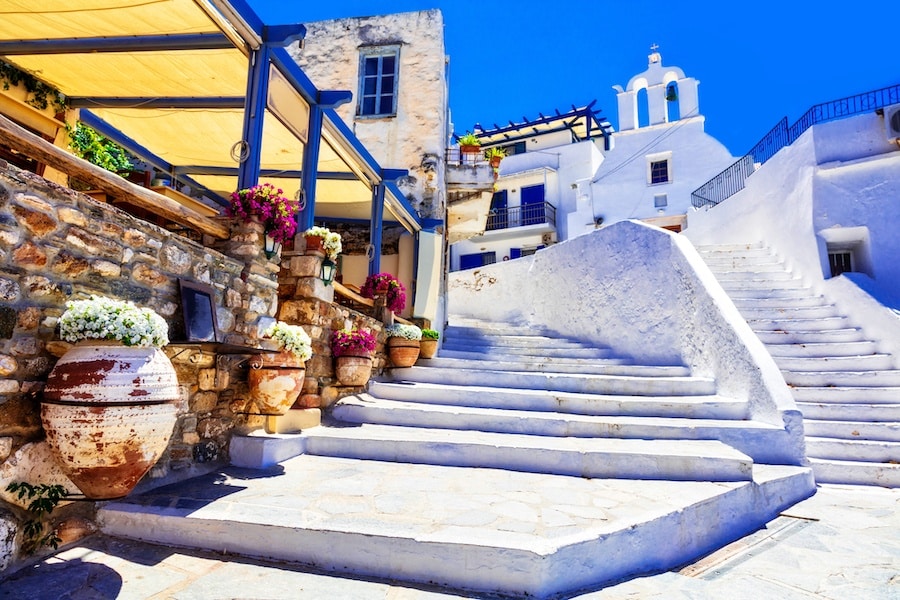 Sitting in the southern Aegean region, Naxos is the largest of the Cyclades islands. It's home to kilometres of sandy beaches and has amazing mountain villages to explore. Chora is also a great spot to spend your time, being a port village with plenty of eateries, shopping opportunities, and historic spots to check out.
Naxos is ideal for chilled-out beach time, enjoying romantic meals or chilled-out evenings, and shopping for souvenirs at local craft markets. The scenery is truly magnificent, and there is lots of nature to explore and ruins and old churches. You can also try outdoor sports, such as hiking, waterskiing, windsurfing, or sailing.
The only major downside of visiting Naxos, and indeed Paros, is that there isn't an international airport on either island. That means you'll need to fly to Athens or another Greek island and then get a domestic flight. Of course, you could also connect from another island via ferry. But is it worth the extra hassle to check out the island(s)? Yes!
Pros And Cons To Visiting Naxos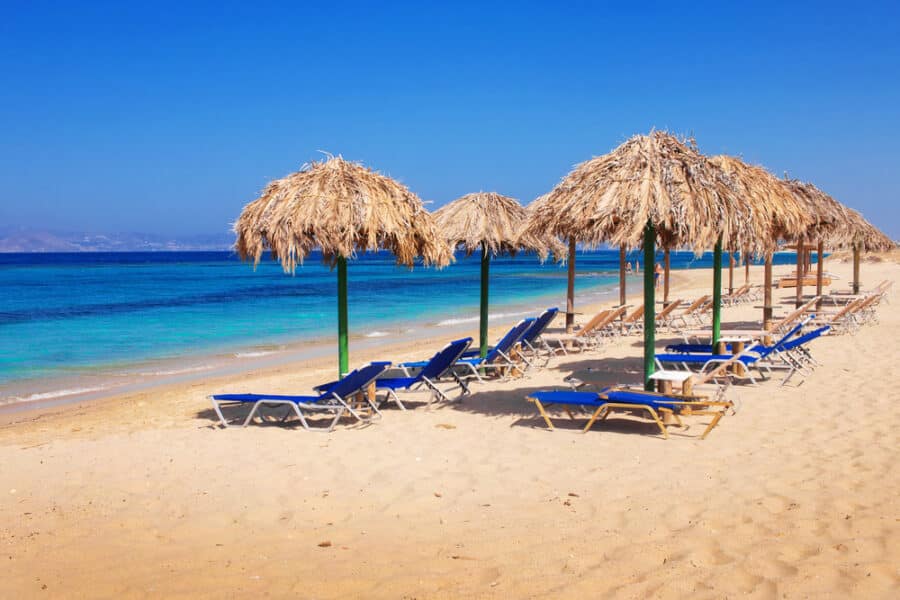 REASONS TO VISIT NAXOS
In comparison to Paros, Naxos is much more laid-back and authentic.
It has long, sweeping beaches and a charming feel in the air.
You can go hiking and enjoy authentic life in the small, traditional villages which allow you to see the real culture of the island.
Naxos is a family-friendly island, ideal for those who want to enjoy the sun and beauty without the noise.
Naxos has far better golden sand beaches than Paros!
Compared to Paros, Naxos is better for sports such as windsurfing and kitesurfing, sailing, and water-skiing.
Naxos is ideal for people who don't want an uptight eating experience; it's far more about chilled out sunset tavernas without having to get too dressed up.
Chora is the best spot for shopping and exploring, with plenty of cobbled, winding streets to check out and buy souvenirs to take back home.
REASONS NOT TO VISIT NAXOS
If you want to enjoy some vibrant nightlife, you won't really find it on Naxos. It's more about chilled out evenings, beach time, and history/archaeology than anything else.
If you want to visit anywhere other than Chora, you'll need to rent a car as the buses don't go into the mountainous/inland areas.
Flights from Athens and other Greek airports are less frequent to Naxos than to Paros.
Naxos doesn't have an international airport (neither does Paros).
Best Tours In Naxos:
🚶Discover the real Naxos with a local guide on this half-day tour that covers all the bases: an ancient ruin, a mountain village, a pottery, a distillery, and an olive oil factory
🏛️ Step back to ancient times and learn about Greek mythology as you walk around Naxos Town during the golden hour on this tour
🚢 Spend a day on this catamaran yacht sailing around Naxos with freshly prepared Greek lunch and wine
Paros Or Naxos – Can You Visit Both?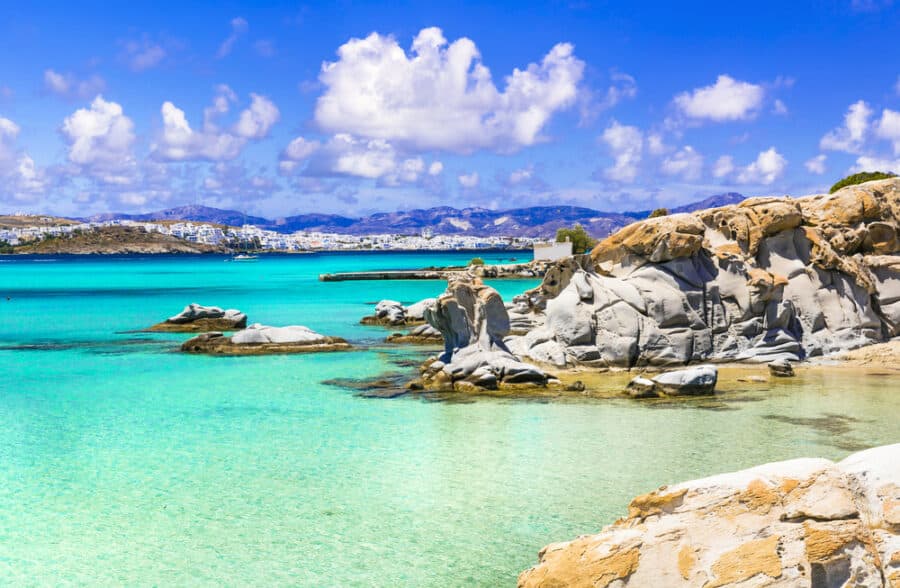 Yes, you can!
Choosing between Naxos and Paros is quite challenging because they're similar but have some significant differences. If both call out to you, and that's entirely possible, then you can visit both during the space of one holiday.
The islands are very close, have the same weather patterns, and have direct ferry connections to the main islands around them and each other. You can also fly to Naxos or Paros from Athens via domestic flight. However, Paros does have more flights than Naxos.
You will find ferries between Naxos and Paros very regularly between the summer months, usually around 8 per day. They start at around 9.30 am and run until about 10.30 pm, although check schedules ahead of time as they can change. Tickets for the Naxos to Paros ferry can be brought online or at the port.
CHOOSING BETWEEN NAXOS VS PAROS FAQs
What are the main differences between Naxos and Paros?
Naxos is the largest island in the Cyclades, with diverse landscapes, ancient ruins, and beautiful beaches. Paros, on the other hand, offers a mix of traditional charm, vibrant nightlife, and lovely beaches.
Which island is more suitable for families?
Naxos is often considered more family-friendly due to its calm atmosphere, long sandy beaches, and a wide range of activities suitable for children.
Is Paros or Naxos better for water sports enthusiasts?
Paros is known for being a hub for water sports, especially windsurfing and kitesurfing, making it an excellent choice for enthusiasts.
Which island has better nightlife options?
If you're looking for a lively nightlife scene, Paros offers more options with its numerous bars, clubs, and beach parties compared to Naxos.
Can I visit both Naxos and Paros during one trip?
Yes, it's possible to visit both Naxos and Paros during one trip as they are relatively close to each other and well-connected by ferries.
What types of accommodations are available on both islands?
Both Naxos and Paros offer a wide range of accommodations, including hotels, villas, apartments, and charming guesthouses.
Which island is more suitable for a relaxing holiday?
If you prefer a more laid-back and tranquil experience, Naxos, with its vast landscapes and quieter beaches, may be the better choice.
Wrap Up On The Naxos Vs. Paros Debate
Both Naxos and Paros are ideal choices for those who want to enjoy nature and kick back and relax. If you're looking for a romantic break, choose Paros. If you're looking for a chilled-out family spot, choose Naxos.
However, you could also side-step the decision and forget about deciding if Paros Naxos is better, and that is to visit both Greek islands!
So, tell us, has our Naxos vs. Paros travel guide helped you? Which island, Paros or Naxos, will you choose?