We may earn commission from affiliate links →
Turkey Bucket List Ideas To Help You Discover The Best Of Turkey
Welcome to the land of contrasts, where East meets West and ancient history blends with modernity. Turkey is a country that has something for everyone, from breathtaking natural landscapes to rich cultural heritage and mouth-watering cuisine to bustling cities.
With so much to see and do in this diverse nation, deciding where to start exploring can be overwhelming. That's why we've compiled a list of the top experiences you must add to your Turkey bucket list!
Prepare for an unforgettable journey through this fascinating country filled with surprises at every turn.
What other Turkey bucket list ideas do we have? Keep reading…
Istanbul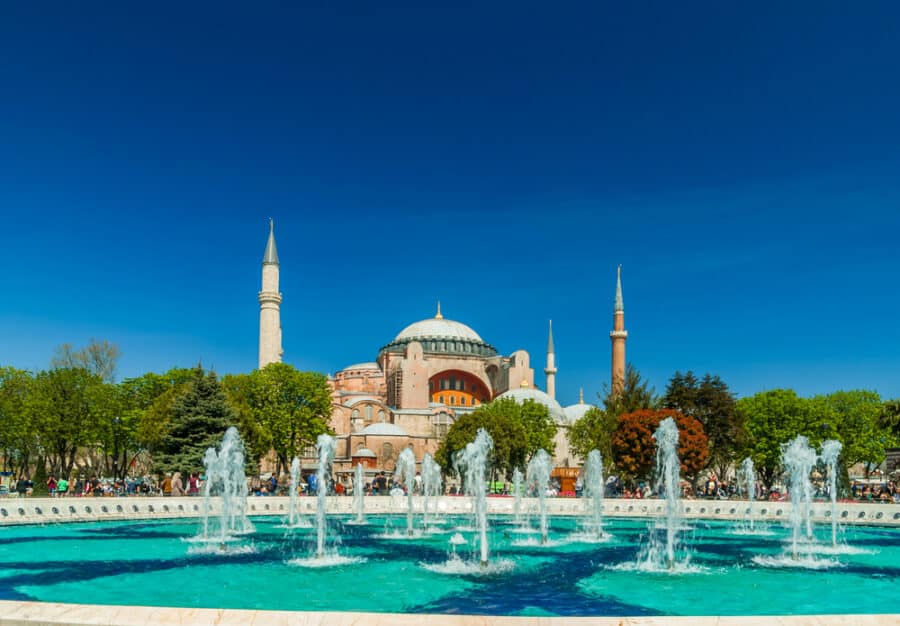 If you're planning a trip to Turkey, you won't want to miss out on some of the country's most popular attractions in Istanbul. Home to many of Turkey's most iconic landmarks, Istanbul is a must-see for any first-time visitor. Here are some of the city's top sights and activities:
The Blue Mosque: One of Istanbul's most recognizable landmarks, the Blue Mosque is a must-see for any traveler. Built in the early 1600s, the mosque is known for its beautiful interior, with blue tiles adorning the walls and ceiling. Visitors are welcome to enter the mosque and pray or simply admire its beauty from outside
Hagia Sophia: Another of Istanbul's famed landmarks, Hagia Sophia, was initially built as a Christian cathedral in the 6th century. After being converted into a mosque in the 15th century, it then became a museum open, only to be turned back into a working mosque. Its impressive architecture and rich history make it one of Istanbul's most popular tourist destinations
The Bosphorus: The Bosphorus is a strait that runs through Istanbul, separating Europe and Asia. A cruise down the Bosphorus is a great way to see some of Istanbul's most famous landmarks, including the Blue Mosque, Hagia Sophia, and Topkapi Palace (see below). You can also enjoy views of the city skyline from across the water
Topkapi Palace: This former residence of Ottoman sultans is now a museum open to the public. Visitors can explore its many courtyards, gardens, and buildings filled with artifacts from the palace's heyday
Istanbul Grand Bazaar: This massive covered market is a great place to find souvenirs and other items to take home with you. You can also enjoy traditional Turkish food, tea, and coffee while browsing through the stalls
Galata Tower: For panoramic views of Istanbul, head up to the top of Galata Tower. The tower stands over 150 feet (45 meters) tall and offers an unparalleled view of the city and surrounding areas
Grand Bazaar: take a stroll through the Grand Bazaar, where you can bargain for everything from spices to carpetsfanci
National Parks, Nature Reserves & Outdoor Sites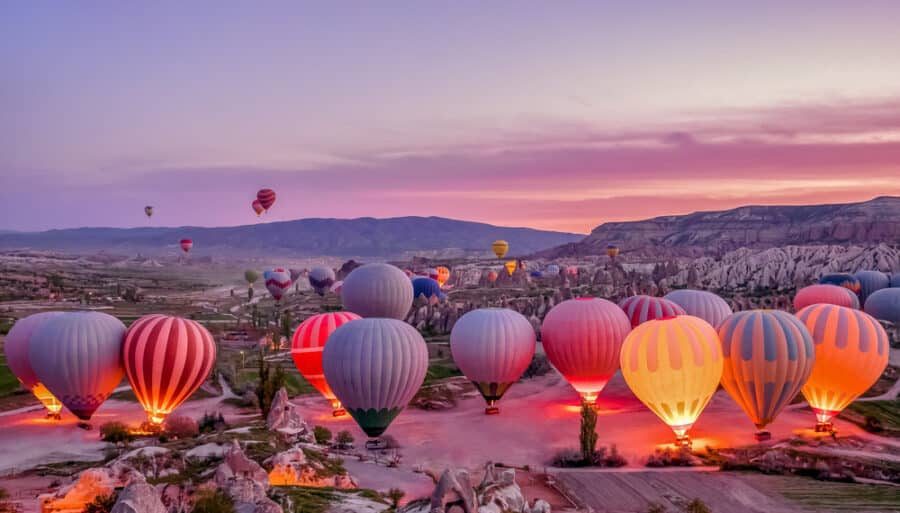 Turkey is home to some of the world's most beautiful national parks and nature reserves. From the stunning landscapes of Cappadocia to the alpine lakes, there is something for everyone to enjoy.
Here are some of the best national parks, nature reserves, and wide open spaces in Turkey:
Cappadocia: Located in central Turkey, and is known for its unique landscape of rock formations and caves. Visitors can explore the area by foot, horseback, or hot air balloon
Goreme National Park: A national park located in Cappadocia, Goreme is home to a UNESCO World Heritage Site known for its rock-cut churches and monasteries
Ihlara Valley National Park: This national park features a stunning valley with hiking trails, rivers, and caves. It is located near the city of Aksaray in central Turkey
Kackar Mountains National Park: This national park is located in northeastern Turkey and is known for its mountainous landscape and alpine lakes. Visitors can hike, camp, or fish in the park
Kinikliova Nature Reserve: This nature reserve is located on the Black Sea coast of Turkey and is known for its pristine beaches and lush vegetation. Visitors can swim, sunbathe, or take part in water sports such as kayaking or windsurfing
Sile National Park: Located on the shores of the Marmara Sea in northwestern Turkey, this national park is known for its dense forests and wetlands. Birdwatchers can also take advantage of the many species of birds that reside here
Turkish Beaches & Coastal Towns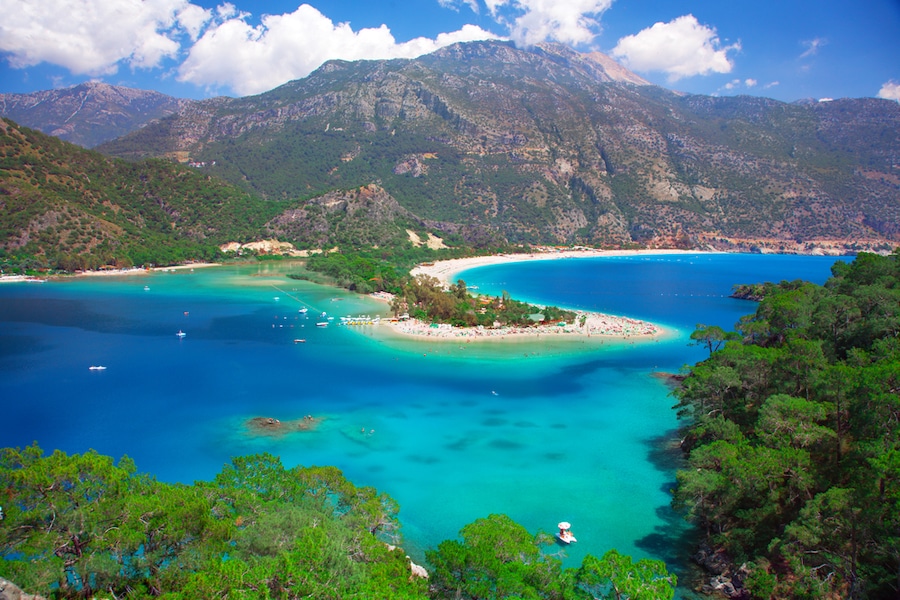 If you're looking for beautiful beaches and charming coastal towns, Turkey is the place for you. With its miles of coastline along the Mediterranean and Aegean Seas, Turkey has no shortage of beach options. And whether you're looking for a bustling beach resort or a quiet fishing village, you'll find it in Turkey.
Some of the most popular beaches in Turkey include:
Oludeniz Beach: also known as the Blue Lagoon, is a must-see with its turquoise waters and dramatic cliffs
Cleopatra Beach: this beach gets its name from the Egyptian queen who was said to have bathed here, and it's easy to see why she fell in love with this place
Patara Beach: one of the longest beaches in Turkey and is perfect for a relaxing day by the sea
Icmeler Beach: is an excellent option if you're looking for a beach with plenty of activities and amenities nearby
The Turkish Riviera, also known as the Turquoise Coast, is a stretch of coastline on the Mediterranean Sea in southwestern Turkey. It is home to some of the country's most popular tourist destinations, including Antalya, Bodrum, Marmaris, and Fethiye. These cities offer a variety of activities for visitors to enjoy, from exploring ancient ruins and soaking up the sun on the beach.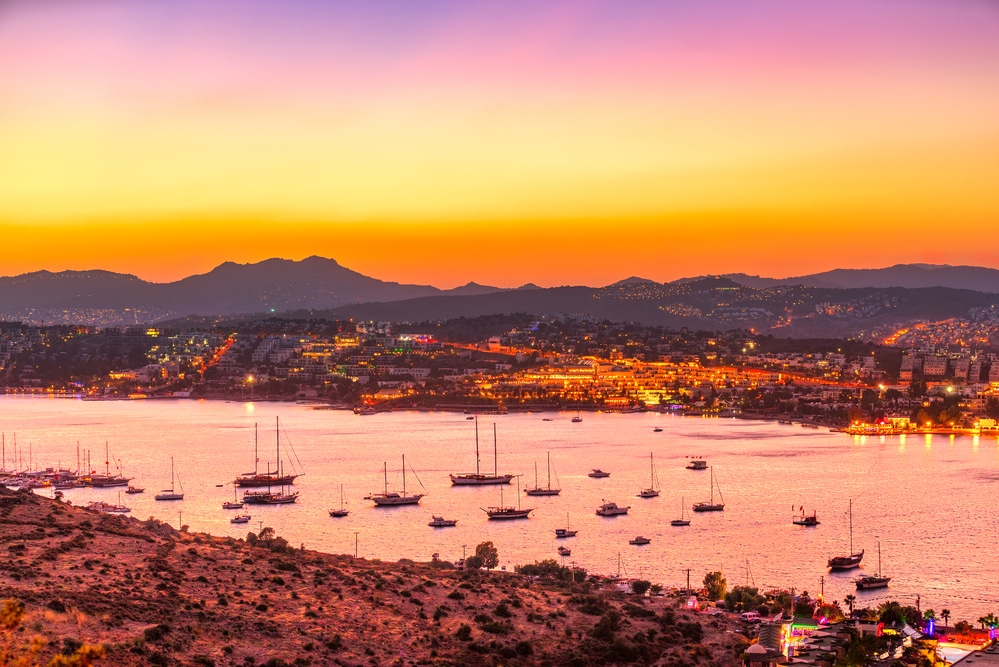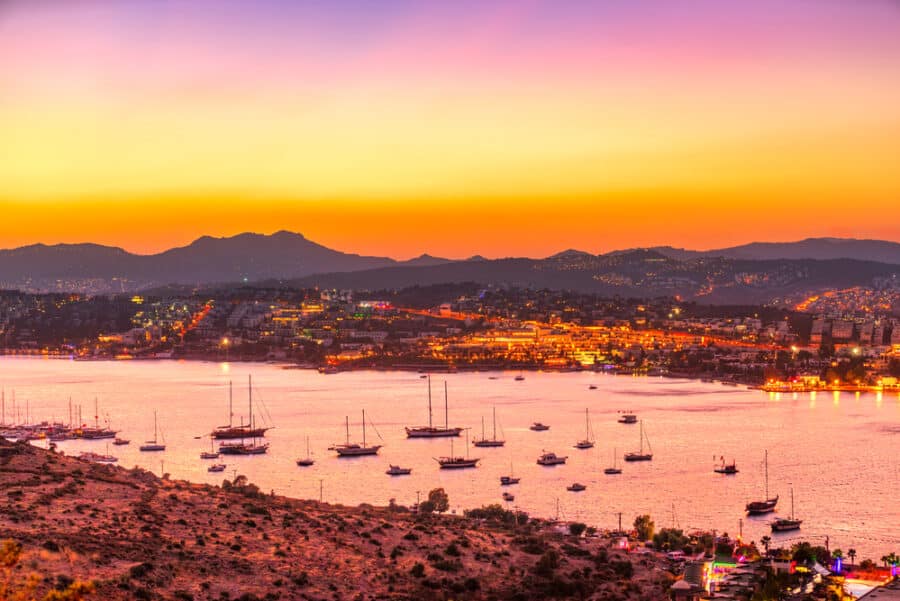 Here is a list of the top cities on the Turkish Riviera that you should add to your bucket list:
Antalya: the largest city on the Turkish Riviera and one of the most popular tourist destinations in Turkey. It is home to beautiful beaches, several golf courses, and a variety of historical landmarks
Bodrum: a picturesque city with a lively nightlife scene and a beautiful harbor. It is also home to many historical sites, including the Mausoleum of Halicarnassus, one of the Seven Wonders of the Ancient World
Marmaris: a vibrant resort town with crystal-clear waters and a lively nightlife scene. It is also an ideal base for exploring nearby archaeological sites such as Ephesus and Pamukkale
Fethiye: is located in southwest Turkey and offers stunning scenery, turquoise waters, and several historical sites. Its Oludeniz Beach is one of the most photographed beaches in Turkey
Kalkan: a beautiful harbor town that offers stunning views, traditional restaurants, and boutiques. It is also home to ancient sites such as Tlos and Xanthos
Adventure Activities In Turkey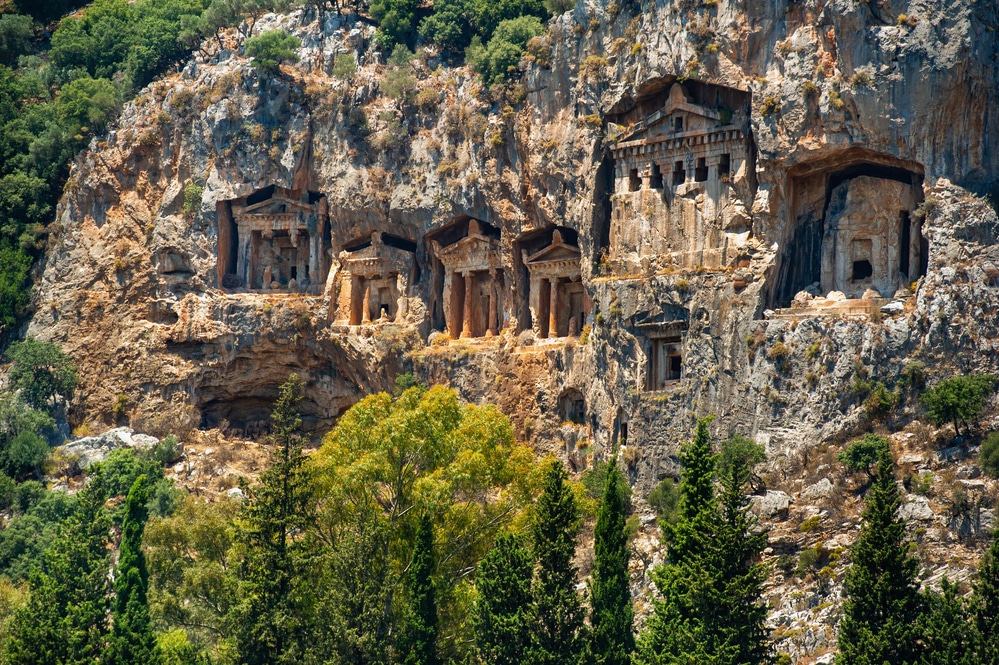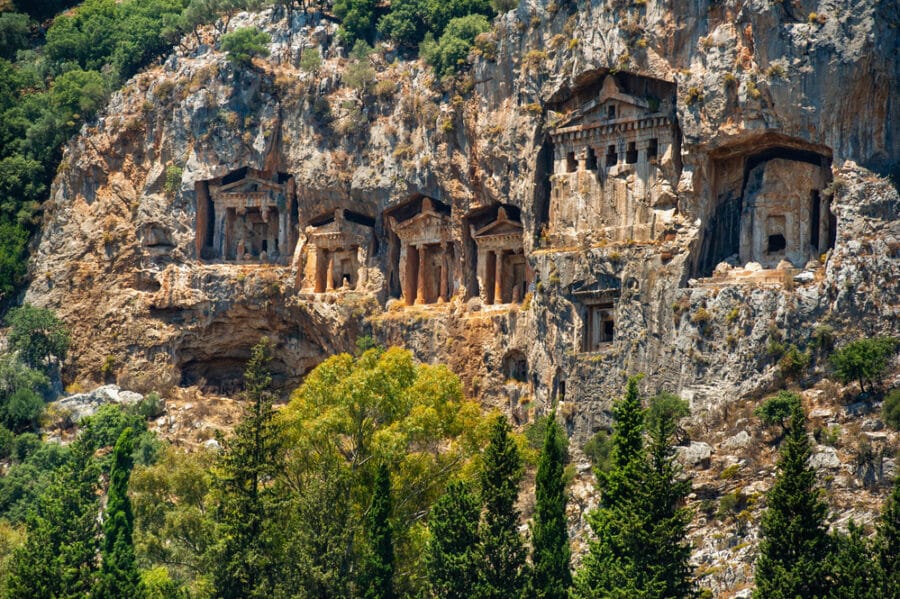 Turkey is a land of adventure, offering a wealth of activities to get your heart pumping. Here are some of the best adventure experiences Turkey has to offer:
Hike the Lycian Way: this 500-mile trail winds its way along the Turkish coast, offering up breathtaking views of the Mediterranean Sea
White water rafting in the Köprülü Canyon: this canyon is one of Turkey's most popular rafting spots, with its turquoise waters and dramatic cliffs
Conquer Mount Ararat: at 5,137 meters, Mount Ararat is Turkey's tallest mountain and a challenge for any experienced climber
Paraglide over Cappadocia: with its surreal landscape of fairy chimneys and cave dwellings, Cappadocia is an unforgettable place to paraglide
Explore Göreme National Park on horseback: this UNESCO World Heritage Site is best explored on horseback, where you can trot through valleys and past ancient rock formations
Take a dive in the Mediterranean: the clear waters of the Mediterranean are perfect for snorkeling and diving, offering up a wealth of marine life
Sail around the Turquoise Coast: hop aboard a traditional Turkish gulet for a sailing tour of Turkey's stunning Turquoise Coast
Go canyoning in Saklikent Gorge: this rugged gorge is perfect for canyoning, with its rocky terrain and crystal-clear waters
Ride the rapids of the Coruh River: this fast-flowing river is one of the best spots in the country for white water rafting
Trek the Black Sea Coast: spend a few days exploring this wild coastline on foot, taking time to stop at quaint fishing villages and explore hidden coves along the way
Shopping Malls and Markets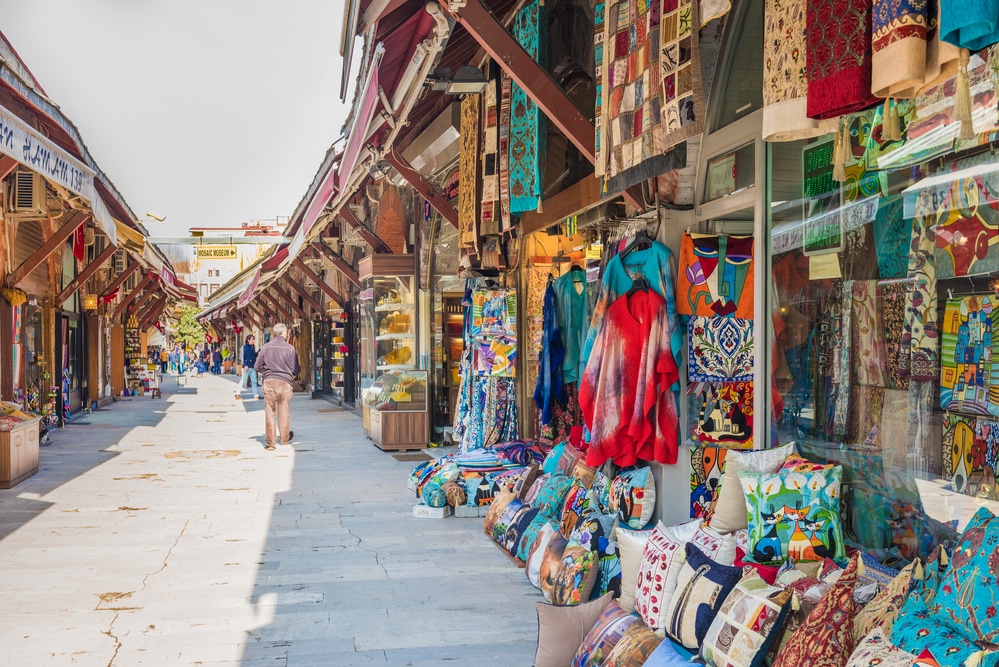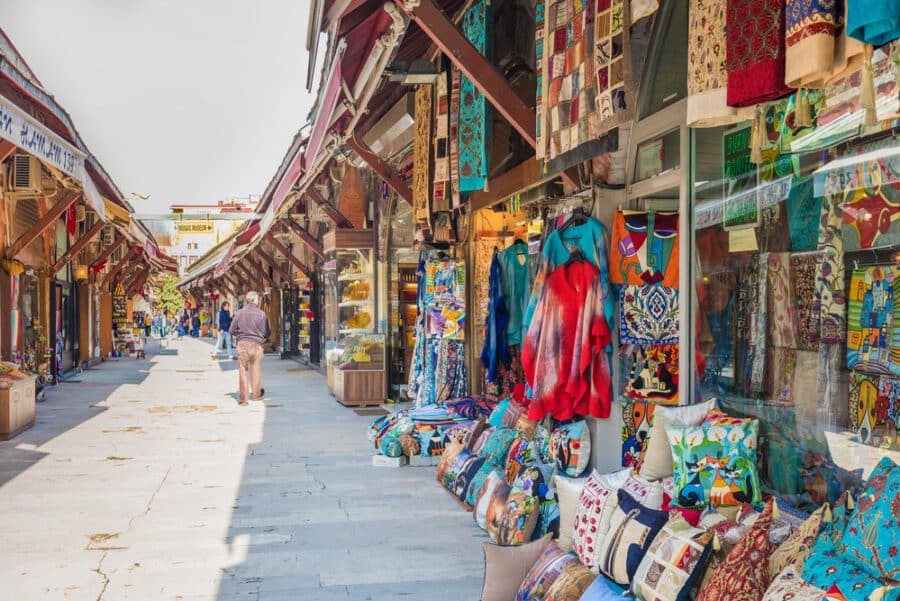 Turkey is home to some of the best shopping malls and markets in the world. From the grandiose Istanbul Cevahir to the bustling bazaars of Ankara, there is no shortage of places for you to find souvenirs to take home.
Here are some of the best shopping experiences to add to your Turkey bucket list:
Istanbul Cevahir: this massive mall is one of the largest in Europe and features over 300 stores. There is also an impressive food court with international cuisine
Grand Bazaar: one of Istanbul's most famous attractions, the Grand Bazaar is a huge covered market with over 4,000 shops selling everything from spices to carpets
Spice Bazaar: another must-visit market in Istanbul, the Spice Bazaar is full of stalls selling exotic spices and herbs
Ankara Central: the biggest mall in Ankara, Ankara Central houses over 200 stores, including international brands like Zara and H&M
Kapalı Çarşı: this historic covered market dates back to the 15th century and is one of Istanbul's most popular tourist attractions. It's full of stalls selling Turkish delights, handicrafts, and souvenirs
Kadıköy Market: this open-air market in Istanbul is a great place to find fresh produce, spices, seafood, and more
Göztepe Street Market: located in the Göztepe district of Istanbul, this popular street market sells fresh produce and other goods
Mosques, Churches & Other Religious Sites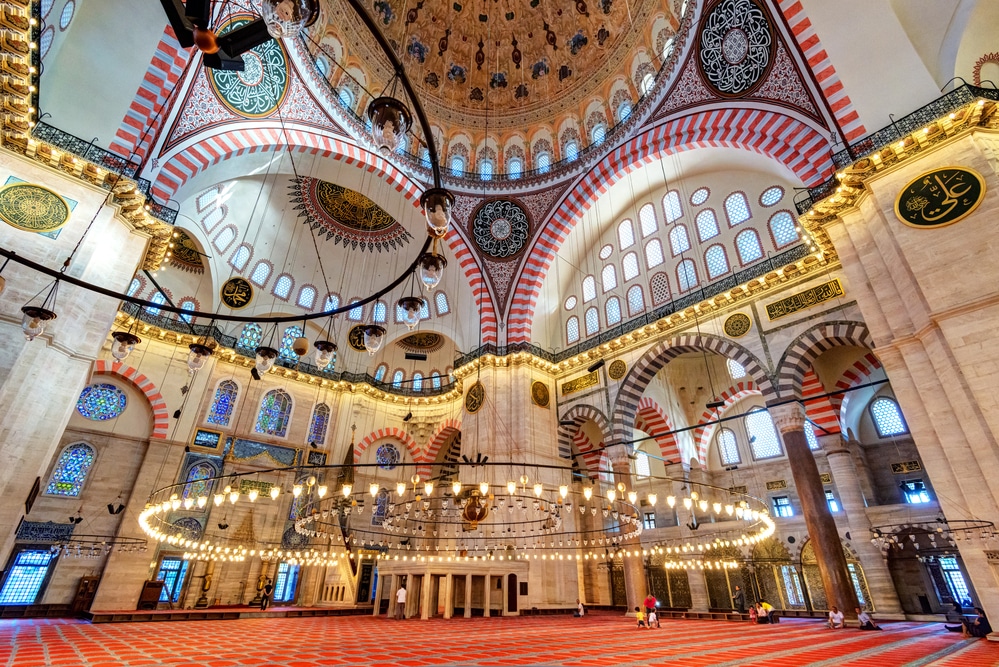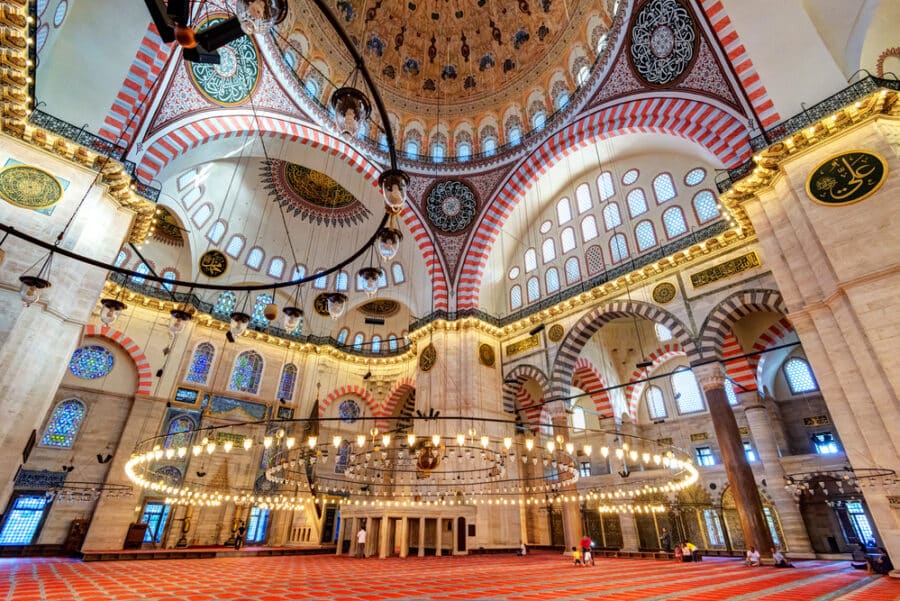 Turkey is home to some of the world's most stunning mosques, churches, and other religious sites. From the grandeur of Istanbul's Blue Mosque to the serenity of Ephesus's Temple of Artemis, there is much to explore.
Here are just a few of the must-see religious sites in Turkey:
The Blue Mosque: one of Istanbul's most iconic landmarks, the Blue Mosque is a must-see for any visitor to the city. Built in the early 17th century, the mosque is famed for its beautiful blue tiles and six minarets
Bursa: once the Ottoman capital and is home to some of Turkey's oldest mosques. The Green Mosque, built in 1424, is particularly impressive with its beautiful green tiles and intricate calligraphy
Ani: once a prosperous Armenian city, but today it lies in ruins. Nevertheless, its churches and cathedrals are still standing and provide a fascinating glimpse into Armenia's past
Hagia Sophia Mosque: this was a former Orthodox Christian cathedral that was converted into a mosque following the Ottoman conquest of Constantinople. Its vast interior is filled with stunning Islamic art and architecture, making it one of the most beautiful mosques sites in Turkey
Mevlana Museum: dedicated to the life and teachings of the 13th-century Muslim poet, Mevlana Museum is located in Konya. Visitors can learn about Sufism, a mystical branch of Islam, as well as see many artifacts from Mevlana's lifetime
Nightlife In Turkish Cities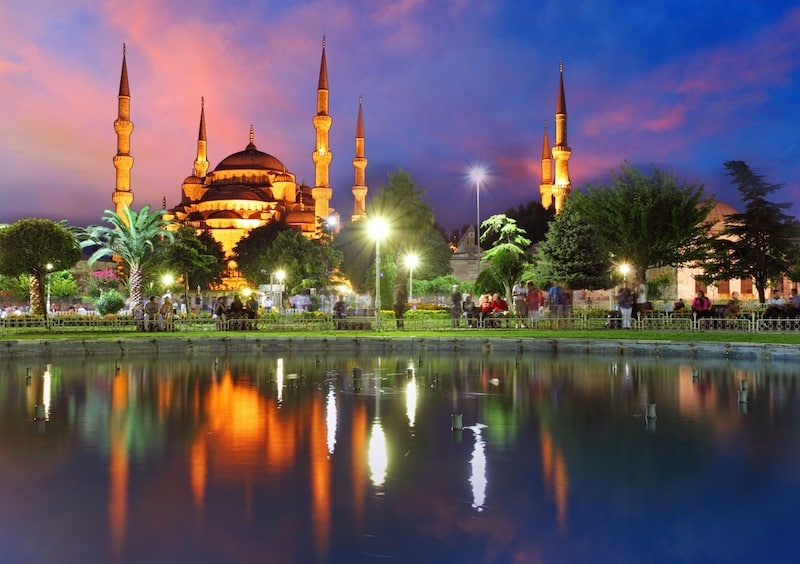 Turkey is renowned for its nightlife, and its cities do not disappoint. Istanbul, Ankara, and Izmir are all bustling metropolises with vibrant nightlife scenes. Whether you're looking for a laid-back evening of traditional Turkish music or a wild night out on the town, you'll find it in one of these cities.
Istanbul
Istanbul is Turkey's most popular tourist destination, and its nightlife options reflect that. The city has something for the young and old, from pulsing nightclubs to intimate bars. If you're looking to experience traditional Turkish music, head to Taksim Square.
This is the heart of Istanbul's nightlife scene, and you'll find several bars and clubs offering live music every night of the week. For a more upscale evening out, check out the Beyoglu district. This area is home to some of the city's best restaurants and cocktail bars.
Ankara
Ankara is Turkey's capital city and has a lively nightlife scene. The central district of Kizilay is where you'll find most of the city's bars and clubs. This area gets crowded on weekend nights, so be sure to arrive early if you want to get a good spot. For something different, try one of Ankara's many rooftop bars for stunning views of the city skyline while you enjoy your drinks.
Izmir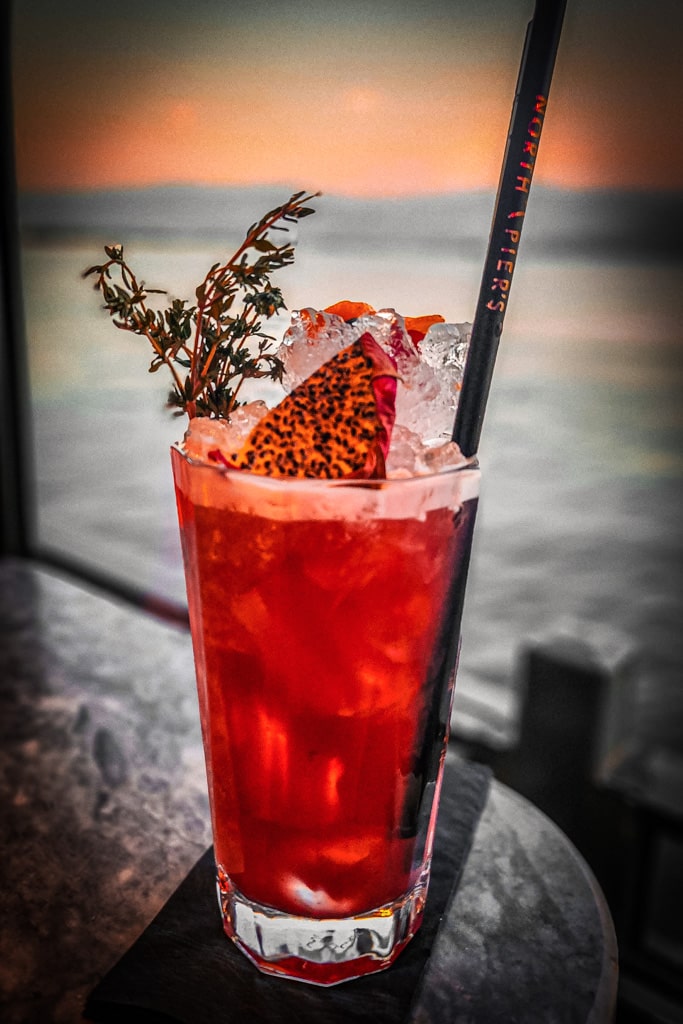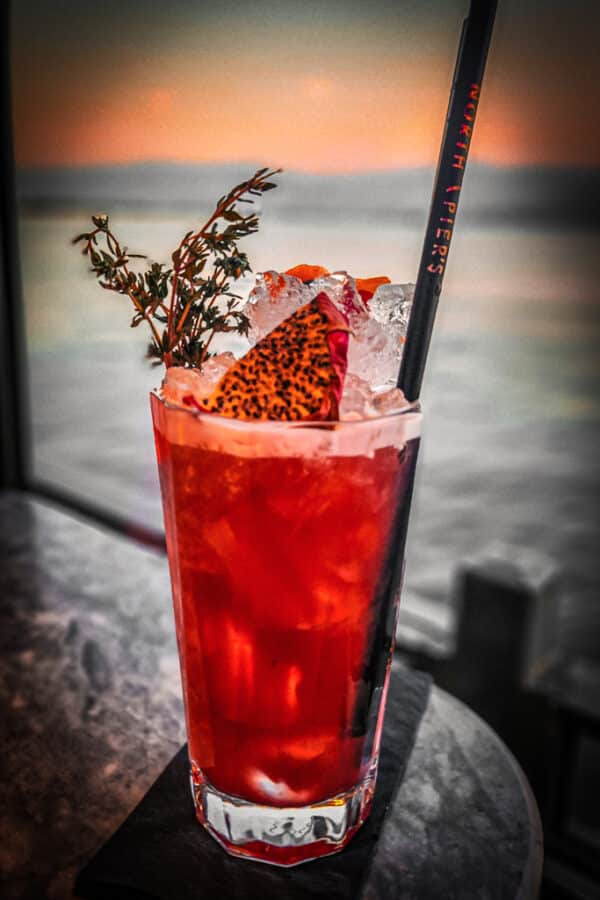 Izmir is Turkey's third-largest city, offering a more relaxed atmosphere than Istanbul or Ankara. Many of the city's bars and nightclubs are located in Alsancak, a popular neighborhood near the waterfront. These venues often stay open until late, and you can enjoy traditional Turkish music, western pop, and hip-hop.
Historic Sites, Ancient Cities & Landmarks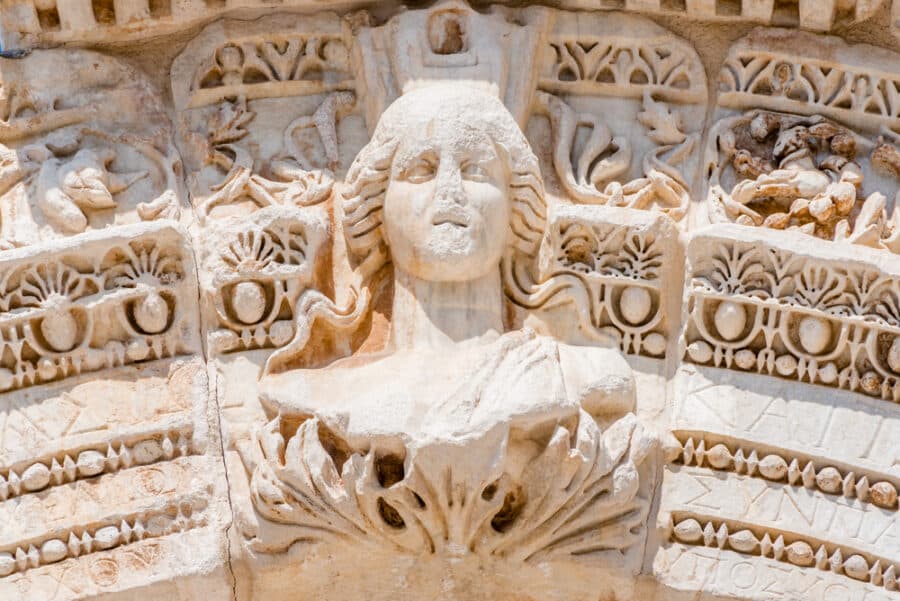 From the ancient city of Istanbul to the ruins of Ephesus, there are plenty of historical sites and landmarks to explore in Turkey.
Here are some of the top experiences to add to your bucket list:
Hattusa: as the capital of the Hittite Empire, Hattusa was an important political and cultural center in antiquity. Today, its well-preserved ruins offer visitors a glimpse into Hittite life and culture
Gordion: the site of Alexander the Great's famous victory over Darius III, Gordion has been an important archaeological site for centuries. Visitors can explore its well-preserved ruins, including an impressive royal palace complex
Aphrodisias: one of the most important cities in ancient Greece, Aphrodisias was an important center of learning and culture. Today, visitors can explore its ruins and admire its impressive sculptures, including the famous "Venus de Milo" statue
Side: although it is best known today as a beach destination, Side was once a major port city in antiquity. Its well-preserved ruins offer visitors a glimpse into life in this once-thriving city
Ephesus: this ancient city was once one of the most important cities in the Roman Empire. Today, you can explore its well-preserved ruins, including the Library of Celsus and the Great Theatre
Pergamon: another ancient city with a rich history, Pergamon was once the capital of the Kingdom of Pergamon. Today, visitors can explore its well-preserved ruins, which include a huge amphitheater and the famous Library of Pergamon.
Topkapi Palace: if you're interested in Ottoman history: be sure to visit Topkapi Palace in Istanbul. This grand palace was once the home of the Ottoman sultans and their courtiers. Today, it houses an extensive collection of art and artifacts from the Ottoman era
Byzantine cave churches: for history buffs, we suggest you jet off to Goreme National Park, which is home to several well-preserved Byzantine cave churches. These churches were carved into cliffs by early Christians seeking refuge from persecution
Anzac Cove: for a taste of Turkey's more recent history, pay a visit to Anzac Cove on Turkey's Aegean coast. This cove is where Australian and New Zealand troops landed during World War I in the ill-fated campaign to take control of the Dardanelles
Troy: finally, no trip to Turkey would be complete without a visit to the ancient city of Troy. This mythological city is said to have been the setting of Homer's Iliad and was once home to legendary heroes like Achilles and Odysseus. Today, you can explore its ruins and learn more about this fascinating city's story and the legendary Trojan War. Explore the ruins of this once-great city and imagine what life was like during the Bronze Age
Culinary Experiences In Turkey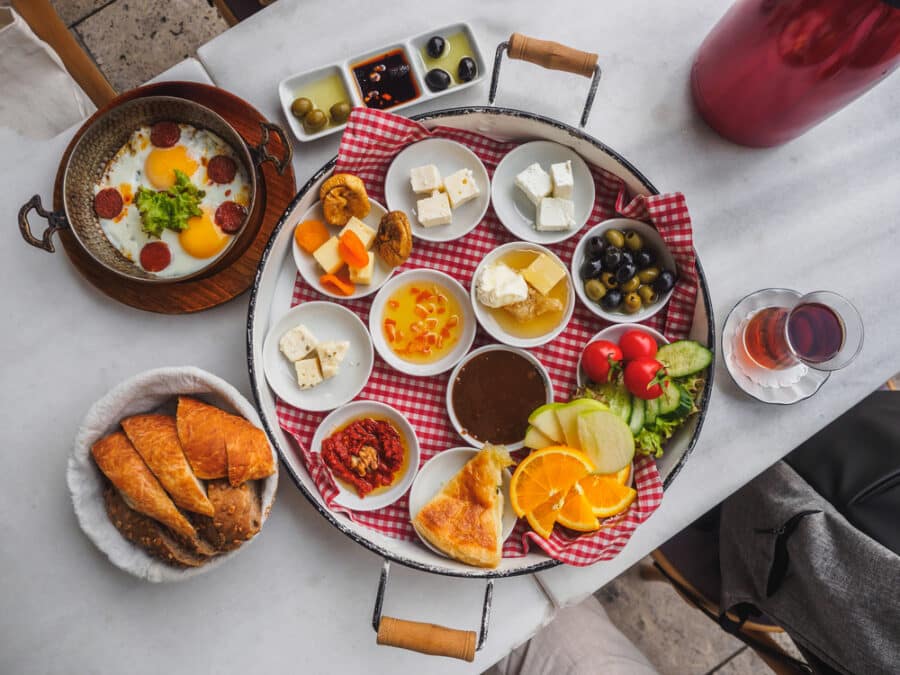 Turkey is a food lover's paradise, offering a tantalizing array of culinary experiences. From traditional Turkish dishes like kebabs and pide (a type of flatbread) to delicious desserts like baklava, there's something for all foodies. And with so many different regional cuisines to try, you'll never get bored of eating in Turkey!
If you want an authentic Turkish dining experience, head to a lokanta (traditional Turkish restaurant). Here, you'll find all the classic dishes like döner kebab (lamb or chicken grilled on a rotating spit), köfte (minced meatballs), and imam bayıldı (stuffed eggplants).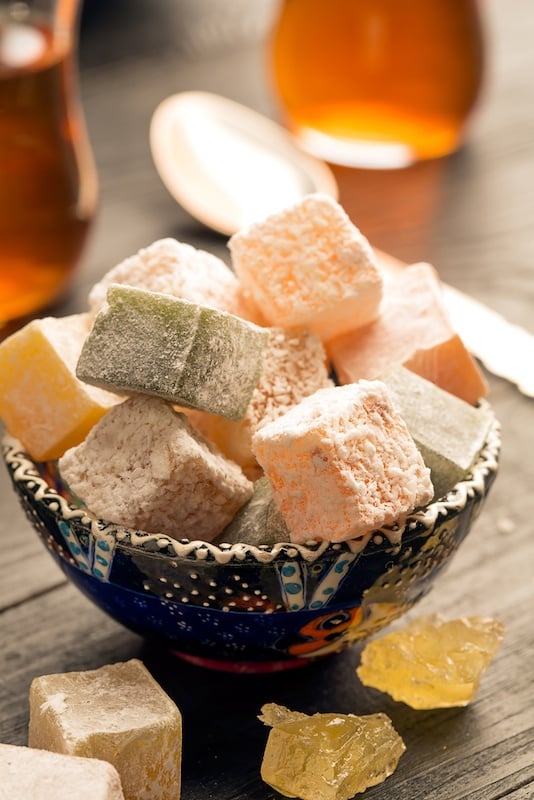 Try manti (handmade ravioli-like dumplings) or gözleme (thin flatbreads filled with spinach and feta cheese) for something a little different.
Plus, no visit to Turkey would be complete without indulging in some sweet treats! Baklava is the most famous dessert, made with layers of flaky pastry filled with nuts and soaked in syrup. But there are plenty of other options to choose from, too, such as kadayif (shredded wheat pudding), künefe (cheese pastry), or halva (flourless sesame seed candy).
No matter what you're in the mood for, Turkey offers an unforgettable culinary experience. So why not come and explore the delicious flavors of this unique country? And, of course, finally, do not forget to try one (or more) of the Turkish drinks unique to Turkey.
Accommodation Options In Turkey
When it comes to accommodation, Turkey has something to offer everyone. Whether you're looking for a luxurious hotel, a cozy guesthouse, or a budget-friendly hostel, you'll be able to find what you're looking for.
Now that you have your list of Turkey bucket list ideas, tell us, where will you travel to first?
Share