We may earn commission from affiliate links →
Best Black Sea Resorts
If you have considered a Black Sea holiday in the past, you may have been warned of run-down resorts and bad service as part of a packaged holiday deal, which would be a waste of money, but times are changing. The Black Sea is becoming an increasingly attractive summer beach destination in the east of Europe.
While millions of tourists flock to the Mediterranean for their expensive cruise packages or touristy gimmicks this summer, you would be much better off giving the revamped Black Sea tourism industry a chance because you will save money and be pleasantly surprised by your experience.
Many Communist-era resorts have been given dazzling remodeling and a complete ownership makeover while other unexplored beachside towns continue popping up on tourists' radars year after year. New resorts continue to be built along this underappreciated part of the Balkans and soon, the secret will come out.
Here is a guide to the best beachside resorts on the Black Sea so you can beat the rush to your dream vacation this year!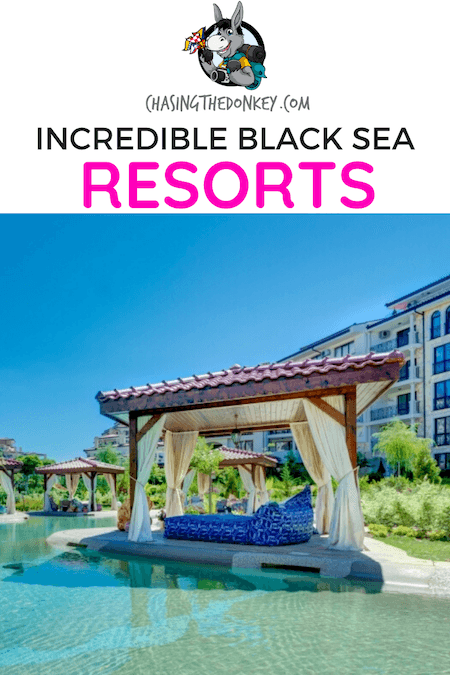 Best Black Sea Resorts For Your Balkan Vacation
This region of the Balkans deserves a second chance. Many vacation pioneers have already taken their chance on the Black Sea and returned with raving reviews — which is why there has been a steady increase in tourism over the past decade. However, the tourist boom, which has affected the Mediterranean, has yet to hit the Black Sea, and it would be a perfect time to visit.
Without further ado, we bring you our choices for the top Black Sea resorts for your summer vacation.
Bulgaria Black Sea Resorts
Poseidon VIP Residence Club
Located in Nessebar, Bulgaria, Poseidon VIP Residence is the perfect place for families to go on vacation and stay at a resort where everyone in the family will feel entertained. Each unit is fitted with all the necessities such as air conditioning, a TV, a washing machine, a coffee kettle, and more.
On top of that, the complex has multiple pools and so much beautiful greenery around the property. It is certain to feel like the escape you need. Not to mention the absolutely delightful staff who are ready to assist you at the drop of a hat.
Check Rates or Find More Black Sea Resorts Here
Maritim Paradise Blu Hotel & Spa
Situated right on the beach in Albena, Bulgaria, and offering free sunbeds with umbrellas, Paradise Blue Hotel and Spa have picturesque views of the Black Sea, multiple swimming pools both indoor and outdoor, a lavish spa center, and spotless, new appliances. This place feels luxurious from the moment you step in and has excellent food to fulfill that vacation appetite!
Check Rates or Find More Black Sea Resorts Here
Club Calimera Imperial Resort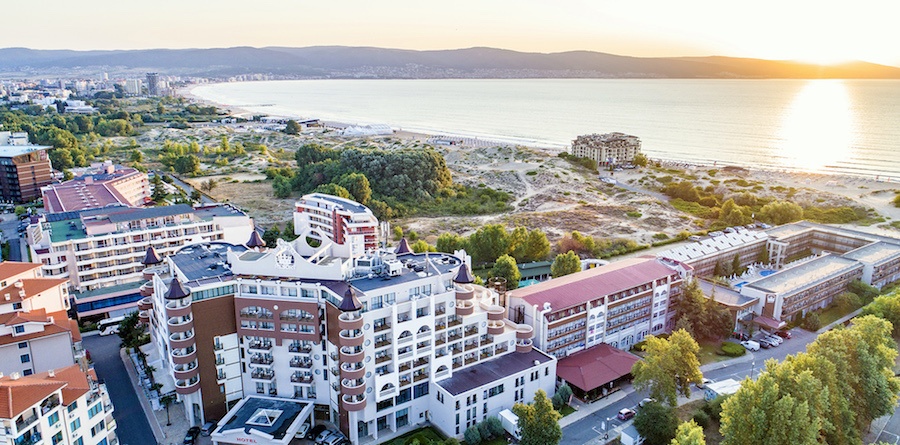 Located only a mile and a half away from Aqua Paradise and just over a half-mile from Sunny Beach, Club Calimera Imperial Resort is the perfect spot for your next Black Sea vacation adventure. Many guests love the all-inclusive full-service spa and nearby private beach and restaurant.
All rooms feature balconies, room service, and safes for your valuables. Also, the hotel's poolside bar and Turkish bath will add tons of flavor to your excitement. Each morning a buffet breakfast is served hot and ready.
Check Rates or Find More Black Sea Resorts Here
Rome Palace Deluxe
Rome Palace Deluxe is a unique and intimate accommodation for romantic getaways with a significant other or a quiet family vacation with older children. While there are amenities for younger children, it is clear that this place is definitely designed for a more luxurious (quiet) holiday with the affordability of Bulgaria's prices.
Its gorgeous lobby and delicious hotel restaurant serving local offerings is a plus. Not to mention the service and aesthetics are second to none!
Check Rates or Find More Black Sea Resorts Here
Sol Nessebar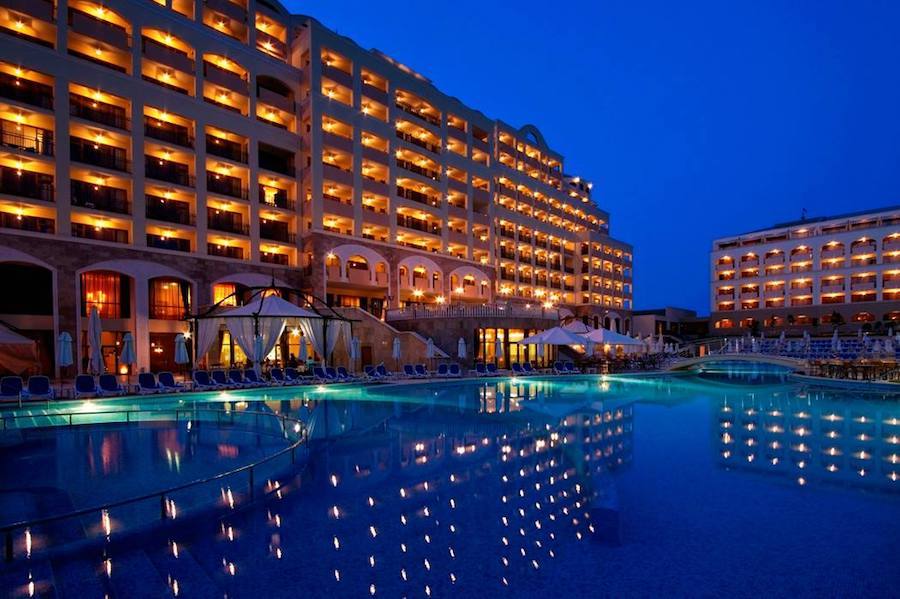 Though it looks more like a water adventure park than a 5-star resort, Sol Nessebar is one of the more exciting Black Sea Resorts you can stay at.
There is plenty to do here for the adrenaline-seeking vacationers, whether it is water rides or slides — and kids will get their chance at the same types of miniature adventure rushes. Otherwise, you can opt for a more laidback stay on the sand Aurelia Beach only a few minutes' walk from the resort. There is a beautiful park on the resort property as well.
Check Rates or Find More Black Sea Resorts Here
Grifid Metropol (Adults Only)
Grifid is definitely not the right place to bring the whole family, especially if you are vacationing with younger kids. However, suppose you are looking for a luxury beach resort in Bulgaria for a peaceful getaway with your friends or significant other. In that case, there is no other place to look than Grifid Metropol.
The resort is situated on one of the longest stretches of sandy Black Sea coastline available with beautiful views from the sea and a rare infinity style pool for Bulgaria.
You can choose from three delicious restaurants on-site, offering a menu featuring Italian, Bulgarian, and other European cuisines in addition to several upscale open-air bars. Guests usually enjoy the infinity pool, natural pools, the full spa, beauty center, and gym.
Check Rates or Find More Black Sea Resorts Here
Albena Resorts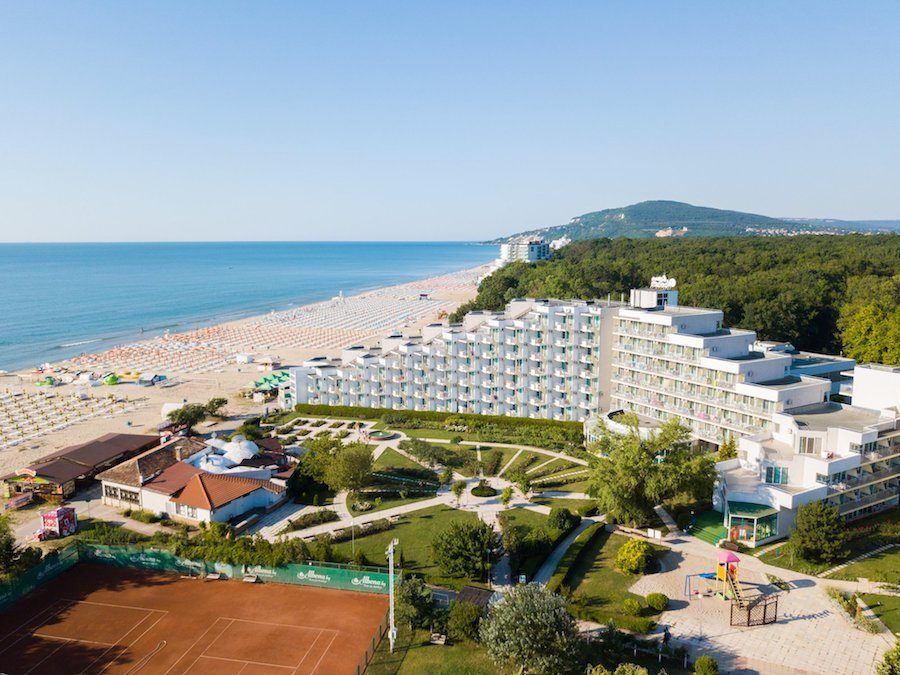 Albena Resorts is the local's choice and many tourists for their vacation destination. The pleasant climate, beautiful and clean beaches, various sports courts, and family-friendly environment are sought after by many guests who keep coming back year after year.
The main street along the resort has several restaurants, hotels, and souvenir shops. There is a free internal "train," which circles the huge resort to quickly and conveniently transport its guests.
Albena is also closely located to one of the more popular destinations along the Black Sea, which is Varna — it takes less than half an hour to reach the Varna Airport, which is very nice for those limited on time or weekend vacations.
Check Rates or Find More Black Sea Resorts Here
Grifid Arabella
Grifid Arabella Hotel is the best place for the entire family to get a little taste of the rich and famous lifestyles. It is a sister property of the above mentioned Grifid Metropol adults-only resort.
The resort matches the Metropol in amenities and luxury and is designed to be best suited for families with kids of all ages. Whether it is the kids' club, the aqua park with miniature adventure slides, or even the nightly kids' disco club — this place has fun for your little tykes.
Not to mention the fun possibilities for adults either. The larger pools with jacuzzis and beach loungers, the wellness center with steam baths and saunas, and even the massage rooms — plus delicious cocktails to your liking whenever and wherever you want!
Check Rates or Find More Black Sea Resorts Here
Evrika Beach Club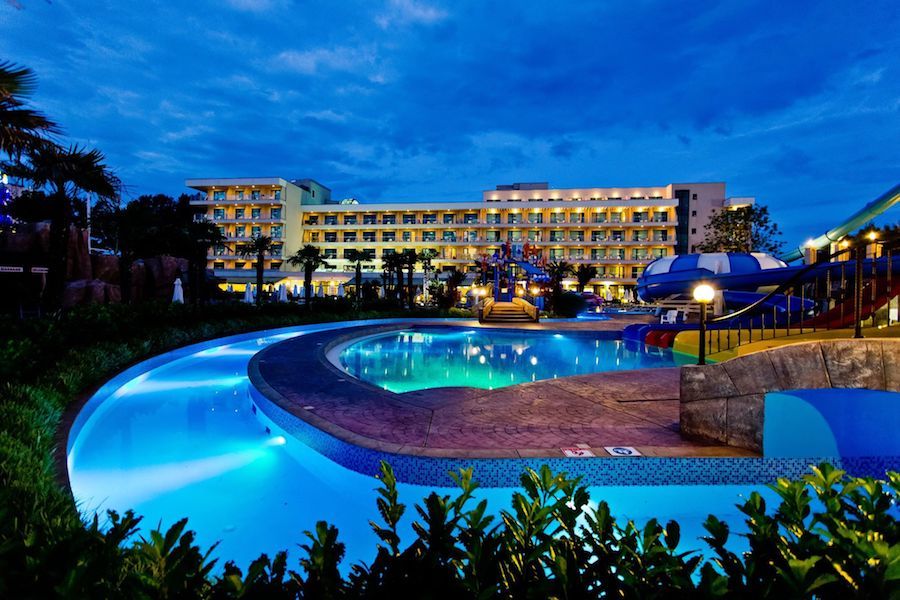 Some of the resorts on this list are tailored for adults looking for a quiet getaway and would not be the best spot to bring your entire family. However, Evrika Beach Club is not one of those resorts.
If you are looking for a Bulgarian Black Sea beach to bring the kids on a fun adventure, then Evrika is your place where you can create family memories for a lifetime. The kids' pool has multiple waterslides, shallow wading pools, and a waterpark playground with plenty of sun chairs to sit underneath the sun and watch your kids have a blast.
And that is not to say this is only a children's paradise. There are four water slides dedicated solely for adults at the waterpark, and you can reach speeds up to 50 miles per hour before dropping nearly 25-feet out of the slide into a deep pool. Talk about an adrenaline rush! To enjoy the park with your kids, take them to the lazy river, which extends nearly 450 feet weaving throughout the entire park.
Check Rates or Find More Black Sea Resorts Here
Complex Poseidon
Situated between the two quiet seaside towns of Ravda and Nessebar, Complex Poseidon offers an affordable resort that gets the job done! Never fear; you will always have comfort and convenience when staying at Complex Poseidon. They have pools (with a children's pool), balconies for every room, beautiful green gardens, free WiFi, and much more.
Plus, past guests' ratings have given it outstanding reviews for its cleanliness, which can be a concern for some affordable 'resorts' along the Black Sea. The complex even has a daycare for your young ones so you can escape and have some much needed time to yourself on the beach, which is very close to the property.
Check Rates or Find More Black Sea Resorts Here
MPM Hotel Arsena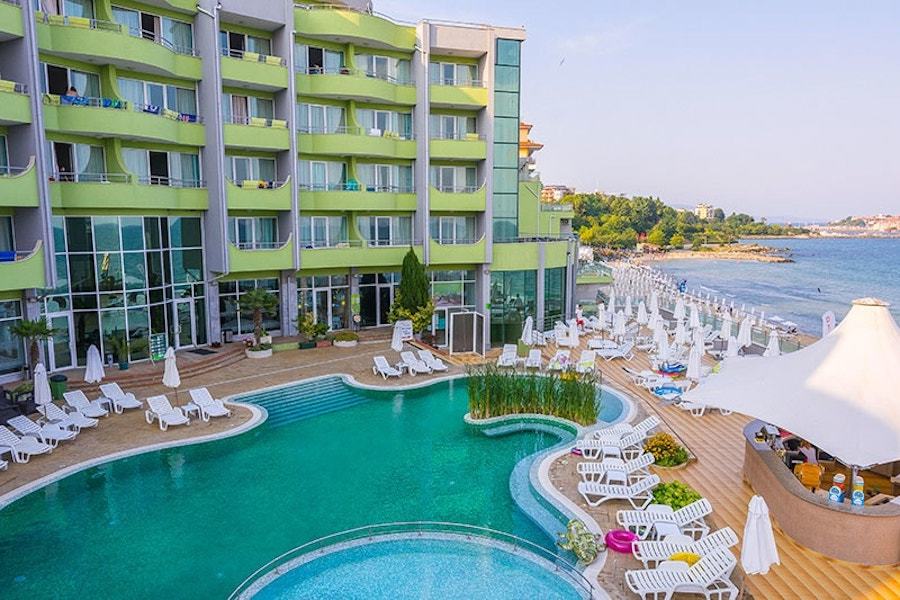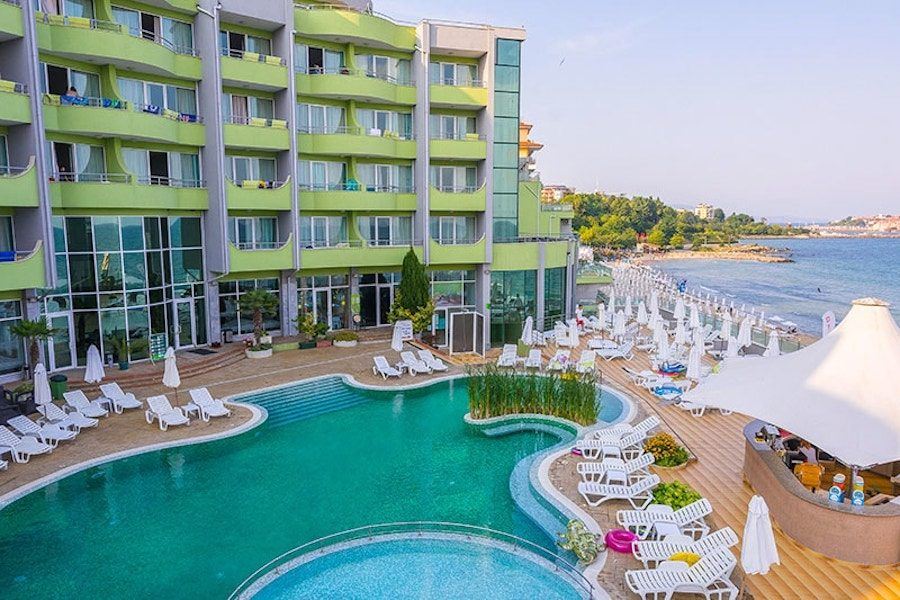 Though Sol is definitely the best resort in Nessebar and it is really no contest, MPM Hotel offers a much more friendly option on the wallet with a sandy beach on location, and everyone can enjoy it. There are massage beds beside the water so you can listen to the soothing sounds of water crashing into the shore as a trained masseuse works out your problem areas.
The property has a giant pool overlooking the beach and plenty of sunbeds and poolside food and beverage services to keep you comforted during your entire lounging day. And for rainy days, step inside and enjoy the sauna and steam room — or take a dip in the indoor pool if you are ready for a break from the sun.
Check Rates or Find More Black Sea Resorts Here
Thracian Cliffs Golf And Beach Resort
Thracian Cliffs Golf and Beach Resort is a personal favorite on this list. It includes several properties with incredible views over the Black Sea and even Kaliakra National Park, which holds preserved wild nature ecosystems, a few white sand beaches, and a high-class spa.
Not only that, Thracian has all kinds of sports courts, several dining options, all with jaw-dropping panoramic views around the resort, a game bar, sophisticated piano bar, and a backdrop of the awe-inspiring scenery of the Gary Player 18-hole signature Golf Course which sits atop the cliffs and its rugged terrain.
Guests stay in one of two quaint villages on the property and are conveniently situated within walking distance of each other. The Marina Village offers the Black Sea's best views, while the Hillside Village gives you shared views of the lake, the Black Sea, and the stunning golf course.
Check Rates or Find More Black Sea Resorts Here
International Hotel And Casino & Tower Suites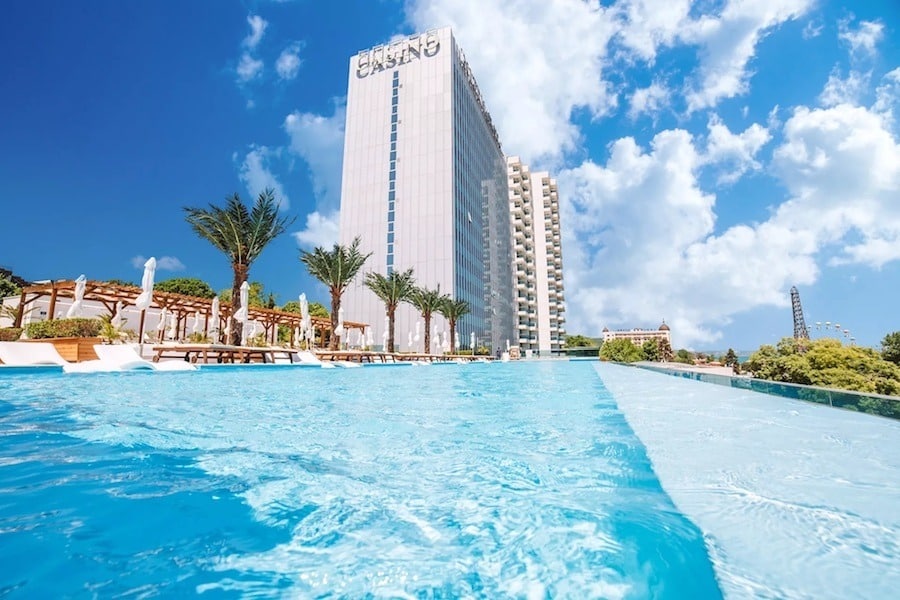 This is the closest resort in relation to the popular Golden Sands Beach (just steps away). It is the perfect place for those looking for a luxury experience bundled into a 5-star hotel and casino.
The hotel includes three tasty restaurants and 3 bars/ lounges, which all guests are free to frequent whenever they please. The buffet is always open for breakfast, lunch, and dinner, and there is even a poolside bar that adults love.
You can take a relaxer at the I-Spa, which can include a hot stone massage, detox wraps, body wraps, and aromatherapy, and hydrotherapy.
For those with children visiting International Hotel and Casino & Tower Suites, there is a free kids' club which you can let your rugrats run around in for a while, during which you can enjoy a little bit of freedom.
The free casino shuttle is to be used for your convenience so that you can check out the live games, poker tables, slot machines, and the new 21 Bar and Skyfall Infinity pool on the 13th floor.
Check Rates or Find More Black Sea Resorts Here
St. Constantine And Helena Resort
St. Constantine and Helena Resort at Sunny Beach are some of the unique stays on all the Black Sea Bulgarian coast. Less than half a mile from Sunny Beach, this ultra-inclusive resort includes three on-property restaurants, a full-service spa, and even its own winery. After all, Bulgarians do love their wines!
For a relaxing day, visit Lion's Health and Beauty, where you can get an included deep-tissue massage, hot stone massages, and aromatherapy, along with access to the sauna and spa. There's nothing more relaxing than a day in paradise, and Helena Resort has the oasis you are looking for.
On top of that, the buffet at Restaurant Poseidon serves all kinds of food to fit every cuisine's menu, including options for breakfast, brunch, lunch, and dinner.
One unique aspect of the resort is the seven (count them, 7!) mineral springs located inside the property. This makes it a favorite spa place for locals and tourists alike. The springs are an incredible depth of between 6,000 and 7,000 feet deep at about 40 to 60 degrees celsius. You simply can't beat that at any ordinary resort.
Also, if you are still itching for more out of the place, you can spend time at the poolside bar or, if you'd rather, you can catch a tan at the resort's private beach where you will find sun loungers and a secluded spot with an excellent view. Don't forget to take advantage of the resort's free airport shuttle when you leave either.
Check Rates or Find More Black Sea Resorts Here
Cook's Club Sunny Beach (Adults Only)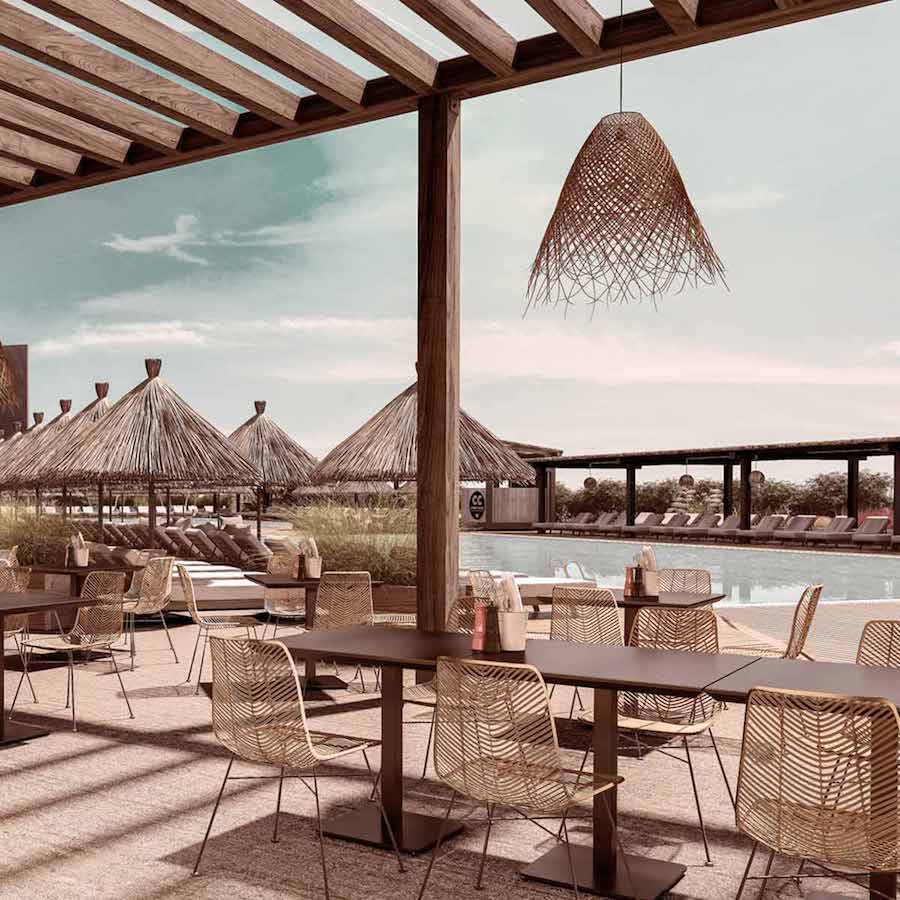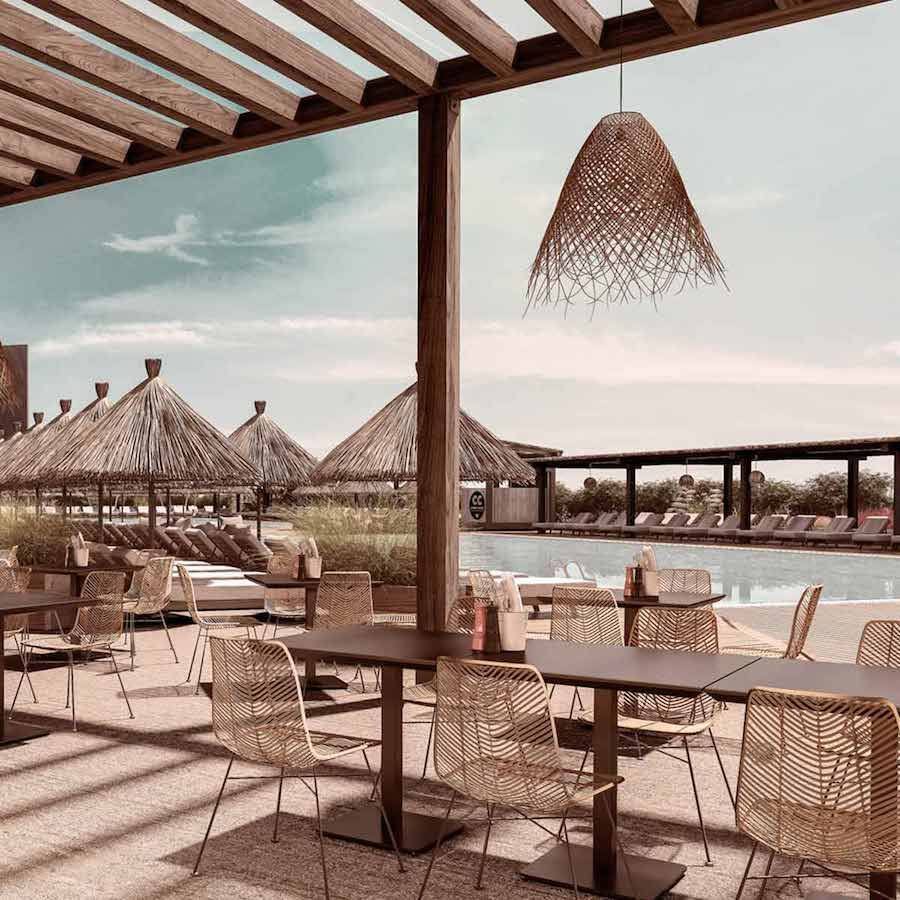 Cook's Club Sunny Beach is an adult-only resort that works fine for an affordable, easy getaway with a significant other or group of buddies. It has all the amenities you could wish for but nothing entirely special like St. Constantine and Helena Resort from above.
It has a couple of outdoor pools, a hotel restaurant, a fitness center, free public WiFi, a very fairly priced bar and lounge, laundry facilities, a 24-hour front desk, and nearly 230 rooms of varying sizes, all offering deep soaking jacuzzi tubs that you will surely take advantage of.
As a guest, you will also find a minibar and free access telephones in your room. Food and beverages are all included in the resort rate, so go hog wild and enjoy your vacation. Make it count!
Check Rates or Find More Black Sea Resorts Here
Hotel Tarsis Club
Hotel Tarsis Club is the last on our list of top Black Sea resorts but certainly not lacking in comfort and convenience. With two on-site restaurants and an equal amount of pools, a groovy nightclub, and a free breakfast buffet every morning, you are sure to get your money's worth here.
There is also a free beach shuttle provided for beach-happy visitors, two coffee shops, and a couple of bars, and one poolside bar all on the property for you to enjoy.
All 134 rooms can enjoy their own balconies and can enjoy all food and beverages at the resort included in the nightly room rate. Any time accommodation includes all meals and drinks in the rate, and you can bet it will be memorable.
Check Rates or Find More Black Sea Resorts Here
Romania Black Sea Resorts
T&V Alezzi Beach Resort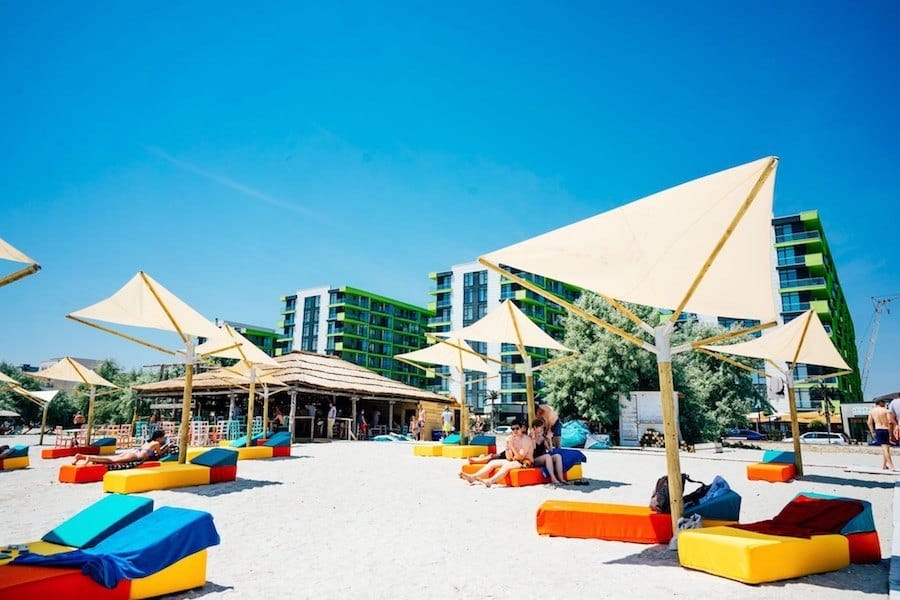 One of the absolute best Black Sea resorts, T&V Alezzi Beach Resort, lies right at beautiful Mamaia Beach and within easy walking distance from restaurants and bars. Accommodation in this exclusive resort is available as a two-bedroom apartment equipped with some amazing amenities.
The resort features a gym, a seasonal outdoor pool, a restaurant, and an indoor pool, a sauna, and a children's playground. Apartments have air-conditioning and a balcony and consist of two bedrooms, two bathrooms, a fully equipped kitchen, and a dining area.
This is a top-rated Black Sea beach resort in Romania, the perfect place for families or friends.
Check Rates or Find More Black Sea Resorts Here
Phoenicia Boutique Hotel And Casino (Adults Only)
One of the best resorts in Romania's popular Black Sea town of Mamaia, the Phoenicia Boutique Hotel and Casino, is a fantastic place to stay for couples. It's an adults-only resort, which means there won't be any loud and rowdy children running around. Perfect for a quiet getaway.
Amenities and facilities abound at this Black Sea resort. They include a fitness center, evening entertainment, a restaurant, free bike rentals, an outdoor swimming pool, a tennis court, and a business center. The beach is mere steps away!
It has everything you can expect from 5-star accommodation, including continental breakfast, free WiFi, free private parking, and (paid) airport shuttle.
Check Rates or Find More Black Sea Resorts Here
Nayino Resort Hotel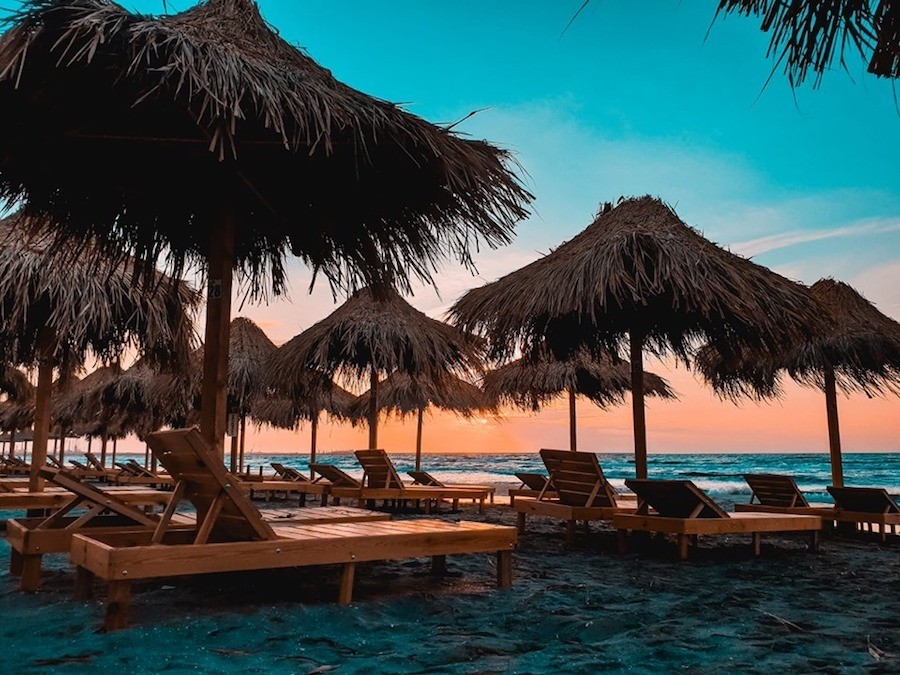 This is yet another excellent resort on the Black Sea in Romania, also located in Mamaia. This 4-star resort lies only 350 feet from Năvodari Beach, one of Romania's most exceptional beaches.
Rooms and suites offer views of either the sea or the colorful garden and pool. All units come with a flat-screen TV, while the property has free WiFi, bicycle rentals, two bars (including a rooftop bar!), and a restaurant.
You'll have super-easy access to the beach and activities like windsurfing, kite surfing, swimming, and other water sports when staying here.
Check Rates or Find More Black Sea Resorts Here
Turkey Black Sea Resorts
Peerless Resort Hotel
Turkey's main Black Sea resort town is Trabzon, and the Peerless Resort Hotel is one of the city's top resorts.
This affordable 3-star hotel has plenty of modern amenities, free parking, and free WiFi to a currency exchange service, bar, restaurant, and room service. Additionally, guests can also enjoy either a buffet or an Asian breakfast in the morning.
Rooms come with a flat-screen satellite TV, bathroom with shower, a kettle and air-conditioning, everything you might need for a good night's sleep and freshen up after a day at the beach.
Check Rates or Find More Black Sea Resorts Here
Tilya Resort Hotel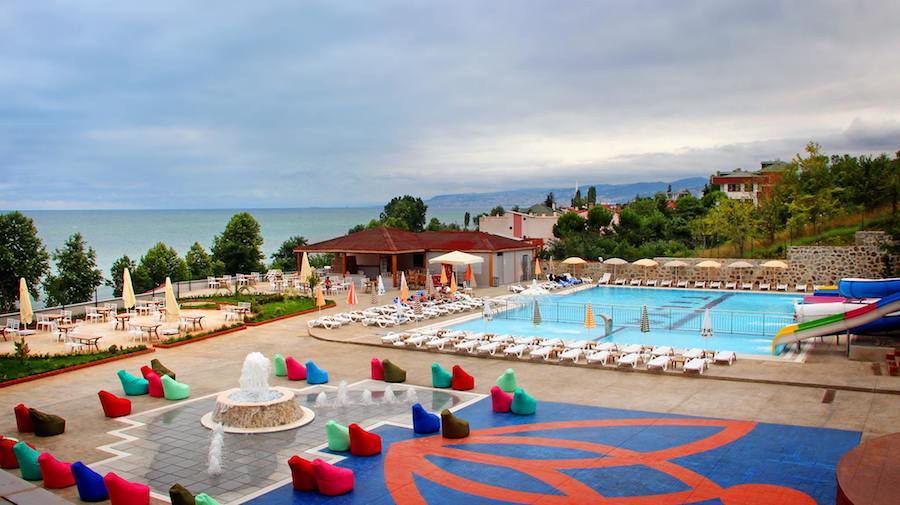 Another superb Black Sea resort in Trabzon, the Tilya Resort Hotel, is a 4-star resort with its own private beach, seasonal outdoor pool, and a waterpark. It doesn't get any better than that when you're looking for the best Black Sea resorts in Turkey!
All rooms are equipped with modern bathrooms with a bathtub or shower, a mini-bar, safe, desk, and satellite TV. Guests can enjoy either nature or sea views from their room.
Like any other top-rated Black Sea resort, this one also has an excellent restaurant. People staying here can start their day with a delicious open-buffet breakfast, while the a la carte restaurant serves up authentic Turkish and regional dishes.
Check Rates or Find More Black Sea Resorts Here
Ramada Resort By Windham Unye
Located in Unye on Turkey's beautiful Black Sea coast, Ramada Resort by Windham is an excellent seaside accommodation choice. There are plenty of awesome amenities here, ranging from a year-round outdoor pool, an on-site restaurant, and a spa center with a hot tub to free WiFi and free parking.
This popular hotel also has a private beach and water sports area and car and bicycle rental services.
In terms of accommodation, every room at the Ramada Resort has air-conditioning to keep you comfortable on those hot Turkish summer days, a seating area, private bathroom, and flat-screen TV.
Check Rates or Find More Black Sea Resorts Here
Enjoy Your Black Sea Beach Getaway!
For a true European beach holiday, there are none less talked about than a Black Sea getaway. Those looking to share an overcrowded beach, look elsewhere because these Black Sea resorts are guaranteed to give you the solitude you deserve at a fraction of the price of other European beach resort packages.
Its natural beauty and impressive list of activities for every kind of traveler make the Black Sea one of the best destinations in the Balkans and, perhaps, all of Europe. It is only a matter of time before the hordes of tourists realize this, so book your stay at these Black Sea resorts today!
If you have any inquiries about a vacation to the Black Sea, don't be timid in commenting below. We will do our best to assist you.
MORE ACCOMMODATION TRAVEL BLOGS
Share