We may earn commission from affiliate links →
5 Family Water Parks In Croatia To Beat The Heat
Many young families with small children who come to visit Croatia search for fun activities to entertain their youngsters for the whole day, preferably water activities to keep cool during the hot summer days.
We selected four water parks in Croatia that would are ideal for spending a fun-filled day splashing under the sun.
Pack up some of those family travel essentials and visit these waterparks this summer.
Dalmatia Aquapark, Dalmatia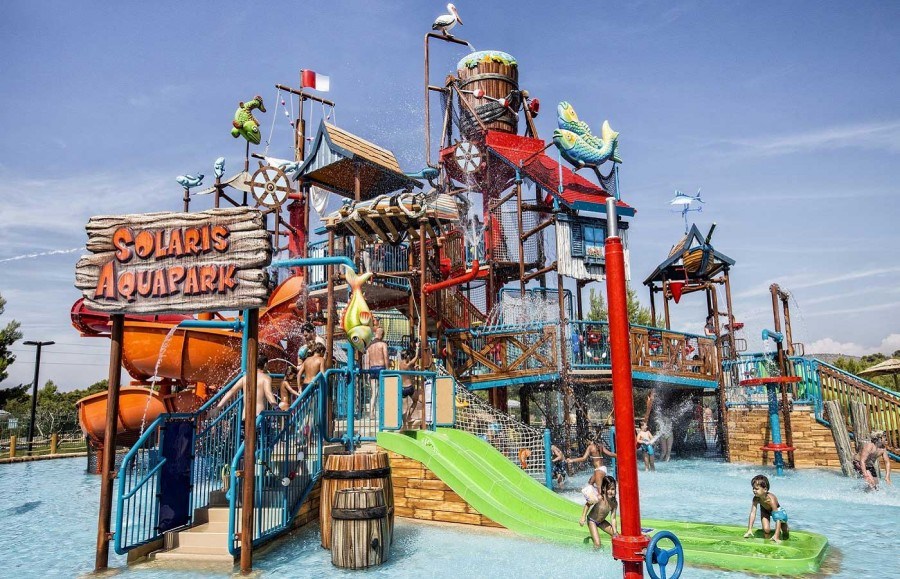 Dalmatia Aquapark WAS the first themed water park in the coastal region of Dalmatia. The water park is situated in the heart of the Solaris Family Beach Resort in Šibenik.
It offers many activities and water effects for kids and adults. It has two pool areas, a large castle with various slides for children of different ages, nozzles, sprinklers, jet tubes, splash pad, waterfalls, water cannon, and much more. The most popular water activity in the park is the lazy river.
The water park can accommodate up to 1,000 guests at a time. Parents can sit and relax while still be at ease that their youngsters are in safe hands, as the professional lifeguards oversee all of the activities in the park to ensure the security and safety of all visitors.
The park has a separately designed kids zone and a fairy-tale cave, designed in various bright and vibrant colors that youngsters will love!
Families can buy a daily ticket to enjoy a full day of fun water activities. The daily pass offers visitors access to beach lounge chairs, parasols, locker room, and shower facilities. Children that cannot swim are provided with life jackets at no additional cost.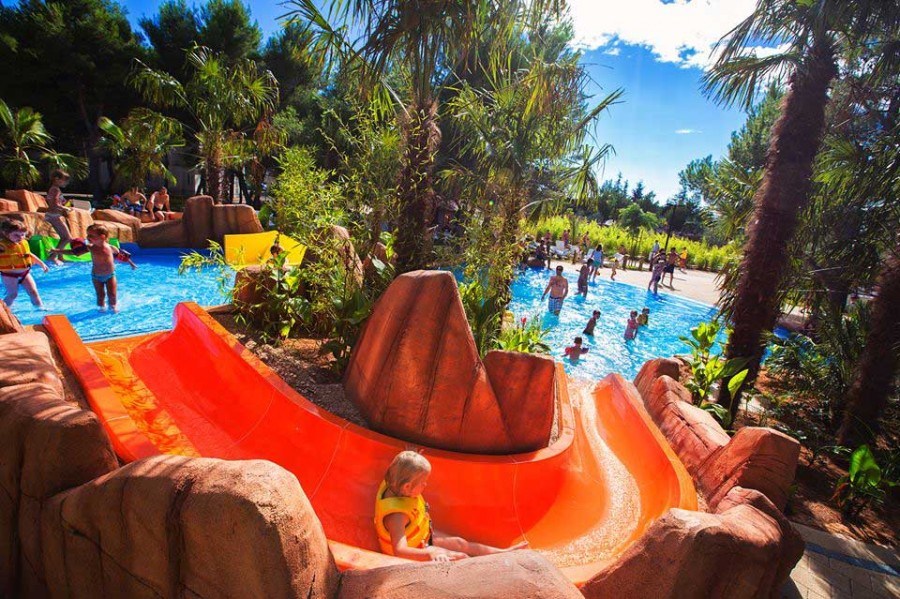 Visitors can also find many refreshments and food stations for a quick bite to eat. The park is open from mid-April to early October.
To get the most value for your money, it is recommended that you arrive at the park very early, as the cost for the daily pass is the same throughout the whole day – also seats are limited, so better come early to claim your spot.
For those that just want to have a lazy day on the beach, they can take their towels and find a spot on one of five thematic beaches, stretching over four kilometers on the beautiful coastline.
This family resort also offers five hotels for accommodation, ranging from three to five stars, outdoor pools, shops, beach clubs, bars, and restaurants – an excellent destination for a real family vacation. The facility also has plenty of parking spaces. However, the parking is not free – another reason to come bright and early.
For more information, visit their website: Dalmatia Aquapark
Aqua Park Čikat, The Island Of Mali Lošinj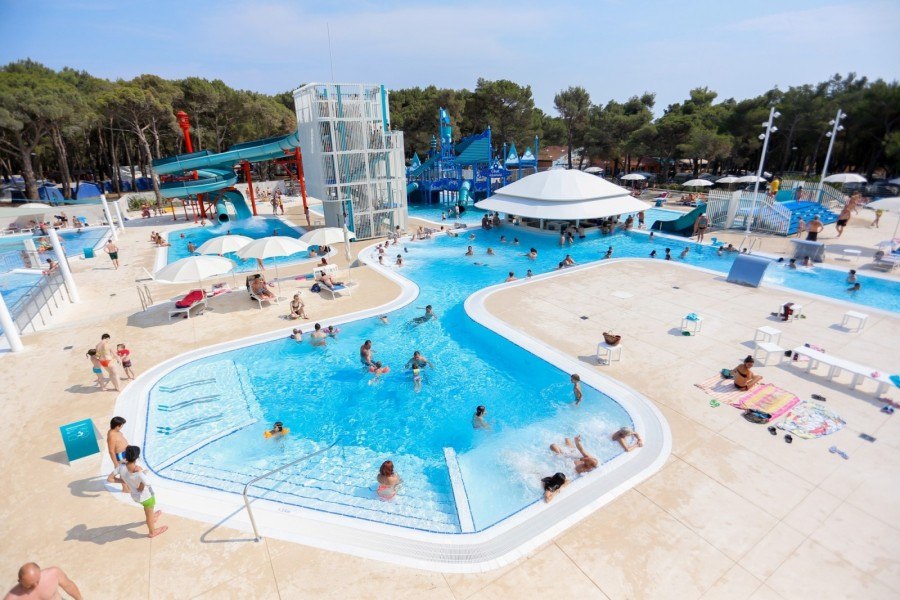 Aqua Park Čikat is located on the island of Mali Lošinj, within the Čikat camping grounds. This is the smallest water park of the four. It offers six outdoor pools with various water attractions. The pools provide large swimming areas, hydromassage, water ramp, jets, fountains, water castles, open water slide, tube slide, and small shallow splash pools for tiny children.
The park is divided into three sections. The Health section has a large pool for swimming and fitness activities. The Leisure section offers a recreational pool for adults, a pool bar, and hydro massages. The Fun section includes many water activities for children and shallow pools for tiny kids.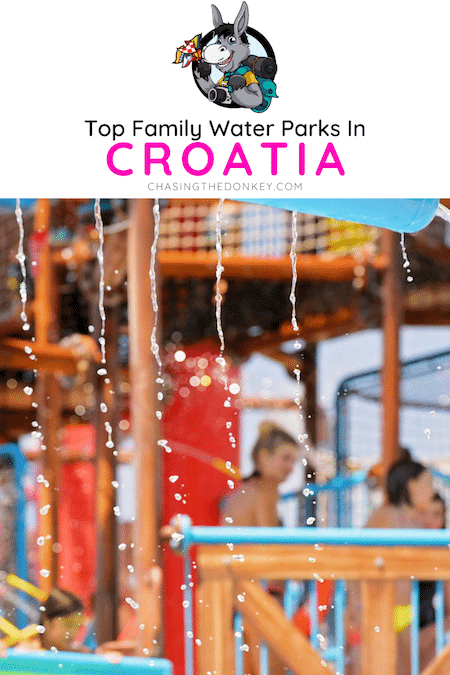 There are many organized entertainment programs, including outdoor and indoor fitness areas, various food, and drinks vendors to make sure the guests are well hydrated and energized at all times.
Rental of sunbeds and locker rooms are offered at additional fees.
The park opens in mid-May and is in operation until the last day of September.
For more information about the park, visit the website: Camp Cikat
Aqua Colors in Poreč, Istria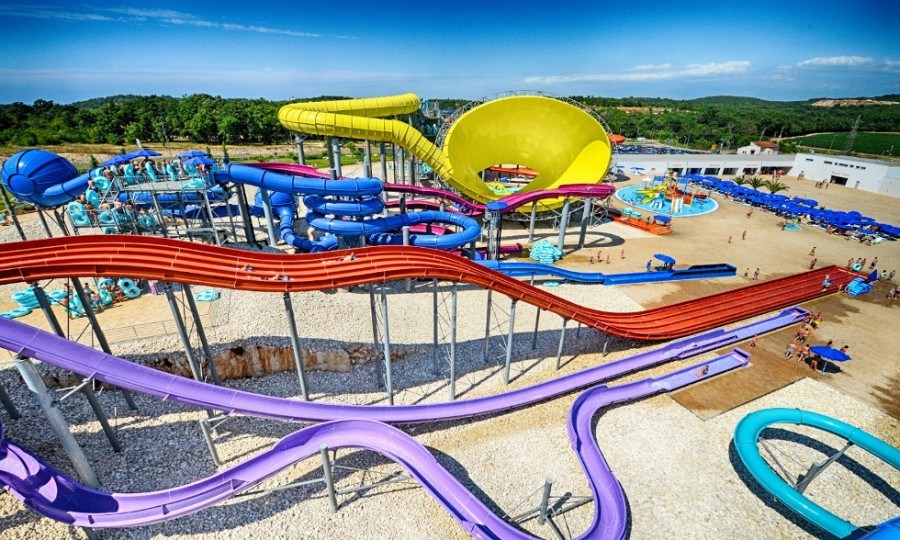 Not far from the Istrialandia, you will find another fun water park in Poreč – the Aqua Colors water park.
The park has 12 giant slides, including family rafting, magicone, a fun ride in a gigantic funnel, looping rockets, various water slides for kids, etc. Although, most slides are designed for kids six years and up.
The park has two outdoor swimming pools, one for lounging and relaxation – let's just say a pool for adults, while the second pool has many water slides and fun for the kiddies.
Other attractions include a lazy river and a large dry playground for children. Many courts for sporting activities, such as beach volleyball, animation programs for kids and adults, including workshops, competitions, theme parties, and more.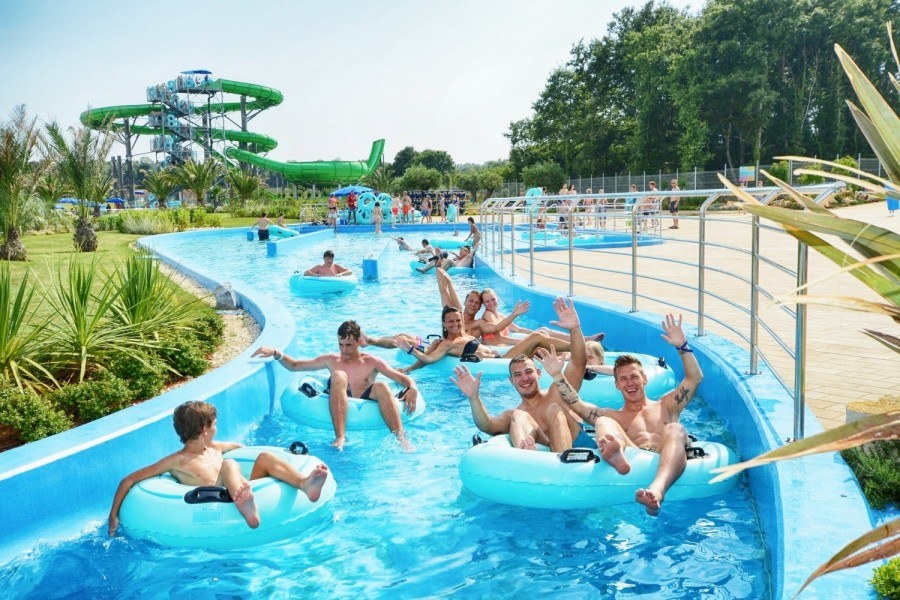 When hunger strikes, the park has many food and drink options, such as fresh salads, smoothies, burgers & grill, pizza & sandwiches, various drinks, and treats to satisfy your sweet tooth.
The park is open from the latter part of May to the last day of September.
When you purchase a day pass, you get a bracelet that is scanned at various food and drink vendors, and it will get you access to the locker room areas.
It is recommended, especially during the high season months, that you arrive at the park early in order to get first dibs on sunbeds and umbrellas.
The aqua park has a large parking area and is free of charge for visitors.
For more information, including how to get there and upcoming events, visit the website: Aqua Colors.
Istralandia Near Umag, Istria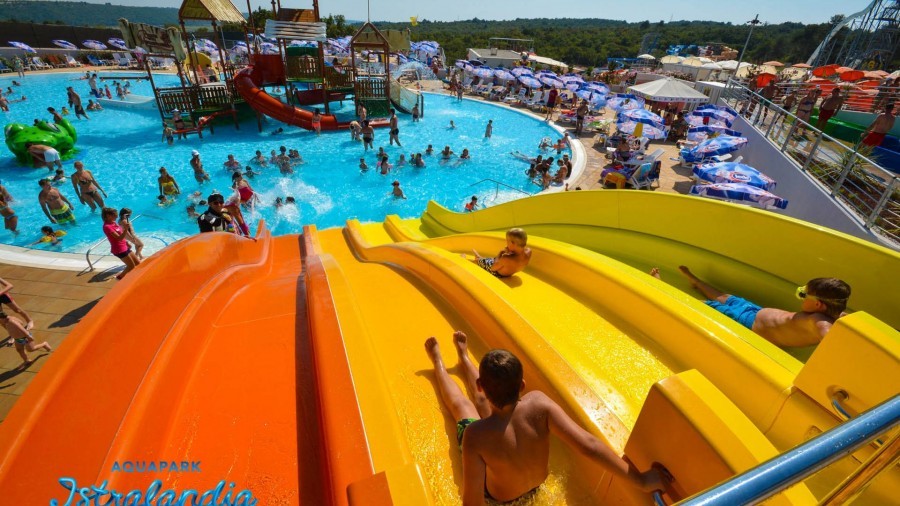 If you are in Northern Croatia and want a splashing good time, then you should visit the Istralandia water park in Istria, close to Umag.
This park offers tons of water activities and entertainment for children and adults, for example, multiple pools, slides, dance courses, workshops, concerts, and tournaments, along with many sporting and recreational activities.
You will find three large pools in the park – a pool with waves, a pirate lagoon for children, and a hydromassage pool for adults designed for lounging and relaxation.
There are 12 different slides in the park, both for children and adults. Some examples include the Free Fall slide, which is the highest water slide in Croatia (27 meters high). Top Gun, designed for the whole family, as it has two-track racing. Other slides include Family Rafting, Sky River, Crazy Hills – which are soft parallel slides appropriate for speed racing, Pirate Castle, octopus slide, and a water cannon for the small children.
Sporting and entertainment activities include table tennis, beach volleyball, badminton, gazebo and amphitheater, Palm Beach, and animation arena. Kids and adults will especially enjoy Aqua aerobics, Foam parties, and kids animation.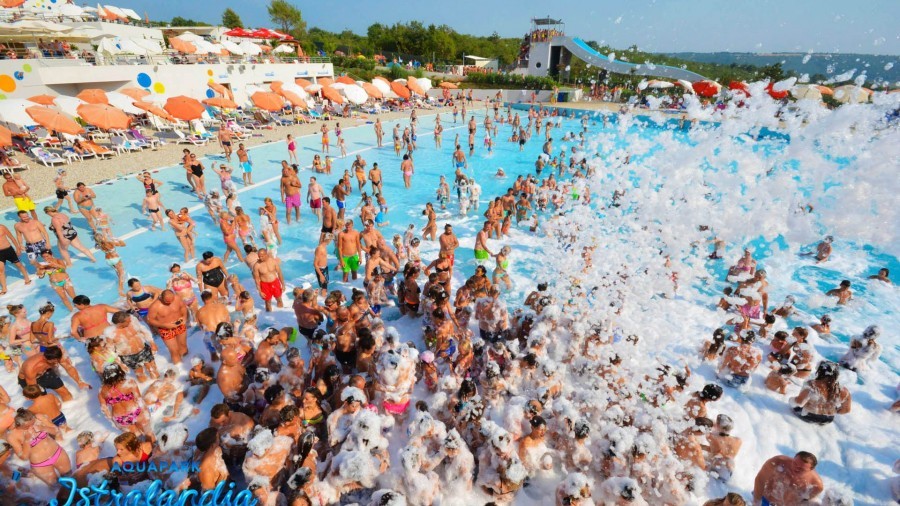 When hungry or thirsty, you can find several restaurants, cafes, drinks, and sweet stations on the premises to satisfy your cravings and quench your thirst.
During your time at this water park in Croatia, if you have any questions, you can visit the information stations within the park, exchange offices, ATMs, and souvenir shops.
The park opens in early June and is open until mid-September.
Suppose you would like to take advantage of the activities for a full weekend and explore the surrounding area. In that case, the aquapark offers preferred rates at their golden hotel partner Aminess, located 5km from the park. They also have preferred relationships with Maistra Rovin-Vrsar, Istraturist, and Valamar, who offer preferred rates to Aquapark visitors.
For more information and about how to get there, visit this website: http://www.istralandia.hr/en/
Adamovec Aquapark, Zagreb
If you find yourself in Zagreb, Adamovec Aquapark is a great place to spend the day in the mountains! This park truly is an oasis for the whole family, with offerings that are sure to please all ages.
Adults can indulge in the wellness spa, featuring a Finnish sauna, steam bath, and bio sauna, as well as cold plunge pools and a plethora of massage packages to choose from.
Indoor pools with geysers and waterfalls are an excellent complement to the outdoor pools, which feature a river, artificial islands, jacuzzi, and cocktail bar.
The youngest swimmers can enjoy their own indoor and outdoor pools, with tempered waters and child-friendly slides and amusements.
Two on-site restaurants featuring both sit-down options and to-go orders are available for hungry guests, along with a lobby bar overlooking the facility.
The park is open year-round.
Which of these water parks in Croatia are you adding to your bucket list?
Share