Some posts contain compensated links. Please read this disclaimer for more info.

Hvar Croatia Accommodation: 2021 Guide On Where To Stay In Hvar
Any Croatian island with as much history like Hvar has an (almost) endless list of options of places to sleep. Of course, narrowing down your best Hvar accommodation choices can be difficult, especially if you have no idea where to start. So, let us help you!
Before you get cracking on finding the best hotels in Hvar, you should know that island life doesn't start and end in Hvar Town. There are many locations all across the island, perfect for your island break, no matter the time of year. Luckily for you, this Hvar accommodation guide will show you some of the best places you might like to stay during your visit.
Hotel Booking Sites
Generally speaking, when you visit Croatia dictates the price you'll pay, and that includes accommodation on Hvar Island. When looking at where to stay in Hvar, keep in mind that the peak months of July and August are the most expensive. However, you can find great deals on Hvar Island in June, when the weather is already amazing, but crowds tend to be a little smaller. The shoulder months of May to June and September to October on Hvar are also ideal.
There are various hotel booking sites you can use to find accommodation in Hvar, but Booking.com is always the one we recommend as it has the biggest range and very flexible cancellation policies. Here, you can find great deals, including last-minute money savers. You'll also be able to find cute holiday homes, not just large scale hotels on offer.
What Are The Best Hotels On Hvar Island In 2021?
This totally depends on where you want to base yourself and what your budget is. For instance, you'll spend more if you're going to stay in the middle of Hvar Town, especially close to the bustling promenade and harbor area.
Having said that, some top quality hotels dot the various other towns and villages on the island. And they don't cost the earth. It's really about shopping around, and whether you want to be in the heart of the action or not.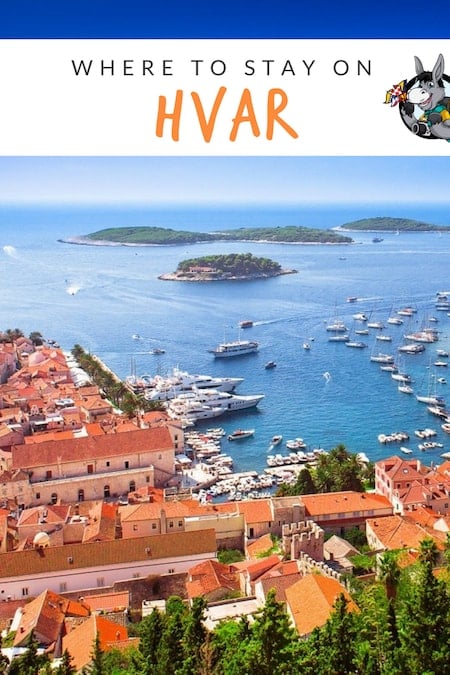 Hvar Town Hotels
The most famous town on Hvar Island is Hvar Town. It's the island's nightlife hotspot, a place of glitz and glamour, gorgeous architecture and beautiful beaches. The promenade is arguably the most exquisite waterfront on the island, while charming shops and cafes line its cobbled streets. Hvar Town lies on the west coast of the island, easily reachable from the Croatian mainland by speedboats and ferries. From Hvar Town, there are also bus connections to Stari Grad. Renting a car is recommended to explore the rest of the island.
So, wondering where to stay in Hvar Town? Check out the Hvar Town accommodation options below!
Palace Elisabeth, Hvar Heritage Hotel – 5 Stars
The oldest hotel in Hvar, Palace Elisabeth lies in the very heart of Hvar Town, surrounded by beautiful Renaissance and Gothic architecture. This 5-star historic hotel, housed in a building dating from the turn of the 19th century, offers free WiFi and fantastic air-conditioned rooms that overlook scenic Pjaca, one of the prettiest squares in Dalmatia.
Guests can indulge in amazing food at the hotel's restaurant, while Arsenal Bar features jazz music, cocktails, and views of the marina of Hvar. If you're someone who loves sunsets, this hotel's rooms and many of its communal areas face Hvar Bay and the Paklinski Islands. Other amenities include a swimming pool and wellness center, but Palace Elisabeth's star feature is arguably its phenomenal location. All of Hvar Town's attractions, beaches, and best restaurants are just a short walk away.
Check Rates or Find More Hvar Hotels Here
Heraclea House – 5 Stars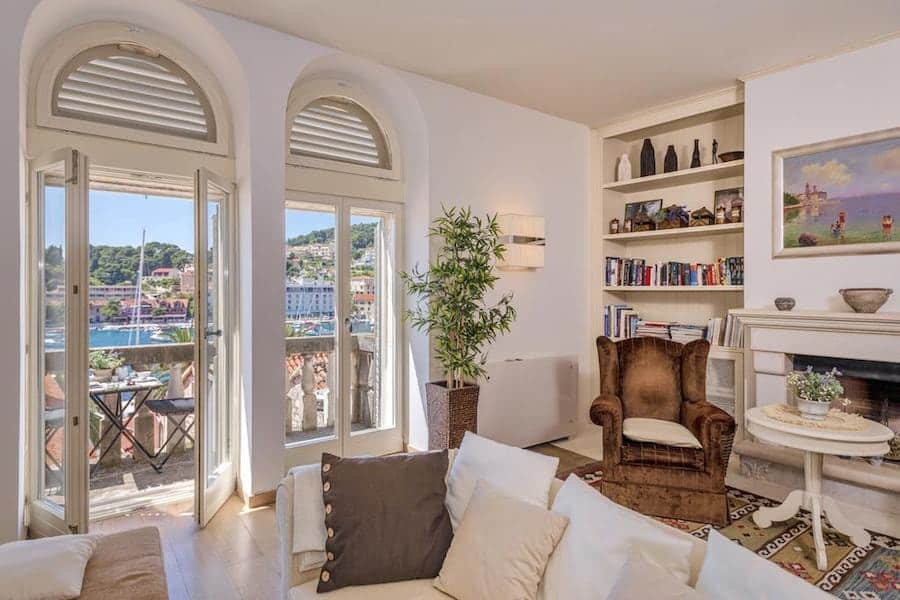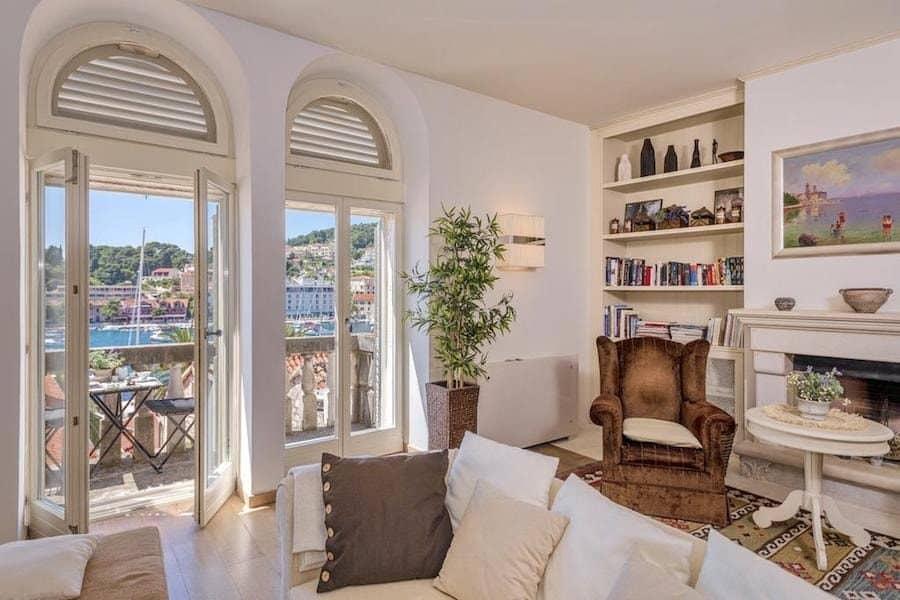 Just a short distance away from beautiful Stipanska Beach, this five-star holiday home is a top favorite among visitors to the island. Panoramic sea views are everywhere you look. You can sit and have a coffee on the terrace while checking out the visa that stretches out in front of you. Free WiFi comes as standard, too!
There are two bedrooms, a living room, and a kitchen with a dishwasher. There is also a flat-screen TV for entertainment, as well as an outdoor pool and garden area. This is a real home away from home during your visit to the island. The harbor area is only 100 meters away by foot. As far as 5-star Hvar luxury hotels go, few places are able to beat this one.
Check Rates or Find More Hvar Hotels Here
Riva Hvar Yacht Harbour Hotel – 4 Stars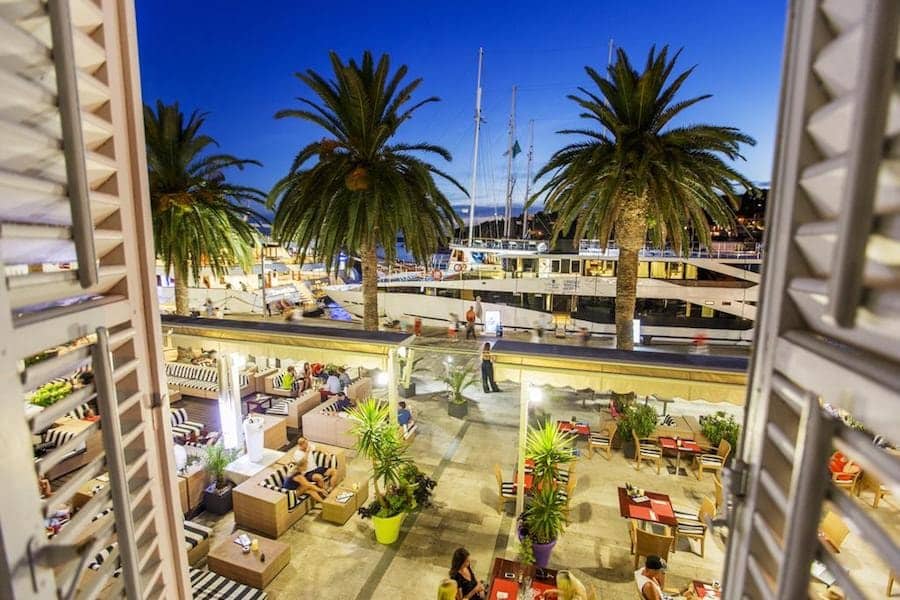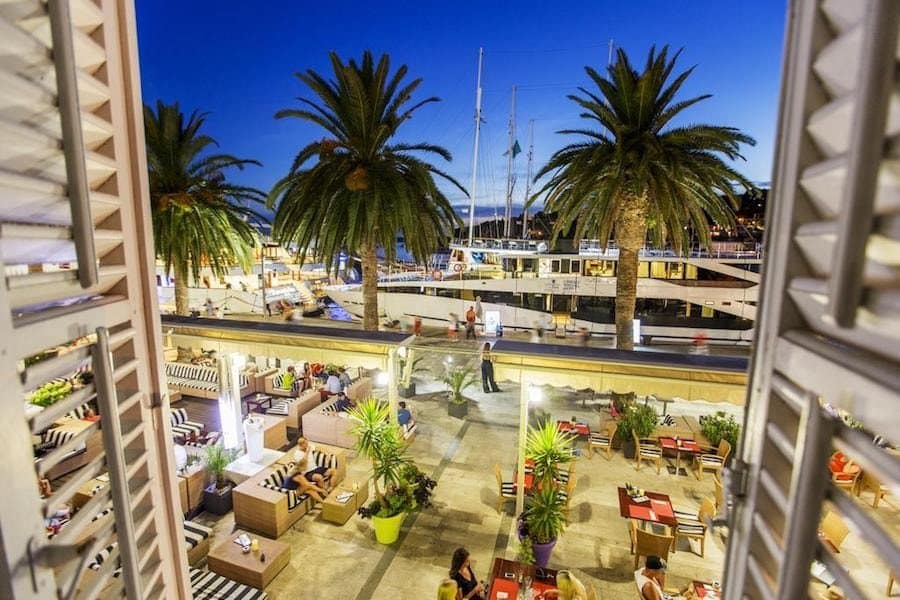 This hotel could easily be a 5 star in the eyes of many, such is its quality! This Hvar hotel is boutique style and is situated on the promenade in the main town. You only have to look out of your window to see the harbor. Each room is air-conditioned, and it is decorated in a classy style, with free WiFi everywhere.
Every room has a theme, which makes it stand out from the rest, and it is all based on the Hollywood of old. Rooms have a flat-screen TV and minibar, as well as a few comfort goodies to make your stay even more sophisticated. Outside, you'll find a large terrace with a fantastic on-site restaurant and cocktail bar. Downstairs, the full-service spa tops off your already-amazing experience.
Check Rates or Find More Hotels on Hvar Here
Amfora Hvar Grand Beach Resort – 4 Stars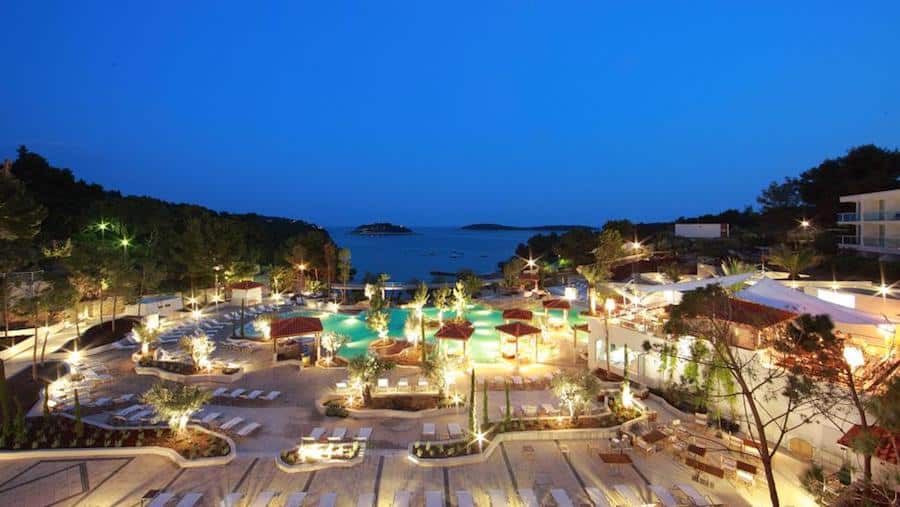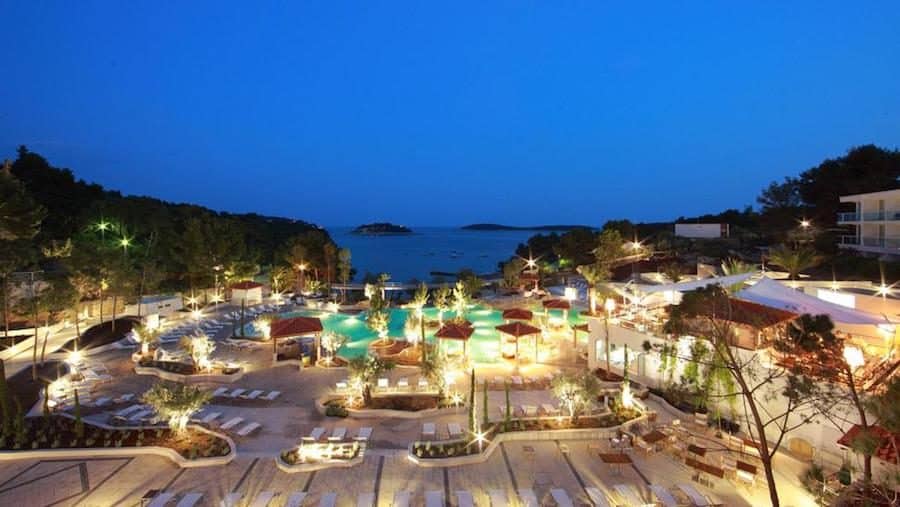 This is another of those hotels that could easily fit into the five-star bracket. Hvar Town center is around 10 minutes away by foot from this property, yet it's situated in a quiet and secluded bay, for total rest and relaxation. There is a private beach and an outdoor pool to enjoy. You can comfortably sit at the rooftop restaurant and check out the stunning sea views while enjoying delicious food and cocktails.
Rooms are all air-conditioned and have a flat-screen TV, as well as free WiFi. Parking is free as well, so you can hire a car and explore the island if you'd like. The hotel's gardens are stunning, and there is a shaded barbecue area to enjoy. One of the best places to stay in Hvar, this one.
Check Rates or Find More Hotels On Hvar Here
Adriana Hvar Spa Hotel – 4 Stars
Located right on the edge of Hvar Town, the 4-star Adriana Hvar Spa Hotel is specially designed for romantic experiences and ultimate relaxation. There are numerous beautiful facilities, from the rooftop terrace and swimming pool to the Top Bar and Val Marina Restaurant.
Arguably the most prominent feature, however, is the awesome luxurious Sensori Spa, a 1,600-square-meter oasis of relaxation. Among the amenities at the spa are eight luxurious treatment rooms, four different saunas, VIP couple's rooms, a vitality bar, a fitness studio, an indoor pool, and yoga classes. In other words, if you don't find all the relaxation you crave at Hvar's beaches, this is the place to stay at.
Other amenities at the spa hotel range from free WiFi to room service and a 24-hour reception.
Villa Dalmacija Hvar Hotel – 3 Stars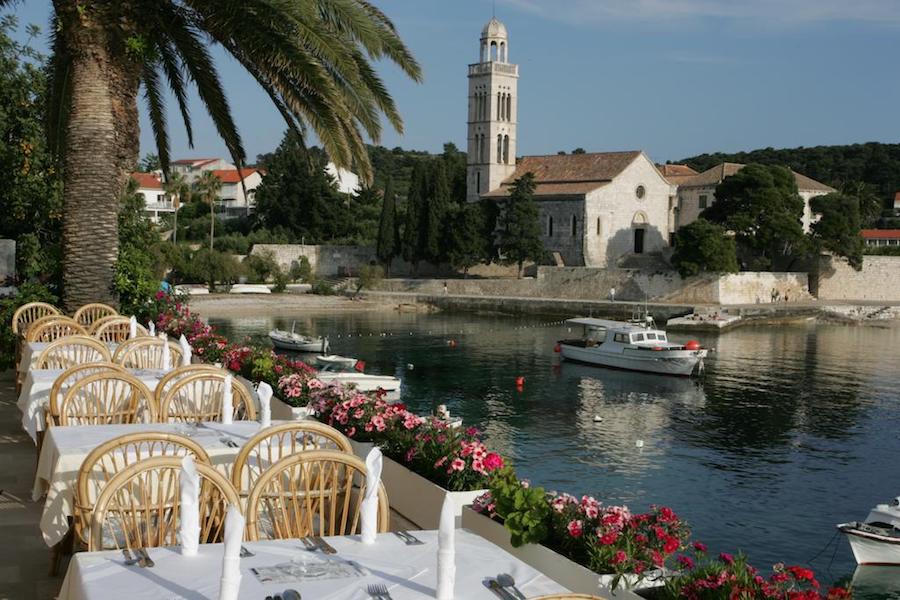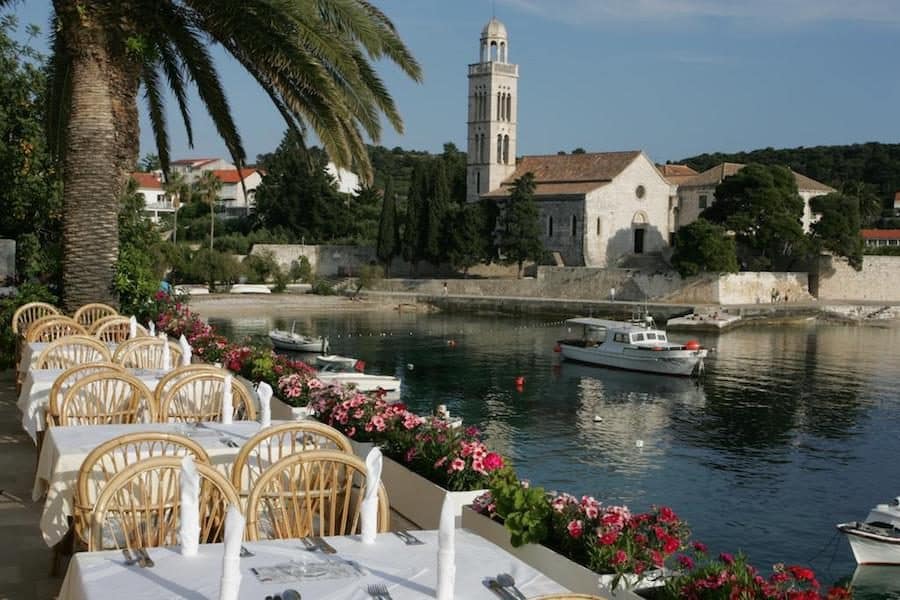 This is a charming place to stay in the center of Hvar, and it is set on the promenade, so you'll have beautiful views to enjoy. Some rooms even have views over the Paklinski Islands. Rooms are large and decorated in modern taste, with private bathrooms and balconies.
The terrace serves breakfast and coffee in the morning, and also serves cocktails and other drinks in the evenings. Additionally, there are countless bars and restaurants around the hotel. The only downside of this hotel is that if you want to use the WiFi, you will have to pay for it beyond the main reception area.
Check Rates or Find More Hvar Accommodation Here
Pharos Hvar Hotel – 3 Stars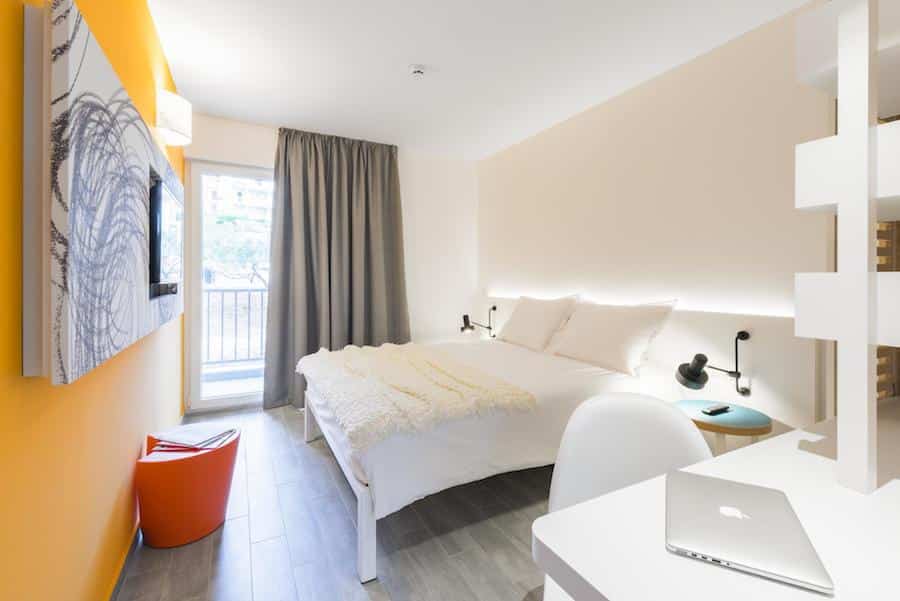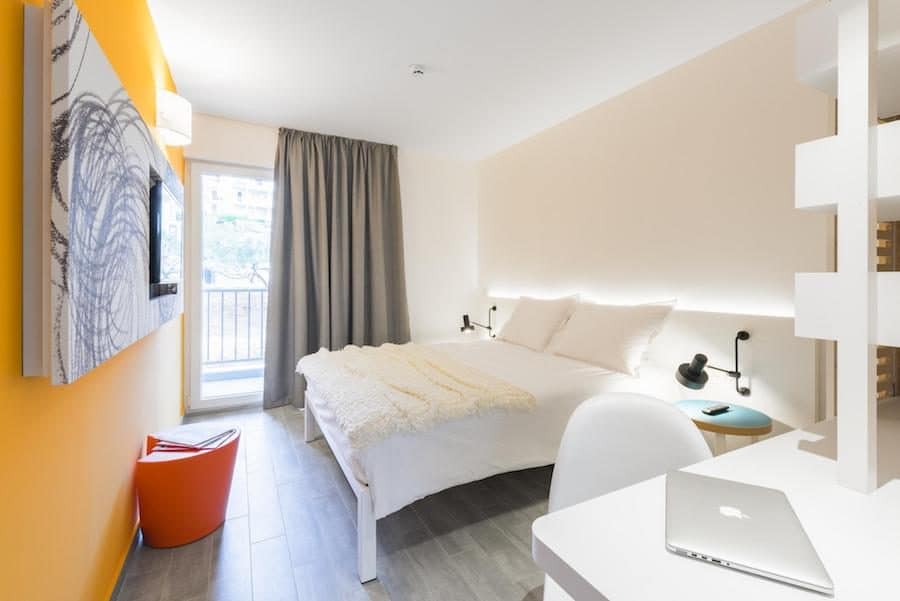 Despite the fact this hotel is situated in Hvar Town, it is away from the hustle and bustle, set in a quiet pine grove. This is a top hotel for a lower price tag, absolutely ideal for flitting in and out of the main town.
Rooms are large and have flat-screen TVs and air-conditioning. Free WiFi is available across the property, too.
There is an outdoor swimming pool and a pool bar for daytime refreshments. The main bar and restaurant are on hand for delicious meals and evening entertainment. As this Hvar accommodation is set close to woodland, you can go biking or go walking, and there are tennis and dining facilities on site.
Check Rates or Find More Hvar Island Hotels Here
Heritage Suites Zanini – Apartments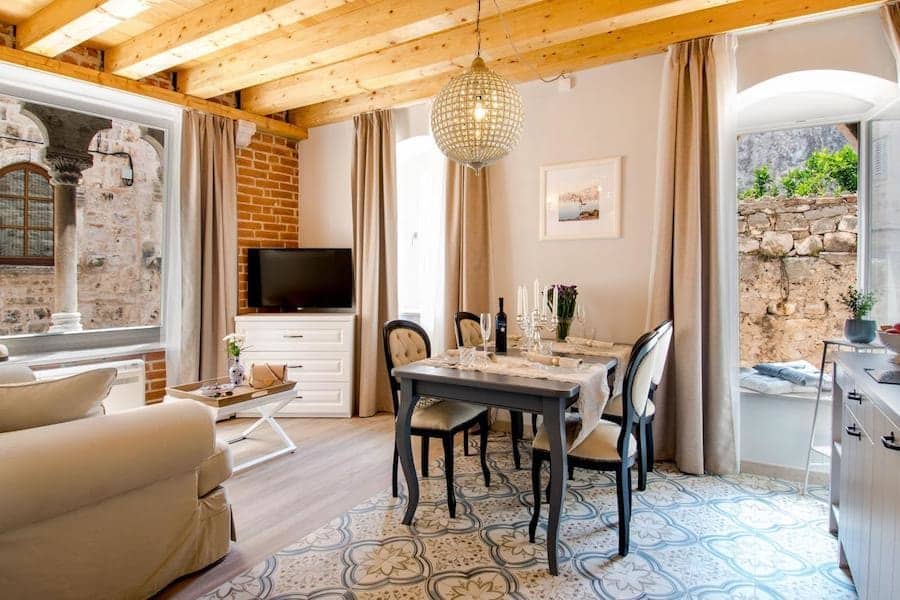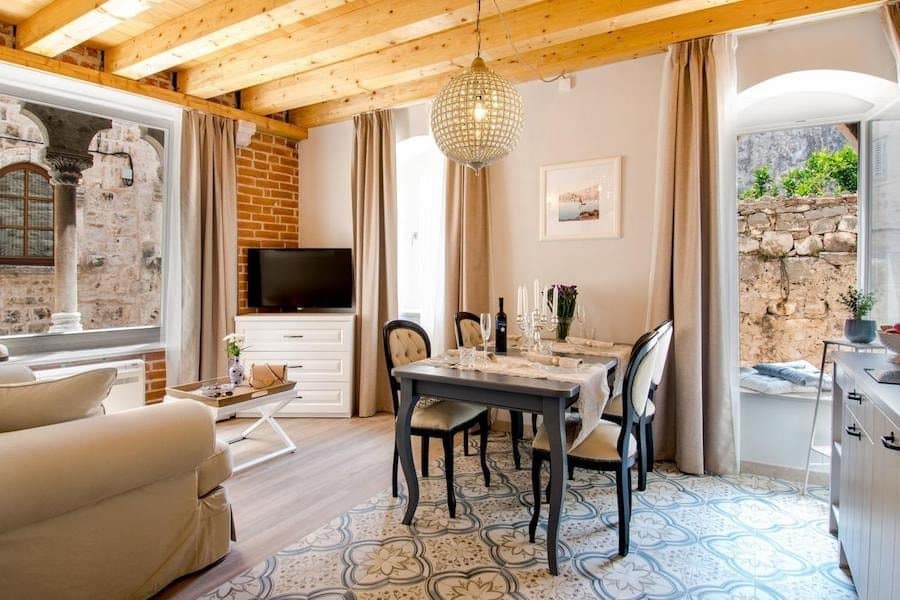 You can enjoy a central place to stay in the heart of Hvar Town by choosing this particular apartment. Stipanska Beach is just 2.5 kilometers away if you want to head to the water, and you can venture to St Stephen's Square in less than a minute on foot. You'll also find free WiFi throughout the property.
Apartments are large and feature a fully equipped kitchen and a flat-screen TV in the living area. oThere is a bathtub in the bathroom, as well as a shower, and a dining area for enjoying in-house dining. You can ask for a continental breakfast as part of your booking, too.
Check Rates or Find More Hvar Hotels Here
Villa Vera – Apartments
Set on a hillside outside of Hvar Town, Villa Vera boasts fantastic views of the Adriatic Sea and Pakleni Islands. This is ideal accommodation in Hvar for people who are looking for more independence during their vacation. All apartments are bright and have a fully equipped kitchen, modern bathroom, living room with satellite TV, and an outdoor seating area offering partial or full sea views. There's air-conditioning and free WiFi as well.
Its quiet location is great to relax after exploring the busy town of Hvar, but it's still well within walking distance from all the highlights. The Riva Promenade and town center are only 15 minutes away on foot. You'll also find a pebbly beach about 350 meters from Villa Vera.
Check Rates or Find More Hvar Accommodation Here
Stari Grad Hotels
The oldest town on Hvar Island, Stari Grad (literally Old Town) is a beautiful medieval town with impressive views of the Adriatic Sea, atmospheric cobblestone alleys and pine trees. It's a great base if you want to explore major attractions such as the Stari Grad plain, which is a UNESCO World Heritage Site. Check out the best hotels in Hvar Old Town (Stari Grad) below.
Villa Harpcrates Hvar – 5 Stars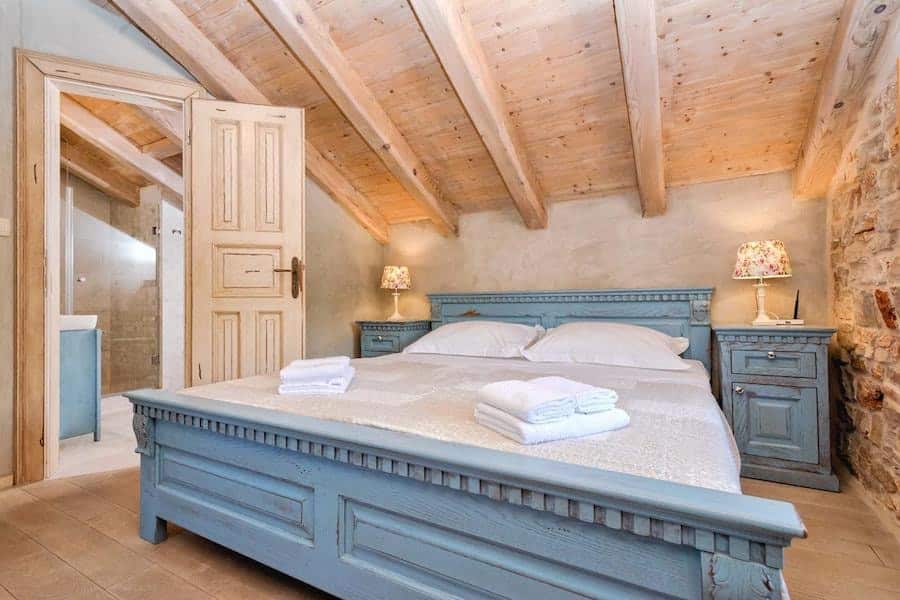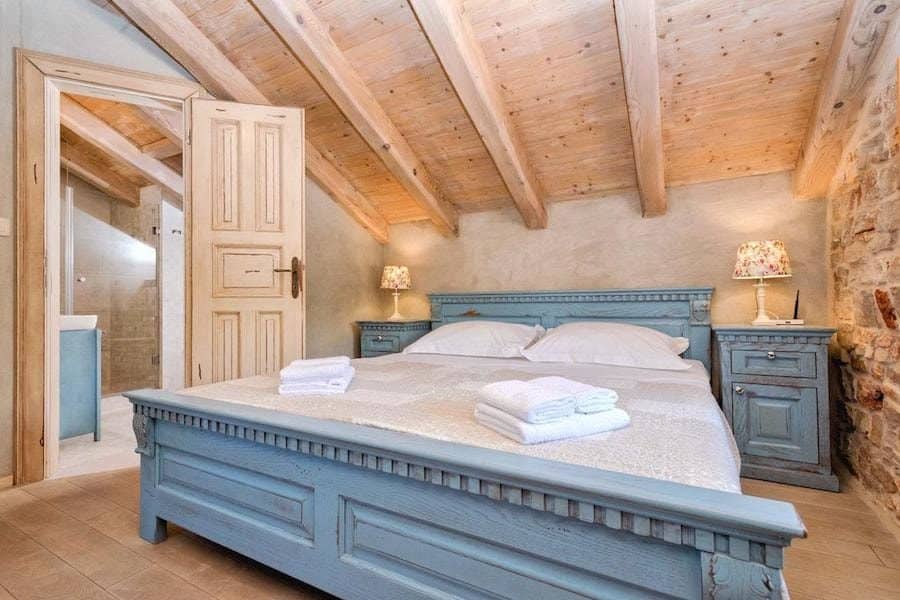 This particular Hvar B&B villa is situated in Stari Grad and has stunning mountain views to check out in the morning. This is a sizeable five-star villa, so ideal for a larger family or group visiting the island. There are five bedrooms, a large kitchen with all mod-cons, and air-conditioning as standard. There is also a large bathroom with a bathtub, and a sitting area, too. You can chill out on the balcony, or visit the garden and use the barbecue.
The villa is around 5 kilometers away from the famous Petar Hektorovic Palace, and there are easily public transport links to conveniently take you around the island.
Check Rates or Find More Hotels on Hvar Here
B&B Heritage Villa Apolon – 4 Stars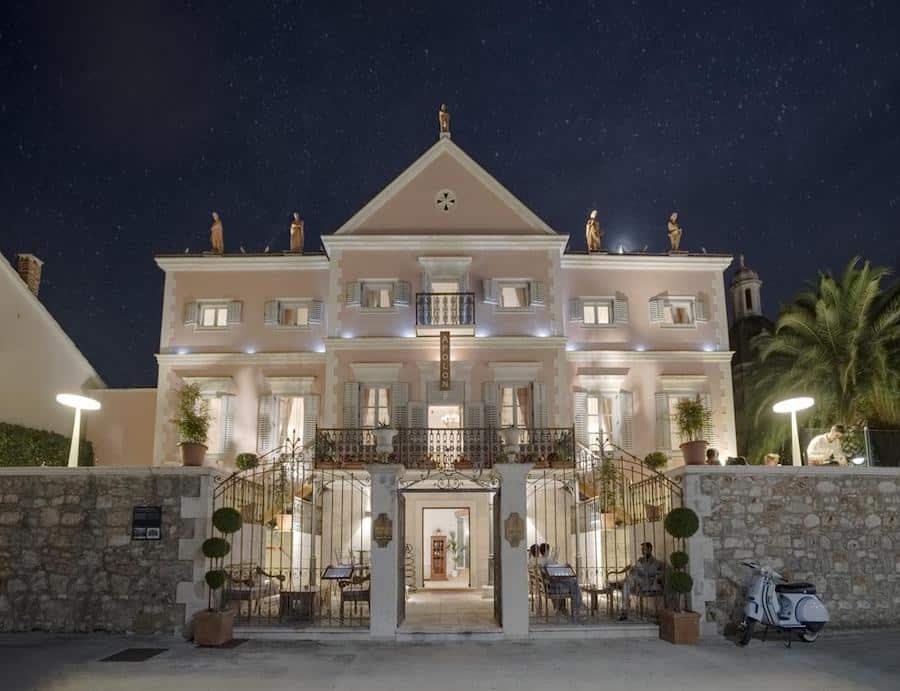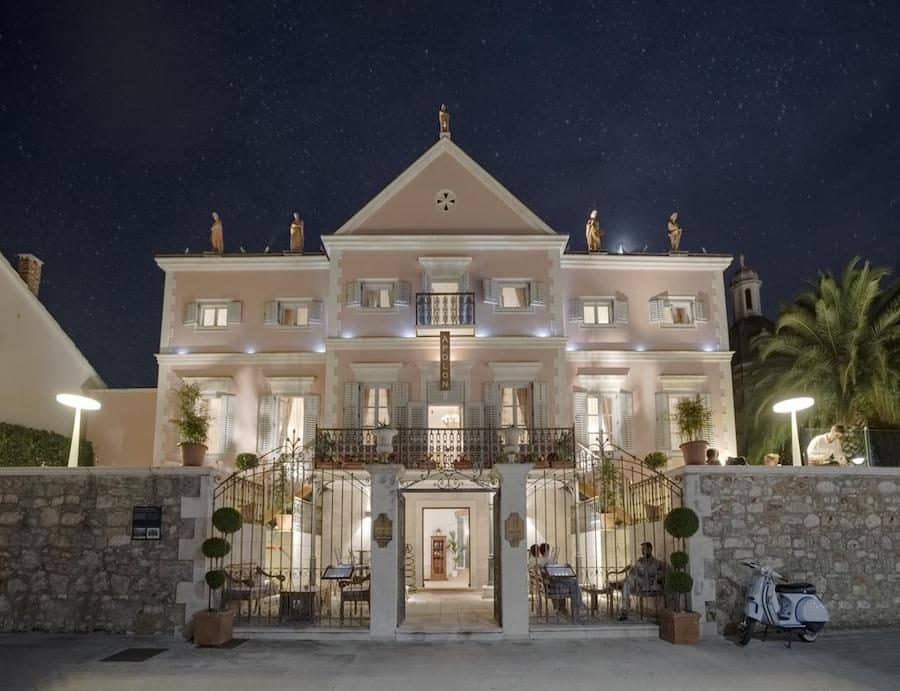 The opulent outside of this hotel should tell you just how sophisticated it is on the inside! Located in Stari Grad, this hotel is a B&B, so you can quickly get out and about and enjoy the local restaurants around the island. Rooms are all air-conditioned and have flat-screen TVs and minibars, as well as private bathrooms. WiFi is free across the hotel, and there is an on-site bar if you don't want to venture very far.
Bookings at this hotel include breakfast, and you can choose to have that in your room if you want to. There are also gardens and a terrace outside, for ultimate sunbathing opportunities. Additionally, you can venture out to Petar Hektorovic Palace, which is a short walk away.
Check Rates or Find More Hvar Accommodation Here
Apartmani Roic – Apartments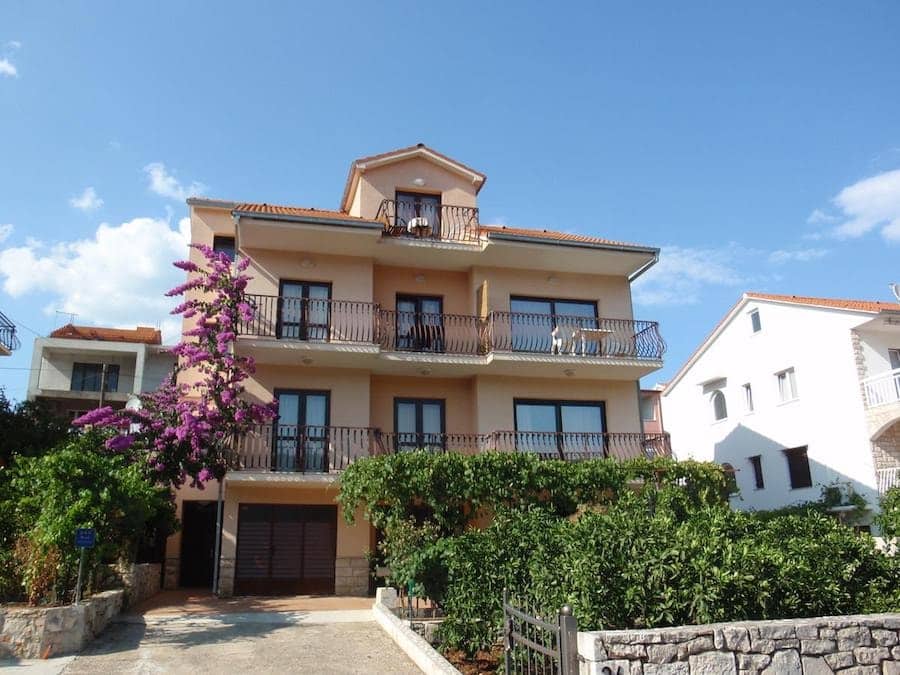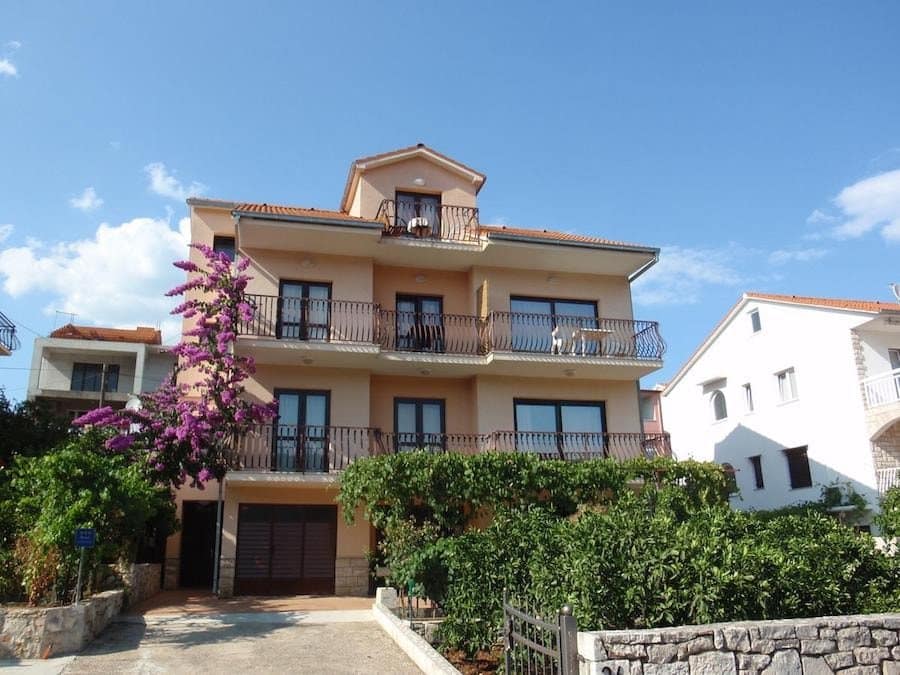 This particular apartment choice can be found in Stari Grad and is located less than 10 minutes' walk from the beach. The balcony will wow you with mountain views, sea views, and garden views to boot, and you'll get free WiFi to wow your friends with it, too!
Apartments are large and have a living area with a flat-screen TV, large bedroom, fully equipped kitchen and a private bathroom. You can easily venture out to the nearby grocery stores for supplies, and there are many bars and restaurants close by.
Check Rates or Find More Hvar Accommodation Here
Zastražišće Hotels
The village of Zastražišće lies in the middle of the island and is a gorgeous place to experience rural Hvar. Characterized by hillsides and farmlands, it's home to ancient forts, churches, stone houses and old courtyards. Olive groves dominate the countryside around the village, a peaceful setting for a relaxing holiday.
Villa Amalia – 5 Stars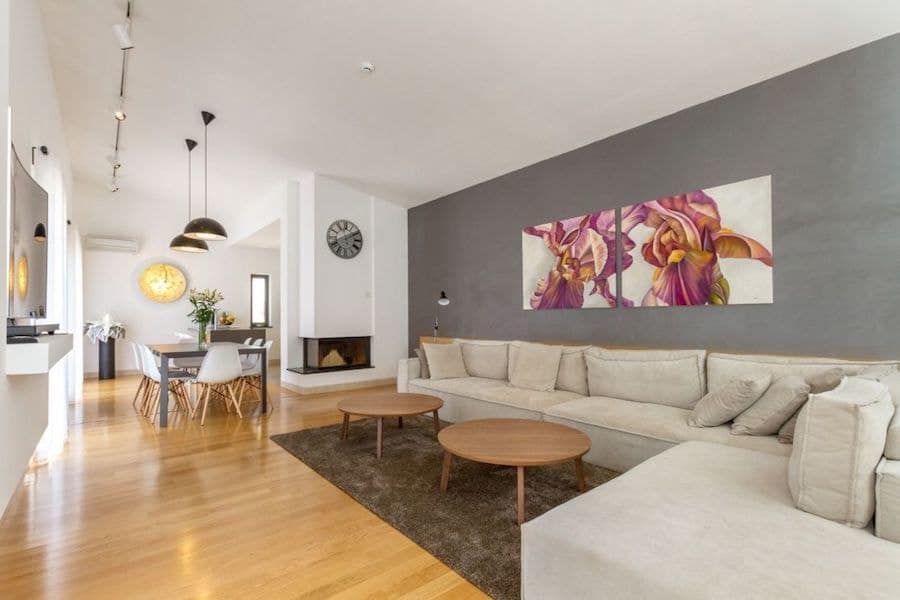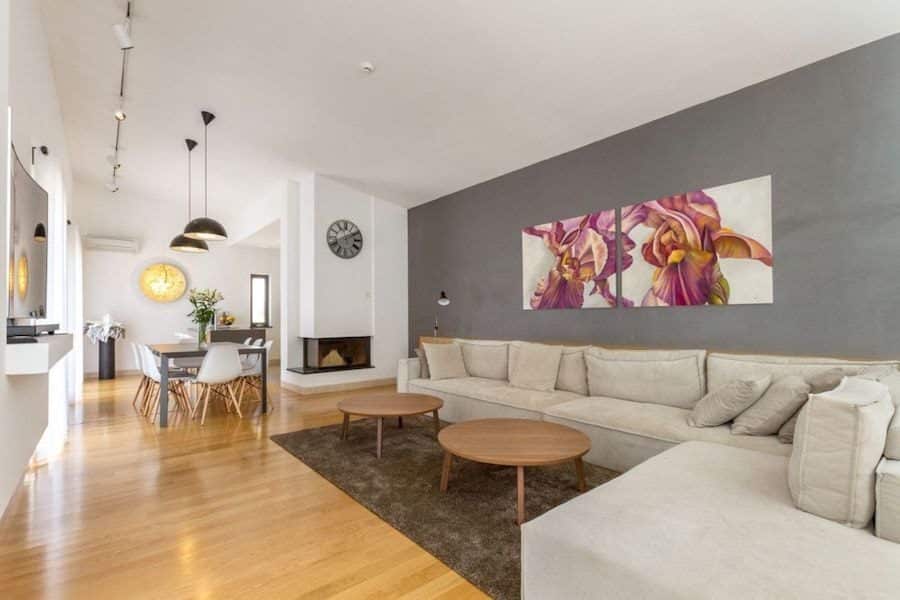 Staying in Villa Amalia will give you a real home-away-from-home feel, as it is set in a secluded area, around 2 kilometers away from Pokrivenik Bay. There is free parking on-site, and you'll be able to get around relatively quickly. This is ideal if you really want to chill out and relax. There is an outdoor swimming pool and free WiFi on-site, and a wine cellar too!
The property has an upstairs and downstairs area, and in total there are four en-suite bedrooms, a large living room, dining area, and large kitchen with all mod-cons. There is also a spa, whirlpool, gym, sauna, and massage table. Outside, you'll find a barbecue and tennis court and another small studio apartment. Really, what more could you want from Hvar hotels?
Check Rates or Find More Hvar Accommodation Here
Zavala Hotels
Located on the south coast of Hvar Island, Zavala is the perfect destination to get away from the summer crowds. This small village has its fair share of pebble beaches, azure-blue water, stone houses, oleander bushes, and magnificent coastal views. Additionally, it's also a superb spot to enjoy the island's produce and cuisine in relative peace and quiet. Enjoy a plate of freshly caught seafood and a glass of local wine while overlooking the Adriatic Sea. How good does that sound?
Villa Stella Mare – 4 Stars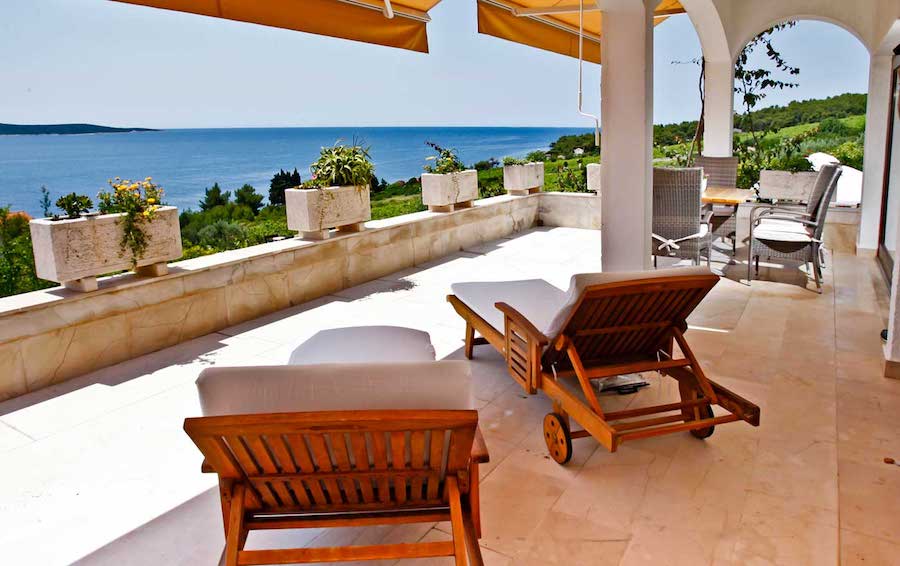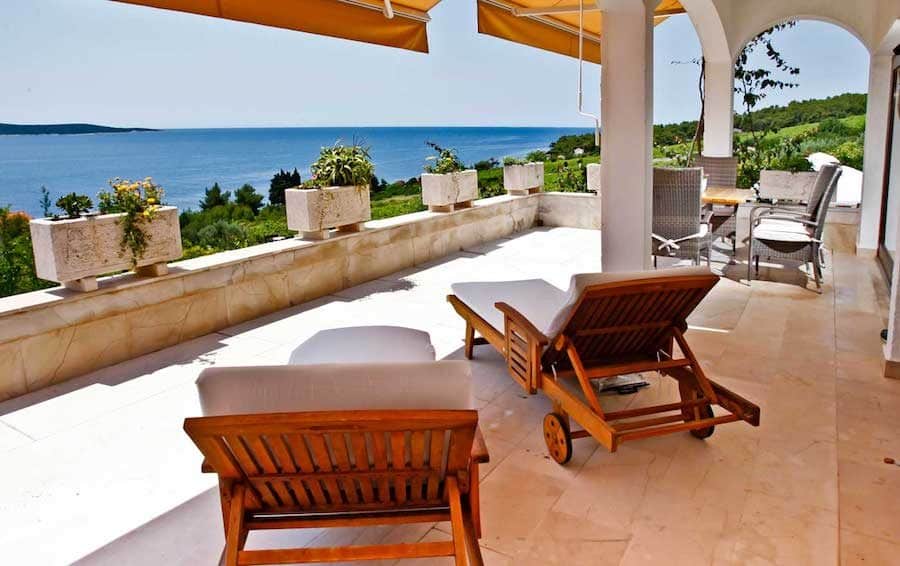 This particular hotel has a home-away-from-home kind of vibe but is still a hotel at the same time. It is situated in the Zavala region of the island, just 5 kilometers away from Grapceva Cave. The location is perfect for those who want to chill out, away from the main town, but who also want to be able to reach the town easily.
Rooms are air-conditioned and have a kitchenette and dining area. All rooms also have a sea view and a flat-screen TV. You can grab breakfast in the restaurant if you prefer not to cook, and you'll find dinner options here, too. There is an outdoor swimming pool and hot tub for your extra enjoyment.
Check Rates or Find More Hvar Island Hotels Here
Hotel Skalinada – 3 Stars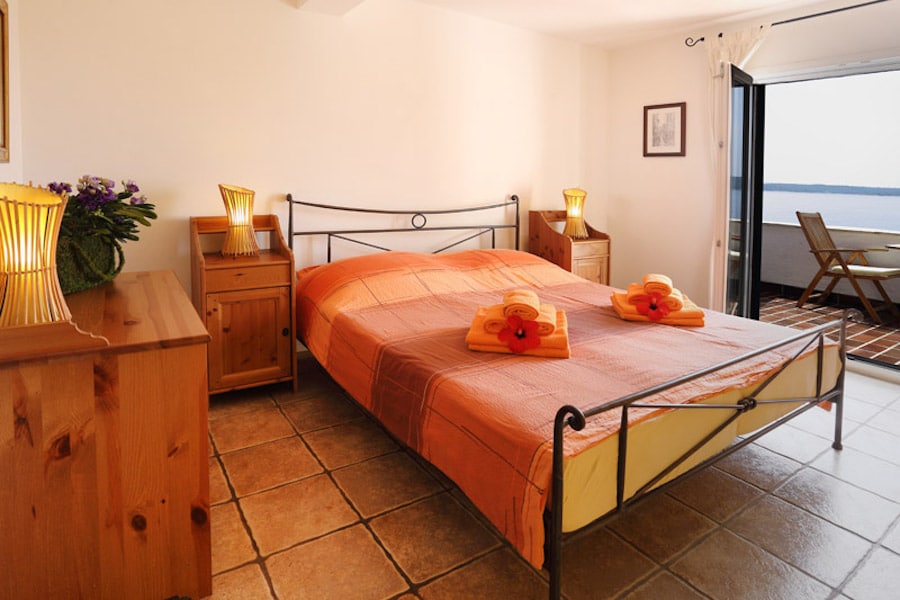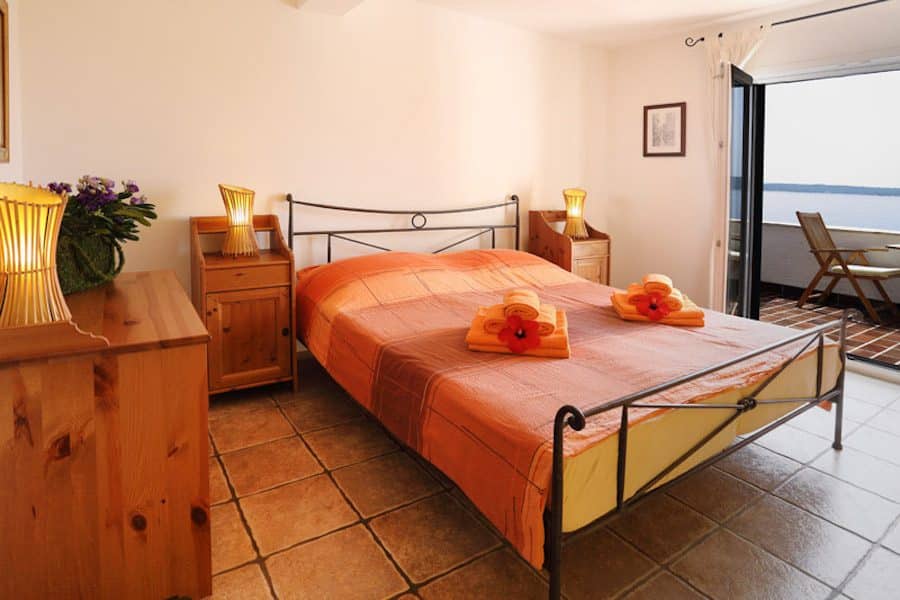 Located in Zavala, this hotel is another ideal choice for chilling the hell out in beautiful surroundings! All rooms have a sea view, and some have a private terrace. There is free WiFi throughout the property and an on-site restaurant and bar. Continental breakfast is served daily.
Rooms are large and have seating areas and private bathrooms. There is a flat-screen TV in each room, and air-conditioning as standard.
Check Rates or Find More Hvar Accommodation Here
Jelsa Hotels
The center of tourism on Hvar's central north coast, a stay in Jelsa comes with the scents of pine trees and a sea breeze. Centuries-old architecture abounds here, from picturesque churches to lavish villas. The area is home to numerous wineries and olive groves, while you also won't have any trouble finding a secluded cove or beach to laze the afternoon away.
Adriatiq Resort Fontana Deluxe – 4 Stars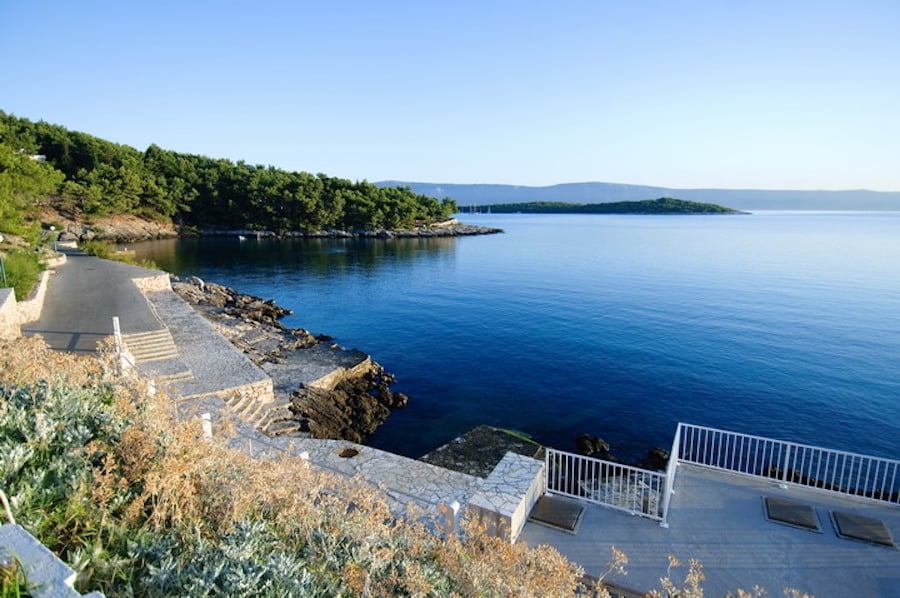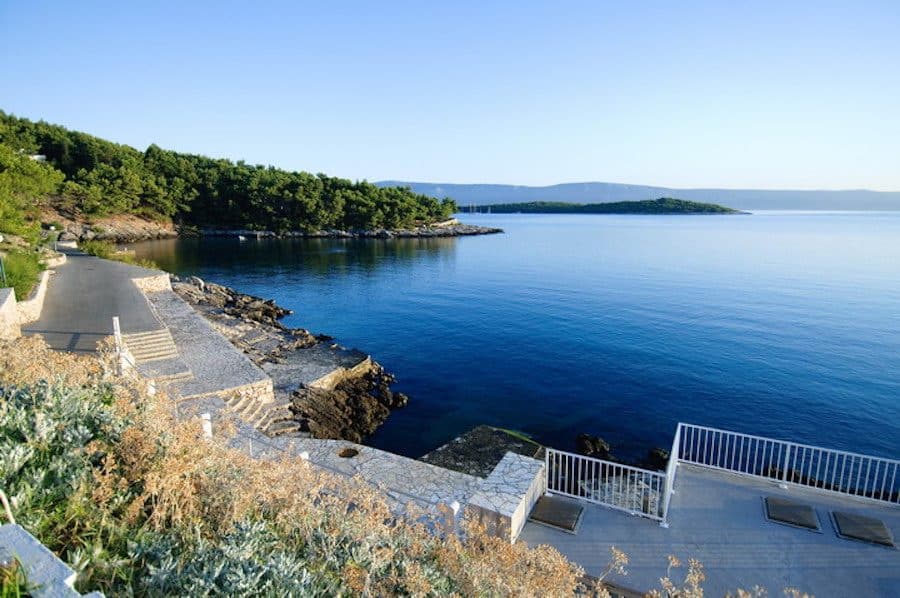 Located in Jelsa on a wooded hillside near the sea, this particular hotel is ideal for families, as it has plentiful on-site facilities to keep little ones occupied. There are an outdoor swimming pool and a children's pool, as well as a large garden for running around.
Rooms are large and air-conditioned, and all feature a TV and DVD play. Some rooms have kitchenettes. Other facilities across the hotel include a sun terrace, a gym, and a table tennis area. You can get out and about quite easily, too, with bus services running past the hotel.
Check Rates or Find More Hotels On Hvar Here
Vrboska Hotels
The smallest town on the island, Vrboska lies just northeast of Jelsa on both sides of a beautiful narrow bay. The village's two parts are connected by a photogenic stone bridge, while its stone houses and fragrant pine forests complete a truly gorgeous setting. This former fishing village is now a well-equipped tourist destination. It's perfect for those who want to experience life in a small Dalmatian coastal village.
Senses Resort – 3 Stars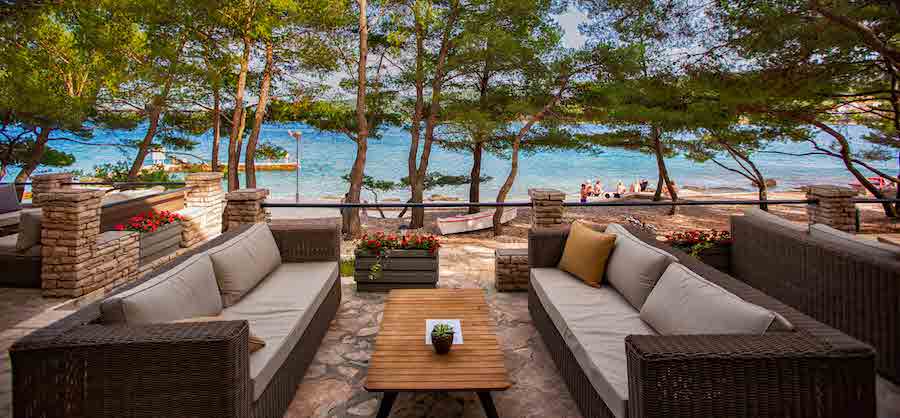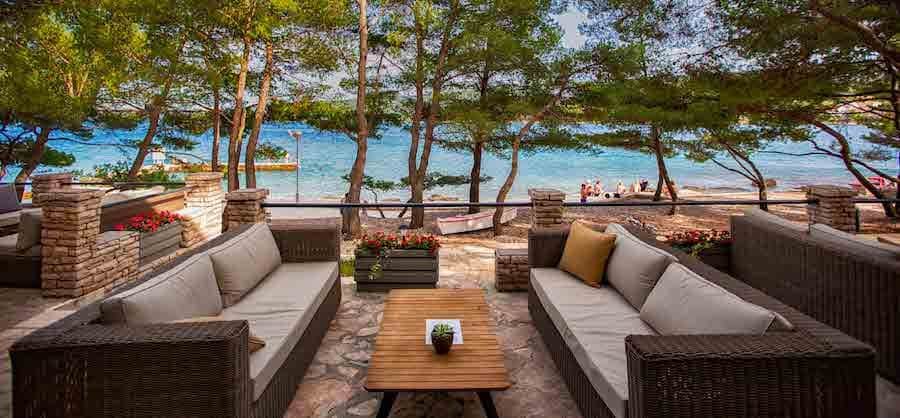 This is the ideal Hvar hotel for those who want to chill out during their visit to Hvar Island, but also want to pay a little less than some of the more upmarket choices. The hotel is set in a secluded location, in a small forest near to Vrboska villa. This is around 5 kilometers away from Jelsa, so you're not really too far away from busy town life in case you're looking for that.
Rooms are air-conditioned, with a private balcony, seating area, and flat-screen TV. The hotel has a large swimming pool, wellness center, and a spa. You'll also find a gym, and you can book diving lessons, too. Some of the best beaches in Hvar are a stone's throw away, while the on-site restaurant and bar have beautiful sea views, perfect for your evening's relaxation.
Check Rates or Find More Hvar Hotels Here
Villa Welcome – 3 Stars
Located in the small village of Vrboska on the north side of Hvar Island, Villa Welcome offers accommodation in both rooms and apartments, which all come with private bathrooms. Guests can prepare food in the communal kitchen, while a nearby supermarket and bakery provide all necessary ingredients and products. You'll also find restaurants and coffee bars in a 350-meter radius around Villa Welcome.
Within walking distance are the center of Vrboska, as well as Maslinica Beach and the Soline Beach. The popular town of Jelsa is about 3 kilometers away, while bustling Hvar Town lies 10 kilometers from the villa. Note that the owners can provide transportation to Hvar Town (and even Dubrovnik) at an additional cost. They can also help you with advice on local tours, sightseeing, food, and rentals.
Check Rates or Find More Hvar Hotels Here
Gdinj Hotels
Located on the spine of the hills that traverse Hvar Island from west to east and along Route 116, Gdinj lies just east of Zastražišće. Similar to its neighbor, this small town is characterized by clusters of stone houses, pockets of forests and traditional restaurants. A side road offers access to the south coast, which is where you'll find most of the accommodation in this part of Hvar Island.
Hotel Timun – 3 Stars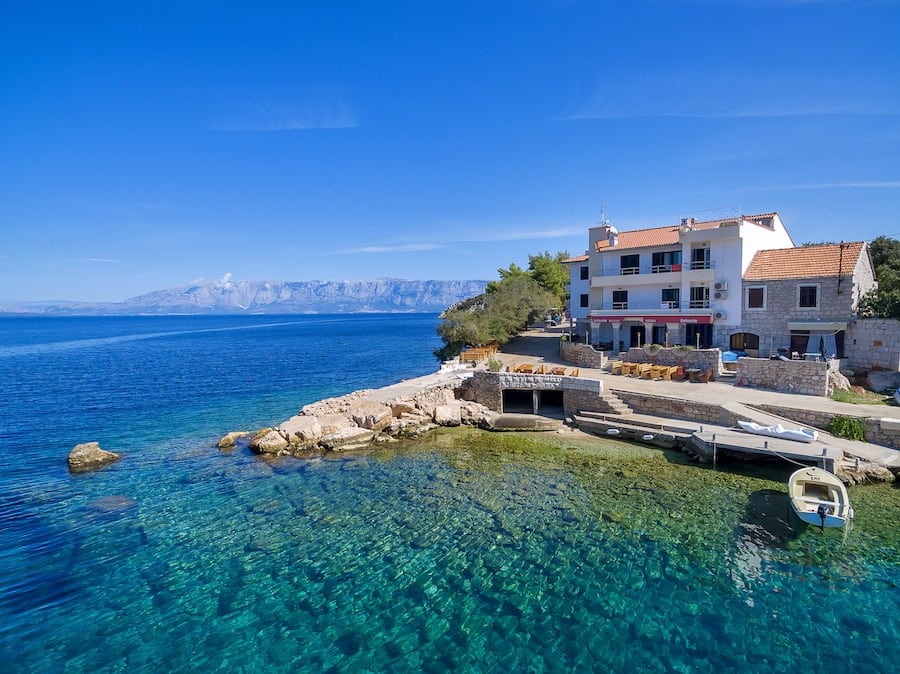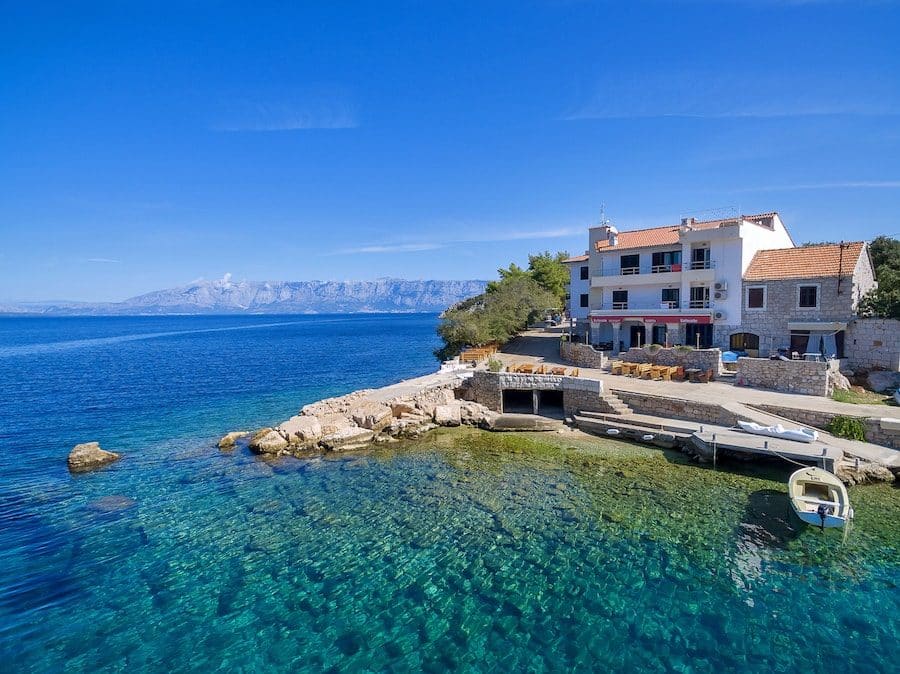 This is a small and charming hotel set right on the beachfront in Gdinj, located within a small bay. You can easily see right over to Pokrivenik Bay, a truly gorgeous view. This excellent accommodation in Hvar has large rooms with flat-screen TVs, private balconies, and air-conditioning. There are laundry facilities on-site, too, if you need any clean clothing during your stay.
On top of that, the terrace is ideal for checking out the scenery, while the on-site restaurant is perfect for a dinner al fresco, serving delicious seafood dishes. Check out the local wine list, too!
Check Rates or Find More Hvar Hotels Here
Milna Hotels
Although it lies only 4 kilometers to the east of Hvar Town, Milna is a separate town on Hvar Island. It lies in a sheltered cove featuring beautiful beaches and coastal scenery. Because of its many restaurants that serve fresh fish, homemade olive oil and other Dalmatian dishes, this is arguably the best place to stay in Hvar for foodies looking for a quieter getaway.
Apartments Mario Tudor – Apartments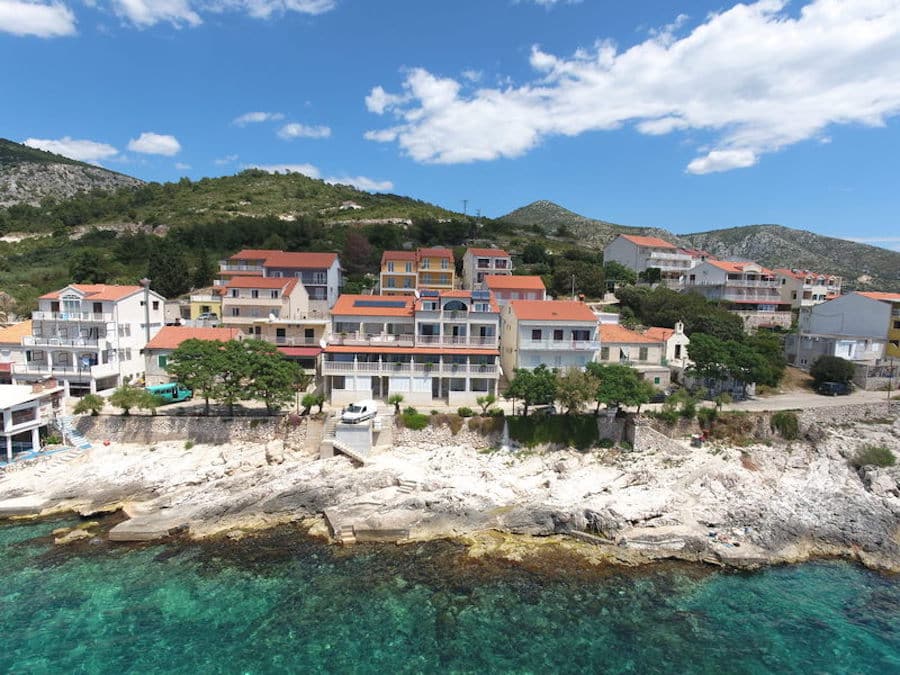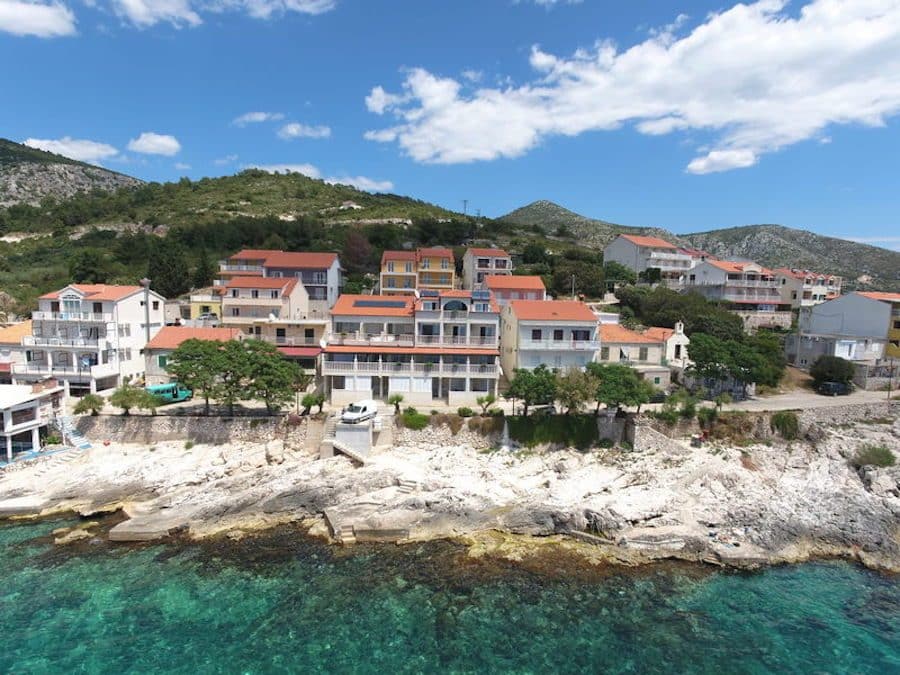 These apartments are set in a small village called Milna, which is around 4 kilometers away from the main town. The perfect home away from home, there is lots of parking space around the apartments, and you can also walk to the three beaches which surround it. There are many restaurants within walking distance.
Apartments are large, comfortable, and have everything you need inside. There is a terrace with a sea view attached to each apartment, too.
Check Rates or Find More Hvar Accommodation Here
Stay With Locals On Hvar Island In 2021
If you want to have a totally authentic stay on the island and see the traditional way of life, you could arrange to stay with a local. Take a look at Airbnb. If you use this link, you'll get free travel credit to get you started.
One place you'll love is that of my friend place in Jelsa.
Panorama Penthouse Jelsa
Welcome to the top terrace on the sunny side of Jelsa, overlooking the harbor and old town below. Panorama Penthouse Jelsa is a loving family home comprising three bedrooms, 1.5 bathrooms, open-plan kitchen/dining room, with sliding doors bringing in light and endless Hvar sun, as well as being the gateway to the 37m2 terrace which will become your new love.
Fully modernized apartment, with WiFi, aircon, Netflix, and child-friendly, we look forward to welcoming you to slice of sunshine paradise.
Click Here To Check The Rates For Your Dates
Something Unique On Hvar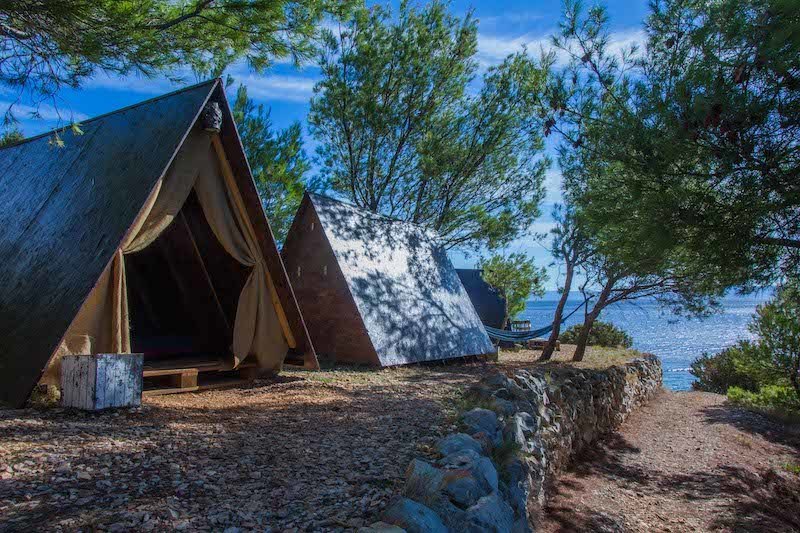 Rent A Car On Hvar Island
Renting a car is the ideal way to see more of any destination, and you'll really get to appreciate the beauty of Hvar Island if you explore it this way. If you're staying centrally in Hvar Town, you can venture out to the smaller towns and villages, such as Stari Grad and Jelsa, and if you're staying in another part of the island, you'll be able to check out the culture and entertainment of the main town itself.
Where Is Hvar Island?
Hvar Island is located a short distance from the mainland and is easily connected to the large airports in the country. Flights head to Split regularly, and from there you simply need to take either a bus, ferry, or a private transfer to get you to your destination.
Do we need to add any other great spots on this where to stay on Hvar Island list? If so, let us know about other amazing Hvar Island hotels below.
More Hvar Travel Blogs